Električna zadovoljstva u sf-filmovima (tisuću metara ispod zemlje).
www.column-one.de/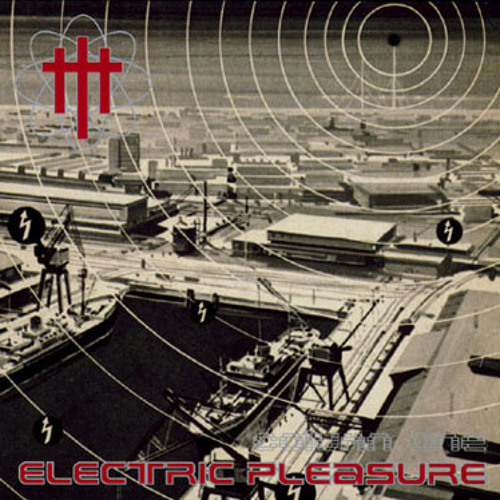 Electric Pleasure
(2000)
Formed in Berlin in 1991, René Lamp and Robert Schalinski were working together on short-film projects and decided to expand their scope to include audio and multi-media projects among their repertoire. The next thing you know, Column One was born.
On this highly detailed and wonderfully crafted CD (their fourth), the band have dragged the look and feel of 1950s American science-fiction films deep into their underground laboratory, flicked a few switches and have mutated them into an absolute monster of a release, bringing to life a world of Kraftwerkian rhythms and Forbidden Planet background ambience all cohesively joined by an interesting narrative structure; the tracks ebb and flow into one another not as separate entities but as an entire parable of technology overpowering humanity.
On tracks like Re-Start To Move, the low-bitrate hip-hop tracks bounce along with a curious intent, just as a determined robot would as it seeks its next human prey, while on MZ4, the mood is much more melancholy, clearly showing the more human side to the mechanical creatures contained therein.
The band here have clearly done their homework both in terms of studying classic 80s electro as well as the sounds that brought those tracks to life. The bands label, 90% Wasser is also based in Berlin and is a self described non-profit artist label for electro-acoustic-minimal-spoken-digital-ideological-tonal & atonal-electronic-music plus video-releases, writings & picture-art. It may be a mouthful but this suits the release perfectly as both Column One and their parent label go way beyond the typical concept CD or multimedia project.
Column One have come up with a really classy and incredibly detailed release that deserves repeated listening not only because it will make you dance, but to fully appreciate the narrative content. Electric Pleasure works well on its own, but combined with a live audio/visual experience, the band could very well be unstoppable. Just like the robots contained therein. Highly recommended. -
Olli Siebelt
2002









TWO FLOWERS FOR THE TRAVEL

VIDEO

ASPHODELOS/TWO FLOWERS...

MC

R.K.CHILDREN/COINCIDENTIA.

.

MC

WORLD-TRANSMISSION II

LP+7"

LABYRINTH

7"

THE INDIVIDUAL BOX

MC




VIS SPEI with Genesis P-Orridge

CD

THE EXCELLENT LISTENER V.A.

CD

CLASSIC CHILL OUT RHYTHMS

CD

ODYSSEE

10"




KRIEGSSCHAUPLÄTZE

(live)

LP

LIVE IM HYBRIDRAUM

2xMC




DOUBT

CD

E-LUSIVE FEAT. PSYCHIC TV

CD

RE-MIND LIVE CDR SERIES,

Poland

CDR

THX 1138

12"

THE LAST ONE IS DEAD

LP

CLASSIC CHILL OUT RHYTHMS II

2xCD

FAREWELL

7"

WHITE ERRORS PART I

CD




SIMULATION

2x12"

UNREALIZER

LP

THIS IS MY DREAM

with ZSG

7"

LIVE IM HYBRIDRAUM

CDR

SAD FINGER

7"

ELECTRIC PLEASURE - LIMITED EDITION

LP

WORLD TRANSMISSION III+IV

2xLP

ELECTRIC PLEASURE

CD




ELECTRIC LIGHT

CD

BRAUNSERVER

VIDEO

WAS SONST MIR VERBORGEN

5"

DIE TRUHE IM FLUSS

LP

THE AUDIENCE IS SLEEPING…

CD

RECORDS

CDR

LA SOURCE DE LA CITATION...

LP




PRESET TRAINING

10"

SOMETIMES

7"

DREAM TIME

CD

DREAM TIME – SPECIAL ED.

CD+CDR+LP

LOVE IS IN THE AIR

7"

COLUMN ONE & SOCIETY SUCKERS

7"

DIE SIBIRISCHE ZELLE

2xDVD




FELDAUFNAHMEN

CD

DER FLUSS IN DER TRUHE

LP