Egzopozadinski kostur svakog mrmora. Kričavo ugodno.
streaming
D_rradio (pronounced d. r. radio) began recording in 2003 and to date have plenty of releases out on labels such as Static Caravan, Awkward Silence, Distraction and Symbolic Interaction. Their latest album "Parts" on Distraction records features many beautiful moments all delivered as 1-3 minute bitesize parts. Seasons ep offers four slightly longer pieces with each track representing a different season and all composed of gorgeous organic melodies and hazy classical loops.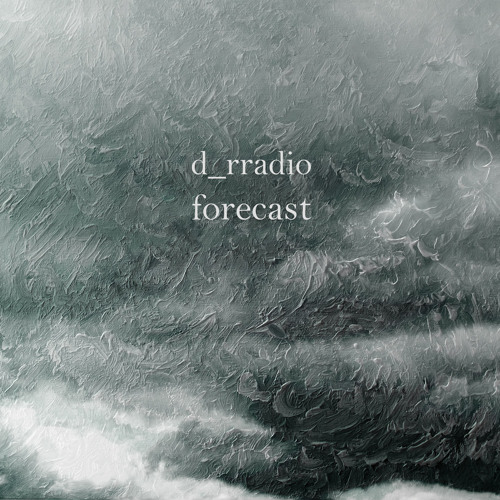 Forecast (2011) soundcloud
My first introduction to d_rradio was with their excellent EP 'Seasons' on Rural Colours last year. Its four tracks named after each of the seasons starting with Autumn, has a rich texture of overlapping string melodies, balanced by warming undertows and a sense of perpetual movement. The North East England based artists are enigmatic to say the least, opting out of the distraction of 'celebrity' to allow the music to stay centre stage. Whilst 'Seasons' could be described as predominately treated ambient-classical work, 'Forecast' embraces the live sound of strings and piano in contrast to its drone-veils.
Evaporating tensions like light breaking through heavy clouds the album also inspires thoughts of the sea with it's stirring symphony of tidal strings, punctuated only by considered piano melodies, similar in pattern and structure to that of Antonymes' sparse yet atmospheric touch. This less-is-more reductive approach successfully produces the desired effect; emitting emotions concerned with solitude, melancholy but also of calmness and hope. Shortest track 'Quiet One' crescendos with slate-grey painted shadows, before giving way to the fluttering 'Cinema of Stills' crests of notes breaking over the single choral drone that lasts throughout. 'Step Into The Sun' sees an undulating selection of harmonies envelope the listener; accompanied by rising and falling orchestra you can almost feel the warmth of the sun on your face, its a remarkable piece.
Moments like these are abundant, the simple climbing melody of the first track is played with such poise and attention to the space between the notes that it quickly immerses the listener. d_rradio demonstrated their sensitivity to the cyclical nature of life in previous works and continue to incorporate this on Forecast - 'After the Rapture' for example reprises the title tracks phrasing, presumably to complete the circle and allow the journey to repeat ad infinitum.
This is a consistently strong album whose motifs are explored with a grace and solemnity of intent, marking the music's ambient character with a maturity that can only be down to artists intense empathy to the quality of the sound and their experience working together. - www.futuresequence.com/
Parts (2010)
I need to begin with an odd analogy. Imagine you're at a nice party, one of those catered gigs where waiters walk through the crowd with trays of appetizers. You take one as a waiter goes by, and it's really quite good. In fact, you'd like another. But you can't find that waiter anywhere, so you opt to reach for another appetizer, and it's good, too. And that waiter disappears as well. This keeps happening all night. And while the appetizers are nice, you find yourself wondering if there's going to be an entree at some point in the evening, because you imagine it would be pretty good, given the appetizers.
That's the sum of my experience with Parts, the new release from D_Rradio. There are 19 tracks on this very listenable CD. The longest runs 3:28; the shortest whips by in just 29 seconds. The whole of the thing is over in under 40 minutes. It's a stream of good musical appetizers that, while making me want more, often disappoints in the way they come and go so quickly.
The length, or lack thereof in most cases, would not be an issue if I didn't like the music. But there's the problem: I do, for the most part, and several of the better tracks on Parts gather up their sounds and leave just as I'm getting into them. "Better Left Alone," a melancholic reflection with a feel like slowed-down jazz, is just finding its expressive voice and seems to be approaching a turning point–and then it fades out. The same goes for the 1:08-long "End of A Wild Life." It slips in on light strings, sounds like it's gearing up to have something to say…and then cuts off the conversation, practically in mid-chord, and departs. The super-short tracks, whatever the intent was, become almost ignorable for their brevity.
I get what's being attempted, thematically. Parts is made of parts and not all parts are complete. But since when they are complete they're well worth listening to, it makes the seemingly semi-formed ones a bit disappointing. Despite the thematic intent.
There are fully realized, satisfying pieces here. "Midnight on a Moonless Night," the longest track, sighs and drones its way through a foggy sound-mist. "Ruins of A Wall of Sound" is, even for a short track, a stunning piece of romantically tinged ambient. Warm, lush strings worthy of good chamber music glide in a slow dance around each other. There's a gorgeous near-sadness to it.
Parts is well worth a listen. D_Rradio show talent and intelligence in every track, no matter how brief. I look forward to more from them. - hypnagogue.net/
D_rradio (2008) streaming
Three years in the making, this self-titled long player could be described as d_rradio's opus maximus. Their Static Caravan debut 'U_nderscore', set the bar dangerously high, gaining a solid reputation as a diamond in the rough among IDM and post-rock fans alike. Following on from last years flurry of 7" action on Distraction, the UK trio of dreamers present ten diverse tracks which boldly declare their eclectic vision and align to form a uniquely unified sound. This is a wholly different record to those previously released by d_rradio, leaving behind the tranquility for an adrenaline jab of sparkling, kinetic vibrancy and fluent rhythms.
With influences coming from right across the spectrum d_rradio (pronounced D. R. Radio) have nailed this record with a heartfelt love of music of all genres as well as their desire to make a sound that is new. The result is something which feels comforting and familiar, but is completely their own creation. Elements and rhythms of every musical style fleetingly reveal themselves amid the textured wash of pristine electronic noise and d_rradio's melodic, yet often seemingly child-like instrumentation. Up, up and away...
Newcastle's deathrowradio is Chris Tate and Paul Christian Patterson. The pair have worked together as d_rradio for the past ten years, wooing hearts and minds with emotive adventures in sonic strangeness and melodic melancholy. The band's largely instrumental output has varied greatly in style, from stuttering folktronics to orchestral drone, via ephoric electro synth dub, all the while maintaining their uniquely distinctive feel.
Bringing together elements of different styles and adding their own key ingredient is the deathrowradio approach, as their new album Yummy shows. Having now dropped the underscore from their name, the duo are also leaving behind the laptops and synthesizers to dive headlong into a more confrontational live concoction of trippy guitar riffs and pounding punk drums; raucous and wild, yet underpinned by hypnotic repetition.
Born / Come To Light (7")
(DIST9)
Dear John / Pick Me Up (7")
(DIST10)
Out Of Love / You Hold My Breath (7")
(DIST11)
d_rradio (CD)
(DIST12)
d_rradio remixed (CD)
(DIST12R)
Parts (LP / CD / MC)
(DIST17)
Yummy (LP)
(DIST27)
Here's a real exclusive, delivered just a few days ago to scissorkick by Chris of
d_rradio
himself. This promising English group -- which includes Chris Tate, Michael Todd, Ian Smith and Paul Patterson -- successfully avoids many of the cliches that currently plague bands who share an affection of both electronics and live instrumentation. Like
Boom Bip
or Four Tet, they navigate the somewhat overpopulated waters of the style with significant skill, moving between minimal electronic sterility and layered organic textures with seemingly without effort. "Bag of Lovely" is an unreleased track made specially available to scissorkick readers, so make sure to download this one because it is a real nugget of inspired playing/programming. An initial listen induced imagery of Tortoise's rendition of a Zimbabwean Jit as remixed by Looper. Yeah, it's happy music. Check out d_rradio's trio of 7"s and "Underscore", a superb 7 track mini-album that had I known about it earlier, would have surely made scissorkick's list of 2004's best records. Get more information about d_rradio
here
Read this
nice piece
on d_rradio at Absorb.org -
www.scissorkick.com/
d_rradio :: "Bag of Lovely"


yes, we love d_rradio. and you should too. here is why.
Can you tell us the history of d_rradio ? How you met, how you begun making music ?
We've been friends since we were teenagers, and we've always loved listening to and making music together. We brought together our individual strengths and made d_rradio about 2 years ago, and soon after that we began to find our own sound and our own identity.
You don't talk a lot about yourselves. Do you somehow feel related to the early techno culture of anonymous artists ?
Yes, we can relate to it because it came from the artists wanting to keep the main focus on the music and that's a big concern of ours, but we don't want to hide away to be coy because we're definately not 'tortured artists' - we're really happy. What matters to us the most is people playing and enjoying the records. Also, we're tired of the whole celebrity thing so that probably has an affect on our attitude towards selling ourselves. We're happy for our music to speak for us.
Do you think the weather of North-East England influences your tracks ?
It doesn't influence us consciously, but our tracks sometimes reflect the mood of our weather. Perhaps it does subconsciously, but we don't set out to make music that has a particular 'sound', we always try to make a new sound. We can start with a few notes and, by focusing on the emotional qualities of those notes, we can build on them. This way the tracks present themselves to us as we make them. We try to be creative, take chances and always push the music forward, we strive to make it as beautiful and evocative to ourselves as we can.
What or who do you consider as your main influences ?
We're not so much influenced by sounds, as inspired by all kinds of great music - that's definately what drives us. Hearing amazing stuff that really hits you deep down is the most inspiring thing to us. We want to make music that helps, that is medicinal. Our influences are too broad to mention, because there's so much amazing music out there, we couldn't narrow it down. There's great stuff in all genres, the important thing is whether it moves you.
I think what I like most in your music is the kind of sincerity that you put in it. It's all about the feelings, isn't it ?
Absolutely. The feel has to shine through. A song can turn your feelings around in a moment. If you're feeling sad it can make you happy, if you're weak it can make you strong - even if you're cold it can make you warm. That never ceases to amaze us and that's what we aim for. We want to make people feel good.
It looks like you don't say 'the world is good' or 'the world is bad', but it's always in between. 'Shake down the stars' for example is so melancholic. Life is hard but we don't cry everyday, right ?
Right. Life can be hard but just being here is great. Listening to music that's full of passion, we can derive pleasure and then re-channel it into something new. Hopefully that way, somebody else can feel good too. The world is bad but we can always do things to make it better, if only for ourselves. U_nderscore is melancholic but it's joyful too. It's not difficult to make sad music, you can just play in a minor key, but to make music that taps into the emotions and comforts the listener is something else, and that's something we strive to do, lift spirits.
There is a strong childish feeling in u_nderscore. How do you explain it ?
That's just us, it's not something that we deliberately set out to achieve. We take it as a compliment, because we love it when music makes you feel young and free, so maybe that's why it comes through in what we do.
You have been playlisted by John Peel, there is this article in absorb.org, are you surprised by all that attention you get from only a few 7'' ?
We are surprised, but at the same time, we love what we do, and we hoped that other people out there would feel the same, so it's a pleasant surprise, but it's one that we hoped for.
How do you see the future ? What can we expect from your first full length album to come ?
We just take it as it comes. Whatever the future holds for us is impossible to say, so we'll just keep going. We want to keep getting better and keep on making beautiful records that will last, for people to find and enjoy, even when we're gone. Our music is changing all the time, so even we don't know what to expect and that's part of the beauty of it - nobody knows where it's going to end up so that keeps it exciting. We're in a really good position and we're just going to keep doing what feels right and see where it leads us. We want to keep enjoying what we do and we never want to repeat ourselves. Our newer music is less soporific and a little more freeform. It has our stamp on it but it has a different texture too. If 'u_nderscore' sways, our next record kicks.
interview pH
2004, october
pictures Vicki Jacob