Suluda

s

pektralna ekstravagancija

svetog, smiješnog i blesavog.
soundcloud
www.facebook.com/lifeinthegrid
In January John DeNizio wrote "this is
my white album
."For a band to make the same statement could have meant any number of things. But for a solo artist the message seems clear:
after a great deal of soul-searching, here is my soul. All of the elements are here, no matter how seemingly disparate.
Or maybe that analysis is excessive. One thing is certain: he wasn't making a statement about
minimal cover art
.
Fluid Radio reviews some 600 releases a year, and we have encountered our share of white albums. But daresay we have never met a soul quite like this, never heard the likes of
This love of mine
. Recording as Pierrot Lunaire, DeNizio has produced something mad, sinister, intoxicating, fun, infuriating and seamless.The noise rivals that of any feedback zealot and the jazz is as anti-pop as any midnight five-piece. Small wonder that Lewis Carroll features high on
his Facebook page
, because this is a tumble down the rabbit hole like no other. And this time it is you who will take the beating on the way down. Your brow will crease. Your ears will ring. Albums as alternately difficult and rewarding as this teach us a little about ourselves as well as the composers.
It begins loudly with "Camelia FM." (Don't Google it, and don't try to Soundcloud the samples. Been there). Echoing, scratchy 78s of swinging jazz spin, slow to a crawl, then moan with processing and tape anguish.
Wait. Tape?
Found sounds become original material–brass, voice, synthesizer–although we can never tell exactly when. Vocals are blurred, fully in the red. As precise as brandy, as antiseptic as engine grease. (Notes in the margins, #3 of 17:
This thing has more moods than my ex.
) By the gin joint piano of 3:12 you've already learned not to trust your instincts. Is it some Earl Hines lick we'd otherwise distinguish straight away, but in our disorientation is just out of reach? Or have we caught the California-based composer in a New York state of mind? Guitar fret noise squawks like a sky full of swans. (The impression is hard to resist. If there is any sort of comparison to be had here, it is that DeNizio has just done for jazz what Black Swan and The Caretaker do for the classical era.) The hall of mirrors starts getting overpopulated at 6:00, and the noise starts to coil. It would be ridiculous to try to describe the sound sources from here, save for the searching vocals and courses upon courses of shadowy echo. Even if the instrumentation is opaque the message isn't:
a lone voice in the babble
. When the music resolves again it is a glimpse at more samples. If there is any thematic intent there it is the clawing out of uncertainty and back to the familiar, the established.
And that was all a single track. It continues similarly, which to be fair, is a relative term. Suffice to say that, for example, Egyptian mariachi rap doesn't wait behind the next corner. "Curse Go Back" leans a bit more toward psychedelia, "Trance of the Rising Sun" more toward dadaism, and "Tenor Arabesque/Angel Dust" toward straight-up jazz. But as a whole it leans toward soul discovery, and that includes yours. -
Fred Nolan
for Fluid Radio
A big old double tape of crazy from California's John DeNizio, who goes by Pierrot Lunaire in Weirdo Cassette Tape Land. He serves as mayor there. I like to imagine that's his little world pictured on the cover, he the conductor of the local band which is full of strange creatures trumpeting flatulent notes and fluttering their way through alien scales, drummers pitter-pattering away with toys, a blown out saxophone moaning in mournful howls. Interjections of synth-whatsits, vocal groans, and windy whooshes of noise, all of it haphazardly built on a volatile and unstable surface, ready to topple if something so much as sneezes. Barely listenable, but it engulfs in a whirling pool of mysterious improvisation and psychedelic wonder. There's also an old phonograph in the back of the room playing Benny Goodman, doused in everclear. Pierrot Lunaire creates the kind of surrealistic nightmares your great grandparents might have on their death bed upon contracting the Ebola virus at the ripe-old age of 102. Hallucinations aren't just a side-effect of the music; they just come with the territory. -
STRAUSS
Turn Back the Hands of Time
(2011)
You will be pleased to check out this incredible cassette by CMMC family friend,
Pierrot Lunaire
.
- Using saxophone and tape loops, entheogenic explorer, Pierrot Lunaire, unearths and reinterprets the music from some lost hallucinatory civilization.
hookervision.blogspot.com/2011/05/radio-day-batch.html
Of all the 2011 that I've heard now in 2012, Pierrot Lunaire's two cassettes,
Turn Back the Hands of Time
and
Latern Floating Vessel
, have wowed me most. He released another 2011 tape too,
Exercise in Futility
, but I haven't listened to that one yet. But I will. I will listen to any- and everything I can find from him (including the new Hooker Vision 7"). Strictly on the basis of these two tape being, well, so weird and weirdly amazing. A mix of blurred vocals, tape manipulation and distorted saxophone, Pierrot Lunaire sounds (particularly on
TBtHoT
) like The Caretaker's
An Empty Bliss
if it were wonkier and infused with the out-jazz dissonance/melancholy of Sean McCann. Which means (if you are familiar with those references—and you should be) it's really really really really really good, which in turn means that it more than good.
-

forestgospel.blogspot.com/
Latern Floating Vessel
these diverse and discrete pieces of free saxophone shapes, soft tones, disembodied voices and amplified atmospherics suggest an alluring unifying logic. and what is sought with this logic is a sort of ascent.
edition of 100 Fadeaway tapes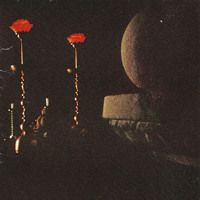 theme for ascension and eternal love

soundcloud



Available from Experimedia.net. Since we first introduced Pierrot Lunaire to the world, via his mind-altering masterpiece debut, Turn Back the Hands of Time, we felt it was only right to release his first work on vinyl as well. More of a miniature album than a single, this 7" is the total manifestation of Pierrot. Leading off with a sidelong sax and electronics slow burner, Lunaire guides you gently down the rabbit hole as disembodied vocals and junk oscillations begin to soar and collide around you like psilocybic fireworks. On the B side, we're guided through a labyrinthian tapestry of cut-up waltzes and ballads. All the while, Lunaire croons maniacally; a mythic cosmic joker.