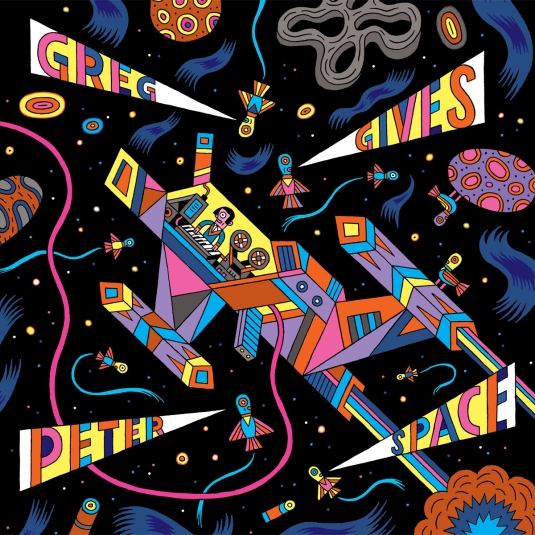 Peter Broderick i Greg Haines penju se i lijepe dub po prozorima visokih zgrada. I onda sve predivno pada u šalicu čaja.
The long overdue first collaborative work by Peter Broderick and Greg Haines reveals their mutual love for dub music with 'groovy rhythms, heavy bass and spacey synthesizers.
Here is what they are saying:
Greg Gives Peter Space – the long overdue first collaborative work by Peter Broderick and Greg Haines – "are you ready for this?"
"Greg and I became good friends while both living in Berlin, around 2009 to 2013. We spent countless late nights playing records for each other, dreaming the dream of good music. We talked a lot about collaborating and even put in quite a few hours at each other's studios . . . but for some strange reason we never seemed to finish anything. Maybe we were just busy enough with our other projects and didn't feel in any rush. But we certainly had it in mind that we'd like to finish something one day. And we are very proud to say that day is finally here!
Primarily inspired by mine and Greg's recent obsession with dub music, Greg Gives Peter Space is a mini album comprised of six tracks filled with – you guessed it – spacey sounds, created with the help of Greg's ever-growing collection of synthesizers, tape delays and reel-to-reel machines. In the true spirit of dub music, many of the mixes were made live, both of us hovering over the mixing board, dancing around and following our intuitions, processing the sounds with live effects while the music bounced down to tape., We are extremely excited to release this record in the summer time and to celebrate with a few select shows around Europe. We've enlisted our dear friend Martyn Heyne to help us perform the music live, and we plan on bringing as much of the original gear from the recordings as possible. After years of playing fairly quiet music for an often seated audience, we can't wait to get on stage and bounce around to some groovy rhythms, heavy bass and spacey synthesizers. Prepare for take-off! " – Peter Broderick, April 2014
Peter Broderick (1987) is an American born multi-instrumentalist and singer. In his later teenage years he became entwined in the Portland (Oregon) indie folk scene, recording for the likes of M. Ward, Laura Gibson and Dolorean. 2007 saw him moving across the ocean to Denmark, where he began a long collaboration with the band Efterklang, touring the world with them for the next five years. Meanwhile he recorded several albums of solo material, ranging from sparse classical compositions (Float) to homemade folk music (Home), constantly experimenting with different musical genres, and also being commissioned to write music for several films and contemporary dance works. He then lived in Berlin for several years where he met and collaborated with Nils Frahm, Dustin O'Halloran and several others. He now lives back in America, near where he grew up, and continues to travel the world performing solo concerts and collaborating with a vast array of different musicians and artists.
Over the course of seven years, British born and Berlin based composer Greg Haines has carved out an intensely beautiful corner in the vast and ever-growing musical world. He has surprised music lovers around the globe with his unique and overtly personal approach to creating and performing a very patient and contemplative music, and with his numerous projects with other musicians and choreographers, including his collaborations with choreographer David Dawson for the Dutch National Ballet and the Royal Opera House, and his on-going work with The Alvaret Ensemble and The Group.
Space has always been important to the music of
Peter Broderick
. On his "conventional" solo albums such as
Home, Float
and
How They Are
his subtle melodies and harmonies are matched to intricate piano and strings to create a gentle, un-invasive whole yet he knows how to use the space between the notes - the grace notes - just as powerfully.
Take a track like "
Games
" on
Home
: the silences between the beautiful choral sighs are just as moving as the vocalised sections, providing stirring intakes of breath before the music pours in again. Then there's his more classical or improvised work; on film scores real and imagined; here Broderick works with the spaces and the visuals, working sounds into the gaps and trying to find the perfect balance between release and restraint. His partner here, on
Greg Gives Peter Space
,
Greg Haines
, is someone who again works with space in his music. "So It Goes", from his most recent work
Where We Are
is a hushed ambient piece that slowly builds until sound rushes to fill the spaces the minutes before had created. One man works with the space, the other toys with it before moving to push sounds into it.
These two met while living in Berlin; American Broderick is now living back in the States following time in Scandinavia and Germany, while Brit Haines still lives in the German capital. Having discussed making music together for a while, the two bonded over a love of another genre that takes advantage of grace notes: dub. Finally, hunched over Haines' analogue instrumentation with Broderick singing, the two have made a mostly improvised record of dub-infused excursions and it's as good as the pedigree of the two gentlemen involved would have you believe it to be.
While
Greg Gives Peter Space
is mainly a dub record, it is sometimes only in the loosest sense of the word; take second track "Electric Eel River" as an example, it's mostly Broderick and what sounds like a banjo with him singing medieval folk choral harmonies while in the background Haines elongates some bursts of synthesiser noise, taking advantage of the space between Broderick's vocals to stretch out the electronic notes. Elsewhere, though, it does sound like it could have been created at the legendary Black Ark desk.
"The Feeling Shaker" has Broderick working improvised and looped chanting over spaced-out organ which is twisted, bent and stretched out by Haines' use of tape delays, while "A Clear View" bounces around on narcotic percussion and well-sprung synths and fully embraces the concept of the record. It just sounds
fun
. That's matched by closing track "February Space Dub"; it begins with what feels like pulse signals from outer space, barely there and floating into the silences of the track, gently feeling out to Broderick's disembodied wordless croon and trying to work around the voice, and with it. The whole track moves like that, gently circling and exploring space, each element of the song (in particular a celestial organ sound that's incredibly beautiful) making sure to interact with each other - not to fight for the precious space.
You can imagine the fun Broderick and Haines would have playing around with these tracks live, changing the structure and the sounds as they work around each other's compositions. On record it feels ever-so-slightly forced at times, despite the improvised nature, but I do mean ever-so-slightly. It's the fun and the freedom that shines through on
Greg Gives Peter Space
and that bodes exceedingly well for any future collaborations. -