Do pojave Žižeka, Šalamun je za mene bio jedini važan čovjek u Jugoslaviji.
Dinner with Tomaž: remembering Tomaž Šalamun 1941-2014
By SJ Fowler.
It staggers me now to think of it, but my first ever meeting with Tomaž Šalamun was in a restaurant in Ljubljana, just he and I. We sat, just us two, and talked for many hours on a summer evening in his city. I had simply emailed him, blind, without him knowing me, and without me having done anything of note to claim his time or attention, and he responded immediately and generously, and suggested we meet.
Ljubljana is one of the most beautiful cities in Europe, Slovenia as a whole, one of the most beautiful countries. You'd not necessarily hear this from its citizens, who have the admirable self-deprecation of an intellectual, occasionally maudlin people, but amongst the baroque architecture and Habsburg openness to language and nationhood, they also possess one of the highest literacy rates in Europe, and a passion for poetry reflected in the books they shift and the poets they produce. Tomaž Šalamun was the greatest Slovenian poet.
He was a quiet titan who bestrode Tito's communism and EU Europe with an ease and deference that was his hallmark. To speak to him or read his work was to be convinced these seismic changes were of secondary importance behind the actions and thoughts of each individual human being, whose true complexity and humour and love and expression were to be found in the layered, brisk, intelligent, timeless poetry that he penned for nearly fifty years. His reputation was as strong in America and the UK as it was across Europe and the rest of the world. He was, despite himself, a major poet of great significance.
At that time I was visiting Slovenia every year as a summer break, that country being a second home to me, Bled and Bohinj, the lakes, a place to try and write. And I had emailed him in a moment of boldness just because I was on holiday, and in reply he had asked me to dinner. By the time we met he had seemingly read my work, offered me compliments that showed a close reading that it didn't deserve, connected me to my interview series,
Maintenant
, and showed that he had actually read many of those issues already. I later heard from younger Slovenian poets before we met he was telling people at festivals to look up the series and the work it was doing. He had his ear to the ground. And so we talked for hours, his manner famous for its intelligence, warmth, attention and generosity.
Soon he was telling me of his father and his family, its relationship with the multinational, pluralist nature of the Habsburg Empire, the line of doctors in the Šalamun line, then his own writing, his own life. His childhood on the Slovene coast, in Koper, the coast of Rilke, Saba, Svevo. Then his house in Bled, the history of Bled, for I couldn't shut up about that place, and then, so casually, he transitioned into his time jailed under the communist regime, the time he said that made his name, made him famous. The time that made him so well known throughout his home nation that he had to flee to be able to write again, so cloying was the attention. Then his time in New York, in the late 60s and 70s, making his name again in America, where he went of his own volition, not by invitation, and the excitement of the poets and the poetry scene there, that he connected to just because of a chance conversation in a bookshop and not because anyone knew who he was for a single second. And his time in Iowa at the famous writers workshop. Then the great writers he knew from England, his great respect for those I mentioned and admired like Tom Raworth and Anselm Hollo, colleagues of his in the journey of a life spent in pursuit of poetry. And some great stories I won't share too, some about Hollo, Iowa bars and the Viking poet coming up against 'real' people in rural America. A joke, a funny anecdote never more than a moment away even if he was talking about being in prison, telling me this was nothing, a very brief period, or being an unknown Slovene alone in New York city during its grimy glory.
And then that subject, himself, was done, as gracefully expressed to me, a young, eager, stupid dinner companion, as one could express such a thing. One's own life, an incredible sprawling life that took in endless travel, endless writing, endless conversation and experience, condensed and relayed, out of politeness. Then it was questions about me, and beyond that, for much of our time, an endless, empassioned discussion about the young writers he had encountered. The depth and knowledge he had of those thirty, forty, even fifty years younger than him was incredible, deeper than my own about my peers. He had read their works, critiqued them, written letter after letter of recommendation, found them publishers, festivals, residencies. He had two or three generations of Slovenian poets in his debt, and beyond Slovenia, poets from around the world, and when thanked, as I was thanking him for meeting me, he would not hear that for a second.
His poetry has meant an enormous amount to me, as it has for so many who have followed him. It has the rare quality of being actually unique. Often labelled, quite bizarrely I think, as a surrealist, this reduction in and of itself is perhaps the best way to begin to understand his work. So dense, elliptical, circular and expressive to be beyond the comfort so many of his readers, it was this quality, always present in his work that he somehow, naturally I imagine, managed to hold together with a directness, a deftness, an accessibility and a conversational flow of language that was at odds with the complexity of the form and imagery. It was somehow as though this density required a brevity to complete it, to be his voice. These were bursts of insight, necessarily complex and winding, but given form as asides, refuting wisdom precisely because that is where it lies. His ability to remain singular in tone when evoking forms and language and ideas that were as wide as the potential of the poetic medium itself was his great achievement. This is what I have gleaned from his life's work, that poetry is most authentic when it eschews linear authenticity, that the first note of poetry is sentiment and its greatest failing, that when a poet matures, or has any talent, they are like an artisan, they produce something that shocks upon encounter through great craft and that seems then, so easy in the world. As though it was always there.
Beauty of Man
by Tomaž Šalamun
Beauty of man is the furthest history.
We have pressed peaches.
Nobody is coming out from little huts.
We know, squeezed.
The building eroded into its horizon.
I didn't propel anything that wouldn't go to pasture.
I kneaded round kerchiefs inscribed above the fresco.
The one who doesn't pledge the horizon,
how would he pay for it?
The tones don't know what apples are.
The defense knows.
It bites the serene one.
The great blindness tells iodine:
dress up, stay.
Your little barrel is the arrogant's clay.
And: on the white sand the grass grows.
I'm from tonight.
I never spoke to Tomaž at a reading or a festival. We never met when there was another person in the conversation. Just a few more times we met, each year or thereabouts when I was in Slovenia, Bled or Ljubljana, did we casually share dinner. We corresponded during his illness and as ever he was generous, energetic in writing, telling me of new plans and hopes to travel. Just back from Brazil he spoke to me of the exhaustion the trip had caused him and how inexplicable this seemed to him, past seventy years of age and unwell. This was a life spent with an energy and a soulfulness few can possess, a huge life traversing nations and political eras, and his was a mind so concentrated, so sharp and complex that I always thought of him as a man of capability somehow, not naturally kind or generous, but applied to himself as being so, as a responsibility, almost entwined with the sensitivity he suffered as a great poet. And this meant all the more to me, to see a man before me who I could learn everything from, that he had chosen a life of writing and a life of being open to people, to people younger than him, and the idea that they might be separate from him because of this seeming absurd. Tomaž was a man who chose to be a great poet and a great person, he chose to be that in the face of changes in his life and nation that he could not control and that at times tried to crush him. He was a courageous man, a truely gifted poet and gutted now, hearing of his death yesterday morning, I feel only privileged that my life crossed his and we shared those short evenings together in Slovenia.
Irradiated Gnostics
As if water would have three
skins, one Istanbul's, one
birds' and one still cobbled into
fingers' gloves' skin. How
to pumice the skin into pavement
for two, how to define its
feathers up and down. You crumple
yourself in the fish pond.
There they stain your iron shirt.
Burda lotuses float on
the surface, Villon spat pits.
Anymore village boys
don't spit pits. Pits fall out
their asses to the ground.
Nabucco
In the strainer (many floors, many holes, many houses)
there's no combed stain. Deers rush with a load
on their backs with broad-shouldered stags. In the
strainer (in the midst of woods) when some sheet of
paper loses its way among putrid trunks, the window
beams. God no longer hears himself. The vault was
duped. Among fires and boats, among fluttering
of the covered ups. Meadows replaced God's ears.
To put to envy those centrifugal ones he invented wet
shelves. As if the purse under the horse weren't seen.
There are iron gates in the bodies. Again they moved
the furniture. Beer and coke cans lied among
cigarette butts. Frau Draschler punished the supplent.
Why didn't she iron the socks? The earth is naked
like a pearl. Into the bag (before the giant with his eyes wakes
up) run the hidden ones. These are fluffs. Celeste Aida
rises without creaking. Celeeesteee Aiiiida. Behind
that stove where I peed my pants as a child
Fišer and Šteger now conceive little shits. We ressurrect
paprikas. We drowned the firing range. Drava
burnt chicken on the wall. Outsiders rush to the
ground. Visit black shafts. Huns stay in their
soft gestures. Compare Bled and Ptuj
Castles, the stillbirth child knocks out the glazed
tile. She walks with Sipko in the house. Paola
sleeps in bronze. There's no apex, there's no apex
in the wet fresh castle. There's the night with rams.
What Does Poetry Do
The man is sixty-four and lectures something in his wickel-wackel
English. An undergrad illegally passes through his class. He
wants to listen. The man agrees. Undergrad reads his lines. The man
falls in love. The class flares. The class falls in love, too. Next
summer: the man is sixty-five, the undergrad writes a letter. Please,
a reference. The man goes to Paris to Gustave Moreau's
house again after thirty-two years to write the real reference letter.
He ascertains: Gustave Moreau is a dead stuffed sphinx,
the undergrad is alive and beaming. He writes
the real
reference
letter. The battle unfolds. The best creative writing
programs fight, personally, with phone calls. The undergrad
rolls on the floor from happiness. The undergrad is
no more the man's student. The man won't be jailed. Twenty-
two and sixty-six, both young. The man is dying fast.
Tarpaulins and Laces on the Tarpaulins
Are you worthy?
Are you a rag?
I take terrain and spread it out and
donate it and the terrain is gone.
Tymothy. Hanged by bodyhair,
his thighs ache.
He'll donate a wheel to flappers
when he crosses the
bridge. The rag—water glitters.
Ants break through the earth, they break
through the water and come to air and
glitter.
The bridge has a knee.
The sun sucks the darkness.
All poems translated from the Slovenian by Michael Thomas Taren and the author.
We Lived in a Hug, Shivering with Cold
Is the little bird torn apart
by a paw? Lights switch on, at least
one juxtaposition between

tree
trunks. On handcarts
(wheelbarrows) there are

blue baby
bags. An unguaranteed
growth ring is left

on the asphalt.
The gadget with which
you fatten

your ears,
rubbed out from sky
lights. The other

will understand all of this
when he takes the time.
The Danube will open its graves.
—Translated from Slovenian
by Brian Henry and the author
History
Tomaz Salamun is a monster.
Tomaz Salamun is a sphere rushing through the air.
He lies down in twilight, he swims in twilight.
People and I, we both look at him amazed,
we wish him well, maybe he is a comet.
Maybe he is punishment from the gods,
the boundary stone of the world.
Maybe he is such a speck in the universe
that he will give energy to the planet
when oil, steel, and food run short.
He might only be a hump, his head
should be taken off like a spider's.
But something would then suck up
Tomaz Salamun, possibly the head.
Possibly he should be pressed between
glass, his photo should be taken.
He should be put in formaldehyde, so children
would look at him as they do foetuses,
protei, and mermaids.
Next year, he'll probably be in Hawaii
or in Ljubljana. Doorkeepers will scalp
tickets. People walk barefoot
to the university there. The waves can be
a hundred feet high. The city is fantastic,
shot through with people on the make,
the wind is mild.
But in Ljubljana people say: look!
This is Tomaz Salamun, he went to the store
with his wife Marushka to buy some milk.
He will drink it and this is history.
Leather without history. Strength without
rickets. From a drawer. On the hand a wire. Blood
is silk. Walk silently. Blood is like
fruit. Here too is heated.
Shah's tanks are entrenched. First we thrashed
ourselves. We roared and got excited.
Mirrors have to function as ovens. You see them
from the road. On the machines producing
dreams. Some read between. The perfect
form springs up like an ear. I know
a chiropractor who can pull out your arm.
Five centimeters out of your shoulder.
Joints crunch. No need for oil. You spin
as you please. You leave when the tool falls asleep.
Cats have set themselves on wings.
Buttons have buttercups. Hares are soft meat,
hares are soft meat, they quiver and throng.
They rise the sun, actually hold it
on little poles planted in the sand.
Water fortifies the poles in river sand. A pool
vibrates differently from clay. It spills itself
and does not come back rhythmically. The sea
is a guarantee and the nosy are full of adrenaline.
And now? How are you? Is there also a membrane
in the volcano along which the tongue glides?
That which stirs the cells of memory
and undulates the body and screams
when the sun soaks, soaks, roasting in Iška?
Pismo


Ljubavi, koja se
okrećeš poput geometrije,
gdje si? Da uistinu vjerujem u
sebe, kao što kažeš da ti
vjeruješ, drvo s najamnicima, prst
s obručima, zemlja
s kišom? Nisam toliko
potpun, savršen, nisu ni životinje koje se
pare,
zmaj sa zmajem, ovca s ovcom, svjetlost sa
sjenkom, i što ti je konačno
uzimala ova moja ezoterična metoda i
prevoditeljska strast? Zar ti nisam sve
vraćao? Odbacila si me, jer si
površna i nestrpljiva
čitateljica. I zato što sam govorio da sam
bog, a ti si vjerovala. Mislila si da je
okrutnost što je bila
vatra, voda, zrak. Je li ti sada
bolje, kada si naslonjena na
drugo rame? Drugo, dostatno
trošniji oblik od onoga koji sam ti bio
ja?


Nevjerni unuk

Djeco, u vlaku Trst-Beč spavajte. Tamo
Vani nemate što za vidjeti. Tamo ničega
nema.
(moja nonica Mila Gulič, 1891-1978)

Ne zaspi u
vlaku Mleci –
Beč, dragi
Čitatelju.
Slovenija je tako
sitna da je lako možeš promašiti! Sitnija od moga
ranča istočno od
Sierre!
Radije ustani,
Pruži ruku kroz prozor, iako piše:
ZABRANJENO!
Oslušni moj
zlatni glas!


* * *

Nisi me zameo.
Sam sam išao po snijeg.
Obrane su pale, prijatelju.
Polja, šume miruju.

Rastapam se,
Prejako si me zakovao.
Otpremam se, jer ljubim.
Tu isto: jedina slast je u gubitku.




Poezija

Veća
slast
je
gubiti
žene
nego
novac.
Najveća
slast
je
gubiti
svoju
smrt.


Čitati: ljubiti

Kad te čitam, plivam. Kao medo me šapama
potiskuješ u blaženstvo. Ležiš na meni, ti koji si me
razdao. Uzljubih te do smrti, prvi među
rođenima. U jedincatu trenu postah tvoj krijes.

Siguran sam kao nikada. Ti si posljednji
osjećaj zadovoljenja: znati otkuda žudnja.
U tebi sam kao u mekom grobu. Siječeš i ražariš
sve slojeve. Vrijeme se užge i iščezne, čujem himne

kada te gledam. Strog si i zahtjevan, stvaran. I ne
mogu govoriti. Znam da čeznem za tobom, tvrdi suri
čeliče. Za jedan tvoj dodir dajem sve. Gledaj, kasno sunce

tuče o stijenje dvorišta u Urbinu. Za tebe sam umro.
Osjećam te i ti si mi potreban. Nijemiš. Trgaš me i ižgaš,
uvijek. I u prostore, koje si uništio, utječe raj.


Pont-Neuf

Moja ruža si, moja usta, moje nebo.
U tvom pogledu zanijemi sedam zrna.
Nosim ih dok se ne skamenim.
Sve dok drugi miris ne preplavi stubišta.

Moje si bilo, moj dah, moja trava.
Najnježniji zločinac, crveni baršun.
Zdrobit će te oko labirinta. Moj dlan
te skuplja sustavno kao staklo boje.

Živimo za umorstvo. Seine valja gnjilo voće.
I kada te oslonim o zid, obazrijem se da
vidim bliži li se tko, ti izmakneš u kristal.
Kao izdajnik mi produžuješ život.


Sinji svod

Svojom tihom, tankom rukom gasiš zvijezde.
Dijeliš moje ime kao pčela med.
Ugrizi me! Užižeš mi oči. Udaljeno
more bivola u pepeljastu, zelenu
zraku. Ukras je zamjenjiv, ja nisam.
Na križ sam pribijen i trošim svoje
plodove. Gledaj: svaka kap mog
spomena je bilo svoda, još sada
skupljena u čudo što živi nebo.
Životinja klone, klecne, pogođena.
Odriješiš se od bijela paperja svjetiljki i
ne zasja napis na tvojim prsima ni za
koga. U svojim tihim, mekim
ustima sažgao si moj vrat.


Lak

Sudbina me kotrlja. Gdjekad kao jaje. Gdjekad me
kandžama lamata obalom. Vičem. Ne dam se.
Sav svoj sok založim. To raditi ne smijem.
Usud me može utrnuti, to sam već osjetio. Ako

nam sudba ne puše u dušu, u tren se smrznemo.
Dane sam živio u strašnoj stravi da sunce
više neće zagrijati. Da je to moj posljednji dan.
Ćutio sam da mi svjetlost puzi iz ruku i da

nisam imao dovoljno quartera u džepu i Metkin
glas da nije bio dovoljno mio i ljubazan i konkretan
i stvaran, tijelo bi mi napustila duša, što će se

jednom zbiti. Sa smrću bi trebalo biti
susretljiv. Domaja je odakle smo potekli.
Živi smo samo u trenu. Dok se lak ne osuši.



Riba

Ja sam mesožder, ali biljka.
Ja sam ujedno i Bog i čovjek.
Ja sam buba. Iz mene raste čovječanstvo.
Ja imam posve razliven mozak, poput
cvijeta, tako da mogu jače ljubiti. Ponekad
stavljam prste u nj i on je topao. Zli ljudi
govore da se drugi ljudi utapaju
u njemu. Ne. Ja sam trbuh.
U njemu primam putnike.
Ja imam ženu koja me voli.
Ponekad se uplašim da me ona
voli više no ja nju i tada sam žalostan
i utučen. Moja žena diše poput mlada
ptića. Njezino me tijelo odmara.
Moja žena se boji drugih gostiju.
Govorim joj, ne, ne, nemoj se bojati.
Svi su gosti jedan jedini i za nas sve.
Bijela žigica s modrom glavicom pala mi je
u stroj. Uprljao sam nokte.
Sad razmišljam što da napišem.
Ovdje živi jedna susjeda. Njezina djeca
prave veliku buku. Ja sam Bog i umirujem ih.
U jedan idem kod zubara. Dr Mena,
calle Reloj. Pozvonit ću i reći da mi
izvadi zub, jer previše patim.
Najsretniji sam dok spavam i pišem.
Majstori me predaju iz ruke u ruku.
To je potrebno. To je toliko potrebno
kao i drvetu da raste. Drvo treba zemlju.
Ja trebam zemlju da ne poludim.
Živjet ću četristopedeset godina.
Rebazar Tarzs živi već šest stotina godina.
Ne znam je li on bio u onom bijelom kaputu,
jer ih još ne razlikujem. Kad pišem, imam
drugi krevet. Ponekad se razlijem i više
no voda, jer ona najviše ljubi.
Strah ranjava ljude. Ruža je najmekša,
ako staviš dlan na nju. Ruža voli
dlan. Ja volim sve. Jučer sam
sanjao da se moj otac nagnuo
nad Harriet. Plašim se drugih žena i
zato s njima ne spavam. Ali razdaljina između
Boga i mladih ljudi je mala.
U Bogu je uvijek jedna sama žena i to je
moja žena. Ne bojim se da će me gosti
rastrgati. Ja mogu sve dati i još će izrasti.
Što više dajem, to više raste. Potom otpliva
kao pomoć za druga bića. Na jednoj je planeti
sabirni centar za moje meso. Ne znam na
kojem. Ma tko da popije nešto od ovoga,
bit će sretan. Ja sam cjevčica. Ja sam Bog,
jer ljubim. Sve mi je tamno ovdje, unutra,
izvana ništa. Svaku životinju mogu prosvijetliti.
Kruli mi. Kad čujem sokove u svojem
tijelu, znam da sam u milosti. Ja bih
morao danonoćno gutati novac, kad bih htio
izgraditi svoj život, ali i to ne bi
pomoglo. Ja sam stvoren za to da
sijem. Novac je smrt. Idem na terasu.
Odatle vidim cijeli krajolik, do Dolores
Hidalga. Toplo i mekano je kao u Toscani,
a nije Toscana. Sjedimo tamo Metka i ja
i gledamo. Sunce je zašlo ali još sjedimo
i gledamo. Ona ima ruke kao Shakti. Ja imam
njušku kao egipatska životinja. Ljubav je
sve. Mojsijeva se košara nije nikad
razbila na stijenama. Iz ravna predjela
dolaze mali konjići. Od Sierre puše
vjetar. Ja ljudima s glavom nasrćem u usta,
ubijem ih i rodim,
ubijem i rodim, jer pišem.
Vetrovito, a lepo
prevela sa slovenačkog: Ana Ristović
Četiri, pet, šest
Zastava Saló. Gospodar sveta.
Sastavi se. Gleda rasu.
Umre, umri, umre. Kani se.
Deo da listu. Umije oči.
Da Dunav i vatu.
Da Dunav i vatu.
Spava. Počiva. Nju je imao u
vratu. Video muvu, kako
peva. Trčao sam sa strane na
četiri noge. Trčao sam
sa strane na šest nogu.
Punio sam joj grlo.
O, leptirovi.
Klimali smo.
Cenim svoje seme
Odivljaj, slap, odivljaj.
Natrljati vene i bioskop.
Odivljaj slap, odivljaj.
Trči meso. Staccato meso.
Hitra svetlost. Gete svetlost.
Nju i bele čarape.
Gine ti. Divlje.
Tačkice na glavi dužda.
Mačkice centralne.
Tačkice na glavi dužda.
Mačkice centralne.
Ubaciti rudu u brezov sjaj.
Tu kuća diše i spava.
Sluša tême.
Dlan
Kreda lije, vezir pljuska.
Mirišeš ko devojka, ludo brašno.
Parnato krilno drvo, taman glas.
Cveće je biserno, Bog daje senku.
Dižem te ko pokretni most. Kradem
ruke. Pernate životinje stenju.
Nacrtaj ponija. Vrti cvet. Umij
trepavice. Da se vezir
začudi. Da ponovo pretrnu
kanali. Brodići zaplove i nas dvoje
šapućemo. Kaše ljuljao, kaše ljuljao.
Oprostio beline i stapao se.
——
Ha! Your sprezzatura eats my eyes.
Bombole (od jutros, zadržane)
imaju blizance. Povijaju blizance.
Džon popravlja kamin, Dejvid
putuje, ja idem u Aziju. A ti,
zrikavče, tucaj svoje
granitne kocke. Ogromna je Azija.
Više nego što sam mogao da zamislim
Zamišljao sam kofer sa ružom,
a ovde su tri reda. Azija je
ogromna. Više nego što sam mogao da
zamislim. Đoka je surfovao, tu i
tamo. Ja sam jeo biljke i verao
se po drveću i još uvek me boli.
Šta je, šta je
Plašljive lisice sa zelenim očima,
radost daruje ljude.
Sezati.
Umreti.
Načuliti uho.
Moj čin.
Moj čin.
Njegov čin.
Skuvati zajedno rode.
Mrznuti stenu.
Opovrgnuti njivu.
Rubom dlana mušicu
Pomeriti blago i oprezno.
Neka živi.
Menuet za opkladu
Žabica je izumela brzu poštu.
Neko drveće zna za steznike.
A drugo drveće ne zna za steznike.
Zar nije bolje, neko drveće zna za
steznike, a drugo ne. Nije.
Plen lovi lisicu.
Lisica bljuje.
Mallarmé je nekoliko godina u kolenu nosio parčiće cigle.
Onda ih je rasuzio.
Niko nije vreo.
Stene su bestežinske.
Dolazi neko od važnosti.
Nasloniću ga na krušku.
Žabica je izumela brzu poštu.
Para
Ako si hteo svilu, crtao si je.
Taj hidrat bubnjí.
Na bradi je.
Na bradi je.
Tadzio je.
Tadzio je.
Idem da plivam, Te Deum.
Sok zaleđenih.
Šuti Marija, moli se za nas, strugalico pred
kamerama. Gospodara slavimo.
Imamo naseckane slane komadiće.
Prekorači alge.
Prekorači alge.
Prekorači kapilare.
Pater Suger
Krokodili su drhtave zgrade, koje
nude prazninu.
Očna mast, očna mast.
Tihi su jarboli.
Svetloba je kapljica bitke.
Svetlost na brdima.
Važiti za: od glave do pete.
Dur i oči, šestar, mast i oči.
Kamen: pliva.
Preživao je loptu boga.
Leđa su presretala sunce.
Oni što crnče pili su u senci.
Brisali smo čela.
Porušili katedrale.
Ti i Yves Netzhammer
Sfacciato. JAT i roló.
Sfacciato. Duni unutra, duni
unutra, drži se.
Izobliči travu.
To su staklene pergole.
Divljač mutira. Samo
pili nebo. Koračaj.
Hoće li nastupiti slavlje
plakata? Hoće li ruka
máziti? Hoće li čuti i
zatvoriti mesec? Hoće li povraćati?
Hoće li povraćati? Hoće li
rasti pinije? Juta?
Kvadrige preko očiju?
———
Umrli su obrasci. Umro je pomični
most. Umrla je senka. Ruke su
umrle. Ponekad sunce obasja leđa
preko stolnjaka. Pomeramo srebrne
šoljice. Umrlo je zlatno more. Umrle
su biljke. Savile se u rolnu i
odjurile. Ljubiš se privremeno.
Zemlja. Guanajuato. Osloni se
na platformu. Kada te je pregazio čun i
kada si se odbio, na drugoj strani mora
faun je ućutao četvoricu. Seljacima su
niz godina trulili prsti.
Moguli su spuštali ruže. Jedan
od izgubljenih je prepariran.
———
U čelo me udaraju otkucaji tvog srca.
Smiruješ se. Spavaš i
trzaš se.
Večera
Kovrdžav si. Zvonjenje je utihnulo.
Kovrdžav si. Dlanovi istupaju.
Pomračina preti cvetu.
Kipí lišće. Slonovi su gutali
pluća, udarali smo se balvanima.
Trebaju li ti baklje?
Oko mi je napaslo ranu. Cipelice su
sigurne. Izboči Adamovu
jabučicu i kuštra grivu.
To su italijanske boje. Species je
fabrika. Žaluzine žaluju.
Treperi, smeh, treperi. Samo
slaví, slaví. Ko da plivaš posred
linije i mokri stojimo na ivici.
Vetrovito, a lepo
Petrificiran obraščić je plesao
sa mravicama, mravice su
se pljeskale o bokove. Slušali smo.
Gledali smo – vista.
Penjali smo se, al' ruke su nam
kloparale. Cipele nam
se izvrtale. Mreže –
miropomazali smo vatrogasce – i pod
površinom su bili štrajkovi – sunce je
zastrlo oblake. Žarilo je
gumenasto i žuto. Ptice
su bile zadovoljne. Palme su bile
zadovoljne. Psi su lajali u
delovima. U kreštavim delovima.
Carrara
Iza kineskog zmaja od
papira koji se vuče po
travi nekih dvadesetpet metara ima
altro che više neprospavanih
noći nego iza mojih bajselja.
Dronjak u supi je rasterećeno govedo.
Kararski avan i kararski poljubac.
Video sam udovicu sa velom.
Prvi put sam je video na izložbi
Kami u muzeju Cooper-Hewitt.
Gomila je prala ribu. U Sibiru je U Nu
bio vrećica. Neću više grba.
Izgubio sam grbu. Leđa umačem u
staklaru. Dobio sam staklaru.
Kiša prvo mora da zaštiti svoje oči,
a tek onda kipove
Mršavom, belom, već jako
starom ručicom zaustavio sam mlinski
točak koji se kotrljao sa brda.
O, kapi iz gnezda.
Kristalni štapovi na glatkom
kamenu skliznu pre nego
đonovi. Đonovi skrivajo
tekst. U Konstanci ima zmija sa dugom
kosom, sa ogromnim ušima i
zatvorenim očima. Njena je njuška
ljudska. Podigni maramu. Napusti
tramvaj. Ponovi eksploziju na
stanici. Pođi i gledaj zelenilo
iglica jelki. Dugmad pada kao kiša
usred sreće. Zašto?
Zašto? Tu je Fabiani sebi
popravio prsluk.
Bol se nabora u sličice.
Litvanija
Neću se ni u čemu izgužvati kad sebi budem pevao
lepu stazu. U larvama i dokolenicama je zakon
prirode: pet masnih šamara. Sunce skriva
oblake. Poklonili su mi ogroman hleb.
Bore su bile usečene u stene. Gledao sam
ptičice kao nežne devojčice. Mlatarale su po
nebu i otišle kući. Potom nismo
mogli iz zamka. Sa Olitom sam igrao na
benzinskoj pumpi na ruski rok. Davaj
reč. Bilo je trideset šamlica, ne šamlica,
i nekakvih kutijica za puter. Olita
ih je zavrtela. Mačkici na kamenu nije bilo
hladno. Lica su puna večnosti.
Na žrtvenicima peremo cipele.
Mangalia
Ja sam brat lakeju.
Jata ribe svete višnje.
Ja sam unutrašnji mračni krov,
voz koji razgovara s gorivom.
Skiti su me polili vinom.
Oni su mi zavrnuli rukav.
Drvo nije martovsko.
Gabriela premeće isprave.
Kraj je u duplji.
Med je u duplji.
Kilimandžaro putuje iz žice oko
bradonje kad sam konjiću svlačio
zube. Prozorsko okno je vreme i cvet, moj deo je
uglavljen. Osećam tvoju rosu, glavu,
prstima ti pospem kosicu.
Vrat ti polomim u raku koga jedem.
Ovidije se slaže, u togi.
Moj deo je smesa od rupica za dugme.
More ne ostaje na jeziku.
Još jednu kafu, još jednu kafu, još jednu kafu.
Ližem kožice među prstima patki.
Ispod poklopca je alabaster.
Pečati me udaraju kao tombole.
Kao sito iznad vulkana.
Padni na lice.
Padni na lice.
Žito je svila.
Pravim okrugle kozolce nazad, u planinu dovodim kiseonik.
Jedi adidaske.
Jedi eukaliptusovu kosu.
Venera je trorogi šešir, cement i eter.
Optereti ruku.
Sipi sređujem udove.
Dobila je ruku invalida.
Prva i treća bukva izgori.
I bršljan ih obavije kao bluz.
Nice Hat. Thanks.
Spaljena seoca. Veliki pijanci.
Neverovatno, kakav moj uticaj.
Mi smo patke.
Podelu i naslov preuzeo sam po Jošui.
Ruke su intimno osećanje.
To su naša usta i dlanovi.
Žabe su pendžetirane.
O bože, kako smo jedan drugom bliski.
Kako smo jedan drugom bliski.
Ližemo božiji um i vrtimo se kao kornjače.
Kupola lastavice sažali i uništi.
Gomile peska. Mame, mame.
Neprijatelj je mučen i štrči.
Mamica nosi kaptol.
Okupano novorođenče
Renta se širi kao fleka.
Živim od brusnica i malina.
Pločicu oblikuju vatra i Bog
Zalogaj levičara je vredniji
od podizanja krovova.
Ljubav ima glavu i telo.
Mokri ranjenici koračaju preko klanca.
Ko ima glavu i nozdrve?
Verovati i ustima otvoriti hleb.
Staviti na cigane.
Sunce bi darovalo oba.
Izbledeloga i opusteloga.
Na ribi je brašno.
Crna kopriva.
U glini su dva uspravna vojnika.
Obojica piju.
Kobila pomešana sa hlebom i solju
jurne na sve četiri utičnice.
O, skijašu, da li se još sećaš?
Burda mora biti ispod malina.
Zvižduk osedla tegljača i
udara po vrhovima. Ako ga probiješ
sondom, vidiš nebo. Ako ga
obučeš u kaput, bajke.
»Potencijalnost je strukturirana,
ali nema strukture«
Guidare l'anima e il corpo
e il cazzo di belle arti.
Gle, kad se okreneš i piškiš,
blago sam pogođen i ljubazan.
Osećam se kao sveža trava na koju
duva laki vetrić.
Per ogni sette lavaggi un muto
complimento. Arijadna je od
kvarc stakla. Ljudi su se oznojili.
Guliveru, pomozi mi da vidim miševe
i da ih i zakoljem. Čitaj u dva sata.
Bedanec je jurnuo na mene i od
žene me oteo kljunom kroz krov
auta. Partenza se zašnirala.
Quai des Anglais
Gornja korica palube brodića polivena je
korom. Hrčak pobledi
od radosti. Mirišeš? Rekao bi i ne bi
rekao. Obručiću koga poteram
uzicom, najpre ćemo pregledati
albume. Sliku povećati. Čiji je ovaj
nos? 1880. godina bila je prelomna.
Bastardi su se naselili u Nici.
Nepismeni su počeli da piju sok
Browningu. Ko puzi
po dolinama i jede kestenje? Odakle
bistra izvorska voda kad još nije bilo ni
elektrike? Oblikuj lutku. Lutka ne sme
da drhti. I dostup do nje mora da bude
takav kao da miluješ psa. Ulažem u
dva mlada slikara koji me podsećaju na
mleko. Bojo, koja si uz grudnjak, dođi.
Saslušaj ptice kukanje i zaveži joj kljun.
Rafali noću nisu nikoga ubili
Lokvanj na mahove zvoni: umri dušo.
Poseci joj ručice i uši.
Lezi u leglo. U majčino
naručje. Kupi višnje, kupi
višnje. Niko, ko ne čisti, ne
vlada, ne nosi šlem i
ubije se. Ispod dlana, ako pregrizeš
dlan, boli. Vesna će obasjati
Grad. Ćuk će ustati od
vešala i sresti Javoršeka. Četiri
zavojnice podižu kamen. Azurno
zelene baseball kape. Na stolicu
stanem i kačim natpis.
Vlažno, trulo gnezdo žime.
Okreći se polako i viči. A
likeri? Crno žuti natpisi West
Coast Video. Puž žudi za
tim da pravi kozolce sa kućicom.
Tomis, Konstanca
Kamenine, parobrodi, ribe, cigarete,
Kamenine, parobrodi, ribe, cigarete.
Dečji plač, ovde blizu, srećan.
Kamen kao odsečeno deblo.
Te iubesc...clau...bur. U vreći sam
krasan. Ribe me razgledaju. Ti gledaš
pejsaž. Nikad nisi izašao napolje. Ovidije je
dokaz tajne ko smo nas dvoje. Svetlost zatvara
sreću. Ti si moja ruža. Listovi u spinu i
žareće oko. Tamo je biciklista. Na pesku je.
Odsečeno deblo se topi. Milujem te, milujem te i
ugasim. Grob je pilaf. Točkovi su pod
staklom. Ribe su crne od odjeka. Hoćeš li i ti,
trako od bele kože? Živim za ivicu od stena.
VIŠE FURATI
MANJE SMRDETI
(Ukradeno Ujusansi sa stuba na Kolodvorskoj)
Vidra je obogaćujuće nebo
Jesi li dugačak? Jesi li obaveštajno vešt?
Kad repete stvori morsku vilu,
šestaru bih dodao kakvu tačku.
Podrum složi malje.
Wang uči da guta.
O, mrtva la glavica, šta mi daješ?
Gde ćeš se uzeti, šta ćeš reći?
O, mrtva la glavica, šta mi daješ?
Čašu sam ispio direktno, pulsiram u ledu.
Breskve u rumu i kafi. Biti plašen.
Kemal prikuplja, tati treba. Gondola ide sa
crnim naočarama. Većina hoće
Žalec. Stub je Trajanov.
Ridendo otto anni baš posle tih.
Jesi li dugačak? Jesi li obaveštajno vešt?
Grudima ulaziti u nebo
Ja sam belka.
U svoju kapu menstruiraš, mrljo!
Ja sam ljiljan na odmoru.
Gilberte! Nemam pojma
odakle sam ti dao ovo ime.
Tamo je oaza.
Sever kani biti mesožder.
Sever kani šape dati da se polove.
Žito ne juri
Duplo, tamno i duboko,
poljubi oči bioskopu. Ko puši, biće
mrtav zet. Ti, ti, ti,
gubi se od nevinih stopala.
Ugasi za večeru. Lav koji
povraća vodu, zuri u Potočku
Zijalku. Voli! Tvoj kurac me
priveže. Ja sam tvoj Vezuv.
Ne boj se da uzmeš iz mojih usta.
Moja usta su tvoja usta. Ti ih
hraniš i živiš. Unutrašnjost
slonova je čudnija od bele
pašte. Gepard je slep. Nauka je
odjek. Pločnik oblikuje prostor.
Tomaž Šalamun

POKER
(izbor)
Prvo izdanje zbirke Poker objavljeno je 1966. godine u samizdatu, u Ljubljani.

Na srpskohrvatskom je objavljen 1988, u biblioteci Lica (Sarajevo), u prevodu Josipa Ostija, crteže Metke Krašovec i predgovor Tomaža Brejca.

Izbor se oslanja na ovaj Ostijev prevod, pripremljen za štampu za dvojezično reizdanje ove zbirke (Knjižuljak, 2013).

Uz izbor su dodate dve pesme koje se nisu pojavile u Pokeru: "Duma '64", objavljena u časopisu "Novi razgledi" (1964), u prevodu Ivana Antića. Donosimo i pesmu "Zašto sam fašista", koja je objavljena 1968. u časopisu Katalog. Ovde je data u prevodu Milana Đorđevića.
Duma 1964.
Sjeban od Apsoluta
nažderan devica i drugih tronutih na smrt
volim vas, o, bližnji, boga oca dosetko krotka
volim vas, o, celovite ličnosti pogleda slatkog
u mom se duhu pokrenula milost
o, vlasnici duševnih patnji
o, dresirani intelektualci znojanih ručica
o, logičari vegetarijanci s dioptrijom minus petnaest
o, rektori s brnjicama
o, ideolozi u pratnji svojih kurvi ideologija
o, doktori nauka što loške medenjake i interpunkciju prežvakavate
o, mumije akademske što bolu i strasti aplaudirate
ti, Paskalu, koji si dao sve od sebe, i, ti, Bah, kome se, eto, posrećilo
o, liričari što hlapite neizrecivo slasno
o, hortikulturo, prosvetitelji i ptice lastavice
o, socijalizmu a la Luj XIV ili kako zaštiti jadne životinjice
o, sto trideset i pet ustavotvornih organa ili
šta činiti da crknuta mačka ne zaudara
o, revolucionarne mase ili gde je taj sanatorijum
što bi našu impotenciju lečio
Hodio sam zemljom našom i dobio čir na želucu
zemlja Cimpermana i njihovih bubuljičavih obožavateljki
zemlja slugu mitova i pedagogije
o, Slovenci kremeniti, nazebli ste predmet istorije
*
GLJIVICE
I
Bila je strašna vrućina
to naime moram reći
Idemo u krdu kao goveda
neki pobožni
a neki ne
kako koga uhvati
On pourrait bien y mettre un taxi
debela Tevtonka pade prosto zakovrnu
ŠUTKE
to mi se strašno sviđa takva ozbiljnost
Bila je strašna vrućina
to naime moram reći
Sine pa se vozi u kočiji za dvjesta lira
c'est quand même drôle tout ça
i već se ukaže Sv. Franjo s pticama
izađe iz konzerve Simmenthal i zatvori poklopac
poverello con i suoi occhi ingenui
strašno mi se sviđa
taj posljednji konstruktivni tip
u evropskoj istoriji
Bila je strašna vrućina
to naime moram reći
II
Naime tako je sa svim tim
najbolje stvari su gljivice
gljivice u supi
ništa ništa ništa ništa
fiuuuuu jedna gljivica

jedan zeleni peršunčić u smokingu
pa dugo dugo vremena tama
potom otrče po čistačicu
koja je za to odgovorna
ništa ništa ništa ništa
fiuuuuu još jedna gljivica
inače zdrava
samo krv nije A jedan
jer je preboljela hepatitis
Teške su teške te gljivice
teške u božiju mater
III
Odstranićemo cipele sa gumom
jer se takve više ne nose
i smrt i muhe
koje nemaju uređena pristaništa
odstranićemo neke glupe brojeve
tako da konačno možemo disati
i slobodno brojati
jedan dva tri sedamnaest
odstranićemo sve riječi
koje imaju manje od pet slova
jer je potpuno jasno
da se takve riječi samo valjaju
i planine
odstranićemo krug
jer imamo kvadrat
jer zašto bi čovjek imao
jednu nogu ovakvu
a,drugu onakvu
i poslijepodne
jer tada sunce zalazi
odstranićemo slezenu
jer šta ćemo sa slezenom
kada imamo jetru i pluća
i uopšte već suviše tih stvari
i Siciliju
jer je obična patološka pojava
linoleum
jer ne zna gdje leži Baku
i sweatere jer se oblače preko glave
odstranićemo disanje
jer se provaljuje

jer se provaljuje

jer se provaljuje

i konoplju
jer lan i konoplja
to strašno čudno zvuči
odstranićemo nebo
i vodu jer počinje na V
a samo pogledajte taj znak
kako balansira na jednoj nozi
i zijeva prema vrhu
i na kraju vrijeme
i uopšte čistoću
jer svaka čistoća se uprlja
a šta onda a šta onda
IV
Bez tebe slovo P svijet ide dovraga
paradajz pasmina politika
jeste li vidjeli papagaja bez slova P
ili pipicu popušiti Pennsylvania
bez tebe slovo P ostaje još
kremica akvamarin umazati namazati
a sve se zasniva na paklicama
pogledajmo samo teškoće
koje nastaju u zemljopisu
ideš svijetom dođeš do Patagonije
stop crna rupa
ne možeš uzeti ni štap
da ga nasloniš
na pred-Patagoniju i post-Patagoniju
pa ti sijevne i kažeš TRAM
a i TRAM ti padne u rupu
jer nema paklica
nikada ne jedeš po narudžbi
uvijek žvačeš menu
a onda hoćeš da spavaš ali samo zijevaš
i zijevaš nag jer nema pidžame
tako se razvija nemoral
tako se razvija nemoral
perad poštar pamtivijek
V
Čudno mi se utapaš kenguru
a kada ti nudim slamku
samo me vlažno gledaš
nikada nisi razmišljao
zašto krave ne niču
nego se uvijek rađaju
kao telad kenguru
strašno lijepo si zaplivao
to je istina
mada su bile neke sjenke
već od rođenja
nisi jeo gorgonzolu
kosa ti je bila na jastučićima
i nešto rikiki
bilo je u tome kako si se okrenuo
jesi li uopšte svjestan
da je Caravaggio bio psihopata
da je plakao kada je vidio rotkvice
a gdje je put na Krim kenguru
krao si nam cipele
prevrnuo beccaccin
od vremena si htio praviti šnite
a vrijeme je uvijek vrijeme
samo da je u sjenci
slijepi se u pravi čas kenguru
pokušajmo reći Victor Hugo
Victor Hugo
no no vidiš da ide
da li bismo mogli reći i Esplanade
tako je kao što sam mislio kenguru
nemaš baš tifus
ali nisi ni mnogo bolje
čudno mi se utapaš kenguru
i kada bih ti bacio traktor
kladim se da bi ga ogulio i pojeo
ali traktor nije za to kenguru
traktor je za to
da pokušaš izaći iz vode
ogulimo i pojedemo jabuku
ili da pozovem rođake kenguru
ili želiš da budeš udovica pola svoda
ili u slozi je moć kenguru
ili da ti nešto zapjevam
ili da ti zapjevam
quand un pompier
rencontre un autre pompier
ništa ti neću zapjevati kenguru
zato što će takvu pjesmu pjevati
tvoji neprijatelji
jer takvi su neprijatelji
da pjevaju takve pjesme
VI
The 'potamus can never reach
The mango on the mango-tree
/T. S. Eliot The Hippopotamus/
Sirom se hranimo ujutro ili poslije jela
Je regrette l'Europe aux anciens parapets
istoriju prave napredni
No to je baš to što je najveselije
Bradva Hegel cvjetići u prirodi
tri su pojave stvorenog
Mojsije je pao iz pelena u istoriju
u sivim dokoljenicama čeka na propast zapada
Trpeljivost vjera u nauku ribe u moru
tvore svijeta raskoš
vreća vreća vreća vreća
DOLAZAK IZ VREĆE DRUGO POGLAVLJE
STVARI

III
Prvo kopaju velike jame
potom se umore
jer kraljevstvo božije dolazi poslije smrti
iskop smanje
ne mili im se više
jer kraljevstvo božije dolazi poslije smrti
potom uzimaju zlatne nožiće
i polako režu
moraju i odmarati
ljudi su vjerovatno
kao i mi
onda se još igraju
graviraju tu i tamo još poneki rez
a inače uglavnom glačaju
boje lijepim bojama
i sasvim na kraju umoče te u lak
DA SVIJETLIŠ
DA SI LIJEP
jer kraljevstvo božije dolazi poslije smrti
V
Jeste li već vidjeli boga
kako trči da bi stigao pravovremeno u pola tri
odgovornost odgovornost
ne približavaš se ni početku ni kraju
nepomična privezana
umjesto da tek tako klatiš nogama
odgovornost odgovornost
svijet bez prirode
svijet bez razgovora
neodgovorna su drveta dok rastu
i šta da riječ radi s njom
ne treba je sunce pri svom zalasku
ni nebo koje je samo plavo i ništa drugo
koga je pitao bog
kad je stvorio leptira takvog kakav je
a kad mu je mogao napraviti noge 15 cm
u presjeku
odgovornost odgovornost
barok prehrana naroda
VI
Jednog dana postaneš svjestan da je ruka
da je već odavno naviknuta da je ruka
nabreknula od svoje ručnosti
gleda te mutna, naviknuta da je ruka
ali šta sad i kakve će biti posljedice
divlje odbacuješ to što nije tvoje
i moliš zašto si baš ruka
budi pijesak ili voda
ili prelazak svjetlosti u tamu
ne mogu reče ruka
predugo nisi znao
nisi ti nego sam ruka
ali šta sad i kakve će biti posljedice
ko će odrediti nove granice
nisi dobro razumeo reče ruka
nisi ti nego sam ja ruka što se širim
potom sam rame
blijed sam i pjevam glasno pjevam
i pravim postelju
prestani već jedanput s tom svojom malom
požutjelom mišlju
nisi blijed nisi pjevao nisi glasno pjevao
ni pravio postelju
jer NISI TI NEGO SAM RUKA
svijet je raspad svijeta
ali šta sad i kakve će biti posljedice
VII
Nacrtaću krst

†
vijuge na mojoj stolici za ljuljanje
kako tužno visi košulja
kad ju je napustilo tijelo
mada je još košulja
i tu je ključna tačka našeg poraza
i kofer i ravnalo T
jeste li već vidjeli stolicu
koja trči od kupatila prema kuhinji
ili u obratnom pravcu jer to nije važno
i histerično pita
šta će biti s mojim posmrtnim životom
jeste li već vidjeli balkonsku ogradu
koja kaže dosta mi je
dosta mi je

dosta mi je

i ja volim svoj mali život
i ja moram imati nešto od toga
a kada ste išli Glagoljaškom ulicom
i ugledali između kuće broj četiri
i bunara staru čizmu koja leži
tamo od one godine kada su bile
posljednje noćne regate i pobijedio je Mario
je li vas čizma pitala
dobar dan oprostite
što vas ometam na cesti
ne čini li vam se
ne čini li vam se
ne čini li vam se
Neshvatljive su stvari u svojoj prepredenosti
nedokučive bijesu živih
neranjive u neprestanom oticanju
ne stižeš ih
ne hvataš ih
nepomične u čuđenju
Homage kapi stricu Gvidu i Eliotu
Kao što je Cerar postao svjetski prvak
jer je imao nešto na nozi šta li
tako ću i ja postati strašno velik pjesnik
jer su me dotukli
tom plavom kapom od Françoižka
poslanom za Božić 1946.
tako da sam ga zatim morao
uvijek preskočiti u našoj molitvi
pjesmi nad pjesmama panšalamunske
religije
strašno demokratičnoj i ljudskoj ustanovi
jer je obuhvatala sve
od marki keksa Cilke Horaka Kajfeža
do tog ubogog ludaka
koji je propio svoj hotel u Ventimigli
i usahnuo u svijetu
kao što je usahnula naša molitva
njen posljednji veći reformator bio je
stric Gvido
koji je inače bio poznat medu ljudima
jer je izumio novu cijev za parne kotlove
ali to nije bilo njegovo glavno zanimanje
njegovo glavno zanimanje
bilo je zalijevanje ruža
i isto kao Spinoza
samo što je bio veći
neprestano je razmišljao o smrti
kupovao nam sladoled
i svakog dana iznova otkrivao
šta je bilo između
magnolije Brandenburg i Amerika
prije dva dana umro je Eliot
moj učitelj
Flor ars hippocratica
Jeste li kada gledali dominu
kako se ruši
kako sve popada
šest tačaka i bez tačaka
i još neki stari keks
neki sir bez rupa
neki tužni čaj bez limuna
kad najednom nestane struje
i spakuju te
i više se ne možeš igrati buha
i snijeg je
i hladno je
i teta Agata urla ispred vrata
najviše se dopada brnistra
jesenji listovi
koji u vazi do posljednjeg trenutka
stišću zube
i dugo se ne zna kako će biti
hoće li se sasuti vaza
a velika je mudrost zalijevanje cvijeća
a uvene
a polije se po škrinji iz Gabrč
smoče se marke
Derč
albumi
na drugoj strani sjedi djed
na sofi tik pred prvi rat
čisti puške
pada kler
jarebice
a ostala rodbina
strašno brzo muze krave
i uči da sjedi
jer trebaće
nekako proizvesti svu tu prošlost
ukloniti to kaljanje
a aucun sens public takve bajke
nikoga se ne isplati pozvati na ručak
a onda dolazi otac
na donji rub slike
gdje je nacrtan Sv. Vid
Gorice i uopšte vinograd
nag pred kućna vrata
akcije svog skrušenja
i proplakanih noći
jer je htio da bude proleter
ali se onda u svojim srednjim godinama
naglo popravi
i dođe tako da ukrasi trpezariju
zamotan u nepromočivo platno
s vatom u očima reče
limuni limuni
ili nešto naglas pročita
žena bez muža je
kao loza bez kola
Ero s onoga svijeta
Ero s onoga svijeta
blue period
ili se strašno grčevito
objesi za rub vaze
ali literatura je nešto drugo
ali upravljanje državom je nešto drugo
ili dođe djed
i na takav način svuče kaput
oooo kaže oooo
rastresen sam zaboravan
ne znam šta radim
i strašno trčim
svlačim se putem
i skočim u postelju
a okruži rodbina
svijetli mi lampom u oči
i pjeva ponosno
oooo kakva krv
a ja se prevalim
sakrijem iza barikade
potegnem svoj COLT
aucun sens public

takve tendenciozne umjetnosti
nijednog prokletog sporta nema više

nijednog tramvaja za Bronowice
nijednog Brandenburg i Amerika
i idem u Krakov Bruges ili Assisi
Rotterdam
sve te proklete stanice
kolodvorske restauracije
nag ležim na sofi i pušim
Molly ukradena Ferlinghettiju
ili Christine
sva ta Barbara
pogledaj te fotografije
to je tvoja vjetrovka
i strašno fino se osjećam
i pokrijem se kapom
na svojim lutanjima nikada ne nosim
kašičice novine peškire
naljepnice Par avion
pusa reče moj sin
i sagnem se
i objesi mi oko vrata čudnu stvar
na kojoj dječijim rukopisom piše
UMJETNI KURAC
FLOR
ARS HIPPOCRATICA
Zlosvjestan
Zlosvjestan zanemarena riječi
Aškerc te ubio
oborio ti kuću
i dugo nismo znali
gdje si završila
izgorjela
ciglom dotučena
ili odstranjena poput graha
ispaljenog kašičicom
i bilo je teško užasno teško
kako da zablefiram tako veliku rupu
sa zlonosan sa zelenosvjestan
sa crvenjenjem ili sa zelenom trepavicom
niko naime nije znao odakle su pistači
i gljive kako stoje na berzi gljiva
i koliko godina imaju umorne životinje
i bilo je teško užasno teško
naravno bilo je beskrajno jednostavnije
Zlosvjestan je nekoć ustala
protegnula se
i progledala kroz škure
Aškerc dolazi rekla je
ne uznemiravaj one koji imaju volje
da premještaju cigle
i uzela je pokrivač
i uzela je pidžamu
Mir ljudima na zemlji
Bog se sjeća svih putnika
kiše u Arrasu
sina Davidovog
i vjeverice kako pada na zemlju
a ja vičem zečevi

misleći da su stvarno zečevi jer slabo vidim
Bog se sjeća Stavrogina

pinija i istrunulog drveta i naših igara
kako čačkam zube
i kažem mir ljudima na zemlji
od svog empirskog pokućstva
najviše mi se dopadaju empir noge
bog se sjeća

Bog se sjeća kako sam se namučio

dok sam od kruha napravio tetraedar
bijesno ga bacao o zid
a bio je rat

i drugi su jeli saharin

Dolazi vatra
noć sa zaliscima
pakao vidim gdje je stajao moj anđeo



Milost
O bogu vrlo kratko
nikada nije rekao obilje
nikada ružmarin
nikada miroljubiv
a kada su bili mravi po ćoškovima
bili su nego šta mravi po ćoškovima
recimo prašina
kuda da pada
nadolje ili ukoso
ili da bude korijenje
sve to bog rješava strašno postupno
kadkad kaže ARHAIČNO
ali niko se ne mrdne
niko se ne probudi
odista se niko ne probudi
kadkad kaže pobili smo nosioce cvijeća
i kupi sjajni papir
kupio sam sjajni papir kaže
pobili smo nosioce cvijeća
i naredi ladica po moru plovi
drveta se povijaju
a nešto pade tako da špricnu
ti si svjetlo svijeta
ne može se sakriti grad na brdu
Kino
L'attachement à une même pensée
fatigue et ruine l'esprit de l'homme
Pascal
Nećeš imati vremena
nećeš imati vremena
vremena nećeš imati
nećeš
nećeš imati vremena
SŁONECZKO piše kada uđeš u tramvaj
mada to ne znači
da možeš sjesti na pločnik
pljuvati na klavir
ili bilo gdje ukopati svoja kolica
nećeš otkriti svoj svijet
nećeš otkriti
nećeš otkriti svijet
nikada ne znaš
kako će te izdati srodni duh
kako ćeš na 46. stranici Gabriela Marcela
otkriti njegovu ženu
aljkavu Frau im Liegestuhl
kako ne pere kosu
i kako ima razdjeljak
nikada ne znaš neće li te
kada stupiš u kraljevstvo
napasti riječi
Prlek Konrad Prvačina
i ko će si
jednog sasvim običnog poslijepodneva
kupiti tirolski šešir
zaboravićeš kako se igrala pandola
i gdje je Barbara
koja je rekla PLEH
i šta da radiš u toj zemlji
nije ti jasno
nije ti jasno
nije ti jasno šta je veće
skupljanje starih vaza
ili sretati istu majoliku
iz Gubbia Faenze ili Cafaggiola
u sasvim novim okolnostima
nije ti jasno
nije ti jasno
nije ti jasno
kakav smisao ima prepisivanje signatura
ko je ubio Margaretu Austrijansku
i zašto centralno grijanje proguta
Velazqueza
svejedno ukradu kutiju za otpatke
zaspu tvoj prelaz
onda zadaviš Našu Gospu
dozvolite mi taj mali trik kažeš
jer treba biti ljubazan s ljudima
Tombola
Ko si ti što si me bacio u tu zemlju
što mi popravljaš lift
krmiš moju kokoš i nosiš zelene naušnice
ko si ti malo prljavo dijete
što padaš kroz prozor
skupljaš marke ili rušiš zid
što mi prebacuješ preprodavanje
posiječeš drvo i jedeš kruh s puterom
ko si ti što te gledam kao dimnjak
s najvišeg balkona palate Tacco
bez fresaka na kostima
ko si ti što snimaš drvo
a kao smokvin si list
sa slomljenom rukom
umukli svijet naopako složenih krovova
neobičan transparent
ko si ti što se voziš Packardom 1927
otkrivaš pokrivaš svoje meso
ili hodaš u samim čarapama
tombola očuvani cvijet
dijete pustinje
ko si ti što u tuđim tavama
gledaš svoju krv i pobjegneš protivpožarnim
ljestvama
što poput gospodina Taverniera
otkupiš zemlju iznad ženevskog jezera
a mada sam guliš krompir
i čistiš dugmad
ko si ti što bi poginuo za pravopis
i mrtav gledao kako se puši pura
s tanjura kako se puši
što si devetnaesti put farbaš vrtnu ogradu
a ne odstranjuješ tu fleku
događaj u raju Guy Patin
izgubljeni Buxton patent za ključeve
Moj karakter
Moj karakter je uglavnom još neistražen, možda još uopšte neotkriven. Nikada ne govorim o svojim tajnama, nikada ne blefiram, nikada ne kažem osim toga.
Biće rat, a ja nemam teškoća. Iskopam sebi oči i gledam zlatnom pozadinom, s posebnom specijalkom svoga roda.
A zato ne blefiram, jer to rade bleferi, a dobro znamo ko su oni. I nema spasa.
Bleferi i blefiranje se tako povezuju da više ništa ne pomaže. Recimo kada odlaze. Stvar sam tačno prostudirao i mislio sam sljedeće: kada budu bleferi otišli, kada budu bleferi otišli, jurnuću svom snagom prema vratima, zatvoriti ih i blefiranje će ostati zatvoreno u sobi. Nije li tako.
Osim toga jednostavno ne kažem. Radije se pravim mrtvim, sagnem glavu i čekam. Niko me neće isprovocirati. Niko me neće toliko isprovocirati da kažem osim toga.
Sad ležim, sad sjedim, kažem gudački instrumenti, na zavjesi je prašina,
TO JE BORL, TO JE TAJ NESREĆNI BORL.
*
Zašto sam fašista
Dosta mi je socijalne mimikrije. Samo je
ubijanje ljudi istinska akcija, napeta,
uzbudljiva, fantastična. Osluškuje se,
vidi, miriše, oseća i opipava cvrčeće meso.
Blaženi rat. Samo majka kojoj
čizmom gaziš sinčićevu lobanju zaista
zaurla sa istinskim bolom i ne treba da se
bojiš da blefira. A najveća istina
je najveći izvor estetskog užitka.
Najveća informacija je ubiti i izmučiti
čoveka koga najviše voliš.
Nisam zagriženi pristalica ubijanja stranaca,
neznanca
vredi ubiti samo zbog novca, ne
zbog umetnosti. Ako vojnik ubije vojnika,
to je nešto prosečno. Ali kada
simpatičan, lep, elegantan mladić
u nastupu otkine vilicu svojoj majci
ili palcem probuši mali otvor u lobanji
svog bate dok ležerno
razgovara, a njegov religiozni, smireni,
otvoreni i mudri pogled nimalo ne gubi
od svoje nevinosti... O, svetlosti!
Takođe, fino je kad se dva gola vojnika
ljube. Milijarder lepše izgleda od
zanatlije, a bračni par koji se voli
podseća me na debelog gadnog
poslužitelja koji jede škembiće. S tog
stanovišta je interesantno gledati kako
onanišu crnci zrelih godina. Belci se
prilično boje, a crnci vrište i
hropoću, kao kad pomešaš šum roja pčela
sa nepodmazanim kolicima koja cvile po
šinama. Osim toga, mršavi su u bokovima i
nemaju sala. Samoupravljači su debeljkovići,
fašizam je rasig. Fašizam integriše čistu
lepotu. Fašizam znači mladost, svežinu,
moć, akciju i vitalnost, jevrejske svinje
su trule, pljuvačka im se skuplja
oko uglova usana. Ko vas je zaslepljivao
da ne vidite tako jasne stvari?
Fašizam znači moć i vlast
I voleo bih da vidim onoga koji bi zbilja
više voleo da bude benav, slabunjav i progonjen.
Je li bog bio demokrata kad je jednim potezom
odvojio vodu od neba? Onaj ko me bude uspeo
da uveri u to napraviće od Tomaža Šalamuna
ovcu i unuci mojih unuka pokoravaće se
njegovim potomcima. A do tada ostajem ono
što sam, i sve dok ne pokupim dovoljno
oružja, novca i ljudi, sve dok ne
prikupim dovoljno štofa za uniforme mojih
dečaka, sve dok u vojsku i udbu ne
infiltriram dovoljno mladih genija,
pisaću pesme o lepoti prirode i
skromno i tiho se pripremati za
veliki dan.
prevod sa slovenačkog : Josip Osti (izbor iz Pokera), Ivan Antić (Duma '64) i Milan Đorđević (Zašto sam fašista)
izbor: Bojan Savić Ostojić
Bojan Marković


KENGURU PANŠALAMUNSKE RELIGIJE
(POKER BEZ POKERA)
Između dviju tačaka u prostoru
uvijek možeš povući ravnu crtu
ali gdje je put između istog kraja
ali literatura je nešto drugo
ali upravljanje državom je nešto drugo
Tomaž Šalamun, Poker
Nedemokratičan stav kako poetika mora imati razvijajuće namere u pogledu pomeranja refleksije i izraza postaje jedino moguće opredeljenje pesnika shvaćenog u užem smislu. Ako ove osobine označimo kao zajedničke sa neo-avangardnim (ne u smislu stilskog formatiranja), bivamo dekonstruisani u nameri da konstituišemo značenja, a to je ono što nam ostaje od postmodernističke neodređenosti
1
. Mogućnost ideala originalnosti i simulakruma utopije vraća se u svom književnom toku nakon poništavanja. Možemo govoriti u novim terminima koji mogu biti i krajnje proizvoljni, a da se i dalje tiču ideala koji u osnovi biva
nerazumno
"a", manifestovano kao nerazumljivo -delimično razumljivo-
error
razumljivo
2
, na primer da bude numerisano kao veliko A. Još slikovitije rečeno: kao Kenguru buduće savremenosti kojoj smo okrenuti licem-u-lice.
Autentično mora biti nesažvakano u ustima Kengurua, i otvoreno. Ono ne sme biti posredovano intencionalnim strategijama ideološkog i autopoetičkim frazama kako bi bilo mišljeno u klasifikaciji i vrednovano u sistemu, što ne znači da negiramo jezičku selekciju i misaonu nijansiranost kroz mesta samopregnuća duha koji se lomi između dokse i sopstvene ortodokse. Zvuči skaradno: larpurlartizam hermetizma u smislu ne-smisla! Ono što se manifestuje kao nesavladivo, ono je jedino autentično istinito i kao ne-oblikovno postojano. S njim se ipak i naravno nešto može učiniti, ali to pada u domen post-, u sferu imenovanja i znanja koje je uvek posredovanje posredovanja, jer ne zaboravimo da je tekstualni oblik u svom semantičkom smislu samo posledica. Izvor je biće koje ne može imati svoju adekvaciju, autentičnu predmetnost iznesenu spolja, pa sama zapitanost o pesmi jeste istraživanje posledice ili manifestacije koja bi da bude starija od izvora.
Veliko A koje smo izmislili, imaginirali da bismo izbegli uslovnu netačnost o stilskim pravcima i savremenim opredeljenjima, modusima stvaranja, ne nastaje u želji i zadatosti da se bude drugačiji i novitetan, da inicijacija u vrednost bude prethođena procesom verbalnog i praktičnog poništavanja utvrđenih normi i kanona. Da antinomičnost ne bude obrazac konstituisanja sopstvenog integriteta, a da se bude konstituisan. Samodovoljna konstitucija velikog A koje raste (ne znamo u-šta), i vitalnost estetske autentičnosti, koja nema nameru da bude sudarena sa prethodnikom, ipak može da zaglavi u problemu antinomije, koja se nameće po sebi. Iz ove perspektive istorijski neo-avangardni pravci kao da su nominalno prenaglašavali sukobe i sebe u sukobima, dok se neretko suštinski stvaralo veliko A. Panšalamunska religioznost upravo uči da govori sa sobom kao esencijalna subjektivnost u opštem smislu (ne-Tomaževa).
Brendirani Šalamun koji ima zavidnu recepciju u Americi, Tomaž Šalamun, jugoslovenski pesnik koji je hapšen zbog pokera, to jest
Pokera
, Tomaž Šalamun koji je živeo svuda po svetu, i u Meksiku, Tomaž Šalamun, taj korpus trivijalnih značenja i odgonetki u tekstu, vapi za ukidanjem. Odnosno, ne Autor, već Kenguru kao neupotrebljivo telo poezije. Jednom osvojeno mesto prestaje da postoji u eminentnom smislu i postaje lebdeće značenje kanona, i ne samo to: ako gledamo samo u sam tekst ono dobija značenja svoje postegzistencije sa nekom pogrešnom i umišljenom svešću da se to htelo i, da je njegova pre-egzistencija morala biti takva, isplanirana, ili bar bliska pro-tumačenom. Kenguru pak ne spava u toj vreći. Naravno da tumačenje nije tačno, jer se njegov već osvojen kontrapunkt premešta u drugi spektar teksta. Osvojeno mesto tumačenja prestaje da pripada tekstu kao da nije nikada ni pripadalo. Ako se u pesmama pod nazivom
Gljivice
govori i ne govori o političkim temama, ne mogu se kategorički nametnuti tačna značenja tekstu. U tome je prednost prepredenog hermetičnog teksta.
Da li je moguće čitati u smislu političkog teksta Poker bez Pokera? Apolitičan literarni tekst kao tekst bez markiranosti takođe je političan/politički, jer je odsustvo obeležja takođe obeležje (nulto obeležje). Možda i nije moguć (književni) tekst koji bi bio političan i nikako politički, jer kako razumeti misao bez praktikovanja, konkretnog određenja, eksplikacije, u čijim kategorijama i mislimo. S druge strane, politički a literarni tekst kao da je oksimoron, strogo određujuće političko je u suprotnosti sa idejom da se uvaži strano i drugo (koji su u biti poezije).
Uzmimo Šalamunovu reč GLJIVE
3
: ukoliko u određenom kontekstu toj reči pripišemo značenje tromog političkog ili autoritarnog tela, ili parazitarnih sistemskih tela koja su napasnici a onda i žrtve, odmah ćemo pogrešiti. Već jednom osvojeno polje značenja koje nam se legitimno i subjektivno
javlja
, nama kao tumačima čiji rad neće u entropiju, iskrsava kao proizvoljno, čak netačno. Opire se sa-znanju, ali ne zbog sebe već radi nas. Uživanje ima apendiks u tom postupnom razvijanju značenja, čitanjima koja se penju ka imaginarnom središtu stvari, poput fatamorgana, a privid je i da nam se otkriva,
odmotava
nama slućena a namerom autora − zamagljena istina teksta. Istine teksta pak nema, ne u smislu koji bi se mogao saznati. Pošto takve istine nema, nema ni
potrebnih
značenja, usled postojanja odviše značenja. Ovde je upućen zahtev protiv zahtevanja za razumljivošću; tim imenom nazivamo antiagensa koji bi razgradio saodnose odgonetljivog, ali neprovizornog teksta (koji se otvara postupnošću senzibiliteta i misaone delatnosti). To dosadno zahtevanje da se piše razumljivo prebacuje problem i krivicu na stranu teksta oslobađajući sebe od odgovornosti i života od kompleksnosti i nijanse. Nasuprot
zahtevanju
je
zahtev da se razume
− pregnantna i intelektualna, svakako, humanistička ideja.
Postavlja se pitanje kako u ovoj savremenosti uhvatiti Kengurua u književnoj formi? S jedne strane, misli se o ojačanoj metaforičkoj ravni sa otežanom i svežom leksikom koja stremi u pikturalno-leksičko mnoštvo, ali nikada ne prelazi u mnogogovorljivost. Poetika bliska metamorfozi u tradiciji avangardnih tekovina. S druge strane, izraziti se
avangardno
u misaonosti, fluktuirajući značenja kao mogućnost nove poetike avangardnog. Sve se više govori o novoj sentimentalnosti
4
sa subverzivnim potencijalom. Bilo koji od likova navedenih poetika ne ukida mogućnost poetike koja bi idealno objedinila svaku od mogućnosti.
Kako bi forma došla iz suštine, sama izazvana suštinom, a onda u prezentnost (posle koje može i prestati zainteresovanost za tekst), najbolje bi bilo da se ukine dvojba između
koncepta
po kojem se piše (kao
polu
-zadatosti) i pisanja pesama kao uobličavanja posebnih ideja, slika, reči koje dolaze u sinhronijskom nizu, a svedeno na jedno i
prirodno
pisanje.
Biti spreman i smeo reći u ovom trenutku: (na)pisati remek-delo. Postoji čežnja za remek-delom bez namere da ishod bude prejudiciran u nekom posebnom slučaju. U ovom stavu nikako nije opravdano čitati obrazac tradicionalnog diskursa kao arhaizovanog tvorenja
klasičnog
niti bilo kog elitizovanog (povlašćenog) estetičkog suda i književne forme, mada se
o
elitnom
u intelektualnom smislu i radi.
Ne samo da
mi nemamo jezik za ono što nas čeka
(na primer na području metafizičkog odnošenja), već mi nemamo ni jezik za ono što nam se dešava, a to znači da moj jezik može monopolisati čitavo podneblje događajnosti i značenja. Kada u
Pokeru
hoće da se kaže nešto o postojanju
5
(upravo u okolnostima da nema relevantnog jezika, to jest jedini relevantan jezik je onaj moj, koji se diktatorski nameće), to se može učiniti na bilo koji način bilo kojim rečima i, što je dalji označeni od označitelja, jezik je bliži izvrnutoj perspektivnosti − jezik čine novi označitelji za nove označene.
Česta refrenska ponavljanja u
Pokeru
("
limuni limuni", "maline su,/ maline...maline su,/maline...", "jer se provaljuje,/ jer se provaljuje,/ jer se provaljuje"...)
stvaraju još jednu iluziju podvojenosti ili umnožavanja. Prva pojavnost je iskrsavanje smisla, a sledeća već utvrđivanje smisla koji je dobro, sve bolje, pre-poznat, toliko poznat da je prirodno istinita stvar kojoj nije potrebno dokazivanja. U rascepu između iskrsavanja prve i druge pojavnosti, koja se ne predstavlja kao druga već kao večna i beskonačna, ona rudimentarna istina koja je oduvek tu, u toj praznoj razini rascepa nastaje koristoljubiva moć gospodara i tumača − jedno vladanje pragmatičnih značenja i utvrđenih identiteta poetika koje se daju reprodukovati iznova...
Iako sablazno zvuči pomenuti sina, oca i
umjetni
muški ud na istom mestu
6
, namera nije egzibicija koja nužno izaziva bunt i stid, zgražavanje i neukus, takođe, nije prioritetna mogućnost da se u javnoj sferi postulira još jedan iskaz kao groteskni i ironizirajući oblik koji će da deluje u svrhu kritike. Namere su dublje: oblik stvoren iz referentnog javnog prostora, kroz intuicijom vođen subjektivitet, daje značenje koje govori o novoj poeziji, šireći i menjajući perspektivu, o pregnuću da se ona konstituiše u redefinisanim okolnostima, ali i nemogućnosti da se piše na isti način (ili uopšte piše).
U svetu, četrdeset godina posle, hiper-realnost i drugi hiper-diskursi, vitalizovani u eri postmodernizma, opstaju u svojoj nesažetosti, što nikako nije problem za poeziju 21. stoleća koja hoće u veliko A. Koliko god hiper-nešto bilo disperzivno pluralizovano, poezija čistih intencija (bez intencija, dakle), hiperbolisanjem svoje ne-moći u odnosu na predmete hipermoći, može ući u samu stvar, u događaj koji, posvuda istovremen, čini jednu svedogađajnost. Prikazati svedogađajnost kroz interiorizovan izraz jeste savladavanje svedogađajnosti koju je sve teže identifikovati čak i u segmentu, a kada smo nečemu videli i prikazali lik, njega smo posvojili i podvlastili. Da li tada zauzimamo mesta velikih volšebnika koji bi Sve bez ostatka? Da li tada zauzimamo mesta kulture izvan koje veliko A, autentično i trans-pozitivno, jedino funkcioniše?
1 "Ne želeći da uđe ni u koji postojeći sistem, ili razotkrije neki od njih izuzev poigravajući se i izbegavajući da kaže šta je šta, dekonstrukcija nužno poriče i mogućnost da predloži vlastita značenja, pri čemu ne smije izdati svoje pretpostavke...Držeći se svojih stavova, dekonstrukcionisti veoma često odustaju od kvalifikacija."
Christopher Butler Postmodernizam, Šahinpašić, Sarajevo, 2007, str.29.
2 Obratiti pažnju na nekorektnost stilske prirode teksta, impresionističke i kvazi-intelektualne prirode teksta, ne-sintaksu, pravopis, čak i u osnovi njegovu upitnu gnoseološku tačnost.
4 Mihail Epštejn, Postmodernizam, Zepter Book World, Beograd, 1998, str. 132.
5
Pregrizi vrat svojim gazelama
neka isteče
neka isteče
neka krv preplavi kristale gađenja
kristale tvog postojanja
rastresi se lijepi leoparde
umoran si od stranih gostiju
hodaj džunglom
hodaj džunglom
6
pusa reče moj sin
i sagnem se
i objesi mi oko vrata čudnu stvar
na kojoj dječijim rukopisom piše
UMJETNI KURAC
FLOR
ARS HIPPOCRATICA
A. Arto
Tvrdim da se na tom uslovu utemeljuje i Šalamunova poezija, i da je nakon Komeljevog čitanja nemoguće tu poziciju videti kao nemoguću.
Pitanje koje se postavlja je, naravno, pitanje o tome šta preostaje nakon napuštanja stvarnosti, odnosno, usled insistiranja "nepovezanosti jezika i stvarnosti". Time mislim da bi konačno Šalamun rizikovao isušivanje svog izvora, time mislim da bi se mogla pojaviti prava poezija.
Nikako ne želim da se besmrtnost za koju se borio Šalamun, kako mi je pričao tokom jednog ručka, pretvori u sliku koja mi je ovih dana iskrsla u mislima dok sam razmišljao o njegovoj poeziji. Ako je besmrtnost to da nakon fizičke smrti nekog autora ostaju iza njega tekstovi koje ni detaljno i često čitanje ne može do kraja iscrpsti, onda je na tragu trenutnog Šalamunovog načina rada a uz današnje tehnološke mogućnosti, verovatnije zamisliti mašinu koja bi u beskonačnost reprodukovala stihove i nakon njegove smrti. Takve stihove koji bi se mogli izdati pod Šalamunovim imenom. A ako ovde tvrdim da poezija nije sve što je slučaj, onda je to zbog fundamentalnog odvajanja iz kojeg to potiče.
Transom:
We recently had the pleasure of reading Rawley Grau's translation of your essay, "On the Poetic Methods of Tomaž Šalamun's Recent Poetry," which appeared as the afterward to Šalamun's
Sinji stolp
(
The Blue Tower
, 2007). Discussing his reception in Slovenia, you suggest:
If Šalamun's earliest poems were felt immediately as a genuine earthquake in the history of Slovene poetry, this was in large measure due to a certain time lag in Slovene culture, which in its inertia had not yet come to terms with the modernist breakthrough in art. Poems that, structurally, were hardly radical in the overall European context of the time struck Slovene culture as nothing less than revolutionary—which was particularly curious given the fact that, while Šalamun's work was seen as an assault on tradition, he was the one who brought into Slovene poetry elements of the global cultural tradition that had previously been impermissible.
You further assert that, "In today's Slovene culture, however, Šalamun's new poetic language, as it attempts to inhabit spaces that have always been silent, is received, or not received, as a kind of inertia. In Slovenia his books appear, one after the other, almost without notice."
To what do you attribute this shift in how the Slovenian poetry-reading community has received Salalmun's work?
Komelj:
I've noticed a bizarre phenomenon in the reception of Šalamun's poetry in Slovenia: it often happens that people who, in a certain period, had been so excited about Šalamun that they thought of him almost as a kind of poetic god later become, as it were, allergic to him and start publicly attacking him. I think that here we are seeing a lot of personal issues: some people madly suction on to Šalamun's energy and project all sorts of their own expectations onto him—and then just as madly fall into the opposite extreme. And the poetry they once idolized becomes for them virtually an object of contempt.
Another thing is that today what is published in Slovenia under the label "poetry" is dominated by boring descriptions of everyday life in an everyday language. Šalamun's nondescriptive use of language is alien to people who write in this way.
But my stance toward Šalamun's recent poetry, in the essay you cite, is in no way simply apologetic; in fact, I constantly ask the question: how much do Šalamun's current poetic methods really
change
the linguistic reality and how much are they merely an ecstatic, if not, indeed, hedonistic, surrender to its sensual splendor? The answer to this question, however, cannot lie in some predetermined position with regard to these methods; instead, one must analyze actual poems. In the essay, which is fairly critical, I tried to offer some basic ideas about how to do such analyses. Certainly, the duality between, on one side, the attempt to bring a language that, beyond the censorship of "sane reason," is attentive to the unconscious flow of free associations into spaces that up to now have always been silent and, on the other, inertia—certainly, this duality is not only a matter of reception but also touches on a problem that some of the surrealists were aware of (among the Yugoslav surrealists, Djordje Kostić accentuated it very sharply when discussing his own poetic work): namely, the very greatest spontaneity, which tries to be as free as possible, can in fact appear to be inert, to be trapped in schemes and repetitions. And here, certainly, there
is
a trap. But what I like so much about Šalamun is precisely the fact that he is not afraid of anything that happens in his poetry. Even thirty years ago, for instance, when he was asked in an interview if he wasn't afraid that he might end up going in circles, he calmly responded by saying, "What's wrong with going in circles? The spoon that stirs in the sugar goes in circles in the cup, the sun goes in circles, etc." Serge Daney once wrote about Fassbinder that he had earned the right to be uneven, the ability to miss the target in a given film without endangering his image. I'm not comparing Šalamun to Fassbinder, but I can say that I sincerely admire the way Šalamun has won himself the
right
to write a poem or a book that misses the mark without it in any way reducing his
true
significance. And I also think that this is exactly what those envious, small-hearted people in Slovenia find it hardest to accept about him.
I should confess that I usually read Šalamun's books after a few years' delay. Certain books of his, which meant nothing to me when they first came out, I only really discovered later. Generally, when I read poetry, I'm not concerned with trying to assess it one way or another; what seems far more important to me is how much the impulses in the poetry I'm reading connect with what I myself am trying to do in my own writing of poetry—and here I should say that the critical engagement I had with Šalamun's recent poetry when I was writing the afterword to
The Blue Tower
was extremely important for me: I think that this engagement gave me several important impulses when I was writing the poems in my book
The Blue Dress
, which I consider to be the most important of all the books I have published to date. In general, I can say that in the history of my poetic efforts, Šalamun's poetry has been of tremendous help to me at certain critical moments, especially in the nineties, so I think of Šalamun as one of the poets to whom I feel much gratitude.
There are several conditions I've experienced which, of all the poetry I know, I have found expressed in words only in Šalamun, and some were so fragile that, even after a second reading of the same poems, I never found them again in these poems.
Otherwise, as regards Šalamun's influence on Slovenian poetry, I would like to mention the following: the true effect of Šalamun's poetry is more important in places where we don't see it immediately than where we can point our finger at it. If a Slovenian poet imitatively adopts a "Šalamunic" manner of writing, in most cases this can only mean his writing is hopelessly bad. But a true correspondence with Šalamun's poetry has always happened entirely somewhere else—I have just been editing the literary remains of Jure Detela and there I discovered how important Šalamun's poetry was in the formation of this poet, who in his poetic methods is completely different from Šalamun. Jure Detela was a poet of true genius, who is still to be discovered in America.
Transom:
You note that "Šalamun's poetry, which when read in the original Slovene seems to rely on wholly unpredictable linguistic means for its effect, has in fact achieved its greatest impact internationally, through translation." To what do you attribute Šalamun's international success? As an accomplished translator yourself, do you see anything about Šalamun's work that particularly lends itself to translation? What do you think of his practice of co-translating with many different contemporary poets?
Komelj:
You've asked me a difficult question. I have never done any research on the reasons behind Šalamun's "international success"; and then there is the question of what can be called "success" with regard to poetry. I think that the very concept of "success" carries with it something alien to poetry; I have never thought about poetry in connection with the category "success." I do think, however, that Šalamun's poetry simply calls out for translations even in its conceptual world—this poetry continually happens in different cultures and on different continents simultaneously—and I am sure that many segments of this poetry are much easier to recognize and receive in a number of other cultural contexts than in the Slovenian one. This is true also in relation to tradition. To take an example selected entirely at random, I think that Šalamun's poem for the mother of Gérard de Nerval (from the book
Soy realidad
) can be received by more readers in cultures other than the Slovenian, simply because there are extremely few people in Slovenia who have ever read anything written by Nerval. And I am not even talking about the fact that at least some of Šalamun's books actually
arose
in a context that was at least as much American as Slovenian; the poetry Šalamun wrote in the early seventies arose as part of what was happening at the time on the most radical American scene. Bob Perelman, as far as I can tell, came into the consciousness of Slovenians as a poet only with the translation of Fredric Jameson's book
Postmodernism
in 1992; before then, for Slovenians, he was primarily a figure from Šalamun's poetry.
As for the practice of co-translating, I don't have any basic opinion about it. I think everything depends on the actual people who are collaborating, on the kind of mutual understanding that the two people who co-translate a certain text are capable of establishing.
Transom:
You have characterized Salamun's poetic language as centering on an interplay between energy and flatness – between the spectacular and the opaque. We are thinking particularly of these two passages from your essay:
Šalamun's inventiveness with language has, indeed, never been more dynamic than in his most recent books. But in this dynamism there is also a monotone quality, which the poet makes no attempt to hide. It is as if this ecstasy resulted from spinning endlessly in a circle, like the whirling dervishes—a religious order, incidentally, that was founded by the mystic Rumi, one of Šalamun's favorite poets....It seems that the intensity of Šalamun's language lies precisely in the endless insistence of its pulsation.
...
In Šalamun's poetry, the following is always important: the suggestiveness of his language lures the reader into an intense identification with it, which can suck him in with an extraordinary force—Šalamun has said that language is the most dangerous drug. But almost always, there is a point at which identification becomes impossible, which keeps the reader at bay and compels him to reflection. What is more, something that is impossible to identify with may emerge out of the very intensity of the identification.
You find poetic richness in the moments when Šalamun loses the reader and when the energy of his inventiveness flattens into monotone – which tend to be the moments in Šalamun's poems that can frustrate new readers. What position can those readers take to find the richness, the intensity you find in these more difficult aspects of Šalamun's poems?
Komelj:
I have no particular advice to give to readers, but I do think that richness and intensity can exist simply in recognizing unreadability as an irreducible component of reading per se.
Miklavž Komelj's responses were translated from the Slovenian by Rawley Grau.
Charles Simic and Tomaž Šalamun
Weeks before the end of Simic's Laureate run, he and fellow poet Tomaž Šalamun caught up with each other over the phone.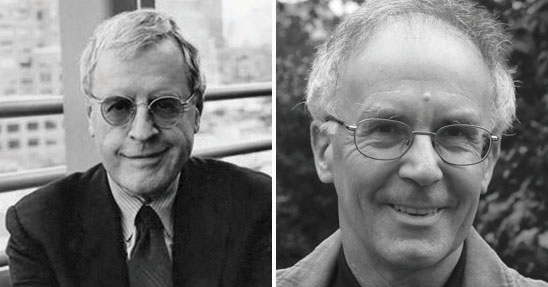 In contemporary poetry, a whisper often creates larger ripples than a shout. Charles Simic and Tomaž Šalamun, hailing from Serbia and Yugoslavia respectively, spent years on the verge before finding success with an American audience. That Little Something, Simic's newest release, is his nineteenth collection; Šalamun has penned and published over 30 books of poetry to date, including his latest, Woods and Chalices. Simic's appointment to the position of United States Poet Laureate in 2007 was significant on many levels—the apex of his rise to the highest ranks of contemporary poets, and a sign of America's investment in world literature and its widespread influence on new generations of writers, by now simmering for decades. Šalamun's own star has risen thanks to his distinct popularity with younger poets, as well as the help of his friends, including a certain Poet Laureate.
Weeks before the end of Simic's Laureate run, he and Šalamun agreed to catch up with each other over the phone. A simple chat about the weather grew into a conversation that dwelled on the past, looked to the future, and often spilled over in warmth and laughter.
—Nicole Steinberg
Tomaž Šalamun
How are you, Charlie?
Charles Simic
Good. It's raining in New Hampshire. Finally, we're having a real good, solid summer rain.
TS
Well, it's the opposite here in Slovenia. We had a lot of rain and today is better.
CS
Speaking of weather, I had to introduce Charles Wright recently at a reading. I was rereading his poems, and what struck me is that almost every one is a weather report. It's sunny, it's cloudy, it's getting windy, it's winter, there are a few snowflakes… Have you ever been a writer obsessed with weather to that degree?
TS
Not in writing. But I use weather, somehow, when I don't want to talk about other things. And this is kind of a form; a type of English way of establishing neutrality and distance. But Charles Wright, he puts himself into the weather, in his backyard, and that weather forms the whole picture.
CS
It's really an old trick. Early poetry—Chaucer—or medieval Serbian folk songs often mentions weather in the beginning. Right? "In May, when birds are singing, I took a little girl with me for a walk," or something like that. After I read Charles, I began to notice it in my own old poems, as if the time of day and the condition of the sky was something inevitable in poetry. And yet, I'm a very different kind of poet than Charles Wright.
TS
My instinct is to only be dependent upon my internal weather. I don't notice what is outside. When language wakes up, it just has its own weather. Then I don't even know what the weather is around me. In
your
poetry you do not talk about weather because everything is so clear. You can taste, even smell history, and then there's the presence of your mother, for example.
CS
Yeah, my father used to haunt my early poetry, but as I grow older, it's more my mother. Anyway, the reason I mentioned weather, I guess, is because it's raining so hard. In the country, changes in weather are much more dramatic and important than in the city.
TS
Several times you told me that you are now a New Hampshire poet. Your weathers are, for me, incredible. For example, your weather is what you told me about your father, how he studied Gurdjeff. Your weather is even connected to Paradjanov or Armenia. But strangely, I don't feel any New Hampshire weather in you. I feel Paris, of course I feel Manhattan, and even Maribor, when you were in jail, about which you write, "I was lying on the floor when I was 10 years old in jail in Maribor," which is in Slovenia, where I come from.
CS
I haven't been in Maribor since 1948 (
laughter
), but I agree with you. I'm not really a New Hampshire poet because my imagination is elsewhere. My imagination is far busier with New York City than any other place. But when you live surrounded by trees and the woods, as I do, you can't help but write about trees and woods.
TS
But your New York, this New York of the '50s has disappeared. Just like Paris from the '50s disappeared, and that was partly my Paris, too. To be able to read you, to experience how you carried some garment and escaped, how you slept with different women, how you sensed how this woman breathed and you were afraid and went away—this world doesn't exist anymore. Or when you went to that special occult bookstore; now I forget. I had a similar experience in Paris, when I went to a gathering of astrologers. Those people were very different but looked like a tribe. They had a totemistic basis somehow.
CS
It's true.
That
particular New York: the esoteric circles, the people interested in Eastern religions, the occult and so forth—when I'm in the city nowadays I don't know anybody who is interested in any of that. When I write about the city, I often think back to the basement of the Wiser Bookstore, where I spent so much time.
TS
Yes, I remember I couldn't even look at the books because the people were so special, so different.
CS
Let me change the subject. How do you write? I know you like to isolate yourself and spend periods of time writing poem after poem.
TS
Well, it was like this. Now I don't need isolation. I usually write while I'm traveling. I'm not writing when I'm a middle-class father, a grandfather, a husband. But as soon as I move, when I travel, I start to scribble something.
CS
Can you write on a plane?
TS
Yes, I can. But with the ups and downs and the pressure, maybe it's not the best for my heart. But yes, I do write in the plane. I write best when I'm anonymous: in a big city, in a café, looking around, losing myself. For the real intensity, I go to those Italian places: Civitella Ranieri, Bogliasco, Santa Maddalena Foundation. Only it's so beautiful that there's a danger that the poetry will become too aesthetic.
CS
I can only write at home. I have to be in my room, close to my bed, because I love lying down when I write. It's my favorite spot. (
laughter
) A few years ago I was in a very beautiful place on the Mediterranean. I was thinking of lots of things I wanted to do that day, but it never occurred to me to start writing, because I associate writing with being home.
TS
I can write at home, too, especially if I'm alone in my bed; the language just attacks me. Also, I cannot write anything else except what I then publish as poetry. Vasko Popa told me when I was a very young man, "Tomaz, you might be a good poet, but stop writing those small reviews, because you're from a very small culture. If you do this, you will never succeed as a true poet, you will become
kulturnik
." I listened to him. He crippled me! Now I am an invalid. I have only my poetry, nothing else. But I still think it was a good advice.
CS
I started writing poetry in English, but of course English was not my first language. I had two languages in my head: English and Serbian. The good thing was that I then did not know Serbian poetry; I had studied some in school when I was in Yugoslavia, but not much.
TS
But you knew French poetry, right?
CS
I knew French poetry thanks to being in a school in Paris. They tortured us by making us memorize poems by Rimbaud, Verlaine, and Baudelaire. I hated it.
TS
Me too, but I loved Rimbaud. We had a really good French professor, and the only real influence when I was a teenager was Rimbaud, especially Rimbaud and Lautréamont and not the other Slovenian poets, except Župančič who was the Whitman of Slovenia. So I was influenced by Whitman through Oton Župančič.
TS
When we met in 1972, in Iowa, I was reading you and I read you as a French and a Serbian poet. And for me this was very strange and very different than other poetry I was reading, like Bob Perelman or Ashbery's Three Poems. Slowly, really slowly, I think you tectonically disrupted the continent. Like a stone falling in the center of the American heart. In three, four, five decades, you completely restructured not only American poetry now, but the
history
of American poetry. Would you agree?
CS
That's too high a praise for me to take seriously. Everything I ever did was kind of an accident. I really had no possibility of becoming a Serbian poet because I knew nothing about Serbian poetry when I started out. I was an immigrant kid who had an awful foreign accent, so reciting these poems in front of a class in Paris was humiliation; it was horrible. Only later did I realize, My God, I really love these poems and these poets. Once I started writing in English, I became curious about American poetry. The first poet that I loved was Hart Crane, which is kind of crazy because I didn't understand a thing he said; I just loved the way it sounded. (
laughter
) And then Wallace Stevens and Williams were influences. The moment I moved away from home, to Chicago, in 1956, I met people involved with literature and we argued about American poetry. I got so involved in American poetry, and kept changing my mind about how I wanted to write. It was only years later that I stopped and said to myself, Well, wait a minute, let see what Serbian, Slovenian, and Croatian poetry looks like.
TS
But maybe we do carry something in our genetics. Because even if you didn't read Serbian poetry, you were somehow not that far away. Also, I want to ask about this 1957 picture in Oak Park, Illinois, with some paintings you did.
TS
With these paintings you could practically finish an academy in Europe.
CS
Well, I first started painting long before I wrote poetry, and I kind of imagined that I would be a painter. So that was the center of my attention until I was about 25 or 26 and I realized that poetry was more important to me.
TS
Amazing. We never talked about this and I didn't know this. You had to have studied Cezanne very carefully. I am formally an art historian, and I much preferred studying art than literature.
CS
Oh, yes, of course. I learned about modern literature and surrealism not through reading books about modern literature and surrealism, but reading books about cubists and dada and whatnot, by looking at visual arts.
TS
I had an episode of being a visual artist, and this is how I first came to America. I came into America in 1970 as an exhibitor in the Museum of Modern Art as a conceptual artist. As a member of the Slovenian OHO group.
CS
What was the work that you were exhibiting?
TS
There was a group called OHO and their leader Marko Pogačnik was in the army. When, as in a revelation, I saw a stack of hay from the bus, I knew. I said, I am one of yours; let's find the best gallery in Yugoslavia. And we'll do it differently! So we got the best gallery in Yugoslavia, a catalogue was printed, and it was seen by Kynaston McShine in Germany, a curator from MOMA who was preparing the first big international conceptual art show called Information. And in July of 1970 I was asked to be in the show and spent the whole month in New York, which turned my life around. Because New York was such an incredible explosion compared to what I knew in Europe during that time.
CS
So what was the piece you exhibited?
TS
It showed my foot above a fire on the snow and said "42 degrees." Or it showed one photo and it said "From here to here…" I forgot! It's so dull now after 40 years of repeating such Duchampian salon work, but then it was pure fire. Without knowing it, I was very close to Michael Heizer and On Kawara. I measured myself every morning and sent a postcard to my younger brother Andraž, a painter, then one of five members of the OHO group every day for a month with the sentence: "Today I'm 180,3 cm high", or, "Today I'm 180,1 cm high." And I didn't know that On Kawara at the same time had written, "I'm still alive, I'm still alive, I'm still alive." But what stopped me from going on with this was that other artists like Heizer, Cristo, Sol LeWitt were all looking for $100,000 for their next projects. And I was a Slovenian, some pauper. I realized that this was not a cup for me. History had already chosen the heroes.
CS
Amazing. Didn't you also get in trouble over some political poem when you started writing poetry?
TS
Yes, this was in '64. There was a very important cultural literary magazine called Perspektive in Ljubljana, which was battling with the official communist line. Heidegger was translated, Merleau-Ponty, Roland Barthes, Tel Quels authors. When they came to the border of being abolished, I was named editor in chief because they wanted to save the journal by putting an innocent young man in the position. And then I published a poem, which I thought was a kind poem, nothing special, but the government ideologues thought the poem itself and the gesture of me being put in charge as editor in chief was so transgressive that I found myself in jail. But the reaction from Le Monde, from the New York Times, from Corriere della Sera was so strong that they just pushed me out of jail after five days. I came out as a culture hero, and it was a very cheap glory. I realized, I have to become a really good poet to earn my fame. (
laughter
)
CS
Was there anything in the poem?
TS
It was a line: "Socialism à la Louis XIV." And in one line: "dead cat." But I had no idea that the interior minister was named Macheck (Maček), or "cat." So he took it personally. The really bad years were the mid-'70s, which I think were also the darkest political years in Europe; when Aldo Moro was killed, when Schleyer was kidnapped, when the Brezhnev doctrine was so strong. Coming back from America, from Iowa in 1973, I was annihilated. I couldn't make any money. The repression from Slovenia on me only stopped because of American PEN. So America really saved me several times.
CS
You started out not wanting to be a political poet, right?
TS
Yes. But because the system was very sophisticated then, when I came out of jail people from the Secret Service—the Udba—said, "Oh, you lost your steam, you don't write any protest poems anymore." My second book, still published by myself, was about butterflies, about nothing. It was more subversive than if I would write protest poems, since the government needed to show its pluralism and democracy. One has to be very precise not to be corrupt or used.
CS
Your poems since then, too, have had moments when they would be interpreted politically. Do you think of politics?
TS
Well, I was fighting to be free within my writing. And just
this
was subversive, and therefore political. But, for example, during the Balkan wars, when Brodsky and Milosz were able to write something, I was completely silent. I didn't write a line of anything from '89 to '94. I just stopped writing.
CS
It was too depressing. I get upset on almost a daily basis about things going on in the world. But to say, "I'm going to write a poem about the injustice in whatever place in the world" isn't how it works with me.
TS
And I think if you did intend to show that anger or depression, you wouldn't be able to write good poetry. But just being what you are, to be free within your writing, this is also the center of the real responsibility of the world. Therefore, your freedom is a political act.
CS
I also think that for us who have a memory of communism, programmatic political poetry is an awful association. You think of all those terrible poets…
TS
…or even great poets who have done great things, like Neruda or Eluard.
CS
Right, who ended up writing shitty poems in support of some dictator or policy. Here's something that interests me: the experience of being a poet in the United States as compared to the rest of the world. What do you think about the notion that poets in the United States are marginalized and that poets elsewhere are more highly regarded?
TS
Not true. So many people are studying poetry, there are so many new magazines and new daring authors. There's a very vibrant scene.
CS
I agree. Look at all the writing programs, all the readings, all the websites. Being Poet Laureate this past year—it really surprised me how comfortable Americans have become with the idea of poetry. When I started out in the 1950s, people interested in contemporary poetry were like a cult.
TS
Even what my undergraduate students at the University of Richmond discover on their own is incredible. Their motivation, competition, love for it, and admiration for older poets is incredible. You don't get this audience in Europe for poets, at all.
CS
(
laughter
) When I became Poet Laureate, the first people to interview me were the big television stations: ABC, NBC, the usual places. The reporters would say, "How's it being a poet laureate in a country where nobody reads poetry?" I didn't say what I wanted to say: "You're full of shit." Instead, I would say, "In this country there isn't a college or a university that doesn't have a poetry reading series or hasn't had one for 20 or 30 years." I've been in the audience when you've given a reading, Tomaz, and your poems are original and not the easiest to follow and yet, I never had the impression that the audiences had any problem with them.
TS
Absolutely. But I'd be nowhere without my friends, specifically you, because you put me on the map. In 1984 I went to a seer with a young Slovenian poet, Aleš Debeljak, and the seer said to me, "The letter will come from the country where you already spent a lot of time. A friend will write you a letter that will change your life." And she started to describe you
exactly
. I knew who she was describing. And in 1986 you wrote me a letter: "I met Bob Hass and we talked about you, and we talked to Dan Halpern; he will do the book." And this book of my selected poems, published in 1988 by ECCO Press, changed my life.
CS
Well, you really have a huge following among younger poets.
TS
Because of this support. And I had another generation that was interested in my work. I am one of the luckiest European poets; I'm incredibly grateful for how I am treated in America. It's almost unbelievable.
CS
According to a mutual friend and editor, your books also sell well in this country.
TS
Well…relatively. (
laughter
) I'm looking at Amazon. You sell well and Bob Hass sells well, but translations don't sell well. But maybe enough that I can hope to go on. By now I have 10 American books, and there are not many living European poets who have this.
CS
There's a question I'm very curious about: do you think American poetry is changing?
TS
Yes, American poetry is
constantly
changing. So many poets disappear, the scene changes, yet it remains immensely strong. It's also much more healthy compared to visual arts, where curators are terrorizing artists. They don't allow paintings anymore. Poetry is much more honest, much more healthy.
CS
What's happening in Slovenia?
TS
In Slovenia I'm very lucky to be accepted by America and the world, translated a lot, so allowed to go on with my new books. I was lucky to be able to be a bridge. For example, Richard Jackson and his students have been coming to Slovenia and we have two international festivals: Vilenica and Medana. Slovenian poetry is very present in the United States, and American poetry is very present here, more so than in Germany, for example.
CS
What of the European poetries, both East and West? Where do you think the most interesting poetry is being written?
TS
Yes. Irish poetry, Polish poetry, and then… I don't know enough about the Romanian basin, but it seems that Romania has very, very strong poets. They haven't had a lot of contact with the West in the last 20 years but there are great poets. Younger Polish poets are really strong. How would you judge?
CS
I agree, Slovenian poetry is very, very strong. I think Serbian poetry is still very strong. I mean, you have Milan Djordjević, Dusan Novakovc, Radmila Lazic, Nina Zivancevic, and few others. Do you know Milan's work?
TS
Oh, definitely. I adore him. Especially over the last 15 years. He is a major world poet and also the best living Serbian poet at the moment.
CS
I agree. The surprises are still to be found in the former Yugoslavia, or whatever you want to call the place. Russian poetry is interesting. I've seen a couple of anthologies with a great many poets that are very young who I've never heard of. Russian poetry seems to be much more intense, much more lively than what goes on in France and Italy, and Spain too. I was talking to a Spanish writer recently, and he said, "There's not much going on in Spanish poetry." Of course, one can never be sure about these things since often translations of recent poetry are not available.
Tell me about your own work as a translator. You translate your own poetry?
TS
As a writer, I'm a moonwalker. I don't know what I'm doing. As a translator of my own poetry, I just do it like a lumberjack with a dictionary and try to be accurate and precise. I mostly have to translate myself, because I write only in Slovenian.
CS
I've never translated myself. I'm always amazed that somebody actually makes the effort to translate me. I mean, I have translators in a number of places, people I've never met before, who translate me Into Arabic, Spanish, Norwegian, Hungarian. A labor of love, I suppose.
TS
Yeah. I remember I was very sad when I translated your selected poems into Slovenian and I was doing it slowly, slowly. It seemed easy, but it didn't really work—I was not satisfied until the end, and then I don't understand what happened. But after half a year of not working on your translation, I spent maybe 10 days on it, made changes, and it worked. And I was very happy.
CS
I think that has to be the way one works on these translations. I've had the same experience many, many times. There's a simple explanation for this. One is always looking for some equivalent, a language that, in some way, approximates what is being said in the original. And very often you just don't think of the right words or the right idiom at the time.
TS
I try to be as direct as I can, as literal as I can. I still remember how Marguerite Yourcenar, for example, translated Catullus. It was as if she would read the page, and then she would do something else on her own. It's a French tradition of translation. German tradition is very different. Slovenians translate more like Germans. It all depends, but I am afraid of those translators who think that they can improve, or use the other language to do it another way. Usually it doesn't work.
CS
I agree. I always begin humbly. I want to be as literal as possible. I don't want to impose myself, and I'm really afraid to take any liberties, even when it seems necessary. Even then, it's almost a blasphemy; it's a sacrilege to take freedoms to change something drastically in the translation. I try to be faithful. And, of course, sometimes it's not possible.
TS
When will we see each other? Will you go to Bellinzona in Switzerland this year? I told them they should invite you, and they told me they would.
CS
I wouldn't go now. I'm so happy to be home this summer after nine months of constant drama. I commuted every week between New Hampshire, New York, and Washington. It was exhausting.
TS
What is the situation? Being Poet Laureate, you have an office in Washington?
CS
Oh, I had a very nice office in the Library of Congress facing the Capitol, but I stepped down. I'm not gonna stay for the second year.
CS
Yeah, sure I can step down. It's a free country. (
laughter
)
TS
So you were there only one year?
CS
Yeah, I was Poet Laureate until the first of July. It was just too much. I had at least 50 or 60 interviews and
countless
number of other things I had to do. I would receive 30 emails every day relating to poetry. It's enough to make you hate poets and poetry. Enough! You know? I want to do other things.
CS
Like, you know, sit quietly with a glass of wine and talk to my cat. (
laughter
)