Kad bi oči i sjećanje bili ručno napravljen deep dream keleidoskop.
tonyfitzpatrick.wordpress.com/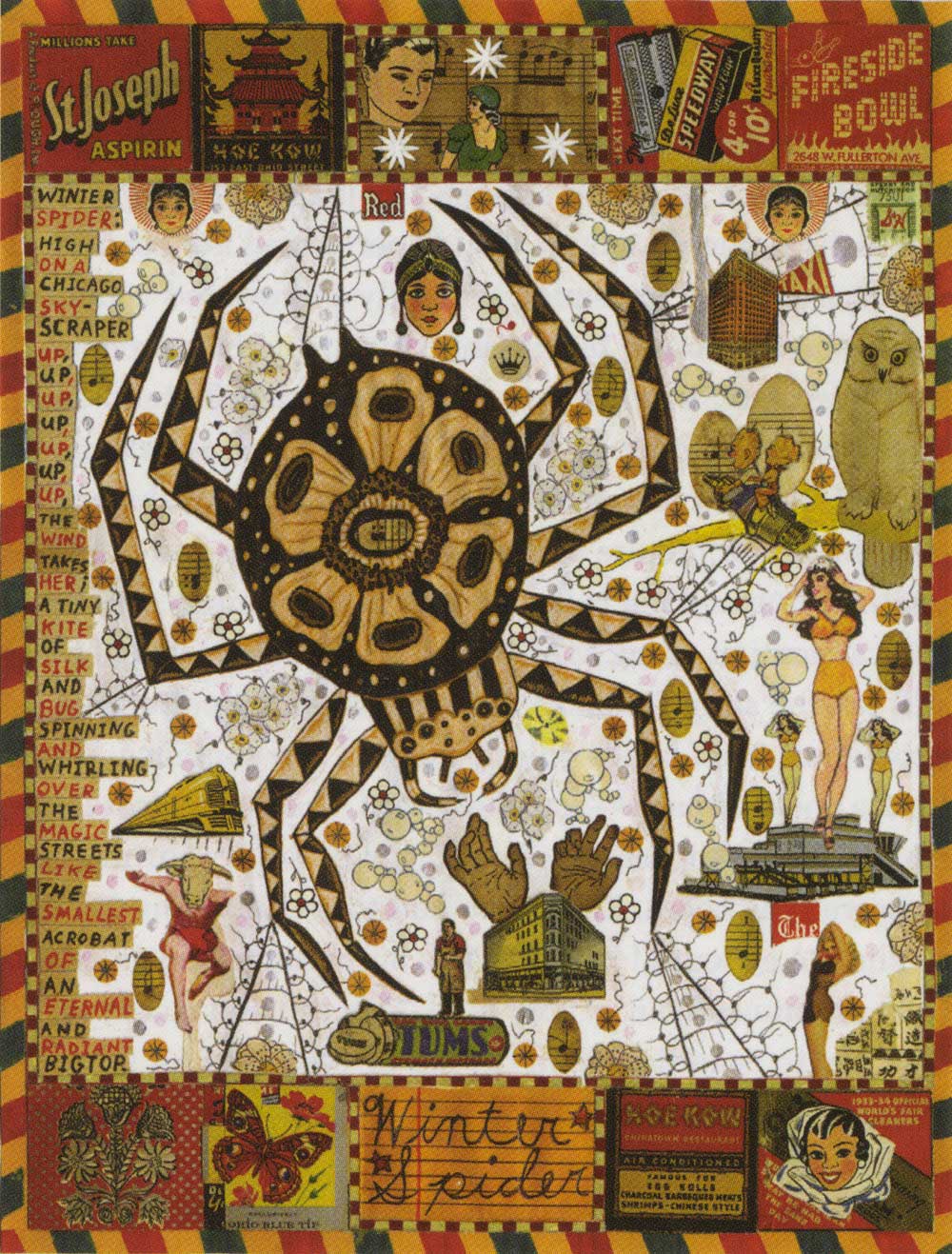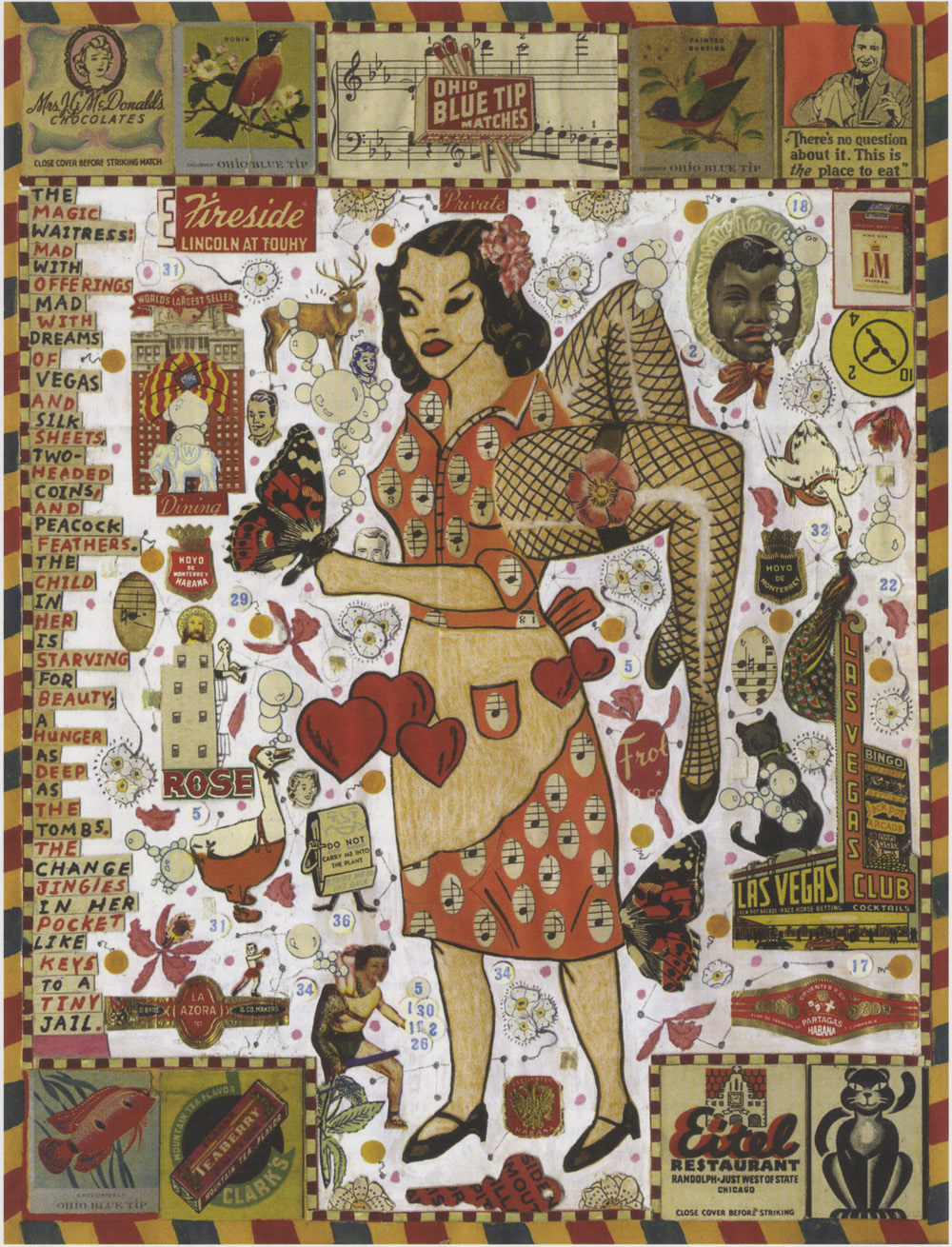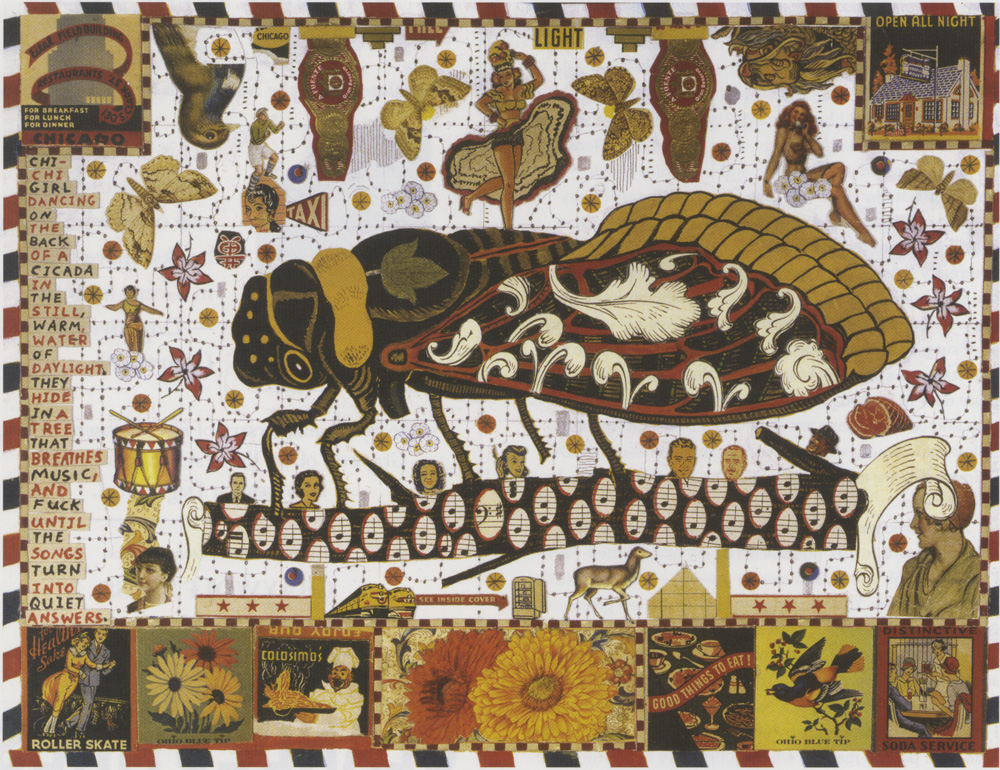 Tony Fitzpatrick's constellations, assemblages of cutouts—found folk art, poems, old advertisements and magazines, ancient matchbook covers—are collected in The Wonder: Portraits of a Remembered City, Volume 2 published this spring by La Luz de Jesus Press. The city is Chicago, the dreams are all-American and the memories those of a nostalgic past tempered by an artist who is well aware, as Alex Kotlowitz writes in the book's introduction, that "Chicago is a city of romance and optimism alongside the failed and the fragile." These kaleidoscopic works of art, small collages as packed with meaning and double entendre as Joseph Cornell's, are visually lush and gritty, a cosmology that is both familiar and exotic. -
bombmagazine.org/article/2928/portfolio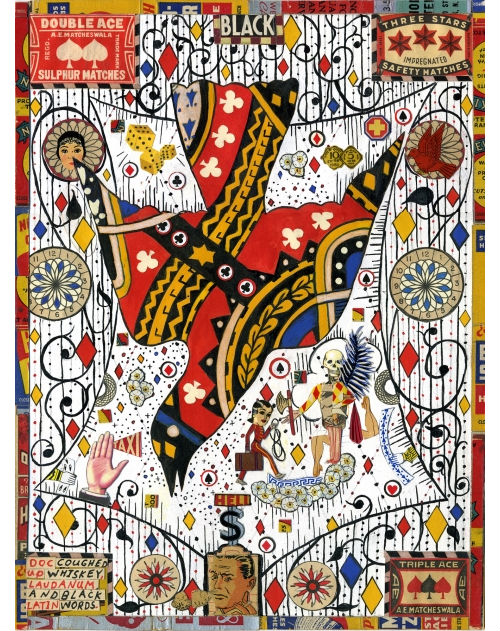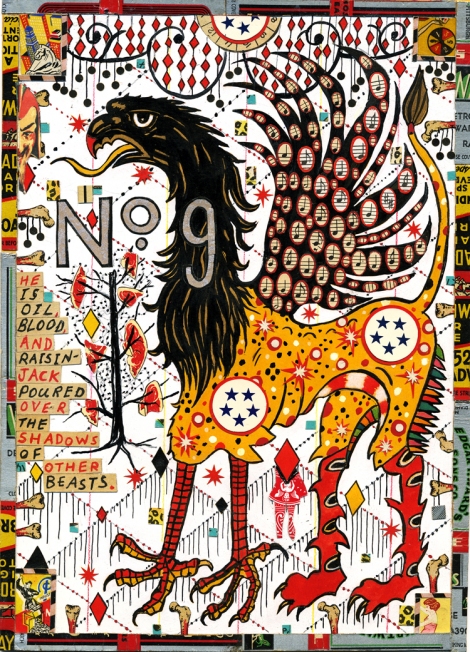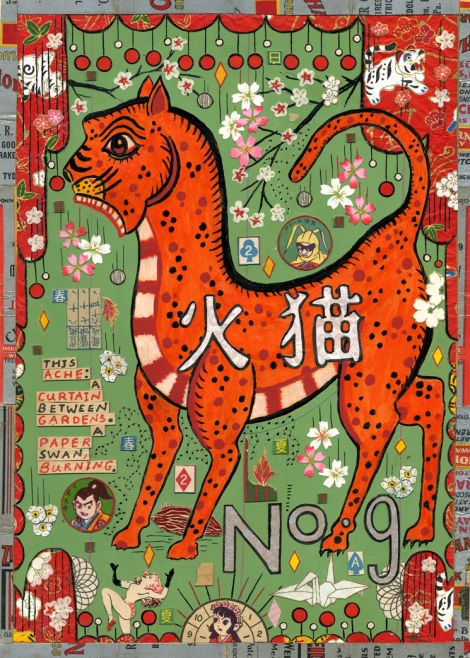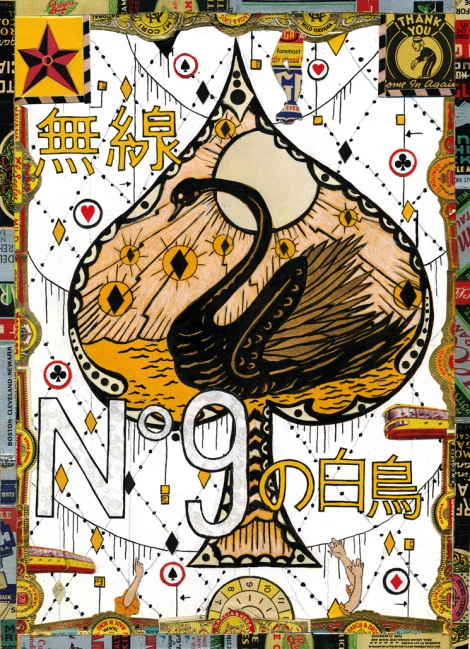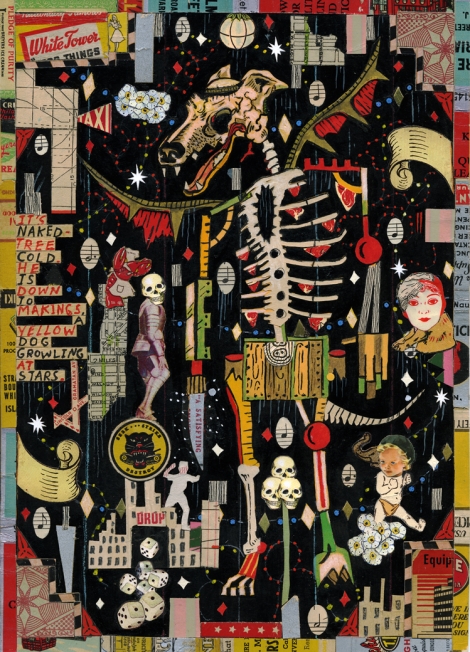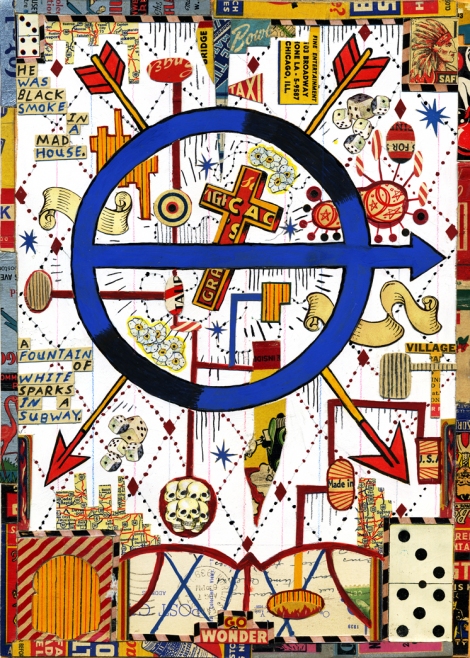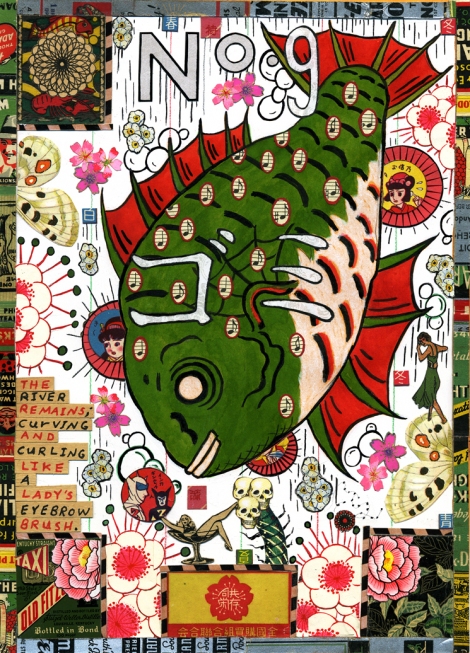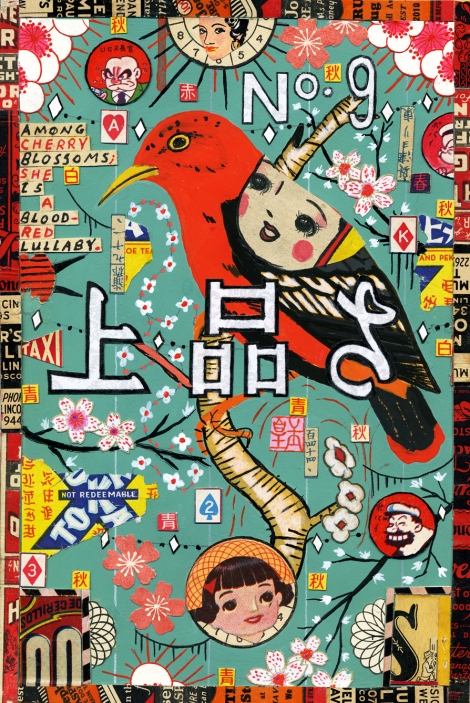 If you want to summon up a picture of the quintessential Chicago artist, you don't have to use your imagination. Just walk up to a certain storefront studio in the Bucktown neighborhood and there he is, framed in the window: Tony Fitzpatrick, big, beefy and balding in jeans and a White Sox cap, his South Side Catholic heritage oozing from every pore.
His baseball-mitt hands move with surprising delicacy around a worktable full of drawing materials, odd bits of paper X-Acto-knifed out of old magazine ads, comic strips, playing cards and matchbook covers. Over the past decade, Fitzpatrick has produced a series of remarkable drawing-collages that have been collected in a trilogy of books called The Wonder -- Portraits of a Remembered City. The originals are currently on view in a major solo show at the Chicago Cultural Center, May 3-June 29, 2008.
The Wonder began as a memorial to Fitzpatrick's father, a traveling burial-vault salesman who died of cancer in 1998, and ended as a sprawling narrative about the Windy City's working class in the 20th century.
It's a mythic vision of the city as both an industrial hell and a blue-collar heaven, as magical and soulful as it is gritty and brawling. You can toil your life away here, it says, but you can also dream it, and make it, for yourself.
"I don't think when you go to art galleries or look at art magazines that you get any whiff of the culture of working people," says Fitzpatrick, 49. "The Wonder was a way to honor them, the people who built this city: my grandparents, my parents, a lot of the old working guys I talked to. In the art world today, a lot of those folks become invisible, and this was a way of speaking to that, finding the poetry in that century or so of lives."
Along with their central drawn images hovering in celestial fields strewn with Catholic iconography and Chicagoiana -- ads for long-gone restaurants and nightspots, burlesque houses and racetracks, barber shops and bowling alleys -- the collages in The Wonder feature Fitzpatrick's simultaneously muscular and romantic poems, which reflect and enlarge his themes in a voice that suggests a collision of Pablo Neruda, haiku and the song lyrics of Tom Waits. (The third volume the Wonder trilogy, City of Monsters, City of Ghosts, has just been published.) Most of his works are relatively small, typically measuring 10 x 13 in.
Other legible influences in Fitzpatrick's work include tattoo art, Mad magazine, Chester Gould's Dick Tracy, Edward Hopper's Nighthawks, the boxes of Joseph Cornell and the "combines" of Robert Rauschenberg, all of it inflected with the streetwise ethos of Chicago. The cumulative effect shares some of the offbeat pop sensibility of Chicago Imagists such as Ed Paschke, Jim Nutt and Karl Wirsum, the gritty urban realism of street photographers like Art Shay and Lee Balterman, and the literary lineage of Chicago bards from Carl Sandburg and Nelson Algren to Mike Royko and Studs Terkel.
Fitzpatrick's originals are now coveted by major collectors across the country -- they go for between $14,000 and $17,000 at Brooklyn's Pierogi Gallery -- and are part of the permanent collections of a number of museums, including the Museum of Modern Art. But the artist remains true to his roots, working 10 hours a day, six days a week. After a knockabout youth of truancy, boxing and substance abuse, his carousing days are over -- he's been clean and sober for a quarter-century and, for the past 17 years, married to the interior designer Michele Fitzpatrick, with whom he has two children -- but Fitzpatrick retains his love of laid-back Chicago street culture, its diners and blues clubs and tattoo parlors, its vernacular architecture, its obsession with sports and even its appetite for brass-knuckle ward politics.
"I don't think you'll run across anybody that's prouder of being from Chicago or who knows it the way he does," says folk-rock troubadour Steve Earle, one of Fitzpatrick's oldest friends. "It was a South Side, Daley-is-God world that he grew up in, and he really reveres the history of the city."
The surprise is that this most Chicago-centric of artists says he's done with Chicago for now, at least imaginatively. While Fitzpatrick maintains a home in the city -- where he's starting up Firecat, a new publishing venture, with a group of friends -- he's now spending about half the year in Brooklyn and making frequent trips to New Orleans, the inspiration and subject of his latest series of drawing-collages.
"I've needed to free myself of my father's ghost," Fitzpatrick says. "I'm going to be 50 years old this year, and I've been making art about the world he showed me for a very long time. I love Chicago, but it's time to make work about something else."
Fitzpatrick's New Orleans pieces, the first installment of which Firecat will publish next year as a book called A Thousand Beautiful Things, expand on his vocabulary from The Wonder, giving it an exotic Big Easy flair. The colors are brighter, and several of the collages focus on texts rather than drawings. Some refer to the devastations of Katrina, but even more dwell on the city's famous resilience. Mardi Gras revelry (especially its fantastical, shape-shifting costumes), the gumbo of ethnicities and cultures and sexualities, the music, the food, the architecture, the encouragement of nonconformity and eccentricity of every kind: it all finds its way into the work.
"There's a kindness in New Orleans," Fitzpatrick says. "They've survived something awful, and there's this idea that they will revitalize themselves culturally with good will and kindness and creativity. I have two musician friends down there that don't have addresses -- they've been living with friends since Katrina -- but two nights a week they go out and play benefits for people who have less. This is what artists do for each other down there, and it touched me. In the Chicago art world we have everything, and nothing matters. In the New Orleans art world they have nothing right now, and everything matters. And I thought, 'I don't care if I don't get another museum show, I don't care if I'm in the Whitney Biennial, I don't give a fuck if I never sell another piece to MoMA. Just let me part of this'."
And so he is. Fitzpatrick has been invited to show his New Orleans work in the city's biennial, "Prospect.1," which opens on Halloween night and continues through Jan. 18, 2009.
"Tony's an outlaw, basically, and I think he's attracted to New Orleans because there's such a raw, wild side to the city," says Mark Bercier of Taylor Bercier Fine Art in the French Quarter. "He's a romantic at heart, and that stuff -- that soul that's rooted here so deep -- just bubbles up from out of the ground in this city. It's everywhere, and it's visual, which makes it a natural for Tony."
John McNaughton, a film director (Wild Things, Henry: Portrait of a Serial Killer) and Chicago native who has collected more than 100 Fitzpatrick pieces, says the artist has been re-energized by New Orleans. "I think the work that's coming out of it from him has been exceptional -- some of the best he's ever done," he says. "Tony and I are both from the South Side, and so of course he has a great depth of feeling for this city. But you can have great depth of feeling for other places, too, and sometimes it's time to move on. As an artist, you have to explore new ideas -- otherwise you can just collapse in on yourself and become stale. The work from New Orleans is anything but stale."
Wherever his career takes him, however, Fitzpatrick will always be a Chicagoan at heart. "I don't think Chicago ever has to worry about losing Tony," Earle says. "It's in his bones."
"Tony Fitzpatrick: The Wonder -- Portraits of a Remembered City," May 2-June 29, 2008, at the Sidney R. Yates Gallery, Chicago Cultural Center, 78 East Washington Street, Chicago, Ill. 60602
- KEVIN NANCE