manifold.garden/
williamchyr.com/
Video-igra u kojoj se arhitektura fizike i bizarna fizika arhitekture ešerovski isprepleću, uvrću i dezorijentiraju nas. Gravitacija je jezik paradoksa.
THE GAME
Manifold Garden (previously known as Relativity) is an exploration puzzle game that imagines a universe with a different set of physical laws. Set in an Escher-esque world filled with secrets and mysteries, you utilize a unique gravity manipulation mechanic to turn walls into floors. Learn to see the world through whole new perspectives as you navigate mindboggling architecture and solve seemingly impossible puzzles.
Manifold Garden is being designed and developed by William Chyr, and is intended to be released on PlayStation 4, PC, Mac, and Linux in 2016.
Chicago-based
video game designer
William Chyr has designed a world governed by a consistent bizarro-physics, where a player can walk up walls and ceilings and gravity is partially governed by colors.
The game,
Manifold Garden
, "is a metaphor for the last 400 years of physics," Chyr explains. "You start learning about gravity, and you expand into learning about the shape of the universe." Within the 20-odd hours it takes to to finish the game, you go from Newton to Leonard Susskind.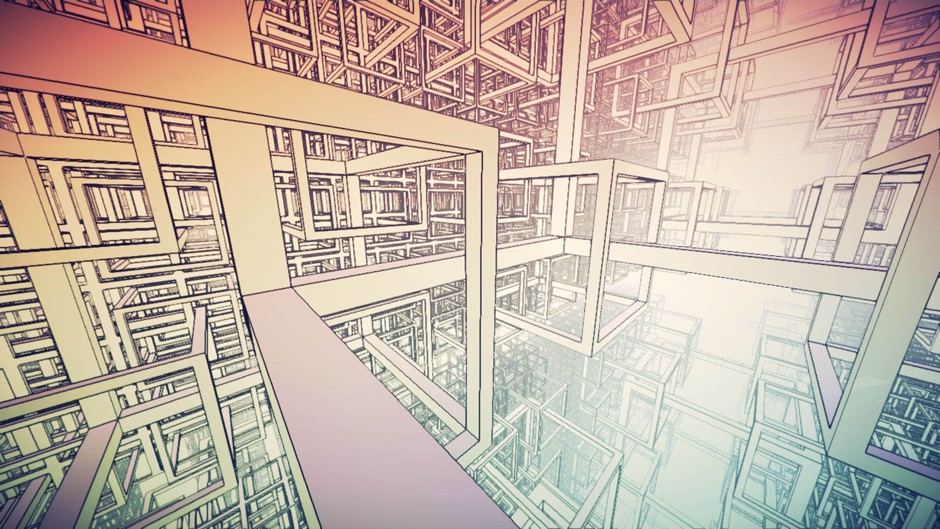 The sphere of
Manifold Garden
is made of Escher-like staircases, cities of lattice windows, and mysterious repeating structures. ("As complex as it seems, it's all just boxes," Chyr says.) Backed by the independent game funder
Indie Fund
, the developer has now been able to hire another part-time programmer, but this is mostly a full-time, solitary labor of love that's taken Chyr three years to complete.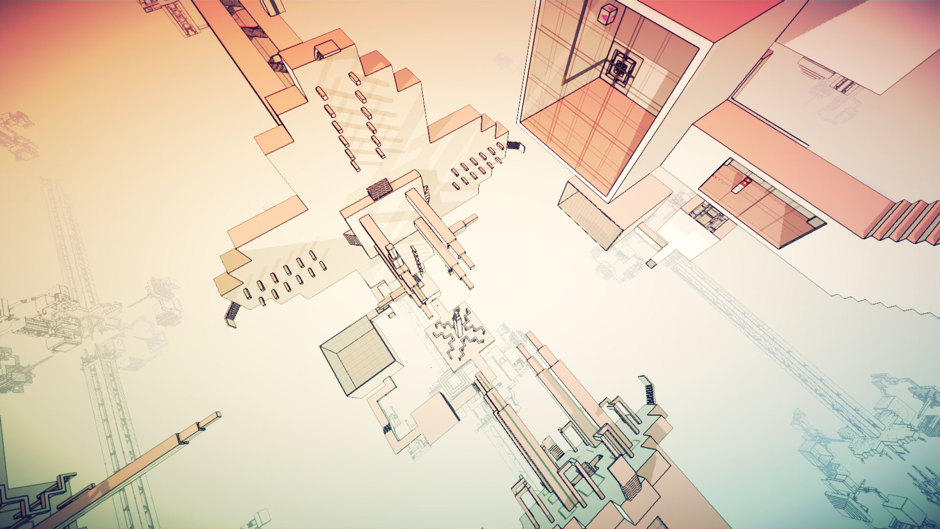 As the game's puzzles increase in complexity, Chyr says, its architecture becomes more complex, too, with "more real-world references." He cites architects
Tadao Ando
and
Frank Lloyd Wright
as influences, as well as Japanese gardens. Toward the conclusion of the game, once players have had a chance to explore the rules, the visuals can get more arresting (and dizzying). "By the end, I can indulge," Chyr says.
This is innovative stuff, but Chyr says he hopes anyone who knows how to operate a joystick or keyboard can enjoy his game.
Manifold Garden
hits a PC or Playstation 4 near you sometime in 2016. -
Aarian Marshall
William Chyr
is an independent game developer and artist currently based in Chicago. As an installation artist, he has exhibited works at the Lawrence Arts Center, Telus Spark, and High Concept Laboratories. Some of his more notable past creations include a limited-edition art label for Beck's Beer, a crowdsourced novel - The Collabowriters, and a somewhat infamous print ad. He holds a B.A. degree in Physics and Economics from the University of Chicago.
Press
"

A Video Game That Explores the Physics of Architecture

" – by Aarian Marshall - CityLab, December 21, 2015
"

This Video Game Has The Most Disorienting Architecture Ever

" – Curbed, December 10, 2015

"Sony focuses on the joy of gaming at PlayStation Experience"

by Dean Takahashi – VentureBeat, December 8, 2015

"Our 10 Favorite Indies From The PlayStation Experience 2015″

by Kimberley Wallace, Game Informer, December 7, 2015

"Manifold Garden is a Real Mind-Warper"

by Jaz Rignall – US Gamer, December 7, 2015

"Manifold Garden, An Incredibly Pretty Puzzle Game"

by Nathan Grayson – Kotaku, December 6, 2015

"William Chyr"

- Varoom Issue 31, Autumn 2015

"Manifold Garden: Das unmögliche Spiel, das Gehirne verknotet"

by Rainer Sigl – Der Standard, November 8, 2015
"How Manifold Garden

makes reality fold back on itself"

by Phill Cameron - Gamasutra, October 16, 2015

"Episode 209 – William Chyr"

by John Lindvay – BigSushi.fm, October 29, 2015

"Manifold Garden: Escher-esque exploration in a wraparound world"

by Tom Sykes – PC Gamer, September 24, 2015
"The design decisions that turnedRelativity into Manifold Garden" by Phill Cameron - Gamasutra, September 16, 2015

"Manifold Garden is one stylish Escher-inspired puzzler"

by Jeffrey Matulef – Eurogamer, September 16, 2015

"Manifold Garden Turns Magnificent Architecture Into an Endless Playground"

by Chris Priestman – Kill Screen, September 16, 2015

"There Is No Down"

by Stephen Urchick – South Side Weekly, November 18, 2014

"IndieCade 2014 – Willy Chyr"

(Podcast) by John Lindvay – BigSushi.fm, November 6, 2014

"An Artist Is Turning MC Escher's 'Relativity' into a Video Game"

by Beckett Mufson - The Creators Project, October 31, 2014

"Up in the air"

by Kim O'Connor - The University of Chicago Magazine, September – October 2014

"Balloons with Willy Chyr"

by Glen Dresser – UPPERCASE, Issue 17, Spring 2013

"Big ideas and big balloons: Artist profile on Willy Chyr Up and away"

by Jeff Green - Toronto Star, January 25, 2013

"Thursday 8am – 9am"

(Televised Live Interview) - Breakfast Television Toronto on Citytv, January 24, 2013

"How to Crowd-Source a Story"

(Radio) – The Takeaway on WNYC, January 17, 2013

"Willy Chyr (Profile)"

by Kim Harty – F Newsmagazine, September 2012

"Balloon Artist Takes On Microscopic Animals"

(Radio) by Stephen Kraske – Up To Date on KCUR, June 21, 2012

"Not your typical twisted balloons: Artist creating giant installation"

by Meagan Thomas – Lawrence Journal-World, June 12, 2012

"Balloons, Books and Beer: The Emergent Art of Willy Chyr"

by Glendon Mellow – Symbiartic (Scientific American), May 31, 2012

"Roy Lichtenstein, holding up the modern pop art mantle"

(Radio) by Kate Dries – The Afternoon Shift on WBEZ Chicago, May 30, 2012

"Balloon sculptor twists together physics and art"

– CBC News, May 16, 2012

"Beck's beer has never looked better"

by Elly Fishman – Chicago Reader, May 7, 2012

"Chicago artwork on Beck's beer label"

by Georgia Garvey - RedEye, May 7, 2012

"The Collabowriters"

- Good Day Sacramento, May 6, 2012

"'It was a dark and stormy night.' Now You Go."

by Andrew Huff – Gaper's Block, May 4, 2012

"Top Picks: Novel Idea"

– CTV News, May 3, 2012

"Literatura 2.0″

- Revista Galileu, May 3, 2012

"Local Makes Beck's Art Bottle"

by Andrew Huff – Gaper's Block, May 3, 2012

"Première sur le web, un roman participatif écrit par les internautes"

(Radio) - Le 12h30 on Radio Télévision Suisse (RTS), May 2, 2012

"Would You Read a Crowdsourced Novel?"

by Heba Hasan – TIME, April 29, 2012

"Crowdsourced Novel Gets Written by the Internet"

by Emma Hutchings – PSFK, April 26, 2012

"Would You Read a Novel Written by the Internet?"

by Emily Temple – Flavorwire, April 24, 2012

"Willy Chyr Invites the Internet to Contribute to Novel, One Sentence at a Time"

by Maryann Yin – GalleyCat, April 24, 2012

"Balloon Artist Demonstrates Link between Inflation and Happiness"

by Dorian Rolston - Good News Toronto, November 19, 2011

"Willy Chyr"

– Artist A Day, November 6, 2011

"Midwestern Voices and Visions"

- Alliance of Artists Communities, Fall 2011

"Anorak Hero – Willy Chyr"

- Anorak Vol. 17, Winter 2010

"Willy Chyr"

- It's Nice That issue #4, October, 2010

"Big Omaha: From animals to installations, balloon artist Willy Chyr"

by Danny Schreiber – Silicon Prairie News, June 3, 2010
"Meet Mr. Balloon Artist" – Televised Featured on WGN-TV's Chicago Best, May 19, 2010

"Willy Chyr – Artista de los Globos y la Luz"

by Mari Carmen Nuño – ELLE (Mexico), June 2010

"Willy Chyr: Balloon Sculptor"

by Anna Pesquidous – Platform, April 30, 2010

"Evolution in the Balloon Animal Kingdom"

by Kyle VanHemert – Gizmodo, March 20, 2010

"Willy Chyr"

by Will Hudson – It's Nice That, March 18, 2010

"Balloon Artist"

– Televised Feature on WTTW's Chicago Tonight, August 11, 2009

"Arts Extravaganza"

by Lloyd DeGrane – The University of Chicago Magazine, July-Aug 2009

"Fourth-year student takes balloon art to a higher level"

by Susie Allen – University of Chicago Homepage Feature, June 2009

"Fourth-year installs balloon sculpture in BSLC"

by Stacey Kirkpatrick – The Chicago Maroon, June 2, 2009

"Fota Op"

by Anthony Ruth – The Core: College Magazine of the University of Chicago, Spring/Summer 2009