Novi bend Patricka Flegela
(ex-Women, Fels-Naptha, Androgynous Mind) rođen iz seksa, droga, depresija i psihičke magije.
Jako jako.
streaming
Debut release from mastermind Patrick Flegel of Androgynous Mind and Women. Also playing on this epic are Morgan (also from Andro Mind, Young Moms), Julie from Young Moms and a guest jam with a couple forest fire fighter dudes!!!
Totally loose and free, strange rawk with pop sensabilities.
isolatednowwaves.tumblr.com/
In a post-
Women
world, Pat Flegel has intermittently poked his head above ground with short-lived projects named after
Sonic Youth
and
soap
. Cindy Lee is his latest guise, and on top of a new gender-bending persona, it has also resulted in a downcast collection of stunners tucked amongst outbursts of ramshackle abrasion. The falsetto flutters of "Holding The Devil's Hand" hearken back to Women's downer deep-cut
"Grey Skies"
, while "Promise of Loneliness" is made all the more crushing with its home-recorded warble. "Head Down" stretches out a desolate piano lament before devolving into a classic
cop theme
, and the 10-minute street hassle of "Find Another Man" is reportedly the result of a jam with smalltown firemen. This cassette is already long OOP, and the only relevant info comes from the unlikely source of a
Japanese fan-site
, yet sharp-eyed grippers can soon get their mitts on a
7" split
from this shadowy shapeshifter. -
weirdcanada.com/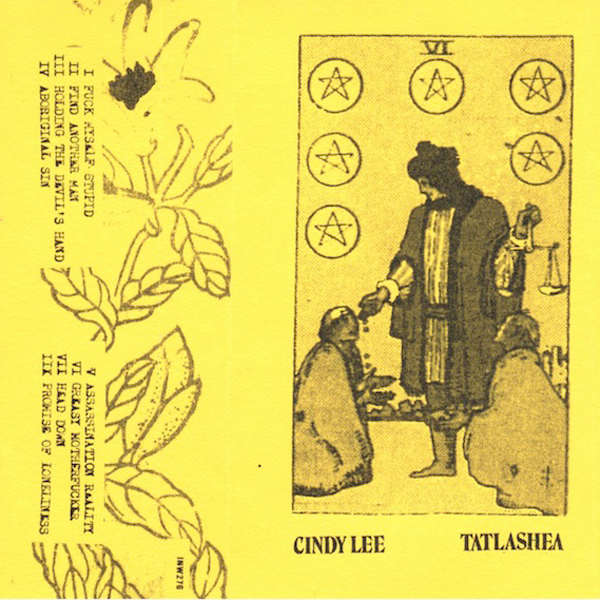 【Interview】 Cindy Lee
Photography by Johnny de Courcy / Kristy Jacobsen
Cindy Lee are ex-Women Patrick
Flegel
's new band. Their debut album
"Tatlashea"
was released in December, last year.
I asked Patrick and Morgan(Yung Mums) about the band and debut album.
Forgotten Hall(FH) : First of all, please tell us how the band started. Also, why is it a girl name?
Morgan(M): The band was born of sex, drugs, depression and psycho-magic. It's a "girl's name" because Patrick loves women.
Patrick(P): I wanted to be independent creatively so quitting Women allowed me to start Androgynous Mind and Cindy Lee with my best friend Morgan. And now I get to hear magic music from Matt (Vietcong) and Michael (LA Cops).
Cindy Lee is the name of a person in Ymir, BC where Morgan and I lived, worked and recorded for a while. We lived in the church there and it is a beautiful but strange halloween town. We turned the church into a movie theatre for a few months. Cindy Lee did trivia questions one night at the town hotel and her theme was women's rights in Canada. She had horses and was very kind. We respected her connection to nature. In Vancouver I was talking to my friend Michael Willock about Cindy Lee and how I copied her style of dress. Michael said that Cindy Lee would be a good song name.
Later when we were in Ymir I was at my friend Mitch's place and he was dying and said that all his friends were dying and he was just waiting. He showed me a funeral program and one of his friends' names was Cindy Lee so I took it as confirmation. Some people think that Cindy Lee is a character that I'm playing but really it is the name of the band. I often disregarded any feminist angle in interviews because Women lyrics were about a lot of different things.
At the time I was interested in people projecting their own ideas onto the songs and maybe mishearing the words and coming up with whatever they liked. I wanted it to be ambiguous and feel like a lot of movies and music are condescending to the person that's taking them in. I like when I don't know what's happening or going to happen.
Photography by Johnny de Courcy / Kristy Jacobsen
FH: It seems like the band is made up with members from different Vancouver-based bands. Could you introduce about the band members?
M: The band is comprised of Patrick's ego and my patience.
P: On the recordings the are guests on Find Another Man. Two forest fire fighter friends Fons and Evan and then this Theron dude who was a baker and construction worker in the town.
Julie played bass on Promise Of Loneliness. Live we have different members all the time but the permanent members are Morgan and Julie from an incredible band called Yung Mums.
http://yungmums.bandcamp.com/
Other people who play are my friend Benjamin, and Dan Geddes who sings and plays guitar in a band called 'Peace' :
http://peacevancouver.bandcamp.com/album/the-world-is-too-much-with-us
.
Matt from Johnny and the Death Rangers has appeared on bass :
http://johnnydecourcy.bandcamp.com/album/johnny-de-courcy-and-the-death-rangers
and Mike Wallace from Women, Matt's new band Vietcong and LA Cops, has played guitar.
Photography by Johnny de Courcy / Kristy Jacobsen

FH:

You used to perform with two bands; Fels-Naptha and Androgynous Mind. Can you tell us what had become of these two bands? Is it different what you would like to express with "Cindy Lee" from them?

P: Fels-Naptha totally rocked and I've got a lot of ammunition to compile a release. Sydney from Fels-Naptha plays with Shearing Pinx now and the Courtneys w/ Jen. The Dial Corporation threatened legal action because our name 'was a detriment to the goodwill of their customers'. Fels-Naptha is a very old brand of soap that had sexist advertisements. In Fels-Naptha Jen and Sydney wanted to go in two different directions but I wanted to go in both at the same time. I can do both things now with Cindy Lee and the Courtneys have grown into a full on rock tee powerhouse. They just got their video on MuchMusic so they're laughing.




Androgynous Mind was me and Morgan really bummed out cause people kept dying and it was winter, really shitty outside. It grew into this new band. I didn't like having the name Androgynous Mind and the drag element at the same time. Morgan went to New Mexico for a few months and when we reunited in Vancouver we finished the Cindy Lee record.




M: Fels-Naptha: "If this band is going to work, Pat needs to be happy and Sydney needs to shut the fuck up"- Jen Courtney

We aren't Androgynous Mind anymore because if you call your band that and dress up in drag, it's a bit too cute.

FH: Please tell us how you came up with the album title "Tatlashea".


P: Tatlashea is a recurring character in Pacific Northwest aboriginal mythology. There is a book called 'More Ah Mo' and the story 'Tatlashea and the Children' is the inspiration for the title. The story is about justice. It's a revenge story. Shapeshifting and rebirth are consistent in the stories. Lind Manz' character in Out Of The Blue is sorta like Cloque AND the children in that story. She has to defend herself because no one else will. No one can be trusted! one story in More Ah Mo is about a wolf that's in love with a human and transforms so they can get it on and live a happy life together.



FH: You employed Chad Vangaalen to master the album who you've been keeping close relationships since Women. What was it like working with him for this new project?

P: I asked him to record the album, to meet us in Ymir and he said 'Fuck you dude! You have to become a wizard' or something like that. Me and him would have it out sometimes while we were recording cause I'd always want the mix or the panning to be a certain way. Not all the time, but he understands from recording arranging and writing his own songs that no one knows what you want better than you do. So Morgan and I started recording our own shit. John De Courcy gave me this 8 track that his brother bought for $10. It was just sitting in John's closet so he gave it to me. Chad mastered it and was really supportive of me recording our shit with this different approach. He's like my dad.




M: I love Chad. He's very tall and intelligent.

FH: Each song on the album take different styles, as well as keeping beautiful melodies and harmonies coexisting with cynical sharp darkness. I found the aesthetic quite unique, but what was the actual recording like?


P: Mainly it's about consuming caffeine, nicotine, and marijuana smoke and not sleeping. Chad drinks a lot of coffee and has a Willie Nelson endorsed vaporizer. I learned that from him. Recording with Women I racked up a credit card just buying liquor and sometimes it really sucked where people were tired or sloppy or disinterested. Sometimes it payed off but I've realized these other things are the best for me to get things done with a lot of energy. I really admire the Fire Engines and I relate to the sense of disposability and immediacy in their music. 1st, 2nd, 3rd and 4th takes are what I tried to use as much as possible. Lately, I want the first usable take. That's like Find Another Man. Tracks 1,2,3,4,5,6,7 were built on the first usable takes. On Greasy Fuk it's the first two times we played the song. Promise Of Loneliness we recorded a second time. Plus once you've recorded the album you're excited to play the songs. They are new! Everything was done on an 8 track so you can mix the master song in real time on the 8 track. This eliminates the problem computers present giving you too many fucking options. When computers come into the picture often the project is convoluted and the feeling gets lost. I try to tap into the live energy captured in Alice Coltrane recordings. Please Please Me was recorded in 8 hours. Understanding that our rock and roll album is essentially a piece of trash waiting for the sun to explode or for someone to drop the bomb makes me feel less precious about it too. Taking it too seriously and treating it like a prize can really damage your shit I feel like and totally kill the mood. I am a condition princess when it comes to recording. Studios are fucked but I really want to record with a real producer at some point.


M: Immediacy in recording is important to both of us. We are huge fans of bands known for their raw and striking aesthetic, i.e. Harry Pussy, Free Kitten, Dead Moon/Pierced Arrows, Royal Trux. It's important to capture the vibrancy of music when it is newly born. Although many of our melodies were conceived and incubated for quite awhile in the dark tunnels of Patrick's mind, once they are birthed we want to swaddle them in tape as soon as possible.




FH: What things/incidents were you most inspired by in creating this album?


P: There are deeply personal songs on this album that are directly written about situations that make us feel sad. Other songs are about Canadian history and current problems. Things that infuriate you to the point where you feel like your head is going to explode or that you're going to knife a transit cop or someone at a bar that is being abusive to his partner.

Aboriginal Sin is about germ warfare in Canadian schools. Tens of thousands of aboriginal students were killed with tuberculosis and other diseases. Some have said the government has been working towards a final solution for Canada's indigenous people. There are terrible things in every country's history but the current state of aboriginal culture in Canada is disturbing. Harmony with nature is what appeals to me about their culture and the government's focus on exploiting their resources and poisoning their fish in exchange for monetary gain is upsetting. At the same time, I don't feel entitled to be upset about these things because everyone participates in this framework that's been established. Cars, mass production, exploitation etc. I support all of these things every time I tour or buy groceries. It's complicated and sometimes you feel like it's none of your fucking business. Maybe that's how the bad people get you! I like the city too; that's why I feel sensitive about touching on these things. I like the concerts and taking trains and going to movies. I swing from taking on problems, being ambivalent and being a misanthrope.
That's why me and Morgan moved into the woods. The bottom line is that I've been inspired by these things and by certain people. In Vancouver the area where we've lived is one of the largest expanses of urban poverty in North America. Petty drug charges, accountable policing, the prison-industrial complex, affordable housing and sex trade workers' right to safety are issues that are difficult not to contemplate.




M: This album was inspired by death, destruction, marginalization, anger, humour, resentment, contempt and the death of romance.
Photography by Janelle Hollyrock

FH: Same as Calgary, I find there are lots of attractive bands in Vancouver as well. What is Vancouver to you?

P: Vancouver is very expensive especially since the olympics. It's amazing though because there are so many different areas you can go to and you are close to the water. It's a diverse city so the food and music is varied in a good way.

M: My family has a long and storied history in Vancouver that dates back to the 1800s. To me, Vancouver is a dark and dreary place where my past haunts me and I'm forced to confront it. I am particularly drawn to the Downtown Eastside, Vancouver's notoriously crime and drug addled neighbourhood because I find I can walk with my head held high, unencumbered by the prejudice and anger I feel in seemingly more functional neighbourhoods.
Essentially, for me, it is home, regardless of my dislike for certain aspects (weather, gentrification, impending ecological disasters). It is also home to many people (my sister Megan and her daughters) and bands that I love absolutely and draw inspiration from. Nu Sensae, Peace, Shearing Pinx, Mutators, Heavy Chains, Cascadia, Koko are all from Vancouver.

FH: Please tell us the music you find it most important for you, or your favourite bands/artists at the moment.

P: I listened to Abner Jay every day for over a year. True story of Abner Jay and Abner Jay: Folk Song Stylist are incredible. Alice Coltrane is like religion to me. Andromeda's Suffering is where it's at! If my brain is out of control I listen to Alice. Dan and Andrea from Peace and Nu Sensae really inspire me to continue making music and art. Kim Deal is my hero though. A real musician. I drink non-alcoholic beer lately and so does Kim I found out from the Pixies movie. I have a thing where I'll just drink whatever's put in front of me until nothing is left so sometimes I think about Kim before we go into whatever bar we're playing. She's some kind of rock and roll spirit support. Spirit sister.
Dara Puspita are one of my biggest inspirations. The were total rebels with beautiful songs. I love P-Model, Kraftwerk, DEVO and Deerhoof. Kollaps is a spectacular record. Naked On The Vague's 'Heap Of Nothing' is a great record by an exciting new band. Rallizes Denudes are like the fucking Beatles in Vancouver. Enter The Mirror is a heartbreaker. Mary Anne by Alice Cooper. I like Sonata in B Minor by Liszt, I'm trying to memorize it. Ryuchi Sakamoto's song Grief. Bill Orcutt is the best. Pat Place is the best. Adris Hoyos is a wizard. Transmission, The Mantles 'Don't Lie', Lollipop Shoppe is great. Her Satanic Majesties Request or whatever the fuck it's called the Stones album is awesome.
That Freak Heat Waves record that Chris recorded is deadly! Freak Heat Waves and Cindy Lee have formed into a gang. We wear the same shoes and discuss how many units we've moved. This dude Danny the Laff (Forced Laugh and other popular rock acts) showed me this Red Krayola album the adventure of Parable Arable Land or something like that. It is a total fucking banger and I can't believe it's so old! It's like Swell Maps. I snuck into Neil Young in Vancouver and he played Powderfinger. He is a wizard.
M: I am always inspired by the music of Fred and Toody Cole and Sonic Youth. Royal Trux are a new discovery for me. The Runaways, Del Shannon, the Cramps, The Melvins, The Dead Milkmen, Nirvana and the Pixies formed me. I always love hearing the Dishrags (the West Coast's first and unacknowledged punk band) Jay Reatard and the Clean. Patrick has introduced me to Theoretical Girls, ESG, Naked on the Vague and Charles Bronson. We are both suckers for X, specifically the vocal melodies. We also listened to a lot of T-Rex, Gun Club and the Dovers over the last year.

FH: You will proceed with Canada and European tour after the album release. Do you intend to keep working as Cindy Lee for long? Are there anything else you would like to make it happen?

P: The plan is to continue recording and touring until it isn't enjoyable or we die. I want to be prolific instead of playing the game of one album every two years and play the same songs 150 times a year. We are going to record again ASAP. I'm going to move overseas as I can't tour in the USA until 2016 and I'd like to see another place. They are fucked. I want to do a split with a Japanese band and swap tours. 70% discount!