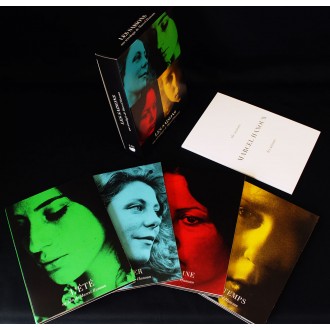 re-voir.com/shop/en/marcel-hanoun-dvd/710-seasons-3493551101277.html
atelier-de-marcel-hanoun.com/
Film je popratni proizvod filmske vrpce i kamere.
Now let us shed light on the undeservedly obscure. Originally associated with the French New Wave, later relegated to the fringe of the cinematic avant-garde, Marcel Hanoun (1929-2012) is the subject of a new box set, "The Seasons," available from the French distributor
Re:Voir
.
Mr. Hanoun, born in Tunis, Tunisia, settled in France after
World War II
.
"A Simple Story,"
his first 16-millimeter feature, was made for TV and praised by Jean-Luc Godard as a synthesis of Robert Bresson's ascetic technique and Italian neorealism's social content. The movie was shown — and won a prize — at the same 1959
Cannes Film Festival
that featured "The 400 Blows" and "Hiroshima, Mon Amour."
Eleven years and two features later, "A Simple Story" surfaced at the
New York Film Festival
, billed as "one of the great 'lost' films." (The critic Roger Greenspun took the blurb literally,
writing
in The New York Times that although Mr. Hanoun made the movie in 1958, "it looks more like 1938.") Jonas Mekas was more enthusiastic, asserting in The Village Voice that Mr. Hanoun was "the most interesting French filmmaker since Bresson."
As a founder of Anthology Film Archives, Mr. Mekas was instrumental in having "A Simple Story" included in its canon of "essential cinema." His enthusiasm is understandable. While Mr. Hanoun was often compared with Bresson, the four features of "The Seasons" reveal a filmmaker who, in his eschewal of dramatic narrative and self-reflexive formal strategies, also had much in common with Andy Warhol and other American experimental filmmakers.
"Winter" (1969) — which announces itself as a film in "the form of a fugue" — is more complex in its representation of confounded characters. A frustrated director (Michael Lonsdale), traveling with his unhappy wife (Tiziana Siffi), comes to the picturesque city of Bruges, Belgium, to make a documentary and then decides he'd rather make a fiction film.
Mr. Hanoun does both, simultaneously. On one hand, he creates a sort of 15th-century city symphony, juxtaposing his characters with the figures in Bruges's famous artworks so that they seem to be existing in the same time-frame. On the other, freely switching from color to black and white while demonstrating an impressive sleight of hand in his editing, he dramatizes the movie's back story even as he deconstructs what might be its finished version.
"Spring"
(1970) is an extended exercise in parallel action. The story of a farm girl (Véronique Andriès) on the brink of puberty appears in counterpoint with that of a mysterious, possibly criminal, fugitive (Mr. Lonsdale) apparently hiding in the nearby woods. As he seems to be steadily approaching or perhaps circling around the farm where the girl lives with her grandmother, the movie becomes an abstract thriller. Concern for the girl's safety merges with an anxiety as to whether the two narratives will ever converge.
Shot on 16-millimeter, "Autumn" (1972) is in some ways the most radically reductive film of the quartet, taking place almost entirely in an editing room where a still from "Winter" and a schedule for the Anthology Film Archives can be seen pasted on the wall. For most of the movie, the filmmaker (again Mr. Lonsdale) and his assistant (an actress known only as Tamia) ponder the unedited camera rushes for his work in progress.
The situation is similar to that in "The Director and His Actor Look at Footage Showing Preparations for an Unmade Film," an influential work by the avant-garde filmmaker Morgan Fisher, except that Mr. Lonsdale's principles are shot head-on, as if from the perspective of the editing console. He and his assistant rarely look at each other, but the sexual tension is evident as they discuss their work.
Tamia, who effectively charms the camera, if not the filmmaker, with her Mona Lisa smile, may be the only actress in "The Seasons" who made another film with Mr. Hanoun. She plays Mary Magdalene in "La Vérité Sur l'Imaginaire Passion d'un Inconnu" ("The Truth About the Imaginary Passion of an Unknown," from 1974), opposite Anne Wiazemsky's female Christ. -
Hanoun, who died in 2012, emerged on the scene as a peer of the Young Turks of
Cahiers du cinéma
and the Left Bank set. Indeed,
Une simple histoire
premiered at the 1959 Cannes Film Festival alongside
Breathless
and
The 400 Blows
. But while the arc and aspirations of Hanoun's career superficially appear to resemble those of Godard, Hanoun was quicker to establish and uphold his underground bona fides. He produced an audacious body of work with decidedly modest means and displayed an aggressively iconoclastic formalism more or less from the start. The films that followed
Une simple histoire
—which was hailed shortly after its NYFF screening by Jonathan Rosenbaum as "a Bressonian analysis of an Italian Neorealist subject" and seized by Noël Burch as one of the key works of postwar European modernist cinema in 1968's
Praxis du cinéma
—mostly acknowledged the conventions of narrative filmmaking only long enough to plot their destruction.
The Authentic Trial of Carl-Emmanuel Jung
(66) presaged the stagey docufiction interrogations of collective trauma in films by Hans-Jürgen Syberberg and, more recently, Joshua Oppenheimer. An opening text announcing that the trial is a total fabrication colors the jarring testimony regarding concentration camp atrocities that comprises most of the speech in the film. Hanoun's "Seasons Cycle"—
Summer
(68),
Winter
(69),
Fall
(71), and
Spring
(72)—is a series of varyingly successful but uniformly fascinating investigations into whether filmmaking can serve as an adequate metaphor for thought itself. (
Winter
and
Spring
are especially superb on this front.) There's also the willfully slight, sexually explicit curio
The Gaze
(77), which, per John Gianvito, endeavors to be a movie about sex that "would be perceived not as erotic nor pornographic," but instead winds up being probably the most obtuse, self-consciously metaphysical porno ever made.
But the film that left the strongest impression after Anthology's retrospective, and the one that best encapsulates the sensibility manifest throughout these diverse works, is
October in Madrid
(67), which Hanoun (in voiceover) describes as the byproduct of "3000 meters of film and a borrowed camera." It amounts to a radically personal record of failure in filmmaking, freely and movingly capturing the myriad impasses and missed opportunities that characterize life in any artistic vocation, let alone one as fundamentally industrial as cinema. A diary film, a travelogue, a 16mm mosaic of fragments of movies that could have been:
October in Madrid
is all of these things. If one is willing to indulge Hanoun's monomania for metacinema, the film makes for provocative viewing, with beautiful, casually composed images all along the way.
The film's opening shot establishes Hanoun's aesthetic concerns and strategies: a long take of a woman applying makeup and taking a phone call within a tight close-up reminiscent of Warhol's
Screen Tests
or his film portraits of Edie Sedgwick. Hanoun then goes on to outline the reason for his being in Madrid—namely, a passionless gig shooting a "commercial short" that thankfully falls apart upon his arrival in the Spanish capital. Hanoun parlays the production's collapse into another project, a spendthrift portrait of a woman named Carmen—but again, it's not long before Hanoun's actress drops out of the project and the listless auteur finds himself out on the street searching for a new star. He pauses along the way to film a group of
bandoleros
(proto-hipsters if ever there were some), observe people strolling in the park, visit filmmaker Luis García Berlanga at his home (a remarkable sequence in which voice and image drift out of synch, as if wandering away from each other), take in an obligatory mod dance party, and check out the gargantuan sets left over from the production of Anthony Mann's 1964
The Fall of the Roman Empire
.
Hanoun also meets with actors and prospective crew members for the film(s) to come, including an interview with the young woman who serves as Hanoun's assistant and spiritual guide, Nadia. She opines: "I don't think a film can be linear . . . There's simultaneity [in film as in the process of thought]." This notion captures something of Hanoun not just as a filmmaker but as a thinker. (And for Hanoun, these two roles are seldom if ever distinct, as with Michel Lonsdale's pensive filmmakers in
Winter
and
Fall
, men for whom the minor obstacles of their profession serve to symbolize their tumultuous inner lives.) "We are not yet capable of introspection in cinema," Hanoun declares at one point, and his filmmaking sought to discover the forms by which such a thing would be possible. Hanoun's cinema is unapologetically lofty in its epistemological ambitions, but his best films juxtapose this impulse with openly personal content, warming up material that might otherwise have been too abstruse to take seriously. Such is the case with
October in Madrid
, where talk of subjectivity and the convolutions of thought is accompanied by rich documentation of the places and people that helped to generate them.
October in Madrid
Though Hanoun spent much of his career representing mental operations and psychic unrest as the practice of filmmaking,
October in Madrid
is singularly dense with traces of life outside the mind. It might best be characterized as "a film about making a film about one's inability to make a film," yet it nevertheless manages to touch upon something tangible and human amid its playful self-reflexivity. It is a near-masterpiece for anyone who is on intimate terms with the feeling of failure.
-
Dan Sullivan
A WOMAN
newly-arrived from Lille (Micheline Bezançon) tows her young daughter through the Paris suburbs in a vain quest for work, increasingly broke, increasingly hungry, finally reduced to sleeping on a patch of waste ground in the banlieue, where she looks up to a single lit window in an HLM building, shining like the Star of Bethlehem. This chain of anecdotal incidents that leads to this moment comprises
Une simple histoire
(A Simple Story)—not really so simple, for the soundtrack consists of the woman's past-tense recollection of the events being shown, overlapped with the synch sound present-tense dialogue. Reviewing the film in
Arts
magazine, a young
Jean-Luc Godard
cited Neorealists
Roberto Rossellini
and
Cesare Zavattini
, as well as the ascetic formalism of
Robert Bresson
—but even if you know all of the aforementioned names, you could be forgiven for never having heard of the director of
Une simple histoire
,
Marcel Hanoun
.
Une simple histoire
won the Gran Prix Eurovision at Cannes in 1959 and, when it belatedly played at the 1970 New York Film Festival, earned Hanoun the fervent admiration of
Jonas Mekas
, the avant-garde filmmaker and cofounder of Anthology Film Archives, where a retrospective of Hanoun's work begins tonight. New 35- and 16-mm prints were struck when Cinémathèque Française likewise honored Hanoun in 2010 and, still near-mint condition, these are what will be playing at Anthology's retro, which consists of twelve short features—the longest,
Autoportrait
(1985), runs an atypical 104 minutes, and most are pared-down to nearer the hour mark—as well as a handful of shorts.
Hanoun was born into a Jewish-Algerian family in Tunis in 1929, when Tunisia was still a French protectorate. Escaping the worst of World War II, he came to Paris to stay after the Liberation, and worked there as a journalist and a photographer. (His father had been an avid amateur camera buff, influencing his son's vocation.) Hanoun directed his first film for television in 1956, about refugees from that year's Soviet-suppressed Hungarian Uprising. This was also the year of Bresson's
A Man Escaped
, a film which was a revelation to the young Hanoun—and the inextricable ideas of displacement and freedom would be key to the future work of this self-styled Wandering Jew. Like Bresson, Hanoun the filmmaker would be a theoretician as well as practitioner, his films the conscious workings-through of his ideas about cinema. To the end of his life he continued to write copiously, and even edited two revues: First
Cinéthique
, which began its brief run in 1969, and then
Change cinema
, in 1977. (You can see
Jean De Gaspary
reading a copy in that year's
Gaze
.)
Hanoun had been present at the Lexington and Concord moment of the French Nouvelle Vague, his
Une simple histoire
showing at Cannes with
François Truffaut
's
The 400 Blows
and
Alain Resnais
's
Hiroshima mon amour
, but he didn't have the temperament of a joiner, and subsequently established the pattern of stubborn independence that he would continue to pursue for five decades. The success of
Une simple histoire
allowed Hanoun to make
The Eighth Day
(1960), his first and last big-budget film, with
Félix Marten
and
Hiroshima
star
Emmanuelle Riva
. The experience disillusioned Hanoun with the industrial moviemaking process, and so he decamped for Spain, where he shot bullfights and the sets of
Samuel Bronston
's runaway epic
The Fall of the Roman Empire
, a film whose toga budget was bigger than that of Hanoun's entire filmography. This Spanish retreat produced several documentaries and Hanoun's 1964
October in Madrid
, a film about floundering for the means to make a film, indicative of the direction that his work was to take in years to come. The productions would be stripped down, with Hanoun acting as cinematographer, editor, cameraman, and the process of their own making would become their subject.
Peripatetic through his life, Hanoun was at home only in contradiction. For example: After the title card of
The Authentic Trial of Carl Emmanuel Jung
(1966)—a staged tribunal for a Nazi war criminal (Maurice Poullenot) played out against a black-box theatrical background—the voice of a narrator bluntly informs us that "This trial is imaginary."
Carl Emmanuel Jung
was Hanoun's first film featuring the burly Anglo-French actor
Michael Londale
, only one of his more famous collaborators here: Godard lent funding, and there is a cameo by Jean Eustache, then just starting out, whose cinema would seek out the No Man's Land between fiction and documentary in years to come, working along parallel lines to Hanoun. (The title of Eustache's 1977 doc-recreation diptych
Une sale histoire
[A Dirty Story], starring Lonsdale, is a play on Hanoun's
Une simple histoire
, while Eustache's 1980
Hieronymous Bosch's Garden of Delights
, like many of Hanoun's works, revolves around the detailed exegesis of a painting.)
A bridge between the New Wavers (Godard, Resnais) and the generation that followed (Eustache, Pialat, Garrel), Hanoun doesn't strictly belonging to either—and his films dwell in neither/nor interstices. Like
Une simple histoire
,
Carl Emmanuel Jung
addresses one of Hanoun's principle preoccupations, the dislocation between spoken language and what it represents—in the former case, the narration of the story which we see on-screen, in the latter, the dry recounting of atrocities that remain unseen. This, and other dialectics—subject and representation, reflected and reflection, performance and presence, black-and-white and color—are further explored in the quartet of seasonally-themed films that Hanoun completed between 1968 and 1972, films which represent the highest attainment of his art. These are works so richly ornamented with ideas, and so ripe with sensorial pleasure, that I can only hope to set down the basic facts about them here.
Summer
is a
plein air
idyll featuring a young woman (Graziella Buci) in retreat at the home of family friends in Normandy, recouping from personal and political heartbreak. The film's closing credits state that it was shot between August 19th and 25th, 1968, which is in keeping with Hanoun's tendency to put the circumstances under which his films were made before the viewer, but also emphasizes the proximity of the project to May '68. (The subject's transistor radio brings news of the Warsaw Pact nations invading Czechoslovakia, and the end of Prague Spring.)
Winter
(1969) is even more a behind-the-scenes documentary of its own making: Lonsdale stars as Julien, a director employed to shoot a film of the famous art and canals of Bruges, Belgium. Hanoun cuts between the footage that Julien shoots, which is in color, and footage of Julien shooting, in black-and-white, the effect something like the "Camera one, camera two" of closing one eye, then another. We next find Lonsdale at the center of one of the two distinct narrative threads that make up
Spring
(1970), playing a fugitive crossing the countryside on foot, hiding in the woods by day. Scenes from his furtive, hunted existence are cross-cut with vignettes of domestic life in a rural home whose only residents are a girl at the edge of puberty and her grandmother. One anticipates that the fugitive must eventually show up at the farm but, as in
Agnès Varda
's 1955
La Pointe Courte
, the film's two parts are never brought to a traditional confrontation. (An early shot of a rifle over the mantle suggests Chekhov's famous formulation, but the climactic bloodshed is menstrual.) Finally, the Lonsdale-as-filmmaker character from
Winter
returns in
Autumn
(1972), though here his director (Julien, again), is plunked in front of an editing console with an assistant, Anne (Tamia), scrutinizing footage and working through scenes. They face out at the spectator, oblivious to the presence of an audience, as though the screen of the editing table were a two-way-mirror. We can hear soundtrack selections, but until the end of the film we aren't privy to what they are looking at, only to what they think about it, and the air is thick with Hanoun's epigrams: "The scene denounces itself to acquire its own authenticity," says Julien. "That must be the cinema."
While Hanoun's strategies are strikingly different in each of his films, they recognizably belong to a single universe. Visible on the wall behind the principals of
Autumn
are shots of actresses from other Hanoun films—and a calendar for Anthology Film Archives!—while the dialogue seems to refer to past and future Hanoun projects. Talking of a film that she would like to make, Anne says she'd "like to recount the cruelty of a little girl, for example," and here she might be describing the motive behind a scene in
Spring
in which the girl snips a goldfish in two with a rusty pair of shears. Later, Julien notes that "political cinema tends to resemble pornographic cinema," continuing that "Politics and pornography must be lived, not shown."
This anticipates 1977's
Gaze
, Hanoun's crack at solving the problem of screen sex, funded by a porno producer. A couple, Jean and Anne (De Gaspary and Anne Bellec), awake in a Brussels hotel room. After announcing that she's dreamed of two men making love to her, Anne departs for the Royal Museum of Fine Arts. While she stares in rapt attention at
Landscape with the Fall of Icarus
, her narrated musings on the canvas carry into scenes of Jean and another woman (
Juliette Le Clerc
) wrapped together in connubial bliss, their unstimulated coupling viewed from every angle, including the typical ones. Both gifted with magnificent curly manes, De Gaspary and Le Clerc resemble the figures depicted in
Gustav Klimt
's
Adam and Eve
, a postcard reproduction of which hangs on the hotel room wall, which Jean and Anne had discussed before she left. Just as Lonsdale's fugitive in
Spring
may be only a figment of the little girl's imagination—or vice-versa—it seems entirely possible that the sex in
Gaze
is a fantasy, either Anne's, Jean's… or
Marcel Hanoun
's?
Like the vagabond characters in
Une simple histoire
and
Spring
, Hanoun kept on the move—this includes a stint in New York City—usually broke, though always generous with his time for the young and curious. He died at age eighty-two in 2012, only a couple of months after
Chris Marker
, whom Julien, in
Autumn
, calls "an overlooked filmmaker," although compared to Hanoun, Marker was a household name. Like Marker, Hanoun remained abreast of everything new in both world events and technology, producing work on digital video—
Cello
(2010), made with the assistance of a cadre of admirers "Produisez
Marcel Hanoun
," is playing Anthology—and, in a rather forward-thinking move, making his filmography available for free
online
, albeit without English subtitles. Even Francophones should make the pilgrimage to Anthology, however—for Hanoun's finest works are marked by a rare combination of philosophical rigor and enveloping carnality, and they are best surrendered to in the movie theater.—
Nick Pinkerton
www.artforum.com/film/id=46996