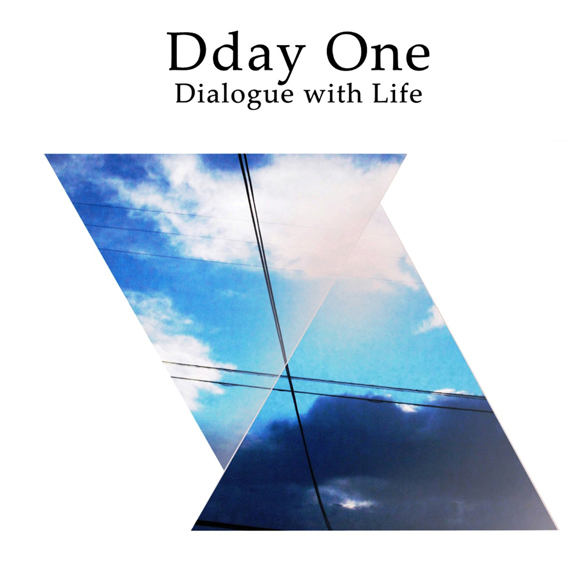 Kakvu muziku radiš nakon što si preživio srčani udar?
www.ddayone.com/

Created over several seasons, "Dialogue with Life" emerged from profound introspection and solitude. It was during this period away from external static that Dday One was able to attune to the station within. Listening inward, ideas surfaced and being guided by the whisper of inspiration, these ideas were translated into music.
The cover features a photograph that was taken from Dday One's studio window one early morning during production. The image of clouds juxtaposed with communication wires is symbolic of the title and themes of the project. These themes include courage, gratitude, the physical world and spiritual ascension. The dreamlike imagery is further realized within the sacred geometry of two triangles which represent the duality of life.


Dialogue With Life, the fourth studio album by Los Angeles-based beatmaker Udeze Ukwuoma under the Dday One name, is special for a number of reasons, though not all of them are musical: during the production phase of the project (the album was recorded between spring and autumn at The Revolving Container in LA), Ukwuoma underwent open heart surgery for a congenital heart anomaly, a life-changing event that would give anyone serious pause and naturally induce reflections on physical and spiritual matters.
Awareness of that operation brings the full meaning of the text by Ukwuoma included on the package into sharper focus: "Dialogue With Life emerged from profound introspection and solitude. It was during this period away from external static that I was able to attune to the station within ... The [cover] image of clouds juxtaposed with communication wires is symbolic of the title and themes of the project. These themes include courage, gratitude, the physical world, and spiritual ascension."
Such words hint that Dialogue With Life might deviate dramatically from the tone of past Dday One releases and perhaps present a more serene, ambient-styled take on the project. As it turns out, the forty-three-minute collection perpetuates the dynamic style and aggressive spirit previously captured on 2011's Loop Extensions-Deluxe and 2012's Mood Algorithms. As he's done so memorably before, Ukwuoma, using turntable and sampler, creates collage-styled constructions packed with detail and incident.
Samples are often dusty in nature, and horn, acoustic bass, percussion, piano, and vocal sounds figure prominently within the mix. Sourced as the samples (presumably) are in some cases from decades-old jazz recordings, the result can sometimes ends up sounding like a heady hybrid of instrumental hip-hop and acoustic jazz (see the sax-powered "What We Do"). With its acoustic guitar playing and Spaghetti Western vibe, "Towards the Roar" could pass for a collaboration with Glen Porter as much as a solo Dday One outing, while "Like a Jungle" catches one's ear with its whinnying horn playing and infectious hip-hop groove. One of the set's most intricately structured cuts is the album standout "Journey to the Center," which works plaintive horn melodies, sitar and fiddle accents, bone-dry bass lines, and a thunderous beat pattern into a commanding five-minute display.
Much like his other releases,
Dialogue With Life
defies easy categorization. Calling it instrumental hip-hop isn't incorrect, but it's also inadequate, and describing it as collage-styled implies a randomness that isn't present. Though the typical Dday One track features a dizzying number of elements, there's never the sense that the material has been thrown together hastily. Instead, beats and samples are artfully assembled with care and circumspection, and the listener comes away dazzled. Throughout this solid addition to the Dday One catalogue, Ukwuoma weaves his parts into vibrant wholes using an approach that might best be called painterly. -
www.textura.org/reviews/ddayone_dialoguelife.htm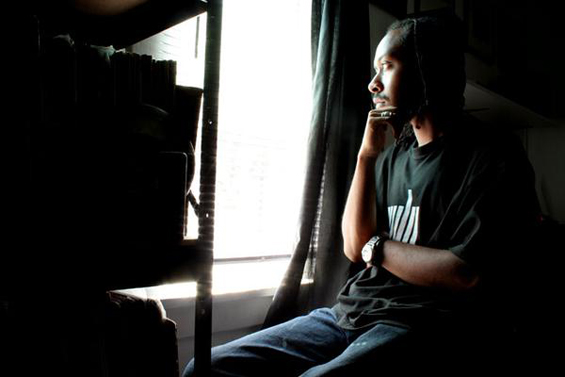 TEN QUESTIONS WITH DDAY ONE
2014 has been an especially memorable year for Udeze Ukwuoma, the Los Angeles, California-based producer, crate-digger, DJ, and composer better known as Dday One, and not just for the reasons one might expect. Yes, he's just released his fourth Dday One full-length Dialogue with Life and continues to oversee the operation of his Content (L)abel, but he also underwent open heart surgery in January, a life-changing event that would give anyone pause. For all kinds of reasons, now seemed the perfect time to celebrate the man's talents and talk with him about his inimitable beat-making skills and sample-based production aesthetic. In the questions that follow, Ukwuoma shares with us his thoughts on the new album, what impact the operation has had on his life, and the zone he enters when assembling his material using his trusty sampler and turntable.
1. You experienced a major life event on January 6th of this year when you had open heart surgery to deal with a congenital heart anomaly. What impact did this experience have on you in terms of the album's production and preparation for release but also on your outlook in general? Do things appear to you differently now than they did before the operation?
Yes, this year has surely been interesting, what with open heart surgery at the beginning of the year and then releasing Dialogue with Life just before the end of this year. The surgery I had in January was actually my third and last heart surgery to correct an anomaly called Tetralogy of Fallot, which some people may be familiar with because of snowboarder Shaun White or the Vivien Thomas biopic staring Mos Def called Something the Lord Made. Being born with Tetralogy of Fallot, there was always the possibility of needing surgery, but it wasn't until 2008 that it became evident that it would have to be done sooner than later.
In terms of the surgery's impact on production, with both Heavy Migration and Dialogue with Life the prospect of having surgery was a strong motivator to complete the albums and also became a source of inspiration for titles and cover-art. Actually when I got a date for the operation, I was working non-stop trying to finish the album before going in. I almost did finish it but am glad I didn't because the love I got from friends, family, and supporters after coming out of surgery gave me a new outlook that broadened the project.
2. On the album's sleeve, you write, "Created over several seasons, Dialogue with Life emerged from profound introspection and solitude. It was during this period away from external static that I was able to attune to the station within." What was it that brought about that withdrawal into introspection and solitude?
I started out working on the album in the summer of 2011 and during that time I was also doing a bi-monthly podcast with Rhythm Incursions in London, touring, taking on other projects, and dealing with typical life issues. So I was spreading myself thin, and I noticed that when I was working on new material it was being influenced by all the stuff I was listening to and doing. So I decided to take a step back and withdraw to focus on hearing my own voice. When I did this, I was able to get back to my original intention of creating and ideas began to flow.
3. I'm delighted to see that despite the huge technological changes that have occurred with respect to music production techniques, you continue to create your music using sampler (a Roland MV 8000 hardware Sampler, if I'm not mistaken) and turntable. How have you managed to resist the lure of new production options and remain true to your working methods?
Actually throughout the years I have been exploring various technologies (software and hardware) as they've emerged and have been incorporating different techniques, but the sampler along with a turntable has been the foundation of my setup. Everything else is an add-on to enhance the core setup. Nowadays and with Dialogue with Life, after the initial sketching was done in the sampler I moved the arrangement into the computer to do further editing and to mix down.
The Ensoniq ASR-X Pro is the sampler that I use the most. It has a tiny calculator-size visual display and compared to today's standards the sampling time and storage space is very limited. But these limitations somehow help to bring out my creativity.
"Between Poles" (Live)
4. The videos that show you playing the sampler are incredible to watch. For the benefit of those who aren't familiar with the features on the sampler you use, could you clarify in simple terms what features are associated with its pads and knobs?
Certainly, as one who sees the sampler as a musical instrument, I think it's important to not only use it in the studio but also to demonstrate its capabilities as a live instrument. As I mentioned before, I work with various samplers, hardware and software, for production but for live performances I tend to use a Roland MV 8000. I created a template where the knobs are controlling effects and volume and each pad contains elements / samples that I trigger in a percussive way to recreate or remix in real-time. When I'm performing, each set is unique.
5. What changes would you say have occurred within your music and approach between the release of your first album, 2006's Loop Extensions, and your fourth, Dialogue with Life?
The main change I've noticed in my music is the use of smaller samples to create larger phrases. I'm playing the samples and changing their inherent essence as opposed to just layering various sounds. I feel that I'm using various sound sources, which is due to the possibilities opened up by technology, most importantly DVS or vinyl emulation. As far as approach is concerned, it's pretty much the same process of listening, sampling, and constructing.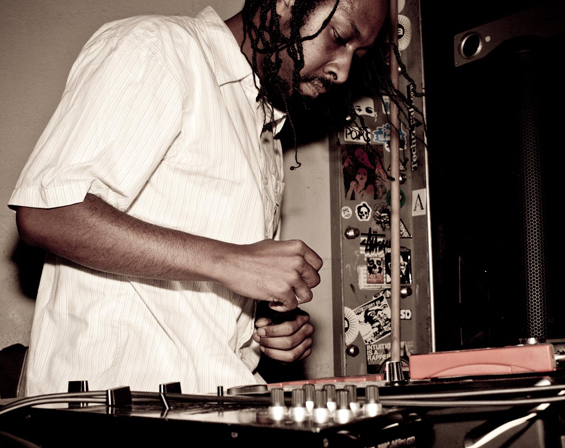 6. In the textura review of Dialogue With Life, I characterized your approach as "painterly" in an attempt to capture the way all of a track's elements so naturally come together in the arrangement. What's your state of mind when you're putting together a track? Is it a rational and methodical process, or is it more something guided by intuition. Does reality kind of drop away when you're so deeply immersed in that creative state?
I definitely see the records as part of a palette, so painterly is a good way to describe it. As far as methods go, it's an assortment of means, some methodical and some more free—whatever helps to evoke the muses at that moment. For the majority of Dialogue with Life I would first just listen to records, capture elements, and create small sketches of arrangements. Then I would write out a short narrative like a video treatment and use it as a guide to shape the direction of the specific track. For example, with the track "Yesterday's Over" I had a narrative of jubilation and wanted to create something that sounded triumphant, so I looked for samples and arranged them in a way that I felt conveyed that message. Whereas with other tracks I would write out just the title and use that as a guide, like with "Anechoic Chamber." With either method, once the focus is set I'm certainly immersed and in the zone.
7. Is it more satisfying for you to be alone in your studio space creating material or performing live in front of others? Or are they equally satisfying and just different things?
Each one holds a special place for me, so they're both definitely equally satisfying. The studio is like a sanctuary and performing live is like exposing a part of what was manifested in that space. The part that I love the most is the sharing that takes place between the listener and me.
8. Are there are other artists working today whose music excites you? Who do you regard as kindred spirits and key influences?
I am continuously being influenced by everything I hear, but in regards to kindred spirits I would have to say it's my label mates from Project Mooncircle and The Content (L)abel, in particular artists like Glen Porter, 2econd Class Citizen, Long Arm, Lex De Kalhex, Gone Beyond, and Om Unit (formerly 2tall).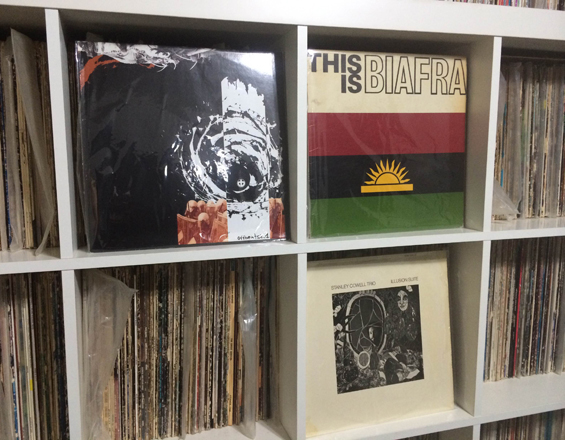 9. If every record album in your collection was taken away except for three, which ones would you hold on to and why?
Knock on wood, this is a tough one. Each record in my collection has a special story such as when, where, or how it was acquired, so it's hard to make a choice. Out of purely nostalgic reasons I would have to say, the first would be a record called This is Biafra from 1967 by the Biafra Students Association in the Americas. It's the only record that I have from my late father's collection, and it was passed down to me from my older brother, so it's kind of a family jewel. It's an amazing record that features various Igbo artists performing traditional music.
The second record would be Offbeats vol. 2 (various artists) from the now defunct Subversiv Rec, a label out of Germany. This was my first appearance on vinyl, and it was a collaboration. This release was the first time I had the surreal experience of playing a song on my turntable that was also the same turntable that was used to create that song. My contribution to the compilation was a track called "Unstable Material," which featured members of the Los Angeles hip-hop group the Shapeshifters. That track was later remixed for my first release and renamed "Unstable Material 2."
The final record if I had to choose just three would be Stanley Cowell Trio's Illusion Suite on ECM records. This is one of the first jazz LPs that I bought. What attracted me to this record was the minimalism of the design, with its abstract cover photo, and the black and white text. All the other records in the bin seemed visually loud but this one was different. Actually, the design of my debut album, Loop Extensions, pays homage to this cover.
Also, the catalog number is my birthday, 1026, so that also caught my eye. The record, which features Stanley Clarke on bass and Jimmy Hopps on drums, is wonderful and after listening to it I got further into ECM records and was exposed to many other great artists.
10. I'm guessing music doesn't wholly consume every moment of your life. What kinds of things do you like to do when you're not involved in musical projects?
When I'm away from creating music, I'm usually listening to music, reading, gardening, or photographing still life and nature.
-
www.textura.org/reviews/tenquestions_ddayone.htm