Elegancija raspadanja.
Od visokog kiča do niske vječnosti.
- loveisspeed.blogspot.com/2012/01/faded-elegance-photographs-of-havana-by.html
Havana is a new volume highlighting Michael Eastman's collection of nearly a hundred photographs form over the past two decades. For American audiences the city has become a figure of the imagination as a nearly fifty-year-old embargo has imposed restrictions on travel and quelled the spread of Cuban art and culture. As such, the city is now fetishized and the long standing rhetoric against the Castro regime has only fueled a desire to make sense of this island nation only 90 miles off the coast of Florida. Eastman pays tribute to the spaces and people of Havana, its faded glory and its all but forgotten beauty.
Skimming through the book I imagine what it would have been like to be the archeologists to uncover the remains of Pompeii. Layers of ash revealed an ancient Roman city frozen in time. Havana too is stuck somewhere between a promising past and a stagnant present. Dramatic lighting illuminates empty spaces devoid of people and the only sense of life are the richly colored walls that have survived the ravages of time. In Portrait, Havana (2010) turquoise walls frame a nearly abandoned sitting room sparsely furnished with two empty chairs and a dusty chandelier. Like Pompeii, the former majesty of the space is only conceivable in the absence of figures. We are left to wonder who was once here and why are they now gone. The punctum is a yellow stain above an open door: why has no one cleaned this spot? Why would such a large grand space be all but abandoned?
Despite being the political and cultural hub of Cuba, Eastman's Havana is a far cry from the hustle and bustle of American and European urban centers. The photographs of exteriors and deserted streets are homage to Edward Hopper with their sparse, lonesome quality. In Yellow Car (2010) the dusty streets of a large intersection is filled with the crossing of multiple electrical wires. A few passersby dot the landscape, but otherwise the space is abandoned. Like Hopper this panache for isolation leans away from melancholy toward romantic poeticism. Achy Obejas begins her introduction to the book with a similar observation: "When I first experienced Michael Eastman's photos, I was immediately struck by two things: First, the stillness. Second, the ghosts." (11)
Havana's fondness for time and neglect carefully captures the juncture between past and present. However, Obejas reminds readers, time hasn't stopped in Havana as the city is still a whirlwind of activity: "metropolitan, cosmopolitan, international.". And while this may not be so evident in Eastman's photographs, the vibrancy of this Caribbean city lingers in the stillness of time. -
Michael Hoppen Contemporary is delighted to announce an exhibition of Michael Eastman's Havana series. This magical body of work exposes the colourful and crumbling interiors and

exteriors of Cuba's capital. Eastman is recognized for his large-scale photographs of the world's most beautiful cities including Rome, Paris, and New Orleans. Inspired by Aaron Siskind, Eastman is transfixed by the textures of architectural decay and the narrative they reveal about the life of a building. This often leads Eastman to abstraction: areas of walls are cropped, reducing them to flat painterly planes of colour. In other instances, he draws us in with expansive perspectives creating inviting depths into rooms and doorways. His exacting technique of long exposure times, no artificial light and a wide angled lens captures a realistic field of vision, authentic light and colour.
"Putting one of his photographs up is like punching a hole in the wall and opening onto a vista of a much grander room than the one you are in"-
Vicki Goldberg
It is the details of these pictures which make them endlessly fascinating and poignant: ghostly rectangles of lighter colour on walls where paintings once hung, beach chairs that stand in for finely carved furniture, laden clothes lines hanging amongst chandeliers, above intricately tiled floors.

But these exquisitely deteriorating rooms and facades also tell a larger story: these are the homes of the successful and rich, who were knocked off their pedestals by revolution and whose country, abandoned by its Russian supporters and blockaded by America,

still has very little in the way of material goods.

While his photographs may provoke nostalgia for the glory days of Havana, Eastman's emphasis is on the subtle grandeur of these buildings in ruin, the beauty inherent in decay.
Michael Eastman is a self taught photographer. He lives in St. Louis. Eastman's photographs have appeared in Time, Life, and American Photographer. His work is in the permanent collections of

The Metropolitan Museum of Art, the International Center of Photography,

The Art Institute of Chicago, the Los Angeles County Museum of Art, and other prestigious
Institutions. His books include Vanishing America (2008, Rizzoli), Horses (2003, Knopf), and Havana (2011, Prestel).
www.michaelhoppengallery.com/exhibition,upcoming,3,0,0,0,164,0,0,0,michael_eastman_havana.html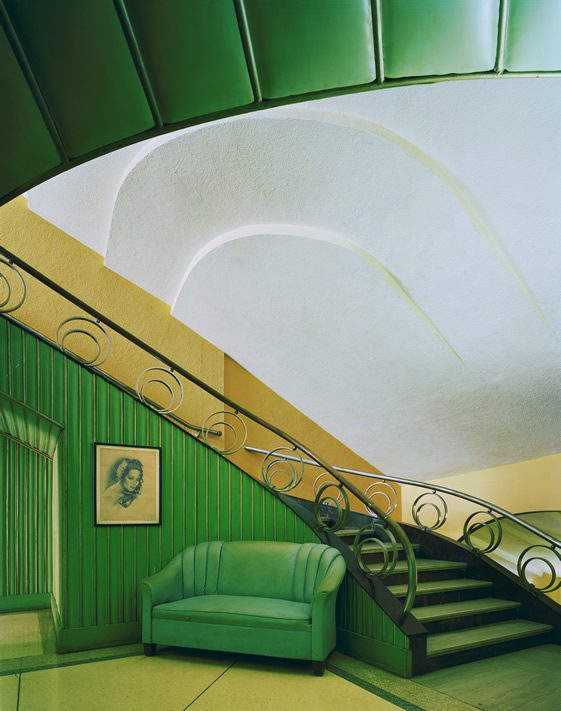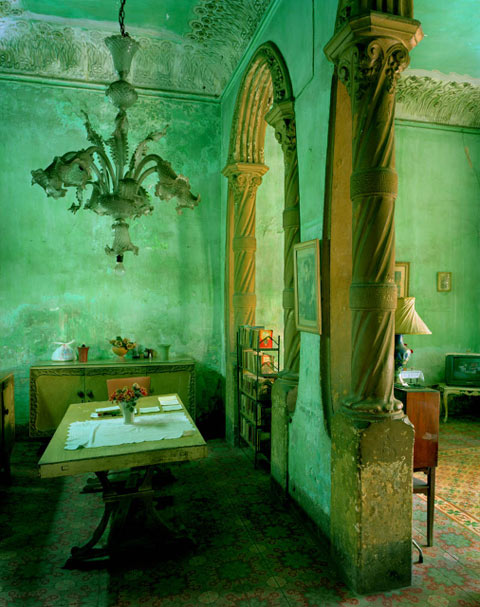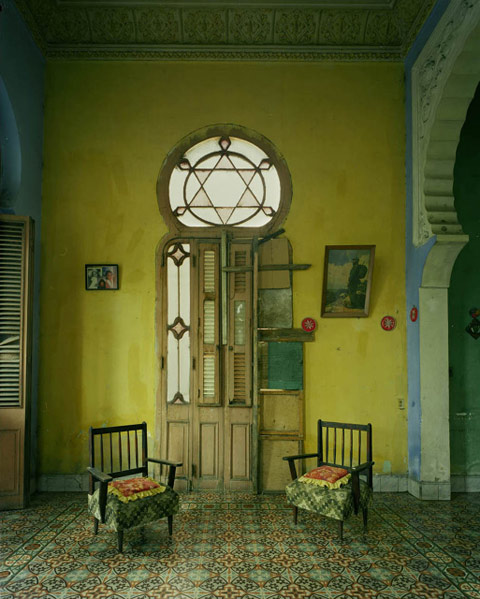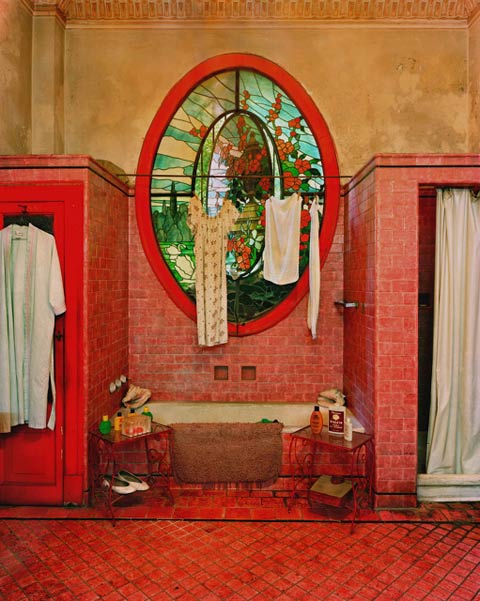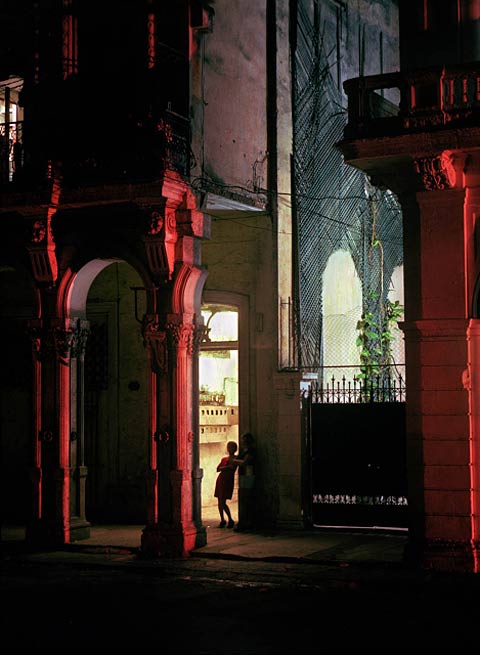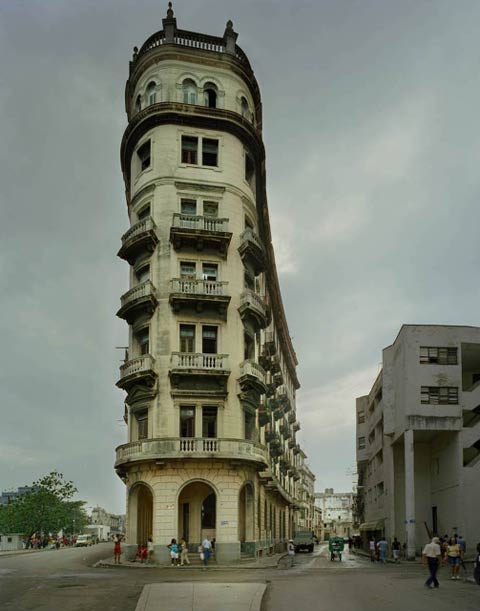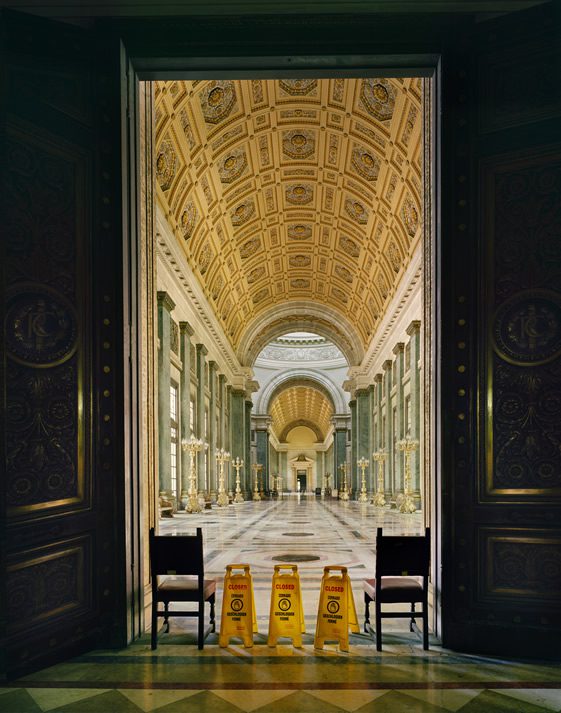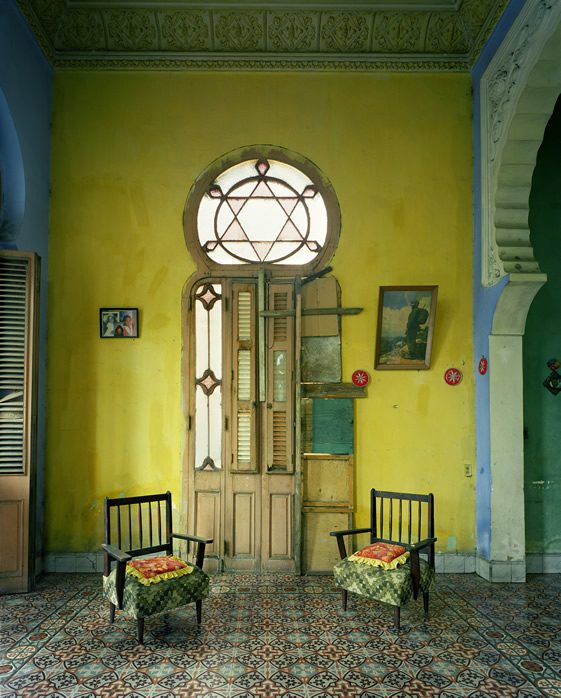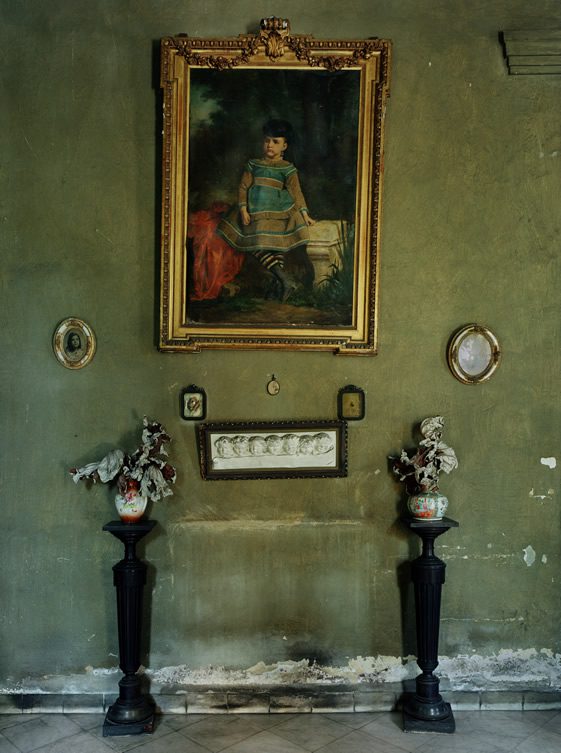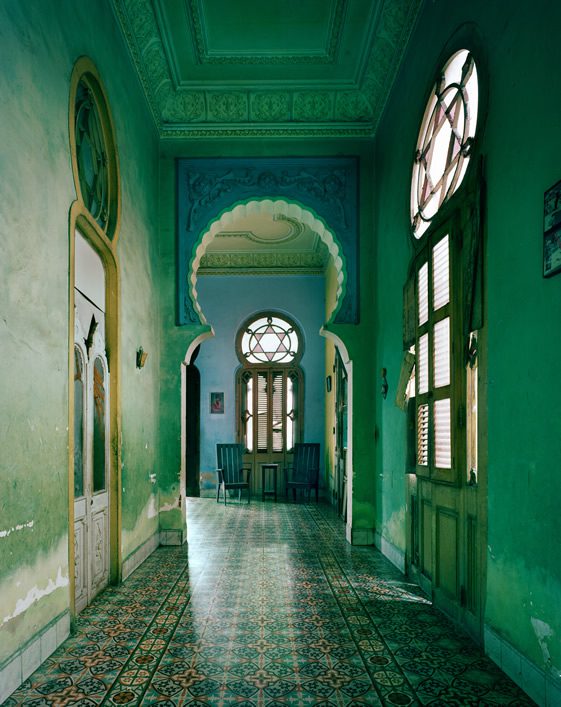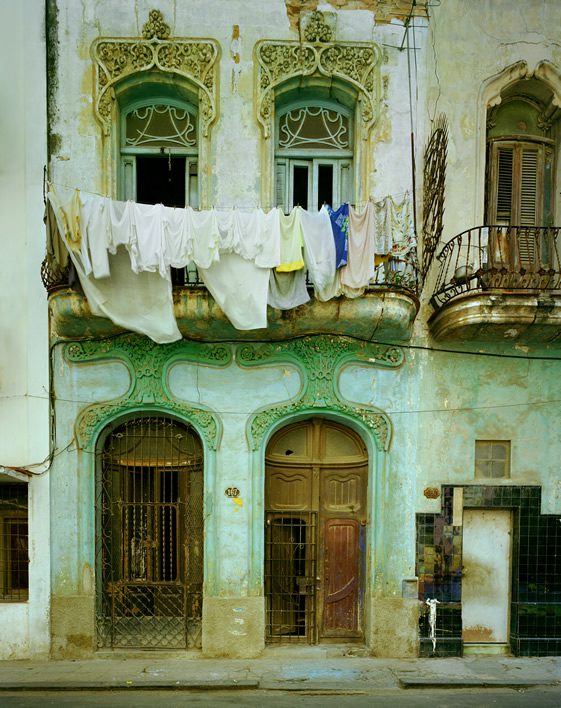 "There is no substitute for working.
An Interview with Michael Eastman
by Mike Foldes
Michael Eastman's photography captures the imagination in much the way it captures the essence of it subjects, merging the two in a surreal admixture of self and other. The current exhibition of meticulously produced images at Barry Friedman Ltd. Gallery, taken on Eastman's fourth (and most recent) trip to Cuba in 2010, gives evidence: Rooms, facades, streets, all fade against memory when viewing the saturated color and play of light in monumental prints, as if to say, "This is what was, as well as what is."
Los Angeles Times Art Critic, Leah Ollman, writes, "Walker Evans' legacy is evident throughout Eastman's work: a love of the vernacular, a consistent, frontal approach, and a fondness for … time and neglect."
Michael Eastman is a graduate of the University of Wisconsin. He has been a recipient of a National Endowment for the Arts Grant. His photographs are in the collections of Metropolitan Museum of Art, The Art Institute of Chicago, Los Angeles County Museum, San Francisco Museum of Art, Boston Museum of Fine Arts, St. Louis Museum of Art, and the International Center for

Photography, New York, among others.
The following interview was conducted via an e-mail exchange in March of 2011.
Q: How did you happen to gravitate to photography?
ME: Photography's immediacy.
Q: What was your first camera?
ME: Nikon
Q: And what do you use today?
ME: I still use film, my camera for architecture is a Cambi from Denmark. It's a 4×5 view camera, and also, I use old 500C Hasselblads. I still love a square.
Q: How much lighting equipment do you carry around with you? Your photographs have a remarkable intensity and revealing of detail that seems hard to capture with natural light alone.
ME: I do not use lighting equipment. All my photographs are made with natural light. By scanning my negatives myself and using Photoshop as my digital darkroom, I am able to make prints that I never could have made with traditional methods. The amount of control is unmatched.
Q: In your Havana series, what time of day were most of the photographs taken? Everything appears to be very well lit. Are these 'long' exposures?
ME: Photographs were made all during the day. No particular time of day. Yes, fairly long exposures.
Q: You say "Fairly long." Can you give an example using, say, the following staircase image:
ME: 30 to 60 seconds at F22. Very low light …
Q: Of the hundreds of photographs on your own and other websites, and in your books, humans are conspicuous by their absence. Some of the settings give the flavor of life as we think we'll know it after everyone else is gone but us – take that in the imperial singular. Did you ever photograph people, and if so, when did you stop?
ME: When I photographed commercially, I only photographed people. Real people doing real things. Very documentary.
In my fine art work, I am more interested in finding places to photograph that are full of evidence of human activity but without the specific people that inhabit the places. These photographs are portraits of the people without the people in it. Through inference, we tend to "create" the portrait from what is in the room and from our own personal experiences. I feel successful when my interiors feel like someone has just left the space or is about to enter. Almost like a stage set.
Q: Do you work with assistants, or is all the setup and digital darkroom work and printing handled by you?
ME: I do not work with assistants. I photograph alone and print alone. When I first began to photograph, there seemed to be many voices in my head. Imaginary critics telling me what to do, What not to do. Voices of parents wondering what I was doing with my life and why was I wasting my time with a camera, etcetera. Over the years, the only voice in my head is mine. The only one I am trying to please is me. I think this is what people mean when they say finding one's voice. I try to find places that speak to me and one needs silence to hear it. That's why I photograph alone. No interferences. No noise. No distractions. In the beginning my voice was very weak and very hard to hear. Now, it's the only one up there.
Q: Your images are "huge". What kind of printer do you use? Any special inks?
ME: The prints are six feet by eight feet. No ink. They're not ink jet. They are conventional chromogenic prints (C Prints) exposed with a light jet.
Q: How do you happen to live in St. Louis? Are you originally from the Midwest?
ME: Saint Louis is where I am from. Where one is based has very little effect on what one accomplishes. It has been an advantage to be an outsider. It is easy to get lost by being overexposed. And it easy to get lost in trying too much to advance one's career. The best thing one can do for one's career is to continue to make better photographs. If your work gets better, you will get opportunities. That is all you have control over.
Q: Do you still take commissions?
ME: Not really, although I still am open to collaborating. Art is very singular activity. Whenever I have an opportunity to collaborate with others I respect, I am interested in exploring that opportunity.
Q: What or where would you like to shoot that you haven't, yet?
ME: Nothing specific. I just want to continue to look, make better photographs and grow both as an artist and as a person. Those two things have much more in common than one might think.
Q: Do you enjoy teaching? And even if you don't, what advice – other than find your own voice – would you offer the aspiring artist/photographer?
ME: I do not teach, although someday I would like the opportunity. Currently I keep busy with my own work. I like to stay busy. I am a bit compulsive that way; if I was growing up today, I probably would be on a Ritalin™ drip. I believe an artist grows through working. I have learned mostly from my own photographs, both the ones that work and probably even more from the ones that do not work. Editing is so important. Essential. And I have learned so much from just looking at prints. One has to be driven. There is no substitute for working. None.
Q: If you were to ask yourself a question, as an interviewer, what would it be, and what would be the answer?
ME: How did you succeed?
I think one needs to be a bit in denial, especially in the beginning. You have to believe you are better than you are. And still be ready to respond positively when you face rejection. Which I have to do all the time. Still do. You have to keep making photographs even when you doubt, especially when you doubt. And you want your photographs to have more and more levels of ideas. More is more. The only thing I have ever had control of was my work. The better it gets, the more I have achieved.
For more images and information about Michael Eastman, visit:
http://www.eastmanimages.com/
http://www.barryfriedman.com/