Možda Stockhausena volite, možda ne, no u oba ga slučaja doživljavate kao velikana suvremene "klasične" glazbe, no sasvim je druga stvar reći da je on najveći skladatelj znanstvenofantastičnih opera. Ponekad jedna riječ promijeni genotip - odjednom je stari Stocky više cool, više pop.
Njegovi elektronički eksperimenti sad stječu mnogo bolji kontekst za razumijevanje. Pred kraj života tvrdio je da potječe sa Siriusa, ozbiljno je tretirao The Urantia Book [o kojoj više u nekom slijedećem postu], religijsko-sf kanaliziranu knjigu o strukturi beskrajnog svemira (od kojih svaki ima svog "Isusa"). Moj čovjek.
The Greatest Science Fiction Opera Composer in History

There have been occasional stabs at marrying science fiction and classical music, but there's only ever been one truly great composer who took the idea and ran with it: Karlheinz Stockhausen.
Stockhausen (1928-2007) lived most of his life in and around Cologne, Germany. The Nazis euthanized his mother because she was a mental patient. His father died in combat. When Stockhausen was a young conservatory student, the famous novelist Herman Hesse advised the composer to nurture "that which is individual, unique, and beautiful in you". For the better part of six decades, Stockhausen followed Hesse's advice and forged one of the most eccentric careers in classical music.
Rock music has Ziggy Stardust, Yoshimi and Rush. P-Funk's Mothership gave birth to ATLiens, Dr. Octagon, and Janelle Monae's alter ego Cindi Mayweather. So why hasn't classical music embraced science fiction the way popular music has? After all, it's a genre that simply adores mythology. Everyone from Monteverdi to Milhaud has done an Orpheus opera. Wagner's Ring cycle devotes four epic nights to giants, dwarves, Valkyries, and magic objects.
By the time he was 26, he had composed the first purely electronic piece of music, Study I (see video). Less than a decade later, he had become one of the leading composers of his generation. Before his 40th birthday, his fame was approaching rock star status. The Beatles put him between Lenny Bruce and W.C. Fields on the cover of Sgt. Peppers. John Lennon's "Revolution No. 9" is an homage to Stockhausen's epic Hymns. Like Liszt and Paganini, Stockhausen was also a performing composer who toured the world and was able to sell out venues just about anywhere he went.
It was at one of those performances in 1971 that a mysterious hippie approached Stockhausen with a copy of
The Urantia Book
and asked him to become a "minister of sound transmission." The book reads as though someone with a mind like David Foster-Wallace and a grasp of scientific knowledge that ended in the 1930's (when the book was supposedly communicated through mediums) came along and wrote a 2,000-page, sci-fi riff on the Bible. The book's main point is that the universe is large. To quote Douglas Adams, "Gigantic multiplied by colossal, multiplied by staggeringly huge is the sort of concept we're trying to get across here." The book estimates planets with intelligent life in the trillions. When someone dies, they begin an epic journey
through ascending universes
until they reach paradise. On each new planet they visit, they are exposed to more and more wondrous realities. They are transported through space by angels with friction shields ("wings" to our inadequate human eyes), or teleported and reassembled on a new planet in a massive "resurrection hall" à la Star Trek.
By the late 70s, Stockhausen was making music that was both obsessed with outer space and flirting with the concepts of The Urantia Book. He wrote 12 melodies to compliment the Zodiac signs, and that was just a warm-up for a massive space oratorio called Sirius.
Sirius begins with a mysterious hum that builds to a roar as the noise of four flying saucers circles the audience in 8-channels of surround sound, creating the illusion that the spaceships are actually landing inside the concert hall. The aliens emerge and announce, "We are messengers from Sirius." It was around this time that Stockhausen began to publicly say things like "I believe my musical education was carried out on Sirius," and that he dreamed of flying between planets. His next project was Light, a 7-opera cycle with each entry named after a day of the week. Now, he embraced
The Urantia Book
's sci-fi version of Christianity more publicly. He adopted the book's idea that Christ was actually the archangel Michael, on a mission that took him to six other planets before he incarnated on Earth (which is called "Urantia" in the book). His main adversary is Lucifer, who has rebelled against God's plan for intelligent beings to make the ascending journey through the universes.
There are touches of the absurd throughout. In the finale of Saturday, a procession of monks carry a giant black bird in a cage while they sing a hymn by St. Francis of Assisi. A bag of coconuts drops from the sky, and the monks take turns smashing them on the ground. In Friday, the action is periodically interrupted by a dozen fornicating pairs: man/woman, cat/dog, pencil/pencil sharpener, violin/bow, race car/driver, etc. Eventually, the couples start to swap partners and the orgy yields unnatural hybrid offspring that look like they walked off a David Cronenberg set.
Today in Birmingham, England
, the only opera from the cycle that hasn't been fully staged, Wednesday, will be performed for the first time. The opera is most famous for its third scene:
The Helicopter String Quartet
. But it is the next scene, Michaelion, that represents the high point in Stockhausen's marriage of science fiction and absurdist theater.
In the scene, delegates from different stars meet at a galactic headquarters where they pose questions to an oracular figure who answers them by translating shortwave signals from outer space. The delegation needs to elect a new President, and a camel arrives to campaign for the job. He does so by shitting seven planets out of his ass. (He wins the job, for the record.)
When he finished Light in 2003, Stockhausen moved on to Sound, a cycle of pieces for the 24 hours in a day. Here, he gives his most public embrace to
The Urantia Book
. In the fourth hour of the cycle, a man knocks on
Heaven's Door
for the better part of an hour before he finally gets it to open. Then the cycle embarks on a series of pieces named after locations in
The Urantia Book
. They are all places that an Earthling would visit on his extraterrestrial, afterlife adventure. More than a few of Stockhausen's acquaintances believe that with Sound, the composer was essentially writing his own requiem. Sure enough, he was felled by a heart attack before he could finish the cycle.
Stockhausen's music is diverse and hard to categorize. It can range from a sweet music box melody to an hour-long orchestra drone. One of the most common threads in his output from the late 70s until his death was a love of outer space, and there's simply no other composer of his stature who produced so much great sci-fi music.
THE TIMELESS POWER OF THE DIVINE
(Stockhausen in conversation March 1999 by Ken Hollings. The article originally appeared in The Wire Magazine, issue #184 June 1999. for more information on The Wire, go to: www.dfuse.com/the-wire.)
Karlheinz Stockhausen
By David Paul
LICHT aus STOCKHAUSEN
Malcolm Ball reveals an exclusive interview with the giant of 20th century music Karlheinz Stockhausen
Composer Karlheinz Stockhausen has turned himself into a musical myth. This is the man who has influenced everyone from Brian Eno to Björk, and who appeared on the cover of the Beatles' Sergeant Pepper's album, sandwiched between Carl Jung and Mae West. On his website, he credits himself as the father of electronic music, spatial music and universal music. He spent 30 years composing seven operas called Licht ("Light"), one for each day of the week, and recently he embarked on Klang ("Sound"), a series of 24-hour-long pieces to be performed in a single day - a sort of musical version of 24, but without the threat of terrorism. As if that wasn't enough, this 77-year-old musical pioneer has claimed that he comes not from Burg Mödrath, near Cologne (listed as his birthplace on his biography), but rather from a planet orbiting the star Sirius, and that he was put on earth to give voice to a cosmic music that will change the world. He is, to put it mildly, a one-off.
London will be granted a visit from this celestial being next week, when he comes to play a concert as part of the Frieze art fair. He performed in Edinburgh this April, but it's his first time in London since 2001. For Frieze, he'll be bringing two of his electronic pieces: Kontakte, a classic of the genre from 1960, and Oktophonie, part of Tuesday from Light, written in 1991.
I asked him, by e-mail - Stockhausen is too unearthly an entity to commit to many face-to-face interviews - why he chose these two pieces. "The combination makes it clear how much the space composition has evolved from the horizontal to the vertical music." Right. Er ...
It's hard to decode this Siriusian logic, but what it might mean is that "space music" - that is to say, electronic music that is projected from speakers that encircle the audience - can now be projected not just around the hall, but up and down the space as well, creating a three-dimensional experience. That makes sense, since Kontakte is written in four channels, whereas Oktophonie is in eight, giving Stockhausen greater opportunity to diffuse the sound in different ways.
The great man goes on: "New Space Music is for the ears, for the invisible world (I switch out the lights during the projections of my space music)." This visionary, new electronic music, like Oktophonie, requires absolute darkness for its performance. Apart, that is, from a sliver of "moonlight" that will illuminate its creator and master of the mixing desk: Stockhausen himself, who, we are promised, will be dressed in an all-white suit for this special occasion.
Charitably, you might say that this dramatisation mirrors the ritualistic power of the music. In its original context in Tuesday from Light, Oktophonie is played during the second of the opera's battles between Michael and Luzifer, essentially the goodie and baddie of the whole Light saga. More cynically, it looks like kitschy egomania, straight out of a bad production of Wagner's Parsifal.
Which might not be too far from the truth. Critics of Stockhausen's recent music have accused the Light operas of trumping Wagner in their self-centred cosmology. When he was last in London, for a festival of his music at the Barbican, Stockhausen - dressed resplendently in the orange cardigan that he seems to have worn for the past two decades - presided over a performance of Friday from Light. In costumes that looked like a parody of early Star Trek, the drama was played out: the evil Ludon, who looked like Zurg, the villain from Toy Story 2, convinced Eva (the earth-mother figure in the Light cycle) to have children by Caino, his black son. The resulting, mixed-race broods of children grow up in peace but then go to war with each other, and at the end of the opera, Eva repents her decision to procreate with Caino. It looked like nothing less than a warning against mixed-heritage marriages. Beneath the seductive electronic washes of sound in Light lie disturbing cultural politics. Stockhausen is the omnipotent creator and performer of Light, and the piece is formed in his image: it's impossible not to conclude that the drama must reflect his deepest beliefs.
I asked him about the logistics of putting on the complete cycle of the operas, because on paper, it looks ludicrously impractical, including a string quartet - which the Arditti Quartet have recorded - in which each player performs, airborne, from their own helicopter. Seriously.
"The real challenge," Stockhausen wrote to me, "is to find seven stage directors and stage designers, seven conductors, five orchestras, one children's orchestra, nine professional choirs, two children's choirs, one girls' choir, seven sound projectionists, seven sound technicians, many soloists. This is all possible if one can engage the ensembles and soloists who have already performed parts of Light quasi-scenically in concerts and rehearse in seven auditoriums daily for about six months."
Next to all of this, Wagner's decision to build his own theatre in Bayreuth looks like small fry: Stockhausen needs seven bespoke performance spaces for Light, one for each opera. He tells me that for one of the final parts of the opera, he rehearsed with his ensemble for 62 days, seven hours a day. Imagine that level of commitment and work, times about 30, and you get an idea of how much Light would cost a production company. Astonishingly, there are two complete performances of Light in the pipeline: in Dresden in 2008, and Essen in 2010. It remains to be seen if they come off.
But maybe I'm being too cynical. Whatever else he may be, Stockhausen is a visionary, who genuinely believes in the power of his own music - and his website, his publishing house, his record label - to spread his works across the world. And he says they're already doing good for humanity.
"My music has already reduced enormously the mundane problems of the world," he writes. "The incredible number of hours of all people listening to my works (thinking of all the CDs, films, concerts) is keeping the listeners away from the mundane problems. If someone wants to experience each [of my] compositions just once, he needs to have at least 130 free hours of listening quietly to the [circa] 130 CDs, and many have already bought all my CDs."
And what about his own interplanetary spiritual experiences? How are they communicated in his music? "Whenever my music or a moment in my music transports a listener into the beyond - transcending time and space - he experiences cosmic dimensions."
For the Frieze art fair concert, Billingsgate Market will be the scene of the transmission of cosmic dimensions to London, in service of Stockhausen's essential ethos: "My personality is a universal statement, as any stone, plant, animal, human being, angel. GOD is working!" And so is Stockhausen. -
Tom Service
Music from Sirius: The Dreams of Karlheinz Stockhausen
A Temple of New Music; The Mount Sinai of Serialism: whatever you choose to call it, the Stockhausen complex at Kürten is a remote and mysterious spot. Situated in the German countryside at the end of a winding road that sweeps through farmland and dense forest, it is less than an hour's drive outside Cologne - but the silence is intoxicating and the sense of peace almost tangible. Each of the stark, white buildings - concert hall, rehearsal rooms, and the house where the composer lives with "wives" number three and four, the American saxophonist Suzanne Stephens and the Dutch flautist Kathinka Pasveer - is insulated by fir trees. And as the visitor turns the last bend in the road, it all rears up magnificently, seeming to occupy the entire hillside.
For the past 35 years, this complex has been the centre of gravity in Stockhausen's life and work. He was born in an equally isolated village just beyond Cologne, and it was under similar open skies that he dreamt up his first compositions. In the 60s, he and his second wife, the artist Mary Bauermeister, acquired this land with a view to establishing a commune where artists and musicians could exchange ideas. Now, every year, the bemused locals are inundated by students from the Stockhausen summer school, filling the district's only restaurant, all discussing the joys of serialism and atonal music.
But, primarily, Kürten serves as a refuge for Stockhausen. Every morning, he locks himself in his studio, packed with synthesisers and mixing desks, to work on his mammoth opera Licht (Light). And it was to Kürten that he retreated last week, when the controversy about his reported claim that the World Trade Centre attack was "the greatest work of art ever" was exploding around him.
"My connection to this landscape has become deeper and deeper," he says. "In the beginning of the 60s, I thought of living in Sicily, and at one stage I bought an island in Finland. I've always wanted to live in this kind of pure, green countryside, in communion with the forest and the trees and bushes, where I could plant life with my own two hands and watch it grow. I need this light, this feeling of total liberty."
Karlheinz Stockhausen is one of the great figures in modern com position, a revolutionary whose shadow stretches across contemporary music in all its incarnations. Along with such avant garde goliaths as Pierre Boulez and John Cage, he embodies the iconoclastic spirit that has torn away old certainties such as melody and fixed time-signatures, and recast the fundamentals of music in the 20th century: "His influence has been enormous," says Boulez. "He invented a new kind of relationship between music's components. He has changed our view of musical time and form."
Often said to be excruciatingly "difficult", Stockhausen's early work is the epitome of "total" serialism, taking the precepts of Schoenberg's 12-tone system - which, instead of the more familiar seven-note diatonic scale with its keys and keynotes, employed an atonal model, in which 12 chromatic tones were marshalled into rows - and applied them to every musical element: pitch, tempo, timbre, duration and intensity.
With the music now obeying mathematical or spatial (or even spiritual) rather than harmonic principles, this approach unleashed such ground-breaking pieces as Gruppen (Groups, 1957), in which three separate orchestras, each playing at a different tempo, seem to shear painfully into each other like instrumental buzz-saws. Equally radical is the infamous Helikopter Streichquartett (Helicopter String Quartet, 1995), performed as the musicians hover above the audience in four helicopters.
However, modern electronic music is where Stockhausen has been most influential, touching artists as diverse as the Beatles (who recycled his Hymnen - Anthems - in the White Album's Revolution Number 9), Miles Davis, Frank Zappa, Brian Eno, Pink Floyd, Laurie Anderson and many more. With the most rudimentary technology, Stockhausen created electronic pieces as neurotically beautiful as Gesang der Jünglinge (Song of the Youths, 1956), in which a young boy's hymn is periodically dipped in what can only be described as an electronic groan. Later, the composer would be the first to experiment with "live electronics", feeding sounds through the electronic grinder during performance to produce his Mikrophonie pieces (1964-65). "Teutonic exactitude combined with anarchistic bollocks, is how I'd describe him," says producer William Orbit, who appears alongside Stockhausen in next month's Elektronic Festival at the Barbican in London.
"There are so many musicians who have made a whole career out of one of his periods," says the Icelandic singer and songwriter Björk. "He goes one step ahead, discovers something that's never been done musically, and by the time other people have grasped it, he's on to the next thing." Others, however, feel Stockhausen led music up a blind alley: "There is a good joke about a concert of a very avant garde piece," says the composer Philip Glass, who led the minimalist reaction to him. "One audience member comes up to another and says: 'You know, that piece is much better than it sounds.'" Many others have criticised the music for being too cold and forbidding.
Since the late 60s, Stockhausen's work has continually veered towards esoteric New Age beliefs, sometimes tipping over into the downright bizarre, earning him his reputation as the mad messiah of modern music. His trippy 1971 piece Sternklang(Starsound) was conceived as "a preparation for beings from other stars and for the day of their arrival here".
For the past 24 years he has been working on his vast Gesamtkunstwerk (synthesis of the arts) Licht (Die Sieben Tage der Woche) - Light (The Seven Days of the Week) - which combines elements of his biography in a grandiose and often risible operatic drama of the struggle of mankind over evil, as represented by the work's arch-villain Lucifer. "He has stirred up his mixture of ersatz 'operatic' seasoning and kitschy stagecraft," wrote one critic of the piece, which is split into seven days of the week, "and leavened the whole with contrivances of such mind-bending theatrical ineptitude that the musical riches of his score, such as they are, have been nearly all overwhelmed."
Despite an unnerving habit of staring off into the corner of the room while recounting the precise dates and times of premieres half a century ago, he comes across as a warm and engaging host. But the famed eccentricity is obvious, not least in his dress style of dazzling white jeans and embroidered Mexican shirt topped off with a fluorescent green cardigan, just one of an entire wardrobe of such cardigans, each worn on a specific day of the week corresponding to the decor of the different days of Licht. While his obvious magnetism and the magnitude of his personality are universally lauded, most people acknowledge a more difficult, at times tyrannical character lurking beneath. In rehearsal, he is renowned for his relentless perfectionism, which has been known to boil over. "He is calmer now than in his early years," says his son, the trumpeter Markus Stockhausen. "But when he gets furious, if technical things go wrong or the musicians are too slow, it is sometimes not very nice because the same amount of energy, when it turns around, can be very uncomfortable."
The same tyrannical approach is applied to his personal life, as even close family members have discovered: "I haven't had any contact whatsoever with Karlheinz for 30 years," says his sister Katharina Ernst, who lives just outside Cologne. "I did make some overtures a number of years ago and went to meet his daughter, who was playing in a concert nearby. But apparently Karlheinz then forbade the children to talk to me. I really don't know why. He lives in a different region from normal-thinking people."
Stockhausen surrounds himself with a close circle of devotees, many of whom share his enthusiasm for the Indian mystic Sri Aurobindo: both his current "wives" - he is not legally married to either - are Aurobindo disciples, and his second wife, Mary Bauermeister, believes that these eastern philosophies have given her powers of astral projection which she uses to monitor Karlheinz's marital infidelities.
Those who have moved away from his tightknit circle find themselves summarily cut off: "You are either with him, or you betray him," says the music therapist Jill Purce, who was his partner in the early 70s. "He is not wise, in a way," says Bauermeister. "At the heart of his view of the world is the idea of the enemy. I always thought that when he was old he would forget about it. Overall, there is this conflict in him of good and evil. And he is there in the middle of it all. Only if you know his life can you understand it."
Stockhausen's drift towards mysticism and his more outlandish statements, including assertions that he was born on a planet orbiting the star Sirius, have baffled and disturbed old friends: "He is very much enclosed in himself - he doesn't see anything else," says Boulez. "It was always like that but the more he goes on the more it is like that. This kind of guru aspect for me is not acceptable."
The scandal concerning his comments about the World Trade Centre atrocity have deepened this concern. Reports in the German and international press claimed that, at a press conference last week for a series of concerts in Hamburg, he said: "That characters can bring about in one act what we in music cannot dream of, that people practice madly for 10 years, completely fanatically, for a concert and then die. That is the greatest work of art for the whole cosmos. Against that, we composers are nothing."
Stockhausen later insisted that his quotes had been "ripped out of context" and that he had actually said the terrorist attack was "the greatest work of art by Lucifer ", though this wasn't enough to prevent the organisers from cancelling his Hamburg concerts. A posting on the stockhausen.org website reports that the Kürten city council has also threatened to pull the plug on his courses. Since returning to Kürten, Stockhausen has cancelled all contacts with journalists, and it looks likely that he will be even less open in his communications in future. Whether this is likely to shake or steel his resolve and sense of destiny remains to be seen: "All my life I have been convinced that there is an angel constantly guiding me," he says. "Depending on the tasks I have set myself, and that have been set for me, the angel changes. They specialise in particular subjects, stages of life, and also particular kinds of creative activity. My angel is highly experienced in questions of music."
Karlheinz Stockhausen was born on August 22 1928, just outside Cologne in the small village of Mödrath, now swallowed up by an opencast mine; he was the first son of Simon Stockhausen, an impoverished schoolteacher, and Gertrud (née Stupp). When Karlheinz was four, his mother suffered a nervous breakdown and was committed to an asylum: "I can still see my father bringing her downstairs, holding her tightly because my mother kept wanting to go to the window, shouting: 'Just let me die!' Suddenly she pointed to the cellar door and shouted: 'Down there is hell!' And then she pointed up the stairs and cried: 'Up there is heaven. I want to go up to the loft.' " Some time afterwards, Simon Stockhausen began a relationship with their housekeeper, Luzia, whom he married in 1938.
From a young age, Karlheinz displayed a precocious talent for music: "He gave piano recitals from the age of eight," says his sister Katharina. "He was also fooling around with his own weird compositions." But the emphasis of his early life seems to have been primarily on rural pursuits: "We were far more interested in hunting," says his childhood friend Josef Jost, "killing little rabbits, trout fishing, just the two of us, roaming in the wilderness." Young Karlheinz was also deeply religious, a tendency which blossomed when the devoutly Catholic family settled in Altenberg: "My bedroom window looked out over the cathedral. It was a beautiful sight which influenced me very much. I went to church regularly, during the week as well as on Sundays."
At the onset of the war, Stockhausen's institutionalised mother fell victim to the Nazis' euthanasia policy. His father volunteered for the German army and was killed in Hungary in 1945: "He told me that he wanted to die," Stockhausen says. "The last time I saw him, he said: 'I won't come back, now take care of yourself.' " For a brief period, Karlheinz himself was a stretcher-bearer at a military hospital, where he witnessed horrific injuries caused by phosphorous bombs that the allies were using.
After the war, Stockhausen enrolled on a "music education" course at the National Conservatory of Music in Cologne. Inspired by Herman Hesse's novel The Glass Bead Game, he seemed at first more consumed with literary ambitions, and in 1949 wrote a novel, Geburt im Tot (Birth in Death), whose themes of regeneration foreshadow Licht. But after encounters with the music of Bartok and Stravinsky, Stockhausen redirected his passions into music: "Interest is much too weak a word," says fellow student Hermann Braun. "He was completely consumed by the music. He would go on through the night. He shared a room with a philosophy student and almost drove the poor guy mad."
Among his first compositions was the song series Drei Lieder (Three Songs), dedicated to a young music student, Doris Andreae, whom he married at the end of 1951. Though the piece was rejected for performance at the Darmstadt summer school that year, Stockhausen went along anyway to attend courses that were scheduled to be given by Schoenberg and the musique concrète pioneer Peter Schaeffer. Among other composers attending, Stockhausen encountered Karel Goeyvaerts, a young Belgian who introduced him to the radical theories of Olivier Messiaen and to the music of Anton von Webern, the father of "total serialism".
Goeyvaerts also brought along one of his own sonatas for two pianos: "I still remember how he tried to explain the 'spiritual bases' of my new technique to other people over lunch," Goeyvaerts later wrote. "I had told him everything in a mishmash of German and English but, despite my stammering, he quickly grasped it all." Herbert Eimert gave Stockhausen a copy of his study of the 12-tone system, Atonale Musiklehre (Atonal Music Teachings).
On his return to Cologne, Stockhausen immediately began com posing the first work of his maturity, Kreuzspiel (Crossplay), an exercise in musical pointillism in which notes from a single piano seem to attract other instruments like charged atomic particles. "I was influenced by the Einsteinian concept of the universal formula," he says now, "and also by [the architects] Walter Gropius and Le Corbusier, whose modular theory is very close to the thinking of serial music." At the premiere in Darmstadt the following year, even the orchestra managed to express its displeasure at the extreme nature of the work, when the clarinettist suddenly let rip with a loud toot in a passage marked pianissimo: "People thought, 'This is no music, this is crazy,' " Stockhausen says. "For the first time in the history of music, a piece was made up of individual notes. There were no melodies."
In 1952, he graduated from the Cologne conservatory and travelled to Paris to study under Messiaen. There, he met Pierre Boulez, who had been impressed by his rigorous Klavierstücke (Piano Pieces): "Many of the composers in Paris were second- or even third-rate, so here was somebody with whom I could speak," Boulez says, "He had a very strong personality, he still does." The two soon became close, though their friendship was characterised from the beginning by intense conflicts: "He was very quick, very imaginative, but he was not critical," Boulez continues. "I tried to compensate for this lack of critical sense ."
As important as the encounter with Boulez were Stockhausen's first experiments with electronic music, which took place in a little studio in the technical college of the PTT (the French post office) in the centre of Paris: "I wanted to synthesise, to actually make the sounds themselves," Stockhausen says. With just a sine-wave generator and slivers of spliced magnetic tape, he set to work on his first concrète étude , a rattling, thump ing conglomeration of jagged electronic whirs and scratches. When he returned to Cologne in May 1953, this work continued in the studio of the Cologne Radio building. Stockhausen completed Studie I and II, which received their premieres in Darmstadt in 1954, where no live performers appeared on stage. This premiere, incidentally, saw the first meeting of Stockhausen and John Cage, who influenced his experiments in aleatory - chance-based - music.
The following year, Stockhausen returned to purely orchestral music for what is regarded by his champions as one of the landmarks of 20th-century music, Gruppen, a piece for three separate orchestra groups, each governed by a complex, scientifically derived schema of overlapping tempi. At the same time Stockhausen was continuing his work with electronic music, and in 1955-56 he produced Gesang der Jünglinge. The premiere in May 1956, in which loudspeakers surrounded the audience, was a triumph and a scandal; it produced turbulent protests as well as comparisons with Stravinsky's Rite of Spring. At the end of the decade, Stockhausen produced Kontakte (Contacts), his first venture into "moment form".
By this time, the composer had already met Bauermeister, a striking, energetic young artist who would have a huge impact on his life. Initially, however, a considerable impediment lay in their path: Stockhausen was still married to Doris, with whom he had produced four children, Suja, Christel, Markus and Majella. At first, Bauermeister, whose own father had left her mother for another woman, resisted, though her resolve was soon broken: "I thought that I could keep it platonic. But then the composer Cornelius Cardew told me that Stockhausen had other women. That must have broken my resistance."
Almost immediately, Bauer meister's influence was seen in the controversial music theatre work Originale (1961), a Rauschenberg-style happening, featuring the Korean performance artist Nam June Paik, who smeared himself from head to toe in shaving foam and then leapt into a bath of red paint to the accompaniment of Stockhausen's score. Bauermeister also opened Stockhausen to mystical religious influences: "I believed in outer space beings," she says. "I knew of past lives. I broke down his Catholic belief system. I learned structure, and he learned chaos."
At Bauermeister's insistence, Stockhausen did not initially leave Doris and the children, but attempted the first of his experiments in polygamy, his new lover simply becoming part of the family. This arrangement is reflected in his 1962 work Momente, which is made up of three musical elements: K-moments (Klang or timbre), M-moments (melody) and D-moments (duration), which also corresponded to Karlheinz, Mary and Doris. But while the piece is the perfect realisation of "moment form", the unmanageable threesome was less successful: "It didn't feel right," says Bauermeister. "Maybe if we were all part of the hippy generation it would have worked. But Doris was always the first wife, and the first wife has the right to feel jealous." The three even tried sleeping in the same bed together: "We just giggled and played cards. We were not shameless enough to do it, but we were courageous enough to try."
In between increasingly frequent trips to the US, and guest professorships at the universities of Pennsylvania and California, Stockhausen had continued to develop the possibilities of "live electronic" music, culminating in Mikrophonie I and II (1964 and 1965), in which sounds of a tam-tam coming into contact with household items were all fed directly through electronic filters and potentiometers during performance. He had already begun work on Hymnen, in which various national anthems are soaked in bubbling short-wave radio static and sliced up by synthesised shrieks. When his face appeared on the cover of The Beatles' Sergeant Pepper's Lonely Heart's Club Band album in 1967 it confirmed Stockhausen as the world's most famous contemporary composer.
However, Stockhausen's personal life was about to unravel. In 1967, Bauermeister was pregnant for the second time with his child, and they decided to marry: "By that time he was already in love with another woman," says Bauermeister. "We were just in our hotel on the first night of our honeymoon and I realised that his heart was somewhere else. So, I told him to take me back to San Francisco and go and see her. He started crying and said 'thank you'. He brought me home and went off with her."
During this separation, Bauermeister first encountered the ideas of Sri Aurobindo, which, she believes, gave her powers of astral projection. "I could project my mind and see exactly what Karlheinz was doing," she says, alluding to his continuing affairs. In May 1968, she sent a letter to him at their new home in Kürten breaking off the relationship and prompting Stockhausen to begin an immediate hunger strike: "Every day a telegram came saying he was going to die and that I should come to him," she recalls. "But I could just go into my inner self and then project to see what he was going through and I knew he was all right. It was a very helpful and truthful revolution." By the third day, Stockhausen was undergoing his own spiritual revolution, fuelled by the same ideas of Sri Aurobindo: "During the seven days I had wonderful visions and sound experiences," he says. "Every so often I would sit down by the piano and play a single note. I changed a lot during this time."
The immediate impact was obvious in Aus den Sieben Tagen (From the Seven Days), a piece of "intuitive music" in which, after fasting, musicians improvised using as inspiration texts that Stockhausen had written during his hunger strike: "Play a vibration in the rhythm of dreaming/and slowly transform it/into the rhythm of the universe," ran one. He also composed a variety of mystical works, such as Stimmung (Tuning, 1968), a choral work based on talismanic chants and erotic poetry, and Sternklang, based on musical "modules" derived from stellar constellations and sung by torch-bearing relay runners.
In 1974 Stockhausen met Suzanne Stephens, and in 1977 he began work on Licht, which revolves around the struggle between Michael and Eve, who represent humanity, and Lucifer, the temptation of pure evil. Each "day" of the opera is over four hours long and involves a complex interweaving of live music and electronic sound into super-formulae, some of which sound suspiciously melodic. The first part, Donnerstag (Thursday), was performed at La Scala in 1981, and at the Royal Opera in London in 1985, and the subsequent days have had isolated performances in Milan, Leipzig and Bern. Of scenes in one part of the opera, Freitag (Friday), where dancing couples are dressed as Cat and Dog, Football and Boot, Arm and Syringe, a rather bemused Guardian critic said: "The political incorrectness of all this hardly bears thinking about, but it is difficult to ignore the crudity of the symbolism." Stockhausen hopes to finish the final instalment, Sonntag (Sunday), some time in 2005.
His lengthy immersion in Licht has caused his reputation to cool. "At the Music Academy in Cologne, there are many students who don't know if Karlheinz is living or not," says conductor Peter Eötvös, who has worked with him on Licht. "Everybody knows that he is one of the most important composers of the 20th century, but few among the younger generation know his career continues." It is difficult to gauge what long-term effect the ferocious media reaction sparked by his recent comments will have on this ailing reputation, though there can be little doubt that his own withdrawal to Kürten, and the potential loss of the summer courses, will plunge Stockhausen into further isolation.
However, even this couldn't erase the fact that he has produced - and, in a more wilful manner, continues to produce - some of the most challenging, unwieldy, indigestible and formidable music: "Life has taught me that it can only go up," he concludes stubbornly. "The music is spreading now very fast, in America, in a few European countries, even in Russia, though they have no means to produce it. And a few musicologists have their own homepages on my music. The whole globe is waking up increasingly fast. So, I don't need to worry when I die. The music has its own impetus, its own force." -
John O'Mahony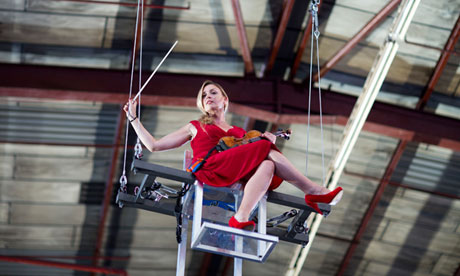 Karlheinz Stockhausen spent 27 years composing the seven operas, one for each day of the week, that make up his monumental Licht cycle.
He finished the whole work in 2004, and while every individual scene of each opera had been commissioned and performed separately over the years, by the time he died three years later, he had also been able to see all but two of the operas complete on stage.
Cologne Opera put on one of the missing ones, Sonntag aus Licht (Sunday from Light) last year; now, as part of the London 2012 festival, Birmingham Opera Company has added the final piece to the Licht jigsaw, with Graham Vick's production of Mittwoch (Wednesday).
Vick's staging is a triumph of logistics above all, for some had pronounced this profoundly strange yet hugely ambitious work with its sometimes fantastical dramatic conceits, as unstageable.
This performance in the cavernous spaces of the disused chemical factory that appears to have become BOC's home lasts well over six hours.
It would be wrong to say the time flies, but in almost every scene there is enough musical interest at least to justify the sheer effort of putting it all on.
Mittwoch aus Licht consists of four scenes, framed by a purely electronic Greeting and Farewell.
It's famous, notorious even, for including as one of those scenes the Helicopter Quartet, first performed in 1995, in which the four members of a string quartet take to the skies with their instruments in four helicopters, and sound and video images of their aerial playing is transmitted to the audience on the ground.
Here it was the Elysian Quartet who got to go aloft, but musically and dramatically it is the least interesting element in the work; the combination of the quartet's almost constant tremolandos with the sound of the helicopter rotors creates a kind of continuum that is punctuated by bow attacks and cries from the players, but little else.
How the Helicopter Quartet fits in to the dramatic plan of Mittwoch is secondary, for Stockhausen's concept of opera is much closer to the medieval idea of tableaux than to anything paraded under the operatic banner in the last 400 years.
There's no narrative thread, not even strong thematic links between the scenes, except very generalised symbolic ones.
In Stockhausen's grand scheme, Wednesday is the day of reconciliation between Michael, Eve and Lucifer, the three archetypal characters who appear in all seven operas, and two of the scenes of Mittwoch at least deal with that theme of reconciliation in their own zany fashion – the extraordinary a capella World Parliament, wonderfully performed by the Birmingham-based choir Ex Cathedra perched high in umpires' chairs around the edge of the performing space, and the bizarre Michaelion, in which a camel defecates planets, dances to a trombone and is hailed as a possible new president of galactic headquarters.
However naive the dramaturgy or child-like the humour, Vick respects it and never tries to impose an extra veneer of sophistication.
His production sometimes does a bit too much, especially when it tries to make Mittwoch into the kind of community-based production with masses of extras that has become BOC's stock-in-trade, but otherwise the staging is wonderfully fluent and performed with tremendous panache by a mix of professional and amateur actors, singers and instrumentalists, with Stockhausen's former assistant Kathinka Pasveer controlling the sound projection.
What saves it all from becoming just a parade of weird images and pretentious ideas is the sheer power and grandeur of much of Stockhausen's music, with moments that recall his fiercely original works of the 1960s and 70s, and especially the electronic music, which no other composer could have come close to matching. -
Andrew Clements
Supersonic
For a few years in the late nineteen-sixties and early seventies, Karlheinz Stockhausen, the German avant-garde composer, nearly achieved the status of a pop icon. Each new piece of his attracted crowds of critics, struggling to convey the latest cosmic splatter of pointillistically variegated sounds. A lavish recording usually followed on the Deutsche Grammophon label. His lectures, mesmerizing in their mixture of scientific detail and visionary speculation, drew composers, professors, misfits, and rock stars. In 1967, the Beatles included his face on the cover of "Sgt. Pepper's Lonely Hearts Club Band," having already echoed his space-age bleeps in "Tomorrow Never Knows." Hippies began showing up at Stockhausen's concerts, which themselves assumed a psychedelic aura, the composer meditating onstage before the music began. In 1971, he visited the New York Philharmonic to present his electronic-instrumental work "Hymnen," a frenzied collage of national anthems. The Times, calling Stockhausen a "Pied Piper of the Young," reported, "Instead of the elderly clientele who dote on their Mozart, Beethoven, and Tchaikovsky, there was long hair, there were miniskirts and hot pants, there were bearded boys in sweaters and denims, there was even a suspicious odor that sort of resembled tobacco."
Then came what seemed an irreversible decline. Every year, people talked about Stockhausen a little less. The New Age drift of his life style and philosophy—he lived with two female companions and claimed to have emanated from the star Sirius—eroded his intellectual reputation, while the minimalists replaced him as beacons for youth. From 1977 until the first years of the present decade, Stockhausen sank his energies into a series of seven operas named after days of the week, the entire cycle entitled "Licht." La Scala staged the first three installments in the eighties, but interest dwindled, and the final parts, "Wednesday" and "Sunday," have yet to be played in full. The low point arrived on September 16, 2001, when, at a press conference in Hamburg, Stockhausen fell to pondering the destruction of the World Trade Center, and, invoking the mythology of his opera cycle, described it as a Luciferian masterpiece. The general feeling was that he had gone off the deep end, and that his music no longer mattered. The last time I saw him in performance, in Berlin in 2002, he seemed a diminished figure, prosaically outfitted in white slacks and an old orange sweater. Yet there was something moving in his determination to keep on working. And there were always large, diverse crowds.
Stockhausen died in December of last year, at the age of seventy-nine. If anyone expected his music to die with him, the opposite has happened: suddenly, he seems to be receiving more performances than ever. In Europe, the Holland Festival, the Proms, and the Warsaw Autumn have all honored Stockhausen in what would have been his eightieth year, and in November retrospectives will take place at London's Southbank Centre and Paris's Festival d'Automne. In this country, by contrast, activity has been minimal; one of very few events in recent months was an all-Stockhausen concert at the ARTSaha! festival in Omaha, Nebraska, where the composer's final electronic work—an abstract, engulfing blur called "Cosmic Pulses"—had its American première. (Non-Nebraskans were able to watch the concert on the Internet.) Perhaps the lack of attention has to do with lingering unease over that World Trade Center comment, although, now that 9/11 has been exploited and trivialized in every conceivable way, the cryptic musings of an elderly German composer hardly seem worthy of notice. Within a few years, I suspect, aromatic Stockhausen fans will once again be filling American halls. In some ways, the man's eccentricities impeded the advance of his music, especially in later years. Now the music is all that remains—a chaos of invention that communicates an inexhaustible, almost childlike joy in the possibilities of sound.
Perhaps the handsomest tribute so far in Stockhausen's birth/death year has come from the Berlin Philharmonic, which, at the close of the Berlin Festival, presented "Gruppen," a controlled pandemonium for three orchestral groups and three conductors. The concert took place in Hangar 2 at Tempelhof Airport, the historic site of Hitlerite fantasies and of the Berlin airlift. Tempelhof is scheduled to close at the end of October, and parts of it are being converted to other uses. Hangar 2, a forty-five-thousand-square-foot space that resembles the Park Avenue Armory, is big enough to accommodate Stockhausen's conception; the three orchestras were arrayed in a horseshoe around the audience. With Simon Rattle, the Philharmonic's music director, sharing conducting duties with Daniel Harding and Michael Boder, the orchestra played "Gruppen" twice through on two consecutive nights. Listeners were instructed to change seats between performances so that they could obtain a different acoustic perspective. Beforehand, brass, wind, and percussion players assembled to unleash Messiaen's "Et Exspecto Resurrectionem Mortuorum," another room-shaking investigation of sonic properties. Altogether, these events were among the most gripping orchestral concerts I've attended in recent seasons.
The historically charged setting stirred memories of the weird horror of Stockhausen's youth. A child of a line of farmers, he was orphaned by Nazism and the Second World War: his father, a troubled Nazi, died on the Eastern Front, and his mother, mentally ill, was apparently killed in the Nazi euthanasia program. As a teen-ager, he served as a stretcher-bearer behind the collapsing front, attending to soldiers whose faces had melted away. A fan of American pop, he sometimes serenaded dying soldiers with the likes of "Tea for Two" and "Honeysuckle Rose." During the American occupation, he studied at the Summer Courses for New Music in Darmstadt, which was supported, in part, by "reorientation" dollars. In short, Stockhausen's mind was shaped and scarred by the historical furies that now haunt the desolate corridors of Tempelhof. If, in later years, this composer appeared to have booked himself on one long flight from reality, who can blame him?
Stockhausen worked on "Gruppen" from 1955 to 1957, at the height of his involvement with a technique known as total serialism, which preoccupied many young Europeans in the fifties. Schoenberg had developed a system for extracting musical material from rows of twelve notes; the total serialists went further, ringing changes on the various other elements that characterize a note (duration, volume, and so on), so that music entered into a state of unending, frantic flux. At times, this method led to a kind of nerve-racking monotony. But Stockhausen seldom let himself become a prisoner of the system, even as he devised ever more elaborate schemes of ordering. In "Gruppen," he scrupulously avoids writing discernible themes—each instrument seems to be scurrying along its own twisting path—and yet the disparate sounds add up to textures of strongly defined character: insectoid swarms of string pizzicato, birdlike twitterings of upper-register winds, armor-plated blasts of brass.
In some passages, Stockhausen minimized the system and let his fantasy run wild. The latter part of the piece brings a brief, spectacular sequence in which brass sextets in each orchestra throw blazing chords to one another around the space, like alpenhorns resounding across valleys. In fact, Stockhausen conceived the score while staying in a village in the Swiss Alps, and modelled some of his organizational diagrams on mountain shapes. Romantic, too, is the sound of a solo violin singing out against a molten mass. (This music has more in common with Richard Strauss's "Alpine Symphony" than the ultra-modern young composer might have cared to admit.) At the same time, "Gruppen" mimics high-tech noises: showers of electronic pulses, fluctuations of bandwidth. And there's a jazz energy to the wah-wah-ing brass, the squealing clarinets, the pounding tom-toms and wood drums in the percussion. Soon after the Alpine brass sequence comes a gloriously mad freakout for the three orchestras together. It's a bit like hearing the big bands of Duke Ellington, Count Basie, and Benny Goodman play ad libitum at the end of a very long night on the town.
The almighty Berlin Philharmonic executed Stockhausen's complexities with fierce attention to detail and also with a kind of improvisatory verve. By the fourth performance, the musicians were visibly enjoying themselves. A surprising human warmth emerged from the more subdued, reflective passages of the work: the meanderings of a solitary guitar, the shivering masses of tremolo strings. An almost Mahlerian atmosphere of wistfulness descended in the last few minutes, as the instruments grasped onto the sweeter intervals in Stockhausen's master twelve-tone row. In light of this commanding performance, it's strange to hear reliable sources reporting that Rattle remains a controversial, even embattled figure in Berlin, not least with his own orchestra. Maybe a certain amount of interpersonal tension actually enlivens the music-making. In any case, if the usual Berlin pattern holds, whenever Rattle leaves his post the pundits will reëvaluate his regime as a golden age, and this concert will be cherished as one of his finest moments.
Rattle's most inspired stroke was to pair Stockhausen with Messiaen, whose centenary is being celebrated around the world this year. At first sight, the two composers seem poles apart: the German chasing new timbres, new technologies, alternative spiritual paths, the Frenchman steeped in tonal fundamentals and Catholic dogma. Yet, odd as it may seem, Stockhausen was a practicing Catholic at the time he wrote "Gruppen"; only in the sixties did he renounce organized religion. In the final bar of the score appear the words "DEO GRATIAS." In the neighborhood of "Et Exspecto"—which Rattle and his players delivered with gasp-inducing intensity, the tones of brass and gongs roaring through the hangar at almost unbearable volume—"Gruppen" revealed itself not only as a visceral adventure and a technical tour de force but also as an obliquely spiritual experience. Right at the end, the principal horn lets loose a soft, bright little interval, a rising major third. I had the impression that we had just heard the Big Bang run in reverse, and that this floating interval was the divine spark from which it all began. -
Alex Ross
White Camels Can't Dance
by Nick Richardson
"Mittwoch aus Licht is the only opera I know of that calls for a Bactrian camel trainer. It's also the only opera to feature both a helicopter-borne string quartet and instrumental soloists on trapezes. Stockhausen seems to have believed that the quality of a work of art is closely related to the effort expended in making it, and that goes for all involved: composer, musicians, audience. Tim Souster told a story in the LRB twenty years ago about Stockhausen overseeing the installation of Christmas tree lights at his estate in Kürten: he instructed his hapless assistants to arrange them according to the Fibonacci sequence in the middle of a screaming gale.
Mittwoch was the second to last opera of Stockhausen's seven-opera cycle Licht to be completed, and the last to be performed in its entirety. Until the Birmingham Opera Company's brave new production, it had seemed too daunting – a few stage directions too far – though each of its parts had been performed separately. The Helicopter String Quartet premiered in June 1995 at the Holland Festival. The premiere was supposed to have happened a couple of years earlier in Salzburg, but the Austrian Green Party campaigned to have it cancelled on the grounds that it would create too much pollution. Holland didn't mind, apparently, because the Dutch atmosphere is already so loaded with marijuana smoke – that's according to the BOC's Helicopter String Quartet 'Moderator', whose role, though not his lines, was written into the score and played by Stockhausen himself.
The BOC's production probably doesn't look as glam as a composer with Fibonacci fairy lights might have imagined. Despite the hundreds of thousands of pounds spent and the months of planning, rehearsal and engineering, it feels pleasingly lo-fi. So much the better. Mittwoch exploits a tension between cosmic grandeur and slapstick. And so does the venue, the Argyle Warehouse, a disused chemical factory in the heart of industrial Birmingham: approach from one side and you pass through a recently yuppified enclave of cafés and urban art galleries; come from the other and it's all factories, forges and scrap yards. The building's as cavernous as a cathedral, but retains the forklift markings, pipes and employee safety notices of its previous incarnation. When I arrived on Thursday afternoon, the Bactrian camels were chewing Custard Creams outside.
The director, Graham Vick, has obeyed the crackpot spirit of Stockhausen's libretto, if not the letter. The first section of the opera is an hour-long electronic piece that Stockhausen had intended to be listened to 'in a dark auditorium': 'undisturbed listening in the dark with eyes closed is a prerequisite for profoundly experiencing the music.' In Vick's version, sudden shafts of light momentarily illuminate surreal vignettes: a crowd of pregnant women shuffling towards men with arms stretched to heaven; an escapee from a Louise Bourgeois sketchbook sewing men into egg-like sacs. For the second section, Vick arranges a choir of 36 – the 'World Parliament' – around the crowd on yellow umpire's chairs, their faces painted as national flags. Stockhausen is at his best, I think, when he writes for voices, and the 'World Parliament' section contains the best writing of the whole opera. The delegates debate the theme of the day, love: voices of dissent break away, are reabsorbed, and break away again. The score calls for a janitor whose 'alarmed shouting' interrupts proceedings. Vick's janitor is a car park attendant in a yellow tunic who announces that a car is parked outside illegally; the 'president' of the parliament follows him out muttering.
Many of the problems that Stockhausen foresaw with the staging are solved by the sheer scale of the Argyle Warehouse. He worried that the individual voices of the 36 parliamentarians wouldn't be heard clearly if they were onstage with radio mikes. Vick has them sing in the round with the crowd sat on the floor. How to get from here to a scene in which a handful of solo instrumentalists play from trapezes suspended over the audience? Lead the audience through to yet another enormous chamber where the trapezing soloists are already perched and waiting. During the trapeze scene – Vick's craziest – a man in flippers and snorkel is wheeled through the audience in a paddling pool to replace the trombonist on his roost: you couldn't do that at the Coliseum. Meanwhile morning-suited undertakers wander about the space with smoke billowing from their top hats, as do bandaged mummies with tam-tams and a man with a Lufthansa jet strapped to his head.
The staging of the final few sections is relatively restrained, or as restrained as they could be given the madness of the score. The Elysian quartet introduce themselves and are hustled out the back with a cameraman to their helicopters: they ascend, play and come down again hitchlessly for their interview with the 'Moderator'. The Guardian's reviewer called the helicopter string quartet 'musically and dramatically' the 'least interesting element' , but it was fantastic on Thursday night, particularly at take-off, the strings' vigorous tremolos locking with the throb of the rotor blades and the warm, bass hum of engine. (You can watch the opening night rendition online.) The string quartet was followed by 'Michaelion', which is set at the 'galactic headquarters for delegates of the universe'. A soprano sings that a new president is being sought. Eventually, the candidate arrives on set. It's the Bactrian camel, who introduces himself in recitativo, tells everyone that he wishes to bequeath them the spirit of Camael, then shits seven planets. (I should probably say that it's not the real Bactrian camel that comes onstage at this point; the real camels are there to make you think that it is. Real Bactrian camels are notoriously tone deaf.)
What does it all mean? According to Stockhausen it's about the reconciliation of Michael, Eve and Lucifer and its representative scents are mastic and frankincense; its flower is golden yellow rudbeckia. In other words, it's all vague enough and elaborate enough for you to make of it what you will, and madcap enough to ensure that your interpretation's a good one. Stockhausen did say that Mittwoch is about 'co-operation', which to me makes sense. The 36 delegates collaborate, despite themselves, in harmonious hubbub; sounds collaborate with each other to create new sounds, the strings with the chopper blades, the sounds of the trapezes with field recordings; and the helicopter string quartet manage to stay together despite the longest odds. And of course just staging the thing is a major feat of co-operation, as BOC's curtain call, at which cast members outnumber audience members, makes clear. That this unpretentious company can swing through one of modern music's most intimidating frontiers, and do so with such gritty panache, is remarkable. Luzicamel kosmisch Geräusch Galaxiescheich!
Tekstovi i intervjui
Multimedija
Transkripti
Stockhausenova službena stranica
ovdje