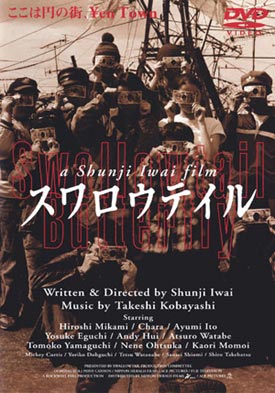 Narativnu liniju ne prepoznajemo zahvaljujući vizualnom, nego verbalnom procesu. Slike u prepoznatljiv niz slažu riječi (u našoj glavi). Film koji oponaša moć jezika da stvori slike, a ne moć slika da stvore priču.

In some unspecified future there exists Yentown, slums that surround Tokyo, Osaka, Nagoya or any large Japanese city (or all Japanese cities for that matter). It's in these shanty towns that fortune seekers from all over Asia and some from around the world come seeking the all mighty yen. From setting up small shops and stalls to trading in grey market goods to more lucrative, but illegal and dangerous pursuits these outsiders come like the old prospectors in the days of the gold rush to make as much money as they can and then either return home or reinvent themselves in a prosperous new land. As the preamble in Shunji Iwai's 1996 epic "Swallowtail Butterly" explains the residents of Yentown become synonymous with it, so that the Japanese refer to them as "Yentowns". Our eyes and ears into this world is one Yentown, a nameless teenage girl who after her mother dies is left alone not only to seek out those mighty yen, but to find out who she is and what she will become.
Shunji Iwai takes us on a sweeping journey through this dream or nightmare of Japan's possible future. In a country that has one of the lowest birth rates in the developed world, where one in three people will be over 65 by the year 2025 there is real concern that the bottom will eventually fall out of Japan's health care system, work force and economy. Debate has been waging for the past few years as to whether the miniscule number of foreigners living in Japan (roughly 1.6% of the population) should be allowed to increase to stave off this coming crisis. The vision of an influx of foreigners chasing after a world of opportunity isn't that far fetched. At the same time the darkness, crime, and violence that fills the world of "Swallowtail Butterfly" plays directly into the paranoia that if more "gaijin" are let into the country safety and order will disappear.
Our nameless heroine doesn't encounter much safety or order. Gangs of homeless children, junkies, gangsters; she finds Yentown to be a truly lawless frontier; that is until our heroine falls into an unlikely family consisting of a pair of Chinese junk dealers, a punch drunk American boxer, a British music promoter and a hooker with a heart of gold and a kick ass rock voice named Glico (played by Japanese pop star Chara). It's from this, the film's second heroine that our girl gets her name, Ageha or "Swallowtail Butterfly", and it's through Glico that the whole group falls into a dangerous cat and mouse with the Hong Kong Triads over a cassette tape of Frank Sinatra's "My Way" that is cut out of a yakuza's stomach. This tape can insure that any Yentown will be able to literally make as much money as they want.
I have to applaud Iwai for having the guts to make such a sweeping film made up of American, Hong Kong and Japanese actors. The world presented seems like a true to life Interzone. For the first half of the film I felt as if I were watching a pretty decent adaptation of a William Gibson story. There simply haven't been many films made either in Japan or around the world that have been this ambitious, but it's this ambition and Iwai's background in music videos that for me threatens to derail "Swallowtail Butterfly" in its second half.
When the plot veers off from the gangsters chasing after their counterfeiting tape to a rags to riches rock and roll story I had to shake my head. What for me had been a really interesting piece of speculative filmmaking turned into an Asian version of "The Commitments". Why do we need x-amount of musical numbers to slow things down to a halt? Also, the performances are impeded by the actors sometimes speaking in languages that they're obviously not familiar with. If the musical sub-plot had been left on the editing room floor "Swallowtail Butterfly" could have been a truly groundbreaking film, but as it stands Iwai has given us a deeply flawed, but still compelling addition to the dystopian future science fiction genre.
-
Chris MaGee
Shunji Iwai's
Swallowtail Butterfly
(1996) is a film about foreigners (mostly Chinese, but also European and American) in Japan. Most of these foreigners communicate with one another in English, which they know better than they do Japanese. The main character, Ageha (Butterfly) is a teenage girl, daughter of a dead Chinese prostitute, but who was born in Japan and only speaks Japanese and English. In the course of the film, we also meet Japanese-born children of Americans, white and black, but whose main language is Japanese, and who don't speak English very well, if at all.
So the film is multi-lingual and multi-ethnic (though there don't seem to be any Koreans, Japan's largest minority group), giving the lie to the myth of Japanese homogeneity.
Swallowtail Butterfly
is about these immigrants' hopes of making it — their successes and failures — in the Japanese bubble economy of the late 80s/early 90s (I think). At times it has an almost documentary feel, at other times it is highly stylized and anti-realistic, as it flirts with the gangster thriller and with expressionist modes, as well as referencing music video (Iwai's background, before he moved into film). Handheld camera is used throughout, supplemented by various filters and other visual effects. The film seems edited more for rhythm than for narrative, though its various narrative strands do converge towards the end.
What's remarkable about
Swallowtail Butterfly
– as well as about Iwai's later film
All About Lily Chou-Chou
(which I wrote about
here
) – is the way it
drifts
in and out of various moods or affects, as well as various genres. There are horrific moments (as when racist Japanese cops beat up and kill a Chinese man), and over-the-top film fantasy moments (as when the immigrants blow up several truck-loads of gangsters with a bazooka), and moments when time seems to stop (as when Ageha overdoses on heroin), and moments when time seems to expand into eternity (as when Glico, the Chinese prostitute turned singer, delivers a stunning rock 'n' roll version of "My Way" – played straight, and not in the mode of the Sid Vicious critique), and moments of sheer lyrical abstraction, pain and joy passed through the sieve of Iwai's restless camera and savvy pop soundtrack. The film begins and (almost) ends with Chinese funerals, in which money – the Japanese yen for which the immigrants have come to Japan – is burned in a potlatch that consumes both the hypocrisies and racism of Japanese society, and the grief, rage, and desperation of which the immigrants' lives are composed. -
Steven Shaviro
I queued
Swallowtail Butterfly
on the strengths of
Love Letter
, Iwai's first film. I don't know anything about current events in Japan. The last topical news I knew from Japan was when they found that guy on the island who didn't the war was over. I'm American… we don't care about other countries. We're politically imperialists, but pragmatically, we're still isolationists. America. We don't care.
Swallowtail Butterfly
was made in 1996 and opens with a prologue about the high value of the Yen and a bunch of immigrants coming to Japan to profit off that high value. The Japanese don't like these immigrants and I guessed it was situation similar to when people come over from Mexico. Whatever, right? There was nothing to suggest is was untrue–I hadn't heard about it. Big deal. The last time Japan was in American news, it took a President vomiting on a Prime Minister. Like I said, we don't care. Even if we care… eh, we really don't care. Pragmatic isolationists.
I read about
Swallowtail Butterfly
–the description–when I rented the DVD from Nicheflix. Girl's mother dies. Girl gets "adopted" by brassy hooker. Works for oddballs. Hey, there you go… My apprehension was mostly the running time–150 minutes.
Love Letter
was all right, but it was boring. On the border of good and bad boring, but boring.
Swallowtail Butterfly
is excruciatingly boring. The scenes are real short–maybe three or four minutes a piece–but Iwai's a good director. His composition is nice and he understands how to use sound and music. He's very American in a way. He's like an American director who does small movies but they don't look cheap. He was a music video director and the transition different from the American model. He doesn't choppy shots–he uses handheld so there wouldn't be point–but has the short scenes… kind of like the narrative music video, actually.
The film drags on and on for about forty minutes before anything interesting happens–the girl and hooker get together and have their relationship defined in the first twelve, thanks to those short scenes, so that question is already answered. Well, then at the forty minute mark, a john finds the girl and goes after the girl and gets punched out the window by their neighbor and gets run over by a street cleaner. But it works. The film never leaves its form. It manages to hold the form while doing something incredibly different.
Then there's a mobster scene and the film loses it. Totally breaks that form it just held. But I stayed with it. Any hopes of it being rewarding where dashed but Iwai's got good composition, likes nice colors, and so, visually, the film has pleasing effect. I got two hours extra sleep today and I figured I had the energy.
Then there was future stuff, so I paused the movie and Googled. Yeah… it's a future movie.
From what I saw, it's
Strange Days
, minus the virtual reality stuff.
A future movie is a future movie. A social, humanist piece is a social, humanist piece. The first forty-five minutes plays like a bad version of
The Lower Depths
. Maybe everyone else knew–had I known Japanese current events, I might know, but the film's ten years old so… you know, maybe not–but in the context the film it blows up completely. It becomes absurd. It invalidated the work the film did; regardless of whether or not the film intended to do that work, it did and someone should have seen that work being done… It's like making a great movie about someone going insane and then making it all about cryogenics.
I must have intuited it somehow, since I've been avoiding this film since November 2004. -
The Stop Button
Shunji Iwai's
Swallowtail
opens with a "once upon a time" narration that seems to have come straight out of a fairy tale. The narrator explains that the yen has become the most powerful currency in the world (not a very far-fetched scenario). So powerful, in fact, that people from all over the world have gone to Japan to work for the yen, hoping to earn a fortune and return home rich. The influx of immigrants became so large that Japan would come to be called "Yentown." However, the Japanese hated that title so much that the foreigners who fill up "Yentown" would be named "Yentown" as well. This introduction sets up a grand futuristic "Yentown" epic by Shunji Iwai, whose only previous feature film at the time was the equally magical
Love Letter
. Taking a considerably different approach,
Swallowtail
is a dark, gritty, violent fantasy that is nothing short of amazing filmmaking.
The film opens with the discovery of a dead Chinese prostitute, and we soon realize that the narrator is the prostitute's nameless daughter. With all her mother's money stolen by her Chinese colleagues, the girl is passed from one caretaker to another within the Yentown ghetto until she encounters Glico (played by pop star Chara, also the wife of Tadanobu Asano), another Chinese prostitute with a heart of gold and a hell of a singing voice. Too nice to sell the girl off to a similar sordid lifestyle, Glico not only gives her a name (Ageha), she also sends her to work at a second-hand shop, run by Fei Hung (Hiroshi Mikami) and a merry band of fellow Yentowns.
Ageha soon learns the reality of being a Yentown with Fei Hung, as the two spend their days digging through junkyards and popping the tires of passing cars. However, everything changes when Glico encounters a particularly rough client, and a fellow Yentown named Arrow accidentally punches him out the window, followed by a fairly unpleasant crush by a passing truck. Upon burying the dead client, Fei Hung's crew finds a cassette tape containing Frank Sinatra's "My Way" inside his stomach. Little do they know that not only would the tape become their key out of Yentown, it would also put them into a deadly confrontation with Yentown's deadliest gangster, Rio Ranki (Yosuke Eguchi).
Swallowtail
's brilliance lies in the fact that it defies description; it is a coming-of-age story for Ageha, a rise-and-fall musical epic for Glico and Fei Hung, a gangster thriller for Rio Ranki, a social realist film on the consumerist culture of Japan, and a futuristic fantasy all rolled into one. Even the languages of the film are blurred, with no less than three languages (Japanese, English, and Mandarin Chinese) being used at the same time. While this may disorient some in the beginning (just as Iwai had intended), it never becomes grating nor simply a gimmick. The confusion of languages is necessary in order to portray the type of melting pot Yentown is. From Caucasian characters that speak no English ("Thanks to the Japanese education system, I cannot speak a word of English!" he says in fluent Japanese.) to characters that speak three languages in one sentence, Iwai not only aims to satirize contemporary Japanese culture's disdain of foreigners (although not necessarily foreign culture), but also present a reality of the oft-ignored ethnic minorities. It's an ambitious motif, but in the multi-layered world of
Swallowtail
, it's only one small detail.
Iwai films tend to focus on characters, and despite its dense plot,
Swallowtail
is no exception. Adapting his own novel, Iwai has concocted a colorful cast of characters, supported by brilliant performances all around, even when they spend most of the film speaking their non-native languages. Chara is magical as she transforms from a kindhearted prostitute who just likes to sing into a pop diva with a hidden past; Hiroshi Mikami is incredible as the bumbling opportunist Fei Hung who remains defiant through his tragic end; and Ayumi Ito as Ageha is the soul of the film, as her growth process from a confused orphan to a powerful boss of the Yentown juvenile delinquents proves to be the best arc of
Swallowtail
. Even supporting characters get their moments in the spotlights. Sheik Mahmud-Bey has a memorable scene as Arrow the ex-boxer/protector, veteran actor Mickey Curtis steals the spotlight in an extended sequence as a doctor/tattoo artist, and Hong Kong pop star Andy Hui gets to show off his wild side as triad "cold-face killer" Mao Foo. It's rare that such as wide ensemble of actors can manage to all give great performances, and
Swallowtail
happens to be that instance.
Despite its fantasy plotting,
Iwai
, with his usual cinematographer Noboru Shinoda, shoots the film in
cinema verité
style, often using multiple handheld cameras for one scene. This creates a down-to-earth futuristic world where it's not changes in technology, but societal changes that are emphasized. However, Shinoda also sticks to the plot's fable roots by importing Iwai's signature look, using soft lighting as a contrast to Yentown's rough surroundings. The result is a beautiful rendered piece of visual filmmaking that makes every frame of
Swallowtail
stunning to look at.
If there is any weakness to
Swallowtail
, it would be Iwai's penchant for details. At 148 minutes,
Swallowtail
goes through a rough start, and the film does drag slightly as it approaches the climax, an extended tour through the drug-filled slums being one such sequence where the pace lags. But for the most part, Iwai, as his own editor, injects each scene with just enough of everything that it finds its pacing early on and sticks to it until the very end. Injecting a heavy dose of the usual Iwai quirky humor, including a healthy serving of dark humor during the climax in the form of several violent shootouts, Iwai still manages to comfortably juggle multiple subplots and even ties them all back together in the end. If you're looking for a definition for "brilliant filmmaking," this is it.
After my first viewing of
Swallowtail
on an old Hong Kong VCD, I sat in silence through the end credits, stunned by what I had seen. There are very few films where one viewing would be enough for it to become one of my favorites. In the case of
Swallowtail
, it only took 148 minutes for me to become a full-fledged Iwai fan. If a lesser director had directed
Swallowtail
, it would've been an intriguing mess, but luckily Shunji Iwai not only managed to devise a wild ride through the gritty wasteland that is Yentown, but he also managed to construct an emotionally affecting and visually astonishing piece of cinema that would elevate his status as the premier filmmaker of his generation. Even though
Swallowtail
was met with critical and commercial success at the time of its release in 1996, and has since become required viewing for film classes in Asia, it's baffling that it hasn't gotten much of a reputation in the West. Its multi-ethnic settings can easily translate into a Hollywood film. Then again, if
Swallowtail
were remade by Hollywood, it just wouldn't be as good. -
Kevin Ma