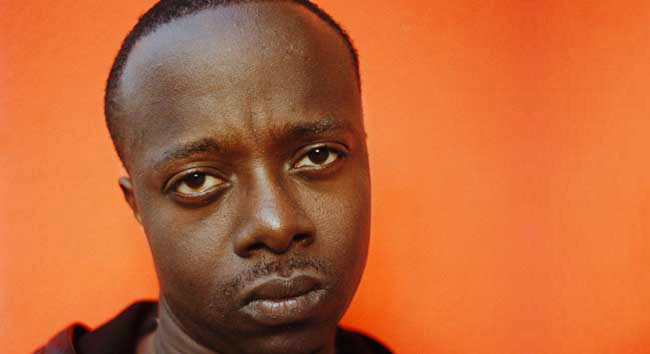 Zvukovni noževi režu maslac eksplozije po prljavim ulicama iz kojih raste novi metalni dan.
The grime progenitor readies the follow-up to 2010′s Undeniable.
Terror Danjah, the producer whose smirking gremlin effect is a clarion call for the grime underground, is readying his second album. The
Dark Crawler
LP is due out September 25 on Kode9′s label, with an EP of the same name out on July 31. The EP will include the title track, a vocal version by Riko Dan and instrumental 'Fruit Punch.' Producers Champion, Lex Envy, and DOK, along with vocalists Meleka and Ruby Lee Ryder, contributed to
Dark Crawler
.
Terror Danjah,
Acid / Pro Plus
Hyperdub has long been a fan of grime don Terror Danjah's razor sharp productions, his unparalleled, skittering rhythm science, deadly riffs, brilliant technicolour synth squiggles, gremlin cackle signature and general ear for a catchy tune. On this first EP for the label, he showcase two strains of his many skills. 'Acid' cranks up the energy, with an ascending synth crashing into stuttering drums and synths. They play hide and seek with each other for a bit, before the track unexpectedly breaks into a 4 / 4 house rhythm, and then shatters into pieces again. On the flipside, 'Pro Plus', Terror is joined by long time collaborator DOK for a slice of their classic sound - an infectious, twisted sickly sweet synth melody wrapped around syncopated, stop start drums to mean effect.
Hyperdub give a nod of respect to one of the UKs most influential underground producers with two firin' tracks from Terror Danjah and DOK. If you've been paying attention to the sets of Scratcha, Butterz or Kode 9 in the last few months you've no doubt clocked the searing heat of 'Acid'. It's got to be one Danjah's hardest cuts to date, giving a firm nod to '92 'ardkore with Belgian mentasms and stupendous stop/start rhythmic force that makes a clear case for the 'nuum genetics of Steve Gurley and co being carried through to Grime's lurching rhythmic swagger. When the sprightly Berlin/Detroit chords kick in for a brief 4/4 session, you know this guy is at the top of his game, dispensing dancefloor memes like some rudeboy rave renaissance man. Together with DOK on the flipside the pair concoct a peculiarly UK brand of tropical swing, using juicily saturated technicolor synths and that indefinably rude sense of timing to craft a riddim that should surely hold up as one of the labels finest in 2010. Scandalously large-and-in-charge tunes. Essential! - Boomkat
Download a Free Album From Terror Danjah
London grime producer and Planet Mu/Butterz/Hyperdub acolyte
Terror Danjah
may not be as widely known as, say, Wiley, but he's certainly just as generous. Just as the eccentric Eskiboy hooked up a load of his music for
free download via Twitter
, Danjah
delivered a link
to download a supposedly brand-new album on his Twitter profile. The free record, entitled
Shock to the System
, follows three releases the prolific producer dropped this year: the
Acid/Pro Plus
12" for Hyperdub, the
Bipolar
EP on Butterz, and the
Power Grid
EP that dropped July 12 on Planet Mu. Snag the latest from Terror Danjah
here
.
Download Another Terror Danjah Album!
Terror Danjah is back at it again, kicking off August with another free release. It's hardly been a week since
Shock to the System
was released, and now the legendary grime MC has lined up
Hardstrumentals
, featuring 29 instrumental tracks from his unreleased repertoire. Grab it for free
here
! (via
Butterz
)
For its best producers, grime was always more than just a backing track for angry throats to lock barked bars into. With the rise of Bristol's 'purple' crew and early instrumentals now flooding the web, the sound's hyped, limber clatter has shown its dancefloor worth, and despite the presence here of MCs like
D Double E
and
Bruza
, '
Undeniable
' is at its best when voiceless. So clearly the work of an originator (
Terror Danjah
's influence on UK bass music has been growing since 2001), '
Undeniable
' is an album whose sullen, dark ?spaces are lit by vivid synths tapering like signal flares, highlight '
SOS
' wincing with rave-land Morse code.-
Kev Kharas
Terror Danjah interviewed by Kode9
With his latest Hyperdub single just released, Terror Danjah will drop his first album for Hyperdub entitled 'Undeniable' in November. Kode9 caught up with the East London producer to see what he's been up to.
HDBCD007
Terror Danjah - Undeniable
1. Grand Opening ft Dream Mclean
2. Acid
3. This Year (Pro Plus) ft D.O.K, Mz Bratt & Griminal
4. Bruzin V.I.P
5. S.O.S
6. I'm Feelin U
7. Minimal Dub
8. Breaking Bad ft Baby Face Jay
9. Sonar (Selassi Mix)
10. Undeniable ft D Double E (of Newham Generals)
11. Leave Me Alone ft Bruza
12. All I Wanna Do ft Lauren Mason
13. Time To Let Go
14. Story Ending
9: Apart from the Mu compilation last year, you've had relatively quiet few years on the music front compared with say 5 years ago. What have you been up to?
TD: To the public, it seem like I was quiet, but I was behind the scenes working on alot of projects for my label at the time Aftershock. My output was crazy back then, I was engineering 25 plus artists on the label which involved recording, mixing and even mixing down all the other producers on the label tracks (D.O.K, Magnum Force, Big-E-D etc)! I had Bruza, Tinie Tempah, Mz Bratt, Gemma Fox, Sadie Ama, Shola Ama, Elrae, Loudmouth Melvin to name a few lol, but over the years the hype died down and the business model had changed and the music became more about the artist and less about the producers.
Selling music changed from Vinyl to CD's and more recently MP3, and it was hard for Grime producers to sell vinyl when artist mixtapes where popular in 2006/07. So I guess that's the main reason why I went quiet!!!
9: Whats you're feeling about grime these days?
TD: It's actually weird, on one hand the artist have gone from Mixtape artists to Popstars, don't get me wrong, that's great and on the other hand Grime producers are making more mellow Hip hop'ish sounding beats to get on MC's mixtapes or commercial albums, again that's great for the money, but everyone not balancing it out for making Grime music for what if is, CLUB MUSIC!!! So basically the major labels are actually have major influence on Grime. I thought Grime was underground music. I tweeted last year 'Rise Of The Producers' and with talks with Elijah from Butterz, were started deejaying Grime music from new producers and i encouraged the other Grime producers to start deejaying just like it's done in Dubstep. That's why I approached yourself (Kode 9) at Hyperdub because there will be no limitation on me to sell records!!!
9: The album is pretty diverse, and showcases quite a few different styles? Is this what you intended at the outset?
TD: Yeah definitely, I want to show the world how diverse I am and i believe Hyperdub would be the place because their track record and cult following, especially the interested Burial achieved. I don't think I could done this album on another label especially they way yourself (Kode 9) pushed me to be more creative.
9: Almost half the album is vocals. Can you tell us about the vocal tracks on the album and how they came about?
TD: I did try to only have a only a few, but as time went on it became half the album. I don't wanna spoil the storyline of each vocal track, but every artist is perfectly suited to the canvas I provided for them. I wanted to push the artists to their limits like you never heard before. Some you may know like D Double E, Bruza, Mz Bratt, Griminal, Ragga Twins, Mc Skibadde, Shabba D etc and newcomer Dream Mclean and Lauren Mason (she's the real Duffy lol).
I have no idea, seriously. I just make them, and the in process I decided if it's gonna end up as full vocal, vocal sample or instrumental track. what ever the vibe or how the mood takes me!
9: You've also got a beatless version of one of your older tracks from the Aftershock days. How come it never came out?
TD: Then wasn't the time, I think it was always intended for it to come out, but this album is perfect for it (and no, I haven't mention the tune, you have to get the album to relate loooool).