Kultni n

jemačko-engleski avant-rock bend iz '80-ih

/

ranih '90-ih. Semantički fašizam kulturnog otpada, ritmičk

i komunizam,

speed-punk, industrijski jazz, preuzete snimke (Mussolini, Hitler...), književni semplovi (Pynchon). Diktator povijesti zaključan u radio-postaji

.
Rasadnik budućih veličina

(

Alfred Harth,
Heiner Goebbels).
CASSIBER - The Way it Was

These are great recordings that paint the best – and most devil-take-the-hindmost – picture of this extraordinary, groundbreaking band. The sound is exemplary and the music constantly thinks around corners. Plus you have all the complexity and serendipity of live interaction and spontaneous rearrangement; you can hear the band is having a good time, even when some of the sounds seem to come out of nowhere. It's a radical programme, all the more so for its shifts between organised noise, rhythmical intensity, lyricism, cultural debris and semantic complexity. OK I'm biased, but when I finished putting this together it was like finishing a new Cassiber CD and, arguably, the best of them. You really get a picture of what the group was made of. There's also the pleasure of guests Dietmar Diesner and Rene Lussier on two tracks. This release will be included in the Cassiber Box, which is almost there but probably won't be ready before the end of the year. All new and current subscribers to the box will get this CD now. But if you buy the CD alone, you'll still be able to get the box without it, a little cheaper, later.

Tale of a Dictator

Cassiber

In 1988, an avant garde group called Cassiber (German composer and music-theatre director Heiner Goebbels, Christoph Anders, and British percussionist Chris Cutler) wrote and recorded 'A Face We All Know', a CD which was released in 1989.
According to Chris Cutler, "the CD embodies an implied narrative, could be a sleep deprived dictator, maybe locked in a radio station, partly remembering, partly hallucinating while the old order goes down in flames outside. The Pynchon focused this -- effectively speaking for 'the outside'. (I can't tell you how reluctant I am even to write this. I hate to limit a work - please take this merely as a possible orientation). It was realized in 1988 in East Berlin, before the epochal changes of 89 - a curious mingling of fiction and fact. The title of course is from one of the Thomas Pynchon extracts, and is a narrative indication." Chris Cutler also writes: "I wrote 'A Face' (the narrative idea and my text) in Newfoundland in, I think, 1987, two years before the East block crumbled. Heiner and Christoph proposed incorporating the Pynchon texts. About the way the CD was conceived and created, Cutler states that it began "with no thought of Pynchon I'm afraid. Heiner and Christoph proposed the use of the Gravity's Rainbow extracts half way through the composition process. So, it can't really be said that that the CD was inspired by or was in any way a reaction to Gravity's Rainbow or Thomas Pynchon, though the Pynchon text is indispensable to it in its final form. We cleared the use of the texts, of course, and sent a copy of the finished work to Pynchon's agent."
Heiner Goebbels writes: "we (a three musician art-rock group called Cassiber (1982-1992), with the British drummer Chris Cutler, Christoph Anders and me) made up a number of songs for the album "A Face We All Know," using texts taken from Gravity's Rainbow - especially from its very beginning and very end; songs like "A Screaming Comes Across the Sky," "Under Archways," "They Began to Move," "Start the Show," etc. The CD came out in 89, and the most surprising fact about it was for me, that -- not knowing who the author was or where he author lived, but still in tune with a lot of mysterious information about him, I got the license to use his words within a day or two by fax, through his New York publisher."

Texts by Chris Cutler (1-5, 11-17) and Thomas Pynchon (7-10, 14), except 6 by Christoph Anders and German texts (8, 12, 14) by Rainald Goetz.
I.
This was the way it was. I don't remember. I took notes. We knew nothing. People came and went. One night we were watching that - the programme about the idiot who loses everything...
It was 2 'O clock in the morning. I'd drunk too much and fallen asleep in a chair. I woke in a panic. the TV was howling. My mouth was dry. I was burning up. I was burning. We were going into a tunnel we would never come out of. I knew. It was the end.

I thought I'd gone crazy. All the Old Gods had come back. As big as houses. I was twelve. All I remember is the stink: Ambrosia, sour on their breath like rancid milk. But I learned their secret: they vomited their own space.
I remember everything. I see it all before my eyes. Even the words. In letters that roll like credits when a film is over. They float in front of me. When I close my eyes I see what I think. And the words. In terrible colours.

Chris Cutler.
II.

The rhythmic clapping resonates inside these walls, which are hard and glossy as coal: Come-on! Start-the-show!
Come-on! Start-the-show! The screen is a dim page spread before us, white and silent. The film has broken, or a projector bulb has burned out ... The last image was too immediate for any eye to register ... And in the darkening and awful expanse of screen something has kept on, a film we have not learned to see ... it is now a closeup of the face, a face we all know. (p. 760)

A screaming comes across the sky. It has happened before, but there is nothing to compare it to now. It is too but it's all theatre. There are no lights inside the cars. No light anywhere. Above him lift girders .... and glass somewhere far above that would let the light of the day through. But it's night. He's afraid of the way the glass will fall - soon - it will be spectacle: down in total blackout, without one glint of light, only great invisible crashing. (p. 3)
They go in under archways, secret entrances of rotten concrete that only looked like loops of an underpass ... and it is poorer the deeper they go ... ruinous secret cities of poor, places whose names he has never heard ... the walls break down, the roofs get fewer and so do the chances for light. The road ... more broken, cornering tighter and tighter until all at once, much too soon, they are under the final arch: brakes grab and spring terribly... (p. 3)
They have begun to move. They pass In line, out of the main station, out of downtown, and start pushing into older and more desolate parts of the city. Is this the way out ? Faces turn to the windows, but no one dares ask, not out loud. Rain comes down. (p. 3)
Thomas Pynchon (Page references are to the 1973 Viking/ Penguin edition of Gravity's Rainbow)


III.


"This was the way it was. I don't remember. I took notes.
We knew nothing. People came and went. One night we
were watching that - the programme about the idiot who
loses everything....
It was 2 'O clock in the morning. I'd drunk too much and
fallen asleep in a chair. I woke in a panic. The TV was
howling. My mouth was dry. I was burning up. I was
burning. We were going into a tunnel we would never come
out of. I knew. It was the end.
I thought I'd gone crazy. All the old Gods had come back.
As big as houses. I was twelve. All I remember is the stink.
Ambrosia, sour on their breath like rancid milk. But I
learned their secret: they vomited their own space.
I remember everything. I see it all before my eyes. Even
the words. In letters that roll like credits when a film is
over. They float in front of me. When I close my eyes I see
what I think. And the words. In terrible colours.
Time gets faster as we get better at it. At the end we can
jump right into the middle. Then we go.....somewhere
else. And then …. what ?
It's never quiet. I went away. I went as far as I could. I
couldn't believe it. It was worse than the traffic, worse
than the chatter, worse than anything: crash, crash,
crash, crash, crash - my own blood crashing in my veins.
It's all too expensive. It all costs too much. I won't pay, I
can't pay.
You want to know my philosophy, my hopes and fears, my
outlook on life ? I was there once. You can see it all there.
I was old when I was young. I was robbed. I was cheated. O
yes, they loved my book. Everybody read it. I was right
after all. But I stopped caring when nothing resisted any
more. Now I keep awake with pills and injections
because....lf I sleep...we have to be on our guard...and
sleep, I have always known this, is alien - dangerous.
A little father. A little farther.
After the dark, the light. Everybody knows that."
(Chris Cutler, Newfoundland, 1987)






CASSIBER
A Face We All Know

Chritoph Anders: singing, sampling keyboard, guitar
Chris Cutler: drums, electrics, voice
Heiner Goebbels: keyboards, sampling, Guitar on 16, bass, computerwork

Music by Heiner Goebbels and Chritoph Anders, except 6 by Rene Lussier and 7 by Chritoph Anders. Arangements by Cassiber.

Engineered by George Morawietz, assisted by Uwe Zeigenhagen. Special thanks to Georg Katzner.
| | | |
| --- | --- | --- |
| 1 | This was the way it was | 10:52 |
| 2 | Remember | 2:52 |
| 3 | Old Gods | 0:27 |
| 4 | 2 'o clock in the morning | 2:37 |
| 5 | Philosophy (1) | 0:07 |
| 6 | Gut | 3:46 |
| 7 | Start the show | 3:03 |
| 8 | A screaming comes across the sky | 3:12 |
| 9 | They go in under archways | 4:12 |
| 10 | They have begun to move | 3:33 |
| 11 | Time gets faster | 0:28 |
| 12 | It's never quiet | 2:25 |
| 13 | Philosophy (2) | 0:05 |
| 14 | A screaming holds | 1:57 |
| 15 | Philosophy (3) | 0:32 |
| 16 | I was old | 3:54 |
| 17 | The way it was | 5:06 |
| 18 | To move | 2:54 |
| | total playing time: | 42:03 |



www.cuneiformrecords.com;



Contacts/Discographies/Samples


Chris Cutler www.ccutler.com;
Heiner Goebbels www.heinergoebbels.com;
Information about Cassiber was first brought to our attention by Sanjay Kumar, who said: "I played keyboards in a couple of bands called Utotem and 5uu's, whose music is in a similar vein [to Cassiber's], although without the improvisation. In fact, I recall meeting Heiner Goebbels in Frankfurt, Germany, in 1990 at an art rock festival where Utotem gave its first European performance."
Samples of Sanjay's music can be found at:
www.bdrak.com/sounds/ht.htm;
www.bdrak.com/sounds/cri.htm;
www.cuneiformrecords.com/bandshtm/fiveuu.html;
www.cuneiformrecords.com/bandshtm/utotem.html;
-
www.themodernword.com/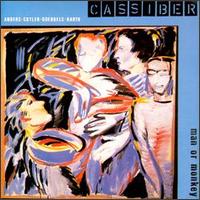 Man Or Monkey (1982)
Man or Monkey
was
Cassiber
's first album. It was released in 1982 on the German label Riskant as a set of two 45 rpm LPs -- a format that turned it into a pricy collector's item. For this first effort,
Christoph Anders
,
Chris Cutler
,
Heiner Goebbels
, and
Alfred 23 Harth
entered the studio with only a handful of the drummer's lyrics and a few melodic ideas. They improvised, letting structures and arrangements develop by themselves, so to speak, and singer Anders threw in a text when he felt it appropriate. Even on the ReR Megacorp CD reissue, the structure of the four-sided LP remains strongly detectable. Side A presents three short improvised songs. Lyrics are more declamated than sung and the musical flooring is loosely rhythmical but very intense ("Red Shadow" is a highlight). Side B focuses on more prepared songs and Anders' singing. The festive music of "Our Colourful Culture" creates a disgusting contrast with the somber lyrics ("I came from the country/Arriba! Arriba!/They were killing my family/Ha ha ha ha"). "O Cure Me" sets the lyrics from one of Bach's cantatas against a delicate keyboard motif and thunderous clashes of noise. Both of these pieces would remain in the group's live sets until the end ten years later. Side C contains the 16-minute free improvisation "Man or Monkey." It has interesting moments but never really lifts up -- a failed attempt for the most part. Side D contains nice percussion work.
Man or Monkey
is miles away from the conciseness and strength of A Face We All Know, but it already shows all the ingredients for the maturation of this seminal avant rock group.
-
allmusic.com
After their Belgian adventures with Aksak Maboul and the Honeymoon Killers, the ex-Henry Cow duo of Frith and Cutler parted ways and the drummer headed eastbound to Germany and wound up in Cassiber, while Frith pulled in a stunning Massacre album in New York.
The idea behind this record was to enter the studio with only a handful ofv text and lyrics ready and it was up to singer's Ander's discretion or needs to use them, with only one set of lyrics being adapted to an already-established music, the Carribean-laced Colourful Culture, which happens to be one of the better tracks on the album along with Red Shadow. A good deal of tracks are pure free-jazz improves, most of which can be quite indigestible (Gangelangen or the title track). Sticking out a bit awkwardly is a Bach adaptation (O Cure Me) which can sound like some Kraftwerk with added improvised violin and sax lines, but this a real welcome sweetie after some real inaccessible tracks. While you can see where Cassiber is heading in tracks like Django (as in Reinhardt if you judge Frith's guitars completely imbedded in other instruments), it is still quite difficult to grasp how the musicians could actually be really satisfied with some of those takes. Another fairly accessible track is the second last Verungreiningun track where Cutler's drumming takes the show, but he is well assisted by bassist and keyboardist Goebbels .
Since I discovered their respective paths in the early 90's (some 10 years after the releases of these albums), I always wondered if FF and CC were not in competition to make or participate in the weirdest and most obtuse albums. It would appear to me that in regard with Frith's massacre album, Cutler's Cassiber won this round easily. -
Sean Trane
Cassiber's debut offering was an odd affair in more ways than one. It was originally released as two 45 rpm 12" discs, with each side of the album having a playing time of 12 - 16 minutes. Was it a double mini album, a double ep or what? Once you got past the unconventional format the music itself was unusual even by RIO standards; Chris Cutler had never played with the other 3 musicians before, and the idea was to improvise songs and compositions - only the lyrics (by Cutler) were written before the recording began. The results were often dazzling, although Cassiber would go on to achieve greater things.The instrumentation on this occasion was largely acoustic and relatively conventional; guitar/vocal, piano/violin, sax/trombone and drums with only occasional bursts of the electronics which would be a more prominent feature of their later albums. Tracks 1 - 6, which took up disc 1, are relatively accessible and feature most of the album's vocals. Christoph Anders does not sing the lyrics so much as declaim them, and in some cases it sounds like he's reading them aloud for the first time, although somehow this fits quite nicely with the general aesthetic of the music. As Sean Trane mentioned in his review the stand out is probably Our Colourful Culture, which was set to music which had already been composed. It tears along at a frantic pace and is oddly reminiscent of some of Robert Wyatt's more uptempo numbers - perhaps it's the jazzy piano and feverish drumming. The second half of the album is mostly instrumental (none of Cutler's lyrics are used) and moves deep into the free improvisation side of RIO that Henry Cow and Zammla Mammaz Manna explored a few years previously. These pieces are sometimes hard work, especially the 16 minute title track, but there are moments which make it worth persevering with, especially Django vergibt and Die Verunreinigung des Flusses ist gerade noch ertraeglich which were on side 4 of the vinyl original; Die Verunreinigung... in particular features some wonderfully expressive sax from Harth.
Man or Monkey ultimately promises a little more than it actually delivers, but even without the dense and difficult title track there is still a vinyl album's worth of good and occasionally inspired 80s RIO with some superb playing. The unorthodox, improvisation based approach was always going to be risky, and it's a testimony to the skill of all concerned that so much of the resulting music worked so well. Good, but non essential - newcomers would be better advised to start with Beauty & the Beast.
-
Syzygy
---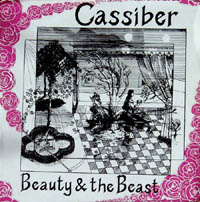 Beauty and the Beast (1984)
---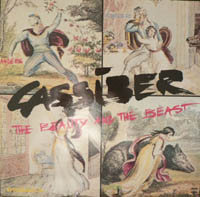 Beauty and the Beast (Riskant label LP)

---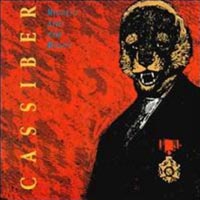 Beauty and the Beast (CD)
Beauty and the Beast
, the second LP by
Cassiber
, was released in 1984 simultaneously on the British label Recommended and the German Riskant with a small difference in contents -- the ReR Megacorp CD reissue includes all tracks from both LP versions. This album represents a giant leap from the group's 1982 debut,
Man or Monkey
. Yet, the same technique was used: No songs were written in advance. Drummer
Chris Cutler
had written lyrics to be used when considered suitable by singer
Christoph Anders
and some pieces had evolved from live improvisations. Everything else was improvised on the spot. On the first album, this process had resulted in a few unconvincing numbers, especially the 16-minute title improv. There is no such thing here, as the band had developed a stunning talent to instantly compose songs with structure and melody. There is more soul, more power, and less clank on this set of pieces. Eisler's "Und Ich Werde Nicht Mehr Sehen" and Rogers' "At Last I Am Free" spontaneously arose from the studio improvisations (all musicians knew them). Highlights include the opening "Six Rays," "Vengeance Is Dancing,"
Alfred 23 Harth
's beautiful saxophone playing on "At Last I Am Free," and, for the first-hour fans, the return of the text from Bach's cantata "Ach Herr, Mich Armen Sunder," this time in German and with a variation on the keyboard motif that graced its first appearance in English as "O Cure Me" on
Man or Monkey
-- a nice treat.
allmusic.com
Cassiber's debut album was originally intended to be a one-off, but shortly after its release they were invited to play at the Frankfurt Jazz Festival and further live work followed. A couple of years after Man or Monkey they recorded Beauty and the Beast, which was created using the same methodology as before - improvised composition - but their experience as a performing band had made a difference to their music; on this occasion there was a greater sense of coherence both within the individual pieces and across the album as a whole.
As on their previous outing the album featured a mixture of instrumental and vocal tracks, although on this occasion Chris Cutler's texts were not used as extensively as before. The use of electronics was also more prominent this time around, with cassette recorded voices woven into the fabric of several tracks. Robert, the second track, features a brief snippet of Captain Beefheart reciting The Dust Blows Forward, while elsewhere the vocals seem to have been recorded from German news broadcasts, and for the most part this technique is very effective; on later albums Cassiber would use samplers and electronics even more prominently. Two cover versions are included: Und Ich Werde Nicht Mehr Sehen is a Hans Eisler piece, while At Last I Am Free is a song by Chic that was also covered by Robert Wyatt on Nothing Can Stop Us. At Last I Am Free is one of the album's highlights and manages to be faithful to the spirit of the original but also has the same uncompromising RIO sound as the rest of the album. The more 'free' improvisations veer into some decidedly abstract territory, but the album is sequenced so that they are contrasted with more accessible pieces and many of the tracks segue into each other, creating a constantly shifting mood. There are also moments of real beauty, particularly from Goebell's piano and Harth's saxophone, although any lyrical passages are brief and there is usually something loud, discordant or disturbing to provide contrast.
Beauty & the Beast is an uncompromising piece of work, but it has stood the test of time rather better than Man or Monkey. It's interesting to compare it with Skeleton Crew's debut album, which was released at around the same time and which also made extensive use of taped vocals. Both are very much products of their time, RIO meeting post punk experimentalism, and both see former members of Henry Cow engaging with new developments in music and remaining progressive in the truest sense of the word. If you like one, you'll probably like the other; Beauty & the Beast can be recommended to anybody who likes 80s avant rock and indeed to anybody inclined to try something adventurous for a change.
-Syzygy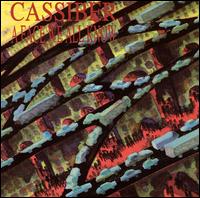 A Face We All Know (1988)
This album, the last studio album from this group, is their most complex. For their first two albums (
Man or Monkey
and
Beauty and the Beast
), they entered the studio with prepared texts and improvised the music. On their third album,
Perfect Worlds
, they preconceived the pieces ahead of time and did the final arrangements in the studio. Here, not just the pieces, but the album's "plot" and some of the texts were written by
Chris Cutler
in the summer of 1988, six months prior to recording and two years before the final mix was complete. The length of gestation and the attention to detail show in the finished product. There is a great deal more overdubbing and sampling than in any previous album, especially in the voices.
Christoph Anders
' voice is perhaps an acquired taste, as he passionately declaims texts by
Cutler
, American novelist Thomas Pynchon, and German playwright Rainald Goetz, but his delivery is unique, and ultimately gripping.
Cutler
also recites some of his own texts, and the voices are layered in many places to the point of unintelligibility. Goetz's texts in German are another difference from their previous work, where all texts have been in English. The tracks here are divided into three long pieces, two related suites sandwiching a third with texts taken from Thomas Pynchon's great novel Gravity's Rainbow. Themes and texts recur in the first and third parts, providing a unity that makes this the group's most powerful album. -
allmusic.com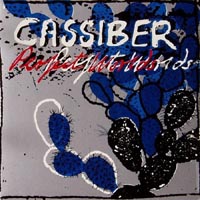 Perfect Worlds (1992 LP)
Cassiber
's second album moves one step ahead in the refinement of the group's music. From
Man or Monkey
, the trio (
Christoph Anders
,
Chris Cutler
, and
Heiner Goebbels
;
Alfred 23 Harth
had bid farewell) retained clashes of noise, a taste for cheap synthesizers, and
Anders
' declamatory style. But this time the music is much more organized and arranged. Songs are short and focus on atmospheres and the alienating settings of
Cutler
's words. More political than before, they take their cue from the previous album's "Our Colourful Culture," or so it seems. They have for subject war, the oppressed, and those who speculate on misery. "Crusoe's Landing" uses an excerpt from Daniel Defoe's novel, a well-chosen page which, put in the context of this album, says a lot about human nature. Although structured, the music only occasionally takes the form of song. The opener "Dust and Ashes" stands as a rare Rock in Opposition outburst ("Orphee's Mirror" provides another). Highlights include "Miracolo" ("Where meat is better/Treated than/The poor who/Can't afford to/Eat it");
Anders
' cry, "I ache," in "Prometheus"; and the haunting, sampler-led "Orphee's Mirror."
Perfect Worlds
is short -- only 33 minutes in duration -- but it wastes not a second and offers new things to discover in its depths with each listen.
- allmusic.com
This is a strange album ... I listened to it a lot more than ten years ago and had completely forgotten about it, and today I noticed that Cassiber are listed here.
Well, the whole album is telling a more or less coherent story, on the borderline between spoken words (partially German) with sound effects and music. It is done in a very artsy way, very avant-garde ... it reminds me of obscure Zappa tracks like "you call this music?", which are really probing how much tolerance the audience has.
Let me quote Kevin Gilbert: "Fuck 'em all, this is art". This is a really great - yet quite short - sound collage, recommended to fans of Henry Cow, Frank Zappa and anyone with a high tolerance level ...
-
MikeEnRegalia
As Far all output of Cassiber is exceptional, this one is my personal favorite. Ugly Beauty of Music and absolutely demented lyrics about isolation , anxiety of Human Race in whole makes this jam one take breathing. This is first album without participating of Alfred Harth. Pity such great talent leave project, but some advantages thankfully appeared. Last three pals were obligated to reinvent upproach and sound is overtly stripped down more concentrated on the story. The most outstanding tracks are In A Room with absurdist lyrics in the vein of late Samuel Beckett and of course last powerful anthem I Try To Reach You, wich become permanent closer in Cassiber concerts. Anyway it is one of kind outing deserving 6 or 7 stars in PA system comparable to mostly average music presented here.
- Universs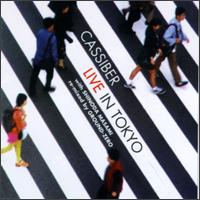 Live in Tokyo (Recorded 1992, Released 1998)
For the two-CD set Live in Tokyo,
Chris Cutler
's record label ReR Megacorp put together an interesting farewell concept. Disc one presents a concert by Cassiber recorded in Tokyo on October 23, 1992. It was the trio's first and only visit to the Land of the Rising Sun and turned out to be one of its last performances; after a couple more shows, two months later, the group put an end to its 10-year existence. For this evening,
Christoph Anders
(vocals, sampler),
Heiner Goebbels
(keyboards, sampler) and Cutler (drums) had invited saxophonist
Shinoda Masami
to join them -- he died a few weeks later. On disc two,
Otomo Yoshihide
sampled, treated, added, remixed, and recomposed the tapes of the show with the help of his usual Ground-Zero colleagues, plus members of Hoahio. He decided to release the project under the name Ground-Zero, thus making it the final completed album (chronologically) from this seminal avant-garde group. As necrological as it may sound, Live in Tokyo is very alive. The Cassiber performance captures the group in peak form. Most of the material comes from their last studio album A Face We All Know, but also includes forays in their three previous titles. Masami's contribution on the Bach-derived "O Cure Me" and "Our Colourful Culture" matches Arthur 23 Harth's original recordings on
Man or Monkey
. The Ground-Zero disc pushes the same sound material into a different direction, surprisingly ambient on "Across the Sky #1." Here the music hints more at Yoshihide's future projects (like I.S.O.) than at Cassiber's repertoire. "O Cure Me," "Gut," and the first half of "Across the Sky #3" feature more recognizable segments of the concert, while the latter's second half turns into one last typical Ground-Zero jam. Fans of either groups will want this document. -
allmusic.com
Cassiber
were a
German
avant-rock
group
founded in 1982 by German composer and saxophonist
Alfred Harth
, German composer, music-theatre director and keyboardist
Heiner Goebbels
,
English
drummer
Chris Cutler
from
Henry Cow
and German guitarist
Christoph Anders
. They recorded five albums, toured extensively across
Europe
,
Asia
and
North America
, and disbanded in 1992.
Cassiber's music was a blend of
speed-punk
,
free jazz
and
sampling
which incorporated
found sounds
and news broadcasts. They were best known for the "frantic intensity" of their live performances. A
Time Out
critic wrote, "Cassiber play as if they only have a minute left to live." They were also noted for their style of playing, which was to "improvise 'completed pieces'".
Chris Cutler
first met
Heiner Goebbels
,
Alfred Harth
and
Christoph Anders
in 1977 through the
So-Called Left-Radical Brass Band
. In 1979 Anders and Harth had a
punk
band in
Frankfurt am Main
. Leading from this experience, in 1980 Harth produced the LP
Es herrscht Uhu im Land
on
JAPO Records
/
ECM
that included Anders and Goebbels and others with the idea of integrating punk rock,
free jazz
and
classical music
. This work triggered the wish within the
Duo Goebbels/Harth
to form a smaller group with a similar concept. Harth asked Anders and Cutler to join the Duo Goebbels/Harth and gave that new group the name "Kassiber", which was later changed by Anders to "Cassiber". In 1982, Cutler, Goebbels, Harth and Anders met at
Etienne Conod
's Sunrise Studio in
Switzerland
to record an album. Their approach was to "improvise 'completed pieces'", that is "to attempt spontaneously to produce already structured and arranged material". The result was a double LP
Man or Monkey
, which was well received in Germany and led to an invitation to perform at the 1982 Frankfurt Jazz Festival.
For the next ten years Cassiber toured
Asia
and
North America
and appeared at almost every major festival in
Europe
. Their live performances generally consisted of new pieces invented in real time, plus pieces from their albums played spontaneously without having learnt or rehearsed them. In May 1983 Cassiber (minus Anders) joined
Duck and Cover
, a group that Burkhard Hennen had asked Harth to put together for the
Moers Festival
as well as a later commission from the
Berlin Jazz Festival
, for a performance in
West Berlin
in October 1983, followed by another in February 1984 in
East Berlin
. In July 1983 Cassiber (again minus Anders) joined half of
Italian
progressive rock
and
Rock in Opposition
band,
Stormy Six
to form
Cassix
(
Cas
siber/Stormy
Six
) for a public workshop and recording project in Italy. Harth left Cassiber in 1985 to found the
avant-rock
groups
Gestalt et Jive
and
Vladimir Estragon
; Cassiber continued as a trio. In October 1986 Cassiber performed at the 4th
Festival International de Musique Actuelle de Victoriaville
in
Victoriaville
,
Quebec
,
Canada
. In their last year they invited guests to perform with them, including
Hannes Bauer
and
Dietmar Diesner
.
As a quartet, Cassiber recorded two albums,
Man or Monkey
(1982) and
Beauty and the Beast
(1984). After Harth left they recorded two more albums,
Perfect Worlds
(1986) and
A Face We All Know
(1990), the latter dealing with issues surrounding the collapse of the
Berlin Wall
and incorporating texts from
Thomas Pynchon
's 1973 novel
Gravity's Rainbow
. A 1992 concert recorded in
Tokyo
with guest saxophonist
Masami Shinoda
was released in 1998 on one disc of a double CD,
Live in Tokyo
. The other disc comprised 1998 re-workings of the concert material by
turntablist
Otomo Yoshihide
, who had been in the audience for the original concerts. The album recorded Shinoda's last performance (he died soon after Cassiber left Japan) and Cassiber's penultimate performance as a group. The material by Yoshihide was
Ground Zero's
valedictory project.
Cassiber's last concert was on 13 December 1992 at the
Calouste Gulbenkian Foundation
in
Lisbon
.
According to Chris Cutler, Cassiber took their name from a
Slavic
slang word for a note or message smuggled out of prison. "Like '
The Beatles
', we spelled it differently and it wasn't intended to 'mean' anything."