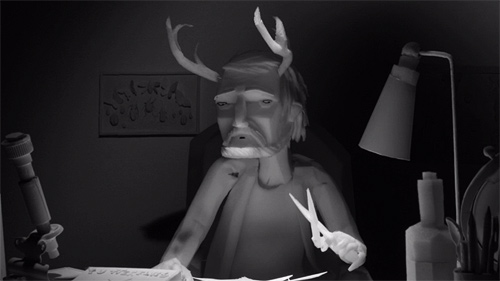 Kratki stop-motion film.
Opsesija vremenom. Vrijeme je sivo.
www.mikeyplease.co.uk/
A small window into the making of The Eagleman Stag
OH MY GOD. This is one of the most incredible animations I have ever seen.
Mikey Please
sent me over a link to his latest film "The Eagleman Stag" and it is a masterpiece. What you are about to see is not a computer animation, it's a stop-motion animation using thousands of handmade foam models.
www.booooooom.com/
Mikey Please's
paper-craft short film about a man obsessed with time,
The Eagleman Stag
, finally makes its online debut after a very successful festival run.
The Eagleman Stag
pre-dates Please's luscious
TV on the Radio music video
and Dragonframe commision,
Seven Legs
. Also announced today, Please will be represented by
Passion Pictures
in Europe and
Hornet Inc.
in the Americas.
The Eagleman Stag
is the third and final film we've featured of the three Royal College of Art grad films that were honored with a 2011 BAFTA nomination in the Short Animation category (the other two being
Matthias Hoegg's Thursday
and
Dave Prosser's Matter Fisher
). The Dope Sheet ran a great
interview
with Mikey back in February.
Please is currently working on and fundraising for his new film,
Martyn Myller
. Keeping in line with Please's cosmic stories, the protagonist wonders if he is shrinking or if everything else is just getting bigger. See more about the film below. -
motionographer.com/
Još radova
na V

imeu

.
seven legs
The Eagleman Stag
Peter's life has been spent in both fascination and fear of his quickening perception of time with age. As he nears the end of his days, his interest turns to obsession and he undertakes progressively extreme measures to control and counter time's increasing pace.


T

he Eagleman Stag
is a rare feat of short filmmaking. Resolutely strange, mysteriously beautiful, Michael Please's Royal College of Art dissertation + recent BAFTA award-winning film is a masterpiece of both conceptual and technical prowess. Stirring monochrome models and sets pair with a foolishly ambitious, but breathless narrative, to create a whole which is unlike anything you've seen before. Epitomizing the promise of the form,
The Eagleman Stag
is a true realization of short film's inherent potential to birth works that are not amateur derivations of popular forms, but emergences of the new.
Animated through stop-motion, the film incorporates thousands of hand-created models across 115 sets to tell the story of Peter Eagleman. From a young age, Peter possessed a peculiar awareness of time. Obsessed with the concept that any unit of time represents a differing fraction of one's life depending on age, he becomes preoccupied with this "speeding up" of time as he grows older, and longs to reverse the process. In the meantime Peter grows, lives, ages. He becomes a celebrated entomologist, and through his work he stunningly stumbles upon a possible solution to his lifetime's angst.
It's a bold move to present a lifetime within a short film, and Please by and large pulls it off. Peter is imagined from birth to the point of death (and perhaps beyond that, in a stunning, though ambiguous finale) via representative moments plucked out from Peter's life. While this advances the theme and plot well, the film is resolutely a writer's piece rather than a character's. The 9 minutes of the film fly by due to design brilliance and surprising wit, but the wit belongs to Please, and it is hard to feel empathy for Peter, who comes off as something of a crank.
Still, it is a mature effort on Please's part to conceive of, and execute, such a high-concept. While the animation might be more lauded, the sheer audacity of the storytelling resonates with audiences I believe, comprising a large component of the film's near universal acclaim. During my several years in short film I struggle to recall a single film so excitedly received. Though only now appearing online, the film has been a
resolute smash at festivals
, playing high-profile gigs like Sundance and SXSW, winning awards at Annecy and Clermont-Ferrand in addition to the
BAFTA
win, and joining prestigious collections like Wholphin and FutureShorts.
I've refrained from discussing the animation at this point, not out of any slight, but really because there is too much to say. It is the most immediately striking and original aspect of the film, and, at festivals, has often confused audiences as to what they were actually seeing. According to Please, aside from compositing on a couple of shots, the film is achieved "100% in-camera" via stop-motion. Using a secret foam that he guards somewhat mysteriously, and which has become
something of a trademark
of his, Please and an all-star team of young, student talent including
Dan Ojari
, crafted each element of the film by hand with a scalpel (that includes the grass!). The result is an extremely clean, graphic look that is divorced from the messy, earthy, clay figurines and puppets we generally associate with stop-motion, and thus has been frequently confused for CGI.
The movement and modeling is superb, as is the writing, but one final technical aspect I would like to call out is the camera-work. The lack of texture and color, while striking, force an extra emphasis on lighting to create dynamic contrast. Please lights the film amazingly, most notably to me in the incredible "fishing scene". More so than that though, he also introduces an incredibly sophisticated and confident series of camera-movements to the work, creating several in-camera transitions, between scenes which are quite nice, and more than one bravura sequence—the miniaturized sprint through the University being a favorite.
Writing, animating, filming, where does this film lack? In
numerous
interview's
Please has proclaimed animation the "Greatest of Arts" due it being a "Frankenstein's Monster"—a blend of many disparate disciplines, combining all the fields of his talented artist family: his mother a sculptor, his father a writer, and his brother a musician who provided the score for the film. Ultimately it is this diverse excellence that elevates
The Eagleman Stag
. We see numerous films that take risks with storytelling, and every year we see an animated film that knocks our socks off through design and craft, but to see a complete
film
of this quality and far-reaching range is something special. I'm happy it has arrived online so that I have an opportunity to share it with you, and so that we all get to watch it as many times over as it deserves. The film has come online, in part, to promote Please's crowdfunding campaign for his newest short film,
Martyn Myller
so I encourage you to
check it out
and consider contributing.
- Jason Sondhi
Mikey Please
Mikey began his directing career by ignoring the syllabus on his BA Special Effects course at University of the Arts London producing several technically experimental narrative animated shorts.
Following which he directed animation commissions for clients such as Virgin, Transgressive Records, Rough Trade, Ninja Tune and Universal Records before honing his skills with an MA in Direction for Animation at the Royal College of Art in 2010.
His latest film
'The Eagleman Stag
' made its international premiere at this years Sundance Film Festival, going on to win the 2011 BAFTA for short animation, awards at South by Southwest, Clermont Ferrand and others, as well as an upcoming nomination for a Royal Television Society award this May. He is represented by Agile Films for his commercial broadcast work and is developing other long form projects with Warp Films for 2012.
Your connection to the British Council?
The British Council kindly supported my trip out to Sundance for the International Premiere of my latest short film
'The Eagleman Stag
'. This was an amazing trip and really helped kick start the whole festival run for the film, currently set to screen at another 40+ festivals this year.
Your current projects?
Along side a smattering of commercial things I'm in the early stages of script development with Warp Films and Film 4 on my debut animated feature. It's extremely exciting; I couldn't imagine better people to be working with on this.
What/who originally turned you on to film?
As a kid, animation was just something I naturally gravitated towards. We couldn't afford the necessary equipment to make actual films but I made tones of flick books and Plastercine models, so it wasn't until much later I started making full films. I found it encompassed a lot of what would otherwise be disparate artistic practices, photography, performance, sculpting, writing and design. It was a way for me to package all these things that I loved into one succinct parcel. It's like a Frankenstein's monster of every other art form.
Career high so far?
I had a pretty mind blowing moment a couple of weeks back when I received a letter from the Minister for Culture thanking me for my contribution to British film. I thought it was a joke! But as dreadfully corny as it sounds, the most wonderful aspect of Eagleman's success is being contacted by strangers who've seen the film and been moved by it in some way. Animation can easily be seen as something very superficial and silly, but it's amazing that people have resonated and been effected by the film as much as they have. I think it's a good sign for the changing attitude of what animation can be.
Your first job in the film industry?
I was very fortunate in that I was taken straight from my Wimbledon BA to work as a junior Director for a Soho animation studio. Although I was pretty naive about it all, thinking I could continue doing the sort of creative stuff I'd been doing on my degree in the commercial environment, it was a good learning curve and I wouldn't change a thing.
If I knew then what I know now…
I'm not sure that what I know now is any better or wiser than what I knew then. There's a great quote by Picasso about how the older we get the less we know. I used to know it word for word.
Favourite British film?
An animated short called 'Hillary' by Anthony Hodgson. It's wonderfully dry, layered and strangely moving and definitely a strong reference for the narrative tone of Eagleman. Feature-wise, right now I'm very much into Richard Ayoade's debut;
'Submarine'
.
If you could have directed/been involved with any film ever made, which one would it be
?
'
The Nightmare Before Christmas
' pretty much changed my life when I saw it as a child. Although recently I've sunk myself into lots of classic Film Noir, I guess anything from Orson Welles.
First film you remember seeing?
I only saw half of it, but it was Roald Dahl's '
The Witches
'. I saw it at the cinema with my mum and a friend and was very keen not to look like a wimp during all the scary bits. But my limits were breached when the Queen Witch pulls off her own face and her nose bursts out like a bald chicken wing. I ran out of the theatre crying and looked like a total wuss.
Favourite line or scene from a film?
This film is so packed full of incredible lines that it's hard to pick one, but let's go with Captain Renalt asking Rick why he left America in
'
Casablanca
' 'I'd like to think you killed a man. It's the romantic in me.'
Favourite screen kiss?
Albert Finney and Jessica Lange in the bathtub in 'Big Fish'.
Favourite screen hero and/or villain?
Villains! Christopher Lloyd as judge Doom in 'Who Framed Roger Rabbit'. I also love Robin Williams as Walter Finch in 'Insomnia' or 'The Nothing' in 'The Never Ending Story
'
- best concept baddie ever!
Who would play you in the film about your life?
Adam Buxton. He just exudes goodness and would make me look much cooler and funnier than I am in real life.
- film.britishcouncil.org/
His artistic family, and each of their professions, have clearly made an impact on his BAFTA winning film, The Eagleman Stag.
His father is a travel writer & author while his brother
Benedict
, a musician in his own right, composed the music for the film. His mother, a sculptress, is "an amazing sight at work. A tiny lady in heavy welding gear with two barrels of butane and a blowtorch carving up huge hunks of steel."
The Eagleman Stag is about Peter, a man obsessed with time. How little he has left is a preoccupation beginning in the womb and ending, well – somewhere between here and eternity.
As a taxonomist, Peter looks at the great expanse of the animal kingdom and puts things in neat little boxes. He treats his life with this same unwavering logic. "That being said," says Mikey "there's certainly a strong similarity in his mildly reticular nature to that of an animator, and perhaps myself."
A case in point. Upon the film's completion in August last year, Mikey blogged:
2 years of thinking on my bike.
3 months of writing, planning, designing & storyboarding.
6 months of long weeks and longer days shooting, building, editing and polishing in post.
115 separate shot set ups
A gazillion hand sculpted blades of stupid grass
A fine bunch of buddies to help me make stuff
1 David Cann
1 Benedict Please
9 minutes of your undivided attention please.
This quasi-taxonomic post goes some way in shedding light on the animation process. As does this time lapse glimpse into this shot where Peter takes his son fishing at the lake. Stressing over frames is what we do best, so it is serendipitous that an animated film about the obsession with time win the BAFTA.
"My first-year film was a disaster," he said. "But from that I made improvements and developed the style and structure for
The Eagleman Stag
; something I would never had the space to do outside the RCA."
"One thing the tutors give you that your friends won't is the hard face of reality," Mikey says. And part of that reality increasingly means no money. The open wound of funding is worth exploring at some stage, but it's clear an
imators are being squeezed into narrower pathways allowing them to make good work.
Tim Webb
, an animation director and Senior Tutor at the RCA says of Mikey: " He is decisive with a very astute grasp of narrative and scripting. He is a perfectionist when it comes to animation and design. Most animators are workaholics but Mike perhaps tops this scale. To quote his film 'he's a fucking legend'."
If you're good enough, it seems the RCA remains of fruitful plain. But with the RCA's yearly intake of 15 students, what's an aspiring animator to do?
"The best advice I can give is to just go ahead and make it happen for yourself. No one is going to put anything straight in your lap even if your work is the bomb. I think also being ridiculously ambitious in the scale of projects you want to realise is essential. With so many people wanting to make a living from creative work you really do have to go the extra bit to stand out. And of course, remembering that there are no short cuts, and that often the hardest way is the best way."
And Mikey's done just that. In an August 2009 Dazed & Confused article, Mikey talked about how he made a DVD of his work and just sent it off to different musicians. And his first industry "break" came from sneaking one those DVDs into
Stuart Hilton's
bag at a screening. "Yes, I was very pushy, and probably very annoying straight out of university.
"I also wrote to a lot of my favourite musicians, not offering to do things for f
ree, but expressing my enthusiasm for their music and how happy I would be if they'd consider a pitch on their next single." It's ballsy, but it worked.
This led to
Jeffrey Lewis
and
M Ward
music videos. And then there's Ingrid Michaelson (who's work is all over American TV shows like
Grey's Anatomy
,
Ugly Betty
and
One Tree Hill
) for whom Mikey designed the artwork and branding for her album
Everybody
and directed the music video for her single
"Maybe"
.
"This came about strangely as my
brother's band
were supporting her on a London gig and I just met her in the bar afterwards. I clumsily scribbled my website on a napkin and a few weeks later got a call. Obviously if I hadn't had those initial videos then the encounter wouldn't have amounted to much. As it turns out it was one of the biggest, quickest, craziest productions I've ever done."
Mikey Please is currently working on a new short film called
The Innumerable Benefits of Quitting
with
Agile Films
. It will be in similar scope and style to
The Eagleman Stag
, but with more of a science fiction bent, and will be the precursor for what Mikey calls "en epic feature project" called Zero Greg.
I'm unable to contain my excitement. And once you've seen The Eagleman Stag, neither will you.
THE UNEVEN CRUST
- First published by It's Nice That magazine,
Issue 6
in June 2011 -
I enjoy a sandwich with an uneven crust. A pencil drawing where the lead has snapped and the line is left with a staccato gap. A visible seam. I like Marilyn Monroe's face. And I like it even more because there's a mole, a brown wart growing above her top lip. I like these things, because there is something wrong with them. Because there is something intrinsic to their form that tells me a little of how they were made, a small part of their history. I like them because they are incomplete, that they could have been, but haven't been improved on. But don't get me wrong; I do not like them because they are just a bit crap. Allow me to explain.
Someone clever once said that
all things are lovelier for their imperfections.
And aside from your doctor's report, tax return or pay cheque, I think this is true. When it comes to matters of subjective appreciation, perfection is a state of imperfection. I've been thinking about this for a while in relation to making my own work and trying to understand, on a technical level, what it is about the work of others I particularly like. Content aside, it seems that the better something is made, the more I like it, in a straight upward correlation. And this makes sense, surely, that the mastery of craft should be the apex of achievement. But I've noticed there is a certain point where a paradox takes effect. A point where something is so good, so flawlessly produced, so sharp, tight and refined, the red velvet curtain behind it ironed so flat, every crease removed and spec of dust wiped away that I have to choke back a mouthful of sick.
I'm still trying to figure it out, but I put it down primarily to this. The world is awash with technically complex and unfathomable things. Mostly I forget about them and take them for granted but they are everywhere; cars, skyscrapers, computers, vaccines, mayonnaise and airplanes. All things that I will never begin to have the slightest idea of how they were conceived, how they function or how they were put together in the first place. They are an alien mystery to me. And that is part of the wonderfulness of it all. These things are so extraordinary they instill in me a sense of awe. But there is a flipside to awe, the potential to make me feel really, really small. Wow that's so very big, expressed conversely is wow I'm so very tiny. I am surrounded by things I could never have made myself.
Consciously or unconsciously I don't think I'm alone in this. Very few of us, certainly I expect very few readers of this particular piece of writing, are living in rural self sufficient wicker domes, at one with the land, gathering twigs for this evenings fire and hunting down a pig to roast upon it. In other words, very few of us are in control and full understanding of every element of our immediate lives. Instead we are part of a great big amazingly complex social machine; commuting on transport systems, paying taxes, wandering the interweb and taking exams. I do all these things and I'm happy to be part of it because it suits my needs, and on the whole it works pretty well. But it does serve to frequently remind me that I have very little control and influence and technical understanding of any of it. So when I see something so perfect that there is no seam, no edge, no mark of it's making as if it were formed whole and complete from the first moment, something in me is reminded of this alien feeling, and the word that is the antonym of awe. And my liking plummets.
This occurrence, a steep dip at its peak in the graph of affection, can be seen in lots of places, not just fancy art and film. It was notably noticed by a Japanese roboticist, Dr. Masahiro Mori, in relation to how much people enjoyed increasingly realistic robot design. At the point where the design became almost completely lifelike and perfect, there was a sharp decline in affection, a dip he described as the now well known Uncanny Valley. I'm experiencing it now as I drink my morning coffee. I like this cappuccino. But I'd like it even more with a chocolate sprinkle face! But with added arms, legs and real hair… No thank you. That's too much.
Perhaps the problem with perfection is that it can't be improved upon. It has nowhere to go, no potential for development, to evolve and to grow. Change is a prerequisite of all living things, whereas perfection is like a full stop, The End, it represents a finality that's closer to death. Empathy plays an important part in my enjoyment of most things, be it story, sculpture, another human being, a film or whatever. If I am able to see part of myself in it, something I can relate to, like when an idea is articulated that I feel I already knew but hadn't quite yet been able to put into words, then I am instantly won over. By making this emphatic connection, I become involved, I want what ever it is to succeed. But when alienated I switch off, and there is nothing more alien than death.
Just as a good narrative arch cannot be a string of successes, in order to be satisfied I like to know that the outcome is the result of conflict and labor. I like my friends more deeply because of their flaws, their idiosyncrasies and shortcomings. It puts me on their side. If Superman were immune to kryptonite he would soon become an unbearable prick. It's when we struggle that we are most endearing. It's the difference between a flash in the pan pop song and something subtler that works on you and stays with you for years to come.
Ways of making things, tools and technologies are always getting better, and a perfected outcome is increasingly easier to reach with undo's and eternal touchups. I get lulled into overworking, and then, in panic, I'm often tempted with the retrospective downgrade. When something comes out looking too clean it's so tempting to rough it up, to inject a deliberate mistake. As well as feeling counter intuitive, it's just plain ineffective to work backwards, undoing hard work. To add a lens flare, to put super 8 filters over the footage, to crunch the paper a bit at the edge. Recreating this bygone aesthetic, mimicking what were once perhaps irritating mistakes, unavoidable by-products the original practitioner would have done anything to get rid of. We would be infuriating the past versions of ourselves. So these mistakes are pointless, the gesture is innately flawed by its lack of authenticity and the viewer comes away knowing even less about how you got to where you are.
So the flaw is something that can't be applied in retrospect. It has to be a result of the process itself. I expect there is an optimum level, just enough to reveal the process through its mistakes and not to get in the way of the content or impact. Perhaps all that is needed is the smallest of admissions, an offering, a bridge between spectacle and spectator. Something that fools the viewer into thinking, in theory, I could have made that.
It's the little mistake or parts of incompleteness that remind us of the person behind the product. These are the clues as to how it was made, a thumbprint on a pot, a brush stroke. It's like an admission by the maker that they underwent a struggle to get here. By showing us what happens when something goes wrong we understand what has to happen every time it goes right. Some evidence of the journey to arrive at this amazing thing they've put before you. This slice, it is wonky. Indeed, it's because I cut the loaf myself. Yeah there's a smudge there, it's because I was so into it that I broke the pencil. In frame 286 this character's foot wobbles. That's right, and in every other frame the battle was won to keep it still. This lady, she is beautiful, but she is not perfect, and it's because of this that we love her more.