Ako ste svjesni relativnosti/konstruiranosti svega ali zbog toga ipak ne mislite da ništa nije "univerzalno" i ne želite biti netko tko ni u što ne "vjeruje", ako težite novoj velikoj meta-naraciji svijeta iako unaprijed znate da će i ona biti

problematična, ovaj izam je za vas (zapravo za sve nas, jer nitko nije potpuno dosljedan u svojoj pretjeranoj "osviještenosti").

Za stalno osciliranje između modernizma i postmodernizma, n

ade i sumnje, iskrenosti i ironije, informiranosti i naivnosti

sad postoji naziv - metamodernizam.
Metamodernism
is a term employed to situate and explain recent developments across current affairs, critical theory, philosophy, architecture, art, cinema, music, and literature which are emerging from and reacting to
postmodernism
.
The term metamodernism was introduced as an intervention in the
post-postmodernism
debate by the cultural theorists
Timotheus Vermeulen and Robin van den Akker
in 2010. In their article 'Notes on metamodernism'
they assert that the 2000s are characterized by the return of typically modern positions without altogether forfeiting the postmodern mindsets of the 1990s and 1980s. The prefix 'meta' here refers not to some reflective stance or repeated rumination, but to
Plato
's
metaxy
, which intends a movement between opposite poles as well as beyond.
Van den Akker and Vermeulen define metamodernism as a continuous
oscillation
, a constant repositioning between positions and mindsets that are evocative of the modern and of the postmodern but are ultimately suggestive of another
sensibility
that is neither of them: one that negotiates between a yearning for universal truths on the one hand and an (a)political relativism on the other, between hope and doubt, sincerity and irony, knowingness and naivety, construction and deconstruction. They suggest that the metamodern attitude longs for another future, another
metanarrative
, whilst acknowledging that future or narrative might not exist, or materialize, or, if it does materialize, is inherently problematic.
As examples in current affairs Vermeulen and van den Akker cite the multiple responses (such as an 'informed naivety', 'pragmatic idealism' and 'moderate fanaticism') to climate change, the financial crisis and geopolitical instability. In the arts, they cite the return of
transcendentalism
,
Romanticism
, hope, sincerity, affect, narrativity, and the
sublime
. Artists and cultural practices they consider metamodern include the architecture of
BIG
and
Herzog and de Meuron
, the cinema of
Michel Gondry
,
Spike Jonze
,
Gus van Sant
and
Wes Anderson
, musicians such as
CocoRosie
,
Antony and the Johnsons
,
Georges Lentz
and
Devendra Banhart
, the artworks of
Peter Doig
,
Olafur Eliasson
,
Ragnar Kjartansson
,
Šejla Kamerić
and Paula Doepfner, and the writings of
Haruki Murakami
,
Roberto Bolano
,
David Foster Wallace
and
Jonathan Franzen
.
The artist Luke Turner published a metamodernist manifesto in 2011 calling for an end to "the inertia resulting from a century of modernist ideological naivety and the cynical insincerity of its antonymous bastard child", and instead proposing "a pragmatic romanticism unhindered by ideological anchorage."
In January 2011, the German newspapers
Die Zeit
and
Der Tagesspiegel
proclaimed metamodernism as the new dominant paradigm in the arts.
In September 2010, Galerie Tanja Wagner curated the first exhibition explicitly linked to metamodernism, including the artists Mariechen Danz, Routes Award winner Sejla Kameric, Issa Sant, Angelika Trojnarski and Paula Doepfner.
There have since been three exhibitions on metamodernism: No More Modern
at the
Museum of Arts and Design
, New York, Notes on Metamodernism at the
Moscow Biennial
, and Discussing Metamodernism at Galerie Tanja Wagner, Berlin.
Artists included in these shows were
Olafur Eliasson
,
Mona Hatoum
, Monica Bonvicini,
Ragnar Kjartansson
,
Sejla Kameric
,
Andy Holden
,
David Thorpe
, Luke Turner, Kris Lemsalu, Guido van der Werve, Pilvi Takala, Ulf Aminde, and Mariechen Danz.
In June 2010, van den Akker and Vermeulen initiated the webzine Notes on Metamodernism.
The webzine brings together a new generation of scholars and critics from a variety of nationalities and disciplines working on tendencies in philosophy, politics and the arts that can no longer be described in terms of postmodernism but need to be conceived of by way of another vernacular. Since the webzine's inception, it has featured the work of amongst others Niels van Poecke (Erasmus University Rotterdam), Reina Marie Loader (Exeter University), Leonhard Herrman (University of Leipzig), Nadine Feßler (University of Munich), James MacDowell (University of Warwick), Hanka van der Voet (Modelectoraat ArtEZ), Luke Butcher (Manchester School of Architecture), as well as the New York based critic David Lau.
The term metamodernism was previously adopted by the literary theorist Alexandra Dumitrescu to describe the contemporary paradigm, the poetry of
William Blake
,
[9]
the fiction of
Arundhati Roy
,
[10]
Michel Tournier
,
and also by Andre Furlani to describe the work of
Guy Davenport
. In Brazil, Philadelpho Menezes and Jayro Luna have used the term Metamodernism since 1986.
Philadelpho Menezes
published the book "A Crise do Passado: Modernidade, Vanguarda, Metamodernidade" (The Crisis of the Past: Modernity, Vanguard, Metamodernity - 1994) and
Jayro Luna
[12]
some papers published in 1986: "Meta Metamoderno nisso aí", "Bibliotecas Metamodernas", "Da Metalinguagem ao Metamoderno",
meeting after in the book "Participação e Forma" (Participation and Form - 2001). The Indian spiritual teacher,
Shri Mataji Nirmala Devi
used the term in her book,
Meta Modern Era
(1995). -wikipedia
timotheusvermeulen.com/
www.metamodernism.com/
The postmodern years of plenty, pastiche and parataxis are over. In fact, if we are to believe the many academics, critics and pundits whose books and essays describe the decline and demise of the postmodern, they have been over for quite a while now. But if these commentators agree the postmodern condition has been abandoned, they appear less in accord as to what to make of the state it has been abandoned for. On this blog, we will seek to outline the contours of this discourse by looking at recent developments in architecture, art, and film. We will discuss practices and works as diverse as the grand buildings of Herzog & de Meuron to the installations of Bas Jan Ader, the collages of David Thorpe, the paintings of Kaye Donachie and the films of Michel Gondry and so forth and so on. The postmodern is over. The metamodern has arrived. But what is
it
?
PDF
HTML
XML
www.tanjawagner.com/
"Discussing Metamodernism" with Tanja Wagner and Timotheus Vermeulen
In any moment, it's nearly impossible to locate or isolate shifts, changes in tendencies, whether social, aesthetic, or otherwise—banal critical statement of the year, certainly. But, for Berlin's (and the art world's at large) current state of flux, of non-identity and non-identification, perhaps such a naming is needed. For Robin van den Akker, Timotheus Vermeulen, and gallerist Tanja Wagner, that name is Metamodernism.
So, in the exhibiton you are "Discussing Metamodernism," but what is Metamodernism?
Timotheus Vermeulen: It's mainly an attempt to continue language for what's happening. Everyone realizes, I think, that something is happening, all the magazines are realizing it, but people do not really have the (? immaculacy 00.01.30) to speak about it, they don't know how to name or how to label things that are happening. Like Ragnar Kjartansson, I think, for example, Šejla's work, which is infused with what we might call postmodernism, but it isn't postmodern at all, so something was happening, something was emerging from this postmodern sensibility. Damien Hirst, Cindy Sherman and all those people, you know, who now seem to an extent anachronistic almost, so there's something very odd going on there, and metamodernism was made as an attempt to come to terms with this. And so because Tanja was working with similar sensibilities, we were talking quite quickly about making an exhibition with the artists that we thought would exemplify these discourses but also take them further.
Tanja Wagner: We've been talking about trend tendencies for a long time and what our generation is about, what we feel is important, or what we want to get across. I had the feeling when I was looking for artists for my program, that artists really want to have a dialogue again. They want to engage again, but not in a dry conceptual way. These artists want affect again, they want to talk about love, which I thought was almost not possible, to talk about love, and in a very serious way. We don't know yet in which direction this is going to go, or is there even one answer, or does there have to be one answer, but still we're trying to take sides here, so it's not just open, and you can do whatever, you know.
What do you both see as the turning point for Metamodernism, or is there a turning point that can you peg down?
TV: I think it emerges partly from the variety of crises that were in: the ecological crisis and the geopolitical crises, and the economical crisis. People from my generation, we always thought that we'd have better lives than our parents, and now we are realizing that it's possible that we won't. So it's both a reaction to all sorts of things happening around us in the world and to the generation above us, a generation of baby boomers and post baby boomers for whom life was great and easy, and they could do whatever they wanted, which is a simplification of course, but I think there was this sensibility, and I think it was this generation saying, "All right parents, that's okay, but we need to do something, we need to find a way in order to get ahead, to get better, to do something new." It is very much a generation thing. I think it's fair to say that somewhere in the early 2000's, things were changing.
So, is part of the movement Metamodernism to reclaim the soul or autonomy of art rather than it's object life?
TV: Yeah, I think so. Postmosdernism is engrained in our souls. We don't have a soul, but it's engrained in a fragmentary thing that we might call a soul. There's so much irony that we would always laugh at everything we do so that we would say "I love you", but we would laugh about it; we would say "I am a subject, I am a real person", and we would laugh about it. Postmodernism is completely engrained in us, yet it doesn't mean that we cannot try to reclaim or claim anew some territory, some space for art as something that might get us somewhere else. So they're trying to claim a new soul for the arts whilst knowing that to do that is almost impossible. I think what we see now is a movement between these modernist ideals of unity and utopia and the postmodern knowledge that these things are impossible, without really giving in to either one. It's a constant tension and a "trying in spite of". We need to try, although we know it's very likely that we'll fail. Jeff Koons and Damien Hirst would just say well let's fail, you know they're actually going to celebrate failure or celebrate the state that we're in now or alternatively completely deconstruct that state. And these artists are deconstructing the state that we're in but at the same time constructing a new thing, which then of course is also impossible.
In some sense is it a negation or temporary suspension of ironic modes of communication?
TV: I think irony is still very much there; I think it's impossible for us to not be ironic. But what happens with these artists is that for a moment, they put on this sort of sincerity or earnestness, and it's just suspending irony, they know it's there, but for a moment they say "I love you", or for a moment they will say "this is real". Furthermore, I think we shouldn't go without irony, because it's so important as a sort of holding in check keeping us from becoming modern fanatics.
TW: Let's say two years ago, when you saw the artists and the statements there, they would decide maybe that they would just be funny or ironic, or that they would try to make very clean, cold, conceptual pieces, that were very earnest, Now they're trying to mix both, to enjoy the art works again and laugh.
So there's kind of a performative ambiguity present?
TV: Yes, I think so very much, I think that's really what most of this work is about, to do something although you can't do it or you shouldn't do it. You're constantly putting on a performance to stay sincere or honest as long as you can, although you're constantly aware that you can't really. It's a constant struggle.
How did you go about picking the artists for the show?
TW: I mean, we could have had 150 or just three. I feel very close to the concept, so I'm showing the artists of the gallery, and then additionally eight or nine more positions, which we chose these artists because we felt very close with them, and also because they were very happy to engage in this show.
TV: But it's difficult, because I mean we came up with the concept of metamodernism because we saw it everywhere, in all the galleries and young galleries and fairs we saw art that was suddenly something different but not grouped, I think what Tanja has done is that she's really grouped some of these artists that we would find metamodern together, but we saw it emerging everywhere, I'm sure you also.
And nobody knows what to call it but you feel it. It's a felt, more affective stance.
TV: Exactly. And we came up with the concept of metamodernism and we know it's a ridiculously grand gesture, especially in postmodern times I think many people think, "Ahh well, what arrogant pricks who think that they can come up with something else." But I think it's necessary that we all do this and that we try to make these enormous gestures again of saying we're seeing this, we don't have a word for it, try to map out what's happening. It's very much like an open source project, where we can all chip in and try to find what is it that's going on. As you say, everyone feels it, people are feeling that something is changing and they're always too late to get a hold of it.
How does the theoretical aspect interface with practice? Do you see your job as purely picking up ideas out of what you're seeing, or is it also an authoritarian stance pushing on artists and their praxes?
TV: I don't know how it is for Tanja, but for Robin and me it was very much a description of what we saw happening. One of our contributors in the show was Luke Turner; he made a manifesto of the Metamodern disposition. But for us it's not a manifesto; it's not a blueprint for how to achieve things. We just want to describe what we think is going on and try to categorize or to get a hold of it or to try to understand what's going on, but for us it's a description rather than a blueprint.
TW: For me it actually all started for me when I said that I'll open my own gallery, showing what am I personally interested in, what I want to talk about, what is different now. We are the new generation of gallerists. We are showing new artists, young artists. I really wanted to work with artists who really engaged again and who told a story. I wanted to open up a dialogue. I wanted to not have a clean space in a very 90s sense, white cube kind of thing.
It's an interesting thing also for a gallery to do. Is that something that you feel is important for the galleries now, for the commercial market to engage in a deeper discussion as well?
TW: That was my personal idea, but why should it only be the artist that asks questions? Everyone could do this: what do you want to get across working in a bank? I don't think it's limited to creative people to get something across. It's not at all at odds to have a very stimulating program and still be very commercially active. Fortuantely so far this hasn't proven me wrong. Maybe because of the times collectors are also interested in showing or building up a collection with interested works.
TV: We just really wanted to work with Tanja, actually. We got some offers from other institutions and galleries, but we really wanted to work with someone young and someone we felt was on sort of the same wavelength. We really wanted someone from our generation to do it. It's not saying that we are discriminating against generations from the past, but we really felt that this should be someone who goes through the same moods and swings as we are going through at this moment.
- blogs.artinfo.com/
MeMo: Hope & Change After Cultural Suicide?
Whereas pOmo is denying objective reality, truth and the possibility of human knowledge with a view to cultural destruction through philosophical desintegration, Memo is no longer convinced of these absolute tenets. Or, at least, Memos are fed up with the void and the cynicism that comes with the
Reification of Zero
and perpetual tethering on the brink of the existential abyss. How long can a human being live without hope or purpose?
The Metamodern attitude longs for another future, a new grand narrative (subjective group reality), but acknowledges that narrative or even truth might not exist, or materialize, or, if it does, is inherently problematic because there is no fundamental break with the fallacies of pOmo (check the chart @bottom).
1. The unfixed position is the natural state of the world.
2. We must break free from a century of "inertia" between modernist naive honesty and pomo cynical dishonesty, which is a strange way to describe an all out war of ideas in which the end justifies the means (check the comments).
4. We are subject to the laws of nature. We must adhere to that, but we can evade them with impunity because life is richer if we act as if there were no such limitations to reality.
5. Everything is inevitably going to pieces. The stress that ensues is the subject of artistic creation.
6. The present is a symptom of the here and now and what has come and gone. New technology enables multiple perspectives and experiences, enabling historical research along grand narratives.
4 comments:








How PoMo Can You Go ?
For many, Postmodernism began with architects Robert Venturi and Denise Scott Brown's epiphany: Las Vegas is our Versailles. Their book
Learning from Las Vegas
was published in 1972, just a few years after the widespread student protests, counter-culture communes, and dropouts of 1968 had signaled opposition to the Modernist belief system. By the late '70s, Charles Jencks's theoretical texts had appeared, and so had Frank Gehry's radically deconstructed renovation of his own house in Santa Monica. Postmodern piazzas and colonnades began emerging, along with oxidized copper trim. But what got the most attention was a Midtown New York skyscraper with a Chippendale pediment—the
AT&T building
, designed by a former glass-box Modernist, Philip Johnson.
In art, which adapted Postmodernism to its own ends, things were less simple. By 1969, Earthworks, scatter-works, Conceptual art, and Duchamp's
Étant donnés
—his disturbingly real peephole landscape diorama that embodied what his symbolic bachelors did to the formerly disembodied bride—had changed the nature of advanced art. A startling image of a vulnerable blue Earth taken from the moon seemed to predict a new art of natural substances, ongoing processes, illusory images, and real-time systems. Ransacking, recycling, scavenging, and appropriating from the real world, many artists at that time also seemed to be abandoning abstraction and geometry.
Among the first to be considered Postmodern were the highly politicized San Diego narrative Conceptualists and video artists of the '70s: Martha Rosler, Eleanor Antin, Helen and Newton Harrison, and Suzanne Lacy among them. While Rosler was merging Vietnam war scenes with suburban living rooms in photocollages or mailing recipe postcards that targeted class disparities, Antin was sending postcards across the U.S. of 100 disembodied boots on their way to war. And while the Harrisons were mapping polluted waterways, Lacy pinpointed the sites of rapes in L.A. on a five-part feminist map. By 1980, Postmodernism—which had started as an insurrection against the worn-out abstract strategies of the New—had become a controversial theory that set academics off hurling insults at one another about whether Modernism would ever end or whether it was already kaput.
At around the same time, painting returned from its stupor in a dizzying array of disguises: New Image painting (Jennifer Bartlett and Robert Longo, for instance), Pattern and Decoration (Robert Kushner and Kim MacConnel), the Italian transavantgarde (Sandro Chia, Enzo Cucchi, and Francesco Clemente), the German painters (Georg Baselitz and Jörg Immendorff), and the Neo-Expressionists, chief among them David Salle. Julian Schnabel straddled the fence—his crockery and paintings on Japanese backdrops were obviously Postmodern, but his swashbuckling paint was, arguably, a Modernist throwback.
Apart from Cindy Sherman, who became the quintessential Postmod poster girl, it was a thorny question of who was and was not PoMo. When appropriation art appeared, and Richard Prince (with his rephotographed
Marlboro Man
) and Sherrie Levine (with her play-it-again
Walker Evans photos
) began squabbles over who had been the first to abandon the Modernist dictum of Make It New, PoMo went retro (this stage was later dubbed the Pictures Generation). By the end of the '80s, the terms were multiplying: post-Postmodernism, Supermodernism, Hypermodernism, Neo-modernism, Anti-modernism, Altermodernism. The one thing everyone seemed to agree about was the major role being played by irony and pastiche.
During the 1990s, Postmodernism got swallowed whole by all the things it had spawned: multicultural art, feminist projects, politicized photoworks, and installations about gender, race, ethnicity, and the Other.
Now, some 20 years later, the ghost of Postmodernism has returned. What once was a radical concept in Western culture that dominated avant-garde discourse for nearly two decades—and signaled a shift from analysis to synthesis, from grids to maps, from the shock of the new to the retrieval of the old—has resurfaced as nothing more than a decorative style that is basically an update of Art Deco.
This revival re-emerged last autumn, spearheaded by the
Victoria and Albert Museum
in London, which mounted a major design exhibition, "Postmodernism: Style and Subversion 1970-1990." The show, which is at the
Swiss National Museum
in Zurich through October 28, treats Postmodernism not as an inevitable earth-shattering, paradigm-shifting movement but as just another style trend, like Punk or Goth. It features Memphis furniture, Vivienne Westwood fashions, the Alessi teapot, and Grace Jones's cubistic maternity dress.
Meanwhile, in the United States, there were clashes between PoMo and Promo factions about whether Postmodernism really was a style. In contrast to when it first appeared, this resuscitated Postmodernism was mostly about decor and argument. At its start, it seemed to slice through history, announcing the finality of the modern tradition as well as its own moral quest for content, context, and substance in the pre-digital world of its day. Today, in our thoroughly fragmented, commodified, and fetishized early 21st century, the update becomes a farce, having everything to do with stylishness and inclusiveness, and nothing to do with substance. "Postmodernism is a sort of early warning system for the lives we lead now," said Glenn Adamson, cocurator with Jane Pavitt of the V&A design show, which not only included Kraftwerk, but also hip-hop performers and even the dissident art hero of 2011, Ai Weiwei. "Singapore, Beijing, and Dubai are arguably more Postmodern now than Milan and London ever were." But this is what happens: the radical fringe becomes the dominant look. The profound concept becomes a matter of shallow surfaces. And that's exactly how Postmodernism ended up.
In the past couple of years, there's been a new post-Postmodern movement lurking in Europe: Metamodernism. It features an agenda that involves art that is impermanent, incremental, provisional, and idiosyncratic, as well as site-specific and performative, emotive and perceptual, devious and questioning.
Advanced by cultural theorists Timotheus Vermeulen and Robin van den Akker, who have published
Notes on Metamodernism
as a webzine, Metamodernism neatly negotiates the built-in confusions and contradictions between Modernism and Postmodernism. Vermeulen and van den Akker propose that "the Postmodern culture of relativism, irony, and pastiche" is finished, having been replaced by a post-ideological condition that stresses engagement, affect, and storytelling. "Meta," they note, implies an oscillation between Modernism and Postmodernism and therefore must embrace doubt, as well as hope and melancholy, sincerity and irony, affect and apathy, the personal and the political, and technology and techne (which is translated as "knowingness").
Sense and nonsense play a role, too. So does quirkiness. In the foreground today are such so-called Metamodernists as Ragnar Kjartansson, Pilvi Takala, and Cyprien Gaillard, all of whom work in Berlin and whose work is characterized by a fluid esthetic that refers to nostalgia, make-believe, and old-fashioned painting as if it were performance. Kjartansson, who performs musically as well, painted one portrait a day of a friend in a Speedo swimsuit for the 2011 Venice Biennale. Takala's video intervention in an office job, shown in the "
Ungovernables
" exhibition at the New Museum, followed the artist as she pretended to do nothing for days on end—a bewilderingly sincere performance that questioned the concept of labor. And Gaillard, interested in the concept of failure, combines picturesque romanticism and entropic Land Art, setting off fire extinguishers in the landscape, recording the rubble of demolished modern buildings, and commissioning landscape paintings. In the work of these artists, reality, fiction, old-fashioned representation, and recent relational strategies come to terms with failure, instability, and all the looming "as ifs" of the present moment.
-
madmuseum.org/
Think Occupy Wall St. is a phase? You don't get it
(CNN)
-- Like the spokesmen for Arab dictators feigning bewilderment over protesters' demands, mainstream television news reporters finally training their attention on the growing Occupy Wall Street protest movement seem determined to cast it as the random, silly blather of an ungrateful and lazy generation of weirdos. They couldn't be more wrong and, as time will tell, may eventually be forced to accept the inevitability of their own obsolescence.
Disappearing Into One
Forever Overheard
, a second-person narrative that takes place on the occasion of a boy's thirteenth birthday. It recalls, in achingly intricate detail, the sights, sounds, smells and innermost thoughts of the young protagonist as he ascends a high diving board for the first time, and ultimately takes the symbolic plunge into the adult world below. As with all the acts to follow, the story is read verbatim, but here its evocative and sensual rhythm is countered by the brisk cadences of the unseen narrator (Holden himself), who dispatches the text as if a reluctant high school public speaking assignment. The narration is accompanied by a video projection of the pool's blue, undulating ripples, and by the sound of gently throbbing looped guitars, provided by the band, The Grubby Mitts. The musicians appear serious and immersed, with an almost clichéd adolescent earnestness. Once the performance is over, they scamper silently off stage in a somewhat comedic scramble, collecting their instruments and paraphernalia as they go. Is the overall effect here intentional? Are these performances sincere, or are we in the realm of parody? Could we be experiencing both at once?
Earlier this year, Conroy curated a group exhibition at Seventeen Gallery,
A Plea For Tenderness
, whose stated aim was to "illuminate the space that exists between sincerity and irony." Similarly, Holden's contribution to that same show took the form of a manifesto entitled
MI!MS
(Maximum Irony! Maximum Sincerity). Thus, it should come as no surprise that we find ourselves here on uncertain ground. With this in mind, we meet the interviewees…
First, we are placed in the midst of a breakup, with subject #11 (played by Joey Bones) standing front of stage, bags packed at his feet, addressing the audience as if we were the other person in the relationship. He begins to explain why he is leaving us/her; that it all boils down to the fact that he can no longer bear her constant fear of him suddenly leaving. Well, it turns out, she had been right to worry. A solitary letter Q is sporadically projected onstage, interrupting the man's monologue. Though the words for which it stands remain unheard, the staging has the effect of making this Q a surrogate for the unspoken questions of the audience, as we imagine our own responses to the man's perverse reasoning. He is as torn up about all this as her, he claims, but we don't really buy it. We empathise with her inevitable hurt, seeing the man's cowardice, yet at the more ridiculous junctures, we find ourselves laughing at the situation for its twisted logic. We find truth and farce in equal measure: maximum irony, maximum sincerity.
Two of the following acts mirror each other in their recollections of tales of sexual violence. The first, a harrowing (but hypothetical) account of a gang rape, describes in gory detail the most heinous acts of violation and degradation that any one person might endure. The interviewee (Matthew Duggan) cynically argues that such an experience retains a sort of value to the victim, a revelation or life lesson that offers them a window onto the true, dark side of humanity. His argument is so misguided that (with Wallace here perhaps invoking
Godwin's Law
) it descends into the realm of Nazi analogy, citing Victor Frankl's survivor's account:
"Was the Holocaust a good thing? No way. Does anybody think it was good it happened? No way. But did you ever read Victor Frankl? Victor Frankl's Man's Search for Meaning? It's a great, great book."
Bewitched
, in his fantasy he has the supernatural power to halt time with a single gesture of his hand, freezing all the occupants of the gymnasium in suspended animation, save for himself and the chosen woman of his desire. With this same gesture, the woman would be instantaneously drawn towards him, overpowered with erotic attraction, leading the frenzied copulation to commence. However, the young man's overly analytical mind finds this scenario more and more problematic, for he realises he has failed to take into account the discrepancies between the stasis of the room and the continuing flow of time beyond its walls. What if someone were to walk in?! He thus feels compelled to expand his imagined powers so that he may freeze time in the whole state, the country, the planet, the galaxy, the entire universe. Soon, he is gathering data and making the necessary astronomical calculations in order to command the trajectories of all the implicated celestial bodies, to retain some kind of consistent model of reality. His masturbation sessions rapidly spiral out of control, leaving him increasingly unable to achieve any kind of sexual gratification, the escalating hours of intense mental exertion taking their toll:
"it was then I broke down from it. The fantasy's single gesture of one adolescent hand had proven to entail an infinitely complex responsibility more befitting of a God than a mere boy. These broke me. It was at this moment I renounced, resigned, became again merely a sickly and unconfident youth."
This Borgesian tale embodies the dominant theme of the work as a whole: the truth of a paralysingly over-analytical self-consciousness that acts to hinder genuine human connection. Wallace's stories are often accompanied by a swarm of metatextual footnotes, which invade the page and usurp the main text, hampering narrative progression. At its core, however, the work reads as a plea for sincerity. Like so many of his characters, Wallace himself appears desperate to move on, to break free from his postmodern shackles.
Although published just over a decade ago,
Brief Interviews
already has the feel of a period piece; an example of late-90s high-baroque postmodernism, bound by the weight of its ornate metanarrative structures and entwined literary devices. Yet, it also seems to attempt to instigate a transitionary moment, to act as a post-postmodern watershed. Looking back through the lens of the present, it is as if Wallace (who would later, tragically succumb to suicide) has seen his own fate, and is frantically trying to renounce the responsibility of the author as a God, to instead experience the reality of a lived passion — whilst at the same time, he continues to strive to write that "great, great book."
In Holden and Conroy's production, the audience is made aware of the play's artifice, with actors fed their lines in various ways throughout the performance. One wears an earpiece, whilst another reads off an autocue, and at one point, an offstage prompter leaps into action when it appears that an actor might have lost his place. These interventions echo the multi-layered nature of Wallace's writing, which the artists hope will lead the audience to experience "a kind of oscillation, or simultaneity between being absorbed in the text and being aware of how it functions." Yet, in a pivotal passage of the book (one of the aforementioned footnotes, although not part of the production here), Wallace renounces this very tactic:
…with the now-tired S.O.P. 'meta'-stuff it's more the dramatist himself coming onstage from the wings and reminding you that what's going on is artificial and that the artificer is him (the dramatist) and but that he's at least respectful enough of you as reader/audience to be honest about the fact that he's back there pulling the strings, an 'honesty' which personally you've always had the feeling is actually a highly rhetorical sham-honesty that's designed to get you to like him and approve of him (i.e., of the 'meta'-type writer) and feel flattered that he apparently thinks you're enough of a grownup to handle being reminded that what you're in the middle of is artificial (like you didn't know that already, like you needed to be reminded of it over and over again as if you were a myopic child who couldn't see what was right in front of you), which more than anything seems to resemble the type of real-world person who tries to manipulate you into liking him by making a big deal of how open and honest and unmanipulative he's being all the time, a type who's even more irritating than the sort of person who tries to manipulate you by just flat-out lying to you, since at least the latter isn't constantly congratulating himself for not doing precisely what the self-congratulation itself ends up doing, viz. not interrogating you or have any sort of interchange or even really talking to you but rather just performing in some highly self-conscious and manipulative way.[i]
In both incarnations,
Brief Interviews
is a display of brutal honesty and insight, which bravely explores this kind of ultimately destructive sincerity and self-loathing. Whilst the distinct lack of optimism here is sometimes difficult to stomach, the wicked humour and profound, provocative truthfulness frequently succeed in propelling matters beyond the postmodern miasma.
opening ceremony
, it was as if the nation suddenly made a collective decision to go with it, to curb their cynicism and embrace the games. And, as we witnessed the sight of those dark satanic, inflatable mills rising from England's green and pleasant land, for reasons we could not entirely pinpoint, tears began to well in the eyes of even the most hardened of Londoners. It was as if Brunel and his cast of top-hatted industrialists had managed to encapsulate all the entangled wonder and ugliness of these isles, and we had awakened to the strange, simultaneous sensation of melancholia and pride.
The games themselves were a huge success, as we were treated to day after day of spectacular sporting triumphs and impeccable organisation, helped along by the enthusiasm of the tens of thousands of volunteer 'Games Makers'. Above all else, it was the character of the competitors themselves that shone through most brightly: the joy of Mo Farah's 'Mobot' celebration; the irrepressible speed and charisma of Usain Bolt; the expression of Bernini-esque ecstasy on Jessica Ennis's face as she crossed the finish line. These new heroes and heroines captured the public imagination, their down-to-earth ebullience seeming a million miles from the world of the overpaid, underachieving Premiership footballers whose obnoxious antics we had become so weary of.
London was now, it seemed, hosting a party for the entire planet, a celebration of all of humanity. Nonetheless, of course, the world continued to be a hideous place for many, with news of the Assad regime's atrocities in Syria relegated from our nightly news screens in favour of analysis of the latest medal table fluctuations. Then again, perhaps we'd already realised that we're smart enough, aided by technology, to figure out what's really going on in the world; that we no longer depend on the mainstream media to guide our way. In the US, Olympic broadcaster NBC was lambasted for editing out a poignant tribute to the 7/7 London bombings during the opening ceremony, claiming it wasn't "tailored for the U.S. audience." Viewers flocked to the social networks to voice their outrage, and to seek out alternative ways to watch uninterrupted coverage via global online streams. This was another nail in the coffin for television's monopolistic modus operandi.
Once the Olympics had ended, the British public's appetite for more of the same was further whetted by Channel 4's trailer for the Paralympics.
Meet The Superhumans
provided what is possibly the most scintillating, exuberant, and just plain downright cool minute-and-a-half of television there has ever been, accompanied by a duly upbeat track by Public Enemy (the same group who, ironically enough, had once urged us not to believe the hype). The competitors lived up to their billing, with feats of athleticism that matched, and
even surpassed
, those of their able-bodied counterparts. As London 2012 became the first sold out Paralympics in history, we began to stop viewing these competitors as having a disability, instead seeing them as simply
differently
-abled elite athletes. Knowledge of high tech carbon fibre prosthetic blades and esoteric Paralympic categorisations became assimilated into the obscure vocabulary of the avid sports fan, who, over the course of the summer, had learned to tell their S3 from their T44, their madison from their kierin, their piaffe from their repechage. It was, after all, all rather arbitrary, but utterly compelling stuff.
David Foster Wallace's hideous men, by comparison, are frequently characterised by displays of cynical and exploitative behaviour. One particularly loathsome individual refers to his own deformed limb as "the Asset", using it to manipulate countless sympathetic women into sleeping with him. At these games, however, we found endless inspiring tales of human triumph over adversity. Take, for example, the story of former Formula One and Indycar driver, Alex Zanardi, who in 2001 lost both his legs in a horrific and violent high-speed crash: "The car broke into two pieces, one bit of me stayed with the car and the other bit, which was my legs, went 'arrivederci' in the other direction. And that's how I won the tickets to London 2012," he says with a wry laugh.
[ii]
Following years of rehabilitation and training, during which time he even designed his own innovative prosthetic legs, Zanardi capped his remarkable story by becoming a double Paralympic handcycling champion at the age of 45.
It's easy to come over sounding all 'New Sincerity' here, lauding Zanardi in the same way that Jesse Thorn extolled the virtues of Evel Knievel in his post-ironic
manifesto
. However, Knievel's cartoonish feats and kitsch star-spangled jumpsuit were all for show, appealing to our inner child's sense of awe. Zanardi, on the other hand, doesn't appear to have a cynical bone in his body. As a man, he remains grounded and very definitely in touch with reality, carrying himself with an infectious enthusiasm and ever-present smile. His is an
awesomeness
that genuinely can, as per the slogan of the games, "inspire a generation."
So, will all this newfound sincerity last, or is it just a flash in the pan? Might we instead be in the midst of a broader oscillation that has seen London's mood swing from the apocalyptic scenes of last August's riots, to the displays of unity and exuberance 12 months on? There is certainly a burning desire for the life-affirming positivity of this summer to continue. As Seb Coe reminded us in his closing speech, London has in recent years seen the worst of mankind: now it has witnessed the best. In a grand manner that David Foster Wallace's plea for sincerity could never have hoped to emulate, perhaps the Games truly were a game changer. The future only knows.
Annunciations
, Artist statement, 2011

Notes Concerning W
, Royal College of Art dissertation, 2009
Annunciations
by Siobhan Wall
This exhibition of recent large-scale photographic works is Luke Turner's first major solo show and his work takes up an impressive two floors in the former studio and home of the renowned Systems artist Michael Kidner. In addition to the large two-dimensional prints, the exhibition also includes fascinating documentation of some of the working processes used to make these compelling images. Luke Turner (born UK, 1982) studied at the Royal College of Art, graduating in 2010. He has exhibited widely, including
Systems and Patterns
at the Whitechapel Gallery (2008),
Let's Go Home
, Hamburg (2009) and more recently has had shows at the Purdy Hicks Gallery and in 2011, at the James Freeman Gallery.
Each photograph in
Annunciations
is named after a famous Renaissance painting, and it's apparent that these largely abstract images are a carefully considered distillation of what lies beyond the figurative and literal in the well-known masterpieces. Turner's
Christ Rising from his Tomb, Fra Angelico
, for example, consists of a dense black background within which can be discerned an amorphous shape, closer to a flying saucer than an elegant vase, but reminiscent of both the domestic and the alien. His vivid orange
The Annunciation, Sandro Botticelli
is an apt title for a work that suggests the visitation of something otherworldly from an unknown place. These could be seen as quite "spiritual" works, which aspire to or mimic the grasping for some truth that remains resolutely elusive.
The colour of each photograph is a dominant feature. They lie somewhere in-between soft, grey pastels and the vivid purple and turquoise hues found in hyper-synthetic environments such as the Pachinko parlours in Tokyo. Yet, despite using a colour palette that seems "unnatural", these apparently simple images exude a sense of calm, far removed from any frenetic gaming activity. Intentionally blurred, the colour saturated shapes tantalisingly compel us to bring the image into focus, despite knowing that they will remain resistant to such a controlling gaze. The blurred forms encourage us to remember how we experienced and understood the world as neonate humans (babies' eyes are unable to fully focus until around six months). We would have seen everything like this—except for our mother's face when she held her head close to our own. Consequently, despite being resolutely non-specific, they are quietly nostalgic for a time when our sense of curiosity was still unalloyed, unsullied and totally new.
Saudade
, a Portuguese word for "longing for someone or something loved and lost" seems a potent description for the seductive pull of these images.
Like strange maternal androids, these images have a sense of incomparable symmetry. Looking at Turner's images elicits a quiet, meditative stasis. The illusory effects also bring to mind the Enlightenment fascination with optical effects and a sense of excitement at witnessing spectacular visual phenomena, as recognised in accounts such as Richard Holmes's
The Age of Wonder
. Such enthusiasm persists today in the recent work of Luke Turner, and the process by which he constructs these alluring images is partially revealed in the exhibition itself. We are transfixed to the spot in front of each work, curious about what is partially indecipherable but also enigmatic and compelling. Turner elicits a haptic desire to hold and even embrace his perfect forms, which, because they are two-dimensional representations, will forever remain intangible and out of reach. Thereby, he subtly frustrates our attempts to own and control the world around us but at the same time he offers something else—a reflective antidote to the proliferation of images we encounter in everyday life. This up-and-coming artist suggests that we can assume both the role of a knowing subject, aware of art history and the extensive benefits of scientific modes of enquiry, as well as draw on our latent memory of an innocent gaze. In doing so, he reminds us that our sense of wonder is not lost.
Published in Eyemazing magazine, summer 2011 issue
www.eyemazing.com
I
'm noticing a new approach to artmaking in recent museum and gallery shows. It flickered into focus at the New Museum's "Younger Than Jesus" last year and ran through the Whitney Biennial, and I'm seeing it blossom and bear fruit at "Greater New York," MoMA P.S. 1's twice-a-decade extravaganza of emerging local talent. It's an attitude that says,
I know that the art I'm creating may seem silly, even stupid, or that it might have been done before, but that doesn't mean this isn't serious
. At once knowingly self-conscious about art, unafraid, and unashamed, these young artists not only see the distinction between earnestness and detachment as artificial; they grasp that they can be ironic and sincere at the same time, and they are making art from this compound-complex state of mind—what Emerson called "alienated majesty."
The best of the work at "Greater New York" pulses with this attitude. The worst of it is full of things that move, light up, or make noise, all frantic enough to make you feel like you're at a carnival rather than a museum. I yearned to see more art here that demands that you stop and be still, like painting, of which there is very little. Instead, the curators—Connie Butler, Neville Wakefield, and Klaus Biesenbach, the museum world's unofficial czar these days—favor things that are "about" painting, like Dave Miko's canvas propped on a little shelf with drips painted on the wall behind it, carrying the heavy-handed title
Lonely Merch Guy
. (When will everyone get over the ossified idea that painting's particular alchemy is suspect? Bad dogma!)
But let's look on the sunny side. I counted thirteen artists whose work I really like and twelve others whose work I'd like to see again. Like Liz Magic Laser's
Mine
, a secret-life-of-women video in which she and a surgeon perform an operation, with medical robots, on her purse (tiny tools snipping the face out of a $20 bill, for example); the artist simultaneously dismantles and creates, remaking her purse into a Rauschenberg combine. This weirdly familiar otherness goes green in Brian O'Connell's funny-strange architectural columns composed of potting soil, which make you feel like you're occupying a very large sand castle. Or David Brooks's section of real forest mummified in concrete, a sad comment on turning the natural world into doomed playgrounds. Leigh Ledare's pictures of his mother having sex bring us to the dark heart of the human drive for connection; the sweet sight of Ryan McNamara being taught to dance in the building's corridors speaks for artists compelled to strip themselves naked (metaphorically or literally) in public. Saul Melman's gold-leafing of the giant double furnace in the building's basement may be just another labor-intensive process piece, but it's also an ancient sarcophagus, a moving memorial to the dead. Equally serious, particularly in their strangeness, are Matt Hoyt's tiny carved clay objects, which look like sculptural-biological forms and dead rodents. They hint at the innate connection between creating form and creating life.
Much of the most effective work in "Greater New York" also involves the artists' leaping from medium to medium in madly unexpected ways: Sculpture, music, video, and photography get mashed up; techniques like collage and assemblage are combined with unusual materials like mud, magnets, stolen record albums, and art reviews (even one of my own, in Franklin Evans's walk-in installation-painting). Mariah Robertson's long strip of photographs looping along the ceiling and across the floor is photography as sculptural installation, so smudgy and phantasmagoric and unruly that it looks like drawing, a painting, and a filmstrip all at once.
Giant group events are distorting organisms: You can like and hate them in rapid succession. In the 2005 edition of "Greater New York," there were 162 artists on view, which was ridiculous. In 2010, there are just 68. More critical is what's
not
there: a by-now-familiar genus of cynical art that is mainly about gamesmanship, work that is coolly ironic, simply cool, ironic about being ironic, or mainly commenting on art that comments on other art. I'm glad to see it fading away—sincerely and otherwise.
Regular Notes on metamodernism contributor James MacDowell recently published an essay on
Quirky and metamodernism
in the newly revamped academic film journal
Movie: A Journal of Film Criticism
. You can read his article in full
here
.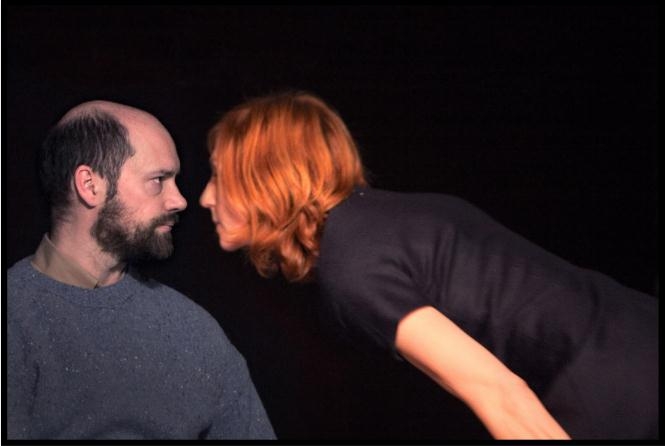 (Above:
Gift
with Steven van Watermeulen and Elsie de Brauw)
Trying to point out what constitutes contemporary theatre is a difficult task. When I asked Johan Simons, artistic director of the 'Münchner Kammerspiele' (a theatre that is known for its up-to-date, experimental and avant-garde performances) in a talk on culture on February, 9
th
2012 in Munich, he advocated the freedom of the arts instead, meaning not only the
sujet
of the plays, but also the way they are interpreted and performed on stage: "Each play speaks to you [to the director]. The story itself tells you how to organize it, where to put the emphasis on and what kind of atmosphere you can create with it. Theatre does not position itself in any specific movement, it is very diverse, and plurality is the thing that signifies it most." As usual, directors and actors negate any kind of categorization of their work. Granted, the plays themselves and the ways they are presented seem to differ from each other much, but isn´t there any common thread that connects them all?
After decades in which plays were marked by association, citation and intertextuality, nowadays we appear to experience a comeback of a kind of play that puts the focus on logic, psychological motivation and straight-forward narration. In my opinion, what theater aims for is not simple provocation. Also, its aesthetic can no longer be reduced to being taboo-breaking and 'risk-taking'
[1]
. Theatre turns towards 'real' people with real problems. The plays refer to more than just themselves, and in the process stories are created that have an effect on the viewer again. Those stories don´t allow the viewer to be distanced anymore. Heavily influenced by the experience of postmodern apathetic theater, contemporary drama tries to incorporate an ethical perspective again. Small stories about small communities relate to a bigger picture or as Christoph Henke and Martin Middeke put it: "[…] each drama, therefore, is a micro-society which interacts with the real one, albeit without being a simple reproduction of it."
[2]
The basic form of society is a family consisting of two parents and their child. In
Gift
[Poison] (2009), written by Dutch Lot Vekemans and directed by Johan Simons in the 'Münchner Kammerspiele', this little society is destroyed when the son dies in a fatal accident. The remaining parents split up, because they can't stand their shared grief, and only meet again after nine years. In this meeting they attempt to negotiate their different ways of dealing with the tragedy. Their argument is full of bitter irony, but it seems to be the first time that they are truly honest with each other. Eventually, they achieve a kind of harmony that is based on an aesthetic experience that the husband encountered: When one time waiting for a choir session to start, he listens to a male voice singing the song "Let it be blues". So touched by this, he wonders what would happen if his life would stay the way it is now: He feels he would be relieved by this intensive experience of presence. Now, in the argument with his ex-wife, he also remembers the last minutes with their son, when the mother sang a silent song for her dying child. In both cases a song comforted them. In the end, what they share on an aesthetic level becomes eventually more powerful than what separates them.
The return to clear-structured storylines – a set beginning and a definite ending – seems to be a return to traditional elements, but is, in fact, a very contemporary tendency. Birgit Haas calls this – in a purposely tautological way – 'dramatic drama'
[3]
. Moreover, theatre regains its political responsibility back which was theatre´s main task from its beginning. Theatre´s political function is derived from 'human interaction and personal conflicts'
[4]
, the individual is re-installed as the active subject. By closely observing relationships between individuals the viewer can reconstruct how political structures are developed in an experimental playground.
This appears to be a step back to older forms of representation, when the individual was the centre of the play like in ancient Greek theatre. But, in fact, in this period of theatre the individual was only the victim of fate and had no possibility to act in a self-determined way. It also differs from a psychological theatre with a social background – as German drama was characterized around 1910 – which concentrated on an exact, detailed and subjective representation of reality without referring to its own limits. Therefore today´s plays cannot be simply brushed aside as being old-fashioned, rather theatre tries to defines itself anew. Nowadays, theatre understands itself again as a critical force that reveals and deals with society`s hidden power-structures, instead of simply giving up in face of an overcomplicated world.
The 'dramatic drama' tries to convey a concept of unity. The mosaic structure of postmodernism is not appropriate anymore to represent the current developments in culture, the 'new' theater feels the need to turn to seemingly 'old' traditions like mimesis, and the pristine urge to tell stories. The stage is not an open (postmodern) stage, rather it serves as a virtual closed space. Fiction is separated from reality again.
Peggy Pickit sieht das Gesicht Gottes
[Peggy Pickit sees the face of God] (2010) directed by Martin Kušej in 'Bayerisches Staatsschauspiel' (a more traditional theatre in Munich) is an example for this kind of 'new' theatre.
This is shown best when looking at the play`s dialogic situation. The four characters have a conversation about the weather, about their past lives and when they´ve seen each other the last time. However, from time to time some fragments appear that don´t really belong or fit into the conversation. In addition, the characters often freeze like in a time-out. Characters act as if mediums of a message by an unknown sender.
These fragments will appear later again – this time making much more sense. Information of coming discussions are anticipated constantly. Interestingly, this doesn`t have a disrupting effect, rather a uniting one, because these little fragments will find their well-deserved place later by a re-constructive work that can only be accomplished by the viewer.
This strategy is, therefore, not used to confuse the viewer, but to create an attentiveness in him that will be rewarded later. The reward takes place at multiple instances, whenever those bits of information come together like little pieces of a puzzle and create a consistent dialogic situation that is in a way strengthened by the repetition.
Although, plurality is still a phenomenon of today´s theatre, I wished to point out new elements that imply a re-negotiation of known credos and concepts in contemporary theatre. If I dared to find a starting-point for now, I would choose the words of John von Düffel who claims today`s theatre is about "less art, more substance"
[5]
.


Interconnections in Blakean and Metamodern Space
Alexandra Dumitrescu


Perception and Theory
Everything starts from the physical world. Our perception of it shapes our philosophies, our concepts, our way of positioning ourselves in the world. We have grown to believe in the old hierarchical fallacy – a useful paideic concept though it certainly was. But physical reality hits us in the face: We no longer look at organisms made of cells, made of atoms, made of whatever elementary particles we have so ardently hoped to identify. Latest tendencies in physics propose a different outlook. Not a hierarchical one – going down from complex to simple, from molecule to atom and further still until the building blocks that make up the physical reality are identified – but a model that aims to grasp the interrelations between various forms of matter organization. There are no ultimate constituents of matter, physicists claim. There are no elementary particles. (See e.g. http://paginas.terra.com.br/educacao/jtesheiner/etcetera/davidbohmandgeoffreychew.htm)
How is this going to affect the way we look at the world? Will this influence the way we shape out theories as means of internalizing the outside or understanding our mental space? The passages that follow will provide a tentative answer, as well as a look at the way in which literature echoes the transition from a hierarchical universe to one based on interconnections.
More than once we have used the physical reality around to create our theories, to draw our metaphors from. We have populated our mental space with trees and pyramids, charts and branches that are obviously inspired from forms and things we encounter in nature. Once again we feel tempted to do so with the network metaphor. Inspired from, but more complex than the web one, the network metaphor acknowledges the mutual dependence – objectified as links and communication – between the elements caught in it or making it up.
As long as we have looked at the physical world through A hierarchical lens, it made sense to regard the mental space as being structured hierarchically, with some theories or concepts taking primacy over some others. Nevertheless, once the impossibility of establishing or isolating elementary particles is acknowledged and internalized, any attempt to establish the ascendance of a theory or concept over another becomes futile. Consequently, theories, models or concepts are seen in their interconnectedness rather than in their order of importance. Refusal to endorse interconnectivity renders a theory or a system less creative, less intuitive, and potentially dangerous. This is a lesson that the twentieth century had to learn the hard way: not only that metanarratives are doomed to failure, but that any outlook that claims to be the only valid one – and refuses to relate to other way of conceptualizing the world – breeds pestilence, suffering and death. The opposite endeavor of integrating concurrent theories and establishing connections has gained more and more ground lately. The scientific model corresponding to this tendency is the bootstrapping one, whereas, in theory and art, a trend arguably foreshadowed by romantic Blake and which I dare to call metamodern seems to be emerging.
Niche Thinking …
Not the province of the twentieth century to be sure, the simple truth that niche thinking is not only intellectually stifling, but also endangers everything that comes near it, was vocally advocated by William Blake (1757-1827). He could not contain his anger at the cruelties perpetrated on Albion's shore in the wake of the French Revolution, when young people, almost children, were put to death in the name of a dogma or a regime.
A poem about a child whose unacceptable boldness of thinking for himself proves fatal, Blake's 'A Little Boy Lost' encapsulates a metaphor for conceptualizing or approximating the world order in ways different from the main stream one(s):






'Nought loves another as itself,
Nor venerates another so,
Nor is it possible to Thought
A greater than itself to know:

'And, Father, how can I love you
Or any of my brothers more?
I love you like the little bird
That picks up crumbs around the door.'

Not only is the representative of the accepted dogmas, i.e. the priest, irritated out of his wits by the child's candid assertion of what may be regarded as an innocent life outlook or theory, but he also feels terribly threatened, menaced to such a degree that only the annihilation of the impudent seems apt to restore order to the world. This 'Song of Experience', written some time between 1789 and 1793, lucidly warns against any dogma which refuses to acknowledge and relate to concurrent theories:

The Priest sat by and heard the child;
In trembling zeal he seized his hair,
He led him by his little coat,
And all admired the Priestly care.
And standing on the altar high,
'Lo, what a fiend is here! said he:
'One who sets reason up for judge
Of our most holy mystery.'
The weeping child could not be heard,
The weeping parents wept in vain:
They stripped him to his little shirt,
And bound him in an iron chain,
And burned him in a holy place
Where many had been burned before;
The weeping parents wept in vain.
Are such things done on Albion's shore.


Interestingly, despite the priest's niche thinking, the change of spatial perspective in the poem describes a loop-like movement that isolates the nook of dogmatism and establishes connections between patterns of thought that the priest would deem irreconcilable. The perspectival focus shifts from the general human in the first stanza, to the particular story of the boy; from an individual's relationship with God and subsequent punishment for unorthodox views, to the generalization comprised in the last line. From 'around the door' – meaning anywhere there is food and safety, any topos where the human and the divine communicate and therefore existence seems effortless: a present, or a godly gift – to a particular place: the altar. This is also a movement from the concrete necessities of life: food and shelter, to the symbolic: the altar high, a locus of sacrifice and punished idealism. The child seems able to relate across levels of existence, up and down along the chain of being, to a God he addresses as 'father' and to his parents and fellow martyrs; then views himself as a humble bird picking at breadcrumbs spread by a generous Creator's hand. Obviously a metaphor drawn from the New Testament, it establishes a dialogue between trite reality and revelation. Then perspective enlarges again: from the particular symbolic place, to 'Albion's shore', which for Blake often stands for 'humankind' and any place it inhabits.
These perspectival shifts and the child's ability to relate vertically – across levels of existence – and horizontally, with his parents and fellow sufferers at the hands of human injustice, makes one think that, as opposed to the priest's niche thinking, the narrator of the poem's events cherishes a relational type of thinking. Such a way of looking at the world places the priest's inflexible dogmatism in a loop: a mere accident in a relational universe. This dogmatic dead-end street stands for a malign appendix on the way of one's effort to conceptualize the world. Comparing the published versions with the notebook poem (containing the text alone, with no illustration) yields further insights into the nature of evil bred by niche thinking and the dangers it poses for any concurrent ways of conceptualizing the world. In the illuminated poem, characters bending in mourning evoke images of closure. The blood red (in copy C) or orange (in copy W) flames on the left mirror bat-like angular green (in copy C) or blue (in copy W) shapes on the right. Bat wings usually evoke the covering cherub, and thus, the impersonation of evil, which is, quite often with Blake, a priest. Priests are evil with him specifically because they seem unable to relate to ways of conceptualizing the world different from his own. (For a comparative look at various copies see www.blakearchive.org).
… Postmodernism…
A similarly troubling rendering of the catastrophic effects exclusive theories have is that of Ernst Jünger's 1977 novel, in which the highly organized space of Eumeswil is laid barren with the disappearance of the ones claiming to be the guardians of the only valid philosophy. Noteworthy is the fact that barrenness seems to shift from peripheries during the Condor's rule to the centre after his leaving, that is, from the surrounding islands, to the very heart of Eumeswil. This is an instance of the periphery usurping the center and a memento as to the fact that the only systems which may survive the trial of time are those that do not ignore the secondary, but, on the contrary, relate to it in fruitful ways, and acknowledge its ability to fertilize the primary (cf. Nemoianu 1989). This would mean, in an ideal world, engaging in informed dialogue with the other and establishing connections between the centre and various points on the periphery. Failure to do so proves fatal in Eumeswil and, later on, in contemporary fiction such as Houellebecq's Plateforme (2002) and Les particules élémentaires (1998).
…and Metamodernism…
Pinpointing the dangers of niche thinking or niche theories – which either simply ignore, or, in more severe cases, aim to usurp other systems – this essay explores the complementary approach of connectionist thinking and the fruitfulness of the model emerging from it. Positing metamodernism as a period term and a cultural phenomenon, partly concurring with (post)modernism, partly emerging from it and as a reaction to it (especially to its fragmentarism, individualism, excessive analyticity, and extreme specialization), I shall also attempt to outline several features of metamodernism as a budding cultural paradigm. Allowing for diverging theories, metamodernism champions the idea that only in their interconnection and continuous revision lie the possibility of grasping the nature of contemporary cultural and literary phenomena. Thus, it may be conceptualized in relation not with the map metaphor, a favorite with Jorge Luis Borges (1889-1986), but as a set of maps under continuous revision.
Borges' map (1997) which tends towards extreme accuracy – until it grows as big as the world itself – is, undoubtedly, a very fit metaphor for the postmodern space characterized by extreme specialization, attention to detail, preeminence of analysis over synthesis, and of fragments over unity. In Borges' elaborated cartography metaphor, there is a feeling as to the futility of all things taken to extremes, excessive specialization and rationalization most notably. It is, obviously, an obituary for dying postmodernism as an all-encompassing sole explanatory paradigm of thought or framework. Nevertheless, much like Borges' map which proves somehow useful, although not for the purpose it has been created, even apparently hopeless and hapless postmodernism does not eventually turn completely worthless: it certainly survives as a possible theory or a world outlook, but which needs to relate with alternative paradigms.
Thus, as opposed to the postmodern accurate map grown until cumbersome, the metamodern space may be represented as a set of maps under continuous revision, each map of the set focussing not only on accurate representation, but also on pinpointing connections between various points of reference. Another fit metaphor may be that of a boat being built or repaired as it sails, or a palace or house under continuous construction.
The Principle of Theory Overlapping
Late modernism (Petrescu 1998: 138-9) acknowledged the complexity of reality and the inability of any scientific model to explain it in ways exhaustive and non-contradictory. Despite attempts at coining all-encompassing theories, the fact that reality cannot be completely described by means of a single theory or paradigm has become more and more obvious. The view regarding the inability of a theory to explain all aspects of a domain of investigation is further strengthened from the perspective of a contemporary observer, for whom reality appears as inherently contradictory. And it is specifically contradictions that theories wish to avoid or rule out, for the implicit or explicit aim of any explanation is to provide a non-contradictory coherent model of reality.
As one reflects on the system of cultural and artistic ideas, the tendencies, theories, models or paradigms at work in the vast domain of culture, (s)he cannot help noticing that they are far from being non-contradictory. It is at this point that we realize the need for a conceptual framework that would accommodate diverging theories. The principle of theory overlapping states that the theories pertaining to a specific domain (or aspect of one such domain) need not be consistent or non-contradictory with one another in order to be considered as parts of a system. There may be aspects in which their explanations are complementary, and even contradict one another. A principle of complementarity, similar to the (homonymous) principle in quantum physics, seems to be at work in such a system. One cannot help recalling at this point Blake's famed adage identifying contraries as a vital engine that keeps the world spinning and developing: 'Without Contraries is no Progression', the narrative voice would proclaim in The Marriage of Heaven and Hell.
Needless to say, such principles and the related connectionist model cannot be considered as pertaining to mainstream Western philosophy since the Enlightenment. Quite evidently, they challenge much of René Descartes' (1596 – 1650) legacy. The Cartesian partition between res cogitans and res extensa, i.e. between the I, God and the world, between soul and body – may be placed at the source of all tendencies to separate and analyze in order to understand. Heisenberg (1958) believed that this Cartesian division has permeated human consciousness so profoundly that quite a time will lapse before its replacement by a more flexible and refined model. The model Heisenberg envisaged would be one based not on dichotomies and analysis, but on complexity and interconnection. Imported from the fields of physics and artificial intelligence, the bootstrap model (Capra 1988) sketched below seems a worthy competitor for the analytical one based on Cartesian division, and a model that the awareness as to the complexity of the contemporary condition demands.
The Bootstrap Model


We lack the conceptual means […] to straighten out the convoluted and straggly picture, to
conjure up a cohesive model from the confused and incoherent experience, to string together the
scattered beads of events (Ignacio Ramone, quoted in Baumann 1997: 199).

If we consider the system of theories, paradigms, and trends, the bootstrap model would express the correlation and fundamental interdependence between these cultural phenomena and, thus, reveal the intrinsically dynamic nature of cultural reality as emerging from their interconnections.
The components of the bootstrap model are linked or interwoven in a network that indicates the connections between theories, paradigms, or cultural trends. Thus different theories may be simultaneously relevant for an issue considered. To put it another way: several theories regarding the same issue(s) can co-exist, their interplay pointing to the complex nature of the phenomena considered. For example, if we wish to understand and conceptualize the nature of cultural phenomena in the late twentieth century, we may note that the theoretical tools of postmodernism may be useful to a point only, leaving some aspects that would not be subsumable to the postmodern label. These aspects may be best understood in the light of another model that can be named metamodern. Postmodernism, for example, acknowledged the existence of peripheral outlooks, but a certain tendency towards integration of diverse points of view and of placing them in fertile dialogue, surpasses postmodernism. Whereas fragmentarism characterises postmodernism, integration is a feature of metamodernism. However, postmodernism and metamodernism are not mutually exclusive.
Within the bootstrap model, links and relationships are considered as being the most appropriate ways of describing reality. Therefore, the most apt language would be that of connections. It goes without saying that the bootstrap model is consistent with the No Free Lunch Conjecture.
Stating that there is no such thing as a best theory for accounting for all aspects of a phenomenon, the 'no free lunch conjecture' underlines the need for a model that would accommodate and establish connection between existing theories. Such a model is the bootstrap one. Extrapolating from the No Free Lunch Conjecture, we can say that there is no such thing as a best paradigm for explaining all aspects of a cultural or literary reality. Within such a framework the staunchest supporters or arbiters of postmodernism may find it hard not to accept the existence of alternative theories meant to account for contemporary cultural and literary phenomena. One such paradigm is metamodernism.
Such a model of simultaneously accepted theories stands as an answer to contemporary relativism. Instead of abandoning any explanation or by-passing any significant or main issue of contemporary or perpetual concern (e.g. questions such as 'is there such a thing as human nature'), the position to be adopted is the one of someone saying: there are several explanations and they are simultaneously valid. As mentioned above, an apt metaphor for a conceptual frame comprising several theories developing as the domain is explored, would be that of the palace under continuous construction, or that of the ship being repaired as it sails. A new metaphor that we propose is that of a series of maps: each theory stands for a map of the domain tackled, with no map claiming to be complete or absolutely correct.
To draw a clarifying parallel: the bootstrap model is analogous with the M model in physics, where M represents a network of theories (Hawking 2001). Before the mid nineties physicists would believe that there are five distinct string theories. But when the M theory was put forward, these theories ceased to be regarded as mutually exclusive. The M theory provides the unique advantage of uniting the five theories in a single theoretical framework. What has made skeptical physicists such as Hawking take the M model seriously was the network of unexpected relationships connecting the theories (Hawking 2001: 57). These relationships reveal the fact that all five theories of cords are actually equivalent, meaning that they stand for different expressions of the same main theory, i.e. the M theory. The story of the M model points out that theories apparently divergent may converge in a common theoretical frame. This holds in the field of cultural studies and literary theory, too.
Matei Calinescu's Five Faces of Modernity (1987) evinces a similar effort to convey the intrinsic unity of apparently discrete and even contradictory trends. Calinescu regards modernism, vanguardism, decadence, kitsch, and postmodernism as facets of a single cultural paradigm: modernity. His attempt to establish links between cultural trends apparently unrelated renders Calinescu's endeavor similar to that of identifying a model M that would encompass different string theories in a common theoretical frame. Calinescu's model is not left without echo. In 1990 Antoine Compagnon published his book entitled Les cinq paradoxes de la modernité, dealing in its five main chapters with (1) modernism, (2) vanguardism, (3) abstractionism and suprarealism, (4) expressionism and pop art, and (5) postmodernism, corresponding roughly to Calinescu's 'five faces of modernity'.
Both Calinescu's theory (1987) and the M model point to a certain trend observable towards the end of the twentieth century. This tendency to identify cohesion and relationships between different and apparently irreconcilable theories, paradigms or ideas becomes more prominent as the turn of the century approaches. In his Foi et savoir, Derrida would wonder why we would be surprised by what has been quite hastily called "the return of religions":


It surprises mostly the ones who naively believed that a certain alternativeopposes Religion on the one side, and Reason, Enlightenment, Science, Criticism (Marxist criticism, Nietzschean genealogy, Freudian psycho-analysis and their inheritance) on the other as if one could not exist but by breaking away from the other.

Derrida then adds a remark quite relevant for the present discussion, saying that 'We should, on the contrary [not see these as irreconcilable alternatives, but rather] start from a different model [italics mine] in order to attempt to think this "return of the religious."' The model Derrida envisages will englobe 'Religion on the one side, and Reason, Enlightenment, Science, Criticism (Marxist criticism, Nietzschean genealogy, Freudian psycho-analysis and their inheritance) on the other.' From the perspective of such a model, diverging trends or theories would not appear as mutually exclusive.
The model that Derrida longs for seems to be one that would allow for contrary approaches to coexist, and reveal their intrinsic interconnectedness in an attempt to approximate a picture of culture that strives towards completeness (but cavete! not towards non-contradictions). Such a model allowing for contradictory paradigms of thought to reconcile is what we call metamodernism.
Within this model, religion and reason, with its Enlightenment, science and criticism are integrated. This is so mostly because the emergence of one of these is not seen as necessarily entailing a total breach with previous or concurrent others. From this perspective, we witness complex interconnections and interdependence, and even processes within one such model are seen as emerging from another and defining in relation to other(s). This holds good even when the relationship seems to be one of mutual denial, which is the case, for instance with modernism and postmodernism. Contradictions between paradigms or theories may be regarded as contraries and, since William Blake's Marriage of Heaven and Hell (1793) we know that 'Without Contraries is no Progression.' Quite relevantly, it is not progress as understood in the nineteenth and twentieth century that Blake talks about, but progression. Meaning either 'gradual process of change or development' and 'movement towards a goal', within the bootstrap cultural model, Blake's progression suggests advancement of understanding due to successive attempts at making sense of different aspects of the world and of culture, coined from various perspectives and in different jargons. Literature, obviously, stands for the reflection of such endeavours.
In the fragment quoted at the beginning of the paragraph Ramone emphasizes the lack of a conceptual framework that would help one make sense of the increased complexity of experience. Without intending to set itself as the conceptual way out, metamodernism with bootstrapping as its functional model for revealing the dynamics of apparently diverging theories (and its engulfing concepts from different theories and placing them in dynamic relationships) may stand as a solution to Ramone's conceptual deadlock. However, metamodernism does little 'to straighten out the convoluted and straggly picture'. On the contrary, it acknowledges the complexity of phenomena rather than attempting to reduce them down to rational and manageable models or theories.
This network model of theory overlapping allows, at times, for a kind of logic different from the Cartesian one, i.e. from the analytical rationalism that has been dominating European Culture since the Renaissance. This type of logic is one of non-contradiction and inclusion similar to the models pervading the works of employed by Stéphane Lupasco (1900 – 1988), Indian philosophers or Attar (1119 – 1220), in his Mantiq at-Tayr or The Conference of the Birds.
We see thus that the roots and the impact of this logic of integration, rather than exclusion – as opposed to Aristotle's principle of the excluded middle – are older and stronger that we may think. To give but one example, Indian philosopher Bhagwan Das (1869 – 1958) used to advocate the idea that 'within diverging views on a subject there is always an element of truth in each'. His logic of integration called samanvay vad or 'the integration of different points of view' (Shrivastava 1995: 25) was employed in a religious context initially, but was subsequently employed in fields as different as politics, epistemology and science.
The logic that emerges from such a model, as from the bootstrap model, is a type of relational logic, peculiar to complex networks. Bhagavan Das' samanvay das (the integration of different points of view) foretells not only the M model in physics but also the bootstrap model.
The Space of Interconnections
Everything is interconnection in nature and, willing or not, we are part of nature and instances of it, too. From the simplest multi-cellular organism such as Caenorhabditis elegans (Barabási 2003: 34) to the complex human brain, from eco-systems to social ones, our existence is mapped by networks. Our biological infrastructure is made up of a series of networks. There are networks of thoughts, of feelings and memories, professional networks and dialogue groups or circles of acquaintances. These not only map our existence, but also account to a certain degree for what we are and how we react, for how we grow and how we create.
Although one cannot ignore the all-important part networks play in our lives, one cannot hope to reduce human existence and consciousness to nodes and hubs, links and networks, to what is measurable and studied analytically. On the contrary, a networking outlook allows for networks at different ontological levels to interact. The sacred space of epiphany and the trite domain of daily experience or that of objective data interact, and it is from this interaction that the more mundane networks acquire meaning, that is, a tellable story.
Michel Houellebecq starts his 1998 novel Les particules élémentaires (English text: Houellebecq 2000: 5) with a eulogy to the web, which, in a way, is an imperfect synonym for network: 'The web which weaves together all things envelops our bodies, / Bathes our limbs in a halo of joy.' Houellebecq's web acquires a somewhat mystical quality when he opposes 'the web of suffering and joys' which is our history to 'the web which weaves together all things' and 'envelops our bodies' (2000: 5-6). However, great disparities separate networks and Houellebecq's anti-utopian web. Whereas networks are asymmetrical structures, or rather dynamic systems, unpredictably developing, webs are highly symmetrical, predictable, equalizing. Unsurprisingly, these last three attributes aptly qualify the post-historical humanity that the protagonist of The Elementary Particles envisages as alternative to suffering contemporaries. Moreover, all components of a web co-exist at the same level, whereas networks allow for connections between systems existing at different ontological levels. Whilst networks acknowledge random connections and choice, webs do away with the unpredictable and the creative.
Nevertheless, revealing the links between social beings as based on identity that results from leveling difference – until individuals are reduced to cells in an immense body – seems a desirable end to Michel Djerzinski, Houellebecq's protagonist in The Elementary Particles. Before the new race he had engineered took over, humankind was marred by pain and lack of love, for 'the relationships between [people] were at best indifferent and more often cruel' (2000, 3). Here one can sense a scientific intertext. Humanity made up of individuals closed up in their own spheres seems as unnatural as the unfathomable elementary particles, which no one can actually identify. The species is somehow 'redeemed' and made to interact: its individual building blocks overcome their boundaries and become parts of a collectivity, a web.
Despite its seeming metamodern aspiration towards what Blake has called 'universal brotherhood' of all the people, this web of Houellebecq's The Elementary Particles, lies in the postmodern space of pastiche and irony, anti-utopia and sarcasm. Cloning humans in prime number bursts seems the only way out for a degenerated humankind solely keen on gratifying its own desires in a hic et nunc devoid of any metaphysical aspirations.
In order to solve the postmodern malaise, Hubczejack, Djerzinski's successor, advocates cloning experiments and the replacement of humanity by a perfect loveless race (2000, 263). Thus, the narrative space of The Elementary Particles accommodates a post-human race which, by means of leveling the difference, has successfully done away with selfishness and violence, which have become extreme during the postmodern age.
A collectivity of beings that actually think alike, as cells in a body function alike, is created in The Elementary Particles. But can such a literally like-minded humanity be actually the dream of unity Djerzinski, and before him, Blake has envisioned? Well, I strongly doubt this. Those who thought, as Blake did, that equalizing laws are oppressive ('one law for the sheep and the lion is oppression' in Proverbs of Hell in The Marriage of Heaven and Hell) could not have conceived of the ultimate harmony of people being achieved by reducing them to identical gene pools, and thus managing to leave 'behind a world of division / the way of thinking which divided' them (2000, 6).
One cannot help noticing the almost nostalgic tone with which the presumed collective narrator belonging to this post-human community talks of extinct humanity as a species 'tortured, contradictory, individualistic, quarrelsome and infinitely selfish, […] sometimes capable of extraordinary explosions of violence, but [which] never quite abandoned its belief in love' (2000: 264).
Here one senses an underlying hope that the metaphysical mutation as global transformation referred to at the beginning of The Elementary Particles (3) had been not solely a genetic one, but also a mental one. Then Djerzinski's engineering the perfect post-human race would have eradicated not only death and physical or mental suffering, but also whatever prevents love – with the accompanying emotions of compassion, sympathy, forgiveness – from expressing and manifesting as a generative power.
The metaphysical mutation the narrator of Houellebecq's The Elementary Particles envisages is a turn away from both modern individualism and postmodern fragmentarism. It is, therefore, a metamodern mutation. The metamodern turn is also a turn towards the story, but not merely to the story as entertainment, of which postmodern literature, especially low postmodernism, abounds, but as meaningful narrative that involves the audience, and answers some of its quandaries, thus aiming to either coax or shock the reader into regaining their humanity of concern, care, and compassion. It is a turn that restores to story its meaning, which somehow expresses the hope of restoring meaning to one's life. And, moreover, it is a turn towards the story that bridges gaps between levels of existence. Not so much the story as an epistemological endeavor, but the story as a link between humans and (distinct) ontological levels. An apt metaphor for this may be Jacob's ladder, on which angels climb and descend, establishing connections and interceding between high and low, between created and uncreated, between reality, if you want, and fiction, between factual and imaginative existence.


Tired of novels of action and suspense à la Grisham, bored with cheap so-called romantic literature – much like Houellebecq's Michel in Plateforme – contemporary readership looks for meaningful stories that would make life livable, giving some direction and meaning to one's experience. It is no longer the excitement of extremes or experiments that such people seek, but the middle way of meaning and wisdom.
Houellebecq senses this tendency, the thirst for meaning, for artistic expression springing from inner necessity. Michel, the protagonist of Plateforme notes that, despite most artists' organizing themselves in 'packs' or 'networks' of interests and their cultivating a rather business-like attitude to their trade, there are still some, although quite a few, whose artifacts express an inner need (178-9).
Art springing from an urge to express felt by the artist and answering to the inner necessity for beautifully narrated meaningful stories or skillfully represented truth is, undoubtedly, art that surpasses late modern and postmodern tendencies. It is a different type of art that goes somehow against Nietzsche's obituary for God, trying, on the contrary, to recapture the epiphany of experience. This is metamodern art.
Going back to Houellebecq, one cannot miss the great emphasis he lays, in both Particules élémentaires and Plateforme, on networks and webs in human communities. The web established between the members of the post-human community in The Elementary Particles is a function of their similarity and like-mindedness, whereas the network of artists Michel mentions in Plateforme (178) seems primarily aimed at deriving lucrative advantages from one's connections. Lack of connections and input or feedback from superiors is responsible for the implementation of the program that will cause Valerie's death, Michel's consequent lapse into apathy and pessimism, and Jean-Yves' dramatic career downfall.
On the other hand, Michel's influence on the implementation of sex tourism in the developing world proves the effectiveness and indeed potential danger of links or connections between individuals. The Aphrodite program, focussing on gratifying Westerners' desire at the expense of local girls, starts with Michel and Valerie's weak link turning into a strong bond based on mutual gratification of sexual desire. The strength of weak ties – to use Granovetter's phrase (Granovetter 1973) – proves once again as Jean-Yves, only an acquaintance of Michel, takes up the latter's idea of sex tourism and is instrumental in implementing it. This would eventually prove to have catastrophic effects for the lives of the two and for that of Valerie, the one weak link that connected them.
Both Platform and The Elementary Particles can be read in terms of the periphery (represented either by the obsession with sex or by its fanatic denial) becoming the centre and usurping the central values of humanity: love, compassion, sympathy, and the need to interact and communicate. The disastrous consequences such an upheaval may yield are explored at the collective level in The Elementary Particles, where humanity is replaced by a post-humanity, a species unitary and perfect, like an immense collective organism, but devoid of feeling and, most importantly, devoid of love and affection. Plateforme, written three years later, delves into individual destinies marred by the obsessive pursuit of pleasure. Making sexual gratification a central element in his character's psyche and allowing it to become a drive and motivation yield catastrophic results for the main characters Valerie, killed by Muslim fanatics, and Michel, emotionally maimed after the loss of his girlfriend. Jean-Yves, too, is severely affected as his successful career is suddenly ruined as a result of the terrorist attack directed at the sex tourism he helped implement.
A man of his age, Michel is no different from most of his contemporaries: obsessively seeking pleasure, he tends to avoid the burden of cumbersome relationships. He feels he cannot and would not pass on any teaching after the tragic events in Thailand, for his story has been meaningless. Yet he wishes somehow to touch those unquestioning beings that seek pleasure for pleasure's sake, as he used to before Valerie's death. It is at these people that Houellebecq's novels are addressed, in an attempt to provoke questioning and introspection.
We have seen how strong some weak ties can turn, and how dangerous not relating to the other is. Links can be dangerous, but lack of links is inhuman. The post-human collective character narrating The Elementary Particles confesses:


Having broken the filial chain that linked us to humanity, we live on. Men consider us to be happy; it is certainly true that we have succeeded in overcoming the monstrous egotism, cruelty and anger which they could not; we live very different lives. Science and art are still part of our society; but without the stimulus of personal vanity, the pursuit of Truth and Beauty has taken a less urgent aspect (263).

Significantly, Djerzinski's positivistic attempt 'to restore the conditions which make love possible' (2000: 251), though successful in creating a post-human species devoid of suffering, falls short of bringing love back into the world, which was his goal in engineering the refined post-human species. The end turns the whole book into a plea for metaphysical mutation. The argument develops in several steps:
Because (1) Humankind cannot carry on along the self-destructive paths it strides at present and (2) should there be any hope for humankind, this lies in the restoration of humane values of love, with the attending feelings of compassion and forgiveness. Motherly love plays a most significant part in such redemption. (3) Such change will be the result of a mutation alone, for, as it stands, humankind can not find within itself the resources necessary for such a radical shift in mentalities and mores. It cannot undo by itself the evil it has inflicted on itself. (4) As The Elementary Particles suggests, mutations derived from mental constructs and reasoning, such as Djerzinski's, may yield some interesting results, but will never attain the goal of redeeming humanity and love to humans. This has been the fate of many stories of resurrection (such as Marxism, communism, socialism) whose rise and fall we have been witnessing. The post-human species to which the narrator of The Elementary Particles belongs is the result of a physical mutation: it is created by means of genetic engineering. It is specifically breaking the connection with humanity – not strengthening it, as Djerzinski expected, though he had in mind humane feelings mostly, not indeed the 'filial chain' – that makes them what they are: sad gods doomed to live forever (263).
This mutation has fallen short of being what Djerzinski hoped for and post-humans claim it to be: a metaphysical mutation. 'A metaphysical mutation', the narrative voice of The Elementary Particles says, is a 'radical, global transformation of values to which the majority subscribe.' Such mutations are 'rare in the history of humanity. The rise of Christianity might be cited as an example (3-4).
What takes place in Houellebecq's The Elementary Particles is definitely a mutation and the entire species' agreement to certain values is indubitable. Yet this perfect species is not more human, but less so.
(5) As mutation is necessary for restoring humane values, and reason-inflicted mutations are doomed to fail – for human mind cannot possibly predict and control all the consequences of its own thinking and actions – the only hope for an ailing humanity is what Houellebecq calls a metaphysical mutation. This has been Djerzinski's hope of redeeming love (not abolishing it almost completely, as the post-humans do) its centrality as a value apt to restore meaning to the human space of interconnections:


'Natural forms', wrote [Michel] Djerzinski, 'are human forms. Triangle, interweaving, branching, appear in our minds. We recognize them and admire them; we live among them. We grow among our creations – human creations, which we can communicate to men – and among them we die. In the midst of space, human space, we make our measurements, and with these measurements we create space, the space between our instruments.'
'Uneducated man,' Djerzinski went on, 'is terrified of the idea of space; he imagines it to be vast, dark, yawning. He imagines beings in the elementary forms of spheres, isolated in space, curled up in space, crushed by the eternal presence of three dimensions. Terrified by the idea of space, human beings curl up; they feel cold, they feel afraid. At best, they move in space and greet one another sadly. And yet this space is within them, it is nothing but their mental creation.'
In this space of which they are so afraid, human beings learn how to live and die; in their mental space, separation, distance and suffering are born. There is little to add to this: the lover hears his beloved's voice over mountains and oceans; over mountains and oceans a mother hears the cry of her child. Love binds, and it binds forever. Good binds, while evil unravels. Separation is another word for evil; it is another word for deceit. All that exists is a magnificent interweaving, vast and reciprocal (2001: 251, emphasis mine).

Having lost its centrality, the postmodern world is doomed to fragmentarism, and, in the absence of anything to ensure its cohesion, to brittlling off. Yet, the connections between individuals, the ability of humans to create emotional, social, and theoretical networks, and to relate across ontological levels, may prevent the race from falling into the abyss of meaninglessness.
Present in our physical infrastructure, interconnections map out mental landscape, too. Interconnections are ways out of either excessive selfishness – an escape from the limited sphere of the ego, or surplus super-ego, with its limited, stifling affection. It is in the recognition that 'all that exists is a magnificent interweaving, vast and reciprocal' (2001: 251) that humans may forsake their encapsulating limited mental space of fear in order to expand, and become part and parcel of the great network of being.
By way of conclusion, a few thoughts about the larger topic of this paper: connectionism (as a mode of thinking), bootstrapping (as a way of identifying connections) and the principle of theory overlapping are but aspects of metamodernism. In a notebook entry Beckett would say that three basic urges map one's life. These are birth, death and the need to express. I cannot agree more, yet, one certainly needs something to express. We express contents, not the mere vacuity of nothingness. Life itself is an expression of something; some would say of God's love, some may equate it with something else, perhaps. The fact is that, obviously, giving life means giving shape: to an idea, when it comes to the creation of ugliness or beauty, to a feeling such as love, or an impulse such as desire: life is the shape of something. And, conforming to the circularity that we so often seem to observe in natural processes, this something that we feel the urge to express is what gives life its meaning. Metamodernism, then, is the struggle to find meaning, and in searching for meaning, it is the tendency to re-establish that connection or those connections that would render life and creation, love and expression meaningful.
To use a metaphor employed by Jünger in Eumeswil: late modernity and postmodernism have revealed the inherent insularity of individuals, the intrinsic fragmentarism of any meaning one can find in an ocean of seeming meaninglessness. However, between these islands, between these fragments that should by their very broken nature be parts of something, there can be interconnections that make them all parts of a network or of several networks, connections that redeem the forgotten nature of these islands as places of meaning, wonder and delight.

REFERENCES
A.-L. Barabási (2003). Linked (New York: Plume, Penguin).
Z. Bauman (1997). Postmodernity and Its Discontents (Cambridge: Polity Press).
J. L. Borges (1997). Historia universal de la infamia (Madrid: Alianza Editorial).
M. Calinescu (1987). Five Faces of Modernity (Durham: Duke University Press).
A. Compagnon (1990). Les cinq paradoxes de la modernité (Paris: Le Seuil).
F. Capra (1988). Uncommon wisdom (London: Flamingo).
J. Derrida (2001). Foi et savoir (Paris: Seuil).
S. Hawking (2001). Universe in a Nutshell (Bantam Books, New York).
Werner Heisenberg (1959). Physics and Philosophy : the Revolution in Modern Science (London: Allen & Unwin).
M. Houellebecq (2000). The Elementary Particles, tr. Wynne (New York: Alfred A.Knopf).
E. Jünger (1977). Eumeswil (Stuttgart : Klett-Cotta).
V. Nemoianu (1989). A Theory of the Secondary: Literature, Progress, and Reaction. (Baltimore: John Hopkins University Press).
L. Petrescu (1998). The Poetics of Postmodernism (Pitesti: Paralela 45).
(Sir) C.P. Srivastava (1995) Lal Bahadur Shastri: a Life of Truth in Politics (New Delhi: Oxford University Press).

WEB SOURCES
http://paginas.terra.com.br/educacao/jtesheiner/etcetera/davidbohmandgeoffreychew.htm (accessed on 9 July 2006).
www.blakearchive.com (accessed on 20 July 2006).