Naizgled jednostavna ideja (umetnuti fotografije ljudske okrutnosti i nasmiješenosti u tekst Biblije) popraćena idejama izraelskog filozofa Adija Ophira (o božanskom nasilju, o Bogu koji već od samog početka izaziva samo katastrofe i uglavnom se brine samo o tome kako vladati podanicima, čovječanstvom) otkriva ipak o čemu se zapravo cijelo vrijeme "tu" radi.
www.mackbooks.co.uk/books/68-Holy-Bible.html
Adam Broomberg & Oliver Chanarin
Holy Bible
"Right from the start, almost every appearance he made was catastrophic… Catastrophe is his means of operation, and his central instrument of governance."
Adi Ophir
Violence, calamity and the absurdity of war are recorded extensively within The Archive of Modern Conflict, the largest photographic collection of its kind in the world. For their most recent work,
Holy Bible
, Adam Broomberg and Oliver Chanarin mined this archive with philosopher Adi Ophir's central tenet in mind: that God reveals himself predominantly through catastrophe and that power structures within the Bible correlate with those within modern systems of governance.
The format of Broomberg and Chanarin's illustrated Holy Bible mimics both the precise structure and the physical form of the King James Version. By allowing elements of the original text to guide their image selection, the artists explore themes of authorship, and the unspoken criteria used to determine acceptable evidence of conflict.
Inspired in part by the annotations and images Bertolt Brecht added to his own personal bible, Broomberg and Chanarin's publication questions the clichés at play within the visual representation of conflict.
Violence, calamity and the absurdity of war: For their most recent work "Holy Bible", Adam Broomberg and Oliver Chanarin mined the photographic collection of "The Archive of Modern Conflict" with Israeli philosopher Adi Ophir's central tenet in mind: that God reveals himself predominantly through catastrophe.
It's a common reflex. Very human. Whenever something horrific happens, people tend to turn to God in disbelieve and ask themselves: "Where was he?" Unable to comprehend what can't be put in words. Atrocities so cruel, they surpass all imagination. The Nazi Genocide of the Jews, the atomic bomb or the attack on the World Trade Center: "How could God let that happen?" A question implying that maybe God sometimes is not present for a brief moment. On the other hand: How could an almighty God not be aware of everything happening on earth he created? Unable to find answers and having their faith put to a hard test, people try to make sense of the unspeakable.
"Right from the start, almost every appearance he made was catastrophic." Adi Ophir
But according to Israeli philosopher Adi Ophir it's precisely in catastrophic events that God manifests his presence. In his essay "Divine Violence" at the end of the new book
"Holy Bible"
by
Adam Broomberg
and Oliver Chanarin (co-published between
MACK
and the AMC), he opens with the following words: "Right from the start, almost every appearance he made was catastrophic."
The two artists chose the "Holy Bible" to illustrate Ophir's point. Black cover, and the title imprinted in golden letters: From the outside the book resembles a normal copy of a King James' version of God's word. Yet inside, Broomberg and Chanarin have created a horrifying testimony of what mankind has been capable of. It's a visual journey through the darkest moments of recent human history.
Broomberg and Chanarin overlayed the original text with images and paired them with phrases underlined in red. By allowing elements of the original text to guide their image selection, the two artists explore themes of authorship, and the unspoken criteria used to determine acceptable evidence of conflict.
"The state has taken, or might seem to be taking his role as the chief author of destruction and the ultimate agent of providence." Adi Ophir
Just a few examples of these skillful juxtapositions: On page 719 Broomberg and Chanarin placed an image of the second plane crashing into the World Trade Center on September 11th, 2001. Highlighted next to it are the words: "Worship the beast and his image." On another page one can see a marine soldier posing underneath a picture of Adolf Hitler hanging on the wall: "Behold, they are all vanity; their works are nothing; their molten images are wind and confusion." The photos come from the London based
"Archive of Modern Conflict"
(AMC).
Very often the cruelties were committed in the name of a state or particular government. Violence as a means to defend a certain institutional order or set of values. Ophir writes: "On the one hand, the state has become a potential or actual generator and facilitator of large-scale disasters, and the destructive power of some states has been brought to perfection. On the other hand, the state has also become a facilitator, sponsor, and co-ordinator of assistance, relief and survival in times of disaster. In both cases, the state has taken, or might seem to be taking his role as the chief author of destruction and the ultimate agent of providence."
The great flow of images – most of them showing atrocities, but every now and then mixed with portraits of clowns and people laughing – creates a sense of impotence in the viewer. Taken out of context and put together in a place were one wouldn't expect it, they seem random. They leave the observer behind with a sense of helplessness regarding the course of history, entangled in a complex world full of conflicts and events man is incapable to decipher.
Inspired in part by annotations and images German writer Bertolt Brecht added to his own personal bible, Broomberg and Chanarin's publication questions the clichés at play within the visual representation of conflict. In this context one can't help but think of what US-philosopher Susan Sontag wrote in her essay
"Regarding the pain of others"
in which she discusses two fundamental ideas regarding the role of photography – which may seem contradictory. On the one hand Sontag mentions the so-called "CNN effect", referring to the power of images, especially documenting atrocities of all kinds, to mobilize people and causing a reaction in the observer.
On the other hand Sontag says that we live in a world "ultra-saturated with images". Even being very strong, they still lose impact. Because of the vast amount of images circulating in today's mass media, visual stimulation has lost its power. The ability to react to such a flood of images has decreased: one either becomes cynical and bitter at the obvious display of so much evil in the world – or indifferent. Sontag advises: "To make peace is to forget. And for reconciliation it's necessary to accept that memory is faulty and limited."
Whether Broomberg and Chanarin have also thought of Sontag's words or not when putting together their latest book, they raise the same fundamental questions as to the use of photography – and how we position ourselves facing a chaotic world full of contradictions and its visual evidence. It's not a typical photography book Adam Broomberg have put together. It's deeply disturbing, artistically well done and highly thought-provoking. Highly recommendable. -
Kai Behrmann
www.topphotographyfilms.com/
Without wanting to spend too much time on this point, it might be worthwhile to realize that when assessing artistic merit there is quite a bit to be gained from not being overly guided by one's own preferences. Having said that, I have been following Broomberg and Chanarin for quite a while now, and I am always looking forward to a new body of work. I am very much interested in the use of photographs, and I am interested in investigating the political power images have or how power is created when images are being used. What distinguishes Broomberg and Chanarin from many (if not most) other artists working in this vein is the high quality of their output, regardless of whether that quality then translates into artistic merit (which is, of course, entirely subjective – unless we wait one hundred years, in which case we could take what is still being looked at as that, which has the highest merit).
It might seem weird to preface a photobook review the way I just did. But I do think it's important for me to state where I'm actually coming from. What is more, we have come to embrace the idea that an artist should be measured by previous bodies of work – an approach that creates all kinds of problems (unless an artist wants to literally repeat what s/he has been doing ad infinitum, the art world's surprisingly popular version of Nietzsche's concept of the eternal recurrence of the same). If an artist's later project is not the same as some earlier one, then we should judge it on its own artistic merits and not on whether it looks like the previous – or a very famous earlier – one.
Holy Bible
follows in the foot steps of
War Primer 2
, which had resulted in the Deutsche Börse nomination and eventual win (see
my interview with the artists
to learn more about their ideas). I'll admit I wasn't quite sure what to make of the idea. It sounded just a tad too simple. You take the Bible and put pictures inside? My worries were cast aside very quickly once the actual book arrived. It does indeed look and feel (and even smell) like a Bible. All details are perfect, including the rounded edges, the two bookmark strings, etc. Inside, you get the Bible, with photographs/images selected from the
Archive of Modern Conflict
superimposed. As you can see in the image at the top, in addition certain, usually short, passages of the text are underlined, thus creating an anchor between text and images. There is no simple on-to-one correspondence between image(s) and text – occasionally, one image is referred to by more than one text fragment. Some spreads have one image, some two, and there even is a short set of pages (in Leviticus) with marked text but without images. It was this passage that fully convinced me of what the artists are doing here.
It's very tempting to dismiss
Holy Bible
as, well, an overly provocative piece of art. In much the same fashion, it's equally tempting to focus on the large number of violent images in the book. But those images refer to the text – so if you find the images too violent, does that say something about the artists matching images to text? What is more,
Holy Bible
is not merely filled with violent images. Instead, there are references to family and the relationship between the sexes, say, and to a large variety of cultural issues.
On top of that, there are many photographs of magicians (or circus acts) linked to "it came to pass." Those images are just amazing, given how they subversive they are in their utter ridiculous playfulness. In fact, the magicians are much more subversive than the violent images linked to violent text. Here we have Broomberg and Chanarin asking whether power, religious or political, isn't essentially just an act of trickery, a trickery that requires considerable skill and, crucially, the audience's willingness to ignore the knowledge that it's just trickery, not real magic.
Highly recommended.-
Conscientious Photography Magazine
Adam Broomberg and Oliver Chanarin
by Sabine Mirlesse
When I arrived in London this past September to meet Adam Broomberg and Oliver Chanarin at their studio, the first thing we discussed was the power play between interviewer and interviewee. We had to decide what kind of conversation we would have—serious or funny, formal or informal, and how self-conscious? We agreed that we wanted a bit of all of that and for the next two hours we talked about many things: how they function as a duo, their distrust of power, whether there's a necessity to explain the details behind their work, and what they envision on their tombstones.
The two South African artists have been working together for more than a decade. After starting out as magazine photographers, they moved on to other innovative ways of addressing the use and abuse of pictures as well as dynamics of authority through installations, curatorial projects, and books. Their work has been exhibited widely—in solo exhibitions at the Stedelijk Museum in the Netherlands and the Jumex Foundation in Mexico, among others—and will be on view at the Tate Modern this winter as part of the
Conflict, Time, Photography
exhibition. They were awarded the ICP Infinity Award 2014 for their publication
Holy Bible
.
The two artists are self-deprecating enough to call themselves "two goofballs," but behind the jest is a sober inquiry into the tragicomedy of life and a poetic kind of button-pushing in the hope of setting off some alarms. In the words of Lewis Carroll, whose Dodo in
Alice in Wonderland
gave the title of their most recent project: "There is a place, like no place on earth. A land full of wonder, mystery, and danger. Some say, to survive it, you need to be as mad as a hatter. Which, luckily, I am." Luckily, Broomberg and Chanarin are, too. The best people usually are.
— Sabine Mirlesse
Sabine Mirlesse
How did you meet one another?
Oliver Chanarin
It was a dark, dark night.
SM
Is that how you guys were conceived?
Adam Broomberg
We're actually cousins and we only discovered that after fifteen years of working together.
OC
We come from the same shtetl in Lithuania. So it's not that surprising. We met in South Africa in our early twenties in a place called Wuppertal—a little missionary town.
AB
Population of about four people, and us. Olly lived in London since he was seven, and then I left South Africa and came here to study at Saint Martin's.
OC
He called me up and said, "I've just inherited this IKEA bed from my brother but I don't have a screwdriver." So I brought the screwdriver 'round and that was the beginning of our collaboration.
SM
So you have an IKEA bed to thank?
AB
Yep. We became friends many years before we started working together.
OC
Adam dropped out of college and went to work at Fabrica.
AB
I was part of the first generation at Fabrica, the communication research center in Italy. It was run by film director Godfrey Reggio who did the Qatsi trilogy, with music by Philip Glass. Reggio is a remarkable man. Eventually I was offered to take over COLORS Magazine.
SM
So you had to live in Treviso?
AB
No, we lived in Venice.
OC
So Adam called me and said, "I know you're severely dyslexic but would you like to come work on a magazine with me?" And I said yes. I came for two weeks and it turned into a year—
AB
—which turned into seventeen years. We worked there for a year, molding COLORS magazine with Oliviero Toscani but we got very disillusioned with his format for it. So we came back to London, borrowed Olly's father's camera, set off, and made our first book, which was called
Trust
. Then we were approached by COLORS again; they told us Toscani had left and asked if we would come back and do whatever we wanted.
SM
Was that in 2000, when you did
Ghetto
?
AB
Yes, we came up with the concept of examining these gated communities around the world.
OC
Although the magazine was radical in the early '90s in the way it juxtaposed different cultures and described a multicultural global community that was very new back then, by the time we took over, it was starting to feel a bit like a tired trick. There was also something potentially abusive about the way the magazine was using photography.
SM
What do you mean by abusive?
OC
Most of the images we were using came from photography agencies and in ninety-nine percent of the cases we had no connection to the photographer and the subjects. That distance is potentially abusive—the photographs become detached from their context, from the people in the image. The subjects stop being individuals and become part of a visual or political argument. We wanted to resist that.
AB
So we came up with this formula where we would go to these gated communities—for example, refugee camps, prisons, and psychiatric hospitals. We went with our 4x5 camera, always taking a writer who was not a journalist—often screenwriters or novelists—and we would interview everybody. We disclosed their real names and kind of upset that one-way flow of power that is inherent in traditional documentary photography. One example, which doesn't necessarily work, is that last chapter in the psychiatric hospital in Cuba. We set up the lights, gave the subjects the release cable, and said, "Take your
own
portrait." But, ultimately, the process, even in that documentary format, started troubling us more and more.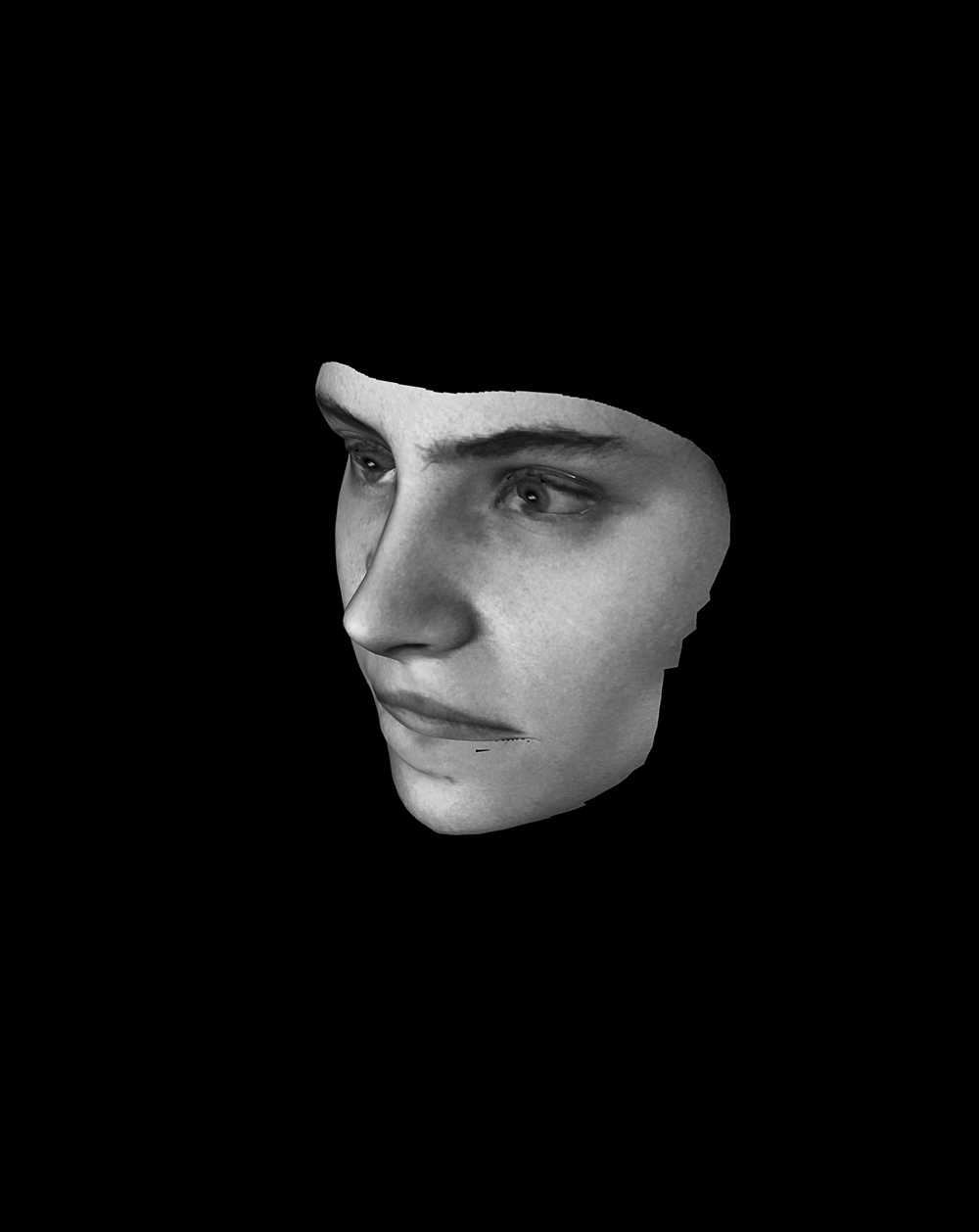 SM
You've clearly stepped away from that as time has gone on. Was it because photography in and of itself wasn't enough?
OC
Earlier, before we started recording, we spoke about Janet Malcolm's essay "The Journalist and the Murderer," a work that was instrumental to us. Her question was: Why do people talk to journalists? So, we wondered: Why do people agree to be photographed? Is it vanity? Is it about being remembered?
We had one experience in a psychiatric hospital in Italy where we photographed a guy literally strapped to a bed. He was being restrained for his own safety apparently. You couldn't be in a more compromised situation and, yet, when we asked him if we could take his picture, he said yes, which is illogical.
AB
But it's logical because it was the institution that gave us authority, and photography, historically and presently, is so tied up with that power relationship. It happened to us time and time again that people would see us as part of the institution and would say yes because of that. And then there's another, slightly more subtle thing, a sort of false promise built into photography—
SM
—that it will do something for them?
AB
Yes. We were in a maximum security prison in South Africa. People went as far as telling us about crimes they had committed but hadn't admitted to. There is this unspoken promise of absolution, that by communicating through this machine, you'll be absolved of stuff you've done, or, in the crudest terms, you will be "heard" by the outside world.
OC
We experienced it in our very first project
Trust
, in 2000, the last chapter of which is a series of portraits of people going under anesthesia.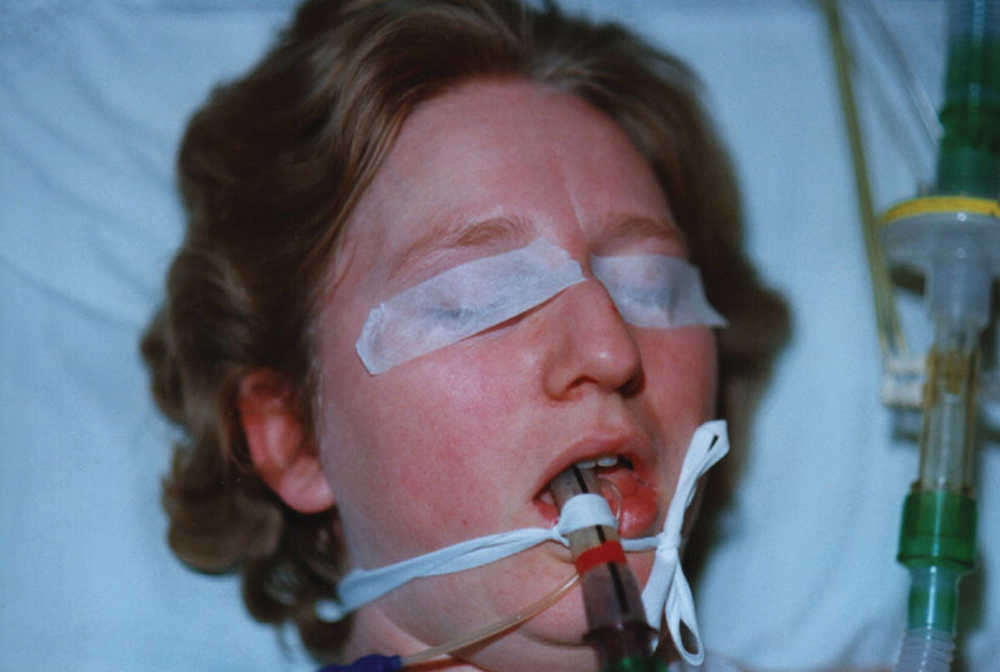 SM
Watching the video is definitely disturbing.
OC
It's disturbing because it's like a miniature death.
AB
It is like watching somebody die.
OC
We got access to this operating theater. First we went around the ward and explained to the people who were about to have their operation that we wanted to take a picture of them while they were under anaesthesia. We did this for weeks and weeks and every single person said yes. We couldn't understand.
SM
Maybe it's you guys. Have you ever considered that?
OC
We figured out what it was. We were wearing theater scrubs. As a patient of the hospital you relinquish power over yourself and hand it over to the institution. We looked like doctors, essentially—and the patients were handing over control. Whatever we would have asked them to do they would have said yes. We realized from that point on that, as photographers going into these situations, our positions are elevated, and there's an asymmetrical flow of power between us and the subjects.
AB
The book,
Trust
, was a meditation on that exact issue—when somebody lacks control, not only over the way they look, but also over the dissemination, value, and political and cultural currency of their image, why would they still agree to be photographed?
SM
Don't you think it has to do with wanting a record or proof of one's existence?
AB
In this day and age? Where everybody is proving their existence every ten minutes online?
SM
But this was fifteen years ago. A lot has changed since then.
AB
Well, I was going to say, I don't think you could do it today.
OC
Photographs are so easily disseminated now, they slip out into the public domain with the tiniest gesture, a swipe, a click, and then it's very hard to pull them back.
SM
Well, don't take this the wrong way, but when I first encountered your work, I felt there was something boyishly mischievous about it. But it seemed like a very sophisticated version of messing around, and you guys appeared to be highly entertained by what you were producing, almost winking at one another.
OC
Messing around! I definitely take that the wrong way!
(laughter)
SM
I didn't mean it as an insult. Nothing to do with the level of research or effort, obviously there's a lot of thought that goes into your inquiries. But there is something in the tone—
AB
No, you're right.
OC
It is very masculine. Our last project in Mexico, where we excavated a gigantic Second World War-era airplane, is about as macho as it gets.
AB
It is also naive though, trying to fuck with authority. In that space lies its seriousness.
SM
Of course. What gets people to consider the serious parts is that you invite them in by entertaining them a bit with inquiry and then, suddenly, with irony—through the back door—and before they know it, people begin to reflect.
AB
Exactly.
OC
Humor plays a part too. I think we took ourselves too seriously for too long. There was a disparity between the kind of people we are and the kind of work we were making. Slowly we've allowed more lightness into our practice.
AB
There was a kind of worthiness that disturbed us. Politically correct nonsense. We got rid of that.
SM
Do you think you could ever work separately again?
AB
We've worked together for so long that even if we began our separate practices, our way of thinking is kind of enmeshed since we've grown up together as artists. We could make work separately, but our partnership would always be there.
SM
How does that partnership function in terms of your practice? How do you choose your subjects? How do you go about balancing who does what? Does it just sort of happen organically or is it more organized?
AB
It's very organic. Normally the impetus for a project will come from one of us chancing upon a film or a sentence or a document or an object. Then a discussion starts and the research process begins. That's the logistical side. The emotional side is that inevitably during projects you lose faith, and if there weren't two of us, we probably would have abandoned quite a few projects. In a moment of doubt, the other person can say, "Step up, let's carry on."
OC
Our practice used to be much more driven by the outside, in that we were sent on assignment to go take pictures. Now everything we do is generated from within. Giving each other confidence to progress is more important.
AB
But even when we were commissioned to do things, and we still are (and we are always trying to upset their intentions), the way we deal with it is by engaging in a discussion. I don't know why people still do commission us, because surely they know by now what they're not going to get.
OC
They
don't
know what they're going to get!
SM
Wait, rewind. Please explain.
OC
An example: we were invited by the state of Gabon, this oil-rich West-African country, to come and do a photo project. The brief was wide open, like "Do whatever you want," but the subtext was: make us something beautiful and classic and inoffensive. We felt compelled to look under the surface of what was there, to engage with the politics of the place. We thought about our role as documentarians and how we could interrupt those desires.
SM
One of the first works I saw of yours was
The Day Nobody Died
. I wondered how the hell you even got to Afghanistan to begin with.
AB
It was during a time when they were still embedding photojournalists. We were very intrigued by this process, so we contacted them and said we were journalists and wanted to be embedded. We lied to them, but we had a letter from
The Guardian
or
The Observer,
because we knew people who worked there. When we got to Afghanistan, the whole thing became a performance. It took them about a week to figure it out and, by the tenth day, we were demoted down the ranks of importance, relegated from the frontline to the least interesting part of the conflict.
But the point is that lying to power is part of the project itself. Similarly, with the Israeli Defense Force, we phoned up and for eight months, literally, every Friday, we said "Shabbat Shalom" and "How's it going? We're doing a sympathetic piece on the security threat Israel faces." Then, we went there and did something very different. That was the book
Chicago
. It's not just about lying because in the process you're having constant conversations and challenging dialogues, which are really important. When you make a soldier in Afghanistan carry a twelve-kilogram box of paper and it's 45 degrees Celsius and he's like, "Why am I doing this?" you have to explain it—that's part of our work.
SM
You were truly explaining the project?
AB
Of course, we had to. Every time. We said we can't open this box of unexposed photographic paper because doing so would destroy it. So we turned one of their vehicles into a darkroom and we went out to expose the paper. You can lie up until the point when you have access.
OC
The project in Gabon we mentioned before was called
To Photograph the Details of a Dark Horse in Low Light
. The work became a meditation on the history of film and race and skin color. We were two white Jewish boys commissioned to go to Gabon to document the country, which was a ridiculous idea. We started reading about Jean-Luc Godard because he had been invited by the new Marxist government of Samora Machel in Mozambique to come and start a TV station. He did that with Jean Rouch—so two of the most radical filmmakers of the time. Godard got there and rejected film in favor of video. He said, "I refuse to use Kodak, it's racist!" He was referring to the well-known fact that film stock was predicated on white skin and didn't render the brown tones of black skin very well.
AB
If there was something dark next to something light, film didn't have the range to deal with it. Now, this was happening after the end of segregation and you had schools with both white and black kids together. If you exposed for the white kids (who were in the majority), the black kids were rendered as black faces with little white eyes and teeth and that's it. Kodak eventually addressed the problem not because of
that
, but because their two biggest clients were the chocolate industry and the furniture industry, which complained that they couldn't accurately render dark furniture or dark chocolate next to something lighter. So they came out with Kodak GOLD for consumers. We went on eBay and acquired unexposed film from the 1970s that predated that new film. We went to Gabon
only
with that type of film. We spent five days in the jungle, the primary rainforest, and witnessed one of the rarest Bwiti initiation rituals and photographed it entirely on this film. Back in England we found one man in the whole country who could process this film. He phoned and said, "Only one picture came out." It was just this abstract pink rendition of a palm leaf because green pigment, the opposite of pink, is the most stable. So you can imagine that the people who had assigned the project to us were really upset. We were more than happy with what we got.
SM
And your recent project involving Pussy Riot?
OC
It's called
Shtik Fleisch Mit Tzvei Eigen
. It means "piece of meat with two eyes." It's a Yiddish insult—
AB
—which my grandmother called my mother every morning.
SM
Can we talk about Jewishness for a moment? How important are your origins to your work?
AB
It's a big part of our identity. I went to a Jewish school in South Africa in the '80s, which was quite an experience.
OC
After the pogroms in Europe in the late nineteenth century, there were a lot of boats from Riga that headed to South Africa, to Durban…
SM
Tell me more about
Shtik Fleisch Mit Tzvei Eigen
.
OC
It's about where portraiture is at in terms of photography as a genre. Our project began with the discovery of this camera developed in Russia. It's essentially a computer for recognizing license plates on cars which was then developed into a facial recognition system. It works in such a way that you're never aware you're being photographed. You're walking through the city and, as you encounter different cameras, they piece together a seamless portrait of your face. And it's three-dimensional.
SM
How did you get access to the camera/computer program?
OC
It began with a commission, again. RIA Novosti, the state media agency in Moscow, invited us to produce a series about labor in contemporary Russia. That was shortly before the agency was shut down by Putin. Being very aware that it was a state media company, we wanted to do something that would be pushing back against their agenda. We were looking at August Sander, who documented society in the Weimar Republic period in Germany and categorized people according to labor. So our proposal was to reenact Sander's entire life's work in a week, using this specific equipment. Bizarrely, they accepted it and we began casting all the archetypes from Sander's program—the painter, the butcher, the revolutionary, etcetera. We tried to find contemporaries of all those people. We photographed Pussy Riot because there is a revolutionary in Sander's book.
SM
Do you intentionally draw from your earlier work to bring things full circle? I see parallels from your earliest projects to your most recent.
OC
There is a connection between
Shtik Fleisch Mit Tzvei Eigen
and
Trust
. There are very similar concerns—with the surveillance equipment, the subject is entirely passive in relation to the camera and that was very true of those portraits of people going under anesthesia. With this more recent work, the only way to resist recognition by the camera is to wear a balaclava. The pictures delivered by the machine are quite cold—like death masks, in a way.
There's one last part to the work: Helmar Lerski was a contemporary of August Sander coming from a completely opposite perspective. Whereas Sander was interested in the subject's humanism and always placed the person in the center, in this very heroic way, Lerski rejected that. He said that you could never tell anything about a person from a photograph, and that all you see is the surface. He would photograph a subject from like sixty or seventy different angles—
AB
—and just their face. His portraits look remarkably like the collaged portraits made by the surveillance machine.
SM
So wait, with each of the portraits you never actually met the people depicted?
AB
We did, in Russia.
OC
It was the most depressing experience of photographing someone, because they would just walk through the room and that's it. The surveillance cameras were embedded in the room.
AB
Part of the project is about alerting people to this technology—it is the most insidious threat to our civil liberty. We've made a Facebook page and got hold of groups around the world to knit these balaclavas for us. Every day we have another balaclava arriving to the studio.
SM
When I read that you were doing something with Joseph Heller's
Catch-22
, I was like, Oh, of course.
OC
Why?
SM
When I think of your work, I think of these two elements—subverting power and the absurd, or the insane. To me, that's the whole point of
Catch-22
.
AB
Here's the book for
Dodo
: it just came out. There's the most perfect summary of the project inside, which we wrote. You won't find that online.
SM
Tell me something about
Dodo
that I won't find online or in the book.
AB
We first encountered a dodo in
Alice in Wonderland
. In the second chapter, Alice meets a dodo, and you know why? Because Lewis Carroll's original name was Charles Lutwidge Dodgson, and he had a terrible stutter, and when he introduced himself, he would say "Do-do-do-do-dodgson," so his proxy is the Dodo.
SM
Until looking it up for this interview, I always thought that the dodo was a fictitious creature—like a unicorn. In fact, one of its claims to fame is that it was the first species to be made extinct by human beings.
OC
You were talking about how our different projects come around in these loops or full circles. The story of the dodo first cropped up when we were working on a project called
Fig
. We went into one of the museums here in London and the curator showed us the skeleton of a dodo and explained that it wasn't
one
dodo, but was made up of spare parts of many dodos.
AB
Right, spare parts. So we went to Mexico where they had filmed
Catch-22
in 1969. We wanted to find the plane that crashed in this brilliant scene.
OC
We went to the filming site with the complete fantasy that we were going to unearth an airplane that had been buried there. We had organized for a group of professional archaeologists to come and undertake the plane's exhuming. We had this vision of them brushing away the soil and revealing the airplane's nose, and then brushing a bit more, and gradually unveiling this extraordinary piece of equipment. That was a complete fantasy.
Nothing
like that happened.
AB
Paramount Pictures had filmed for six months because they only wanted to film between 12 and 2PM to have the brightest, burnt-out light. We wondered what happened to the outtakes, so we contacted Paramount. It took them about two years and then suddenly we got this email saying they'd found a trunk of about eleven hours of film. We chose only the nature shots, nothing to do with war. We turned a fiction film about World War II in Italy into a nature documentary set in 1969, in Mexico. The making of the Hollywood film had destroyed the whole coast of this area of Mexico. So our film now depicts that.
Jumex Foundation in Mexico, where we are showing
Dodo
right now, is five hundred square meters—it's huge; over 5,000 square feet. One of the airplane pieces we got hold of is the propeller of a B-25. Propellers normally suck air, right? But we got it to blow air—so we erected the propeller here (
draws a diagram of the space
) and then had our film, made of all the outtakes, playing over here. The propeller blows the screen too, beautifully, which I love as a detail, and then there's a whole other room dedicated to the artifacts.
SM
It sounds a bit like a drive-in movie. Your website is incredibly self-explanatory and revealing. There are full descriptions of each project, and one can navigate through many images and texts.
OC
It's
informative
.
SM
Right, informative. But what about "less is more"?
OC
This is something we argue about with each other a lot: how much to say. For us, it's an act of generosity—this is what it's about, this is how we feel about it—but the other side of it is that we should shut up and let people draw their own conclusions. We don't shut up very well.
AB
Because we're not painters. You do need some information, otherwise the work is just absolutely meaningless.
OC
But why not strike the position of the painter in relation to work that is political?
AB
My answer is that you put up a website to provide information. Why should you be shrouded in mystery? Yet experiencing the work in the space is an entirely different thing.
OC
But when you give your explanation, you shut down the work's ambiguity. That is my anxiety about saying too much. Too much art jargon. Perhaps we're more interested in the world than in the art world.
SM
Does that contribute to your being so successful?
OC
I don't think we are successful.
SM
Guys. You can hire a team of professional archaeologists to go dig up a plane in Mexico at your whim—
OC
Is that your idea of success?
SM
—and you've got a work studio in the hippest part of East London, next to Brick Lane.
AB
I've got a really shitty dentist.
OC
I think we're restless, and the art world doesn't reward restlessness. It rewards continuity and consistency.
SM
But you guys are consistently restless. What are you working on at the moment?
AB
We are following up on our Bertolt Brecht project
War Primer 2
. It's an unfinished opera that we are intending to finish. We are doing a first small
rendition of that in January, at the Tate.
OC
Are we going to talk about the Yiddish theater?
AB
Sure, why not?
OC
Just opposite the entrance to our studio was the first Yiddish theater in Britain. There was an actor performing there called Jacob Adler who went to America and became involved in Method Acting. His daughter taught Marlon Brando.
SM
Wait a second, Stella Adler? She's super well-known.
OC
The story of Jacob Adler is really interesting. In the late nineteenth century there was this guy called Abraham Goldfaden who invented Yiddish theater. Nobody had ever done theater in Yiddish before. Adler became his principal actor. They were very successful traveling through Russia up until the assassination of the tsar, Alexander II. After that, Yiddish theater was banned. The actors had to escape the pogroms that were literally happening inside the theaters, and they came to England and formed this place—but it burned down when secular Jews and religious orthodox Jews were fighting. So they all moved to America and became instrumental in the development of the Hollywood studio system and cinema acting. The directors of this Yiddish theater across the street went on to start Metro-Goldwyn-Mayer. It's got this epic novel feeling—from the birth of Yiddish theater to the death of Hollywood.
OC
We don't know yet what form it will take.
SM
Full circle. What are you going to do with that epic?
AB
We're still in research mode.
SM
Would you ever move back to South Africa?
AB
We visit, but to live, no. I wouldn't even go back there to be buried.
SM
Where would you want to be buried? Or, would you like your ashes to be scattered?
AB
I think that's up to whomever I leave behind.
OC
We often think about that last creative act: what we'd like to have written on our respective gravestones.
AB
What's yours at the moment?
OC
"Dig me up and fuck me."
SM
Name something you know now that you wish you'd known ten years ago?
AB
That I have genital herpes? (
laughter
) Promise us that's going into the interview.
OC
That's gotta go in there. Keep those two jokes! -
bombmagazine.org/article/2000048/adam-broomberg-and-oliver-chanarin
In the press
Photoworks
Inventario
Dust Magazine
Fotopolis
Le Monde
Frieze
Hotshoe
W Magazine
Kasseler Foto Forum
art magazin
Album Magazin
20minutos
the Guardian
Wired
EMAHO Magazine
TIME LightBox