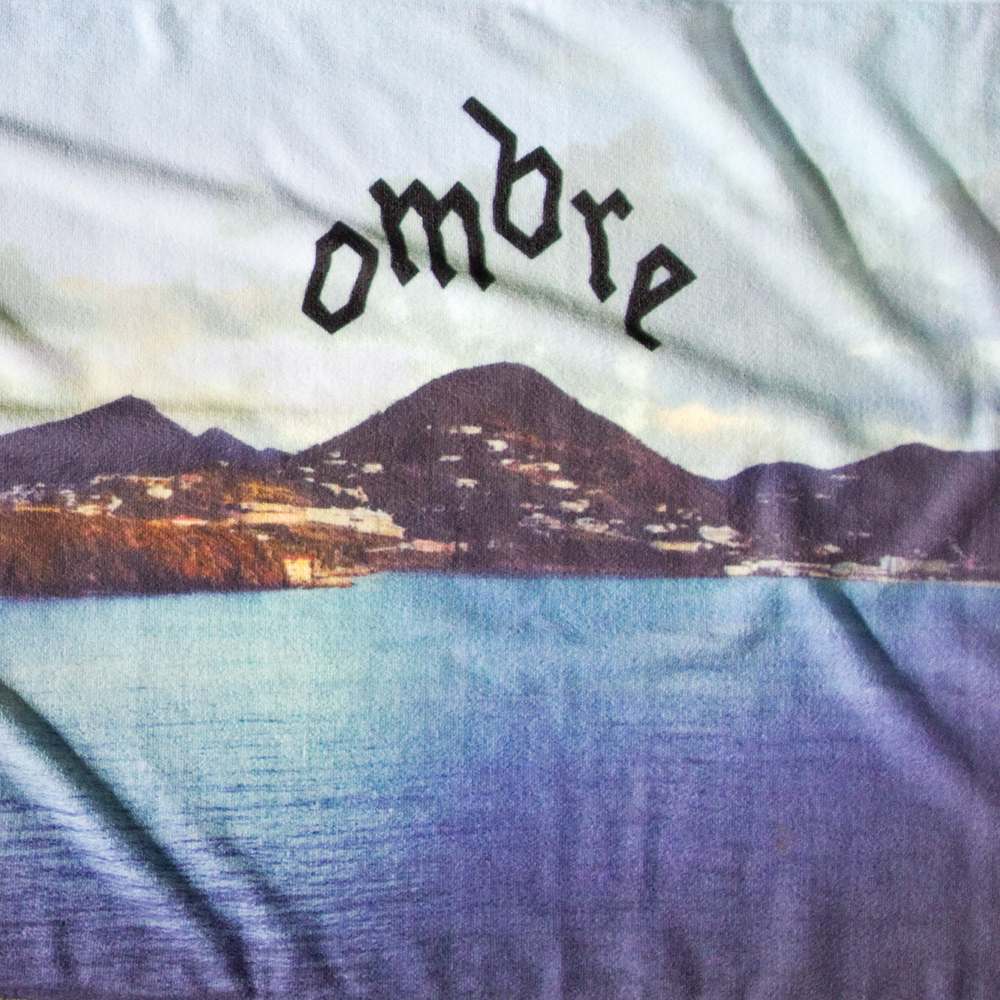 Julianna Barwick (nebeski glasovii) i Helado Negro (psihodelični latino-folk) privremeno su se sijamizirali i napravili astmatični svemirski brod.
streaming
Released in August, Ombre is the unlikely combination of songstress Julianna Barwick and Latin-infused band, Helado Negro.
Believe You Me
is a haunting fusion between the minimalistic genre but with the influence of south of the border, tropical beats. While it may seem simplistic and perhaps predictable in the way of the genre, Julianna Barwicks vocals continue to inspire me, as they just seem to flow out of her mouth on a whim, instead of being calculated and rehearsed. In fact, every song on this album seems to just flow in a natural pace, not realizing one song is starting and another is ending. It's almost like an intimate conversation between to the two musicians that was recorded and released to the public. Soothing is the best word to describe the whole album, with wonderful little surprises of a tropical rhythm blended into the melancholia of the music. Much like this album, there is not much to say–you have to let the music speak itself, and allow everyone to have a different reaction and experience with it. It's something I think both musicians are very aware of, is the power of the music and the relationship one can have with an album. For example, I'm currently sitting on the bed of a man I love with all my heart, while he is beating me in Scrabble. This is a moment I will never forget, and I will never forget the soundtrack to this perfect moment.


A beautiful thing happened when Asthmatic Kitty artists Helado Negro and Julianna Barwick first met: they got to know each other. The result, a new collaborative band, OMBRE, and a brand-new full-length record, Believe You Me.
Rewind to 2009, the end-days of the once-fertile empire of MySpace. Helado Negro was (as folks were prone to at the time) clicking through the friend-of-a-friend band pages when he came across Barwick's music. The gears turned, the cartoon lightbulb dinged on above his head, and he was in.
Fast-forward to 2010 and a collaborative tour with Barwick and Helado Negro. The important thing here is that the two didn't know each other yet. The resulting tour was a grand adventure into the realms of getting-to-know-you-ness. Bonding-on-the-highway-ness. Classic-American-roadtrip-into-the-heart-of-buddy-ness!
A beautiful, refreshing summer rain to watch from your front porch, sitting next to a good friend. A new friend? Yes. Perfect. Even better.
After the tour, they decided to further their fellowship by—as says the good Dr. Dre—getting down in the lab with a pen and a pad. The sessions for Believe You Me began in May of 2010. Says Helado Negro, "We really had no clue what we were going to make and we would just throw things out there and record. The majority of it took place at my personal studio, Island Universe Space. We would just jam or record vocal ideas or whatever; it was all just organic and at the same time we were getting to know each other even more as friends."
OMBRE's 10 tracks are very much the sound of two solo artists, each bringing a distinctive style, vibe, and voice to the mix. Barwick's clear, high harmonies and church choir sensibilities meld well with Helado Negro's rustic-Latin-psyche-folk meets big-city-blockparty. Both artists brought a lot to the table, writing together and scheming ideas and playing about every instrument under the sun (while Barwick's previous work has been largely a capella, on Believe You Me she plays guitar, synth, vibraphones, and a mean electric piano). The end product is a very warm (and very human) collage of personality.
Based on a combo-punch of acoustic instrumentation and programmed electronics, the tracks range from stripped-down and summery ambient jams to full-band psyche explorations. The mood is kept mellow; it's a cozy, friendly sound, enveloping and embracing. The album feels like the product of a new friendship, the tender walking-on-eggshells moments, the celebration, the growing respect, the laughs, and the straight-up moments of wild-hot synchronicity and shared architectural creation. (Helado Negro likens Believe You Me to "something where we find common ground and build bridges, buildings, and skyscrapers… sometimes even parks and waterslides.")
Tracks simmer with the mellow chording of nylon string guitars, bubbling electronics, and the comely pluck of harps; they rise high and mountainous with Miles Davis-y trumpet and then disappear altogether. There's a very old school jazzy soundtrack air to these sessions. (An inspiration to the sessions was Clu Gulager's 1969 film A Day With the Boys and Egberto Gismonti's fantastic late-'60s compositional jazz.) It has the feel of a hot summer day in Brooklyn, 1971, the sun through the tenements and everyone sitting in the shade watching the world drift by.
The first track, "Noche Brilla," opens with a pretty, quiet, down-raking arpeggiation of guitar strings and a lone, Sketches of Spain­-recalling trumpet, before Barwick's vocals come rising above it all like a lonely (and lovely) ghost. Up next is "Weight Those Words," this record's in-a-perfect-world radio hit with both sharing vocal duties over beautiful "Riders on the Storm"-style piano, tappity rolls of drums, and acoustic guitar. Instantly charming and timeless, it's a rhythmic, head-nodding full-band track that really kicks the record into gear and gets you set up for the collaborative journey to come.
Track seven, "Cara Falsa," showcases the ambient and programmed electronic side of this record, with a synthy space jam of pure oscillating ascendance. "Pausa Primera" begins the end of the record with samples of children playing and shouting happily in Spanish and melts into Barwick's handsome, sighing vocals; distant, buried in the mix.
The closing track, "Noche Brilla Pt 2," is both a good companion piece to the first song as well as "Weight Those Words," with a nice, sunny, rhythmic guitar part and Barwick's vocals at their most high and shining.
Believe You Me's 36:19 minute run is a quiet storm that never puts you in danger—just a beautiful, refreshing summer rain to watch from your front porch, sitting next to a good friend. A new friend? Yes. Perfect. Even better.- asthmatickitty.com



"Believe You Me flows as a conversation, the result of two very different artists learning from each other in a space of mutual respect and free creativity."

Prefix Magazine

"Sultry summer nights following lazy days, you've just found your new soundtrack."

BBC

"I'd go so far to say that this album transcends both the artists' solo efforts, which is high praise indeed."

Bowlegs
If there's a common thread running through the music of Asthmatic Kitty labelmates Helado Negro, aka Roberto Lange, and Julianna Barwick, it's that both make records that sound like being alone in someone else's head. You could say this, of course, about a lot music and plenty of solo records in particular, but there's a certain embrace of tranquility, diffuseness, and acceptance of solitude that links their sensibilities. The nocturnal, Latin-tinged loops of Helado Negro's 2011 album Canta Lechuza (translation: owl singing), were pleasantly insomniac, like what you'd listen to after everyone else in the house has gone to sleep, knowing that's when your best ideas come. Same goes for the layered, wordless vocal wisps out of which Barwick composed the songs on her best and most recent LP, 2011's The Magic Place. Hovering somewhere between pop melodicism and ambient abstraction, Helado Negro and Barwick's music reimagines solitude not as a form of loneliness, but instead as something productive, joyful, quietly beatific.
So what happens when two happy-go-lucky loners work together? We got an inkling of the answer late last year, when Lange offered up his take on Barwick's "Vow" for her decent, if superfluous, Matrimony Remixes EP. Moreso than Diplo & Lunice's relatively boilerplate remix of the same track, Lange's version kept something of Barwick's sensibility intact, favoring cumulous atmosphere over groove. A product of nearly two years of casually jamming together in his Brooklyn studio, Believe You Me, Lange and Barwick's debut record together as OMBRE, lives up to the promise of this remix, and in some cases even improves upon it.
Because Barwick's style is so transparent, Believe You Me sounds, ostensibly, more like a Helado Negro record than one of her solo efforts: Lange's casually strummed upstrokes and thick, relaxed croon will sound familiar to any ears acquainted with Canta Lechuza. But closer listens reveal Barwick's contributions-- and her ameliorating affects on Lange's approach. Lechuza's fascination with blips and glitches was, occasionally, its downfall; Lange couldn't always work in his electro-tendencies without interrupting or detracting from the tracks' atmosphere. The addition of Barwick here actually subtracts elements from his sound, often to great effect. Her weightless backing vocals steer the zero-gravity Tropicália of "Noche Brilla Pts. 1 and 2", and add a celestial gloss to the loungey and gorgeous "Weight Those Words", which should be played on a loop in every hotel bar in heaven.
Like any good abstractionist, Barwick says the name "ombre" came, simply, from some chance encounters with the word and a penchant for the way it sounds. But the word's meaning (think color gradient fabrics) fits the project-- and its occasional shortcomings as well. Though their sensibilities have a lot in common, certain particulars of Barwick and Lange's sounds are so different that the project sometimes feels like it lacks an overall cohesion. The Latin influence, for example, drops out in the second half, and after a few tracks on which Barwick's featherlight, wordless vocals take the lead, the complete disappearance of Lange's voice feels odd. Still, in its more blissful and transcendent moments (like the single "Cara Falsa"), all earthly quibbles feel beside the point. Going back to the image conjured by the name "ombre", seamless cohesion-- or a blending of two colors into one completely new hue--doesn't seem to be the pair's goal. Instead, Believe You Me comes off as a collaboration between two dyed-in-the-wool daydreamers, finding both harmony and intriguing incongruity in their respective visions. - Lindsay Zoladz