Harth je jednosatvno jedan od najvećih živućih muzičara, i kao skladatelj i kao izvođač (saksofonist).
Također je multimedijski umjetnik.
www.alfredharth.blogspot.com/
www.youtube.com/a23h
a23h-seoul.blogspot.com/
This Earth!
[full album]
An interview with Alfred Harth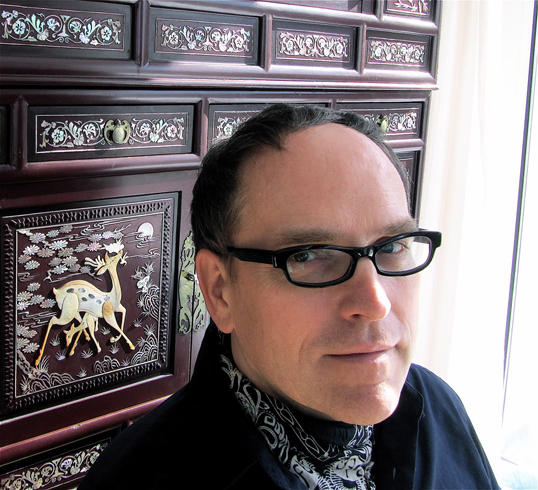 Alfred Harth
, now known as Alfred 23 Harth or A23H, was born in Frankfurt, Germany. He is a multimedia artist, band leader, multi-instrumentalist musician, and composer, who moves creatively among genres. He has founded many bands, composed for film, TV, theatre, ballet, and radio plays, and has had exhibitions of his artworks all over the world. Since 2001 he has lived in Seoul, South Korea. Harth's preferred instrument is the saxophone, which he submits to various sonic trials. But his music incorporates many different instruments, both analogue and digital, and his musical styles defy categorization. Harth's studio is near the Demilitarized Zone (DMZ) separating North and South Korea. This strip of land runs across the peninsula, cutting it roughly in half. It is 155 miles long, approximately 2.5 miles wide and is the most heavily militarized border in the world. This Zone is an uncanny place—at once 'the most dangerous place on earth' (Bill Clinton), and also a nature reserve where exotic and rare flora and fauna thrive untroubled by human intervention. Alfred Harth's recent multi-media installation at Artsonje Center in Seoul showcased some examples of the objects he has discovered while DMZ-combing. Perhaps the most bizarre of these finds are flimsy plastic leaflets the size of CD cases, printed with images and texts informing North Koreans of the true nature of their leaders; these were to be released from hot air balloons sent from the South, often by Christian groups. Harth's stash apparently never made it. Another interesting discovery he made was shards of ancient pottery, unearthed in fields adjacent to the DMZ by farmers—remnants of a once thriving and now vanished town.
The interview below about Harth's synaesthesic world of trans-cultural and multimedial translation was conducted over email.
—Simon Morley

In 2001 you moved with your wife, the Korean artist Yi Soonjoo, to South Korea. What have been some of the fruits of this relocation?
My wife and I wanted to relocate to New York, but then in 2001–02 we had a residency at Ssamzie Space in Seoul. We loved it and decided to stay on, and I created the LaubhuetteStudio Seoul. In 1995 I'd created my first work dedicated to Korea in a festival composition, "Han Guk—Land des unerfüllten Wunsches," together with Dougie Bowne, Fred Hopkins, and David Murray. When I was living there, in the years 2003-2006, I produced a "Mother of Pearl-CD series" of five editions, including a DVD containing animated sequences of many of my drawings. Each disc is devoted to a specific Korean theme, and I also invited many Korean musicians to contribute their sound sources to the project. The last one, "NUN," is a dedication to Korean poetry in a modest sense. I chose two short poems (in English) that would express my devotion while keeping a respectful distance: "Leasing A straw hat" by Yi Kyu-bo (1168-1241), and "Dog" by Yoon Dong-ju (1917-1945). "NUN" means "eye" and also "snow" in Korean. This wonderful connection in terms alone prompted me to choose this album title, apart from several more meanings in other languages.
What musical/sound qualities have you found most inspiring in East Asian culture, and especially Korea, and why?
The sound of one hand clapping still thrills me, as does the fading infra-thin. Brutal noise and extended length is enjoyable when done intelligently, silence and minimalism too, but that's all kind of cliché, I admit.
In my CD "NUN," you can hear the unbelievably poetic pebble-beach-bay at Hakdong in Namhae, near where Yun Isang grew up—one of the 100 most beautiful sounds from Korea, as is written on a poster there; I am still looking out for the other 99. Recently, standing on top of a hill at the DMZ, I listened to the blasts from a South Korean tank manoevre. The high explosive sound of each shot echoed for miles along the flanks of the hills on the other side of the river valley where the operation was taking place, until it seemingly faded in a soft curve somewhere over the border, there in North Korea, as a whizzing resonance that became almost immaterial.
You recently worked on a project about the DMZ. Can you speak a little about that?
The DMZ is a scar in the middle of the Korean peninsula that goes back to the Yalta conference in February 1945. Unlike the division of Germany, which ended in 1989, the two Koreas are formally still at war, and recent high tensions between North and South during the first months of 2013 reawakened my memories of the Cold War missile installations in East and West Germany around the legendary year 1984. The tensions at that time were almost unbearable, as we faced the huge threat of a possible nuclear war that might destroy the planet. At that time, I continued my political expression through art and music in concerts with the group Duck and Cover, which I formed in 1983, and I foregrounded a deliberate ignorance of all military weapons by projecting them as fakes or mere artworks without any other effects than the visual. In this way I managed to cushion the traumatic aspects of those highly apocalyptic, angst-inducing forms in politics.
In accordance with the Law of Three, I used these sublime neutralizing techniques as catharsis, and as a spell similar to the magic of cave paintings, in order to deploy my own kind of deterrence of the ultimate through the assistance of a cultural twist.
When I moved my studio from Seoul to nearby Imjingak in 2007, I could engage in a similar behavior by visiting, along the DMZ, all sorts of county-run fairgrounds, concert venues, playgrounds, and lots of tourist leisure sites, which obviously aim to cushion the dramatic seriousness of the border. There were also old bars and clubs around the area, with names like "Rush" or "Paradise," which were run by the United States for the relaxation of their military, and contained mock-up army interiors, with music, videos and North Korean dummies to throw darts at. In contrast to my witnessing of the heavily armed border, during the last few years I also started to document and to twist those objects again by walking along endless trenches in the woods, and taking excursions to the DMZ.
In my 2013 installation "DUGOUT," for the Artsonje lounge, I bring together my research concerning the neutralizing power of military forces with the desire for a kind of artist who can behave like a "therapeuth of reality." As film director David Lynch recently stated, for every military installation in the world there should be at least one peaceful installation to balance it. In "DUGOUT," I open my artistic archive to respond to the DMZ's reality, also excavating the long and rich history of the landscape along the Korean border. In addition, during the exhibition's opening day,I gave an outdoor performance, Aktion mit einer Grenze an Schnur, in the Cheorwon area; the title references Paik Nam June's Aktion mit einer Violine an Schnur (1963).
What was it like starting out in music in Germany in the 1960's?
In 1958, I'd been artistically initiated by visiting a Dada exhibition in Frankfurt/Main, which during the sixties was flanked by four neighboring places of avantgarde momentum: the New Music Ferienkurse in Darmstadt in the South, the Fluxus movement in Wiesbaden in the West, the Kassel documenta in the North, and the American Forces' clubs with The Monks and Jazzsessions in the East.
In my teenage years I had been colored by those avantgarde movements in music and arts, and in the mid sixties I studied the literature of Samuel Beckett, C.G. Jung's and Max Bense's works, as well as Teilhard de Chardin and "Zen" by D.T. Suzuki.
Thus prepared, I knew about the highest frontiers in art and music, literature and mysticism. In 1967, I conceived synaesthetic sound/vision events such as controlled glass breaking, controlled fireworks, fire paintings, automatic writing, theatre of hissing and whistling, short films of trash object fluxus treatments, and subsequently, diverse art/poetry/music events/happenings at the "Centrum Freier Cunst " which I had founded in Frankfurt/Main where I grew up. I collaborated with the graphic literature creator and concrete poetry poet Franz Mon in 1968, during a TV portrait, with the ensemble "Just Music," which I founded in 1967 and combined Free Jazz elements with (European) New Music in non-hierarchical collective free improvisation.
As a synaesthetically-talented person (seeing numbers and letters as tone notes in colors), I have since 1968/9 created graphic compositions for my ensembles and experimented with extended instrumental treatments,visually disguising and muting my saxophone (while playing it) with clothes. I was also incorporating everyday objects, such as bicycles, umbrellas, saws, trash objects, fluid color light shows and Sandoz 25 into group improvs. In 1968, I was involved in an ironic improvisation (in concert and radio) of Christian Wolff's composition "Play/Prose Collection;" the ironic conception of "Excrementa," an art installation event using faeces sculptures in opposition to Frankfurt's festival "Experimenta;" the willful spoiling of other concerts for political reasons, the distribution of "urKult" flyers with political messages, and protest happenings (sound and visual) of mind-fucking student protest teach-ins as criticism/balancing of the over-cognitive within the "Kritische Theorie" student events influenced by Frankfurt-based professors Adorno/Horkheimer. In 1969 I was recording number 1002, with "Just Music," on the München based label ECM.
The political and technical landscapes at those times were quite different. During the Cold War, it was Germany that had been a main focus, as it was divided into four parts, and was geographically close to the main enemy of the West, the Soviet Union.
European borders in general were closed at that time, and everybody had to be checked when crossing a border. Cars and engines still had less capacity, and it seemed as if geographical points within Europe were much farther away from each other than nowadays. There were no computers, and in general it took a while, sometimes years, until musical/cultural messages from the USA (on LP and so on) arrived in Europe. A reachable simultaneity in all means—a given nowadays—did not exist. Transcending borders became a kind of 360-degree program.
Basically, I had an immense distrust of words. I knew that words could be weapons, and I was plugged in by further reading of Alan Watts and G.I.Gurdjieff.
I made tiny twists in culture here and there and did it without strict separations between the arts. In 1972-74, implementing Dada and Fluxus elements, the trio "E.M.T." (Sven-Ake Johansson, Nicole van den Plas and me) integrated European Music Tradition by using fragments by other composers like Grieg or Schumann. I liked to play with fake art and fringe, conspiracy and hyper-real codes: impromptUFOundation.
My activities became more and more diversified: in 1980 I recorded a meeting of mixed styles from jazz, punk and classical music for the label JAPO/ECM, and this record's musical program led to more focused work in the group Cassiber from 1982 onwards. The Duo Goebbels/Harth, formed in 1975, became a highly creative nucleus for a lot of enterprises. In 1983, the festival director asked me to form an "all star" combination for the Moers Festival. This group became

Duck and Cover,

for which I conceived an idea of the main structural composition in relation to contemporary politics. In 1984 the duo created a musical theatre piece, "Nach Aschenfeld" together with the author and director F.K.Waechter and two actors. This was mounted at the Residenztheater in Munich, where we played live onstage with a huge number of instruments, some partially self made; this was a kind of role model for Heiner Goebbels's "Musik Theater" in his later years. That same year, Cassiber put out its second CD, "Beauty and the Beast," released in Germany and Great Britain and using mainly words by Chris Cutler. A Cassiber CD box will be out this year in the UK.
In 1987, the Duo Goebbels/Harth recorded live at the Festival International de Musique Actuelle de Victoriaville in Canada, and then disbanded in 1988.
Parallel to the longtime collaboration with Heiner Goebbels and the duo's diverse other enterprises, including also film music compositions, I founded several groups during the eighties. The most prominent were a two-time project (LP "This Earth!" on ECM 1264 in 1983) with Paul Bley, Trilok Gurtu, Maggie Nicols, Phil Minton, Barre Phillips and myself, then "Notes On Planet Shikasta" (1987), using fragmented words by Doris Lessing, and an international group "

Gestalt et Jive

"(1984-1988), using slammed text sections here and there.
During the transition period when the East was opening up, I was a member of Lindsay Cooper's group "

Oh Moscow

" (1987 to 1993, words by singer and film director Sally Potter). I founded a postmodern group "

Vladimir Estragon

" (1988/89, incorporating Einstürzende Neubauten drummer FM Einheit), whose title refers to Beckett and Joyce, and a "QuasarQuartet" (1992/3, Simon Nabatov, Vitold Rek/Mark Dresser, Vladimir Tarasov, myself). Also in 1993, I formed the FIM (1993-2001, Frankfurts Indeterminables Musiqwesen), a platform for many local avant-garde music activities.
What for you is the advantage of working across styles and genres. Why don't you feel like establishing a 'signature' style?
My socialization was like this: in my parents' house there was a mix of styles—a precious madonna statue next to something trivial, and again, a wonderful piece of faience on the wall beside kitsch, etc. Then, studying those diverse schools as a teenager motivated me to get more skilled in several fields, but not so much as to be specialized in one. Crossing borders was another big motivation for me, and a lucky outcome was that a new genre somehow formed. My 'signature' is the 23, the 23rd Hexagram from the I Ching, "The Fragmentation." I'd rather go with diversification and polystyles, intensifying my life in the process. Also, I like playing with multiple identities, on the net and elsewhere. I see my work's crossover as a by-product of my beliefs, and do not aim necessarily at any magnum opus. Some twists here and there are fine for me.
The music world is in crisis because of the digital revolution. What are your views on this—positive and negative?
Well, the crisis is ubiquitous. Also, high quality music or art may remain unknown to larger audiences the same way bees die out, or oceans get steadily toxified. The 'Digital revolution' mainly seems to describe the rising general convenience factor, which may not be of great evolutionary help for developing mankind's spiritual potential. It is still all about the old song in the small tributary and the mainstream—finding one's way.
Human enhancement, or H+, may bring some solutions, or maybe the final total breakdown of the Internet within the next five years. What if...? Shocks may raise insecurity, which equals true evolution. But eventually truth may lie in the middle, and the allover mash-up blend will pile forward, becoming some sort of global Pearl River Delta with all its eschatological scifi inclinations. There is always +1.
http://www.asymptotejournal.com/article.php?cat=Interview&id=23&curr_index=38&curPage=current
Massimo Ricci on Alfred Harth:
SAMM BENNETT / ALFRED 23 HARTH / CARL STONE / KAZUHISA UCHIHASHI – The Expats
Kendra Steiner Editions
Alfred 23 Harth: reeds, kaoss pad, dojirak, samples, voice; Carl Stone: computer, Max/MSP, voice, samples; Kazuhisa Uchihashi: electric guitar, daxophone; Samm Bennett: diddley bow, mouth bow, voice, gadgets The highest value of this live set from 2010 in Tokyo derives from the feel of collective connection that it transmits. Purposeful sonic motility born from different experiences and backgrounds, materially explicated by each artist's insightful levelheadedness. A 160-copy limited edition is the tangible evidence of a special night lighted up by a supergroup of sorts. "Unboxing" starts with a rather imperturbable mood spotted by undecomposable shapes – petite noises, clean-cut guitar and sax notes, well-distributed percussive touches – leading the listener step by step towards a perception-deceiving sphere where the aggregation of antithetical dynamics and tensions flourishes into a beautifully morphing varicolored lattice, a general awareness of inherent fluidity defining the whole track even when sourer samples attempt to prevail in the mix. We could call this a somewhat melodic expansion of collateral fluxes of consciousness. "Eschew Obfuscation, Espouse Elucidation" comprises several degrees of incandescent noise-making; the utilization of more complex deformations of the original sources encompasses clearly visible bodily aspects. There is less room for relief in this potential chaos, but what ultimately wins – here like everywhere else – is a sense of organization holding all the components nicely pasted together, including the seemingly illogical ones. In that regard, the positioning of uncrystallized vocalizations, burbling entities, groaning impressions and scratchy rhythms in parallel with the episodic "aligned" phrase or semi-twisted arpeggio works wonders in generating psychedelic scents of the finest brand. "It's Also The Things We Choose Not To Put In" is initiated by an implausible "gamelan-in-a-music-box-meets-Jon Hassell" mishmash, from the insides of which additional shots of perspicuous lunacy come forth to uproot the audience. The "acoustic soul" seems to dominate at one point, yet there is enough content of electronic instability; a timbral malleability characterized by aesthetic permeableness (now and then with pseudo-minimalist condiments) is the core of the matter in this circumstance. Actually, the main trait of this quartet corresponds to their ability of rendering unlikely ideas "interiorly toothsome", stimulating our private focus and adapting capabilities without the need of overwhelming (although a section starting around the eight minute, defined by what sounds as a cross of misshapen ringing alarms and oriental martial art ceremonials would surely be sufficient for many people to get brain-sick). "Alien" – a word this writer is growingly becoming fond of these days, for various reasons – coincides with the occult (in a way) side of the foursome's action. Deprived of any sign of over-indulgence, this piece's textural essence transports a willing participant inside the realm of genuine sensual disengagement, not necessarily warranting a quietening welcome to heavenly composure. On the contrary, some of the frequencies can enhance a given state of mind – say, dejection or worrisomeness – up to points of displacement that hyper-sensitive individuals may find hard to be in, if caught in a "down" moment. As always with musicians at this level, being pushed right in front of what the self understands as unendurable is the method for receiving otherwise unachievable explanations.
In Touching Extremes
DEAD COUNTRY featuring ALFRED 23 HARTH – Gestalt Et Death
on Al Maslakh
Alfred 23 Harth: alto sax, clarinet, vocal, electronics; Şevket Akinci: electric guitar; Umut Çağlar: electric guitar, monophonic synth, tape delay; Murat Çopur: electric bass; Kerem Öktem: drums, percussion
Rip-roaring chronicles from Alfred 23 Harth's 2011 visit in Turkey, where a partnership – make that "collusion" – was born after the Frankfurter was invited to act there with this local group (previously hidden to this reviewer's cognition). Gestalt Et Death sounds pretty coarse in terms of recording quality – one would think to a precise artistic preference, sort of a "let's combine ingredients in the alembic and see what happens". The force deriving from the interfusion hits right on the chin, the recordings – uneasy to ingest on the introductory attempts in spite of Dead Country's sparse usage of rock-ish constitutions – possessing the staying power and the emblematic qualities of albums that do not need technical attires and fatuous facades to invite the listener, warranting significant substance instead.
"Horseman's Most Expensive Effect" is a rather enigmatic "ritual" opening delimited by a hefty vamp: overdriven bass and overwhelming percussiveness, Harth blowing upon them in peculiarly strained fashion. "Fiery Red DC" offers a withering representation of punk jazz, sharp-cornered riffage and muscular drumming the basis for A23H and Çağlar swapping heavy leather before the matter gets mangled into tiny bits of rust-brown dissonance. "96205 Ararat" is the most non-concrete piece on offer, a challenging synth solo spiraling erratically inside a perpetually mutating tapis of percussion and electronics until everything calms down spellbindingly. More gargantuan pseudo-rock structures are found in "Lady Deathstrike's Healing Factor", perhaps the track where Harth expresses his on-the-spot creativity at best, alternating trademark sax furore and funnily enlivening "commands" yelled into a microphone and resonating with echo; the finale, a blasting mix of indocile guitars and synthetic misbehavior, is also remarkable.
The longest improvisation is (splendidly) titled "Cessily In Liquid Form Blindly Teleports The Entire Team Rag"; here, methinks, lies the finest moment of the disc, subsequent to an initial robotic oratory: a handsome arabesque depicted by the German on the bass clarinet, layered over a growingly engrossing fixed-tone drone and a clean first, knifelike later axe underlying the function's exhilarating prospect. The concise "Mr. Burroughs' Finger" returns to the anarchy of a free-for-all blowout bathed in scathing electricity and odd metered arousal, whereas the conclusive "Jump Off The Timestream" takes shape from deformed/flanging throat emissions and electronics enhanced by ferociously abstract strings, sealing the whole with the type of who-cares-about-defence fusillade that might annihilate your cerebral activity for a while; Harth's sporadic declamation adds the necessary dose of enigma in a cataclysmal crescendo ended by himself with a terrific wordless invocation.
Serious mayhem overall; play loud. And dig this "vocally improved" version of Mr. 23
′
s impromptu cogitations: a new color in an already awesome palette. Kudos to Al Maslakh for having had the balls of publishing this stuff, definitely not easy to advertise or squeeze into the average consumer's will of trying uncomfortable music.
on
Kendra Steiner
Editions
on YouTube
A meeting between two big names whose partnership would have been nearly unthinkable just a few years ago. But there's something that links Alfred Harth with Carl Stone besides their indubitable artistry: the influence of Asian cultures on their respective lives and crafts (one is based in South Korea, the other in Japan). These six tracks constitute a compendium of two concerts occurred in 2009 and 2010 in Frankfurt and Tokyo, but the extremely high quality of the sound and the lack of audience noise makes the CD comparable to a studio work.
The set is basically built upon Stone's transformation (via Max/MSP) of Harth's emissions, with subsequent additions of further pre-existing materials. The palette is obviously homogeneous: Harth also treats his "babies" (which include Eastern wind instruments like taepyeongso and dojirak) with a Kaoss pad, and uses bows on the instrument's bell and in other parts too. Both employ samples and voice. But the description of the sources doesn't excessively help clarifying how this uncompromising record sounds. The material, at least from what I gathered by repeated listens, appears mostly improvised. Many different scenes succeed in ever-radical spurts, without concessions to any kind of easiness or relief; a latent tension informs the bulk of the sonic settings, which in some moments approach a near-explosive configuration. Percussive aspects are frequently privileged, the mechanical features of the reeds amplified and expanded to become an out-and-out menace: imagine a giant crab walking towards you with bad intentions ("Adler_Kino 23 Gu II"). Somewhere, Harth's pulmonary exhalations morph into powerful winds deprived of a chunk of the frequency spectrum. And I could go on.In a way, there's a "savage ritual" aspect to the whole. Squealing pitches and calmer floating mix, often in the ambit of a single section, with exceptional results. Not a minute passes before some sort of surprise materializes: sampled talkers telling incomprehensible things for us poor westerners, looping junctions attacking the brain from all sides. In the lengthy final track "Adler_Kino 1166-1215 IV" the progressive accumulation of acoustic substances produces such a level of eventful saturation that one foresees fire from the amplifier; maintaining a mental balance in there is not for everybody.Ultimately, this is a seriously dissonant album that will represent a veritable nightmare if foolishly played as a background for conversation: it will grab you by the ears and destroy your social pleasures. Tough and totally unwilling to open autonomously; treat it like a shut oyster and use the knife of your concentration, provided that the edge is sharp. The pearls inside are several, but they're not suitable for a glamorous necklace. 133 copies only – you've been warned.