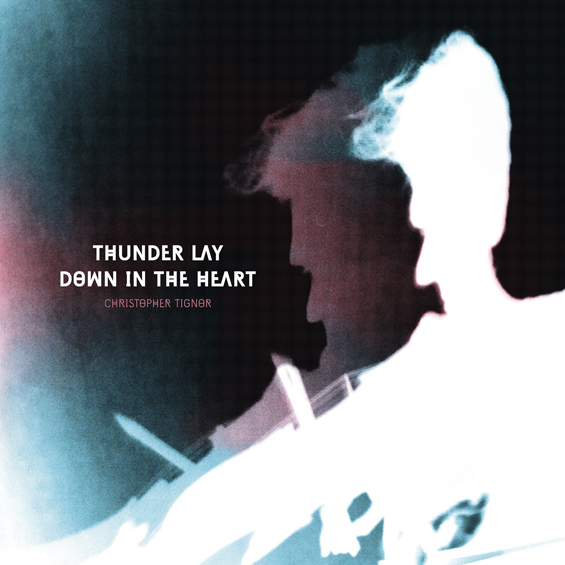 Klasika+elektronika. Komorni prostorni poremećaji za liječenje mozga na tumoru.
Christopher Tignor's development as a composer, musician, and conceptualist takes another step forward on
Thunder Lay Down in the Heart
, the second full-length issued under his own name and the follow-up to 2009's
Core Memory Unwound
. And while it is a solo release as opposed to an outing by one of the outfits with which he's associated, Slow Six and Wires Under Tension, it's hardly one that excludes the involvement of others. Tignor's music often plays like formal classical composition charged with indie-rock energy; in that regard, it's worth noting that in addition to his classical training and academic background, Tignor at one time mixed live sound for acts at the New York clubs Brownies and the now-defunct CBGB's. He's also applied his computer science studies toward developing software for processing sounds, software that's in turn been incorporated into his music-making. Put that all together and you've got a rich mine from which to draw, the result of which clearly shows itself during the recording's forty-four minutes.
The opener, "A Boy," not only takes its inspiration from a 1956 poem by John Ashbery but also features the Pulitzer Prize winner reading the poem against a keening string backdrop provided by Tignor's violin and Michael Unterman's cello. Though brief, it's a stirring and crepuscular setting that one might mistake for a Kronos Quartet piece were it presented as part of a blindfold test. A natural through-line is created from "A Boy" to the three-part, twenty-minute setting that follows, with a line from the poem being selected as the title of the composition as well as the album title. A bravura work for string orchestra, electronics, and drums, "Thunder Lay Down in the Heart" is realized by the Boston-based string orchestra A Far Cry, Wires Under Tension drummer Theo Metz, and Tignor, who's credited with memory machines. It's here, specifically in the first part, where we witness his bold marriage of classical playing and electronics, with the flutter of the former accompanied by a babbling brook generated by the latter. In part one, Persian-tinged string melodies establish a dream-like character, after which ostinato patterns appear to introduce a minimalism flavour before drumming adds a heavier kick; minimalism's spirit bleeds over into the second part, this time inflected with a post-rock feel courtesy of the drum patterns, while the third opts for a nachtmusik feel, with string shudders again invoking minimalism, this time of the Reich-styled kind (with ties to LaMonte Young and Philip Glass part of his personal history, Tignor comes by his minimalism connection honestly, by the way).
At this stage of the recording, the aforementioned through-line reappears again albeit in different form, with a solo Tignor electronically reinterpreting the title piece into "The Listening Machines" and "To Draw a Perfect Circle." Working from the tapes of the collective's rendering of "Thunder Lay Down in the Heart," Tignor generates two remixes, the first of which pulsates at full steam for eleven dramatic minutes and the second a rather less bruising yet still hypnotic reverie by comparison. Perpetuating that plaintive tone, the album's closing piece sees Tignor and Rachel Grimes (of Rachel's renown) collaborating on "First, Impressions," a remix of "Thunder Lay Down in the Heart I" that focuses its attention primarily on the original's exotic melodies.
In the past, the New York-based violinist has shown himself to be a generous soul in contributing violin playing and string arranging (both live and in the studio) to This Will Destroy You, John Congleton's Nighty Nite, and Lymbyc Systym, and obviously carries on the tradition by involving multiple others in the creative process on this latest excellent collection. Returning to where we started, Ashbery's poem includes a father saying to his son, "My child, I love any vast electrical disturbance." Certainly characterizing Thunder Lay Down in the Heart as a "vast electrical disturbance" of its own particular kind wouldn't be too far off the mark.
-
www.textura.org/
"…Tignor creates a muttered hum of activity that burbles at the fringes of an internally focused halo of sustained, glowing chords, and the effect is powerful." – NPR
"Listening is like slipping into a warm aural bath..." – WIRE
"Tignor's gently evocative postminimalist reveries prove one of the year's most pleasant surprises." – TIME OUT NEW YORK
"Each (song) has its own breath and life, and moves with a spirit that feels like a wise and aged soul...the music becomes more lovely with every replay." – BRAINWASHED
It is the quality of uniqueness that appears most elusive in music today. Much of what is 'new' seems either palpably derivative of a specific artist or to exhibit the more discrete influence of genre or era. Uniqueness only seems to approach – even in this case cautiously keeping its distance – with the amalgamation of previously disparate styles. Much like Jung's Collective Unconscious theory, new musical output is arguably more the consequence of what is inherited – on a societal as well as personal level – than anything else. This inheritance is simply adjusted to become something else.
The concept of adjustment is woven throughout the multi-layered Thunder Lay Down in the Heart, whose provenance lies in the 1950s with the penning of a poem, "A Boy", by the then little-known US poet, John Ashbery. It is the second release from Christopher Tignor, a violinist and member of two bands as well as a live sound mixer, engineer and inventor of music software to 'performatively transform live sound'. As a careerist in creating then manipulating sound, Tignor's latest work is imbued with a nuance of self-portrayal – as shall become evident.
Borrowing the poem's title, the succinct opening track is dominated by Ashbery himself reading "A Boy" aloud – its surreal, metaphor-laden imagery lent heightened drama and pathos by rhythmic swells from Tignor's violin, dying on the closing line, 'An unendurable age'. Superficial research informs that the piece concerns America's past treatment of homosexuality in young men and attempts to link it to schizophrenia, deeming such people to be maladjusted. So the concept's stem is perceived.
The LP takes its title from a line in the poem, and shares it with the album's centrepiece: a 20-minute arrangement in three parts performed by the Boston string ensemble, A Far Cry. Divorced from a traditional symphony, however, "Thunder Lay Down in the Heart" welcomes electronics, beats and a drum kit over the strings to shift the whole more towards contemporary soundtracking from the likes of Hans Zimmer. That such disparate elements are introduced and withdrawn in seamless ways that build atmosphere and dynamic is testament to Tignor's experienced handling of these instruments in diverse environments. There is a patience to the first movement of part one, as dissonant and competing strings are eventually cajoled into unified melody over half-way through by the steady blip of electronics. The drum kit that enters over six minutes in is far from a textural, timpani-esque addition – it propels the piece to its euphoric and dynamic crescendo with a strident, almost pedestrian 3/4 rhythm decorated with tight cello stabs and punctuating a swaying violin ostinato. This section recurs and develops in part two, and epitomises the work's effortless coalescence of multiple genres (in this instance, modern composition and post-rock).
The album's 'side B' extends the theme of adjustment, presenting a trio of pieces from three to 11 minutes long whose sounds are entirely derived from the centrepiece. Not so much remixed as reimagined. The first two offer artefacts from Tignor's past work with ambient- and electronica-tinged bands such as This Will Destroy You and Lymbyc Systym. In fact, "The Listening Machines" transports us farther back with a Pink Floyd-esque pulsing synth texture anchoring a high, diaphanous presence almost brass-like, yet presumably of bowed origin. Industrial-sounding beats that build with the synths distort the listener's perception of this soundscape, creating wonderful anachronism within the amalgamation. Sounds beckoned from their habitat and repurposed for a different place, a new time. "First, Impressions", the final piece, bookends the collaborative spirit of the record, presenting a reinterpretation co-produced with Rachel's composer, Rachel Grimes.
'Driven from Dallas and Oregon, always whither,
Why not now?'
This salient line from the poem questions the need to always be on the move, forever looking ahead, when we should embrace the present. Thunder Lay Down… delves into the past and shines the present onto it. In doing so, an historic breadcrumb trail is created. And so we learn that "The Boy" is said to have been inspired by Ashbery's watching of an early '50s film, The Red Badge of Courage, which itself was an adaptation of a book written in the 1890s. What further progenitors could there be to draw this remarkable work further back into the mist?
The wheel of musical inheritance trundles on, bearing its load of inspiration to new generations. An overlooked poem given fresh prominence to a new audience; a work inspired that captures the musical zeitgeist of different decades, and that graces it with the hallmarks of this time. The work is acutely – proudly – aware of its position within a grander artistic narrative. At its close, the pen that Tignor used to scribe is passed onto another, and his chapter in this absorbing story is complete. - Chris Redfearn
Core Memory Unwound (2009)
Christopher Tignor – Core Memory Unwound
For years " Slow Six " band-leader, composer, and software designer Christopher Tignor has performed with his signature software instruments alongside fellow band members, sampling and transforming their live performances in accordance with his meticulous, emotionally-charged scores.
On Core Memory Unwound, his debut under his given name, he brings his software to the forefront alongside some of his most intimate compositions for violin and piano.
A record dealing with memory, both metaphorically and literally, these intimate tone poems for violin and piano are each presented in two forms, once in their original acoustic state, and then as a " memory portrait " through Tingor's live performances on his signature software instruments, creating new works from samples of these performances taken on the fly. -
www.thesirenssound.com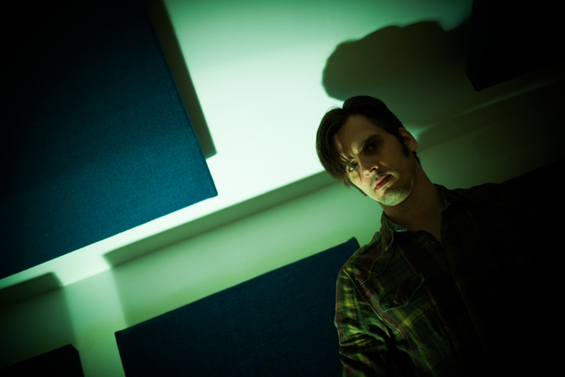 TEN QUESTIONS WITH CHRISTOPHER TIGNOR
Christopher Tignor is a bona fide triple threat: he's an accomplished violinist, formally trained composer, and custom software designer (Mnemonica, MØØP, StreamSequencer). In addition, the New York-based Tignor not only releases innovative solo albums—2009's Core Memory Unwound and 2014's Thunder Lay Down in My Heart (both on Western Vinyl)—but has issued multiple full-lengths by his Slow Six ensemble (2004's Private Times in Public Places, 2007's Nor'easter, and 2010's Tomorrow Becomes You) and Wires Under Tension, his duo outfit with drummer Theo Metz (2011's Light Science, 2012's Replicant). The visionary manner by which Tignor integrates software into his musical practice is indicative of the imagination he brings to his work: in Slow Six, he samples and transforms the musicians' playing in real time, while Core Memory Unwound finds him presenting each piece twice, first in an acoustic arrangement for violin and piano and the second a 'memory portrait' whereby custom software is used to generate a new version using live performance samples. Even more audacious is Tignor's latest release, Thunder Lay Down in My Heart, which includes a poem-based setting (featuring John Ashbery), a three-part work featuring the Boston-based string orchestra A Far Cry, electronic re-imaginings by Tignor, and an album-closing collaboration with Rachel Grimes (of Rachel's fame). Recently we had the pleasure of speaking with Tignor about the new album, his past association with LaMonte Young, influences, current listening, and future plans.
01. The press release for Thunder Lay Down in My Heart mentions that you worked in the '90s for LaMonte Young as an assistant. What was the experience like and did the association have a lasting impact upon you both personally and in your artistic approach? And is there still a relationship between the two of you?
I worked for LaMonte and his wife Marian for a couple of years right out of college. How best to describe the experience? It was certainly eye-opening and for a young artist meeting one of the founders of minimalism, certainly life-changing. LaMonte and Marian are incredible, giving people in so many ways, and I'll always be grateful for how they let me into their lives even for that brief window. While preparing their meals, fetching their laundry, and soldering broken fans back together (used to cool amplifiers), I overheard some great music and spent a lot of great evenings surrounded by the drones and colored shadows of their "Dreamhouse" installation on the floor above their loft in Tribeca.
They live an uncompromising lifestyle, the most well-known example perhaps being their extended twenty-eight-hour days (six in a week), phasing in and out with the rest of us.
The story I like best of all about LaMonte and Marian is how they were offered a deal with CBS in 1969 to record themselves singing drones over the sound of the Atlantic ocean—the waves crashing ashore. CBS funded this whole expensive session and then LaMonte and Marian decided they didn't like how the ocean came out and needed to redo it. CBS said they wouldn't do that, but LaMonte and Marian held their ground and CBS pulled the plug. I'm sure they knew that record could have exposed them early on to a much wider audience, but they were uncompromising in their aesthetics. You have to respect that—one of more punk rock moments in modern music, in my opinion. I haven't spoken to either of them in many years. I truly hope they are well.
02. The new recording also has much to do with associations of varying kinds. How did it come about that John Ashbery ended up recording a reading of his poem "A Boy" in his Chelsea apartment? Is he someone you've known a long time or is he someone you contacted with this recording specifically in mind?
I studied with John at Bard College when I was an undergrad there long ago. In fact, he was my advisor; at the time I was a creative writing major, though I was also involved in much electronic music, among other things. The poem came back to me years later while writing "Thunder Lay Down in the Heart," and that line rang out as a title. I thought it would be a fantastic full circle to collaborate with John on a setting for this poem, written in the '50s that I then absorbed into my own work so many years later. Luckily, he was quite into how it came out. I admit, part of me was worried it could go the other way. I had a great chat with him the day we recorded it, which probably helped guide my sensibilities in a few subtle ways.
03. On the three-part title piece, you're credited with 'memory machines.' Could you clarify what that means with respect to your contribution(s) to the piece?
I build software instruments that transform the sound of live performers in an attempt to create a new voice tangibly linked to the performers. I approach these processes by trying to get at what the 'essence' of a particular passage or texture might be that really interests me and use the electronics to dig that out of it and elaborate upon it, transforming it into something new. At the beginning of the title work, the string orchestra performs with a bowing technique I call '
elliptic bowing'
that uses a circular gesture to create an airy sound that explores the overtones of the string. I wanted to dig deep into these overtones and see if I couldn't use them rhythmically, because the original playing is so arrhythmic—I thought the contrast would be an exciting why to rethink this technique in combination with the source. The result to me sounds like a sort of tanbura, maybe with some electronic tabla in there…
Because these electronic 'voices' are always derived from re-imagining events in the past, immediate or otherwise, I think of them as engaging tangibly with memory, sometimes over great distances. A digital computer's most defining aspect is its ability to store, to remember. I'll stop there...
04. The press info also describes "The Listening Machines" and "To Draw a Perfect Circle" as 'electronic reminaginings and remixes' of the three-part title piece. Could you elaborate on exactly what you did to the original material to create the two related pieces?
There were many processes involved in each of these works. I tend to hone in on small gestures that pop out to me and build new pieces around them. "The Listening Machines" begins with a series of violin harmonics stacked in fourths that I slowed down by half. I used their resonances to create out-of-sync loops with very rough edges, so when the seam comes around you really hear the attack, like a bell. So basically I'm picking and choosing elements that I'm drawn to and that I think will make a new, compelling story.
The same is true for "To Draw a Perfect Circle," but here I really wanted to explore how loops made from the soloist sections and then sped up could be used to build enveloping textures that sort of play with time a bit. I'm also playing with the sounds of "metal" versus the warm sounds of the bowed string in much of this work. To this end I dug deep into the percussion takes, likewise stealing phrases here and there that might speak to what I'd already stolen from the orchestra. It's an ongoing process of poaching and letting the sounds tell you what they need to feel whole in the new world you've built for them.
05. Please forgive one final reference to the info accompanying the album. Given that it cites figures such as John Adams, Aaron Copland, John Luther Adams, and William Basinski as reference points, I'm curious as to what part those artists in particular had to play in the album material.
There are so many artists that influence a work of this scale; I'd sort of take lists like that with a bit of a grain of salt. That being said…I've always admired John Adams' take on minimalism and his down-to-earth approach toward popular musical influences. There's a lot of both of that in this record, I think.
The first time this piece was performed it had a conductor and he made the connection in the first big melodic arc of the piece to Aaron Copland. I couldn't deny it. Those chromatic-friendly, rhythmically propelled themes do have that vibe.
John Luther Adams' beautiful sense of space, darkness, and mood has always rung true with me. I'd like to think the last section of the piece, amidst all its huge, stacked waves shares a kinship. Listening to Luther Adams' work has more than once made me think: hey, why not move to a really cold, isolated part of Alaska (or somewhere) and just light the place up with beautiful, loud textures all night?
William Basinski's dissolving tape loops share a sense of sadness (decay) as process and the pastoral that I think the middle section of the work benefits from. While the music doesn't dissolve (it is a work for live string orchestra), the electronics do often 'smear' the original roles in service of evolving transformation, an aspect I think he'd embrace.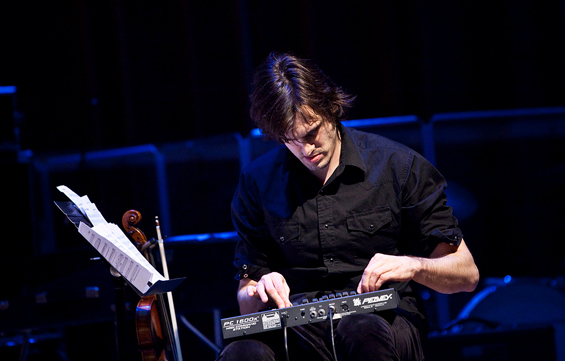 06. Are there any composers and works, contemporary or otherwise, that you're particularly drawn to at the moment (what's on your iPod in other words)? And while you're working on a recording project, do you prevent yourself from listening to certain works or composers so as to avoid being overly influenced by them, or do you not worry about being so?
I am pretty protective of my musical psyche while writing. That said, if I refused to listen to other people's music while writing I'd never hear anyone else's music. But a lot of the time, I'll be listening to something because I think it specifically connects with a musical problem I'm trying to solve myself—research basically.
To that end I've been listening to a lot of Palestrina and early church music as well as religious music from other cultures. A bunch of Javanese Gamelan and Hindustani classical music and some online videos of the Muslim (Adhan) call to prayer.
I also heard Andrew Mckenna Lee's The Knells recently, which I quite enjoyed. Very strong compositions that sound so much like Andrew's distinctive voice. The performances and production are equally great.
07. Given your apparent interest in playing in multiple different contexts and with different people, I'm wondering if there are any artists with whom you'd most like to collaborate on some future project.
I'm mostly interested in pushing myself into music into new territories. I always enjoy working with choreographers and dancers if the fit is right, though there's always a bunch of logistical challenges that always seem to be news to them, so patience is required. Merce Cunningham and his studio's work is one I've always admired.
I can see finding a good fit with more poetry collaborations too. Again it's about much more than whether we like one another's work and more along the lines as to whether we think our work might resonate well together. (Do you have Mark Strand's number?)
08. Though in recent years you've appeared on recordings by Wires Under Tension and Lymbyc Systym, it's been about four years since the last Slow Six album Tomorrow Becomes You. Is the group still active and if so when might the next recording see the light of day?
Slow Six did a great show a few years back at the Ecstatic Music Festival when A Far Cry first played "Thunder Lay Down in the Heart." I also created arrangements for AFC to play with Slow Six as well as This Will Destroy You who also performed that night. It's going to be hard to top that I think. These days I've been focusing on work under my own name, and doing more and more composing for other ensembles. But my crystal ball is busted—you can't be positive what's around the corner.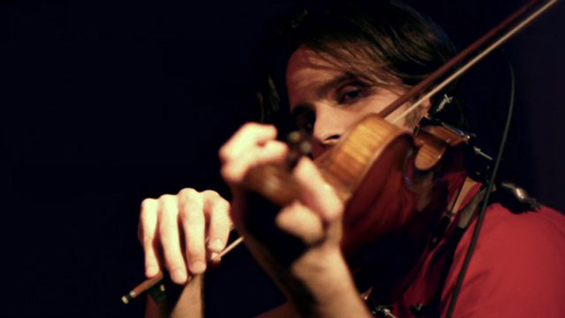 09. What's your take on the current classical-electronic field, which seems richer and more populated today than it's ever been? Do you feel some sense of vindication, given that Slow Six was creating a classical-electronic fusion years ago that was anomalous then but has become more commonplace today?
It's true that a Slow Six show was a very novel combination of elements in NYC's club scene, and thus probably almost anywhere, at the beginning of the millennium. It's also true that those superficial aspects—classical instrumentation side by side with rock instruments and laptops (I had to bring a desktop to shows for years; laptops weren't powerful enough)—is now pretty ubiquitous. But I think there's a bunch of deeper issues that Slow Six brought to the table that I see such bands struggling with. Rachel Grimes and I had some interesting chats about this: combining the act of composition with a culture of popular musicianship that expects to invent—and thereby 'own'—their own parts is a bit of a trick, to put it mildly. This extends into all sorts of both musical and extra-musical issues.
Slow Six was always a live band first and foremost. Part of our thing was that it could all be done in front of you; it was a living culture of people making music together, not some work-for-hire studio fabrication. Music now more than ever is a studio culture, and it's a different thing to just get your friend who plays cello to guest on your record (I've done this myself). Can you get that same guy to rehearse with you for like nine months before playing the work live? To me that's exciting. It's a slippery slope that is not for the faint of heart, and makes such bands much more likely to be studio projects first with a writer or two surrounded by hired guns for the live show. How that changes the musical results is its own, case-by-case question for each of us, I guess.
10. What other projects—recordings, touring dates, guest appearances—are currently on your horizon?
Alexander Turnquist has his first record coming out on Western Vinyl this spring I played violin on. It really sounds great with a wide range of instrumentation that really adds colour.
Right now I'm taking on a challenge I've never attempted in all my days behind the wheel: building a truly 'solo' set. So I've been holing up, building some new hybrid electro-acoustic instruments, getting a bit of carpal tunnel from playing too much violin, and writing and burning a lot of music. It's a bit of a war. I'm constantly evaluating while playing whether this is the person I want to be on stage, whether this is what I think I want to say with my own hands at this point in my life. It's sounding like church music for agnostics, I must say. I'm variously resisting and giving in to instincts—constant personal revisioning. -
www.textura.org/
Wires Under Tension
Wires.Under.Tension is a duo based in The South Bronx. Combining homegrown audio sampling instruments with ferocious beats and adventurous orchestration, WUT's angular gymnastics reflect the raw imagery of their home turf. Multi-instrumentalist Christopher Tignor switches dexterously between violin and the rest of the arsenal while Theo Metz extracts brutal truths from the kit. Together WUT is rethinking what instrumental music can be about when musicianship and restless experimentation rule the scene.
Light Science
For nearly thirteen years Christopher Tignor lived in the 3-story commercial space in Greenpoint, Brooklyn where he conceived and practiced with his band Slow Six. In 2008, thanks to a tipped off fire marshal, a move was inevitable, and the walls had to come down. Drastic measures would be necessary in order to keep making music on his own terms - living completely immersed in his studio and practice space. Step one was relocating to the Mott Haven neighborhood of The Bronx. Far removed from an overwhelming hipster scene he had never connected with, he found himself surrounded by the working-class grit and intensity typically associated with The South Bronx. The new musical landscape Wires Under Tension creates uncannily echoes this transition.
Charged with the desolation of a Mad Max dystopia, the songs on Wires Under Tension's debut
Light Science
form a narrative in motion from lightness to darkness. The band's name reflects the duo's ongoing struggle to balance this tension as they wrestle with an unpredictable and unforgiving machine of their own making. The wordless voices of horns and violin feel like lightning riding a stormy sea of drums and drones. That lightning illuminates the duo's muscular rhythms, formidable dynamic, and unique musicianship. As they beckon us into their storm, they seem to effortlessly sidestep the cliches found in much of today's instrumental music, delivering exciting and mysterious gems from their unique netherworld.
Replicant
In the 1940s, frustrated with the limitations of the human players at his disposal, Conlon Nancarrow started writing music for the player piano, an instrument that could "perform" his difficult and complex rhythmic pieces with precision and consistency. Similar to Nancarrow's early experiments with sequencing, Christopher Tignor's compositions on the new Wires Under Tension album Replicant use machines to create "impossible" scenes that confound and intrigue our mind's ear. With a battery of custom built software instruments, samples, and 7 live lopers, Tignor and master percussionist Theo Metz saturate our senses with new colors reflecting the urgent vitality of their South Bronx neighborhood. At times the two seem to lock talons like eagles in a death spiral, as Metz's brutal percussive athleticism keeps pace with Tignor's machines in an aural game of chicken.
Inspired by Philip K Dick's Do Androids Dream of Electric Sheep? and its filmic adaption, Blade Runner Replicant takes on the questions of mechanized identity, the feeling of flawed copies, and the inescapable bummer of being too self-aware. Throughout the album, Tignor and Metz lean into the impossible musical moments, challenging the identity of what this music is and where it comes from. As the mechanized forces hybridize with the duo's live performance, new musical identities with their own evolving culture emerge within a landscape that does not, and simply cannot, differentiate between where the programming ends and expressive intent begins. The uncountable grooves on the title track "Replicant", the optimistically insistent violin arpeggios on tracks like "Crystal Beaches", and the ghostly collages of AM radio voices heard throughout the album…all sounds that must have been programed, but continue to echo their acoustic roots, anchoring the entire sonic landscape to something sentient, that feels like it's anything but programmed.
The inspiration and experiences that led Tignor to write Replicant are directly tied to his employment history and educational background. His undergraduate degree in Literature, Masters in Computer Science, and PhD in Music Composition are all reflected in Replicant's thematic and technical underpinnings. Prior to his current job as a software engineer for Google, he held a number of interesting jobs including working as LaMonte Young's personal assistant, an EMT, a sound engineer at CBGB, a bike messenger, and has had the opportunity to handle live sound for artists including Philip Glass, Laurie Anderson, and Patti Smith. Listening to Replicant, it's interesting to contemplate how each of these experiences have made their mark on the man and the Replicant.
"Like Tortoise fueled by Hot 97, the cycling minimalist rhythms of violinist Christopher Tignor and drummer Theo Metz are more a suckerpunch than a slow boil, aiming straight for the chiming, resonant and anthemic..."
– Village Voice
[
read more here
]
"
Light Science
ends up being purely genius....fresh and unique, a brilliant light amidst all of the other dull groups who are generating "the same old thing." Intriguing instruments and effects are used and combined to produce music that cannot be categorized."
– Consequence of Sound
[
read more here
]
"Absurdly talented duo Theo Metz and Christopher Tignor's hypnotic instrumental sprawl winds and curves in on itself, sounding like a romantic promenade jaunt for replicants."– The Guardian UK


"..
.Light Science
casts dizzy spells on par with Andrew Bird's collaborations with Dosh."
– Austin Powell, The Austin Chronicle
[
read more here
]
"...one of the most exciting new albums to emerge from the city in the last year."
– NY Daily News
[
read more here
]
"a dense, fluid collection that retains consistency thanks to Metz's steady rhythms. Electro-mechanical piano, clavinet, and synthesizers mesh with loops and samples to round out an impressive first release"
– Alarm Press
[
read more here
]
"Wires Under Tension is truly a study in dichotomy; the compositions on Light Science waver between acoustic and electronic, funky and brooding, organic and processed, primitive and visionary….this is music far too circuitous to fit neatly into any post-rock definition."
– DOA
[
read more here
]
"...grooving...violin-and-saxophone death trip." – Vice


"With their mostly instrumental, lusciously arranged tracks and recurring references to eastern melodies, this band sounds like a more electronic, sober and cinematic version of Ozric Tentacles - which in my limited knowledge of the genre is the most awesome prog rock band ever existed after pioneers King Krimson."
– The Deli NYC
[
read more here
]
"An over-zealous administering of subgenre descriptions will only serve to befuddle those who spend time with Light Science, because its staggering magnitude of creativity can't be limited by silly titles like experimental-rock or post-neo-classical..[a] mindblowing release."
– Silent Ballet
[
read more here
]
"...a total sound revolution within the indie stratosphere."
– ZapTown
[
read more here
]
Slow Six
www.slowsix.com/
Slow Six are a classical crossover group based in New York City and led by composer/violinist Christopher Tignor. They released their debut album, Private Times in Public Places, on Western Vinyl on April 29, 2004, then switched to the classical label New Albion for their second, Nor'easter, released on July 31, 2007. By the time of their third album, Tomorrow Becomes You, which found them back on Western Vinyl, they were a quintet consisting of Tignor, Rob Collins on Fender Rhodes electric piano, Stephen Griesgraber on guitar, Ben Lively on violin, and Theo Metz on drums. –
All Music Guide
"If you can imagine a dream collaboration between
Philip Glass, Miles Davis, Cluster, and Battles, you might
"Each (song) has its own breath and life, and moves
with a spirit that feels like a wise and aged soul...
Nor'easter
There is no musical group today that compares to the Brooklyn based Slow Six. Since the beginning, their compositional detail, instrumental prowess, and live computer-music instruments separated them from other electro-acoustic troupes. Their openly emotive, culturally accessible music spoke to an audience far wider than the high-art New Music scene. Yet both industries have called the band's sound their own: Time Out New York declared their debut LP one of the Top 10 classical recordings of 2004 and ASCAP featured them in their 2005 Thru The Walls Showcase. The same record was Stylus Magazine's album of the week in August 04 and has received countless praise from international pop music publications and radio spots. John Diliberto of PRI's Echoes Radio Program declared "Arvo Pärt meets King Crimson". Lush video landscapes and frequent collaborations with friends Anemone Dance Theater further pull Slow Six from any specific music scene. Yet their spell-binding sound the New York Times described as "flecked with white-heat urgency" remains completely immersive and unmistakable.
This latest release "Nor'easter" presents their most ambitious musical vision to date. Their amplified violins, viola, 'cello, electric guitars, fender rhodes, piano, and software instruments now combine for a new language of experimental instrumental storytelling, remaining physically immersive and emotionally charged. Each work presents its own evocative landscape, guiding listeners through inescapably personal and spellbinding electrified sonic adventures. The intimacy of strings and piano combine with rock and roll's electric guitars and fender rhodes within a storm of interactive computer textures to defy cultural pigeonholing. This is a new sound free of "cross-over" conceit—simply the sound of a new native musical space, a new generation of distinctly American music.
A product of the indie-rock's DIY aesthetic, Slow Six was assembled by word of mouth, outside of any music schoolmachine, writing and rehearsing in bandleader Christopher Tignor's self-built Greenpoint storefront loft. After putting on their own shows of this through-composed music and video at NYC's finest rock clubs and performance venues, the NYC Slow Six audience has grown formidable, cutting across culture boundaries, lifting up this new voice rising from their own ranks. - www.newalbion.com/
Tomorrow Becomes You
At the turn of the millennium in downtown New York, in an era of Moby and the Strokes, Slow Six was pulling up in front of clubs, loading in music stands, video projectors, a battery of string players, and a desktop computer (!) programmed with custom software. Reading down their twenty-minute electro-acoustic scores to stunned audiences, Slow Six helped redefine what was possible when those who grew up with both classical and rock music re-imagined their surrounding musical landscape in their own image.
Today, so-called "cross-over" music is near ubiquitous, from The Wordless Music Series to bands like The Books and composers like Nico Muhly. Yet it is now, following their 2007 sophomore release for the prestigious classical label New Albion, that Slow Six returns to their experimental rock roots with Tomorrow Becomes You, an emotionally unrestrained full-length infused with taught rhythms, unraveling melodies, and detailed ambiences that owe as much to Tortoise and The Dirty Three as Steve Reich and Brian Eno.
In keeping with the Slow Six mantra, this is still music that changes - and changes us - slowly over time - the virtuosic, minimalist hocketing in "The Night You Left New York" slowly giving way to its eruptive guitar-soaked finale. But a new, welcomed optimism runs through "Tomorrow Becomes You" - never has the band's light shown so brightly as in the record's finale, "These Rivers Between Us".
Tignor's signature software creations (free from the band's site), which he uses to transform live sound, also make key appearances, creating unique electronic landscapes from talk radio on "Because Together We Resonate" and the players' own performances on "Sympathetic Response System (part 2)".
-
westernvinyl.com/
Private Times in Public Places
Amplified strings, guitars, and a fender Rhodes piano, are joined by homegrown software "instruments" used to process the band's live performance. The detail and structure of these compositions reveals the group's background in the world of modern classical music, leaning on NYC's post-minimalist heritage while their electrified, live energy projects the palpable drive of a long-running band with deep indie roots. For a preview of their work check out Nor'ester released by New Albion (John Cage, Arvo Part, Terry Riley, Steve Reich, etc) earlier this year.
Since 2000, Slow Six's live performances have stunned crowds at festivals including Minnesota's SPARK Festival of Electronic Music and Art and Brooklyn Academy of Music's Next Wave Festival. They continue to sell-out club dates at the finest NYC venues including Joe's Pub and The Knitting Factory. They have sold-out runs at The Joyce SoHo Theater in collaboration with modern dancers and packed The Apple Store with their unique video-art immersed concerts. Slow Six can be found regularly on the airwaves of WNYC's New Sounds, WFMU, PRI's Echoes Program, England's The Chiller Cabinet, and have appeared on NPR's Weekend America. This fall, they begin a national tour in support of Private Times In Public Places. - westernvinyl.com/
Lymbyc Systym
www.lymbycsystym.com/
lymbycsystym.bandcamp.com/