Zvu

kovni kolaž suvremenog svijeta.

Od prosvjeda u Engleskoj i Occupy-pokreta u New Yorku

do cvrkuta ptica u Indiji

,
zvukovne idile u

selu

Paitzdorf u vrijeme žetve i zvukova što ih stvara tijelo kad

u njega gurneš iglu.
9-satna kompilacija njemačke etikete Gruenrekorder. Suludo

.
Free Download:
47 Tracks (531′34″)
Soundscape Series by Gruenrekorder
Gruenrekorder / Germany / 2012 / GrDl 100 / MP3 & FLAC / LC 09488
This work is licensed under a
Creative Commons Licence
.
www.gruenrekorder.de/?page_id=7284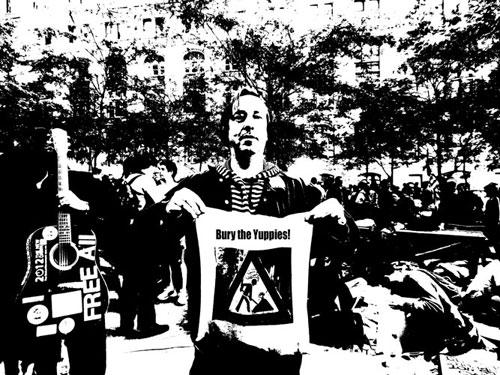 99% & me in NY by Brandstifter
"99% & me in NY" is a soundcollage with (commented) field recordings from October 2011 in Manhattan, where Brandstifter hit the Occupy Wall Street movement. They were originally recorded in videofiles with a Nikon S9100 at Liberty Place, in front of a record shop at West 4th Street corner to Lafayette, in the subway and singing to random noise in restrooms of various Lower East Side clubs. Mastered 2012 by Heiko Meder. Brandstifter is an interdisciplinary artist and networker, tranforming his visual- and performance art, sound and music as well as lyrics by means of social interaction to intermedia.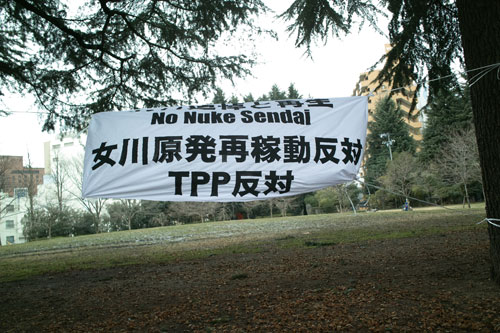 311 silent Sendai by jai
"311 silent Sendai" is the demonstration against nukes and TPP in Sendai, Miyagi Japan 11 Mar. 2012 without any sounds; calling, music instruments and so on. Sendai city is 95km far from Fukushima Daiichi Nuclear Power Plant which have occurred melt through. The demonstration don't sound at least, but there are very loud in the street.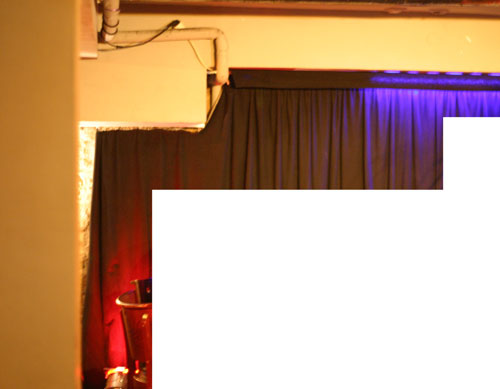 After Club Cut by Matze Schmidt
Cut of a Whole Night Recording at the over 40 years old club Noergelbuff in the inner City of Goettingen (Germany) on April 4, 2011, approx. 80:00 after closing. The cut-out of the track was made randomly and amplified with 50 dB. The result was expected to be noisy and "empty" but revealed some traces of action in or rather above the Club.
Ahmedabad extasis by Xabier Erkizia
Recording made in Ahmedabad, India on october 2011. Every evening, at dusk, the same sequence is repeated in the canopy of the garden where we live. Hundreds of birds begin to sing (or as W. Herzog would say, they scream in pain) slowly increasing the intensity of their singing in a loud, long and continuous crescendo. This mass mixes with the intense traffic noise of the city (even masking it) and the calls to prayer coming from dozens of speakers installed on the mosques of Ahmedabad. An unusual human-animal-mechanical sonic composition, that creates an astonishing and ecstatic sonic event, that fortunately the microphones are not able to catch in all its dimension.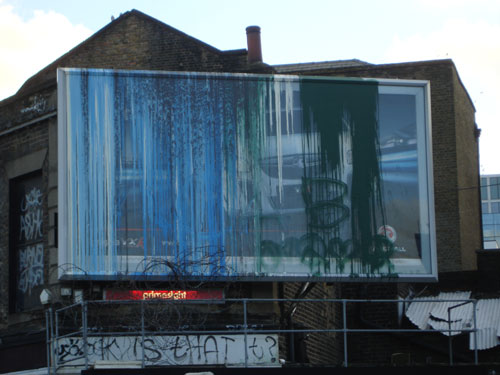 Anarchy in the UK by Matthias Kispert
On May Day 2001, there was a surge of anti-capitalist protests across London, including mass cycle rides at King's Cross and Euston, Reclaim the Streets in Elephant and Castle, and rallies at Trafalgar Square and Oxford Street, where most of the shops had been boarded up in advance. After police had penned in protesters for hours at Oxford Circus without water or toilets, a small group of anarchists broke free and advanced to nearby
Tottenham Court Road. There the situation was entirely different. With a handful of police charging but soon losing control of the situation, rioters were roaming the territory unconstrained, smashing the windows of banks and shops, in a precursor to the much broader public anger that is hallenging the dominant economic order since.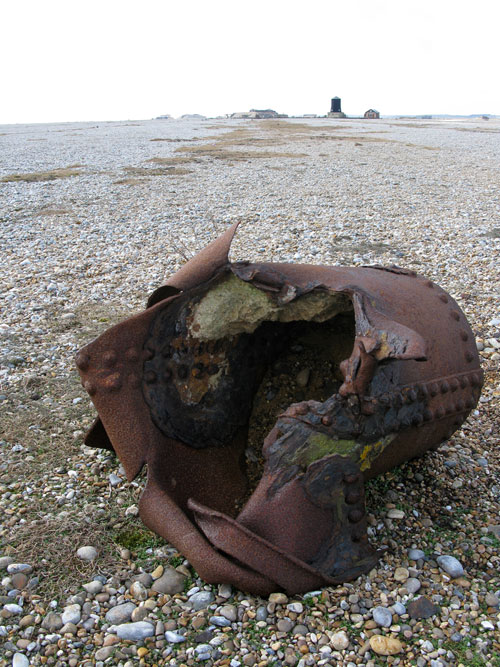 An East Wind through Bomb Ballistics and Lab 2 – Orford Ness by David Chapman
Jutting out into the North Sea on Britain's eastern edge, Orford Ness receives the full force of the weather. The strong winds create ethereal harmonics and percussive sounds as they blow through the decaying viewing platforms and laboratories of this former Cold War military testing site.
The calls of coastal birds percolate through the roar of the wind and the deep rumbles generated by the force of its gusts are suggestive of distant exploding ordnance – a sound that once reverberated across this landscape.
(Some of these recordings were originally commissioned for A Record Of Fear, Louise K Wilson, 2005).
David Chapman (UK 1959) has a background as both a musician and a documentary maker. His current work investigates the sonic mediation of the natural world and the durational exploration of place and environment through audio-visual installation. Previous work includes: Hark (2005 / 07), audio-visual installations based on bio-acoustic and environmental field recordings in the Lee Valley, near London; Octo: Sotto Voce (2009) exploring through voice based installation the acoustics of the Chapter House, York Minster and Re-sounding Falkland (2010), a series of works, produced in collaboration with Louise K Wilson, responding to the Falkland Estate in Fife, Scotland.
www.davidchapman.info
A Line Made by Listening by Mark Peter Wright
A Line Made by Listening is a series of recordings that trace an audible line through South Gare, a designated site of special scientific interest in Redcar, UK. Travelling along a 1.7 Kilometre straight line the journey begins with the sound of waterbirds feeding amongst the lapping water of the North Sea and moves through sand dunes and marram grass; toward the faint howling of a wind-monitoring device. The movement advances south towards an area known as Bran Sands, passing the drone of a transporter ship entering the Tees Mouth Harbour before finally coming to rest at the edge of Sahaviriya Steel Industries. The piece highlights the wealth of natural and industrial behaviour exhibited within this unique stretch of reclaimed land, built between 1861-1884.
A Line Made by Listening is part of Mark Peter Wright's ongoing research into the area of South Gare and is supported by CRiSAP, London.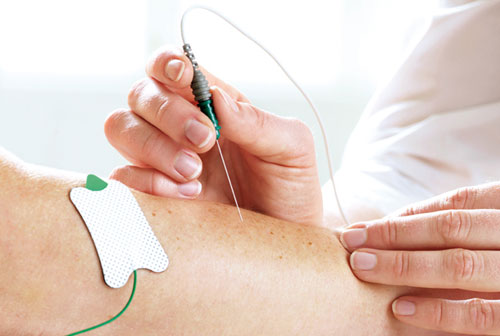 a very fine needle by Joe Stevens
Your body is a sound device, its subtle coming from the depths of your body. Your body plays music, can you hear it.
A very fine needle is a recording of an electromyography (1) (EMG) test I underwent for Ocular Myasthenia. The test involves a very thin needle being inserted into a muscle to measure its electrical activity. The electrical activity picked up by the electrodes is then displayed on an oscilloscope (2) and an audio-amplifier is used so the activity can be heard, and evaluated, by the consultant. As an artist who works a lot with sound I found it completely fascinating, lying there and hearing my bodies muscle activity amplified by this process.
In enquiring about the method deployed I found out that the needle used here is a recording device. The needle has a silver wire (the active electrode) inside a shaft of metal (which is used as the reference electrode). By placing a ground electrode on the patient, the physician can obtain a very precise measurement, since the active electrode and the reference electrode are very close to each other.
I was fascinated to hear that I could control the sounds that you hear by flexing my eye muscle, by crunching my eyelids close, or relaxing them. It was like I was playing a musical instrument and I was that instrument. As the test involves registering electrical activity, by flexing my eye muscle, or by crunching my eyelids close, or relaxing them further, I could control the sounds.
Thus, in a way, this recording is an interaction between the electrodiagnostic consultant interacting with the recording equipment, from the level of entry at the recording electrode and myself controlling my eye muscles. It was collaboration between scientist and artist, one I would love to explore further.
www.51degreesnorth.net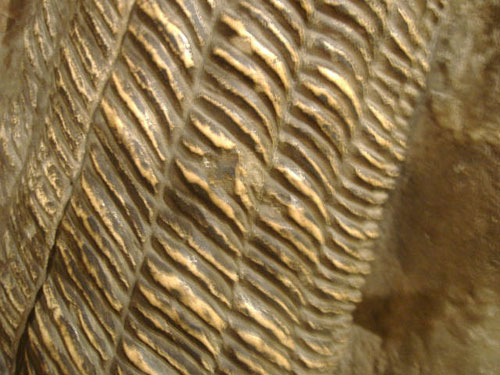 Bmusm by Sean O'Neill
I'm fascinated by some of the large spaces in the British Museum, and was trying to find ways of capturing the shift in spatial perception one gets from moving between the vast number of rooms. The sounds of people engaging with the various exhibits helps create a dynamic mapping, giving a sense of dimension to the space.
British Museum London 2004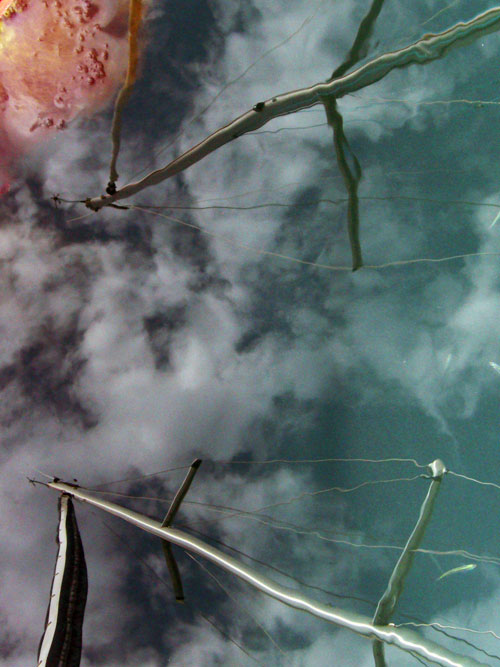 Boucles & Coques by Anton Mobin
Recorded by Anton Mobin on Nagra ares m2 using hq Nagra microphone housed. Captured on 21 August 2011 in Bretagne, on a pontoon of Saint Servan's marina, a small municipality of Saint Malo, in the department of Ille-et-Vilaine. Specially edited for Gruenrekorder at the Maïzing Studio in Paris, on April 2012.
The pontoon is private so I remove my headphone to remain discreet sliding among the sailors who roam in their activity between boats. In this way, I made blind recordings of every buckle of mooring in the closest, less worried about the result that of appreciate every bounce of boat hulls on the surface of the ocean which gives rhythm to this symphony of grating. During more than thirty minutes my attention turns away on what make people, I look at every boat. Somewhere on the edge the fixed time rocks me.
A few weeks later by listening again to these recordings in front of my speakers, I discover this nearness with the microphone to reveal a wealth and an incredible detail, but also a density which I had not perceived during the recording where only the peace prevailed.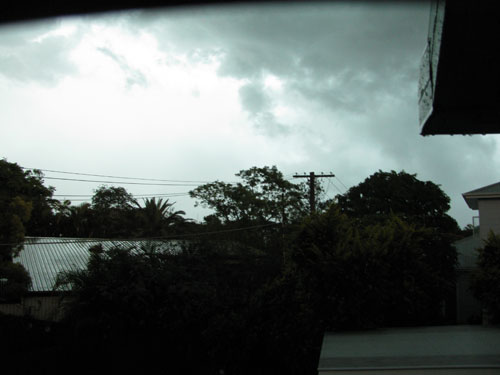 Brisbane floods by Greg Hooper
Hydrophone recording, Brisbane floods, January 2011.
It was a beautiful day when the flood came. The rain had stopped, the sun came out, the power was cut. We strolled to the river's edge to watch its slow and steady rise. Wine was drunk, neighbours spoke and, just in case, escapes were planned. Helicopters flew overhead.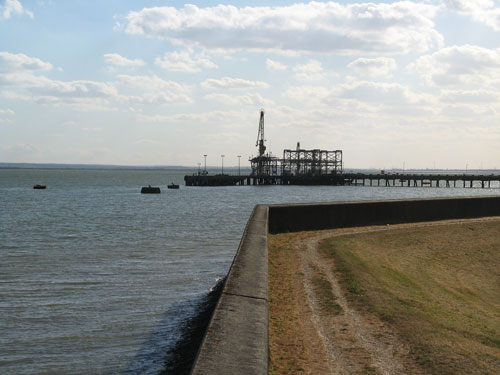 Canvey Island passing ships, leaking pipes by Peter Cusack
Canvey Island is on the edge of the Thames estuary. The shipping lanes pass close to the concrete sea wall on the riverside. Ageing oil installations and tanks await closure behind security fencing on the other. Occasional joggers and dog walkers use the intimidating, but public, path between. The atmosphere is surreal. These 3 recordings were made there.
1) waves and deep bass throb of an unknown containership.
2) underwater sound of the medium sized containership Sarah Schultze.
3) steam pipe with leaking valve.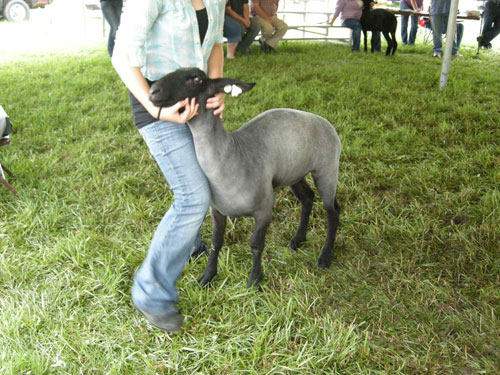 County Fair by John Arndt
This recording was made over a two day period at the Jo Daviess County Fair in rural Illinois – the heartland of the United States. Competitions are held for the best breed of poultry, lamb, beef, rabbit, and waterfowl.
John Arndt was recipient of an Illinois Arts Council Fellowship Award in Media Arts for his, Field Recordings From the Great Salt Lake Desert, created while in residency at the Center for Land Use Interpretation. Arndt also received the prestigious Artadia Grant and his artwork has appeared on the cover of Poetry Magazine. A portion of his work is archived at the Center for Art and Environment at the Nevada Museum of Art.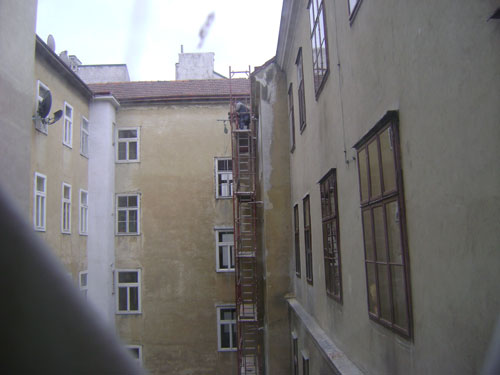 craftsmen.backyard.anthem by elffriede
elffriede.interdisciplinary.drawingsystem
www.elffriede.net
www.elffriede.net/soundrawing
Creak by Nigel Simpson
Here sunslide celebrates doors creaking, squeaking, closing and opening against the soundboard of oak wood. Weather variations on Suffolk's East Coast expands and contracts their hinges. Where better to find this simple odyssey than in St Peter's Cretingham and in Graeme's cottage next door.
This project was inspired by the first experiment 'a door built by Jeff two years ago' that was aired on BBC Radio Suffolk's 'Introducing' in Feb 2012.
Sunslide is composer Nigel Simpson who moved from London 3 years ago to the Shotley Peninsular with his wife and Steinway. His work includes music for BBC and British Council and ranges through electronica, field recordings, extreme folk and pop. 2010 saw the release of 'fieldpiano' and 'mechanisme' in Germany (label dying for bad music) and in 2011 self released work 'bowie', 'etudes', 'rex harrison'.
Crickets by Michael Peters
On a warm evening in 2009, I recorded the crickets in my garden (in the countryside east of Cologne), and an occasional bat flying over (at 8'27") using a cheap bat detector. This device pitches bat sounds down into the human ear realm, but in a charmingly lo-fi way that makes them sound like old tractor engines.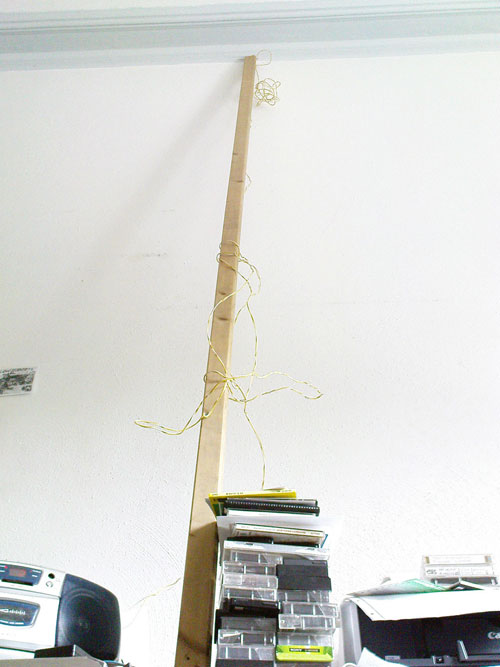 domestic-duties (excerpt) by Frank Rowenta
alison and erin.
cooperation between us american artist julia ladense and german artist frank rowenta. a collage of field recordings made in the usa and germany in 2011. this excerpt is a pre release of a forthcoming tape "domestic duties" on eigenbau records. a concept work that mixes together scenes from the daily routine in both countries. the featured track consists of conversations, interviews and sonic atmospheres from a mom with child, a singer songwriter and a stripper girl.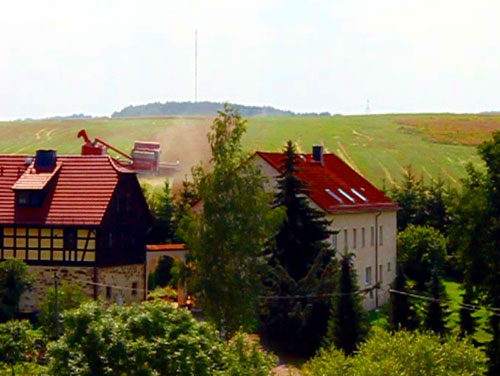 Erntelied by Grit Ruhland
The whole composition bases on a recording captured August 25th 2010 at 11:56 pm in the village Paitzdorf (Thueringia). Around the clock, combines are permanently in service on the surrounding agricultural areas at harvest time. The small village is situated in a sag and the harvesters are working slidely distant on the nocturnal cornfields. The recording is uncut and not allocated with other effects – but accompanied by a female voice. In the first part she is humming and hissing very quietly, followed by a boost of volume in the middle part – she doubles, quadruples, singing different pitches, sounds and glissandi – words like "Mitternacht" (midnight) and "Sommernacht" (summer-night) appear. Suddenly the clock strikes twelve times and the voices cease. Only at the very end they join in a sequence of dissonance. This work is part of a whole cycle, called "Folgelandschaft" (follow-up landscape) and deals with the region as Ex. Uranium-mining-area.
Eternally by Luís Antero
the sea is the setting for this country in its multitude of sad blue suit
the sea has these sounds, which are combined with other sounds and in it's exploration we discover a soundscape
somewhere on the edge of a pier, between the swinging body and the swing from a rocking boat that can be seen, we sing the «saudade», leaning on the guitar that insists on being eternally sad
the melody is all this sound that embraces us and that is part
as the sea. Year: 2012
folding a coastline into a shipwrecked space by Sally Ann McIntyre
fressspinne by lupov cokoliv*
From the Edge of Saturn by Jay-Dea Lopez
Ghosts along a border by Pierce Warnecke
Höfn by Mark Lorenz Kysela
Horta Harbour by Gerald Fiebig
In front of the Music University in Warszaw by Merzouga
Krásná Lípa by Roland Etzin
L'impossibilité de la voile by Enrico Coniglio
Los Desarbustales by Alan Courtis
Maghrib prayer by Pablo Sanz
night drift 09-28 by Ben Owen
No time above the walled city by Gill Arno
Outside the Gruen-Syndicate by Tobias Schmitt
Perturbation by Robin Parmar
POZNAN CREMATORY by Hubert Wińczyk
Seoul Milk (Excerpt) by Alfred Harth
shangani 17DEC06 15min by Grant Smith
spontaneous fermentation by murmer
The Hollow Pine by SALA
The Re(hear)sal by Gilles Aubry
TOTEM by Rubén García
Trasmoz by Rodolphe ALEXIS
Tree at Elbwiese by Konrad Behr
UNBEARABLE WISDOM by Pietro Riparbelli
untitled by Chad Clark
Void by Bernhard Gál
White Star Line by Danny Mc Carthy
Richard Allen | a closer listen
47 tracks, 531 minutes and 34 seconds: nearly nine hours of field recordings and soundscapes fill every corner of Gruenrekorder's 100th release, a testament not only to the strength and diversity of the label, but to the number of friends it has made. Not only that – it's free. The level of excess displayed by such a project is so over-the-top, so ridiculous, that it induces a sense of awe. Where are the sponsors? Where's the profit? For once, it doesn't matter. Somewhere on the edge is the telephone book of field recordings; few people will play it from cover to cover, but many will refer to it again and again.
No one expects a nine-hour release to work well as an album; this is a collection. This being said, one change would improve its flow. As currently presented, the tracks are in alphabetical order: egalitarian, but seldom smooth. By luck, similarly-themed pieces occasionally wind up next to each other – for example, Mark Lorenz Kyslea's "Höfn" and Gerald Fiebeg's "Horta Harbour", recorded at harbors in Iceland and Portugal. But more often, similar tracks receive a curious separation. Jay-Dea Lopez' "From the Edge of Saturn", which presents radio waves from Saturn's polar auroras, is 24 tracks removed from Bernhard Gál's "Void", in which a laptop is used to process electromagnetic waves from Jupiter, Uranus and Neptune. If these were discs, they would be easy to sort by subject matter and recording mode: water recordings, land recordings, machinery, conversation, soundscape – and of course, a "miscellaneous" disc to cover the unclassifiable.
A curious side effect of the track order is that three of the first five tracks are political. While field recordings in themselves are apolitical, their presentation can take the form of a political act. The choice of what to record reflects one's leanings, and the act of presentation can challenge the status quo. The opening track (Brandstifer's "99% and me in NY") covers the Occupy Wall Street movement – the protests, the conversations, the bongos. jai's "311 silent Sendai" is a recording of a Japanese no-nukes demonstration, with handheld instruments and occasional trains. Pablo Sanz recorded "Maghrib prayer" in a disputed area of Old Jerusalem. Other selections address the London riots (Matthias Kispert's "Anarchy in the U.K."), religion in the wake of the Chinese invasion (Pietro Riparbelli's "Unbearable Wisdom") and an edict from leaders of the Polish Catholic Church that cremation, while not prohibited, is pronounced pagan (Hubert Winczyk's "Poznan Crematory").
The more traditional political issue presented by field recordings is the intrusion of industry and the elimination of the natural soundscape. Rubén García records the sound of an electrical pole in the rain forest. Alan Courtis highlights the coexistence of natural and urban sounds in Argentina. Chad Clark takes a walk in Chicago and muses on the disconnection of the digital age. But the human element is not a problem for all. Gilles Aubrey captures the sound of uninterested tourists watching a solemn Red Square rehearsal. Frank Rowenta revels in the sound of conversation. Sean O'Neill records people walking around the British Museum. Merzouga contrasts the noises outside a music university with the knowledge of what happens within. murmer introduces us to the bubblings of a natural brewery. Xabier Erkiza combines the sounds of birds, traffic, and calls to prayer.
Just as often, the artists choose to record in empty or deserted spaces. Peter Cusack finds beauty in the sound of containment ships. Matze Schmidt enjoys the sound of the club after the people have gone. One of the collection's finest pieces, Pierce Warnecke's "Ghosts along a border", is a sonic seance that captures a series of sounds that shouldn't be there. And of course, many concentrate on nature: wind and water, bees and bats, doors and dunes. Mark Peter Wright's "A Line Made for Listening" is particularly effective, as is the aforementioned "Höfn." Roughly half of the collection is comprised of such sounds, which range from the barely audible to the fully realized. As patience is required for the overall listening experience, getting through the quieter parts of the longer tracks (some approaching or even exceeding 20 minutes) can be a chore, especially (and ironically) in the N-O section. This section does however include a forgivable indulgence: a field recording made just outside the Gruenrekorder offices. Like many of the tracks, it introduces us to the here and now. In the same way, the concluding track – a recording of the pier from which the Titanic passengers disembarked – becomes intensely topical in light of the anniversary remembrance.
Is Somewhere on the edge the best way to introduce the genre to newcomers? Decidedly not – it's just too sprawling and undefined. But it's a great resource for current followers, packed with sounds one might not otherwise have a chance to hear, from electrical activity within the human eye muscle (Joe Stevens) to rising floods in Brisbane (Greg Hooper) to "handmade noise machines and a fortune cat" (lupov cokoliv*) and the Cassini-Huygens spacecraft (Jay-Dea Lopez). There's something solid for everyone here: soothing sounds and grating noises, unique sources and unusual soundscapes. Each track is accompanied by a photo and a description, along with an occasional essay (Pierce Warnecke's "borders" piece again being one of the standouts). If you've read this entire review, then you're the sort of person who possesses the patience to tackle this massive endeavor.
Hats off to Gruenrekorder for releasing such a bold effort. Over the course of nearly a decade, the label has helped to guide and shape the field recording industry and to bring it to its current level of popularity. We wish the label and its many artists every continued success.