Nema puno bendova koji imaju mnoštvo albuma a baš sve je genijalno.
deeplistening.org/site/content/dlb
www.youtube.com/watch?v=fsHoVkLugHg
www.youtube.com/watch?v=jRZkXYS5Ljo
The great benefit of exploring experimental music is that you come across sounds that your wildest daydreams could never have conjured. This is the case par excellence on Deep Listening Band's latest testament, a live recording made possible by a grant from UW. As far as "academic" avant-garde goes, this is more intriguing and accessible than almost any of it; Pauline Oliveros is a master of timbre, arranging her accordion musings to match up perfectly with bandmates Stuart Dempster and the late David Gamper. The real star of this recording, however, is the EIS (Expanded Instrument System), a feedback system devised by Oliveros that plays back loops of sound for the musicians on a special speaker array, effectively "spatializing" the temporality of the music. -
catharsisradio.blogspot.com/
"Deep Listening Band worships in a cistern chapel (and) explores the mysterious spaces between notes, where all is sweet dissonance and beading microtones…"
Marc Weidenbaum - Pulse!


"Through Pauline Oliveros and Deep Listening I now know what harmony is. It's about the pleasure of making music." John Cage


"One of the loveliest, most restorative concerts I've heard in a long time."
Tim Page - NY Newsday
STUART DEMPSTER
--Sound Gatherer--trombonist, composer, didjeriduist, et al, and Professor Emeritus at University of Washington, has recorded for numerous labels including Columbia (Sony), Nonesuch, and New Albion. The latter includes In the Great Abbey of Clement VI at Avignon - a "cult classic" - and Underground Overlays from the Cistern Chapel consisting of music sources for a 1995 Merce Cunningham Dance Company commission. Grants include: Creative Associate at SUNYAB; Fellow, Center for Advanced Study, University of Illinois; Fulbright Scholar (Australia); NEA Composer, US/UK, and Guggenheim Fellowships. Dempster, a leading figure in development of trombone technique and performance, published his landmark book The Modern Trombone: A Definition of Its Idioms in 1979. A founding member of Deep Listening Band, he has toured extensively and produced the first three DLB recordings. Dempster is also known for soothing aches, pains, and psychic sores with his healing, yet playful, Sound Massage Parlor. In 2006, his 70th birthday, awarded a "Golden Ears Deep Listening Certificate"; in 2007 participated in a Deep Listening Convergence Artist in High Falls NY; 2008 saw Deep Listening Band's high-end dbl LP on TAIGA "Then & Now Now & Then: Celebrating the Band's 20 Years". Inducted into Seattle Jazz Hall of Fame (Earshot Jazz 2009 Golden Ear Award Recipient). In 2010 received International Trombone Association Lifetime Achievement Award

DAVID GAMPER moves freely among the worlds of music performance, improvisation, and electronic instrument design. These passions merge in the performer controlled sound processing environments he has created for acoustic improvising musicians. He is a member of Deep Listening Band since 1990, and has performed frequently as a duo with Oliveros. Gamper's solo piece "Conch" was in the Whitney Museum of American Art's BitStreams exhibition and is on the CD of sound art from that show. He appears on many recordings with Deep Listening Band and others. See Hear Now is a real-time music and video collaboration with Gisela Gamper. Their recent installations and performances include the Krannert Art Museum at the University of Illinois at Urbana-Champaign, Optisonic Tea at Diapason Gallery in NYC, ISSUE: Project Room's Sensorium festival in a Brooklyn silo and three performances for Roulette's 2008 Festival of Mixology in NYC. More info is at www.seehearnow.org.

PAULINE OLIVEROS (1932) is one of America's most vital composers. DeepListening®, her lifetime practice is fundamental to her composing, improvisation performing and teaching. Her research includes a thirty-five year development of the Expanded Instrument System - a digital improvisation environment for acoustic instrument processing; numerous improvisation ensembles and continuous research on the generation of creative work from listening. She defines Deep Listening as a practice intended for experiencing heightened and expanded awareness of the sound/silence continuum. She serves as Distinguished Professor of Music at Rensselaer Polytechnic Institute, Troy NY, Darius Milhaud Artist-in-residence at Mills College, Oakland CA and executive director of Deep Listening Institute, Ltd in Kingston NY.
She is the recipient of the 2009 William Schuman Award from Columbia University.
http://www.deeplistening.org/pauline, http://www.paulineoliveros.us, http://www.myspace.com/paulineoliveros
The
Deep Listening Band
was founded in
1988
by
Pauline Oliveros
, (
accordionist
, electronics and
composer
),
Stuart Dempster
, (
trombonist
,
didjeridu
player and composer) and
Panaiotis
(
vocalist
, electronics and
composer
).
David Gamper
(keyboards and electronics) replaced Panaiotis in 1990.
The band is named after Oliveros' term, concept, program and registered servicemark of the Deep Listening Institute, Ltd.,
Deep Listening
, and specializes in performing and recording in
resonant
or
reverberant
spaces such as
cathedrals
and huge underground
cisterns
including the 2-million-US-gallon (7,600 m
3
)
Fort Worden
Cistern which has a 45 second reverberation time.
They have collaborated with
Ellen Fullman
and her Long String Instrument with Suspended Music released by Periplum Records,
Joe McPhee
Quartet with Unquenchable Fire released by Deep Listening. They have also performed, recorded, and released a
trope
on
John Cage
's
4'33"
. Non Stop Flight released by Music&Arts in a 70 minute excerpt from the 4 hours and 33' trope.
Discography
Looking Back (2013), ZaDiscs, with Joe McPhee and Randy Raine-Reusch
Then & Now, Now & Then (2008) double LP, Taiga Records
Deep Time (2003) with Fritz Hauser, Deep Listening Label
Unquenchable Fire (2003) with Joe McPhee Quartet
Non Stop Flight (1996/1998) live album
Sanctuary (1995)
Tosca Salad (1995)
Suspended Music (1993)
The Ready Made Boomerang (1991) [note: recorded 1990]
Troglodyte's Delight (1990)
Deep Listening (1989)
eturnal presence with Rafael Bejarano, Alan Tower, Jusse Nayeli, and Barry Hall - wikipedia


Oliveros, Dempster, Panaiotis
Deep Listening


for accordion, voice, conch shell, metal pieces, trombone, didjeridu, garden hose, whistling, metal pipes





Recorded in the bottom of a cistern that once held two million gallons of water, the creators took full advantage of their environment's 45-second reverb time.


--Best Recordings of the Year, Pulse!



A warden approached us as we prepared to descend 14 feet down into the 186 foot diameter cistern that once held 2 million gallons of water. The warden reproached us for parking a van on the dirt covered ceiling. Pot holes suggested that perhaps the ceiling was not so stable. Once we had made our decent and after my eyes had adjusted to the dim cavern, I realized almost at once that the warden had probably never been inside: the cavernous cylinder is made of reenforced concrete with more pillars per square yard than a skyscraper. The water tank, built in 1970 on an army base, was probably designed to withstand heavy bombing. Our van was the equivalent of a mosquito on a housetop.




The remarkable thing about the acoustic space is the long reverb, which could approach 45 seconds, and the lack of slap echoes and distinct early reflections that are often characteristic of large cathedrals; only pure, smooth reverb, the type that can be simulated electronically but is thought to be unrealistic and fantastical.




The space is real, and unique. A large cathedral will return slap echoes and uneven resonance characteristics. The cistern showed a very smooth frequency response and no echoes, only a smooth reverberation, the amplitude of which appears to begin at the same decibel level as the source. Consequently, it is impossible to tell where the performer stops and the reverberation takes over. One additional aspect of the reverberation field that does not seem to record easily and which makes simulation very difficult, is that it slowly moved from the sound source along the walls until it enveloped the listener: a most remarkable and beautiful phenomena.

--Panaiotis





Simply one of the most pure and unfettered albums of 1989.

--

CD Review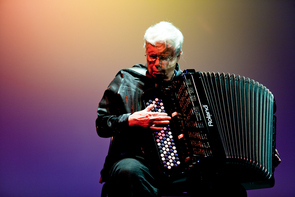 Selected Recordings
Long time friends and colleagues, this is the first ever duo release by Pauline Oliveros and Chris Brown. Music in the Air features Brown on piano and live computer signal processing and Oliveros on accordion, conch, percussion and Expanded Instrument System. The 3 pieces on the CD were recorded live in the studio with no overdubbing.
More Info & to purchase CD...
The soundtrack of the Ghostdance music and dance collaboration between Oliveros and Paula Josa-Jones, commissioned by Lincoln Center Out-of-Doors.
To purchase CD...
Two Meditations on Transition and Change.
The two works on this cd -

Tara's Room

and

The Beauty of Sorrow

were composed and performed by Pauline Oliveros and recorded in May 1987.
More Info & to purchase CD...
Recorded live on March 20, 1998 at Hallwalls, Buffalo, NY. Primordial/Lift is based on information concerning the shift in the resonant frequency of the earth from 7.8hz to 13hz given in

Awakening to the Zero Point

by Gregg Braden, Radio Bookstore Press (1997). According to Braden, the resonant frequency of the earth was measured as 7.8hz in 1960 and by 1994 the measurement was at 8.6hz and it will rise to 13hz by 2010.

More Info & to purchase CD...
Lion's Eye for Gamelan was commissioned in 1985 by Barbara Benary for Gamelan Son of Lion. Lion's Eye for Synthesizer was commissioned concurrently by Neil Rolnick for iEAR Presents at Rensselaer Polytechnic Institute. Both versions were performed in 1985. The intention to combine both pieces in order to expand the tempo range of the Gamelan was first realized in May of 1989.
More Info & to purchase CD...
film
Bent Time:
www.worldpicturejournal.com/WP_7/Hammer_Video.html
Pauline Oliveros
Reverberations: Tape & Electronic Music 1961-1970
BOX SET
"On some level, music, sound consciousness and religion are all one , and she would seem to be very close to that level." John Rockwell

"Through Pauline Oliveros and Deep Listening I now know what harmony is. It's about the pleasure of making music." John Cage

Dense 12 disc collection of Pauline Oliveros' early and unreleased electronic work including her very first piece for tape made in 1961. The majority of these pieces have never before been released.
Organized chronologically by studio this set not only documents Pauline's earliest electronic music but it also functions as an early history of electronic music itself. Extensive liner notes including essays from Pauline Oliveros, Alex Chechile, Ramon Sender, David Bernstein, Corey Arcangel and Benjamin Tinker. This box set is being released in conjunction with Pauline Oliveros' 80th birthday celebrations.
Pauline Oliveros, composer, performer and humanitarian is an important pioneer in American Music. Acclaimed internationally, for four decades she has explored sound -- forging new ground for herself and others.
Through improvisation, electronic music, ritual, teaching and meditation she has created a body of work with such breadth of vision that it profoundly effects those who experience it and eludes many who try to write about it. "On some level, music, sound consciousness and religion are all one, and she would seem to be very close to that level." John Rockwell Oliveros has been honored with awards, grants and concerts internationally. Whether performing at the John F. Kennedy Center in Washington D.C., in an underground cavern, or in the studios of West German Radio, Oliveros' commitment to interaction with the moment is unchanged. She can make the sound of a sweeping siren into another instrument of the ensemble.
Through Deep Listening Pieces and earlier Sonic Meditations Oliveros introduced the concept of incorporating all environmental sounds into musical performance. To make a pleasurable experience of this requires focused concentration, skilled musicianship and strong improvisational skills, which are the hallmarks of Oliveros' form. In performance Oliveros uses an accordion which has been re-tuned in two different systems of her just intonation in addition to electronics to alter the sound of the accordion and to explore the individual characteristics of each room. (Tuning Chart)
Pauline Oliveros has built a loyal following through her concerts, recordings, publications and musical compositions that she has written for soloists and ensembles in music, dance, theater and interarts companies. She has also provided leadership within the music community from her early years as the first Director of the Center for Contemporary Music (formerly the Tape Music Center at Mills), director of the Center for Music Experiment during her 14 year tenure as professor of music at the University of California at San Diego to acting in an advisory capacity for organizations such as The National Endowment for the Arts, The New York State Council for the Arts, and many private foundations. She now serves as Distinguished Research Professor of Music at Rensselaer Polytechnic Institute and Darius Milhaud Composer in Residence at Mills College. Oliveros has been vocal about representing the needs of individual artists, about the need for diversity and experimentation in the arts, and promoting cooperation and good will among people.

TRACK LISTING
Disc 1:
Pauline Oliveros Home Electronic Music Studio 1961
Time Perspectives 19:38
Disc 2:
San Francisco Tape Music Center 1964-1966
Mnemonics I (15:09)
Mnemonics II (9:55)
Mnemonics III (17:34)
Disc 3:
San Francisco Tape Music Center 1964-1966
Mnemonics IV (18:46)
Mnemonics V (13:54)
Disc 4:
University Of Toronto Electronic Music Studio 1966
II Of IV 16:16
III Of IV 9:23
IV Of IV 16:39
V Of IV 14:39
III 16:08
Disc 5:
University Of Toronto Electronic Music Studio 1966
Team & Desecrations Improvisation 22:58
The Day I Disconnected The Erase Head And Forgot To Reconnect It 32:36
Jar Piece 15:52
Disc 6:
University Of Toronto Electronic Music Studio 1966
Another Big Mother 31:40
Fed Back 1 28:10
Fed Back 2 3:56
Disc 7
University Of Toronto Electronic Music Studio 1966
5000 Miles 32:50
Angel Fix 32:37
Disc 8:
University Of Toronto Electronic Music Studio 1966
Bottoms Up 1 12:50
Nite 16:28
Ringing The Mods 1 Heads 9:35
Ringing The Mods 2 Tails 9:35
Three Pieces I 5:22
Three Pieces II 3:21
Three Pieces III 4:03
Disc 9
Mills Tape Music Center 1966-1967
Big Slow Bog 32:39
Boone Bog 32:34
Disc 10
Mills Tape Music Center 1966-1967
Bog Bog 33:45
Mind Bog 33:38
Disc 11
Mills Tape Music Center 1966-1967
Mewsack 32:30
University Of California San Diego Electronic Music Studio 1967-1970
50-50 1 Heads 19:31
50=50 2 Tails 19:31
Disc 12
University Of California San Diego Electronic Music Studio 1967-1970
A Little Noise In The System 30:25
Red Horse Headache 21:26

REVIEWS
Pitchfork "Best New Reissue" 9.0 rating
Brainwashed
Dusted
Exclaim
Was Ist Das?
Down Beat
Musique Machine
Music Media Monthly:
Never has the Important Records label earned its name more thoroughly than it does with this monumental collection of electronic music by one of the true grandes dames of 20th-century composition, Pauline Oliveros. She was a pioneer in the field of avant-garde electronic music, joining the San Francisco Tape Music Center shortly after its founding in the 1960s and helping to redefine the very structure and assumptions underlying modern art music. This 12-disc box brings together an enormous program of her early recordings. (Given that they are tape-native works, it's not entirely clear whether they should be called "compositions" or "performances.") Most of these have never before been released, which adds greatly to the value of the collection. What diminishes its value (and accounts for a grade of A- rather than A+ for the release) is the really quite inexcusable lack of detailed liner notes. A skimpy 32-page booklet is included with the first CD case, and it includes a couple of gushing encomia from her colleagues, a brief note of thanks and personal history from the composer, and a longer essay that includes very brief notes on the works themselves–but what a set like this cries out for is a piece-by-piece description of the instruments used and the compositional techniques employed. (To give a piece the title "The Day I Disconnected the Erase Head and Forgot to Reconnect It" and offer no further explanation is just cruel–although I suppose one could argue that the title is essentially self-explanatory.) This lack of information is especially regrettable given the pedagogical importance of a set like this; for students of 20th-century music this box is a treasure trove, or could have been if it were more informative. That said, the packaging itself is both attractive and functional; as for the music, it's not always pleasant, but is consistently fascinating–and very much of its time and place. Despite the weakness of the accompanying materials, this set represents the rescue from oblivion of music that should never be forgotten and a watershed in the documentation of America's musical history. Grade: A-
New Yor Times:
Strange Sounds Led a Composer to a Long Career
By STEVE SMITH
"MOST people don't remember Wilma Deering," the composer Pauline Oliveros said, recalling a formative influence from her childhood in Houston in the 1930s. Intrigued by sound from an early age, Ms. Oliveros had few role models to follow. Inspiration would come from a more unconventional source.
"Wilma Deering was Buck Rogers's co-pilot," Ms. Oliveros said of the recurring character in "Buck Rogers," a science-fiction saga serialized by CBS Radio. "She was not only a woman in a co-pilot situation, but she was a lieutenant and then a colonel," Ms. Oliveros said. "This was a very advanced idea for 1932."
That Ms. Oliveros might find common cause with a courageous, assertive female leader, thriving in a futuristic milieu of instantaneous long-distance travel and telepathic communication, could only strike longtime followers of her work as prescient. Like her fictional forebear Ms. Oliveros has become a trailblazer.
Her path was not always smooth. "Why have there been no 'great' women composers?" Ms. Oliveros inquired at the start of a famous article she wrote for The New York Times in 1970. Her essay enumerated some of the causes that had prevented female composers from achieving the success and renown afforded to their male counterparts, among them sex-based prejudice and societal expectations.
Now, in a world that recognizes female composers more readily, Ms. Oliveros has captured enough ears, shaped enough minds and accrued enough renown to warrant a claim of greatness, though she would probably be the last to assert it. This year she has traveled widely for events celebrating her 80th birthday, including a memorable career retrospective concert at the Issue Project Room and a mesmerizing set by her Deep Listening Band during the Bang on a Can Marathon, both in June.
More concerts loom. Invited to program a two-week series at the Stone, the vital East Village musical laboratory operated by the composer John Zorn, Ms. Oliveros claimed just one evening for herself: On Aug. 21 she will collaborate with the percussionist Susie Ibarra and the pianist Thollem McDonas.
The rest of the series, which begins on Friday, will showcase colleagues, associates and protégés who have been involved with her Deep Listening Institute and its record label. Then, on Sept. 7, Ms. Oliveros will perform at the New Museum in SoHo with Doug Van Nort, an electronic musician with whom she works regularly.
Still, she eludes induction into the pantheon. In place of scores suited for assimilation into the Western classical canon, Ms. Oliveros offers "Sonic Meditations," a 1971 collection of text-based contemplations, meant to facilitate communal music making. Deep listening, a discipline she developed during the 1990s, bypasses conventional music theory in favor of expanding consciousness through cultivating a keener ear. The Deep Listening Band, a long-running collaboration with the trombonist Stuart Dempster and others, pursues slow, ritualistic improvisation in unusually sonorous acoustics.
"I'm not dismissive of classical music and the Western canon," Ms. Oliveros said during a wide-ranging interview at the office of her foundation in Kingston, N.Y., where she lives with her longtime partner, Ione, a writer and performance artist. "It's simply that I can't be bound by it. I've been jumping out of categories all my life." She laughed, a hearty sound that liberally punctuated a generous, easygoing conversation.
Born in Houston on May 30, 1932, Ms. Oliveros described a childhood fixation on the strange special effects she heard in "The Lone Ranger," "The Creaking Door," "The Shadow" and other radio dramas. "I was paying attention to that," she said, "and I was paying attention to my grandfather's crystal radio, where he was trying to tune in the programs and would get all this static."
An avid accordionist from the age of 9, she took up the tuba and French horn to play in school bands and orchestras. While at the University of Houston, she studied withWillard A. Palmer, a revered accordionist and teacher. Eventually growing restless, Ms. Oliveros decided to strike out in search of a compositional mentor. "I was 20, I had $300, and I had an accordion," she said, chuckling.
Drawn to California partly by Bach festivals in Carmel and Monterey, she settled in San Francisco, where she heard cutting-edge electronic works by Stockhausen, Berio and Pousseur on the Berkeley radio station KPFA-FM. When she received a tape recorder for her 21st birthday, she began to fashion her own pieces.
After completing a B.A. in music at San Francisco State College, Ms. Oliveros studied privately with Robert Erickson, an influential composer and the KPFA music director. She taught lessons and hustled gigs to make ends meet. A 1957 film-scoring engagement with the composer Terry Riley and Loren Rush, a bassist and koto player, introduced Ms. Oliveros to free improvisation. Invigorated by the experience, the trio experimented further and recorded the results.
"We developed a method, which was, don't talk about it, sit down and play, listen back, then discuss it," Ms. Oliveros said. "It was really getting into it through the listening process, and I've used that method for many, many years. We discovered that if we tried to impose rules or structure of some kind on our playing, it would fall flat. It was much better to converse openly."
In 1961 Ms. Oliveros and two like-minded composers, Ramon Sender and Morton Subotnick, established the San Francisco Tape Music Center. A scrappy hub of creativity and technological advance whose effect is still being assessed, the center flourished until 1966, when its founders dispersed and Mills College absorbed its assets. Hired by Erickson in 1967 to teach at the University of California, San Diego, Ms. Oliveros remained there until 1981; she has since kept a toe in academia while pursuing a freelance career.
"Reverberations: Tape and Electronic Music, 1961-1970," a new 12-CD box issued by Important Records, provides an overview of the rigorous works she created during the center's heyday. Many still sound startlingly current. But from 1971, when a period of intense introspection provoked by the Vietnam War resulted in "Sonic Meditations," Ms. Oliveros has moved decisively into ritualistic improvisation and communal experiences that can involve nonspecialist participants.
Lately much of her effort has involved impressive technological advances supported by her foundation. The Deep Listening Band uses special software to create uncanny simulations of resonant acoustics in its concerts.
Using telematics Ms. Oliveros performs in real time with musicians in other cities and countries. Adaptive Use Musical Instruments, an interactive computer program developed with her foundation's support, enables individuals with severe physical impairments to participate in musical improvisation. Even Wilma Deering might be amazed.
Ms. Oliveros is aware of the tendency among some critics and listeners to dismiss her latter-day direction as a mystical anachronism.
"If you say 'deep listening,' that brings up New Age and crystals and whatnot," she said. "I regret that, but I don't regret it. It is a meme, and it's making its way in the world."
But about the metaphysical aspects of her work, she is firm: "If it has a spiritual component, I'm very glad. It's because we're not listening to one another that things are in a mess."
This article has been revised to reflect the following correction:
Correction: August 14, 2012
An earlier version of this article gave an incorrect date for a performance by Pauline Oliveros at the New Museum in SoHo with Doug Van Nort. It is Sept. 7, not Sept. 9.
Pauline Oliveros
For more than 50 years Pauline Oliveros, a pioneering American composer, has been at the forefront of composition, improvisation, education, and meditation. Recently Oliveros's practice has been defined by "Deep Listening," which merges the disparate fields of improvisation and spirituality. Deep Listening is a philosophy of sound awareness that recognizes the difference between involuntary hearing and the process of concentrated selection that is listening. It introduces environmental sounds into the listening vocabulary in the form of improvisation. Her Deep Listening Band is celebrating its 20th anniversary with concerts in New York this April (with Roscoe Mitchell) and in Seattle in May. Pauline has created works in electronic music and experimental composition that stand as turning points for each genre—from playing the accordion in collaboration with the moon, to her iconic early series Sonic Meditations (ephemeral compositions focused on collaboration), to pioneering work in the genre of electronic improvisation.
I will always remember the day in 1999 that I met Pauline. I was enrolled in her class at the Oberlin Conservatory of Music. She walked into the room and unfolded a brand new Wall Street model Macintosh Powerbook. Presiding over this rarely seen, top-of-the-line laptop, she proceeded to tell us how she started working with electronic music when sounds were still recorded onto wire spools. That's Pauline. She has been at the fore of technology during every decade she has worked in, and because of her humor and natural tendency to pioneer, she transcends any particular historical moment.
---
Cory Arcangel Of course we stop talking now that the pressure is on.
Pauline Oliveros Well, let's begin by saying we're celebrating ten years of friendship since you were in my class at Oberlin in 1999.
CA I still have such memories of that class. The funny thing is that you didn't teach, exactly; you ran the class in this other way. I don't remember any assignments or homework or anything in line with other types of class structures that were in the conservatory. There was no plan, but there was definitely a system.
PO I try to teach without teaching. I get my students to do things, both individually and collaboratively.
CA I read an article of yours where you proposed a curriculum and while I was reading it, I was like, That's exactly what our class was.
PO Well, I wrote that article because I was giving a keynote address at the University of California, San Diego for "Improvising Across Borders," the first conference ever given on improvisation in a university. Now that particular article is published in DJ Spooky's book Sound Unbound.
CA The thing I took away from your class was about living more, about how to conduct yourself on a daily basis. It sounds crazy, but I just remember thinking about creativity as something bigger than "composition" or "counterpoint" or "performance." It was a way of being that involved listening to others and the world . . . and responding. What are your classes like now?
PO I'm still practicing what I preach. I teach a Deep Listening class at Rensselaer Polytechnic Institute that has become very popular. I have engineers, physicists—everything under the sun that technology school teaches—in the class. Some of them are really good musicians and then some of them are EMAC students—that's electronic media and communications. But the class, by and large, is unwashed.
CA Unwashed?
PO Not necessarily well-versed in the arts. They come in and do what they do. My book really lays out what I teach in that course. I do have a plan, but it doesn't necessarily feel like one because it's non-linear. I still want there to be improvisation. So, in the Deep Listening class I teach experiencing a heightened awareness of sound and sounding and silence, without drugs. We do energy exercises based on Qigong, Tai Chi, yoga, and other movements. Moving the body is essential and basic to heightened awareness. Energy refers to heat, electricity, and magnetism, and the exercises promote a feeling of flow in the body. What happens is that your own serotonin—dopamine—is released when you experience the pleasure of listening and you don't necessarily need anything to amplify that, although some people need drugs to break through to the point where they can have that experience. It's why there's so much drugging going on in the student population. Deep Listening is an inexpensive, healthful, and accessible alternative to drugs. Drugs take over the body whereas the effects of Deep Listening come from one's own abilities. It's accessible to anyone who is willing to sincerely try.
CA Yeah, totally, I remember doing movements, listening in the dark . . . all stuff I would have never done in any other setting. It was great. At that point in my schooling I wasn't very open to new things, but somehow in your class, I was up for whatever. I want to talk about your style of improvisation because it is definitely related. It could be considered the same thing as listening.
PO It is, definitely. I mean that my improvisation is based in listening to all that I can perceive inside and outside of myself before I make a sound—or silence. Maintaining that level of listening is basic to my improvising.
CA On your website you wonder about what Data from Star Trek would be like as an improviser. Do you still think about things like that?
PO Oh, absolutely, all the time. Lieutenant Commander Data can, of course, play and analyze music perfectly. The challenge in my mind is about the possibility of his ability to be creative—or to improvise. With all his number crunching and analysis, this ability seems to be elusive—just like emotions. Data is mystified by emotions and emotions are missing from his program. So my speculation is that Data, the android, is simply not equipped to improvise.
CA Maybe I should give you a better question. I'm improvising.
PO That's what I like; that's where I'm most comfortable. Have you been yet to EMPAC, RPI's big new experimental music center?
CA I heard it's just gorgeous.
PO Cory, you have to come up. It's great. I was there yesterday to see my colleague Michael Century. Michael has had a little residency going for himself at EMPAC, and he's been having a fantastic time with the Disklavier—a piano that can play by itself—and has started to play the accordion. He's transformed himself after a long stint of administrative work (pushing data around), opening up the pleasure centers in his brain by making and playing music. Michael's administrative work and intellectual interests kept him with too little time to devote to his creative music-making. Though he's been playing the piano since he was a little kid—he went through academic training at a conservatory, all of that—Michael confided to me that he wanted to learn how to play the accordion. I managed to loan him a free-bass accordion, a really good one, so it really sounds fantastic, and he's learning to play all sorts of pieces on it, including Terry Riley keyboard studies.
Anyway, let me see if I can describe this session yesterday, because there is a point to my story. Michael started working with a Disklavier, as I said, and he's doing a version of the Expanded Instrument System (EIS) that is his own. My version of EIS has 40 delays with algorithmic controllers that can determine how many delays sound, the durations of the delays, how and when the delayed signals are modulated. Michael's system is MIDI driven, so he can play the piano and a middle pedal captures what he plays and then the piano will start to play with him. Then you get inversions and retrogrades of the material that he played. So he plays for about 20 minutes on this piece and then he gets up and he walks away and the piano still plays. I asked what he learned by having this other entity responding to him and he talked about the pleasure of it. There is something very compelling about the mirroring and elaboration of working with machines in this interdependent interactive way. I know that it makes me happy.
CA You would know—you've been using electronics for a long time.
PO A long time, since the '60s, when I started with tape delay. Then I wanted to challenge myself to hear more than just what I could play normally on accordion. I had been doing that already in terms of venues because I'd listen to the space and figure out what I could get back from it. Different spaces give you different qualities, so you play differently. With electronics, it gradually got to the point where I've now got a system that gives me a lot back, but it's really challenging.
CA So the EIS system, an interactive music system that you developed in the '60s, is a series of delays and audio controls hooked up to foot pedals. The system allows you to do all kinds of manipulations to the sound of your instrument. You can fabricate the sound of new spaces, add delay, and so on. Over the years, how much do you tweak it? Do you still use the EIS system?
PO Oh, yeah. I still use it and tweak it a lot. It's a continuing evolution. No matter how much I do to it, I want more because there are just endless things you can do. It's about the human/machine relationship or interface—the power of technology to expand the mind. You find solutions to creative problems and those solutions lead you into new territory where new solutions have to be found. For example: how can you make sound that flies from around your feet on the floor, up to the ceiling, and then moves around the room?
Back to Michael: we were talking about interactivity and how we were both tired of that word because it doesn't mean what we're talking about. So we finally agreed upon interdependent interactivity, where the system is dependent upon input from the player and the player is dependent on the feedback from the system. Each informs the other, and that's what I mean by "expanded," because you begin to expand your capabilities.
CA Did you just come up with the term interdependent interactivity yesterday?
PO Yeah, I think it's a real key idea that has come out of a wonderful collaboration with Michael. Yesterday he played me a piece that Guy Klucevsek, the virtuoso accordionist in Staten Island, has written. It's a tango, actually, for two instruments. He had the accompaniment, or the second part, programmed on the Disklavier.
CA Oh, that's cool. So he's playing the accordion with a robot piano.
PO Right, like Data, it does what it is programmed to do. But it was so funny because the Disklavier had about a 25 cent difference in tuning than the accordion. It was just hilarious; it was wonderful.
CA You know the band Van Halen? There was a concert video of theirs that got very popular online recently. There's a keyboard part in the song that was apparently on a playback, and I think what happened is that it played back at 48 kilohertz and the actual recording was 41 kilohertz. They're in a hockey rink and the concert starts and then the keyboard starts a whole tone-and-a-half above where it should be. And the band goes, Wrrrnnn. You can see them realizing and trying to adjust to being pitched one-and-a-half semitones off. But they're on stringed, fretted instruments, so there's nothing to do about it, know what I mean? It's this amazing video of a totally off-tune, half-atonal performance. The guitar player bends up every note and the singer goes up, but the bass player has no idea what to do. It was fantastic. All my training in all that stuff came back to me and I was like, This is actually quite modern!
PO This reminds me to tell you that I'm also teaching a seminar at RPI called Experimental Telepresence.
CA Oh, boy!
PO Since 2001, when I arrived at RPI, I've been working on Internet2, which is a more or less private Internet developed by DARPA, a US government-operated research unit that conceptualizes and creates military technology. It's designed for transmission of large audio and video files, so you can do what you can't quite do on ordinary Internet because there's not enough bandwidth. In 1990, I started using video telephone technology to make musical connections with long-distance partners. I proceeded with PictureTel, using DSL lines, then the Internet, and finally Internet2. Multi-site performances, collaborative performances . . . there's a whole history of that now. There are now some repertoires growing, so Deep Listening Institute commissioned several composers to do pieces for the telematic medium using the Internet for co-located performances. I made a connection with Chris Chafe at Stanford University. Chris has designed JackTrip, which is low-latency software with CD-quality audio that can be transmitted in eight channels.
CA Really? Isn't that crazy?
PO Well, it's crazy and it's wonderful and it sounds really fantastic.
CA Wow, eight channels of CD quality. I can't even believe they can do that now.
PO It's happened and it's happening, and our group with Chris and RPI is kind of pushing the field. We've presented a lot of concerts, we've done papers at the Acoustical Society of America, the International Society for Improvised Music, and the International Computer Music Conference. So we're creating a field that has to do with telepresence and telematic music. The ideal is that you lose the boundary between what's being televised and what's real. (Pauline's phone rings.)
CA Speaking of telepresence!
PO That was just a reminder that I had to meet you. Where was I?
CA Internet2.
PO I'll tell you a few things that happened. My nonprofit, Deep Listening Institute, recently did a project called the Deep Listening Convergence. We had 45 musicians in a virtual residency using Skype. The project was to have new ensembles form and rehearse online for five months. Then we brought them all together upstate at the Lifebridge Sanctuary, which is a really beautiful place, and we did three real concerts of only material that had been developed online.
CA What keeps pushing you to drive in these directions which haven't been driven in before? To take what you just said as an example, video telephones certainly were not designed for small musical ensembles, but you decided to push the technology in that way. And now you're working with DARPA technology to organize multi-site performances. These technologies were not designed for these uses, and yet you have continually bent them to your vision.
PO I could fall off the cliff. What keeps me going is the interest and excitement. It's very amazing to work with people in that way, and it's also very difficult. I do believe that relationships are the Wild West, and that working physically and virtually is part of developing a more peaceful world. This has to be learned through listening and negotiating. Improvised music is a great model for community building and reconciling differences. My work with Deep Listening supports this idea. A community of Deep Listeners has grown out of the summer retreats and workshops are given in many places in the world. People who listen together grow and expand together.
CA Do you ever think about how all the things you have been working in for so long are now the direction that everything has taken? Like the online collaborations—look at the online networking sites. It's amazing to look at all the things you've been hammering away at for years and now see what has happened in culture. The average funny Internet video or audio clip that gets passed around more often than not is the result of a multi-site collaboration. Most media today is participatory in this way. There might be rock bands in the future that will get together in the same way as the ensembles you brought together did.
PO Alex Carôt in Germany made a software called Soundjack to rehearse his rock band.
CA There you go.
PO Yeah, there it is. It's very high quality and low latency; I've worked with it. You can download it at Virtualsoundexchange.net, which is a website where you can get all kinds of expert advice on using different technologies. That's the net: you can start collaborations with people anywhere in the world—except for the places that don't have the Internet.
CA Is that an iPhone? You have an iPhone! You're ahead of me.
PO Yeah, I used the iPhone four-track recorder today for the first time.
CA I can't believe there's a four-track recorder on the iPhone. You started recording onto tin wire. What is it like for you to now have something like this? In the '60s the top technology cost a badrillion dollars. Only the Beatles had a four-track, you know?
PO (laughter) I'm going to work on using it. I'm going to record little things wherever I am and start to do some pieces with the sound bytes.
CA I remember when the Deep Listening Band played at Oberlin College. You had to take over the concert venue for like a week just to set up the for the show. The setup was so intense; there was a big audio rig and wires and mics everywhere. I bet now it would all fit in a tiny suitcase. What's the latest with the Deep Listening Band?
PO The Deep Listening Band is celebrating our 20th year with a new recording—we're going back to the cistern to record it. The cistern was formerly used to hold the water supply for the army stationed at Fort Worden in Port Townsend, a small town in Washington State. It held two million gallons of water, is made of reinforced concrete, has a diameter of nearly 200 feet, is 14 feet deep, and has a high-quality reverberation time of 45 seconds.
CA Is that where you recorded the first Deep Listening Band record?
PO That's right, Deep Listening was recorded in 1988 and released by New Albion in 1989. That's what made the Deep Listening Band happen. After experiencing a 45-second reverberation time we tried to reproduce it electronically. We have never succeeded in doing that, but the cistern is our benchmark space. The reverberation there is unbelievably clear. The direct sound and reflected sound are almost indistinguishable.
CA Most people probably think it's digital reverb, right?
PO But it's not; it's simply acoustic, and the sound is picked up by microphones. We're going to go back to the cistern and this time we're going to take an ambisonic microphone.
CA What's that?
PO It's a microphone array—about eight microphones—so we can really record the surround sound.
CA Is the cistern just for you alone?
PO Well, we can't have anyone in the cistern while we record because as soon as anybody sneezes it's going to reverberate for 45 seconds. (laughter) There's only one entrance and you have to go 14 feet down a ladder; it's really not for an audience.
CA I have to come visit one of these days.
PO Well, certainly. I want to come to your house, too.
CA Oh, yeah, just call me up. I'm just sitting at home working on my website or doing whatever I do normally. I did a performance at Sundance in 2007 where I sat in my bed and I iChatted it over video.
PO Good, so you're into telematics as well.
CA I have not stopped being into telematics since your class.
PO Well, I might stick somebody on you from my seminar to do a little project, just a connectivity thing.
CA Totally, soon the Internet will be just like picking up the telephone and you'll see everyone you've ever talked to, and you'll have advertisements targeting you based on what you said. That's how all the money will be made in the future: ad-based data mining.
PO I've been surfing technology for 50 years; more than that, probably. But I'm not a technologist, I never pretended to be one, but I'm using it, and that's different from somebody who's hacking it. I hack it conceptually. I think about what hardware and software can do, then try to push it beyond what it is supposed to do.
CA Also, hacking takes so much time. Once you figure something out, the next thing is already here. You really have to invest. Hacking is like learning an instrument. As the years wear on, I have more and more difficulty keeping up. I found a solution though: I just started to make work about that difficulty! These instruments are always disappearing and new ones are coming, so in a way it's better just to surf because you're able to roll with the punches. In the last couple years, there's been a shift. I think a lot of the innovation and technology has been towards self-publishing. How do you think that affects the next generation of composers? Now they have immediate access to a global audience, and that's fairly new.
PO As a matter of fact, I was talking about this with my seminar this semester. I have got people lined up in different parts of the world to collaborate with my students, and I'm going to have them choose who they want to collaborate with. They can choose anybody as long as it's some distance away. But I'm going to propose that they come up with a concert in April, a borderless concert.
CA Will it be in one space?
PO Yeah, it'll be at EMPAC on April 30. But it could be that a piece would take place in Second Life. I've been working a lot there, performing with the Avatar Orchestra Metaverse. I also made a piece for the group.
CA So do you have an avatar?
PO Yes, Free Noyes. (laughter) N-O-Y-E-S.
CA I'm Brad Pippin. It's as close to Brad Pitt as I could get.


Fifteen Questions with Pauline Oliveros
A Body of work
For Pauline Oliveros music is simple. It's not about the limitations inherited from our cultures. It's not about the forms we use to control and define it. Music, to Oliveros is primal, instinctive and comes from deep within us all. It should be expressed bodily and heard with an open and attentive heart. As the founder of the Deep Listening Institute, Oliveros has campaigned for the recognition and support for expanded listening and experimentation in music. Having developed music theories, composed music to be performed in caves and cathedrals, Oliveros is also an author and teacher. The John Cage award from the Foundation of Contemporary Arts is the latest honour received by the American born accordionist and composer, but it joins a long list of recognitions from the international music community. With a body of work so diverse, no set of phrases can capture the nature and possibilities of Oliveros' music.
When did you start composing - and what or who were your early passions and influences?
When I was 16 years old I wanted to compose. My inner listening was full with sounds and strange passages of music. I was influenced by what I heard on the radio and juke box - everything from country music to symphonic music, jazz, dixieland and popular music.
What do you personally consider to be incisive moments in your work and/or career?
Incisive for me was hearing my early music performed by professional musicians, receiving awards for my compositions, improvising with other musicians, inventing my own way of making electronic music before synthesizers were available.
What are currently your main compositional challenges?
Challenges for me are moving beyond what I know how to do and learning how to do it.
What do you usually start with when composing?
What I start with to compose really depends on the nature of the composition - how I want it to sound. There is no usual start.
How do you see the relationship between timbre and composition?
Timbre is the carrier of melody.
What do improvisation and composition mean to you and what, to you, are their respective merits?
Improvisation is making music instantaneously without planning. Composition is constructing music. In improvisation you can't change your mind in composition you can.
Do you feel it important that an audience is able to deduct the processes and ideas behind a work purely on the basis of the music? If so, how do you make them transparent?
Processes and ideas may be more or less transparent or important to audiences. There are multiple ways to experience music - sensuous, intellectual, intuitive and through feeling. How people experience music may be more important than the processes and ideas.
The relationship between music and other forms of art – painting, video art and cinema most importantly - has become increasingly important. How do you see this relationship yourself and in how far, do you feel, does music relate to other senses than hearing alone?
A true integration of audio and visual art forms can be very satisfying. In some instances visual components can support sound. More often sound is support for the visual especially in theater and cinema.
How would you define the term "interpretation"? How important is it for you to closely work together with the artists performing your work?
A score is a system of symbols whether of musical notes, graphics or language that need interpretation to be understood or performed. What can't be notated is the performance practice. Performance practice has to be transmitted by the composer or through oral tradition.
The effect of a piece doesn't merely depend on the performance of the musicians, but also on the place it is performed at.
How do you see the relationship between location and sound? In how far do you feel the current system of concert halls is still the right one for your music – or for contemporary music in general?
The space for a performance is very important. Space is as important as instruments playing in the space. Music can sound dull, or brilliant according to the space and how the musicians listen to the space. I design my music for the space where it will be performed. Some concert halls really don't work for some of my music.
The role of the composer has always been subject to change. What's your view on the (e.g. political/social/creative) tasks of composers today and how do you try to meet these goals in your work?
Composer's can be harbingers of change. For example John Cage changed the world with 4'33" - his most well known piece better known as the "silent" piece. 4'33" opened up the importance of expanded listening. Today's composers need to find ways of engaging new audiences in their music. In my own work I have proposed improvisation across abilities so that participation can include anyone who wants to play.
How, do you feel, could contemporary compositions reach the attention of a wider audience?
Allowing young children to improvise and compose their own music would help to create audiences for contemporary music.
Usually, it is considered that it is the job of the composer to win over an audience. But listening is also an active, rather than just a passive process. How do you see the role of the listener in the musical communication process?
Listening can be contagious. If the performer is listening, the audience members can be influenced to listen in a continuous feedback loop.
Music-sharing sites and -blogs as well as a flood of releases in general are presenting both listeners and artists with challenging questions. What's your view on the value of music today? In what way does the abundance of music change our perception of it?
Music is as valuable as ever. The measure is not necessarily commercial or monetary but how music is used.
Composers have traditionally found it hard to secure a living with their art. What are the financial realities you're living with and in which way, do you feel, could they be improved?
I make my living because I am a composer but not from my compositions. I perform and I teach. Only a small portion of my income is derived from compositional activity. More respect for composing and interest in commissioning composers could be an improvement.
Please recommend two artists to our readers which you feel deserve their attention.
Miya Masaoka
Shelley Burgon
Pauline Oliveros: Creating, Performing And Listening
SELECTED MEDIA CLIPS 2013
"MOMA Nights" with Pauline Oliveros, in the Sculpture Garden
. The New Yorker, August 1.
Mostly Mozart and some Beethoven
, too, by Carlton Wilkinson, Asbury Park Press, July 26.
Pop & Rock Listings for July 26 - Aug. 1
, The New York Times, July 25.
Lessons From an Unorthodox Musician's "Deep Listening"
, by Lee Gardner, The Chronicle of Higher Education, July 20.
Hear this: World Listening Day at the Walker
, by Joe Kleinschmidt, Minnesota Daily, July 17.
The world is still catching up to Pauline Oliveros
, by Bill Forman, Colorado Springs Independent, April 10.
Pauline Oliveros' Sounds and Visions
, by Bill Forman, Colorado Springs Independent, April 10.
SELECTED MEDIA CLIPS 2012
Music series honors women composers and musicians
, by Mike McInally, The Entertainer, October 26.
Pauline on The Hear & Now
, Archived Audio Interview, KPFA 94.1FM, October 4.
Pauline Oliveros, John Cage Celebration
, by Joshua Kosman, San Francisco Chronicle, October 3.
Pauline Oliveros, Susie Ibarra and Thollem McDonas
, by TimeOut, August 21.
Pauline Oliveros profile + Night After Night bonus track with Dana Reason
, by Steve Smith, Night After Night, August 14

Strange Sounds Led a Composer to a Long Career
, by Steve Smith, New York Times, August 10
Record Review: Cecil Taylor/Pauline Oliveros DVD
, by CraigP, JazzCorner, June 30
Liveblogging the 2012 BOAC Marathon
, by Rob Deemer, Sequenza21, June 17
Experimental Composer Pauline Oliveros, Having her Big Moment at 80
, by Seth Colter Walls for Capital New York, June 15
Tribute to Composer Revered for Her Iconoclastic Ways; Pauline Oliveros Tribute at Darmstadt Essential Repertoire
, Review by Steven Smith,
New York Times, June 3
Darmstadt 2012: Pauline Oliveros 80 Birthday Celebration
, TimeOut New York, June 1
Oliveros @ 80
, Posted by Daniel Wolfe, Renewable Music blog, May 31
Video Excerpt of
Pauline Oliveros, "Listening for Life/Death Energies,"
Posted by Electra Productions, Vimeo, May 22
Pauline Oliveros: Her Noise
, by Daniela Cascella, Frieze Blog, May 20
Reverberations
, by Paula Josa-Jones, Horse Dancing, May 11
Pauline Oliveros 80th birthday celebration (concert review)
, by Joseph Dalton, My Big Gay Ears, May 10
VENUS Playlist May 10th Pauline Oliveros
, CKUT 90.3 Montreal, May 10
Video Excerpt of
Pauline at 80: celebration with Avatar Orchestra Metaverse
, video posted by Norman Lowrey, YouTube, May 8
A Guide to Pauline Oliveros's Music
, by Tom Service for The Guardian, United Kingston, May 7
Interview with Art Forum
, by Lauren O'Neill-Butler, Art Forum, April 30
Video Excerpt of
Master Class with Pauline Oliveros
, Posted and Edited by Sharon Stewart, Vimeo, April 26
Composer Pauline Oliveros Gets 12-Disc Box Set
, by Jenn Pelly, Pitchfork, April 20
Avatar Orchestra Celebrates Pauline Oliveros' Eightieth
, Avatar Orchestra Metaverse blog, April 18
Pauline Oliveros 12CD box set of early electronics released
, The Wire News Blog, April 17
Pauline Oliveros gets 12-CD box of early tape music and cupcakes from Important Records to celebrate her 80th birthday
, by Jared Micah, Tiny Mix Tapes blog, April 17
Pauline Oliveros: Reverberations
, video posted by Important Records, YouTube, April 16
Princeton Laptop Orchestra melds music with technology
, by Ross Amico for the Times of Trenton, April 6
Van Hunt; The Chicago Scratch Orchestra
, by Vern Hester, BENT NIGHTS Special to the online edition of Windy City Times, April 4
Weekly Digest: Private Music Teachers, Lessons from Einstein, Pauline Oliveros, Is Silence Going Extinct?
, by Laura Lentz, Innovative Ideas in Performance and
Pedagogy (IPAP) blog, March 21
Colourful conductor uses musical mad science
, by Alison Mayes, Winnipeg Free Press, March 16
Pauline Oliveros Wins John Cage Award
, ASCAP, March 8
Deep Listening- 2012 John Cage Award Goes to Pauline Oliveros
, Sympathies Enlarged: A John Cage Forum, February 15
Pauline Oliveros Wins 2012 John Cage Award
, The Esoterrorist blog, February 3
Pauline Oliveros, winner of the John Cage Award
, Rennselaer Polytechnic Institute – Department of Music, February
Pauline Oliveros Winner of $50,000 John Cage Award
, New Music Box, January 30
2011 SELECTED MEDIA CLIPS
Score for Occupy Musicians
, Pauline Oliveros
Occupy L.A. and the Art World
, by Catherine Wagley, LA Weekly, November 24
Pauline Oliveros talks Houston Improv, Her Mother's Death and the Essence of Latency
, by Steve Jansen, Houston Press blog, November 16
It's Telematic: Pauline Oliveros performs live in Houston with musicians in Bogota & San Diego
, by Tyler Rudick, Culture Map Houston, November 11
Deep Listening Band presents rewarding, challenging experience
, by Sam Lewin, The Lawrentian, November 3
Chance Encounters with Pauline Oliveros
, International Contemporary Ensemble, October 3
Review of Pauline Oliveros in the Arms of Reynolds
, Bleak Bliss blog, October
Militant Tuning Portal 14/09/2011: Continuing Variations, by Philip Clark, Wire Issue #332, October
Podcast Interview
, Dead Hare Radio Hour, Show #23, August 30
Pauline Oliveros Dinner Speech
, 2011 ASC Conference on Listening, August 15
Poolside singing with Pauline Oliveros
, 2011 ASC Conference on Listening, August 14
Interview with Anita Malhotra
, Artsmania, May 31
Academic Minute
, WAMC 90.1 FM, May 26
suddenlyLISTEN celebrates 10 years with Pauline Oliveros
, by Allison Saunders, The Coast, May 19
Music with roots in the aether: Pauline Oliveros
, by Carlos A. Inada, danzOnir: caida sin vertigo blog, April 27
Sound Forms: Pauline Oliveros
, WGXC 90.7 FM, April 10
Tapping my left foot
, by Frances Marion Platt, Ulster Publishing Almanac, March 24
Pauline Oliveros and Jesse Stewart present unique concert on St. Patrick's Day
, Ottawa Jazz Scene, March 18
Vision: Renowned Composer Pauline Oliveros' Orchestras for Feminism and Fracking
, by Julianne Escobedo Shepherd, Sourced from Alternet, March 5
Trimming the Historical Thorns Interview with Pauline Oliveros
, b Marc Masters and Grayson Currin, Pitchfork, March 4
Interview with Susie Ibarra, Song of the Bird King blog
, February 22
SnowFlow: Pauline Oliveros
, WGXC 90.7 FM, February 12
Town Hall acoustics are just one of the 'instruments' used by the Deep Listening Band
, by Michael Upchurch, The Seattle Times, January 14
2010 SELECTED MEDIA CLIPS
Sound logic
, by Paul Smart, Ulster Publishing Almanac, December 30
Toronto, Avatar Orchestra Metaverse blog
, November 13
Avatar Orchestra at NAISA in Toronto Canada
, Avatar Orchestra Metaverse blog, October 7
Rotating Brains/Beating Heart @ DRHA 2010
, Pink Narcissus second life blog, October 1
Review of Music in the Air
, by Adam Strohmn, Dusted Magazine, June 25
Pauline Oliveros/Stuart Dempster/Panaiotis – Deep Listening,
Luminousinsect blog, April 18
1985-2009 MEDIA CLIPS
Interview with Cory Arcangel,
Bomb 107, Spring 2009
Of Sound Mind by Peter Aaron
, Chronogram, May 2009
Pauline Oliveros, "Pathways to Grandmothers,"
The Getty'sClose Radio Podcast, #12, Orginally recorded January 5 1978, Re-Aired September 11 2007
Radio Podcast, #12
, Orginally recorded January 5 1978, Re-Aired September 11 2007
Worldwide Collaborators, Both Listening and Playing,
by Anne Midgette, NY Times, August 23 2007
Oliveros breathes life into techno
, review by Penny Webb, The Age Australia, July 14, 2007
A deep listener: Pauline Oliveros receives lifetime award for her musical contributions
, by Blaise Schweitzer, Daily Freeman, May 25 2007
Breathing life into deep listening
, by Andrew Dansby, Houston Chronicle, April 22, 2007
Vodcast Vol. 1 Interview with Pauline Oliveros
vodstrup.com, Aired December 29 2006
The Sonic Rituals of Pauline Oliveros
, by Ron Drummond, Classical Net, 2006
The height of Deep Listening,
by Bonnie Langston, Daily Freeman, April 28 2005
Listening deep for peace
, by Paul Weideman, The New Mexican, August 5-11 2005
Pauline Oliveros with Spark
, Broadcast on KQED, February 2004
Pauline Oliveros returns to Houston
, by Charles Ward, Houston Chronicle, May 29 2003,
50 years melding tech and sounds
, by Katie Dean, Wired, March 15 2003
Interview by Analog Tara, pinknoises blog
, November 2003
An interview with Pauline Oliveros
, by Alan Baker, American Public Media, January 2003
Birthday retrospective to honor composer devoted to sound,
by Joshua Kosman, San Francisco Chronicle, May 27 2002
Accordionist plays back the world's music
, by Jeff Kaliss, San Francisco Chronicle, October 12 2001
The Accordion in Her Life
, by Alan Rich, LA Weekly, August 15 2001
Invisible Jukebox: Pauline Oliveros,
Tested by Christoph Cox, Wire
Continuing Variations (2000)
, Art of the States, Archive of performance, September 22, 2000
Pauline Oliveros,
by Richard Henderson, Wire Issue #164, October 1997
Interview with Snapshots Music & Arts Foundation
, Date Unkown
Audio Interview
, Other Minds, Recorded by KPFA, February 21 1985