Koji će autori 21. stoljeća voditi muziku prema novim granicama? Izbor legendarne Pauline Oliveros.
deeplistening.org/site/content/catalogartists/
The New Deep Listening Online Catalog!
"What composers are at the leading edge of new music in the twenty-first century? If there is a leading edge then what is it? What composers and artists will synthesize or codify the swiftly changing characteristics of our time and make it manifest in our music? Who listens to new music? What is its importance? Answers to these questions might be found through new composers within this catalog now and as it expands in the future."- Pauline Oliveros
+++++++
+++++++++
++++++++++++++
Pauline Oliveros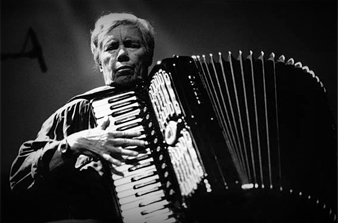 Executive Director
Pauline Oliveros (1932) has influenced American music extensively in her career spanning more than 60 years as a composer, performer, author and philosopher. She pioneered the concept of Deep Listening, her practice based upon principles of improvisation, electronic music, ritual, teaching and meditation, designed to inspire both trained and untrained musicians to practice the art of listening and responding to environmental conditions in solo and ensemble situations. During the mid-'60s she served as the first director of the Tape Music Center at Mills College, aka Center for Contemporary Music followed by 14-years as Professor of Music and 3 years as Director of the Center for Music Experiment at the University of California at San Diego. Since 2001 she has served as Distinguished Research Professor of Music in the Arts department at Rensselaer Polytechnic Institute (RPI) where she is engaged in research on a National Science Foundation CreativeIT project. Her research interests include improvisation, special needs interfaces and telepresence teaching and performing. She also serves as Darius Milhaud Composer in Residence at Mills College doing telepresence teaching and she is executive director of Deep Listening Institute, Ltd. where she leads projects in Deep Listening, Adaptive Use Interface. She is the recipient of the 2009 William Schuman Award from Columbia University for lifetime achievement. A retrospective from 1960 to 2010 was performed at Miller Theater, Columbia University in New York March 27, 2010 in conjunction with the Schuman award. She received a third honorary degree from DeMontort University, Leicester, UK July 23, 2010. Recent recordings include Pauline Oliveros & Miya Masoka and Pauine Oliveros & Chris Brown on Deep Listening.
Website
|
MySpace
|
Blog
All Releases by Pauline Oliveros
Gayle Young
Gayle Young plays two instruments of her own design. The amaranth is a 24-stringed zither with moveable bridges, based on an instrument built by Lou Harrison, and sharing many features of oriental stringed instruments such as the koto. The columbine is a percussion instrument using 61 steel tubes placed horizontally over a resonator, with a just intonation tuning of 23 pitches per octave.
Young is also the author of The Sackbut Blues, the biography of Hugh Le Caine, an early innovator in electronic instrument design. She has published many articles on aspects on musical innovation, and was the editor of Musicworks Magazine between 1988 and 2006; she is now the publisher.
All Releases by Gayle Young
Zanana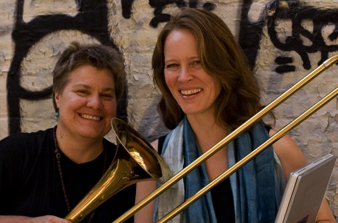 Kristin Norderval, voice
Monique Buzzarté, trombone
Zanana is a collaborative duo featuring Kristin Norderval, voice and Monique Buzzarté ,trombone, performing improvised music blending acoustic sounds, electronics and live processing. We compose and perform collaboratively using improvisation as the foundation of our compositional process. Some works are free improvisations, some are structured improvisations, and some are composed with aleatoric elements. Our intent is to create sonic transformations of both our acoustic playing and unusual ambient/industrial/site-specific sounds.
For live processing we each use Macintosh laptop computers running Max/MSP. For most engagements we bring our own equipment, including hemispherical/spherical speakers, mixers, microphones, mic stands, and the like. However, specific technical needs vary depending on the venue and the program being performed.
Our duo takes its name ("zah-NAH-nah") from a variant spelling of "zenana," a Persian term originating from zan or "woman".
All Releases by Zanana
ENSEMBLES, DUETS, TRIOS
BY LABEL
Deep Listening,
Mutable Music,
Pogus,
XI Records,
Ants