Sporo hodajući ispred ledolomca.
Guido van der Werve
Chopin, melancholy, pianos and slapstick
Guido van der Werve,
Nummer acht: Everything is going to be alright
(2007)
Dutch artist Guido van der Werve makes the kind of films Caspar David Friedrich might have dreamt up if he had had a sense of humour and access to a camera. Saturated in an atmosphere of melancholy, loss and loneliness, preoccupied with dead composers and centuries-old dance forms, yet fired by a love of both the piano and slapstick, Van der Werve's beautifully shot vignettes include: the hapless artist narrating the history of Steinway pianos while sitting mournfully on a piano stool; trudging slowly before an icebreaker in the Gulf of Finland; standing for 24 hours at the geographic North Pole, refusing to turn with the world, surrounded by stately dancing ballerinas after being knocked down by a car on a depressing suburban street; and meditating on meteorites while building a space rocket in his living-room. The films are usually accompanied by Romantic piano music played by Van der Werve, who trained as a classical musician. Frédéric Chopin is his favourite composer (because 'his music often sounds very simple, and I think you have to reach a really high level of understanding in order to be able to do that'), although he is also fond of Sergei Rachmaninov, Sergei Prokofiev and Wolfgang Amadeus Mozart. Recently he has begun writing his own lush scores. Happily, despite skating close to pathos, Van der Werve's films never quite fall into it. A crescendo of melancholy can abruptly shift key and tone and segue into a light-hearted mood of absurdity at the least predictable of moments.
In the classic tradition of slapstick Van der Werve's films are fuelled by the creative possibilities of aural and visual dislocation, or, more simply, by an awareness of how simultaneously lonely and absurd life can be and how much solace can be found in abstract forms of expression. Witness, for example, the shifts in mood, setting and meaning, in
the 12 minutes of Nummer vier: I don't want to get involved in this, I don't want to be part of this, talk me out of it
(2005). The film opens with words, spoken in Dutch and written in English on a black screen: 'I woke up early and watched the sun rise. I felt it came up just for me.' Cut to an image of the lonely back of the artist; he is gazing out over a slate-blue sea. Very slowly the camera pans up to the sky; a small plane flies by, dragging behind it a banner emblazoned with the words 'it was not enough'. Cue the achingly wistful chords of Chopin's
Nocturne No. 1 in B flat minor
, performed by the artist. The camera gradually pans down to an image of Van der Werve playing the piece on a slightly out-of-tune upright piano, perched on a pontoon in the middle of a misty lake. When the piece comes to an end, the scene changes to a barge drifting down a river. Gradually the faint strains of Mozart's
Requiem Mass
are discernible, and it is apparent that the choir and orchestra performing the piece are actually on the boat. Intimations of death, and more particularly the island of the dead, become overwhelming. Eventually everyone disappears, and we are left with the gentle sounds of wind and birds. Then, without warning, the artist drops from the sky and into the river.
It is impossible, when witnessing such overwrought, touching and often hilarious scenes, not to think of Van der Werve as the love child of Bas Jan Ader, another Dutch artist preoccupied with the slapstick possibilities of isolation, sadness, alienation and the elements, especially water (into which, of course, Ader eventually and tragically disappeared). They share a sensibility that Jörg Heiser has termed 'Romantic Conceptualism': a condition of 'voluptuous bliss' that overwhelms 'the rigidity of the Conceptual execution' to which Van der Werve, with his tight framing and multifaceted references to history and time, is obviously in thrall. Here, for example, is Heiser discussing Ader's video
Farewell to Faraway Friends
(1971): 'We see the lone artist at the edge of the sea, silhouetted by a beautiful sunset, alluding both to Caspar David Friedrich's scenes and to the kitschy picture postcard tradition that developed after them. It is as if Ader is mourning this history of devaluation itself, as if the faraway friends were the early Romantic artists who once, with fresh eyes, discovered Sublime nature as a mirror of their soul, and whose discovery is now obsolete.' It's a description that could equally apply to Van der Werve.
The artist lends his work a temporal complication by conflating Romantic melancholy with the alienation of existing not only in majestic polar regions or bucolic landscapes, but also cheap Chinese cafés and tiny living rooms with chequered floors that recall those depicted in so many 17th- and 18th-century Dutch and Flemish paintings. Watching Van der Werve's films in quick succession, it is not impossible to imagine Ader identifying with the words the younger artist murmurs in
Nummer zeven
: The clouds are more beautiful from above (2006): 'A meteorite is an extraterrestrial body that survives its impact with the earth's surface without being destroyed. Ever since I was little, I stayed up to watch for shooting stars.' -
Jennifer Higgie
The Aesthetic of the Poles. A Testament of Ice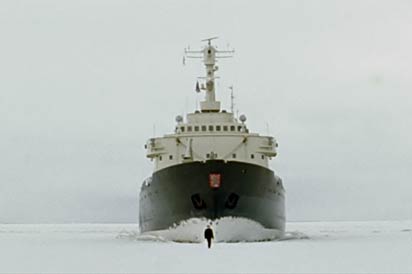 Greenland, Spitsbergen, Siberia, Antarctica… These names bring to mind cold, ice, and explorers in distress. Jean-Baptiste Charcot, who had crossed the polar seas, was afflicted with a condition which, despite his medical training, he could not readily diagnose. «What is the origin of this strange attraction,» he wrote, «for the polar regions, which are so powerful, so tenacious that, upon return home, one forgets one's moral and physical fatigue, and dreams only of going back?»
Lands imbued with visions of freedom, where human imagination knows no bounds; arid zones in which humans can only survive; «virgin» territories; and symbols of devastation caused by human activity across the globe: through testimonies, stories, maps, and documentaries which have dotted their discovery and exploration, the poles have become a paradoxical object whose «reality» is informed as much by collective imagination as by scientific, geographical, and ethnological data. The polar regions are at once an incurable affliction and a hypnotic drug; a hostile territory in which man confronts his own depths, his own greatness as well as his own insignificance.
In our society, where everything and everyone has its place; where time, light, and space have been quantified and turned into marketable commodities, the endless horizon of the poles continues to fascinate and present the ultimate refuge for beautiful utopias, for our fathers' «values», now irretrievably lost. The polar regions are also among the last where human effort and capacity to surpass oneself take on their full meaning; where primitive impulse, which lies dormant in each of us, up-ends the security of our comfort and our habits.
These antithetical motivations, where romanti-cism and ecological considerations dominate, are undoubtedly tied up with the current artistic infatuation with these endangered regions. The works presented in this exhibition oscillate between two alternatives, sometimes opposing and sometimes complementary: a sense
of profound confusion before the changing world and a yearning for adventurous exoticism.
Whether they take on the form of a personal diary, a travelogue, or a documentary; whether they represent a physical, symbolical or scientific exploration, the artworks comprise a network of images, sounds, and words which combine initiatory journeys and social utopias, and in which being becomes once again human. -
www.fraclorraine.org/
The making of a masterpiece, Guido van der Werve on thin ice
Eve Sullivan
Posted:
In 2007, Dutch artist Guido van der Werve took a small crew to the frozen Gulf of Bothnia, off the coast of Finland, to film him trudging slowly across the ice in front of the Sampo, a 3,500 tonne icebreaker. Upon seeing the video, Nummer Acht: Everything is going to be alright, many have assumed it was green screen trickery, a digital manipulation. But as ABC Arts blogger Eve Sullivan discovered van der Werve goes to great lengths to create honest, sublime artwork.
One of the artworks that is most memorable for me in this year's Biennale of Sydney is Guido van der Werve's film work
Nummer Acht: Everything is going to be alright (2007).
In the spirit of the Biennale's linked-in themes of establishing relations between works, peoples and things, this work does for art what Slovenian philosopher Slavoj Zizek has done (in his book
Living in the End Times
) for weighing up the state of living in a global capitalist system that is "approaching an apocalyptic zero-point."
'Art and catastrophe' can seem like a glib catchphrase exploiting the spectacle of disaster, but Guido van der Werve's work is richer than that in harnessing the dilemmas of the relentless path towards progress bound up with the loss of frontier.
Van der Werve's short film already has a global cult following. Filmed in 2007 on location in the Gulf of Bothnia, just south of the Arctic Circle, it shows the artist striding ahead of an icebreaker like a 21st century version of Caspar David Friedrich's intrepid 19th century explorers in the painting
The Sea of Ice (Das Eismeer)
. Seemingly just steps ahead of the vessel as it carves its path of destruction (due to the clever confusion of distance in a featureless landscape), van der Werve channels a rather heroic last symphony as he walks through the landscape about to disappear.
Like the somewhat over-employed metaphor of Walter Benjamin's angel of history, propelled into the future as it looks back at the ruins of the past, our man at the front (the artist himself) is a paradoxical figure of fearlessness.
After seeing the video at the Art Gallery of New South Wales I was curious to learn more about the making of this work. Via email, van der Werve explained how the video was filmed.
- Eve Sullivan
GUIDO VAN DER WERVE
Guido van der Werve, Still from

Nummer zes

(2006)
GUIDO VAN DER WERVE:
EVERYTHING IS GOING TO BE ALRIGHT
22 Nov 2008 - 4 Jan 2009
The films of the young Dutch artist Guido van der Werve (born Papendrecht, The Netherlands 1977) combine melancholy meditations on the sublime with half remembered episodes from art history, and the occasional moment of slap-stick humour. Often accompanied by Romantic piano music played by the artist - a classically trained musician - they may be said to belong to a subterranean tradition of 'Romantic Conceptualism', in which philosophical speculation on the limits of what art might be is tempered by an acute awareness of the glory, sadness, and absurdity of lived experience.
Screened in the front room of the Project Space, Nummer acht: everything is going to be alright (2007) shows van der Werve walking calmly in front of an icebreaker ship in the Gulf of Finland as it carves its way through the frozen arctic seas. Looming like a vast killer whale, the ship, for all its brute force, is less effective at negotiating this environment than the vulnerable figure of the artist. For a moment, it seems as though this is a parable of human superiority to the machine, until we remember that without the protective shell of the icebreaker, van der Werve may not have reached this inhospitable zone in the first place. This is not an image of humanity at one with nature, but of an excessive survival strategy, both majestic and ridiculous.
In Nummer zes: Steinway grand piano. Wake me up to go to sleep and all the colours of the rainbow (2006), screening in the back room of the project space, the artist, accompanied by an orchestra, performs Chopin's Piano Concerto No.1 in E minor on a Steinberg grand piano in his Amsterdam apartment - an action that appears to call a rainbow into being. The incongruity between the modesty of the space and the grandeur of the music is humorous, but the piece also speaks to a contemporary anxiety that, somewhere along the way, our hearts and minds have become too small to accommodate the feelings we might wish to feel.
http://haywardprojectspace.blogspot.com/2010/07/guido-van-der-werve.html
---
Video
Guido van der Werve was born in Papendrecht, the Netherlands in 1977 and currently lives and works in Finland. Van der Werve pursued studies in industrial design, archaeology, music composition, and Russian language and literature at several universities in the Netherlands before beginning to create his first video documented performances around 2000. Since that time he has created a variety of works, including a series of film and videos and a musical composition titled by number in chronological order from two to fourteen.
Recent exhibitions of his work include solo exhibitions at the Hayward Gallery in London, the Hirshhorn Museum in Washington, de Hallen Haarlem in the Netherlands and the Kunsthalle Basel in Switzerland as well as a presentation of his latest film
Nummer twaalf
at the Museum of Modern Art in New York. As part of the Performa 09 festival, van der Werve performed
Nummer twaalf
live at the Marshall Chess Club in New York. His work was also included in
GREATER NEW YORK 2010
at MOMA PS1.
For full CV please download the PDF below
Download PDF (378 K)
-
www.luhringaugustine.com/
Burned, frozen, winched, dangled and hit by a car: the shocking extreme art of Guido van der Werve