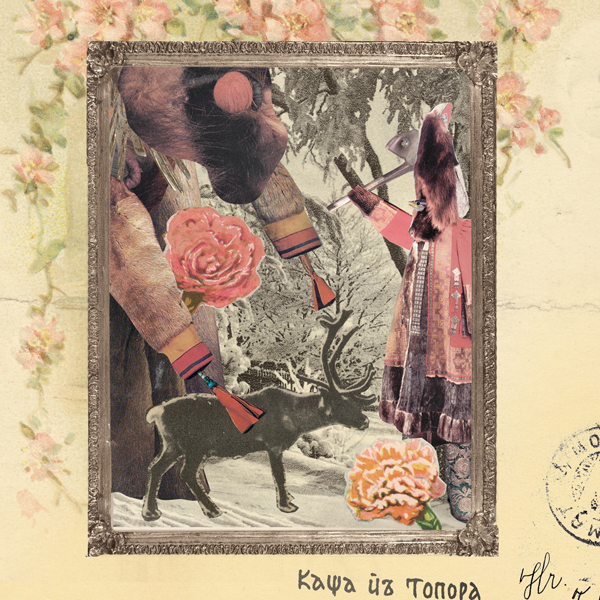 Aleksej Devjanin, osnivač sibirskog paranoidnog poštanskog sustava koji vam teleportacijski dostavlja razglednice za gramofon isklesane u smrznutom mamutu. Totalno ludilo.
soundcloud.com/miasmah/sets/gultskra-artikler-kasha-iz-topora
Last time we came across Russian pranksters Gultskra Artikler they were a duo comprising of Alexey Devyanin and Dmitry Garin, but since the release of the haunting 'Pofigistka' on the Lampse label in 2006, Garin has left the band leaving Devyanin to come up with the most definitive Gultskra Artikler statement to date; 'Kasha Iz Topora'.
The entire record, which plays continuously through its hour-long duration, is set to a fairytale written by a friend of Devayanin, detailing the adventures of a man with an axe that makes flying porridge (based on a traditional Russian tale) - quite some distance then from the Little Red Riding Hood then. The macabre elements of the disc's storyline provides ample source material for Devayanin to weave his processed darkness in and out of folk-tinged guitar parts, knee-trembling vocals and all manner of other obscure instrumentation.
'Kasha Iz Topora' is one of those records that truly sounds on its own in an overpopulated music scene, and while this is possibly due to the location of the recording (how many records can you honestly say you own from Russia?) it is more likely that Devyanin has developed his windswept sound stories over years of careful experimentation and fine-tuning.
Hailing from Novosibirsk in Siberia he has much to draw influence from in his new Moscow home; a place that can reach a startling -40 degrees Celsius in winter. Wrapping up warm and constructing choppy experimental music on an archaic personal computer was one of only very few ways of keeping his mind off the intense world outside, busying himself crafting his sound and taking in influence from such artists as Leafcutter John, Jackie O Motherfucker and Todd Dockstader.
It is clear on 'Kasha Iz Topora' that Devyanin has chiselled his craft to a fine point going far beyond so much else in contemporary electronic music - this is a new stage in the development of not only Gultskra Artikler but the ever-growing Miasmah label which seems to be broadening its horizons rapidly. If you give this album the time and let yourself fall into its cryptic story, you may find the strangest and most involving record you could hear this year. -
www.miasmah.com/
Russian electronic artist Alexey Devyanin has just gone and made one of the strangest albums you're likely to come across in 2007. Having already graced the Lampse roster with the excellent Pofigistka, the incomparable, unpronounceable Gultskra Artikler has now delivered Kasha Iz Topora, a scrapbook of odd, wintry sonic postcards. The album seems to be coated in the kind of archaic vinyl crackle and ancient hiss that Phillip Jeck and Janek Schaefer pursue, and as with those two artists, Devyanin doesn't use these sounds as a mere fast track to nostalgia. Instead, the clouds of texture and grainy noise that hang over Kasha Iz Topora make the whole thing come across as some bizarre, dusty document that's been perishing away in an attic somewhere for the last thirty years or so. In fact, you might say that the single defining characteristic of this album is that it doesn't really sound like anything so mundane as an actual author was responsible for it. While it certainly sounds like a single, specific vision, the various recorded elements and bizarre, disembodied instrumentation that shape the flow of sound on this album make it seem almost (for want of a better word) accidental, as if someone had inadvertently dubbed all kinds of disparate fragments of audio on top of one another, somehow resulting in a ghostly archive of weird acousmatics, unidentifiable bowed screeching and things that go bump in the night. You might align Kasha Iz Topora with the sort of folksy psychedelia and general fumbling around that characterises the Fonal label's output, but there's undeniably a more visionary, experimental mindset behind all this. The very fact that the album (despite being divided into eighteen discreet tracks) takes the form of a continuous whole suggests a vastness of scope, and the breadth of sources here (one moment you'll hear recordings of passing trains, or creaking floorboards, the next some lonely piano passages mauled by wayward electronics) lend Gultskra Artikler's work a sense of poetry and adventurousness. Highly Recommended. -
boomkat
The booklet for this album is all in Russian, but apparently there's a story this wonderful music soundtracks. The title is something about axes and porridge; the music sounds like Alexey Devayanin traveling from his native Siberia to Moscow. There's something about flying, smiling-yet-mutilated dolls and faces, a stag, birds, flowers, and collage work. This is what I gather from Google, the visuals in the artwork, and what it sounds like, which is some wicked combination of Philip Jeck and Mort Feldman and Max Richter and.it's like somebody took all of the eking tactics that Jeck and his ilk apply to found sounds to evoke emotion and decided to apply it to actual music. In that sense it bears more resemblance to the work of Christian Fennesz, but only in process. Whereas Fennesz aims for the future, Devayanin is focusing on folk music.
There's something maddening about this album, too. I'm fascinated each and every time I listen to it, like there's going to be a point where it suddenly morphs from the album it is into some insane prog workout. And I mean that as a compliment—there's nothing lacking here so much as there's this overwhelming sense of tension that threatens to explode at any moment. That it doesn't, or at least it only does in ways that are counterintuitive to the feelings it evokes, is kind of like watching a phenomenal actor completely subvert familiar scenarios. And that's in part because, language-wise, Devayanin has got drama down pat. It's rare that a such a severe sounding album can still play with humor, but Kasha Iz Topora finds brilliant moments of humanity beneath a glaze of dread and a sound palette that manages to sit wild distortion, synths, and traditional folk comfortably next to one another. Maybe the best way to describe the album is Beirut produced by Wendy Carlos and Faust in unison.
The 18 tracks cover a lot of ground. "Propolis" is a gorgeous piano solo cut with thick bass and seething static. "Begushemu Vpered" is a string quartet collapsed against the blacksmith's forge. "Samouchitel" is a fog of electric and acoustic guitars, some reversed, over the sounds of marching feet. "Garga" is a spate of percussion that evokes Edgar Varése's "Ionization" and Jeck's work on Stoke (2002) at the same time. "Potemnelo" features, I shit you not, steel drums. "Izbushka" strangles the Books into a creepy space walk theme. Much of this material is ambient and more interested in tone that it is rhythm or structure. That the album opens with its most straightforward track, "Po Derevne," may seem off-putting, then, given that the strict acoustic strums and melodic lead, gorgeous on their own, never really see a follow-up as we dive further into this collage-driven sound. The effect, though, works pretty well. It sets up a variety of false expectations that are gratified in entirely different ways: the rhythm is parsed by "Slovami Poeta," a wash of stilted strings and resonated percussion; the emphasis on melody returns in "Kuraga" and "Jubga," seeming mirror images of each other in that the latter sounds like an inverted version of the former; and "Votpusk," like many of the tracks here, tends to tease us with the idea that we'll get a snatch of that opening, straightforward thunder every time its horns seem about to play something tangible.
The album ends at its most ferocious. "Vechnost" cuts synth waves with serialist piano and highly manipulated vocal samples while somebody on a kit spends the entire track threatening to unleash. As strings and rides enter the mix, the track gets more tense until suddenly all the energy is sucked out for a brief moment; the nauseating build returns even more forceful, accordions joining the elliptical centrifuge of folk art and high art, but the explosion never comes. We fade out, slowly, into "Arrial—Farewell Again (GA Remake)," a pulsing waft of pretty, ominous tones that provides the rhythmic resolution we've hoped for in a way that doesn't really do that at all. And throughout, stray percussion noises and quirky passing riffs hint we're being played with, that there is life beneath this sheen of dread, and that every little second here was pored over. This album is staggering in its complexity without ever jumping out at you. That's why the shadows are always more scary than the reality, right? - Mark Abraham
Abtu Anet
(2012) streaming
Gultskra Artikler is the throat-tangling moniker of one Alexey Devyanin and while we might not have heard a great deal from him recently, 'Abtu/Anet' has been excavated from the dusty Miasmah archives for a long overdue reissue. Not that it ever had a proper release; the astute followers among you might have managed to track down the very rare 'Abtu', which appeared back in 2007 on limited 3" cdr, but its companion EP 'Anet' never reached the shelves and seemed destined to permanent unavailability. Devyanin's complex, surreal world was explored to wide acclaim on the '07 album 'Kasha Iz Topora', and thematically 'Abtu/Anet' feels like a continuation of that record. Devyanin's deeply original fusion of Radiophonic-era electronics, musique concrete, early European folk music and 1920s film scores is highlighted far further here, and somehow the record sounds more relevant now than it did five years ago. In an era where nostalgia is musical currency, Devyanin's Vaseline-smudged visions are refreshingly free of kitsch and Youtube-era restlessness. He retains a deeply Eastern European, near-theatrical focus in his work that is as intricate as it is unnerving, and he manages to keep the nostalgia to a specific (and unfamiliar) area of the world. For most of us, the album feels like a lonely journey in the light of a half-moon, with crumbling, curled branches glancing off our ragged clothes. Frightening and unrepentant yet deeply compelling – 'Abtu/Anet' should remind you that stories can be told without a single word of dialogue. -
www.miasmah.com/
Gloriously troubled drone-folk and avant-ambient investigations from Gultskra Artikler aka Alexey Devyanin, a Russian artist who's built up a formidable and rightly lauded catalogue of small-run CD-R, vinyl and digital releases since first emerging around 2003. Abtu Anet is his second album for Miasmah, following 2007's superb Kasha Iz Topora; like its predecessor, the new LP adheres beautifully to the distinctive Miasmah aesthetic while sounding utterly unique and sui generis. Even though this is "quiet" music, it's teeming with detail - field recordings, queasy electronics, arcane instrumentation, otherworldly vocal textures and carefully exercised reverb - and suffused with menace. It variously recalls the outernational meanderings of Ghedalia Tazartes, Current 93 at their most torrid, the expansive guitar Arabesques of Michaels Chapman and O'Shea, the hollowed-out freak-folk of Thuja, and the gothic grandeur of Kreng - comparisons we wouldn't dare make lightly. One of the most strange and seductive records of the year so far, no doubt. -
boomkat
When covering a group who once recorded an album about a magical flying ax, one expects to find the unusual.
Abtu/Anet
is just that, a mixture of the beautiful, the ugly, the meandering and the odd.
Abtu
first appeared five years ago as a CD3″, while
Anet
has "remained in the vaults" until now. As it arrives on the heels of the unearthed
Juv
album, one wonders what else Miasmah has in the vaults, or if the label is having a bit of fun with us all. As one of the track titles is almost as long as this review, we'll stick with track numbers. The beautiful is represented by the acoustic guitar and folk melodies of A1, the country band theme of A3, the lackadaisical strumming of A6, the player piano of B2, the ice cream truck echoes of B4 and the processed choral tones of B6. The ugly is found in the munching demonic rasps of A4, the synth intrusions of B1 and the atonal juxtapositions of B3. The meandering passages are the opening amelodic chimes of A4 and the piano intro of A5, while the oddities are the funhouse creaks, catlike cries and bongo-like, Yabba-Dabba-Doo improvisations of A2, the offkey warblings of A3, the TV voiceovers of A6 and B3, the off-beat bleeps of A6, the locust noises at the end of B2, and the disembodied voices and tea kettle whistles of B5. Note that many of these are found in the same tracks. Creative listeners may find such variety endearing; others may pronounce it "weird", then return to their daily business. But that's okay; the world needs more weird music, and
Gultskra Artikler
will be more than happy to give it to them. -
Richard Allen
qwerty (2010)
Gultuskra Artikler returns with six tracks of rewired modern electronic compositions infected with some strange, strange substance for Mille Plateaux. The Russian artist made quite an impression with his releases for Lampse and Room 40 among others, and this release find him deep inside a muddle of magical sounds, unpredictable structures and unstable textures that feel liable to wilt or evaporate at any second. 'Q' is techno removed from the club and placed in the Russian mind, where it becomes incredibly mysterious, arcane and majestic. 'W' probes more abstract and dubby depths, scoping the area with radar bleeps and scuttling drones sent to scout the terrain, while 'E' sinks head first into Jeck-style layers of washed out classical samples arranged with a mouldy organic temperament. 'R' allows the most exquisite synthetic lightshow to take centrestage, before melting into the ominous silicon soup of 'T' and squirming in the scrunched signal distortion of 'Y'. -
boomkat
Alexey Devyanin aka Stud is for sure not an unknown player in the Netlabelscene along lots of releases on labels like Kikapu, Kahvi or Acediamusic. Being Stud on those labels, Alexey works on Autoplate under his moniker Gultskra Artikler. The first release "Gruppa Turistov" from March 2003 is one of the most critically acclaimed releases on Autoplate so far, with it's unique blend of Field recordings, Folk improvisations and dense winter acoustic manipulations. The new album "Gololed", which means "frozen snow" deals with the multidimensional soundprocessing and surprising Freejazz snippets, mingled with drumrolls, however intense with lots of whispering voices, heartbeats, gunshots and those typical acoustic interludes during the tracks. Unlike "Gruppa Turistov", this time Devyanin radically moves along the Avantgarde borderline, yet reminiscenes to the first EP are obvious in the pieces "Koldun" and "Logoled". -
archive.org
Alexey Devyanin aka Stud & Alexey Glazachev are russian musicians from the cold and far Siberia. And when i was shown those pieces of neofolklore, i must admit ive hardly listened to such improvised music. Perfect blends of field recordings, traditional, organic acoustic instruments, speeches and a deep sense of expression shape this release to a styledefining melange of transforming impressions into soundscapes and moving emotionality. To describe it with one word: "Perfect!". And once again Thomas Ekelund anticipated and to create a unique artwork for this release. -
archive.org/
Galaktika (2010)
"Furniture music" rarely aims to be attention-grabbing. As a result — and though I enjoy and endorse ambient, droning music — it is occasionally difficult to distinguish one song, album, or even artist from the next. Since most artists in the field tend to generate a similar atmosphere — usually contemplative, slowly undulating, pulsing synthesized electronic tones — the only way to distinguish between them is through memorable moments of drama and dynamism. Since ambient musicians also tend to draw inspiration from the same group of modern minimalist composers like Steve Reich, Philip Glass, and Terry Riley, artists like Fennesz and Tim Hecker (and Brian Eno decades before) realize that in order to generate repeated spins, their records must actually capitalize on melody and the building/releasing of tension, almost (ironically) like any other pop record. Even though the purpose of ambient music is to use tone and mood as organizing compositional tools above more traditional elements like rhythm, harmony, and melody, the latter three still determine the difference between a memorable and a forgettable ambient recording. If the music is best suited to serve as a backdrop or as atmospheric manipulation, it behooves the creator to determine exactly how detailed and evocative their backdrop or atmosphere will be.
Gultskra Artikler (née Alexey Devyanin) passes the sniff test here. A few tracks into the album, after several careful tone-poems rise and fade, the end of "Nanorobot" introduces a choir to startling effect. Although distant vocals crop up as early as the first track, the church-like harmonies of this particular choir create an arresting and beautiful moment. Later, "Asteroid" recalls the opening credits to "Battlestar Galactica" — an unlikely reference for an album called
Galaktika
, I know — which I intend as a compliment. The album starts with pulse-poem "Galaktika" and moves on with glitchy emergences in "Solnce," which give way to a segment of early-music chants and muffled sine wave chords. The aforementioned "Nanorobot" is a highlight, making room for percussive glitches and "plucked" string-like synths in "Saturn" that resemble Goblin's scores for Dario Argento films. At the bottom of the tracklist, "Nito" employs synths that recall toy pianos or music boxes and plays like a Cylon lullaby, and "Angel" brings the album to a close with another underwater-cathedral-choir chant that is quite beautiful in its muted, archaic majesty. The first obstacle is out of the way:
Galaktika
distinguishes itself in a enough places to warrant repeated go-rounds.
The remaining question is whether or not Gultskra Artikler has established a unique voice. The frequent nods to Gregorian chant and the electro-acoustic manipulations (which I assume is what the accompanying press release describes as "folktronica") do give Devyanin a little more variety in his work than other ambient artists, but the song remains the same; like most in the genre, this sounds more like an apt accompaniment for some sort of audio-visual experience than a concerted, headphone-clutching listening session. Pull out this disc when you are looking for that perfect, elusive "science-fiction video game taking place on deserted moon colony" soundtrack. Enjoyment of this album will depend entirely on how often each listener feels that particular itch needs scratching. After all, toasters need music to set the mood, too. -
Brian Richardson
Pofigistka
(2007)
The latest emission from the Lampse imprint, 'Pofigistka' is the product of Alexey Devyanin (Stud) and Dmitry Garin (engineer_ garin) who (positioned at opposing ends of the Russian tundra) have joined forces to create the two-headed beast that is Gultskra Atrikler. Raking influnces through a bed of hot coals, 'Pofigistka' is cinematic in scope whilst retaining a level of immediacy that renders it tooth-achingly personal; alternating between broad sweeps of sound one moment and finey wrought aural dissertations the next. Opening through the glitch-fed guitars of 'Fizik Dydya Kolya', Garin & Devyanin blend a shimmering pallate of chiming frets and waterfull percussion, resulting in a sound that, whilst overtly diffused, can nontheless unite a spectrum of sounds into a compelling whole which is both fantastically catchy and totally bewitching. Elsewhere the likes of 'Siluet Kollet' and 'Otpusk Navesgda' manaage to sound both contempoary and nostalgic at the same time - culling any tendencies to offer up avant-justified bollocks in favour of the kind of music which gives sonic innovation a (very) good name. Backed up by some remixery from the likes of Xela, Svarte Greiner (Erik K. Skodvin of Deaf Center no less!) and Marcus Fjellstrom, 'Pofigistka' is like a shot of vodka for the soul. No crass national stereotypes round here then... -
boomkat
Abtu (2007)
Kicking off Miasmah's series of hand-finished limited edition 3" CD's, this EP from Siberian sound wizard Alexey Devyanin is packed with eerie electronics and hazily processed recordings. There's a real haunted forest atmosphere on some of these pieces, with woody percussion, faded piano melodies and ungodly voices emanating from the mix. To enhance the already sinister mood that hangs over this music, you get a bit of reading material to further creep you out. The text is printed in both Russian and English, documenting an old folk story about a bearded man-fish caught by sixteenth century English fisherman which haunted the dreams of the village's women, eventually impregnating them with its scaly seed. Charming. If ever there was a sonic equivalent of that tall tale, this would surely be it. Very odd, very unsettling, but ultimately haunting, beguiling material from the reliably skewed musical palette of Gultskra Artikler. -
boomkat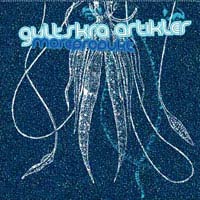 moreprodukt
Gultskra Artikler is Alexey Devyanin from Novosibirsk \ Russia. He was released on labels such as Autoplate, Kikapu, Kahvi, AcediaMusic and on his PleaseDoSomething as Stud and as Gultskra Artikler. When it comes to describing the music of GA people usually tend to use such phrases, as ethnic electro- avant-guard, folklore improvisation, radical Siberian avant-guard, Siberian cutup neofolk. Now you see, GA is very unusual music. As regards the "moreprodukt" (Sea-product) album – field recordings and voices here organic get along with acoustics and glitch-electronics. Enjoy this queer sound environment!
"A message of GA to a potential listeners : All compositions have been carefully prepared by Alexey Devyanin. Some samples were specially recorded by our "not-established-in-band" sound-extractor Alexey Lukin with help of Engineer_Garin. He summed the album up in the last unplanned track beforehand that was created on Engineer_Garin's base not long before the release.
on archive.org
Cover design by
Zavoloka
Nexsound.org
gultskra artikler / arkhonia+keswick lemon,
Ono Russia (2007)
The latest in the Ono line of mix CDs maintains the series' sense of mystery, neither giving away a tracklist nor for that matter any other information beyond the identities of the culprits responsible for putting the disc together. In this instance, Lampse recording artist Gultskra Artikler submits a mix, while Ono bossman Kes hooks up with Arkh (previously a collaborator with James Zeiter on the jz_arkh project). You can't help but acknowledge the impeccable timing of this Russian-themed double-disc set. Just as the so-called New Cold War is starting to kick off these guys go and drop some deep, dark selections for your delectation. Mikael Tariverdiev's beautiful piano piece 'Malchiki I More' kicks off Gultskra Artikler's disc, setting a mood of isolation for the not very Russian at all Marissa Nadler, whose 'Dying Breed' shows up here in all it's gothic glory. Further in and The Franciscan Hobbies drop by with some freaky psych-folk tactics in the shape of 'Satan Crystals', before the disc rounds off with an electroacoustic passage courtesy of Ragner Grippe and a final, haunting ballad piece, Victor Tsoi's 'Derevo'. The second part opens with some high frequency sines from Machinefabriek, only to dip into all manner of obscurities, ranging from the lowercase experiments of Lawrence English to recordings from the BBC sound effects archive. You might also recognise Svarte Greiner's excellent 'Raggsokk' in there alongside John Cage's 'Prelude For Meditation' with Throbbing Gristle's 'Beachy Head' (from '20 Jazz Funk Greats') closing the mix. Another excellent selection of tracks from the house of Ono, all housed in dandy Russian-themed handmade sleeves. - boomkat
Russian duo Gultskra Artikler (Alexey Devyanin and Dmitry Garin) debuted with
Lusha
(2005). The EP
Pofigistka
(Lampse, 2006) contained four Devyanin compositions and four remixes by other musicians. The fragile constructs are roamed by ghostly found sounds, emanate the intimate and pastoral feeling of folk music and hint at other dimensions (whether psychedelic or not).
Devyanin crafted dark and expressionist atmospheric electronica with samples on
Kasha Iz Topora
(Miasmah, 2007). A detuned guitar intones the Slavic litany
Po Derevne
over the mousesteps of the digital percussions and an eerie choir. A string instrument that sounds like both a violin and a didjeridu struggles to utter a melody in
Begushemu Vpered
and succumbs to a chaos of metallic percussion. The intersection of chamber music and musique concrete is also at the core of the witty
Slovami Poeta
. The yearning
Krovinka Moya
, instead, loops a melodic fragment to establish an atmosphere similar to Pachelbel's
Canon
and then disintegrates it with a loud drone and a collage of radio voices.
Potemnelo
even seems to deconstruct a folk fanfare within the odd pile of incoherent sounds. Repeated guitar tones create an idyllic and even pastoral atmosphere in
Votpusk
. Viceversa the scant distorted guitar sounds in
Vechnost
, coupled with a grotesque crowd of sonic events, create a gothic atmosphere.
Any narrative pretense is abandoned for the lush abstract digital soundpainting
Kartoshka
and the dreamy alchemy of
Kuraga
. These free-form pieces are just decontextualized ungrounded physical experiences. Further down the line are sparse dissonant essays such as
Rak Pushka
and
Medicinski Rabotnik
that are basically the laptop equivalent of free jazz.
Pofigistka
(Lampse, 2006) is basically an EP with some remixed.
The EP
Qwerty
(Mille Plateaux, 2010) offered six hyperkinetic vignettes of futuristic digital soundscaping, notably the industrial glitch mayhems of
q
, the galactic soundtrack
w
, the ebullient industrial cacophony of
e
, and the haunting cinematic fantasy
t
. The physical intensity and the metaphorical otherness of this digital suite constituted a new form of progressive rock despite the absence of rock instruments.
Far less ambitious,
Galaktika
(Other Electricities, 2010) was an astronomy concept that veered towards much more stable and linear structures. After the wavering overture of
Galaktika
, that plays the role of a cosmic tuning "om", the jarring glissandoes of
Solnce
coalesce in a choir-like drone, metaphorically bridging the supernatural and the human. So does the rumble and the drilling noises of
Nanorobot
, whose ending is even more explicitly a monk-like choir. The choir becomes part of the texture in the poignant
Sputnik
, the best update of
Klaus Schulze
's cosmic music to the digital age and the album's highlight. The choir is the main presence in
Asteroid
, and it soars along string-like drones that seem to represent orbits. No wonder than that
Angel
closes the album with a colossal mass-like harmony of voices. Too many of these pieces, however, sound trivial. And the continued reference to Gregorian chants was neither original in 2010 nor particularly creative. -
www.scaruffi.com/