Kozmički konceptualni album o svetom Neilu Diamondu koji upada u crnu rupu i neoizbježnoj sudbini koja ga tamo čeka: Narnia postoji. Smrznut u ekstazi ne osjeća nikakvu bol.
Postg

alaktički religijsko-humoristički kozmo-realizam.
streaming
www.adderallcanyonly.com/
adderallcanyonly.tumblr.com/
soundcloud
The last we heard from the mysterious Adderall Canyonly, he was mixed up in some heady pop. And though
It was a Dark and Stoney Night
was an apropos title for the menagerie of sound at play, the lack of attention span throughout the cassette lent itself more to Adderall's namesake rather than the hazy incantations of dark and stoney. That title may have fared slightly better with Adderall's newest collection. The latest cassette is a trip into the wormhole, down the rabbit hole, and outside the glory hole. Mixing branches of warped psychedelia, spacey drone, and rash electronic,
The Ascension of Saint Diamond and the Battle of Oxtest
is the realization that all your fantasies can coexist and can come true. This is finding out Narnia exists — Aslan now some amalgamation of Max Headroom dial-up technology, glitching out at the right intervals to turn lag into cool. It's the same
Blade Runner
awe that injects
The Ascension
, as Adderall has thrown all fantasy into a blender and come out with a viscous concoction only the most thirsty of blazers could scarf down. Gone are the pop tendencies, replaced with the multi-dimensional sound of living in fantasy world. Space and time colliding and pulling apart at once — this is the genius of Adderall Canyonly. He is everywhere and nowhere; he is stoner and teetotaler; he is pop and noise. It's all funneled through the same wardrobe, and we are all kings and queens of Fillory. -
J Spicer
The term "mind-blowing" has lost a little of its potency. It always seemed like an incomplete thought to begin with (blowing up? blowing out? blowing smoke?), but at the height of the phrase's powers, getting one's mind blown meant to expand or rearrange one's thinking entirely: LSD could do the trick, or going to India...then dropping acid.
I have friends who now regularly ascribe the same terminology to ice cream flavors, though it's in the music world where the term is thrown around without reservation: A quick survey of my email inbox finds that publicists have used "mind-blowing" to describe music by Sleepy Sun, Gossip, the Allman Brothers, George Michael, the U.S. Air Guitar Championships (that last one got both "mind-blowing" and "facemelting") and many more.
My point here is that I won't describe Adderall Canyonly's
The Ascension of St. Diamond and the Battles of Oxtest
as mind-blowing, but in the dark with the lights out, this latest stoney collection from the skilled and prolific Portland mystery producer might nudge the listener toward an out-of-body experience. Described as a "concept album about Neil Diamond entering a black hole and the inevitable fate that befalls him," these uncharacteristically subdued cuts trade in retro-futurism and '70s sci-fi soundtrack ambience. While that conceit occasionally feels restrictive—see the semi-annoying animalistic squeals of "Over Infinite Dark and Pricks of Light"—it is more often spacious and wondrous (the pulsing "Eclipses a Horizon" and the gorgeous closer, "Alone at Last, Forever," which I wish was 20 or 30 minutes long).
Of course, if bacon on a doughnut blows your mind, I've got the cassette for you. -
CASEY JARMAN
Hey, honestly I'm fed up to my back teeth with................
since we're caged in small stifling rooms running down the greasy slope like cut off a-clenched fists, stumbling across ancient bones, gaining and kicking habits, blowing up rocks and mountains, never stopping unless one had shown how and was trusted –
with straight faces and cagy eyes
we are trying to foresee a benign radiance,
taking and dropping things, taking and loosing chances.
The fields of our research never contain anything of what we are
currently looking for. It seems no one had ever gained a thing…
and everyone is now behooved to be a donor for a derogatory chorus of the last song of the planet…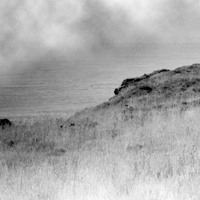 Influenza 10 (2013) streaming
In the spring of 2010 Adderall Canyonly loaded his Tascam 388 and a pile of electronics into the basement of a friend's house, of which he was to be taking care of for a week. He promptly got as sick as he had been in a decade. Somewhere along the way, in the dark parts, he turned the tape machine on and recorded what you hear now. He found of a couple tracks later but in a recent move found a whole missing reel. Except for a couple added instruments, here are those tracks unedited and in mostly the same sequence.
Btonal (2012) streaming
Transmissions Of The Faint Hearted (2012) streaming
Asuuna is another voyage from exile; shimmering highs and foxlight guide the celestial tides towards a calm pitched with fractures, as if seen through a dirty lens - the force is beckoning and irresistible and we walk and walk and walk towards the inevitable dawn - though the day lengthens without any appreciable movement we are bold in our quickening steps which ring like dropped glass, shattering like rain...

It Was A Dark And Stoney Night (2011) streaming
"It Was A Dark And Stoney Night is taken from two years of musical meanderings of analog synth jams and 80's action movie filled nightmares. We don't know what to think of it but we absolutely love it. It's like a family reunion of the survivors of a colossal record fire or a incomplete recollection of some distant experience over a couple too many beers. Whatever it is, we want more."

Fists Of Dayton! (2010) streamnig
Fists of Dayton! is the soundtrack from a 1983 action movie that never got made (think Bronson in a remake of THEY LIVE) and is now dusted off and spit-shined, ready for consumption. Recorded with vintage synths and old broken drum machines via reel to reel, this music is a throwback to a much different and sadly brief cinematic world.

In Deck and Depth, A Whim, A Weft (2013) streaming

Wayne Longer (Adderall Canyonly) and Min Roach (4X27) team up again for some karmic suede; headphone manufacturers see a sudden spike in demand. Rare earth materials are mined at an ever unsustainable pace as China runs short on tweeters. Cities like Omaha, Des Moines and St.Louis settle ever so much into the leather bottoms of their riverbeds as the oscillations and tessellations weave together for a deeper footprint, down, down as we sink, slowly, oh so slowly in the luxurious, smoldering heat and lit from below, we push off and over.
As far as I can tell, the Beest library is not on vinyl, and that is really a shame. Running it through iTunes works well if you have seamless play, but to have vinyl quality with these songs would make me ecstatic and even trump the cassette resurgence. But with this grouping of ambient excellence I will take what I can get.
What I'm trying to say is that
In Deck and Depth, A Whiim, A Weft
is an experience. Bleeding one song into another, song titles are only good for placement. And who wants to skip around on this album. One song serves the purpose to satisfy another, so I cannot imagine not getting the entire album through Bandcamp.
The Adderall Canonly /4×27 pairing….okay, let me back up….Adderall Canonly, known in real life as Wayne Longer, works to help fuel the Beest label where you can find Canonly's curricula vitae, along with Yves Malone. A collected that integrates a fantastic sense of ambient structure, the two artists make for an intriguing combination of design and sound.
For The Dept. of Harmonic Integrity, Canonly teamed up with Min Roach (4×27) for some galactic movements. Sure they could have gravitated toward the Tangerine Dream sense of '70s nomenclature – "Rubycon Part I" and "Rubycon Part II." Being an Internet release, they could have mashed all of these songs into one composition and create an elongated download, but who in their right mind would consciously want to purchase one song? To prove some kind of alternative theory within this review, I can conclude that even though I have no reason to pay attention to the songs individually, subconsciously it's nice to know they are there.
For example, I can tell you that the end of "Ouddan" takes a thematic shift from the cosmic to urban chaos, blending background sirens with the inflicting hum that sounds like a television network being taken off signal. And then it ends with the same horrific effect as The Cure's "Subway Song." To this day I clince everytime I have to hear that where the bass dissipates down into an hypnotic state and then the mood is shattered by screams. Throw on some headphones and you will find yourself jumping out of your skin no matter where you may be. Some goes for the last 15 seconds of "Ouddan." That frequency becomes etched into your mind until the shattering sound of an electronic fist to the face that rattles your brain around.
That is the only discontent you will find on this ambient gem. The music is a soaring testament to the universe of depth and atmosphere. "Pulse" follows the path of traditional electronic lineage as the song grows and becomes more expressive until it reaches that wall of sound and you cannot help but take notice.
"Upon the Starry Skies" is everything that surrounds you. It makes you aware. Our views of Western civilization come crashing down on you and when you look at the scope through eyes of the Dept. their control on you is just a sensory squall that we are this tiny blip in the footprint of the cosmos. The song is like beautiful glitter scattered amongst Dorian Gray ending in phantasmic analog pipes.
The group's knack for using sound levels as a directive is fantastic. It may be over compensated for the headphone orchestra, especially with the outside world exploding around you, or it could serve as a lovely meditative collage, accentuating and guiding everything that we do. -
Andrew Duncan
Spawned from a barroom conversation light on recall but heavy on purpose,
The Cutting Room
is a collection of incidental music from scenes that never made the cut, more specifically, "underscores" – soft, unobtrusive background music that accompanies the action in a performance. This collection of underscores (not all soft) from the mind of Adderall Canyonly and Oxykitten are imagined for a Michael Caine 1971 absurdist sci-fi romance flick that was never made.
Or so they tell us.
The Cutting Room has everything I'd ever want from an album. Silly references to drugs: check. An absolute love, verging on obsession with its extremely analogue equipment: check. Finally it simply sounds so good. Adderall Canyonly & Oxykitten sound nearly childlike in their simple melodies. Yet this is complicated music.
On first listen it reminds me of a faithful homage to the fathers of electronic pop, Jean-Jacques Perrey, etc. That's the first impression. 'Dog-Fisting My Unicorn', 'Cruising for a Losing' and 'Painter of Houses' certainly give off this quality. The aforementioned pieces are short without enough room to truly roam, these serve as interludes for the main pieces.
Longer pieces are where they hit their stride. Some of the longer pieces show affection for the sound. A few of them remind me of Stereolab's geeky worship of old sounds. 'Cadaver Lab' is brilliant. It uses the limitations of its equipment to its advantage. The technology becomes a way of expressing its slight resignation. In other words, it's a wonderful, if a bit sad, piece. Plone (that short-lived Warp Records entity) makes its influence felt in the song 'Watch Your Mouth - Put Your Lips On It'. If this isn't Plone-inspired I'm somewhat amazed. The leisurely feel of it screams a perfectly lazy Sunday morning.
I like the mix of long and short forms on this album. The love of the old sounds is obvious on each track. Underneath the childlike naiveté there's something adult going on in 'The Cutting Room'. Consider this the aural equivalent of 'Where the Wild Things Are'. While it appears to be sweet and young, this is old, thoughtful music. -
beachsloth.blogspot.com/
EMT005: Kösmonaut​/​Adderall Canyonly Split (2012) streaming
Split between Kösmonaut and Adderall Canyonly. First three tracks on A-side are brand-new tracks from Kösmonaut, and the B-side is a behemoth organism propagated by Adderall Canyonly.

B-Side:
Adderall Canyonly - Btonal (29:55)
b1: Tender Kisses
b2: Tampa Red Had My Back
b3: Neither Regions
b4: The Knife Edge of Happiness
b5: Peasant Robot
b6: Walk Through the Gates of Meat
b7: Maximum City
b8: Any Landing Is A Good Landing
b9: Fingers of Orange
b10: Citizen Orgy
b11: Pounds of Flesh and Shallow Breath
America, you unpredictable saucy bitch! Sure we all know the coasts are killing it with their spaced out synth mind meltdowns, but central Texas?? I'm pleased as punch to be a madman from Austin, but now after hearing Kösmonaut (from San Angelo freak the brain electric, Tejas...hell, his is mushroom music w/plenty of kraut on the side for taste) I'm thrilled! Kösmonaut is a fan of the post-Berlin School, pre-rave sound of synth psyche club mix OUT THERE tones. K is
Patrick R. Pärk and he describes his music thusly, "...propulsive retro-ish psych-prog electronics. A lone explorer of myriad psychic vistas, Kösmonaut channels experiential knowledge of Time's secrets into trance inducing kosmische-electronic excursions."
This split with Adderall Canyonly (put out by Kös' own label) is magnificent. Pro-look, pro-sound - 'nuff said. Both sides are wonderful excursions for those so inclined to lift off. I got my hands on this tape courtesy of Field Hymns 'cause they're distributing the title and it was part of a huge box of review tapes which I'll write about soonish. Of the 100 dubbed only 6 remain at EMT's Bandcamp (as of the last time I checked, that is) so don't wait on this Saga Genesis cosmic technicolor dream coat.- cassettegods.blogspot.com/