Zanemarujući gotovo cijelu povijest umjetnosti od renesanse naovamo, Coleman se vraća Hieronymusu Boschu i srednjovjekovnom imaginariju i simbolizmu, alegoriji, biblijskoj naraciji i ikoničkom crtežu, bivajući pri tom čudovišnom figurom iz noćnih mora suvremenog, apstrahiranog umjetničkog i svakodnevnog života.

U

mobolni, ubojice, porno-kraljice, cirkuski fr

i

kovi,

filmske zvijezde,

prijatelji i članovi

obitelji stripovski su sveci njegova pakla.
www.joecoleman.com
video
Joe Coleman: Joe je u detaljima
Egzorcizam, alkemija, misticizam, sve je to prisutno u mojim djelima, ali u praktičnom, instinktivnom smislu bitno osobne potrebe. Mnoga od spomenutih obilježja uočljiva su pri prvom susretu s mojim slikama. Moji portreti mogu se shvatiti kao svojevrsno seciranje duše. Slike su grobnice u kojima leže sve stvari koje određuju život. U središtu su krhke kosti, meso i odjeća. Uokrug središta razasuti su predmeti bitni za pojedinu životnu priču. Domovi u kojima se taj život zbivao i kroz koje se izražavao. Važni prijatelji i obitelj. Presudni događaji. Snovi. Sve misli i riječi kroz koje se taj život očitovao i one koje su uporabljene da bi ga se opisalo. Sve je to, s jednakom važnošću, predstavljeno na površini slike.
Gledana iz daljine, slika je izravno suprotstavljena gledatelju; prepuna je informacija. Kako se gledatelj približava slici, broj informacija raste. Upotrijebi li povećalo ili posebne leće koje sam rabio pri izreadi slika, gledatelj će otkriti mikroskopske slike koje nisu tek dio teksture, nego sićušni, jednostavni prizori koji proširuju priču.
Neke pojedinosti skrivene su pod vanjskim slojem slike. Tako sam, primjerice, sate i sate proveo istražujući i slikajući džepni sat jedne povijesne ličnosti, da bih potom preko sata naslikao džep.
Proces se zbiva bez prethodnog skiciranja. Svaki put oslikam pedalj platna, bez određenog redosljeda, i puštam slici da mi se polako otkriva. Pomno istražujem određenu temu, a filtriranjem informacija u meni i njihovim prenošenjem na platno stvara se gusto prepleten pripovjedni uzorak. To je jedini poredak u koji vjerujem. Važne su mi samo pojedinosti, dok kompoziciju ne smatram osobito bitnom. Ona će se ionako otkriti sama.
U mikroskopski svijet uranjam povećalom kakvo rabe draguljari i kistom s jednom dlačicom. Gradim scenografiju, šivam kostime i glumim sve uloge. Postajem osoba koju slikam; možda bi se u smislu glumačke metode moglo reći da 'preuzimam ulogu Boga', o čemu pišu brojne knjige koje se bave okultnim. Naime, jedino tako uspijevam prizvati nečiju dušu.
Oslikana površina je fino pjeskareno drvo, zalijepljeno na još jedan komad drva u kojem se nalazi tkanina vezana uz osobu na slici ili neki predmet koji osobno vezujem za tu osobu. Između oslikanog okvira i oslikanog drva uvijek ostavljam nekoliko centimetara prostora, pa se čini da slika pluta u okviru.
Na slici Mama/Tata prikaz pluta na stvarnoj odjeći mojih roditelja. Majčinoj haljini od crnog satena i očevoj košulji, koju je kao američki marinac nosio u bitki kod Iwo Jime. Dvije tkanine spajaju se točno na mjestu na kojem sam ujedinio njihova raspolovljena tijela. Na slici Njujorški gusar prikaz pluta na košulji koju je Elmo Patrick Sonnier nosio u trenutku smaknuća. Ljubavna pjesma, pjesma u slici koju sam posvetio svojoj supruzi Whitney Ward, pluta na plahti na kojoj smo se ševili, dok četiri kuta okvira sadrže pomiješane dijelove tijela: cistu s mojeg vrata ispunjenu Whitneynom krvlju, Withneyne nokte pomiješane s mojom kosom, itd....
To fetišističko tretiranje objekata djelomice je posljedica mojega katoličkog odgoja, ali je riječ o aspektu katolicizma koji je duboko ukorijenjen u poganskim ritualima. Predmeti imaju magične moći. To uvjerenje toliko me duboko prožima da sam vlastiti dom pretvorio u svetište straha, žudnje i misterija. Posjedovati magičan predmet znači posjedovati predmet moći. Uporaba magičnih predmeta presudna je za moje slike. Kod slike Njujorški gusar, Sonnierova košulja izvlači na površinu moć čudovišta i na određen je način utjelovljuje. U Ljubavnoj pjesmi predmeti štite i obesmrćuju strast što je dijelimo. Na slici Mama/Tata oni su tjelesni podsjetnici na moje stvaranje i prošlost.
Magične sastavnice mojih performansa imaju korelate, ali ih valja tražiti u kraljevstvu svećenika ili šamana. Kao tinejdžer na tijelo bih si pričvrstio eksplozivnu napravu kućne izrade, koju sam sklopio u jednoj od majčinih posuda za kolače. Napravu sam nosio na prsima, a skrivao sam ju pod očevim košuljama koje su mi u to vrijeme bile prevelike. Oboružan napravom, upadao bih u domove nepoznatih ljudi i pretvarao se u buktinju; dim i zbunjenost koristio sam za bijeg. Poslije sam taj izvorni čin terora u predgrađu pretvorio u performans. Kao profesor Momboozoo (ime je nastalo stapanjem roditeljskih sila) u alternativnom njujorškom performansu 'Kuhinja', održavao sam apokaliptički obred, samo-zapaljivao se, odgrizao glave živim štakorima, da bih na kraju sve posjetitelje istjerao iz kazališta lovačkom puškom. Vatra i eksplozije su elementarne sile; odgrizanje glave živoj životinji obred je prelaska. Tim sam postupcima dosezao više razine bivanja. Riječ je o putu od transgresije u transcendenciju i, konačno, pred-civiliziranu egzistenciju, putu koji je u meni izazvao snažnu duševnu dramu, otpustio duboko ukorijenjene sukobe iz djetinjstva i stvorio postupnu katarzu nakon koje je performans profesora Momboozooa završen.
Na mojim slikama postoje brojne razine na kojima se povezuju drevno i moderno, pogansko i kršćansko. One uz to stvaraju kulturalni odjek koji mi se vraća u čudesnim šifriranim simbolima kao kada je voditelj kviza i borac za prava životinja Bob Barker zatražio da me se privede jer sam tijekom performansa odgrizao glavu mišu. Optuživši me u tisku, taj lajavac učinio mi je golemu uslugu. Ili kada me bostonska policija uhitila nakon performansa u bostonskoj udruzi filmskih i videoumjetnika, tijekom kojeg sam eksplodirao obješen nad publikom. Na uhidbenom nalogu pisalo je 'Joe Coleman poznat i kao dr. Momboozoo', a sudac me optužio zbog 'posjedovanja paklene naprave'. Ta optužba, prema riječima mojeg odvjetnika, nije izrečena od početka devetnaestog stoljeća.
Bez obzira na to što radim, zanimaju me samo pojedinosti; cijela slika otkrit će mi se kad to poželi, ili neće.
S engleskog preveo Višeslav Kirinić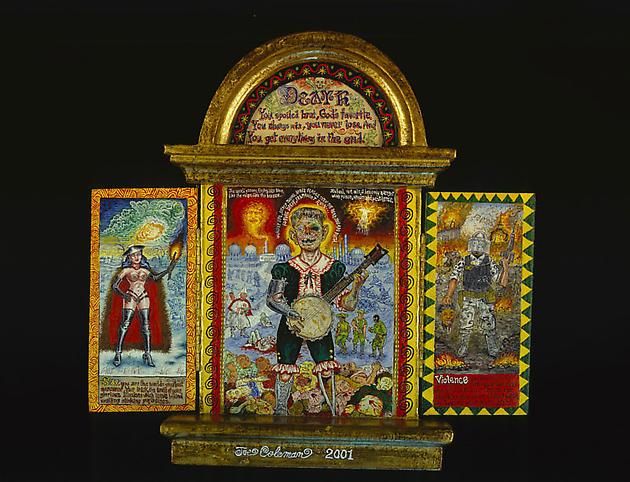 Durch die Nacht mit

A

sia Argento und Joe Coleman
Nemacki TV show u kome se dve poznate licnosti sastaju u nekoj svetskoj metropoli i onda posecuju razna zanimljiva mesta i pricaju kojesta. U ovoj epizodi Asia Argento, glumica i naravno cerka kultnog talijanskog rezisera, dolazi u posetu slikaru Dzou Colemanu. E sad zasto je to bitno, pa zato sto je Joe Coleman jedna veoma izuzetna faca, prvi put sam se susreo sa njegovim radom na omotu mog naj-naj-omiljenijeg dokumentarca "Charles Manson Superstar", a kasnije, 2007. i u mozda najboljem dokumentarcu ikada napravljenom o nekom serijskom ubici "Albert Fish - In sin he found salvation", gde pored njegovih neobicnih slika koje su upecatljive i lako prepoznatljive po stilu, mozete da vidite i njega licno u svom malom kucnom muzeju tj. ODDITORIUM-u, u kome izmedju ostalih zanimljivih eksponata poseduje i pismo Alberta Fisha koje je ovaj poslao majci devojcice koju je ubio i pojeo, gde do detalja opisuje taj chin. I naravno kao kolekcionar Joe Coleman je logicno i ekspert jer se na svojim slikama, tj. portretima bavi chitavim zivotima serijskih ubica i ostalih faca tog kalibra na vrlo specifican nacin, pa igra i bitnu ulogu u dokumentarcu - ko je gledo zna kakva je to faca. E, a ovde Asia dolazi kod njega direktno kuci i onda imamo prilike da pogledamo dosta slika i eksponata iz ODDITORIUMA, znaci sliko je portrete svima redom, i Hudinija, i raznih drugih neobicnih faca a naravno serijske ubice su mu omiljeni likovi, pa tako moz da vidite i po meni nabitniju licnost americke istorije i pop kulture uopste, naravno Ed Geina, zatim portret Henrija Li Lukasa po cijem liku i delu je snimljen kultni igrani film "Henry - Portrait of a serial killer", onda metak kojim je ubijen Le Osvald, nozeve nekih ubica i kanibala, i razne druge bizarne predmete, znaci to ne moze a da ne bude zanimljivo. Posle prolaska kroz taj njegov privatni muzej Coleman izvodi Asiu u vecernji izlazak na razna mesta po Nju Jorku, i usput caskaju o horor filmovima njenog caleta, o raznim privatnim stvarima, srecu se sa jednim madjionicharem, posecuju Freak Show, i tako dalje, ali ono sto je najbitnije i zasto sam izabrao bas ovu epizodu, je upravo Joe Coleman i njegova razmisljanja o strahu, smrti i zato ovaj kratki dokumentarac zaista od srca preporucujem svima, jer Coleman je jedna od retkih zivih licnosti koje ja cenim, jer moji "heroji" su obicno sve mrtvi ljudi, il' na dozivotnim robijama, a evo coveka, sto se kaze zivi-hodajuci svetac, koji nam prikazuje Nju Jork kakav slabo poznajemo i ima jedna poenta na kraju koju mora da se vidi. Znaci izuzetno, naravno sve je na engleskom, ima nemacki titl ispod i mora, mora, ali mora da se pogleda, jer nigde drugde ovakve stvari necete moci da vidite, to vam garantujem. Kome ovo bude zanimljivo postavio sam i link ka oficijelnom sajtu Dzoa Kolemana, i jos par tih portreta kojih nema u dokumentarcu, pa da se to sve detaljno overi, kako i prilici. (51 min)
abraxas365dokumentarci.blogspot.com/
Patricia Rosoff: Joe Coleman
Mudrost Joea Colemana, kako bi on želio da vjerujete, mudrost je umobolnih i svetaca, luđaka, serijskih ubojica, porno-kraljica i cirkuskih freakova.
On je umjetnik u službi ogoljavanja naše fascinacije takvim prljavim i odvratnim arhetipovima. Njegovo je načelo stajati izvan pristojnog društva, nadmoćno načelo koje još više uznemiruje zbog toga što on nije niti lud niti opsjednut, niti izoliran, niti nedodirljiv, nego samo – i to s predumišljajem
– heretičan poput pakla.
Coleman je bio dijete nasilja i frustracije, s maštom sklonom ceremonijalnosti... Njegova majka – opsesivna katolikinja – bila je izopćena zbog razvoda od svojeg prvog muža kako bi se udala za njegova oca, nasilnu alkohoričarsku »niškorist». Igralište njegova ranog djetinjstva bilo je groblje s druge strane ulice; njegova mašta bila je oblikovana Biblijom i čudnim svijetom Hieronymusa Boscha.
Malen i stidljiv, zahvaljujući svojoj majci uvjeren kako je poseban, zlostavljan u školi, Coleman je prvo, i to doslovno, digao oružje na svoj bijes kada mu je bilo petnaest postavivši seriju petardi po svojim prsima, upavši na zabavu u susjedstvu i dig(nu/a)vši se u zrak. Odtada pa nadalje, skandal je postao njegova karta za uspjeh.
Coleman je mitologizirao svoj život u neku vrstu epskog putovanja – u anti-hodočasničku pripovijest. Prîča je uravnoteženo, s mnogo humora, s užitkom ističući znakove i kobne predznake, optužbe i obrane.
Osnovnu školu započeo je u razredu za emocionalno poremećenu, retardinu i djecu s posebnim potrebama. Kada mu je bilo deset godina, od Lady Bird Johnson dobio je likovnu nagradu (koja je bila dio njezine kampanje Make America Beautiful), za svoj crtež smeća. U dvanaestoj, podmentuo je požar u školskom igralištu. U petnaestoj, počinio je prvu od svojih «eksplozija po zabavama». Do svoje dvadesete, osnovao je bend pod imenom The Steel Tips, koji je prvi put nastupio 1975., a 1976. se upisao
u Školu za vizualne umjetnosti. U svojim nastojanjima naišao je na sveopću osudu: «Ti to ne možeš», rečeno mu je. Ipak je to učinio, i bio izbačen nakon dvije i pol godine.
Colemanov život kaounderground-osobe ozbiljno započinje u to vrijeme. Počeo je objavljivati svoje stilizirane stripove-crteže sredinom 70-tih (prvi je bio Bizarni seks), a sa svojim prvim svjetskim umjetničkim performansima započeo je ranih 80-tih. Nakon njegova prvog službenog odraslog performansa (poznatog kao Doug Sprag – podvala) u kojemu je Coleman utjelovio pokojnog kolegu na godišnjici mature na kraju se digavši u zrak dinamitom, ubrzo je slijedio njegov prvi umjetnički svjetski performans u The Kitchenu u New Yorku 1981. U to vrijeme, počinje razvijati svoj zreli slikarski stil, mada rijetko izlaže. Do kasnih 80-tih, njegovi problemi s policijom u Los Angelesu i Bostonu rezultirali su s nekoliko uhićenja i sudskom tužbom zbog odsijecanja glava miševima u šokumentarnom filmu Mondo New York.
Coleman nikada nije bio predstavljen u galerijima, niti je tome težio. Umjesto toga, Coleman je izlagao po raznoraznim okupljalištima koja su često uključivala takozvane «umjetnike-autsajdere», premda niti njegov pristup radu niti njegovo obrazovanje nije prikladno proglasiti naivnim.
«Umjetnost autsajdera je vrijedna zbog toga što govori 'Ja istinski vjerujem'», kaže Coleman. «Ako me želite okarakterizirati kao autsajdera, to je O.K. Izbacili su me [iz umjetničke škole]). Ali ja nisam nepismen; to je zbog toga što ne mislim 'ispravno'. Veliki dio moderne umjetnosti zasnovan je na ironiji, koja prezire logiku. Autsajder posjeduje logiku koju razumijem i cijenim.
«(Likovni) kritičari misle da sam lud, no kako možete znati da sam lud?», nastavlja. «[Promatrači] možda ne shvaćaju što radim, ali su upleteni. Jedino je bitno što to znači tebi. Svatko je likovni kritičar. Ja ne kažem da je moja umjetnost za svakoga, ali znam što mene pokreće.»
«Ako pogledate moje slike,» objašnjava, «sve one govore isto: stvari koje odbacujem su stvari koje su dio takozvane civilizacije – ono što su izmislili ljudi pokušavajući stvoriti plemena – koje zapravo kažu da ako želiš živjeti pod ovom zastavom – moraš postupati po tim i tim pravilima. Charles Manson mi se sviđa zbog toga što je imao kodeks: odnos prema obitelji. Kriminalce volim zato što žive po kodeksu časti. Među kriminalcima postoji kodeks časti – koji nema nikakve veze s onim što vam društvo prikazuje kao dobro ili loše.»
Coleman uživo zaista nije tako zastrašujući tip. Omalen, lucidan, blag, ciničan, čini se da ga njegova publika zabavlja isto kao što ga zabavlja i prikazivati sebe kao mitologijskog
vodiča.
Ovih dana živi i radi u malenom studiju u Brooklyn Heightsu. Njegov skromni stan i skučeni radni prostor raspršeni su prema (vanjskim) rubovima. Središnji dio tog prostora predstavlja njegov privatni muzej koji on, cereći se, naziva "Odditorium". Ova zbirka neobičnih stvari, vjerskih relikvija, medicinskih sprava, neobičnih medicinskih uzoraka i voštanih muzejskih figura tvori arhivu koju je skupljao od djetinjstva.
"Odditorium" je mračan prostor, poput svetišta, sumoran, s baršunastim zavjesama i perzijskim sagovima i natrpan svim vrstama jezivih predmeta. To je njegov privatni muzej bizarnosti, sastavljen od dokaza o najtamnijem, najizopačenijem dnu ljudske mašte. U njemu, nalazimo se u nekoj vrsti arhaičnog bestijarija sačinjenog od nakaza prirode (dvoglavih telića, medicinskih crteža čovjeka-slona, deformiranog fetusa sačuvanog u formaldehidu); društvenih psihopata (tu su dokumenti o serijskim ubojicama Edu Geinu i Carlu Pantramu, kao i o ljudožderu i pedofiličnom ubojici Albertu Fishu); časopisa o medicinskim eksperimentima; katoličkih relikvijara i života svetaca; inkvizicijskih
sprava za mučenje; plakata živih boja. Sve je to s punim poštovanjem izloženo u viktorijanskom salonu koji je srce toga prostora.
«Smatram ovu zbirku svojom obitelji», kaže Coleman prilično jednostavno objašnjavajući. «Obitelj su također i ljudi koje puštam u tu obitelj.»
«Recimo, gledate ovu figuru Isusa Krista u relikvijaru,» nastavlja Coleman, «i bebu u medicinskom muzeju i ruku ubojice u muzeju zločina. Oni su (međusobno) zamjenjivi. Svaki od njih ulijeva neku vrstu strahopoštovanja – baš kao i striptiz-barovi i cirkuske predstave. U kršćanskoj kulturi prezirali su mračne bogove, mračnu stranu ljudske duše. Smatram jednako vrijednim istočne religije i kršćanstvo – kao i vudu i sotonizam.
Ako hoćete, to je hereza, ali isto tako i suvisla lucidnost. Radi se o tome da je Joe Coleman showman, a ne šaman, premda mračne vještine nisu nešto što on ne cijeni. Za njega, u pitanju je duhovnost kao takva, a veliki ponor u srcu moderniteta, sa svojim zagrljajem racionalnog i takozvanog estetskog, čega nema u radu poput njegova, zapravo je kriza duhovnosti.
Njegov svijet možda nije lijep, niti je siguran, ali je zato, prema Colemanu, jednostavno- istinit.
«Držim se crnog humora,» kaže Coleman. »Netko tko je zaista na nekom usranom mjestu, boluje od raka, recimo, zbija šale (na svoj račun) – cijela soba se zgraža. Ironija pokazuje da ste iznad toga. Crni humor nije(?) iznad zmijske jame.*»
U tom pogledu, Coleman je srednjovjekovna duša, upletena u epsku borbu za doticaj s neodredivim, i koja postojano stoji na razmeđi raja i pakla.
«Život – to je misterija,» kaže Coleman. «Priroda je samo probiranje stada za klanje, probiranje djece koja ne rađaju. Mi pokušavamo postaviti stvari tako da se sve vrti oko nas. Priroda može smisliti nešto bolje. Mislite da je imate pod kontrolom, ali to je prilično pogrešno.»
I tako imate «problem» s umjetnikom Joeoem Colemanom, kojega je na Venice Beachu uhitila kalifornijska policija kao «ribojebačkog sotonistu», nakon što je, kako kaže, uživo izveo performans s mrtvom ribom koja je visila iz rasporka na njegovim hlačama.
Poznati kolekcionar umjetnina Mickey Cartin, Colemanov rad smatra umjetnošću samilosti.
«[Coleman] slavi čudaka kao užasan simbol obespravljenih,» kaže Cartin, «koji će za 5 dolara učiniti sve. On je prilično nadaren showman; miran, povučen tip, no voli tu vrstu pozornosti. On nipošto nije neautentičan, ne boji se reći upravo ono što misli. Smatra nas odgovornim za svu tu nakaznost. U njemu leži neumitni katolicizam.»
«Tu je također i taj element lošeg dečka,» nastavlja Cartin. «Prvobitno, njegov motiv je bio šokirati, razbjesniti, uvrijediti, izrugati se. No zatvorio je puni krug...»
«Joe je beskompromisan u svojem radu, ni na koji način se ne pokorava,» dodaje Cartin. «Napravi 5-6 slika godišnje i ima listu čekanja od 20-30 ljudi koji ih žele. Radi svaki dan, od 9 ujutro do 1 popodne, ruča, zatim radi od 2 do 6. Ide na odmor. Pristojan je, odan, častan. Ne želi se obogatiti [od svojih slika], želi samo slobodu kako bi ih mogao stvarati. Osjećam se sretnim što znam nekoga kao što je on – ne postoji nitko poput njega. Osjećam se povlaštenim što ga poznajem.»
Colemanova metoda, unatoč činjenici što koristi akrilne boje, ima mnogo više sličnosti sa slikanjem ikona ili iluminacija na svetim rukopisima nego sa suvremenom umjetničkom praksom.
Poput slikara ikona, poseže za nekom vrstom duhovne komunikacije s likovima koje slika, pregovaranjem postižući «sličnost» u smislu da su njemu te slike neka vrsta mističnog pandana likovima koje predstavljaju. Poput samostanskog iluminatora koji iskazuje Božju riječ, on slikanje ne vidi kao stvar kompozicije i estetike (zbog čega je izbačen iz Škole vizualnih umjetnosti u New Yorku), nego kao ekstatično mistično općenje sa smislom.
Ovaj sustav uvjerenja obilježava svaki aspekt njegova
procesa, od intimnosti s kojom radi – upotrebljavajući «optičku masku» (povećalo) kako bi im(?) se približio dovoljno da izrazi minijaturni detalj koji je karakterističan za njegov stil – do potpuno intuitivnih značenja njegove kompozicije. Započinje, doslovno, onda kada ga pokrene duh, gradeći sliku komadić po komadić onako kako mu se ostali smisleni likovi, fraze i suodnosi sami nameću. To je također u znakovitom
kontrastu prema uobičajenim metodama umjetničkih škola i podcrtava tu esencijalnu «herezu» koja ga dovodi u neprilike s elitnim likovnim kritičarima.
Kustos Nicholas Baume kaže da to Colemana čini jednim od istinskih originalnih umjetnika našeg vremena.
«U posljednjih 20 godina slikari su razmišljali samo o tome, gdje to ide slikarstvo. Coleman je zanimljiv zbog toga što je odbacio glavna postignuća slikarstva [od Renesanse naovamo] i vratio se Hieronymusu Boschu. U izvjesnom smislu okrenuo se srednjovjekovnom interesu za estetiku – srednjovjekovnom simbolizmu, alegoriji, biblijskoj naraciji i metaforičkom prikazu. U svojem marljivom istraživanju, Coleman je potpuna suprotnost, naprimjer, Andyju Warholu čija je umjetnost bila zasnovana na polaroidnim fotografijama. Nasuprot tomu, Coleman slika autentične historijske likove. To nisu nužno ljudi koje je mogao sresti, ali to su ljudi koji pobuđuju njegovu maštu potaknutu njegovim zanimanjem da shvati što je to u njima».
Dakle, ono što je u cjelini značajno, jednom kada vidite što se krije iza gotovo adolescentske opsjednutosti tabuom - što je dominantan dojam o Colemanovu stilu – iza mješavine
P.T. Barnuma i srednjovjekovne Knjige Kellsa – to je način na koji njegov stil dotiče inače netaknuto drhtavo tlo kolektivne psihe. Vraćajući se, doslovno, u mračna vremena, on uspijeva pokupiti nit za koju želimo misliti da smo je ispustili, no Coleman tvrdi da se ona nalazi u našoj DNA.
Coleman je počeo privlačiti našu pozornost doslovno dižući sebe u zrak. Njegov prvi rezultat bio je kaos – vatra i sumpor, panika i zbrka – i to ga je zadovoljavalo. Nakon toga se okrenuo prikazivanju upravo onoga što smatramo odvratnim.
Ukratko, on je najznačajnije čudovište dvadesetostoljetne noćne more, stvoren iz naše najmračnije, srednjovjekovne mašte, rođen dok smo pokušavali spavati, neumoljivo odlučan da prodre u naš svijet. On je naša najgora noćna mora jer je, poput svih luđaka, naše najstrašnije i najiskrenije zrcalo.
Jim Jarmusch: (ulomak knjige Istočni grijeh: vizionarska umjetnost Joea Colemana)
Sviđa mi se Joe Coleman, posebno mi se sviđa Joe Coleman kada obuče svoju južnjačku uniformu, puši cigaru i ceremonijalno te poziva u svoj čuveni "Odditorium" - jednu od najvećih svjetskih zbirki ekstremno čudnog sranja. Prilikom nedavne posjete tom muzeju bio sam očaran jednim od najnovijih dodataka – željeznim lijesom iz 19. stoljeća oblikovanom poput nečega što je proizvela mašta Julesa Vernea.
Sviđa mi se Joe Coleman i kada pije pivo, puši cigaru i priča o filmovima koje voli. O filmovima kao što su Planet vampira (Planet of the Vampires) Maria Bave, Na opasnom terenu (On Dangerous Ground) Nicholasa Raya, The Devil Thumbs a Ride, Deadlier Than the Male ili Odds Against Tomorrow Roberta Wisea. Joe posebno voli scenu dijaloga u kojoj Gloria Grahame pita Roberta Ryana kako je to ubiti čovjeka. Mislim da bi Joe Coleman trebao imati vlastiti TV-show u kojemu bi predstavljao i komentirao svoje omiljene filmove. On bi trebao biti odgovor 21. stoljeća na Zackerleya (ili, ako ste iz Clevelanda, na Ghouldarija).
Jednom mi je Joe ispričao krasnu priču o tome zašto ga film Plan 9 iz svemira
Eda Wooda, uvijek prestraši. Možda vam je to već poznato iz njegovih slika, no kao dijete Joe je živio preko puta groblja, a ograničeni budžet filmova Eda Wooda (da ne spominjemo Lugosijevu preuranjenu smrt) nije dopuštao Woodu snimanje noćnih scena na groblju. Kadrovi s Lugosijem snimljeni su u vrlo osvijetljenim uvjetima na pravom groblju, dok su drugi kadrovi iz scene ekstremno mračni i snimljeni na više nego očito lažnom groblju (kartonski nadgrobni spomenici itd.). Joeova dječja interpretacija ovog nesklada pokazuje da je bio posve
obuzet bizarnom pričom prikazanom na ekranu. Zaključio je kako su perifernija područja groblja (iz kojih je vrebao Bela Lugosi ogrnut plaštom) bila okupana dnevnim svjetlom, dok do najmračnijeg, najjezovitijeg interijera groblja svjetlo nekako nije dopiralo! Joe kaže da je upravo ovaj slučajni element filma ono što ga je plašilo dok je bio dijete – siguran sam da je to dalo još sablasniji izgled groblju koje se nalazilo preko puta kuće mladog Joea Colemana.
Također mi se sviđa i glazbeni ukus Joea Coelemana: klasični «Psycho» Eddieja Noacka, «California Hippie Murders» Red River Davea, i gotovo sve od Hasila Adkinsa ili najmračnija strana Charlieja Feathersa.
Zatim, tu su slike Joe Colemana – prava tema ove knjige. Mislim da su te slike ono što najviše volim kod Joea Colemana, zato što se u njihovim detaljiziranim, nelinearnim pričama pravi Joe Coleman najdramatičnije otkriva. Sasvim je moguće da je taj čovjek posljednji veliki slikar vjerskih ikona: dok su teme poput Krista, Ivana Krstitelja ili Svetog Sebastijana postale, Joeovim riječima, «starinske i narodske», Joeov šaroliki panteon svetaca uključuje i one poput [raznih čudaka, luđaka i serijskih ubojica] Toda Browninga i Harryja Houdinija, Alberta Fisha, Adolfa Wolflija i Carla Panzrama, Charlesa Mansona, Edgara Allana Poea i Hasila Adkinsa. Možda je snaga nekih od tih tema kao ikona sporna, ali svijet će na koncu shvatiti viziju Joea Colemana. Pa ipak, čini se da samog umjetnikaka uopće ne brine kada će se, i hoće li se to dogoditi.
Poput Williama Blakea dvjesto godina prije njega, Colemana doista ne zanimaju politika, estetika, moral, pomodna mišljenja, procjenjivanje svega novcem, i ne zanima ga tehnologija. Joe mi kaže da je prema njegovu mišljenju, posljednji koristan doprinos tehnologije bio dinamit! Njegova veza sa «svijetom umjetnosti» također ostaje distancirana i puna sumnje – on odbija predstavljanje u bilo kojoj galeriji, umjesto toga radeći za kolekcionare, upisane na listu čekanja
( što je mnogo bliže srednjovjekovnome sustavu pokroviteljstva od bilo kojega suvremenog poimanja trgovine). Ipak, mnogo su
važniji njegova umjetnička vizija i postupak, koje bezkompromisno štiti, ostajući istinski autsajder, odmetnik. Činjenica je da su sve slike Joea Colemana autoportreti.
Svjesno odvojeno od velikog dijela povijesti umjetnosti, nadahnuće Joea Colemana završava prije nego što je Michelangelo povukao ijedan potez kistom. Prema Colemanu, slikanje se promijenilo nakon rane Renesanse, počevši se baviti estetikom i sofistikacijom više nego detaljem i ikonografijom. Dok Bosch, po Colemanu, još uvijek ima snagu, estetike Rembrandta ili da Vincija ga ne zanimaju. Ovo je, naravno, očigledno svakome tko poznaje Joeov rad – njegova opsjednutost detaljima i ikonama iznimno je snažna, a on sam će vam reći da njegove slike doslovno moraju biti «uokvirene» «talismanima i rubovima», kako bi bio zaštićen od njihove moći. Coleman će ih opisati kao «zazivanja... koja se na neki način uzdižu iz smrti – i na neki način ti vješci opisuju krug kada prizivaju ili potiču vraga, taj krug je potreban da te zaštiti. A ja mogu probuditi samo one s kojima se poistovjećujem... Zanima me onaj njihov dio koji odražava mene samog.» Ti su portreti dakle, i vjerske ikone i autoportreti. Colemanovi «moderni sveci», poput njega samog, žive (ili su živjeli) izvan prihvaćene kulture. Birajući ih za ikone, Coleman odražava vlastitu samo-istragu baš kao i izravno
isticanje protuslovlja i krajnosti svijeta u kojemu svi mi živimo.
U pismu Joeu Colemanu, Charles Manson je jednom Colemana opisao kao «špiljskog čovjeka u svemirskome brodu». Premda je dosada ovo često citirano, još uvijek mislim da je to jedan od najsavršenijih i najjezgrovitijih opisa ovog umjetnika. No kritičari su u velikim mukama, kada ga žele etiketirati. Viđao sam kako ga pokušavaju dovesti u vezu s, na primjer, Robertom Williamsom, no ja ne kužim tu vezu. Čuo sam kako Joea Colemana opisuju kao narodnog umjetnika, što mi je također neshvatljivo. U najmanju ruku, slike Joea Colemana bliže su onim psihotičnim, opsesivnim, srednjovjekovnim slikarima iluminiranih rukopisa nego bilo kojem slikaru u zadnjih šest stoljeća.
Možda određenu vrstu uvida u njegov rad možemo postići pokazivanjem njegovih slika djeci. Unutar svake slike nalazi se bezbroj sićušnih svjetova u koje možemo ući. Priče koje pričaju ovi detalji nisu za nas organizirane niti po jednom linearnom, logičnom, «odraslom» obrascu. Djelići teksta vijugaju (svojim putem) oko gotovo mikroskopskog prikaza. Naši vlastiti interesi i opsesije su naši jedini vodiči, i slobodno možemo usmjeravati naš pogled unutar i izvan tih svjetova u vlastitu neograničenom vremenskom okviru. Colemanove slike pričaju mnoge priče, a njihova veza s našom kulturalnom i ikonografskom poviješću nije krhka – čak i kada naoko slučajan aranžman slike možda to sugerira.
Da kažemo to na najjednostavniji (i vjerojatno najklišeiziraniji) način, slike Joea Colemana pokazuju njegove divne i često zastrašujuće pokušaje organizacije kaosa koji ga okružuje i koji je u njemu. Na neki način ove slike su poput knjiga i filmova, na neki način one su poput stripova, ili poput noćnih mora, ali nisu poput slika i riječi. One su asocijacije i opsesije koje dolaze iz nekakva dubokog mjesta u psihi i duši Joea Colemana, a zatim se pažljivo transformiraju u njegove zapanjujuće slike, često preko kista s jednom jedinom dlakom koji je napravio sâm, svojim čvrstim rukama. Sviđaju mi se slike Joea Colemana. Sviđa mi se način na koji one razotkrivaju naše svjetove. Za mene je Joe Coleman veliki umjetnik.
Razgovor publike s Joeom Colemanom na festivalu "Chamber of Pop"
Jeste li ikada kombinirali svoje slike i performanse?
Zapravo nisam. Vidim ih kao dva odvojena dijela moje osobnosti. Vrlo su različiti. Ovako vidim njihovu različitost: jedno je implozija a drugo eksplozija. Očito, eksplozija su moji performansi a implozija su slike. Pod time mislim da eksplozija ima veze s rasprskavanjem u ono što je život tamo vani –
u ono što ste vi, ljudi. Želim reći, mislim da čak niti ne znam obraćam li se ičemu – meni ste svi vi poput jedne osobe. Dakle, eksplozija je pokušaj komunikacije s tim velikim organičkim tijelom koje vidim upravo ovdje, upravo sada, i ono ima stotinu glava, kao u Ivanovoj Apokalipsi, samo što je to sve jedno tijelo. Dok je implozija to, kada se sâm nosim s onim što je ovdje. Implozija ide jednim putem, eksplozija drugim, i nikada se to dvoje neće sresti. Na isti način moje slike imaju dvije strane. Premda su čak gotovo združene, one nisu zajedno; svaka je na svojoj strani.
Kada se netko divi vašim slikama, kažete da vam nije jako važno što će pohvale uskoro nestati. Možete li mi reći što vam
pruža potpuno zadovoljstvo?
Ne znam zašto je to teško shvatiti. Znaš da kada ti netko uputi kompliment – kako si lijep – to uistinu ne potraje. Lijepo je neko vrijeme, ali prestaje. Jedino mjesto na kojemu možeš pronaći istinsko zadovoljstvo si ti sam. Otkrio sam nešto što nisam otkrio prije. To je osobna radost. Nitko ti ne može reći takve stvari tako da imaju isti dugotrajan učinak. To nema veze s lijepim. To je poput ovog piva koje upravo pijem. Trenutačno me malko podiže, ali poslije ću ga ispišati.
Poistovjećujete li se sa Salvadorom Dalijem? Posebno s njegovim religioznim slikama?
Da, neke njegove slike mi se stvarno sviđaju. On je jedan od rijetkih, možemo (li) ih tako nazvati, suvremenih umjetnika koji mi se sviđaju. Neke njegove religiozne slike mi se zaista sviđaju. Ja sam katolik, premda u osnovi ne vjerujem u Boga. Ja sam katolik, dakle, zapravo nemam izbora. To je usađeno u mene u najranjijem djetinjstvu. Postoji nešto u vezi obreda, drame, posvećenosti, što mi tako mnogo znači premda ne nasjedam na tu retoriku. Nasjedao sam nekada – kada sam bio klinac. Ja nikada ne mogu biti ne-katolik. Katolici me prokleto mrze, ali ja sam još uvijek katolik.
Što mislite o Freudu?]
Meni je Freud značajan. Kao i Jung. Ali svatko je na kraju ili frojdovac ili jungovac.
Kao što sam to rekao u filmu Počivao u komadima [R.I.P.: Rest in Pieces], poštujem Freuda i tvrdim da je on poput modernog Isusa, i da je bio sposoban
reinterpretirati religiju za one sofisticiranije, i još uvijek se tješiti time da postoje oni koji pokušavaju objasniti ono što zapravo nikada ne može biti objašnjeno. Postoje određene misterije u životu, religija ima veze s tim, filozofija ima veze s tim, psihologija ima veze s tim, i to me zanima. Sve ih smatram ravnopravnim i ne postavljam se na jednu ili drugu stranu ograde. Učiniti to, značilo bi stagnirati. Uvijek sam spreman čuti ideju koju prije nisam čuo. Ako to za mene ima bilo kakvo osobno značenje tada ću to progutati, probaviti i odbaciti dijelove te teorije koji mi ne trebaju. Kod Freuda ima dijelova koji su mi potrebni i ja ću ih inkorporirati.
Zabrinjava li vas vlastita smrt ili je vidite kao dobrodošlo olakšanje?
Postoje ljudi, frojdovci su jedni od njih, koji kažu da se u mome djelu radi o strahu od smrti, ali ja ne mislim tako. Nasuprot tomu, ja mislim da se kod mene radi o strahu od života. Mislim da je smrt nešto što uistinu ne možemo shvatiti, i ne bismo ni trebali – svi ćemo to na kraju otkriti. Dovoljno je teško pokušavati ići kroz život. Odgovore možeš pronaći kada dođeš do te spoznaje. Kada pričaju o raju, paklu i svim tim sranjima, tu se ne radi o smrti. Sve je to
prisutno upravo ovdje, uživo, zato što jedino živo tijelo može osjetiti zadovoljstvo, osjetiti zemaljske užitke, i samo će živo tijelo osjetiti muke pakla.
S obzirom na slikanje, postoji li išta što ne biste
cenzurirali?
To je akrobatska žica; čin održavanja ravnoteže.
Imam tu moralnu strukturu, tako da je to teško. To me vjerojatno drži da ne odem u nekom smjeru. Vjerojatno je na djelu nekakav oblik unutarnje cenzure, cijenim to što postoji taj temeljni moralni poredak. Kada radim transgresivne stvari nikada ne bih učinio nešto za što smatram da je protiv mojeg morala. Iako je on osoban i možda nije istovjetan društvenom moralu. Radio sam stvari zbog kojih su me zatvarali, no ja imam unutarnji osjećaj za dobro i loše, i učinit ću samo ono što mislim da je ispravno – čak i kada to nije istovjetno onomu što ti smatraš ispravnim.
Što je s vašim dizanjem samoga sebe u zrak?
To je način kroćenja i transformiranja onih osjećaja koji mogu uništiti nekoga drugog. Moja prva predstava se dogodila kada mi je bilo petnaest godina i imao sam nekih emocionalnih problema... Kada mi je bilo petnaest uzeo sam mamin protfan i skupio pirotehničke naprave koje sam aktivirao i iznio iz dvorišta i potpalio fitilje. Cijela stvar je eksplodirala. Bio sam sav u dimu i primijetio sam da je lim ostao neprobušen. Bio je savinut, ali iz njega ništa nije izlazilo. Vratio sam se u kuću i uzeo ručnik iz kupaonice i stavio ga na svoja prsa. Zatim sam uzeo protfan i ostatak pirotehnike postavio po njemu. Ušao sam u očevu spavaću sobu i uzeo jednu od njegovih košulja koja mi je bila prevelika. Uzeo sam protfan i učvrstio ga ručnikom oko svojih prsa. Tada sam preko toga obukao košulju, zakopčao je do grla i dobro namjestio tako da je prekrivala sve te eksplozivne stvari. Tada sam izišao van, udaljivši se od svoje kuće. Vidio sam mnoštvo automobila parkiranih pokraj neke kuće i znao sam da se tu odvija zabava. Uzeo sam svoj džepni nožić i porezao si zapešće. Krvlju sam nacrtao simbole po licu i ušetao na zabavu. Pokazalo se da je to republikanska koktel-zabava. Bili su prilično fini, misleći kako je taj jadni tinejdžer na lošem tripu. Na koncu sam rekao: «Svi ste vi hrpa jadnih govnara!» Zakoračio sam unatrag i potpalio svoju košulju. Košulja je zapalila eksplozive. Bili su u totalnoj panici i tada sam to prvi put doživio. Pobjegao sam u dimu no otkrio sam da sam nešto izrazio; određene osjećaje za koje ne postoje riječi. To je izgledalo poput zaista konkretnih simbola. Dakle, to je preživljavanje. To nije samoubojstvo. To je oslobađajući ventil.
Mora da vam je bilo super što bi svaki put kada biste eksplodirali,
iznenadili svačija očekivanja?
Kao što to često kažem, to me palilo.
U što biste pretvorili svoje tijelo?
To već znam. Želio bih biti u istoj onoj odjeći i cipelama koje nosim, smješten u svoj Odditorium kao posljednji izložak. I Odditorium bih pretvorio u svetište, poput spomen-kuća Edgara Allana Poea ili Roosevelta koje su okružene crvenim užetom.