Pjesme koje su prešle četvrtinu puta koji vodi prema opernoj pozornici a onda su svratile u obližnj

i

kabare i

is

pile pet martinija s mjesnim avangardnim skladateljem i folk pjevačem.
streaming
liamsinger.com/
Solemn, piano-based composition with a whiff of the Renaissance about it. Liam Singer has a plaintive, Elliott Smith-like tenor, and pairs himself vocally here with Wendy Allen, of Boxharp, who sings an intricate counter-melody with the airy, earnest bearing of a traditional folk singer. The song they create together is both deliberate and hypnotic, with a canon-like melody that climbs and descends and circles and fits back together with itself without any apparent starting or end point, and no sense of chorus or verse.
The overall feel is elegiac; the lyrics are inscrutable but there is a strong sense of lament here, accentuated by the centuries-old sensibility working its way through this contemporary recording. The ear is not necessarily surprised, then, when a harpsichord joins in at 1:54. But my ear, in any case, is delighted by the wondrous series of slightly cockeyed ascending lines the instrument plays. The dusty, tinkly sound Baroque composers demanded of the instrument is summarily dismissed, and the world breathes a sigh of relief. -
www.fingertipsmusic.com/
Of all of the figures working in the electronic music field today, none sounds more destined for a side-career in operatic theatre composing than Liam Singer. Some enterprising Broadway producer should commission the man before others secure his considerable talents. By spreading the songs' vocal duties around, with Boxharp's Wendy Allen adding her singing to Singer's, he even fashions Dislocatia to be a resplendent song cycle, just as would a theatre composer. The myriad influences that were audible on Singer's previous album, 2006's Our Secret Lies Beneath the Creek, are no longer prominent, and Dislocatia impresses as a bold and sumptuous fusion of classical and popular musics with theatrical flavour. -
textura.org
What Liam Singer has over other indie-label artists who sing pretty and play the piano prettier is a uniquely experimental approach to pop music. Though sometimes seeming like a singer-songwriter, that label doesn't fit his habit for musical exploration and composition, or his clear interest in minimalist and avant-garde composers. His music has the stately and cerebral sides of modern composition, not to mention the beauty and grace, but also an intimacy and directness more often associated with one person playing one instrument and singing. This is very emotional music that uses all of the tactics at Singer's disposal, for greatest impact. That means not just someone communicating directly to listeners, using a voice to carry ideas and feelings into their skull, but also people singing together (often Singer and Wendy Allen of Boxharp), their voices overlapping, and singers using their voices in unexpectedly dramatic ways, witnessing how different tones and mannerisms have different effects. The singers float melodies our ways and fight them.
The Empty Heart of My Chameleon
through this year's
Dislocatia
. While most third albums find artists burrowing into an established sound or simply feeling out an established ritual, Singer's third full length completely explodes his prior minimalist setup and explores huge, swelling climes with a mini-chamber orchestra and choir at his disposal. With earlier material centered around tiny moves shrouded in nostalgia,
Dislocatia
practically bursts open with huge sounds and heady, overzealous arrangments composed for both piano and voice. 2010 has been an impressive year for neo-classical artists working within traditional modes of music. If the
Bedroom Communities
roster are the post-romantics, like
Brahms
and
Rachmoninovs,
of 21st century indie-acceptable classical music, then Liam Singer is the
Erik Satie
of the group, playing wildly conceptual music that never quite loses its emotional resonance.
Liam Singer culls strands of thoughts from archaic musical styles while still working within a pop song structure. Even in his most straight-forward songs melodies that would stand stark and naked on previous releases are fully fleshed out replete with children's choirs and choral arrangments, clanking claviers and aching strings. Singer's vocal contributions, while probably the strongest since
The Empty Heart..
. nonetheless have somewhat diminished in their roles, often differing to
Boxharp's
Wendy Allen
to carry out his most complex vocal lines. While Allen reaches some of the heights Singer's delightfully reedy voice can't, he has also adopted a more rhythmic and rapid pace that muscles out the idea of Singer as some piano-man
Elliot Smith
. Songs like "Dead Old Friend" evoke a sing-song, chanty-like feel while songs like "Winter Weeds" and "Bellingham, WA and the Four Green Doors Beyond" are familiar, downtrodden territory.
SINGLE REVIEWS, "WINTER WEEDS"
Beat.com.au
Somewhere between Sufjan Stevens, The Magnetic Fields and The Brandenberg Orchestra. [ full review ]
Oliver di Place
The moment is gently jarring, and the narrator floats back to himself, somewhat shaken. It's subtle but powerful, and that could also describe the rest of the music on this album. [ full review ]
Reviews of
Dislocatia single "Winter Weeds"
(2010)
The song titles alone give this album the unmistakable air of a set piece. Three "travelogue" songs, sung with the operatic assistance of May Beatty, are strewn about the track list, and the action/location oriented titles of the rest -- "Morning in the Glass City," "Move in the Wind," etc. -- help express the album's wandering, searching tone. What we're on the hunt for, exactly, is cloudy, but the mood is clear as crystal. The album is bolstered by a few more vocalists: beyond Beatty, there's Hannah Williams, and a larger chorus sings on a pair of tracks. The combined weight of this collaborative effort provides an altogether more effective context than the ill-fitting showcase performance of Michelle Brandone on Chameleon. On the other hand, Singer's vocals make tantalizingly sparse appearances. His hushed, high-pitched whisper recalls the tunefulness and wounded qualities of Elliott Smith and Sufjan Stevens at their most emotive, offering bitterness on "Surprise Surprise" and a Stevens-like down-the-stairs melody on "If You Awoke (First Ascension)."
While I wouldn't say I was wrong in asking Singer to skew closer to the verse/chorus stuff -- my favorite song here, as on the last album, is the most straightforward -- his ambition and sonic sensibilities have grown into their clothes since the last time we heard him. The production work of John Vanderslice partner-in-crime Scott Solter (who also has a recent Tell-All release on the shelves) is likely a big part of this fresh maturity; there's an array of new instruments present, including the trumpet that concludes "Falling Forever/An Arc of Slow Pinwheels" and the violin stabs of the forceful "One Breath Out." The star, though, is still Singer's piano, which is as gloomily reverberated and classically-minded as ever. The brevity of the songs (total runtime: 35 minutes) and the energy of his playing keep the album from sagging into masturbatory excess. But most importantly, the instrumental compositions themselves are fascinating, delving as easily into chord-driven melody ("Frozen Lake/Dog Heaven") as they do the speedy trills of dizzying opener "The Hero, the Cure, and the Flower."
The Empty Heart Of The Chameleon
came out a couple years back and marked him as a young singer/songwriter to keep an eye on as he created a compelling album largely out of piano and vocals with a touch of theremin. This time out, he's expanded his musical palette considerably, and the result is a lush release that breathes with all of the aforementioned elements, as well as vibraphone, church organ, prepared piano, and some studio tinkering. His classically-tinged songs have reference points as varied as Philip Glass and Sufjan Stevens, while moving in their own unique directions as well.
Although it's not specified as one,
Our Secret Lies Beneath The Creek
feels somewhat like a concept album, with short interlude tracks providing odd little breaks in an album that otherwise flows together in a logical way (mostly because it's largely piano-driven). After the Glass-esque opener of "The Hero, The Cube, And The Flower," the disc starts off nicely with "Losing Teeth." Singer is joined by background vocalists on the jaunty piece as backwards loops tickle and punctuate the track while some subtle vibes make it sparkle even more. "One Breath Out" is even more powerful, with vigorous cascading piano lines flowing beautifully under breathy lyrics that touch on politics in subtle ways.
The aforementioned interlude tracks all have the prefix of "travelogue" and while they're not so over-the-top that they completely throw the album off course, their operatic female vocals and overly dramatic style definitely make them stand out. Comprised of nothing but minimalism-influenced church organ, the stuttering "Left Ventricle / Tone Clusters" is another track that threatens to feel a bit out of place, but somehow fits into the more cinematic and varied middle section of the disc.
Split nearly evenly between instrumental and vocal tracks, the album reaches a high point during the latter half with the lovely (but short) "If You Awoke (First Ascension)" as Singer again teams up with a female vocalist for some beautiful harmonies. "Razor Wire (Second Ascension)" follows, and the sparse instrumental mixes some nice prepared piano and processed sounds in an open and affecting way. With fourteen tracks running just over thirty five minutes,
Our Secret Lies Beneath The Creek
doesn't dwell on any song for too long, and is a very solid second album from the young singer songwriter.
- www.almostcool.org/
A series of Beethoven piano sonatas was recently removed from Indietorrents, a private bit torrent-based file sharing site with rules and regulations verging on the dictatorial. For once, the reason was not for fear of RIAA watchdogs, poor quality files, or a duplicate posting. Indietorrents doesn't have a genre option for "classical," and so the subsequently mislabeled discs ("hip-hop," apparently, being the next best choice) were taken off of the site. Aside from showcasing the ineffectiveness of bureaucratic red tape, the bigger message of the brief debacle seemed to be this: classical music has no place in indie rock. How, then, should we label Liam Singer?
It's difficult to characterize a musician who approaches the piano as a pianist and not as a guitarist. Most tend to ignore the instrument's capabilities; even the Beatles tended to stick with chords. Suffice to say, Singer's technique is more expansive. "Water Rushing At You," for example, is a dazzling two minutes of arpeggios and a hesitant bass clef gradually overcome by a flurry of scalar motions. It's one of several solo piano compositions on the album, in itself a set of terms which sets off all of the classical music red flags; after all, pop musicians don't play "compositions," do they? Well, Singer does, at least until his vocals come in. Make no mistake, during the twelve minutes Singer lives up to his name, this debut is an indie-pop release.
Singer only falters when he leans on other people's material; though not the worst problem for a young singer/songwriter to have, it's an unnecessary misuse of the album's scant twenty-six minutes. The middle three songs rely on the contributions of others: "Between My Lips, Which Did Sing" is his arrangement of an E. E. Cummings poem sung by Michelle Brandone's trained soprano, which strains uncomfortably for the highest notes. "When I Am Laid In Earth," a piece from Henry Purcell's opera "Dido And Aeneas" (so much for indie-pop), shares the same lyrical graveyard ground as "Between My Lips, Which Did Sing." This thematic decision would be stronger if the funereal pace and overbearing minor key didn't feel so out of place. Though Aeneas' legendary voyage ties into the album's water motif and a later allusion to his Greek counterpart, Ulysses, Singer is trying to wedge an ill-fitting homage into an album which simply doesn't require it.
Les bras en croix, frissons passagers, on s'apprête à sauter. Au fond d'une mer d'eau glacée, la chair de poule criarde de ceux restés à la surface devient dérisoire à en couler. La beauté des profondeurs ne serait pas la même si tout le monde y avait accès. Une cité d'Atlantis remplie de caravanes allemandes et de stands de coquillages frits, c'est comparable à un Disneyland en Pologne.
Liam Singer est un songwriter qui a une prédilection prononcée pour le piano et les tabourets pour une personne. Tout comme Sufjan Stevens – dont le timbre de murmure est assez proche – a une prédilection pour le banjo et les cabrioles. Cet originaire de Portland mêle sur « The Empty Heart of The Chameleon » musique classique et folk avec grandeur et modestie.
C'est le titre The Last qui fait les présentations. Après deux couplets, on ne sait plus très bien si l'on écoute du Elliott Smith ou du Glenn Gould. Et c'est justement ce métissage confus qui fait la beauté de ce disque. Le très beau et fantomatique Trying Shoes / Climbing Stairs est l'un des instrumentaux qui vous feront tourner la tête. Montées, accélérations, apesanteur, pas besoin d'avoir la discographie complète de Chopin pour apprécier.
On se déguiserait bien en pingouin pour accueillir le souffle hivernal de One day comme il se doit. Sans doute la perle engloutie de l'album. En opposition à un Between My Lips, Which Did Sing un peu pompeux comme sait l'être Rufus Wainwright à sa manière.
-
Lisa Town
That said, I spend so much time thinking about my music that it's difficult for me to approach it from the standpoint of a listener. I couldn't say what the overall differences are in terms of atmosphere and emotional vibe.
In general, I like my albums to have the implied sense of a narrative, even if just on an abstract level. I'll usually write a number of songs without any particular guiding principle. Then I'll look at what themes and ideas emerge when you take them together and try to expand on those. I think if you're working from your own creative impulses, a group of songs will have certain points of cohesion whether you mean them to or not. So I try to take advantage of that, but also not to let thinking get in the way before it needs to.
Playing the harpsichord did teach me a lot about the Baroque era and approaching music contrapuntally, which still comes through in some of my writing, such as the song "From Fast to Slow / Behind this World."
Well, I'm relieved that it's the "subtlest trace" of Philip Glass you hear, rather than me "ripping him off completely"... the discovery of the minimalists was very big in my life, and though I probably listen to Steve Reich more than any of them, Glass' musical figures played a big role for me when I decided to make the piano my main instrument.
I have had several friends comment that they hear traces of musical theater in my work... while that is not an area that I'm consciously influenced by, I can understand why they'd say so. I am attracted to melodrama in music, and there is definitely a level of subdued histrionics in my own. I do like a lot of Opera—old and new—as well as many artists who take an outsized approach to emotional expression, such as Scott Walker, Kate Bush, or Swans. I'm also very influenced by several soundtrack composers, foremost Ennio Morricone and Nino Rota.
So musical theater should ideally provide everything I want, but I guess I find the conventions of most modern musicals sort of cheesy. Not so with many of the past; Stephen Sondheim was an incredible composer and songwriter, as was Leonard Bernstein. And there are other people from that era and earlier on that I really enjoy, like Kurt Weil. I think that if I met the right collaborator, something cool could happen in that realm, but I've never made any effort toward it. I know there is a scene of more non-mainstream musicals happening here in New York—I have friends involved in it—but I just haven't really explored it.
I am generally interested in soundtrack work, and have really enjoyed the little that I've done.
It's certainly great praise to be mentioned alongside either artist. I think that Nico Muhly's music is wonderful. He is one of a few really exciting composers here in New York hopping between worlds at the moment. I haven't followed Rufus Wainwright's music as closely, but have always liked what I've heard very much, and get the sense that he doesn't fit neatly into any category. So yes, they're both kindred spirits in the sense that they very much seem to be doing their own thing. I'm not particularly trying to expand into any scene myself; I would of course love to write for classically trained ensembles, but at this point I would have no idea how to make that happen.
I guess I feel an affinity most strongly with artists like Mark Hollis or David Sylvian. Again, there is not much of a direct aesthetic connection between their stuff and mine, but they are both folks who have taken the song form to pretty out places. I write the music that I do because it makes sense to me, but when it's done I'm never quite sure who to hand it to. It often feels too strange for people who want to hear songs, and too normal for an audience that's into experimental stuff. So I get the listeners who are willing to take it for what it is. I feel like a kindred spirit with anybody else in that position.
I went in fairly prepared arrangement-wise, because I knew that I wanted to accomplish an lot in twelve days. However, I also consciously left space in a lot of pieces for Scott to work. For example, in the piece "Mold Me Torn Fan," I went in knowing that—beyond the basic piano track—I wanted alternating instruments to double the ascending line in the middle of the song, and I wanted a dissonant chord to be held by the children's choir at the end. All of the other sounds were devised in the studio. We ended up mixing this album very quickly, and on my next one I'd like to take more time during that process so that Scott's voice can come through even more.
I have known Alexander for a while now. He first got in touch with me back when I was living in San Francisco and helping to run Tell-All Records; he was a fan of our releases, and wanted to talk about putting something out with us. The label unfortunately disintegrated before that could happen, but we stayed in touch, and began hanging out after we both wound up in the New York area. We've played on several bills together, and I have occasionally provided some simple piano backup at his shows, very basic stuff emphasizing melodic lines coming out of his guitar. He's a great guy, a virtuosic player, and has a wonderful musical ear.
It was through Alexander that I was connected with Chris Tignor and Slow Six. Chris and Alex are friends, and Chris heard me play at a show we were doing together at the now-defunct venue Monkeytown. Slow Six's previous Rhodes player was leaving the city around that time, so afterward Chris contacted me about touring with them, which I did in early June opening up for This Will Destroy You. I have since played a couple other Slow Six shows in the NY area, and have a fantastic time performing with them.
Liam also plays on the following albums:
Boxharp, The Green (Hidden Shoal, 2010)
Boxharp, Loam Arcane EP (Hidden Shoal, 2010)
Early Autumn Break, Swimming With Children (One Sunny Day, 2010)
The Balustrade Ensemble, Capsules (Dynamophone Records, 2007)
Update:
Arc Iris (2013)
liamsinger.bandcamp.com/album/arc-iris
Consider the snowglobe. When you pick it up, you're holding something that's capable of conjuring absolutes of beauty, force, and fragility — I mean, shake it and a season just
happens
— but the snowglobe you tend to end up with is
something
like
this
. Somewhere between reality and the possibilities offered by this strange incandescent paperweight, kitsch and the desire to transform the transcendent into the ornamental (and
eerily narcissistic
) intervenes. And so it is with chamber pop. In this post-Sufjan age (in the years AS, for the calendar-minded of you), the idea of people working with a bunch of classically-trained players to make literate, ornate music has unfortunately taken on a pretty precious set of connotations through overuse and abuse; like, if you can get through the video for
"16 Military Wives,"
you're on the wrong side of history, and I won't even start on Patrick Watson. Even Sufjan h(H)imself, who made made the highpoint for fussy, anal whimsy, backed away from the idea. Like one of those ingenue female protagonists from a Belle and Sebastian song, he liberated everyone from their inhibitions, and everyone in turn got a little fucked over by the results. Yet, as ever, the antidote to diminishing returns in this kind of thing is subsuming everything to craft and integrity, and
Arc Iris
is one of the best crafted records anyone, anywhere will release this year.
Based in Queens, Liam Singer has been around for a while, but
Arc Iris
smacks with the freshness of putting your head into the first ever grocery store refrigeration system, quietly stacking up a pile of minor miracles until the picture transcends the brushstrokes. Laboriously tinkered over with sideman par excellence Scott Solter, it's a flowing suite of nocturnes, militaristic interludes, and eerie chamber torch ballads, lit by stunningly and delicately deployed woodwinds and keyboards in wandering and richly pained-over arrangements. This is a record for precious solitude without either preciousness or loneliness, which is as deft as all hell a thing to accomplish: is Liam Singer the
Mahela Jayawardene
of classical pop music? It's big enough to fit inside and small enough to carry around.
Although there's definitely a surfeit of ideas and invention on display ("Stranger I Know" somehow manages to sound like a hesitant oompah), the confidence Singer shows in pushing his simplest ideas out to fruition is extremely satisfying, as the best moments come when the record gets the chance to breathe out fully. Take the builds and swells in "Dear Sister/Gears Turn in Gears;" as the motif of the second half repeats upon itself, gradually adding further flourishes and counterpoints, it rises to a swoon that's basically 10/10 dancing around the bedroom stuff. Consider it the "Party Hard" for hermits. The gorgeous interlude "The Dance of Cupid and Psyche" follows, and it runs among the best six minutes of music to surface this year. On paper, "The Astronaut" merely repeats a verse and a chorus three times, but looking closer, it's a progression that sounds like Esquivel writing a Christmas carol before Singer rolls out a velvet carpet of a melody that effortlessly moves forward over what feels like an unbroken 48-bar phrase or something (but you're not counting). Similarly, "Unhand Me (You Horrid Thing)" is surprisingly simple at heart, with a naked pulse pushing it forward like a twice-removed baroque iteration of Duran Duran.
His lyrics scan as abstruse when immersed in the arrangements, but key phrases emerge out of the ether. Idling in an earthy melancholy, even the moments of great action and bluster find him reflective, as strangers emerge and disappear once they take on darker significance, youths are frightful and jeopardized, and appearances give way to something more sinister;
"Nine, ten/ Ready or not/ I'm crawling out/ Of your skin."
Singer's vocal range is narrow, but he works it to his advantage, as his voice seems to peer into his lyrics like a crow unsure of whether to jump at its reflection, while his arrangements peek around the corners of the problem. It's all like feeling a sail billow behind you.
For all its virtues, the album tapers somewhat as it goes, but "Forever Blossoming" is a stark, sad standout, detailing an end to things —
"Pardon me/ Have we met/ You've got the kind of face/ That i'd like to forget"
— as his melody twitches into a lovely, plaintive sense of ambivalence. With this, the arc of the record becomes clear, as Singer comes toward completing a journey from approaching the "Stranger I Know" (
"Hold your breath/ I'll hold mine too"
) toward experience, then eventually wisdom (i.e., nuh-uh, not that again of the record's final third). As such, The Caretaker-esque decaying bookends feel strikingly appropriate; like the snowglobe, after you shake it and watch the world change, it settles back as you began, except now you know how the whole thing works. Likewise,
Arc Iris
is a thing of quiet knowingness. -
Alex Griffin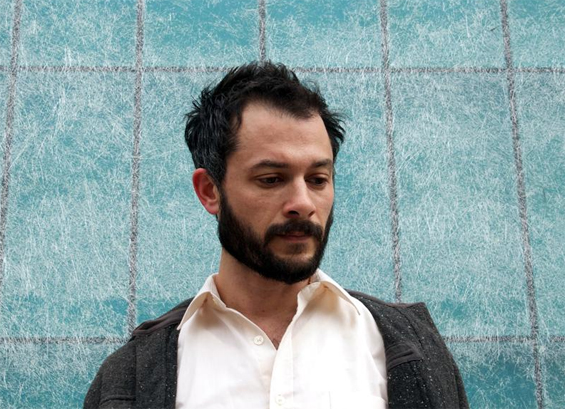 photo: Stephen Somple
Liam Singer - Arc Iris Interview
theundergroundofhappiness.blogspot.com/