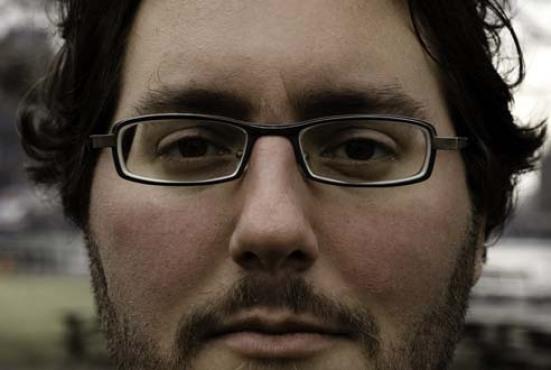 Istovremeno fluidan, romantičan, gesturalan i ritmičan.
www.juddgreenstein.com/what.html#nowensemble
NOW ENSEMBLE
City Boy
, 2010 (12')
Listen
for flute, clarinet, electric guitar, double bass, and piano
City Boy was written to be the 2nd movement and final part of the "Change Trilogy", comprised of Folk Music, Change, and this work, City Boy. It's the middle movement, and is largely a response piece to Folk Music, with that piece's opening oscillation inverted. Unlike the gradual builds of the two pieces that surround it, City Boy moves rapidly from one idea to another (relatively - fans of Zappa, Brittelle, Babbitt, or Brian Wilson will be disappointed), and explores territory that is motivically related to both Folk Music and Change, but quite different in tone. City Boy was commissioned by Nimbus Dance Works with funds from the American Music Center.

Change
, 2009 (13')
Sing Along
, 2006 (6') Listen at
New Amsterdam Records
for flute, clarinet, electric guitar, double bass, and piano
Sing Along was inspired by my great experiences working with NOW Ensemble for the past few years, five of my good friends who combine to make a unique and amazing sound together. I guess I was a little jealous, in a good way (I hope), so I decided to write a piece where I got to play with them. Patrick Burke and I had always thought that we'd get in on the NOW performance scene at some point - this has been a long time coming. For Sing Along, I join Michael at the piano, playing the lower half of the instrument while he takes the upper register. It's written in a kind of verse/chorus form, and when I enter for the first "chorus", it's to provide a steady harmonic and rhythmic grounding, bringing out what the rest of the ensemble is playing. This is an uplifting piece, to my ears, in the spirit of Folk Music, with everyone doing their part (including me) to make a work that allows individual voices to combine, becoming more than the sum of their parts. That's the spirit of chamber music, and the spirit of NOW Ensemble. It's a pleasure to play with my friends in the group, and it won't be the last time.
Free Speech Zone
, 2005 (24') Listen:
Smoke Them Out
On the March
Phantoms of Lost Liberty
for flute, clarinet, electric guitar, double bass, and piano
When President George W. Bush travels around the country and around the world, his security staff establishes designated "free speech zones" in which acts of protest against the President are legal. Outside of these zones, one may be arrested for such seemingly passive activities as carrying a sign that expresses disagreement with our national policy or shouting anything except supportive comments or cheers. While this might seem to fly in the face of the United States Constitution, the Department of Justice has chosen to ignore that document, instead using obscure legal arguments to justify the arrests of nonviolent protesters.
Bill Neel was arrested near Pittsburgh on Labor Day, 2002, for carrying a sign that read "The Bush family must love the poor, they made so many of us." Brett Bursey was arrested in the Fall of 2003 for holding a "No Blood for Oil" sign in South Carolina. Near St. Louis, on January 22, 2003, Christine Mains and her then-five-year-old daughter were arrested and placed in separate police cars during a Bush visit to the area. In all these cases, the cited crime was failure to heed police orders to move inside the designated protest area.
Free Speech Zone was written during a time of national upheaval, in the midst of an unethical war and the seemingly unbelievable reelection of a corrupt and dangerously irrational President. It is dedicated to Bill Neel, Brett Bursey, Christine Mains and her daughter, and to all those who have sacrificed to maintain the freedoms that our great country grants us, despite the efforts of those who would deny us the very rights that they claim to be protecting.
Folk Music
, 2004 (10') Listen at
New Amsterdam Records
for flute, clarinet, electric guitar, double bass, and piano
Folk Music was written in the summer of 2004, for the House Band project at the Tanglewood Music Center. Steve Mackey led the composition Fellows in a performance-oriented workshop, where we performed each others' works, with assistance from a few brave ringers from the ranks of the instrumental Fellows and the New Fromm Players. I've had a long personal relationship with Tanglewood, having visited the festival every summer since I was born. My family spent time in the Berkshires, and I attended college in the region, so my experience at Tanglewood was colored with a deep sense of nostalgia and an overwhelming feeling of arrival and belonging. Folk Music begins with a lightness and sweetness that reflects my joy at being in Lenox, and takes the material in a direction that emphasizes group interaction and grooving together. While writing the piece, I knew that I would arrange it for NOW Ensemble (substituting a flute for the original violin part), and that sort of ensemble work is something that we do well. But more than anything, this piece is about a frank expression of joyful living, tinged with the sadness that is always also present in any true account of life - something that one hears in the best folk music of all cultures. The title comes both from that sentiment and from the material that forms the basis of the piece; snippets of what sound like borrowed folk songs are heard throughout the work, including a high bass solo that finds its beauty in its fragility, and a section of rocking out that suggests that we have our own living folk cultures in the early twenty-first century United States.
Rock Me Samuels
, 2004 (8')
Listen
for flute, clarinet, electric guitar, double bass, and piano
Rock Me Samuels was my first composition for NOW Ensemble, and it reflects, in some ways, what I want the group to be: virtuosic, both individually and as an ensemble; capable of switching between classical and popular idioms; and generally intense and uncompromising. The piece is a little crazy. It is based on an idea taken from the sound of samples restarting their looped patterns at irregular beat intervals, a sound that's heard in a different form in much of Stravinsky's music (but that's not important for this piece). Unlike in hip hop or drum and bass (where one hears this technique used), where all that it takes to get the effect is to hit a button, here the ensemble must stop and start on a dime. It's really difficult. The middle section of the piece has a strange, loungey feel; the relaxed mood is a necessary break from the intensity of the beginning. Some classic rock material breaks the lounge wide open, and we get back to the beginning, but with differences. If you're wondering, my middle name (my mother's maiden name) is Samuels. Rock Me Samuels is dedicated to my people in Detroit.
---
CHAMBER (conventional)

The Elements of Elements, 2010 (10') violin, cello, double bass

Clearing, Dawn, Dance, 2010 (10') flute, clarinet, trumpet, violin, viola, cello
Be There
, 2008 (6')
Listen
violin and piano
Be There is a continuation of my effort to strip down my musical language to its essential components, to be fluid and Romantic and gestural and rhythmic all at the same time, without calling undue attention to those features or qualities. When I am writing music, and things are going well, I feel that I am present in the moment of the music's creation, a present-ness that is more full than any other I know. To "be there" is the best state that there is; it's the state of complete association with life and living, an association that is the utter antidote to the dissociative forces of anxiety and fear. Whether Be There expresses that idea to other listeners, fully, partially, or not at all, it somehow conveys that meaning to me. Many thanks to Colin Jacobsen and Peggy Kampmeier for their support in bringing the work to life.
At the end of a really great day
, 2008 (14')
Listen
flute, clarinet, violin, cello
The title of this piece comes from something that my friend Eve said about our friend Emily, who was killed in a tragic accident. Emily was a talented person with a beautiful, infectious spirit, and was an inspiration to everyone who knew her. The community that rallied around her life, once it was taken away, was incredible, and its attitude and energy wound up making its way into the piece. Eve said that she died the way you'd expect her to, "at the end of a really great day." It was true for the day itself and for her life, and is an inspiring thought to me about how I would like to live all my days, and how it becomes possible to live with the unavoidable tragedies that life presents. At the end of a really great day was commissioned by the Seattle Chamber Players, and is is dedicated to Eve and to Josh on the happy occasion of their wedding, in memory of Emily.
A Moment of Clarity
, 2007 (6') flute and piano
Four on the Floor
, 2006 (11') string quartet
The Night Gatherers
, 2005 (14') viola quintet
Sonata for cello and piano
, 2004 (22')
Grosse Tugenden
, 2003-2004 (17') violin, viola, cello
Summer Dances
, 2003 (12') clarinet, viola, double bass
I Oscillate
, 2003 (9') flute and marimba
Le Tombeau de Ravel
, 1999-2002 (35') violin, cello, piano
---
CHAMBER (odd)
Duo 1979
, 2009 (4') viola and moog prodigy
What They Don't Like (for Chuck D)
, 2007 (6') clarinet, violin, cello, electric guitar, keyboard, drums, and sampler
Elastic Iridescence
, 2006 (13') electric guitar quartet
Ill
, 2002 (7') two violins, marimba, drum kit
Prismaticism
, 1999-2001 (10') flute, clarinet, bass clarinet, marimba, celesta
---
ORCHESTRA/ENSEMBLE
Acadia
, 2011 (35') orchestra

Four on the Floor (string orchestra version), 2009 (13')
Vayomer Shlomo
, 2009 (24')
2 sopranos, mezzo-soprano, medium ensemble
Get Up/Get Down
, 2006 (15') large ensemble
Today and Everyday
, 2004 (7') orchestra
Chikasky
, 2003 (9') orchestra
Beating
, 2002-2003 (22') flute, clarinet, bass clarinet, vibraphone,
marimba, celesta, violin, viola, cello
After the Revolution
, 2001 (17') orchestra

Celestial Episode, 1999 (9') orchestra
---
CHORUS

Hamakom, 2010 (8') SATB
A E I O U
, 2009 (6') Roomful of Teeth
Montmartre
, 2009 (6') Roomful of Teeth
Run Away
, 2009 (5') Roomful of Teeth
Lamenting
, 2007 (21') SSATB
Let Her Be
, 2004 (5') SATB soloists and SATB choir
Amergin
, 2002 (8') SATB
---
SOLO
First Ballade
, 2008 (8') piano solo
We Shall Be Turned
, 2006 (12') percussion solo
Boulez Is Alive
, 2006 (7') piano solo
Escape
, 2006 (13') viola solo
Corrupted
, 2006 (7') voice and cello solo

And Explode Into Space, 2004 (2') piano solo
The Sirens
, 2004 (9') bass clarinet/baritone saxophone solo
Canzon XVII, after Gabrieli
, 2003-2004 (7')
trombone and electronic delay
---
VOCAL
Hillula
, 2006-2008 (19') soprano and piano

Song for the Rainy Season, 2000 (14') high baritone and piano
---
COLLABORATIVE
Crossing the Rio Grande
, 2004 (5') bassoon, two violins, cello, double bass
Untitled (finding something special)
, 2004 (4') two violins and cello
NOW Ensemble
has been a prominent member of the New York City indie classical scene for more than four years. With an idiosyncratic instrumenation of flute, clarinet, electric guitar, double bass, and piano, NOW is synonymous with its unique sound, blending five instruments into one virtuosic band. For its long-awaited debut album, the group chose 7 pieces from its core repertoire, a body of work that is helping to redefine chamber music for the 21st century.
NOW consists of two pieces by Judd Greenstein and one by Patrick Burke, both of whom serve as the ensemble's artistic co-directors, two pieces by the ensemble's guitarist Mark Dancigers, and one by Nico Muhly. Each of the pieces have received individual praise by a variety of sources. Greenstein's "Folk Music" and "Sing Along" have been described respectively as the album's "wistful" and "passionate" bookends (Time Out New York), and the former piece's "melancholy flute line, above bobbing piano chords" is listed as "one of the disc's highlights." (Time Out Chicago). Time Out Chicago also described Muhly's "How About Now" as having "a poppish sensibility" but taking "a crack team of player to pull off easy." Burke's "All Together Now" has been said to "artfully emphasize the sense of balance and discipline" among the ensemble's players (All Music), and Danciger's music for NOW Ensemble has been praised by the New York Times as "unabashedly rock influenced."
The album has been praised most for its combination of "the formal elegance of chamber music with a pop-honed concision and rhythmic vitality" (TONY) which is manifest in all of the ensemble's commissions and performances. The album's repertoire was described as "plenty deep enough to be dredged on multiple passes without crawling up inside its head so far it misplaces the soul" (The Washington Post), and received five-star reviews from Time Out New York and Chicago.

Released on April 26, 2011, Awake, the confident and engaging sophomore release from
NOW Ensemble
, was received to wide acclaim, being profiled on NPR All Things Considered, called "terrific" by the Washington Post, named "Album of the Week" (WQXR), "Band of the Week" (The Silent Ballet), and even garnering international praise in the Bangkok Post. The album reached #1 on Amazon's Chamber Classical Music Chart and the top 5 on the iTunes Classic Charts.
With Awake, NOW Ensemble — Alex Sopp, flute; Sara Budde, clarinet, Mark Dancigers, electric guitar; Logan Coale, double bass; Michael Mizrahi, piano — expands its sonic and expressive palette while retaining its unique profile. The album opens with "Change," by label co-founder and NOW Ensemble composer Judd Greenstein. Rigorously optimistic, "Change" evokes the growth of a community: as the insistent opening flute line is taken up by the quintet, it gathers force over percolating rhythms that bear the DNA of 80s pop. Sean Friar's aptly-titled "Velvet Hammer" asks: what if the entire group were given access to the electric guitarist's effects pedals? Says Friar, "Whether glimmering delay, howling distortion, or delirious shredding, each instrument finds a way to amplify each sound and make it its own." The howling subsides, making space for wonder with Missy Mazzoli's "Magic With Everyday Objects." Characteristically, that wonder is tinged with deep unease: "blocks of music are turned upside down, chords slide relentlessly out of tune, repetitive melodies become hopelessly entangled, and a schmaltzy piano melody perseveres throughout a frenzy of sound." In "Burst," NOW Ensemble guitarist/composer Mark Dancigers fuses unlikely pair of sources: the shimmering pentatonic patterns of Malian guitarist Ali Farka Touré and the graceful counterpoint of Mozart's music. The playful results showcase the group's stop-on-a-dime precision and rhythmic swing. "Waiting in the Rain for Snow" (David Crowell) looks to the mysterious process of crystallization, as intricate, repetitive figures in the guitar and piano are overlaid by shifting patterns in the winds: drifting and sustained, or dancing like droplets. Patrick Burke's title track "Awake" blends gestures from Javanese gamelan music with Western harmonic and formal techniques, accelerating to a frenetic pace before closing the album in the awareness of "the larger world and all of the possibilities within it."
NOW Ensemble has been consistently praised for its wide range of expression and fusion of "formal elegance" and "rhythmic vitality" (TONY). NPR praised the multiplicity of genres within the opening track "Change," and lauded the album as being at the forefront of the indie-classical movement. The Silent Ballet called the album "truly a delightful experience from beginning to end," and Sequenza 21 remarked that "if you're not smiling by the end, try Prozac."
Violist
Nadia Sirota
, one of the leading lights of New York's "indie-classical" scene, takes center stage with her debut recording, first things first, issued by New Amsterdam Records on May 19. Hailed by Time Out New York as one of New York's "brightest, busiest players," Nadia has earned praise for her "command and eloquence" (Boston Globe), as well as her "energy, fluidity, [and] ear for electronic coloration" (New York Times). The twenty-something musician has commissioned and premiered works by some of the most talented composers of her generation, particularly the three whose music appears on first things first: Marcos Balter, Judd Greenstein, and Nico Muhly. The disc comprises five solo tracks plus Muhly's "Duet No. 1″ (with cellist Clarice Jensen) and Greenstein's "The Night Gatherers", featuring Sirota and The Chiara String Quartet.
The music on first things first ranges from Balter's experiments in color and texture in "Ut" and "Live Water" to Muhly's idiosyncratic takes on Minimalism ("Duet No. 1″, "Etudes I and IA") to Greenstein's tense, insistent Escape and lush, elegiac The Night Gatherers. Says Nadia, "For me this album is a kind of summation of projects and friendships that started in my early twenties. Nico I met at school, and Judd and Marcos were both Fellows at the Tanglewood Music Center with me… All of these personal connections make this record really special for me, but more importantly, all three of these guys have really strong, individual voices. Their music is innovative, and yet feels timely and inevitable. I am so pleased to interpret their work, and I am thrilled to release this first record."
first things first has been praised as a "collection of vital, imaginative recent scores" and Sirota's playing "vigorous" by The New York Times, who also called the compelling performance of Greenstein's "The Night Gatherers" "rich" and "haunting." The album has also been cited as an "excellent debut … that's imaginative and often thrilling" (Time Out Chicago) by the viola's brilliant and quirky new champion" (eMusic).
yMusic
is a group of young performers who are actively engaged and equally comfortable in the overlapping classical and pop music worlds. Not only do its members regularly play with classical institutions like the New York Philharmonic and the Orchestra of St. Luke's, but they are active recitalists, arrangers, and commissioners, and have served key roles in touring and fulfilling indie rock visions from Sufjan Stevens to Bon Iver to The National. The group's unique instrumentation includes a traditional string trio as well as the distinctive combination of flute, clarinet and trumpet. This exciting composite of sounds has sparked a burgeoning repertoire of commissions from some of today's most important artists.
Beautiful Mechanical, the group's focused and stunning debut album, features compositions by indie- classical all-stars Annie Clark (St. Vincent) – a piece commissioned by the MusicNOW Festival, Shara Worden (My Brightest Diamond), Ryan Lott (Son Lux), Gabriel Kahane, and New Amsterdam Records co-founders Sarah Kirkland Snider and Judd Greenstein. The compositions are assured and fervent yet tender and humane, the performances delicate yet fiercely virtuosic, making for a cohesive album that stands as a manifesto of what music-making in the 21st century can – and should – be.
Some things (and excerpts of things) people have said:

There have been some really remarkably generous responses to Acadia. Here are a few nice excerpts:

"Greenstein is a composer who deserves our attention, a confident young artist whose work displays no shyness about his influences, yet combines them in a totally distinctive way. Considering that it's his first major orchestral composition, Greenstein has a remarkable command of the disparate voices within the ensemble, celebrating their individuality rather than bending them to the will of his vision.... if he keeps creating things as good as "Acadia," we can only hope that commissions micro and macro keep pouring in." - Rob Hubbard, St. Paul Pioneer Press

"'Acadia'...is an engaging work that is a significant addition to the orchestral repertoire... At times, the work sounded like a lush, epic film score, sometimes complicated by strong dissonances. But sections composed using modal scales created the feeling of innocent folk music... [Greenstein] always seemed completely in control of the effects he was creating. The world premiere performance will be available later this week as a free download... It is well worth hearing, especially given the orchestra's fiery, committed performance." - William Randall Beard, Minneapolis Star Tribune

"Judd Greenstein has a compositional voice that is his own, and those familiar with his compositions for smaller groups such NOW Ensemble will hear it plainly in Acadia. It scales up exceedingly well from chamber size to full orchestra...Acadia is always serious but never ponderous. Its forward momentum is constant but never frenetic. Its rhythmic and tonal palette is shifty and mercurial but never flippant or confused. It asks for, and never fails to reward, the listener's attention. Beyond the excellent recording that Minnesota Orchestra is generously sharing with the world, Acadia deserves to be taken up and widely played by other orchestras, and to become a permanent addition to whatever equivalent we have to a contemporary canon. It is, in the true and original sense, sublime." - George Wallace,
A Fool In the Forest
And here's a nice review by Emily Hogstad at
violinist.com
.

* * *
I made the 2011 "
NPR's 100 Favorite Songs
" list, for Change. They say: "Composer Judd Greenstein's tiny, urgent and insistent itches of melodic and rhythmic ideas explode into beauty."

* * *
yMusic
have deservedly received some great attention for their Fall release on New Amsterdam, entitled
"Beautiful Mechanical"
, and I'm proud to have my work, Clearing, Dawn, Dance, represented on the album. Here's a nice collection of
press
for the album, and here are a few selected write-ups, in
The Classical Review
,
Paste
,
WQXR
, and even the
Bangkok Post
(where Ung-Aang Talay is proving to be an exceptionally thoughtful critic, one of the few album reviewers who is given the space to contextualize the work he's covering. Here's a
review
of Awake). Oh yeah, and Time Out New York's Amanda MacBlane picked them as
classical album of the year
.

* * *
I was one of 17 composers selected for this summer's
Music Issue
of The Believer, an excellent magazine put out by the folks at
McSweeney's
. The issue focuses on "composers" who are reinvigorating the term for a younger generation of broadminded listeners, and I'm happy to be included - along with quite a few friends and colleagues - in that category.

* * *
My good friend
Joshua Frankel
made an incredible film that's set to/around my piece for NOW Ensemble, Change. It is called Plan of the City and you can watch it
here
.

It's been extremely interesting and gratifying to watch the video get picked as a Staff Pick on Vimeo, go viral, and reach over 90,000 hits on that platform (where people actually watch the movies!). There have been some great writeups on outlets around the country and the world, including from Anne Midgette at the Washington Post, who called the live version "one of the best matches of visuals to music I've seen" in a
review
of our May concert.

A couple of the more interesting writeups came on the
Huffington Post
and the
Architizer
blog, which examined five "city symphonies", placing Plan of the City in conversation with Koyaanisqatsi and Sufjan Stevens's BQE, two works that I really admire.
* * *

Lots of great press for the new
NOW Ensemble
album, "Change":
All Things Considered
Boston Globe
("It's been a long time since a new piece grabbed my attention as immediately and held it as tightly as Judd Greenstein's "Change"...It's tough to shoehorn the music on "Awake" into traditional categories, but it doesn't matter: Here is an album that offers a lot of engaging new music, as well as one piece I am sorely tempted to call a masterpiece.")
The Silent Ballet
(Album of the Month, April; "Awake solidifies NOW Ensemble's place as a serious player in the field of modern composition.")
Textura
* * *
Here's a
nice review
of Monday's ETHEL concert at Merkin Hall, with a nice description of my work (and others) by Allan Kozinn.

* * *
Anne Midgette writes a really
lovely review
of our NOW Ensemble show in Washington, D.C., with Victoire.

* * *
Steve Smith
writes about the debut of The Yehudim
, saying, "The composer Judd Greenstein's music, beautifully wrought and consistently appealing, has not always seemed as audacious as his barnstorming initiatives with NOW Ensemble, the New Amsterdam record label and the Ecstatic Music Festival, all of which he helped to found. But "Sh'lomo" ("Solomon"), introduced during a festival program at Merkin Concert Hall on Thursday night, felt like an epiphany. Played by Mr. Greenstein's new ensemble, the Yehudim, this work in progress fuses his disparate musical inspirations with his abiding interest in Jewish history and literature to explosive effect."

Alexander Gelfland had some very nice things to say in
this piece
, which appeared in Tablet, and also featured my old friend, Yoav Gal.

In case my relatives are reading, I'd be remiss to not also include this
extremely thorough and well-written preview
in The Jewish Week, by Eric Herschthal.

* * *
Kyle Gann
wrote a very substantive and personally meaningful description of my music for Chamber Music magazine. It's not linked online, but they gave me a scanned PDF, which you can find
here
. An excerpt:

"...a generation was bound to come along for which the reduced status of modern classical music was no tragedy, simply a fact of life; pop music no corporate hegemon, but a fellow traveler; aesthetics no life-or-death agon, but a shopping mall of viable brands. That generation has arrived. And Greenstein is emerging as one of its chief spokespersons...his access to lots of fine young, new-music-minded virtuosos has brought him a ton of performances. He deserves them. His music is bright, clever, inventive, playful. Blessedly absent is the academic conceit that We Live in Troubled, Anxious Times and need to reflect that in every piece to show how Serious we are." - Chamber Music, January/February 2010

* * *
Here's a
roundup of the 2009 Tanglewood Festival of Contemporary Music
, including some words about Boulez Is Alive, by Jeremy Eichler. * * *

Lots of good reviews for Nadia's album,
first things first
, including some very nice words for my own Escape and The Night Gatherers:

"...the disc's most compelling work is its finale, a rich, haunting performance of 'The Night Gatherers,' a dark-hued work for viola and string quartet by Mr. Greenstein." - Allan Kozinn, Holiday Gift Guide,
The New York Times
, November 27, 2009

"Greenstein's beautiful, dream-like 'The Night Gatherers' is the album's most lush setting - not surprisingly, given that Sirota's accompanied by The Chiara String Quartet - and its most romantic and elegiac. Listening to the thirteen-minute setting, it's hard not to think of it as Greenstein's own "Transfigured Night." -
textura.org
, July 2009

"Greenstein's fluid and elegiac 'The Night Gatherers' is the only arrangement to feature a string section, the Chiara String Quartet, on an otherwise strictly solo album, yet the composer's 'Escape' is the album's outstanding 14-minute centerpiece. Repetitive motifs are gradually scattered like leaves thrown up by a buoyant gust of wind." - Mia Clarke,
Time Out Chicago
, May 28, 2009

"Greenstein is also the composer of the most successful works on the album, the solo piece 'Escape' and the concluding work for viola accompanied by the Chiara String Quartet, 'The Night Gatherers.' The latter piece, which brings the album to a rich and satisfying conclusion, is a lyric and romantic minor key ballade full of beautiful, lush sounds, exquisitely crafted and performed. 'Escape' is the literal and aesthetic centerpiece of the album and demonstrates the craft of composition at its best. Greenstein starts with minimal melodic, harmonic and rhythmic material; a repeated, accented descending minor third, then he composes. He moves the interval around, pairs it, adds a transitional note and rhythm, expands it, takes it apart, develops a range of dynamics and textures. He turns a fragment into an involved, and involving, solo work, full of emotional and intellectual intensity. The connection between where the music began and where it is and is going is always in our ears. It's a tour-de-force work and a tour-de-force performance by Sirota." - George Grella,
The Big City
, May 21, 2009

* * *
Some cool tidings from the great state of Oregon, where Scott Ordway put on a show of NOW Ensemble works by his
Eugene Contemporary Chamber Ensemble
. The
Eugene Weekly
reports and stamps me with the dreaded but meant-here-in-a-good-way "A-word".
May, 2008

* * *
More NOW Ensemble press is available on the
NOW website
. Richard Allen says some nice things over at
The Silent Ballet
, including this really nice description: "The beauty of this piece is that it is always changing; at each turn, an equally pleasing transition waits. Despite multiple meters and lush countermelodies, the composition never loses track of its central theme. Ten minutes later, it's all over, but because of the song's many nuances, each repeated play feels like the first time."
April, 2008
* * *

Seattle wrap-up from the Icebreaker festival: my piece "breezily hop-scotched from modal, folk-like tunes to catchy hip-hop twitterings" (lots of creative language, there! That's from Thomas May's
review
in Crosscut). My music was also heard to demonstrate "craftsmanship and ear-friendliness" (according to Gavin Borchert in his
Seattle Weekly review
). And, finally, my work "wove notes like a tapestry, gentle, syncopated and vivid" (which is nicely said, by Philippa Kiraly, in her
Seattle Post-Ingtelligencer review
). Thanks to everyone who came out in Seattle - that was an awesome crowd and a fun festival!
January, 2008
* * *

Marc Geelhoed reviews
NOW
in Time Out Chicago, giving it (like Steve Smith in Time Out New York) five stars, and also a really nice writeup (again), which you can read
here
. January, 2008

* * *
Steve Smith reviews
NOW
in Time Out New York, giving it five stars and a really nice writeup, which you can read
here
. January, 2008

* * *
Sequenza 21's
Rodney Lister has some
great things to say
about
Sam Solomon
, who gave an amazing recital in Lenox, and included the piece he commissioned from me. July, 2007

* * *
The ever-supportive Steve Smith writes a nice
review
, in the New York Times, of the
Bang on a Can Marathon
, in which he says something nice about NOW Ensemble and the pieces we played, including my own Rock Me Samuels. June, 2007

* * *
Steve Smith gives a very great and thorough
review
, on the Time Out New York Blog, of
Anne-Carolyn Bird's
recital, which featured the (incomplete) premiere of my new piece for her, Hillula. May, 2007

* * *
Alex Ross gives an extensive
roundup
of the New York "contemporary-classical scene", and makes nice mention of me and
Nico
, along with plenty of other cool folks. April, 2007
* * *
In case you think I only share the good stuff on this space, please check out this
nasty pan
I received in Milwaukee. This is, after all, a "fair and balanced" page.

Update: More
good tidings
from the great city of Milwaukee, including this Schoenberg-esque gem: "...more like a meandering jam session than a shapely, efficient composition. It is both overwritten in its indiscernible layers and underwritten in real content."

Update #2: The pros may hate me, but the students
seem to get what I'm doing
. This points to a new definition of "avant-garde". September, 2006

* * *
More on the
Rewind Orchestra
concert from Symphony magazine, where Symphony editors Jayson Greene and Chester Lane
exchange e-mails about the show
. Greene writes about one of my transitions:
One thing I thought this concert did rather well was that when they did perform familiar works, like Mozart's Divertimento for Strings, they approached them from unorthodox angles...the music that filled the interstices between the Schoenberg and the Mozart was so impish, and playful, that by the time the Mozart Divertimento started, it was like something was flowering. (Gushy, I know.) Everyone in the room - or at least, myself and everyone around me - seemed to be smiling involuntarily. September, 2006

* * *
The

Rewind Orchestra

concert got some interesting press. Steve Smith

writes

in Time Out New York about the show and kindly gives me and Paul extensive opportunities to air our thoughts. Fiction writer Tom Dolby

writes in the San Francisco Chronicle

with a very nice first-person perspective. And the

New York Times chimed in

. June, 2006
* * *

Time Out New York critic Steve Smith, on his

blog

,

writes about a concert

in which my Sonata for Cello and Piano was performed. I especially like his complements to Jody and David. April, 2006

* * *
I was recently part of a profile of young composers in the January/February issue of Symphony magazine. Some nice things were said about my music and there is actually a picture of my website (?!) on one of the pages. January, 2006

* * *
"Judd Greenstein, a young composer based in Princeton who's beginning to draw notice in New York, wrote hip-hop beats as a teen-ager, and his concert works weave together multiple pulses in an easy, bouncing motion. "Folk Music," which Greenstein wrote in the summer of 2004, is one of the freshest pieces I've heard so far this year...In May, the New York Youth Symphony premièred Greenstein's "Today and Everyday," which was written with September 11th in mind...In the opening and closing parts of the work, Greenstein tries out grand, populist gestures; the striking middle section is a slow-moving crowd of chorales." June 27, 2005

Read the article

by New Yorker critic Alex Ross
* * *

"A second example is Judd Greenstein, a graduate school-bound composer whose jaunty work "Today and Everyday" was given its premiere. Inspired by the restless pulse of Mr. Greenstein's native New York City, the piece had jazzy Bernsteinian syncopations, a Coplandesque brass chorale, and above all, an impressive confidence that will serve him well as he develops a more distinctive voice." May 31, 2005

Read the article

by New York Times critic Jeremy Eichler

* * *
New Yorker critic (and friend of New Music) Alex Ross says some

nice things

about my piece,

Folk Music

, on his

blog

.

* * *
"The films and images by Luke Batten and Jonathan Sadler of Chicago's New Catalogue are amusing and unsettling, and so is the music...Judd Samuels Greenstein found for them."

Read the article

by Boston Globe critic Richard Dyer

* * *
"Electronic and conventional instruments merge to create tapestries of gradually shifting patterns slowly guiding the ear into new and surprising places."

Read the article

by composer John Halle

* * *
"Greenstein, whose work might loosely be called post-minimalist, has both a tonal beauty and a pulsing energy that appeals to listeners from numerous musical backgrounds."

Read the article

by composer Lainie Fefferman

JUDD GREENSTEIN is a Brooklyn-based composer of structurally complex, viscerally engaging works for
varied instrumentation. A passionate advocate for the "indie classical" community in New York and beyond, much of Judd's work is written for the virtuosic ensembles and solo performers who make up that community, and is tailored to their specific talents and abilities.
Judd has written for soloists such as violist Nadia Sirota, soprano Anne-Carolyn Bird, percussionist Samuel Solomon, violinist Colin Jacobsen, pianist Michael Mizrahi, and flutist Alex Sopp. Major recent commissions include those from Carnegie Hall, the Minnesota Orchestra, ETHEL, Present Music, yMusic, and Roomful of Teeth. Central to his output is his work for NOW Ensemble, the composer/performer collective that develops new chamber music for their idiosyncratic instrumentation of flute, clarinet, electric guitar, double bass, and piano. Current commissions include a multimedia collaboration with Nadia Sirota and New Catalogue, to be debuted at the Scottsdale Museum of Contemporary Art, as well as Sh'lomo, an evening-length work written for The Yehudim, Judd's band of voices, analogue synthesizers, guitar, bass, and percussion, which will tell the story of King Solomon.
Judd's work has been heard at festivals and series around the country, including the Tanglewood Festival of Contemporary Music (MA), MusicNOW (OH), Southern Exposure (SC), Bumbershoot (WA), Sommerfest (MN), the Grand Canyon Music Festival (AZ), Peak Performances (NJ), the Carlsbad Music Festival (CA), New Music New College (FL), and many more. In New York, Judd's music has been presented at theBang on a Can Marathon, MATA,Wordless Music, the SONiC Festival, Keys to the Future, and the Look & Listen Festival, as well as in a wide variety of venues, from Carnegie Hall and Symphony Space to Le Poisson Rouge, Joe's Pub and Roulette, where Judd's music was recently part of the opening festivities for that venue's new Brooklyn home. International performances have taken place at the Musiekgebouw in Amsterdam (CATCH Guitar Quartet); in Rome, Florence, and Palestrina, Italy (Williams College Concert Choir); at the Tel Aviv Art Museum (the Israel Contemporary String Quartet); at the Festival Internacional Chihuahua (NOW Ensemble); at the Institute for Contemporary Art in London (Nadia Sirota and friends); and in the Kyiv Music Festival (Seattle Chamber Players).
In addition to his work as a composer, Judd is active as a promoter of new music in New York and around the country. He is the co-director of New Amsterdam Records/New Amsterdam Presents, an artists' service organization that supports composers and performers whose work is open to all influence, regardless of genre. He is the curator of the Ecstatic Music Festival in New York's Merkin Hall, an annual showcase of new collaborative concerts between artists from different musical worlds, and he is a founding member of NOW Ensemble.
Judd has received degrees from Williams College and the Yale School of Music, has been a Fellow at the Tanglewood Music Center and the Bang on a Can Summer Institute of Music, and is completing his PhD dissertation at Princeton University. Judd is also the recipient of a current Six Points Fellowship for Emerging Jewish Artists, a partnership of Avoda Arts, JDub Records, and the Foundation for Jewish Culture.
www.newamsterdamrecords.com/
GREENSTEIN LINKS
Works by Genre
~ ~ ~
Greenstein on Greenstein
~ top of page ~
Indie Classical Goes Uptown: Judd Greenstein on New Music
(Zachary Woolfe, Capital New York)
Judd Greenstein: Composer-Curator
(Nadia Sirota, Q2/WQXR)
Judd Greenstein - A World of Difference
(Molly Sheridan, NewMusicBox)
Rebel Composers on a Rock Tour of Sorts
(Steve Smith, The New York Times)
Composer's website
. . . contact Judd Greenstein: judd(at)juddgreenstein(dot)com
Greenstein @ Twitter
Greenstein @ American Composers Forum
Greenstein @ American Music Center
Greenstein @ Bang on a Can
Greenstein @ Bushwick Art Project
Greenstein @ Classical Archives
Greenstein @ Classical Connect
Greenstein @ Composers Collaborative, Inc.
Greenstein @ Facebook
Greenstein @ Free Speach Zone
Greenstein @ Good Child Music
Greenstein @ IMDb (Internet Movie Database)
Greenstein @ InstantEncore
Greenstein @ Institute of Contemporary Arts
Greenstein @ LinkedIn
Greenstein @ Minnesota Orchestra
Greenstein @ Monkey Town/The Green Beat Box
Greenstein @ MusicWeb International
Greenstein @ MySpaceMusic
Greenstein @ New Amsterdam Records
Greenstein @ The New York Times
Greenstein @ NPRmusic
Greenstein @ Six Points Fellowship
Greenstein @ String Orchestra of Brooklyn
Greenstein @ Sympho Orchestra
Greenstein @ Williams College Symphonic Winds
also
here
Publisher
Greenstein @ Composer's website
Greenstein @ Good Child Music/Negative Opus Publishing
Streaming Audio
Greenstein @ Composer's website
-
check under individual work listings
Greenstein @ Classical Archives
Greenstein @ Classical Connect
Greenstein @ last.fm
Greenstein @ MySpaceMusic
Greenstein @ NPRmusic
Greenstein @ Six Points Fellowship
Greenstein @ SoundCloud
Greenstein @ WQXR/Interview
Recordings
Greenstein @ Amazon.com
Greenstein @ ArkivMusic
Greenstein @ CD Universe
Greenstein @ ClassicsOnline
Greenstein @ Naxos
Greenstein @ New Amsterdam Records
Video
Greenstein @ YouTube
Greenstein @ Google Video
Greenstein @ Vimeo
-
also search "Judd Greenstein"