Fotografije instalacija/performansa/skulptura s interijerima.
Sobe u kojima su stvari "poludjele": uredno su posložene ali na nefunkcionalan, zbunjujući način.
Unutrašnji dizajn kao snovita apstrakcija. Soba kao mjesto stvaranja paralelnog, zamišljenog svijeta.
Ako ovi teatralni, melodramatični prostori nisu namijenjeni svakodnevnom životu (kuhanju, spavanju, sjedenju...), znači li to da ljudski život kao takav samo smeta mašti
? Jesu li ljudi ove prostore upravo napustili nakon što su u njima počinili nešto nepojmljivo, ili u njih nikad nisu bili ni kročili?
Ili je ovo način na koji sam prostor (ili sama odsutnost) sanja?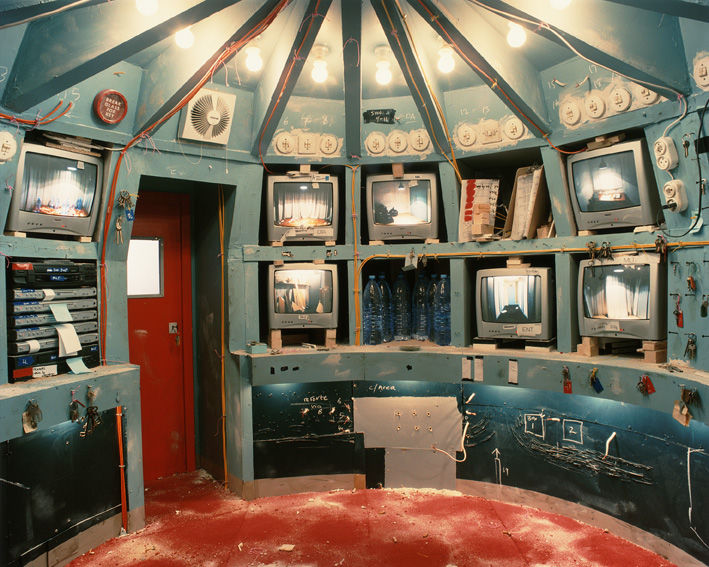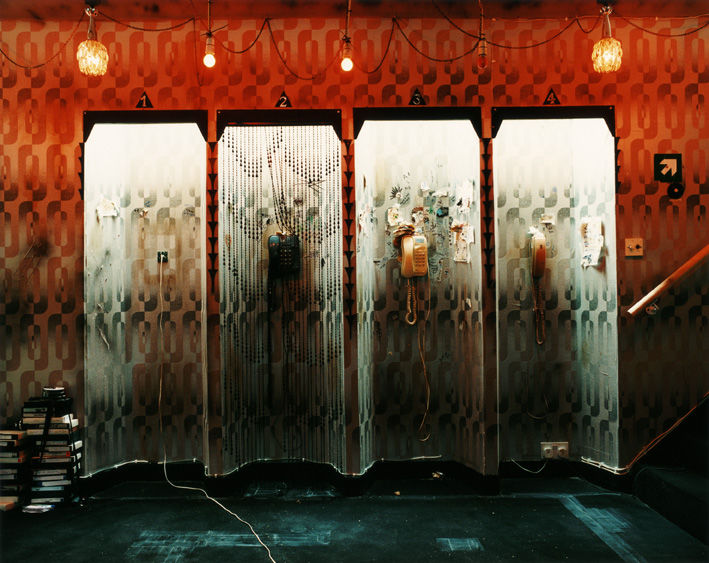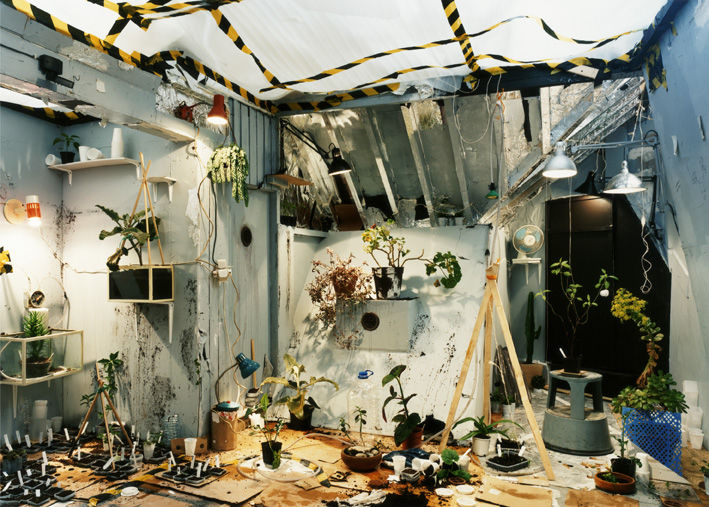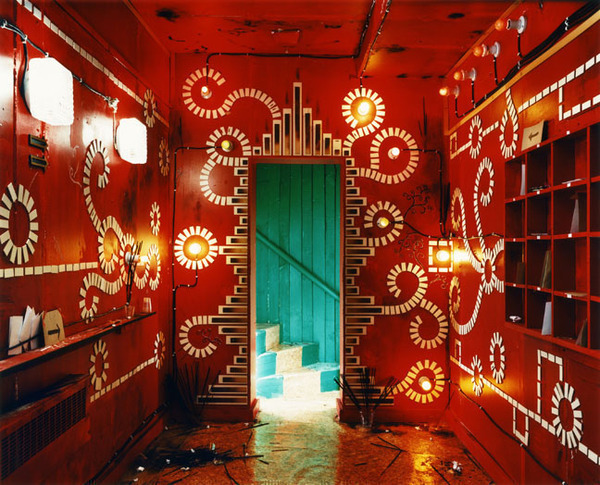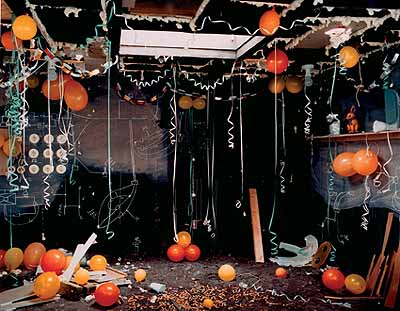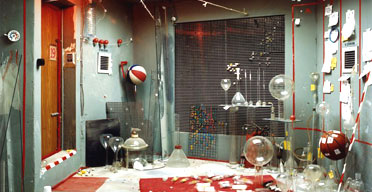 It took about two months to set everything up in this picture, which was taken in December 2005. It's not a real place; it was built in my studio in Hackney, London. The whole space is structured around the position of the camera. It's put together as a photograph, rather than an installation. Sometimes I go back and reshoot things, moving something 10cm this way or that. The actual moment of taking the final photograph can almost seem - not an anticlimax, but such a tiny thing.
I usually start with abandoned objects I find in the street. All the old science equipment here came from a school. I put a lot of specific things into the image, without making specific references, so people can bring different things to it. There is no single explanation. I wanted to create the feeling that there are unfamiliar systems at work here. For example, maybe it was reasonable for someone to label the sections of a basketball.
I always use a similar setup for my pictures, which are taken with a medium-format camera and wide-angle lens. I try to make it look as if the light has come from within the space. In this shot, it comes from the skylight, which is intended to look like daylight, and from the red bulb, rather than anything behind the camera.
I just enjoy this picture. It's always hard to choose a favourite image, but there's something about this one that surprises me more than the others. You have certain pieces as an artist that you feel push your practice on, show you new things. It surprises me that I made this one.
She creates strange scenarios of staged rooms, such as a photo of four wasted retro phone booths staged next to each other. The scene seems at the same time well known and strangely unfamiliar. As in all of Hardys work, people are not included in the photograph, just their leftovers; some books, papers and stuff. In this case, free for the viewer to create their own stories.
Anne Hardy also has high thoughts about being represented at the Copenhagen Photo Festival. "Its an interesting context to be in, and to show the work in this way is an experiment for me, because normally I have the work presented in a very specific way, that is quite different to a billboard in the street. It's a risk. I will see how it works", Anne Hardy says about exhibiting in the public space.
The photo called Booth from 2006 is on display outside of Kunsthallen Nikolaj in the center of Copenhagen. It is almost as if you could enter the photographic space in front of you and actually try and use the disconnected phones in the photo, and at the same time, the hard surface of this strange, fictive maybe inner mental space seems very obvious. This is the constructed photo art out there in the city. - Mette Garfield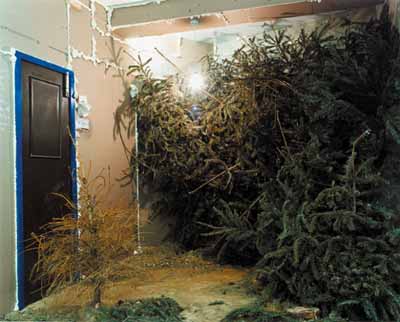 ArtSway is pleased to present an exhibition of recent photographs by Anne Hardy, including new images produced during her residency at the gallery in Autumn 2004. Entering the studio of artist and photographer Anne Hardy is a transformative experience, akin to Alice stepping through the looking glass; a trip to aparallel world. Her studio becomes in turn a stage-set, a self-contained universe, a vehicle for ideas that she assembles and constructs with painstaking detail using everyday materials and found objects. Hardy begins the construction of her disconcerting stage-like sets from the viewpoint of her camera lens, a viewpoint that remains fixed throughout construction until the photograph is finished. The resulting images are exhibited as large scale (120cm x 150cm) colour photographs, under the title Interior Landscapes. This title evokes a sense of 'hidden spaces'; spaces situated in urban environments; spaces that are neglected and forgotten or existing separate from everyday life. Hardy's photograph Lumber (2003 - 4) depicts what appears to be an unassuming, hastily constructed room - all unpainted plasterboard and bulging foam sealant - which has become a last resting place for abandoned Christmas trees; these once precious festive objects have been abandoned and left to decay. The author Rachel Taylor writes that images such as Lumber 'function as surreal mementos mori', and that they become 'spaces of the imagination that follow their own inexorable logic. 'Hardy's photographs are indicative of how modern man has constantly sought to control and manipulate space, and how spaces and objects become overlooked and taken for granted. Hardy's imagery, however fantastical, is ultimately believable. One only has to refer back to the bulging foam sealant and unpainted plasterboard in Lumber to find a very real and tangible, tactile even, reminder of this 'underbelly of the everyday'. Anne Hardy lives and works in London. A portfolio of her work is featured in the autumn2004/spring 2005 edition of Photoworks Magazine. In 2004 she was the first artist selected for the Laing Solo exhibition at the Laing Art Gallery, Newcastle and her work was included in major group exhibitions in the UK(The House in the Middle, Towner Art Gallery, 2004) and abroad (Really True!Photography and the promise of reality, Ruhrlandsmuseum, Essen, 2004).
photography-now.com/