Sardinijska veza: zvukovni istraživač Eugenio Caria (
SaffronKeira)
i trubač Mario Massa. Od ambijentalnih holografskih tapeta do olujnih ornamenata za košulje.
saffronkeira.tumblr.com/release
Available here
Our universe may have been born in the Big Bang. If this was the case, the Big Bang was the beginning of space and time. Nothing existed before, not even the very concept of "before". With the birth of space and time, another important notion entered the arena: the concept of cause and effect. The Big Bang had no cause, but everything which happened after did, thus being a cause and effect at the same time. This is at the heart of Saffronkeira's third album and his first collaboration record 'Cause & Effect'.
Saffronkeira is the project of the Sardinian sound researcher Eugenio Caria. His first meeting with the Sardinian trumpet player Mario Massa was at a distance. Caria saw Massa playing on a regional TV program and was immediately caught by the immersed playing style of this musician which was unknown to him at that time. Eager to meet him, he asked several other Sardinian musicians and was lucky. He got Massa's name and phone number, immediately called him and proposed a meeting. Massa had always dreamt of a collaboration with an electronic music artist, while Caria had always been eager to work with a trumpet player, being fascinated by this instrument since his childhood. Thus, the meeting was a big success, indeed it was love at first sight.
Since then Caria and Massa met every weekend at Caria's studio and ideas bounced back and forth between the two musicians. Massa improvised over Caria's compositions, Caria added layers to Massa's play, there was not the slightest disagreement about the sound and dynamics of their tracks. Just as we can only marvel at the complexity of Nature which emerged only from this simple principle of cause and effect, we can only be astonished at the result of this collaboration.
The instruments of the two musicians wander unerringly through the musical landscape, from warm ambient sounds to rather abstract pieces, from thrilling hymns to threatening sound storms, but they never loose contact. Indeed, Massa trumpet play and Caria's electronics intertwine so well that at times it is difficult to discriminate them. Exploring the entire spectrum of their instruments and displaying their full virtuosity, Caria and Massa have created a unique masterpiece. -
denovali.com/saffronkeira/
Cause and Effect
is an expansive record whose soundscapes reach to the abstract to cavort with a concept that can stray equally far from our comprehension. With his third full-length, electronic sound composer, Eugenio Caria, under the name
SaffronKeira
, ruminates on the idea that before the Big Bang, there was in fact no 'before', and no concept of cause and effect. The album also presents another event of significance: the inclusion of
Mario Massa
, a mesmerising trumpet player.
Massa is said to have always dreamt of collaboration such as this, and indeed
Cause and Effect
seems to have captured both musicians' dreams and projected them to the stars. In doing so, it induces a feeling of almost astral projection in the listener – the dichotomy between a mind transported into space by beautiful, celestial sound while the body remains far behind, inert.
In contrast, the musicians exemplify an immediate and lasting symbiosis; the trumpet's covert entrance renders it almost indistinguishable from the synth swells, blips and airy noises that open the record in "Pity", and such alchemy between the contrasting instruments occurs throughout. Strong solo lines also appear, demanding a space all of their own, yet the trumpet is never in danger of feeling repetitive thanks to its diverse application, from dreamy, reverb-laden melodies through to staccato, almost percussive attacks, with effective use of mutes and harmonic overdubs in between. The trumpet offers constant immediacy and tangible feeling to Caria's morphing and remote soundscapes.
Cause and Effect
is not a record of dramatic dynamics, but one in perpetual yet languid drift between different moods. It delves into darker territory towards its middle, reaching a nadir in the comparatively short "Altered State". Commencing with buzzing and rumbling sounds faint yet rhythmic, an ominous synth growl grows and engulfs – straight out of the book of Angelo Badalamenti (of David Lynch fame). It recedes but remains beneath sounds that become increasingly frenetic, as though a black hole sucking all matter towards it. We reach the album's zenith with the titular "Cause and Effect", which introduces what sounds like a marimba – its wooden timbre a surprising but entirely welcome addition over halfway through the record. The descending ostinato it plays is soon joined by a choir, one of two mesmeric vocal additions across the album. The effect is a hymnal homage to an event as regular yet spectacular as a sun rise.
Despite its universal theme and supernal sounds, there are also moments when the listener is eased back into more familiar, terrestrial territory. The soporific sound of lapping waves introduces "The Sacrifice", while faint murmurings of sounds enter that could be human-made. The album's deep concept encourages a certain pensiveness of mind, cogitating the nature or function of things suggested by such moments: the swell of oceans, the provenance of wind, the rising of the sun. At 10 tracks, very few of which undercut five minutes,
Cause and Effect
both encourages and offers ample time for the listener to dwell on things often taken for granted. -
Chris Redfearn
SaffronKeira:
Live session N°1 - Leytey
from
leytey
on
Vimeo
.
1859-1904
from
Svart1
on
Vimeo
.
Saffronkeira - Tourette Teaser
from
saffronkeira
on
Vimeo
.
SaffronKeira Live @ CATCH London (UK)
from
saffronkeira
on
Vimeo
.
SaffronKeira live @ Denovali Swingfest 2012
from
saffronkeira
on
Vimeo
.
SaffronKeira - Symbiosi
from
saffronkeira
on
Vimeo
.
SaffronKeira + Stefano Rigano Live @ störung Concert
from
saffronkeira
on
Vimeo
.
Live at Farinera del Clot (Extended)
from
Stefano Rigano
on
Vimeo
.
T O U R E T T E 2013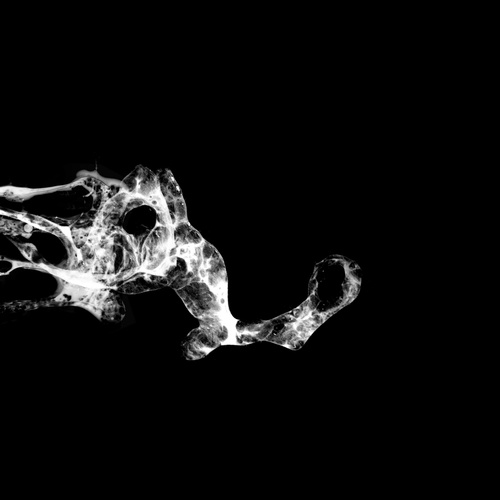 Ordering:
www.denovali.com/mailorder
-
www.hammersmashedsound.com/
A NEW LIFE
www.denovali.com/mp3shop/
SaffronKeira
's music is pretty dark. In fact, it's so dark, that on numerous occasions, when I sat down to write about the album during this past sunny weekend, I had to close all window blinds and turn off the lights, or postpone the process until the dusk came. This music wanted to be a soundtrack to the empty night. Combining analog gurgling with digital rhythms, the sounds on
A New Life
bubble and twitch in an unnerving dance of sonic evolution. There are elements on the album that remind me of the earlier minimalism explored by
Plastikman
and the later atmospheric experimentation by
The Surgeon
, but techno is not a proper term for this. The
Autechresque
percussion treatments mix with the dusty vinyl digging of
Demdike Stare
, while the drone ambiance layers the cold floor with the
Black Swan
aesthetic and the precision cuts of
Raster-Noton
catalog, falling into the only possible unclassifiable category I could define:
hauntology
.
Hailing from Sardinia, Italy, SaffronKeira is a project by a sound researcher,
Eugenio Caria
. Previously appearing with a remix on
Charles-Eric Charrier
's
Silver
(
Experimedia
, 2011), Caria came onto the scene with a 10″ two-track self-titled EP, courtesy of
Denovali
, just this past May, 2012. Whether it was just a taste of things to come, or an inevitable success of the record, the resulting full-length is more than just an album – it's a double CD! The release is split up into
Old Life
and
New Life
chapters, each boasting tracks that average 10 minutes in length and beyond. The vinyl version is released on two separate 2×12″.
The bleak cover art and titles such as
"Symbiosi"
,
"Pregnancy"
,
"8th Months"
and
"Last Days.."
suggest a concept preoccupied with the development of human embryo. The post-processed glitched out sounds of a crying baby appear on the opus titled
"Psychologically Destroying"
, hinting at the first detachment during our child-birth. The underlying darkness of the album is further reflected in track titles such
"Acceptance Of Mental Disorder"
and
"Endless Agony Of Being Sick"
. And the twilight descends.
"With SaffronKeira, Eugenio Caria lives out his passion of being a researcher of the possibility of expression offered by currently available technology. Indeed, in his tracks he experiments a lot with electronics and unconventional elements, which sometimes seem meaningless at first sight, but uncover their significance only on a closer examination. Combining subtle and sometimes even almost invisible rhythms with textures of sound he confidently moves between minimalistic pieces and classic ambient tracks which should please both the analytic ears and the listeners who just want to dive into the music."

For SaffronKeira, Caria employs some of the familiar digital effects, field recordings, and post-processed noise, but he does so with a breath of fresh air, allowing one to appreciate the practice, progress, and process. The evolving tracks take on a hypnotic atmosphere, swirling just below the line of consciousness, where the received and the perceived datum collide, creating a brand new universe, space and dimension.
A New Life
is an album that will surely grab your attention if you are a fan of digital darkness and analog void by artists such as
Murcof
,
Jasper TX
,
Hecq
,
Cindytalk
,
The Caretaker
,
Andy Stott
,
Raime
, and the above mentioned
Demdike Stare
and
Black Swan
. Really enjoyed this one. Thank you, Denovali!
-
reviews.headphonecommute.com/2012/06/21/saffronkeira-a-new-life-denovali/
SAFFRONKEIRA - S/T
Ordering:
www.denovali.com/mailorder
+++
______________________________________________________________________ R E M I X
All songs by: Ronan Benoit, Charles-Eric Charrier, Cyril Secq
Directions in music by: Charles-Eric Charrier
http://experimedia.bandcamp.com/track/12-from-saffronkeira-remix
_______________ L I V E
/s t ö r u n g l i v e s e r i e s 003/
recorded live on 19th of November 2009
www.storung.com
I'm so happy to remix this amazing Artist Mr. Abul Mogard!
Abul Mogard - The Purpose of peace (SaffronKeira Re-Interpretation Remix)
Listen for free, feedback are welcome!
The Dark Side of Warsaw Podcast#1 by SaffronKeira
Interview with SaffronKeira
First, I wanted to find out, what does SaffronKeira mean and where does it come from?

SaffronKeira in the literal sense is simply the set of two names attached, Saffron & Keira. SaffronKeira was the name that I wanted to give my daughter… In a musical sense, saffronkeira is simply looking for sound evolution, sensation-seeking, all without a precise meaning, like a painter who paints a picture in a trance without following any logic.
How did you get into producing electronic music?

oh! it's a long history… when I was a child, at the age of 8, I spent my days listening to records and looking at the cover art, and when the turntable was spinning I remained hypnotized and I wondered how it was possible – how was the music pressed on the inside? When I turned 12, a new neighbor moved into my building, a gentleman from Genova. My mother once said, "Did you know that this gentleman can cut a record?" I didn't believe her, but she repeated that it's true! So I did not waste any time, walked into his studio in our building and asked if it was true that he could make a record? He said, "Yes! I'm an electronic music producer!"
All this might sound strange, but when you live in a small country with a few dwellers, and on an island, where the internet was still scarce, for someone like me, such a thing was something very important and rare! It was just what I needed! so I asked him if I could stay with him in his studio during his music production, and he said yes!
I still remember the first time I ever saw Cubase and Rebirth run on a PC. I was enchanted by just turning the kick drum on and off, and so I spent my afternoons watching and learning how to work a synth and a sequencer, and in my head I was already thinking about when and how I could have my own little studio and make my own music.
In 2004 I bought my first Macintosh, 2 monitors and a keyboard and i started to produce music on my own. Over the next few years, I produced techno and DJ-ed in several places. In 2007 I was in the middle of a crisis of identity for what was my own sound and my approach to composition, or to be more clear, I could not to put out what I had in my head. in those years I produced mainly techno, but every time that some label contacted me for releasing my music, i felt more and more that the things I made and consequently published, were not really from my heart, also the club scene started to appeal less and less as it lost some of its emotion that I felt in the past.
With time I understood and felt the immediacy and the need to create music more personal and different from the mainstream, I felt that it was my beginning of SaffronKeira, it was my time, the time for greater musical maturity, so I started to produce new music, without following a particular path, without a logic.
From my knowledge, A New Life is your very first full-length release. How did you get signed on to Denovali and what took you so long to get a record deal?

Yes it is, the first full length! I sent the label my demo album, I thought they would understand my musical world, and so it was! love at the first sight! It was not in fact that simple to find a label for a release of "A New Life". I received many offers from different labels, but I constantly refused, because I could not see anything in common between me and them, I was looking for a label that cared a little about everything, from artwork to printing on vinyl. I did not want to leave my album in the wrong hands because I spent several years working on it. It means so much to me, I would call it a piece of life. And so I knew that sooner or later I would find a label just like Denovali who understood perfectly all of my needs.
On your site you hint that there will be a few posts in your 'experiments' section. Care to share and tease us with a few now?

for now it's just some ideas, i must find the time and the right people to accomplish this. One of them is a performance I would create with more elements: audio / circuit bending / video / mapping. All accompanied by typical tenor choir and typical instruments of Sardinia. but for now, as I have said, it is just an idea, we'll see if it will come to life… Another project that fascinates me is the contemporary dance, cinema and theater, although I am pleased to experience something with my music…
Is A New Life (and its compliment of Old Life) a conceptual album? What is its central theme?

Yes it is, this is a conceptual album. A new life marks and represents two fundamental parts of my life, a pre and a post. A part of suffering and another which still today marks to me, and that at the same time I believe that without these phases of my life I could never make a new life, hence the working title of the album. The central theme is the transition, the exchange rate, maturation, mutation, such as white and black of a part of life.
What is your production setup like?
Computer, audio interface, two monitors, mixer, some synths, drum machines, some external FX boxes, field recordings, osc protocol, various controllers, orchestral library, but most of the entire production runs through Ableton Live with different plugins, i try to make music in a very spontaneous way. I'll spend a lot of time experimenting with samples of field recordings and play with them until i have an idea of how it will sound later, after i map the plugins to a MIDI controller, so that I'd have the same feeling as touching a button on a real hardware.
What are you working on right now, and what's next for SaffronKeira?

I am currently finishing my second album and looking for some free time to finally make some collaborations with other artists, constantly refer to lack of time, as I had previously mentioned above. Then this winter I think I'll go to Iceland to make some field recordings and to begin my third album. Among those dates I must include the magnificent Denovali Swingfest in October this year, where I will perform. I'm also trying to create my own performance with audio and video alone, without the aid of a second person.
reviews.headphonecommute.com/2012/07/13/interview-with-saffronkeira/