Da je samo napravio operu prema P.K. Dickovom romanu Valis M
achover bi bio junak, no on je i
futuristički skladatelj koji je skladao operu o robotima, smislio je softver s kojim možete komponirati a da nemate pojma o zanatu,
"Anyone can create their own original, beautiful, astonishing music.....they just need the right tools.."
Tod Machover
web.media.mit.edu/~tod/
streaming
ulomaka
Valisa
With the premiere of his first opera,
VALIS
, at Paris's Pompidou Center in 1987, futurist composer
Tod Machover
--a former protégé of Pierre Boulez and professor at MIT's Media Lab--unveiled an audaciously experimental vision. It was a landmark in the evolution of the genre and managed to capture the interest of a new audience, much as Philip Glass's similarly revolutionary
Einstein on the Beach
had done a decade previously. VALIS (an acronym for "Vast Active Living Intelligent System") is based on the semi-autobiographical
novel
by science fiction writer Philip K. Dick. It's a metaphysical tale of multiple identities and psychological transformation, in which the protagonist endures a Parsifal-like quest to reintegrate his personality through understanding his vision of an alternate universe. Machover, who has more recently composed the interactive/Internet work
Brain Opera
as well as an opera based on the late Tolstoy novel
Resurrection
, fashioned a score of labyrinthine complexity to evoke the story's many-layered strands of meaning and imagery. Instead of a traditional orchestra, it calls for just two live players--a keyboardist and percussionist--and a formidable array of computer-generated sounds (including, for example, synthesizers, samplers, and "hyperinstruments" that subtly respond to the live musicians' gestures). These provide a richly contrasting sound world--ranging from terrifying splinters to a shimmering halo--for the cast of eight, who alternate between spoken voice-overs and amplified singing. Yet for all the technology, the music is consistently involving rather than cold and abstract and is enriched by Machover's enormous frame of reference. This is, after all, a work that incorporates hints not only of the Romantic poet Novalis but of the Who's rock opera
Tommy
. VALIS manages to integrate these elements into a mind-expanding journey that has extraordinary emotional resonance and depth.
--
Thomas May
VALIS
, an opera by Tod Machover based on the novel by Philip K. Dick, 1987, 77:22
As with any nifty work of art based on writings by Dick, the first emotion that comes to my mind when listing to VALIS is regret. Dick only lived long to see the faintest glimmers of how his career would take off like the proverbial rocket, and VALIS the opera didn't arrive until 5 years after Dick's death (he died in 1982). Of course all those years in the wilderness of drugs, obscurity, and revelations are now part of the Dickian mythology, and good portions of that confusion and bizarreness found their way into Dick's wonderful novel
VALIS
. However great VALIS, I would still say that if you need to live through such a mess in order to create works of art, it's not a fate I would wish on anyone.
Tod Machover's opera version is actually quite a good adaptation of Dick's novel, although it is perhaps too short to do it full justice. It's more like half an opera than a whole one, and it's dwarfed by some the classics of traditional opera. In VALIS the opera, many elements arrive without sufficient explanation, and one narrative twist follows another without enough entry points for the audience. In the notes that accompany the CD, Machover talks about excising the character of Kevin for reasons of brevity. For those who haven't read the book, Kevin is a good friend of the main characters; Kevin has a sharp word for every wild theory that the others come up with. I think this is a major mistake, as Kevin's sarcastic commentary on the happenings around him would have made the opera more accessible to the audience, even though he doesn't have much in the way of a narrative function.
Otherwise, all of Dick's vision is here. Horselover Fat, one of the two main characters, is a poor put-upon man, hanging precariously onto his sanity, and fighting to maintain healthy relationships with the people around him. The narrator is Philip K. Dick, who comments occasionally and is revealed to be the same person as Horselover Fat midway through the opera (in a scene that is related in the production notes, more on that later). The opera begins with Horselover's friend Gloria asking for some pills in order to kill herself. As in the book, Horselover's attempts to help her are all in vain, and that failure drives him to a suicide attempt of his own. Horselover begins therapy with Dr. Stone, who gives him the courage to explore the revelations that he has received.
Part Two of the opera deals with the Lamptons, the film about VALIS, and Sophia, and this is where things get even more weird (and where Kevin's commentary would have been appreciated). Horselover meets these strange artists, the Lamptons, who have made a film about a satellite known as VALIS. The Lamptons are also friends with Sophia, who is not the little girl that she seems; is she really the messiah type that Horselover Fat and Phil Dick have been looking for? Sophia has several arias, and then the opera wraps up. Again, the music itself is a little bare of meaning in comparison to the information in the staging notes, which are extensive.
What about Machover's music? VALIS is not as avant garde as I was expecting. There is some electronic music, and there are some taped effects (such as in a cool passage where excerpts of Dick's Exegesis are set in French and then gradually sped up). Certainly nothing too strange overall. The singers are not singing classical opera by any means, but nor are they torturing their voice boxes as sometimes happens in modern opera. I really loved Track 21, Slippers Song, which is a moving aria by Sophia. This is simply beautiful music (and reminiscent of some of the final pieces in Glass's Einstein on the Beach, if that is a helpful reference point).
I would love to see this opera staged. As I've already stated, Machover provides comprehensive production notes, and they add immeasurably. Many of the essential plot points are conveyed only through the visuals; the accompanying bits of programmatic music are hard to decipher without the overt clues of the program itself. This could be considered in one of two ways: either as a failing of Machover's music, which is a possibility, or as a corollary of the strangeness and complexity of the ideas that come from Dick's book and are crammed into 80 minutes. I understand that this opera was created as a stage piece, but the only evidence I have is the music on the CD. I don't know where VALIS would be staged, and neither do I know if it has played anywhere after its initial run.
VALIS is a testament to the life and struggles of Dick, and the book is an incredibly personal thing. Machover has done it justice, with one or two slight hiccups. This is a must-listen for anyone at all curious about Dick's life or his legacy.-
James Schellenberg
Death and the powers: a robotic opera
opera.media.mit.edu/projects/deathandthepowers/
Death and the Powers is a new opera by composer Tod Machover and developed at the MIT Media Lab. It is a one-act, full-evening work that tells the story of Simon Powers, a successful and powerful businessman and inventor, reaching the end of his life and facing the question of his legacy. He is now conducting his final experiment, passing from one form of existence to another in an effort to project himself into the future. Simon Powers is himself now a System. His family, friends, and associates must decide what this means, whether or not he is actually alive, how it affects them, and whether to follow.
Death and the Powers
by Andrew Porter
Tod Machover, born in 1953, 'learnt opera from the inside' as Toscanini did, playing cello in the pit—Toscanini in Parma and then La Scala, Machover at the Canadian Opera. His composition teachers included Dallapiccola, Roger Sessions and Elliott Carter. In 1978 he joined IRCAM, where his first opera, Valis, after the novel by Philip K. Dick, had its premiere in 1987. Operas with sci-fi plots—by Glass, Bussotti, Anthony Davis, even Tippett—were prominent in the '80s.
Overcoming prejudices—against the genre, and against operas in which electronic technology is used not just for special effects (as in Musgrave's Voice of Ariadne, Birtwistle's Mask of Orpheus)—and knowing from other works that Machover is a remarkable composer, I got round to Valis at last, in 1989, after it had been revised and recorded. And heard what I called 'one of the brightest and most intelligent of new American operas … no monotony or meagreness of sound … well-shaped, carefully paced acts … variety of texture, tone, intensity'.
Death and the Powers, 23 years after Valis, is even better. It was given four performances, in the course of three days, in the admirable 1879 Salle Garnier at Monte-Carlo (big enough to have held the famous French Rings under Gunsbourg yet intimately communicative). It goes to Boston in March, Chicago in April. The libretto is by Robert Pinsky, who has been America's poet laureate. Simon Powers (baritone), a rich, powerful tycoon and inventor nearing the end of his days, defeats death by shedding his mortal attributes and transferring his personality and character into 'the system'. During the course of the opera—seven scenes, some 90 minutes without interval—his third wife Evvy (mezzo) and his assistant Nicholas (tenor) follow him there. His daughter Miranda (soprano) hesitates, and in a radiant finale—high Bs shining steadily above a sequence of troubled, troubling chords—is reluctant to abandon the world of suffering humanity. The opera is enacted in some distant future as a 'ritual' by robots—which have the ability, fortunately, to present themselves as living, vivid personalities. After a brief prologue they do so. The drama done, in an epilogue they resume robot form, asking puzzled questions: 'What is Death? … Why choose to suffer—whatever that means?' Excellent questions, the Robot Leader says, and awards Human Rights Credits to the enactors.
Questions asked in Anna Karenina by Levin—'Why do I live?', 'How ought I to live?'—underlie Machover's dramatic works. Tolstoy scorned the operas made from his novels, with much romance and little questioning. In some operatic versions of Anna Karenina Levin is simply omitted (though not in those contemplated, never composed, by Janáček and Britten). Alfano's Risurrezione, an opera not without merit, is essentially The Prince and the Pauper, with a soprano role that Eugenia Burzio, Giuseppina Cobelli, and Mary Garden embraced; also Magda Olivero, who declared that not even Callas at her greatest could produce the shivers that Cobelli's Katusha sent down her spine. Machover's Resurrection (Houston, 1999), a more 'serious' opera, was compromised (if memory serves; though memory holds mainly young Joyce DiDonato's wonderful outpouring of unforced, beautiful tone as Katusha) by the endeavour to reach and stir a 'conventional' opera audience. And we were stirred.
There's no Richard Rodgersy, C-major compromising in Death and the Powers. Machover's technological inventions in giving to sounds, through electronics, new sonorities, new eloquence, have been widely and amply acclaimed. The band of only 15, the Boston Modern Orchestra Project, conducted by Gil Rose (September 25), could fill the theatre with rich 'grand-opera' sound when appropriate. But I'd like to stress, not so much the sonic and scenic marvels created by the Massachusetts Institute of Technology's Media Lab (whose
Opera of the Future Group is
directed by Machover), as what a good opera composer Machover is, bringing the 'traditional', necessary skills to a far from traditional work. He has a command of expressive vocal gesture. He sets words sensitively, with a feeling for the natural weight, stress, and length of syllables rare today. Voices and instrumental/electronic sound are well balanced, often with telling counterpoints. The scoring is colourful. The piece is well constructed: a four-character drama opens up in scene 6 with a visit from the outside world, a three-man delegation of tenor, baritone and bass. In scene 8 Miranda is overwhelmed by 'a parade of the World's miseries, the victims of famine, torture, crime, disease'; students and Monaco residents were enlisted for the powerful crowd scene. The final duet is a moving modern addition to the great line of father-daughter exchanges: Boccanegra-Amelia, Rigoletto-Gilda, even Wotan-Brünnhilde.
There was an expert cast. Across three performances, I heard James Maddalena as Powers develop from careful exact utterance to eloquent, lyrical delivery of his lines. Patricia Risley's Evvy was rather wonderful in a long erotic aria of reunion with the husband who has passed into 'the system'. Hal Cazalet was a brilliantly precise Nicholas, the enthusiastic young technician who has the scherzo (not buffo) episodes of the varied score. As Miranda (Cordelia, Antigone), Joëlle Harvey's lines were not always verbally shaped—notes took precedence of line—but she sang with sweet, pure tones and was radiant in the finale. The characters were sharply defined. Diana Paulus's staging and Alex McDowell's scenes were model: dazzling in their inventions but never 'self-promoting'. This was a grand, rich, deeply serious new opera, presented by a team with manifold, coherent accomplishments.
COT's dazzling 'robot opera' poses provocative new questions
'Death and the Powers' at its heart is about family connections
Our wondrous technology could conceivably evolve to the point that it will enable us to shed this mortal coil and achieve a kind of digital immortality. But is living beyond the corporeal world really worth it if we've left our souls, our humanity, indeed other people, behind?
That's just one of several moral and philosophical questions that surface in Tod Machover's absorbing and thought-provoking sci-fi fantasy opera, "Death and the Powers, the Robots' Opera," which had its Midwest premiere Saturday night at the Harris Theater for Music and Dance to launch Chicago Opera Theater's spring festival season.
This is a show unlike anything you have ever seen or heard before. "Death and the Powers" is a cautionary tale about the romance and mystery of technology that enlists some of the most complex, sophisticated technology to have been put on the operatic stage. But, for all its computer-generated theatrical dazzle – created by Machover's Opera of the Future group at the MIT Media Lab -- it is at heart a poignant family drama, about how we connect, and how the choices we make in life impact on those we care about and who care about us.
The first music we hear is electronic chiming emanating from 143 speakers arranged around the theater, after which the darkened stage is invaded by "operabots." These 11 rather endearing mechanical creatures, operated by offstage technicians, sport triangular heads atop plastic tubing and glide around the stage while interacting with the singers. It's the distant future, mankind has disappeared and the robots have been charged with enacting "an ordained ritual" so as to learn more about the vanished beings that created them.
Simon Powers, a Trump-like billionaire businessman and self-styled "tinkerer" who's approaching death, uses his vast resources to perpetuate his life by downloading his essence – thoughts, feelings, memories -- into a digital world called "The System" in the libretto by former U.S. poet laureate Robert Pinsky, based on a story by Pinsky and Randy Weiner.
"See you later!," Simon exclaims before entering his new, post-organic state. For most of the opera the unseen Powers communicates in electronically altered tones to his wife, daughter and assistant represented by patterns of light that play across the towering walls of Alex McDowell's futuristic set.
Powers, sung with wondrous sensitivity to words and music by the firm-voiced baritone James Maddalena, exults in his newfound liberation from what he derisively calls "the world of meat." He wants wife Evvy, daughter Miranda and assistant Nicholas to join him in his digital Shangri-La. "It's never the matter that matters," he tells them. "What matters is More."
But Simon can exert God-like omnipotence from his realm beyond the body, and this has somehow resulted in worldwide war and famine. A delegation from the United Nations, United Way and "The Administration" is dispatched to reason with him, to no avail.
Eventually every family member but one crosses over into "the light." Miranda (note the reference to Shakespeare's "The Tempest") is the lone hold-out. "Who will we touch?," she plaintively asks her father, in the riveting duet that's one of the highlights of Machover's richly inventive score. "Alive!," she declares at the end, ruefully embracing "this body of death," imperfect though it is.
The set designs take on a sensate intelligence of their own that makes them as "real" as any character in the drama. Three huge walls, a stylized representation of Simon's library, shift in and out of place, their pulsing grids of hot colors controlled by computer programs linked to the singers' real-time sounds and movements. There's also a singing chandelier, vaguely resembling a large winged pelvis, whose wings curl in and out. On its strings Evvy (soprano Emily Albrink, singing beautifully) strums a duet of erotic reunion with her husband. The custom sound system has to be heard to be believed.
That all this trailblazing technology, developed over several years at the MIT Media Lab, doesn't vitiate the emotional pull of the story, and in fact enhances it, speaks as much for the strength of Machover's music as it does for the skill of the performers. The entire cast took part in the U.S. premiere last month in Boston, where it was presented under the auspices of director Diane Paulus' American Repertory Theater. The world premiere took place in September in Monte Carlo.
Machover composes as masterfully for singers as he does for actual, electronic and newly invented instruments. His tonally grounded music flickers, hums, pulses, thunders and soars from the expert, 15-piece Boston Modern Orchestra Project under Gil Rose's firm and trenchant baton. You cannot tell where the live music leaves off and where the live synthesized sounds begin, which of course is Machover's objective.
Yes, we're back to the age-old desire to cheat death. Poet Robert Pinsky's
Death and the Powers
libretto begins with a world where all of that happened a long time ago and everything is now run by robots - not
Star Wars
-style humanoids, but strange triangular creatures who puzzle over the previous age of flesh and blood, and literally wonder what it means to suffer. The
Frankenstein
monster, as adapted by playwright Nick Dear, has been cast out into the world by its heedless creator, but thanks to having the brain of a 35-year-old, within a year or two is a fairly functional adult with diabolical blind spots.
The usual questions about whether the human race can handle the power over life and death isn't so evident here. In theory, we already have that power, even if the cloning of Dolly the Sheep ultimately proved to be more of a dead end than a scientific breakthrough. Death can be negotiated more than ever by medical breakthroughs, even if it can't be controlled.
The problem presented by both pieces is moral accountability: It goes out the window when the possibility of death is not hanging over us. Can you imagine the streets of Philadelphia if nobody feared reprisals for what he or she said and did?
Full-Bodied Arias in a Postorganic World
Composer Tod Machover heads the Opera of the Future project at MIT's Media Lab, and that term nicely describes his "Death and the Powers: The Robots' Opera," which was given its U.S. premiere by the American Repertory Theater in Boston last week. It is clearly recognizable as opera: It has a story and characters, and its full-blooded arias, elegantly illuminating the apt (if occasionally self-conscious) text by the poet Robert Pinsky, are sung with passionate intensity by humans. The "future" part is embodied both in the orchestral writing, which skillfully combines acoustic and electronic music to create a remarkable range of colors and levels, and in the staging: not just the rather charming robots that grow, shrink and whiz around the stage, but the way that technology creates the playing environment, even allowing the main character's performance to influence and animate the set.
Technique relates to theme. The opera is about what it means to be human, and what technology adds or subtracts. Simon Powers, a dying billionaire, has devised a "System" whereby his consciousness is uploaded into the walls and the objects of his room, enabling him to live forever without his body. As Simon, the fine baritone James Maddalena spent much of the opera singing from the orchestra pit, wearing sensors that measured his movements and his breathing and used that information to alter the light and movement of the principal set pieces. The drama comes from his family's reactions to this disembodied being who surrounds them as a voice, a Teflon-strung, bird-like chandelier, and tall "bookcases" of flashing, trembling, color-changing lights.
Simon's assistant and surrogate son, Nicholas, is the quintessential tech geek, an avid evangelist for the System and a true believer in replacing "meat" with "metal." Simon's "third and favorite" wife, Evvy, responds to his transformation with dreamy eroticism. Only his daughter, Miranda, cannot get past the loss of physicality and is appalled by the eternal Simon's total lack of compassion for suffering and imperfection. Miranda's resistance to the idea of a perfected, "post-organic" world is futile: Simon's story is framed with a prologue and epilogue for four robots in a postapocalyptic time, who dutifully enact the piece as a required historical artifact. The robots do not know what death or suffering means and thus, the opera suggests, the essence of humanity has been lost forever.
Mr. Machover clearly delineated each of the characters with music, and the excellent cast was affecting and persuasive. Mr. Maddalena infused Simon with a rich man's arrogance, whether he was physically on stage or off. As Nicholas, tenor Hal Cazalet sang bright, eager scherzos. Evvy (soprano Emily Albrink) was all lush sensuality, singing "Touch me" as she strummed the Simon-chandelier that moved to surround her and an electronic Simon voice-layer purred in response. (All the singers and acoustic instruments were amplified, and the chandelier's sound needed more presence in the mix.) As Miranda, Sara Heaton's high soprano, often accompanied by the acoustic instruments without electronic overlay, conveyed innocence and sorrow—and, finally, a richer weight for her blossoming as an idealist. Three visitors from "the World"—ranging from deep bass (Tom McNichols) to a vivid countertenor (Douglas Dodson), with a fine baritone (David Kravitz) in between—became an almost-comic trio as they fruitlessly importuned Simon to use his wealth to rescue the fast-deteriorating planet. Conductor Gil Rose ably coordinated these disparate musical forces, welding the 90-minute, intermission-free opera into a strong dramatic arc.
Director Diane Paulus, production designer Alex McDowell, lighting designer Donald Holder, costume designer David C. Woolard and choreographer Karole Armitage created a stage picture and movement patterns in which humans and machines had an eerie union. The "bookcases" —three triangular set pieces that moved and turned choreographically—became canvases for the disembodied Simon's feelings expressed through light, changing from throbbing, heavily saturated reds and yellows to the most delicate, unwavering pastels. Their emotional intensity felt as vivid and present as the feelings of the actual humans. The robots, with their triangular, tilting "heads" and lights, took on a faintly anthropomorphic character in the prologue and epilogue; during the story part, they were staged as Nicholas's toys, moving around at his command. The robots' cluelessness balanced the work's serious theme with comedy—we take ourselves so seriously, the opera seems to say, but this is how it will all end.
Ten years in the making, "Death and the Powers," which had its premiere at the Opéra de Monte Carlo in September and goes to Chicago Opera Theater in April, boasts a lengthy credit list of computer designers, researchers and technicians. Perhaps the most remarkable thing about it, however, is how seamlessly the technology and the music worked together, so that all that hardware and software was about the people and the story, not about itself.
Monsters & immortals - seriously
That's not to suggest that entertainment value is lacking in the National Theatre of Great Britain's
Frankenstein
(to be simulcast Sunday and Wednesday at Bryn Mawr Film Institute) and the Tod Machover opera
Death and the Powers: The Robots' Opera
(which had its U.S. premiere in Boston this month and is the talk of the opera industry).
Slumdog Millionaire
Oscar winner Danny Boyle directs a more faithful adaptation of the original 1818 Mary Shelley
Frankenstein
novel, whose poetry-quoting monster is more in step with our time than Boris Karloff was. And, after a decade of research and development by technologically fearless M.I.T. composer Machover,
Death and the Powers
is a dazzling update of theatrical technology that tells the tale of a dying billionaire who downloads himself into his possessions so as to live forever.
Soft morning, city
Flora
Light (1979)
The brain opera
Selected Pieces
"What might be most exciting about Machover's pieces in general is how beautiful and moving they are, what lyrical and exotic melismas keep surfacing (and how scintillatingly they contrast with the shattering electronic textures), how dramatically they build, how they have not a dull moment, and what magnificent opportunities for performers they provide."
Lloyd Schwartz, Pulitzer Prize-winning music critic

Boston Phoenix and National Public Radio

VinylCello (2007) for amplified cello, DJ and live electronics

Jeux Deux (2005) for hyperpiano, orchestra and interactive graphics
Jeux Deux
is a piece for hyperpiano and orchestra by
Tod Machover
with interactive piano software by
Mike Fabio
and live computer graphics by
Marc Downie
. It was premiered by the
Boston Pops
in June of 2005 with Michael Chertock, hyperpiano, and Keith Lockhart, conductor.
Jeux Deux
utilizes a number of novel approaches to live interaction using a
Yamaha Disklavier
. All MIDI data generated by the player is transformed with custom software written in MAX/MSP to accompany and augment the live piano playing. Among the various processes are:
real-time transposition varying by range
real-time aleatoric improvisation based on live piano parameterization
pre-composed sequence triggering
"pebble in a bucket": single notes cause waves to 'splash' out from the center
textural "blobs" of notes generated using gaussian distributions
"knob blob": a textural blob of notes generated from knobs which are turned on a MIDI controller to alter range, distribution, speed, and velocity of notes
MIDI data and mode changes are transmitted separately via local area network using
Open Sound Control
to the graphics computer which generates live visualization of the music being played. This produces images that can accurately "notate" in real-time the interaction between the pianist and the notes being played by the Disklavier (hence the title
Jeux Deux
, a "game of two").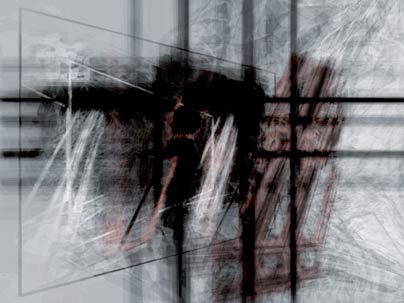 More information about the visuals in
Jeux Deux
can be found
here (pdf)
.

I Dreamt A Dream (2004) for youth chorus

Mixed Messiah (2003) for precorded sound

Sparkler (2001) for large orchestra and interactive electronics
Tod Machover
(composition)

Tristan Jehan
(software, audio analysis, generative algorithm)

Help from Mike Fabio (sound design, sound mixing)
Sparkler is a rapid, delicate tour-de-force that presents one musical vision of the future when acoustic orchestras and interactive electronics might be seamlessly combined. It explores many different relationships between orchestra and technology, sometimes contrasting the two worlds, sometimes complementing one with the other, yet at other times blending the two into a new whole. Three keyboards play and modulate much of the electronics. Unlike many previous works where only solo instruments are amplified or electronically processed, in this piece microphones capture the entire orchestral sound, which is analyzed live into "perceptual parameters" turned into complex electronic extensions. These instrumental sound masses (which are performed with a certain freedom by players and conductor) turn the whole ensemble into a kind of "Hyperorchestra."
The piece was commissioned by the American Composers Orchestra and Carnegie Hall as part of the 2001 "Orchestra Tech" festival. Sparkler was premiered at Carnegie Hall on October 14, 2001, and is performed as the opening work on each Toy Symphony concert. It exists in both 13 minute and 7 minute versions, and is published by Boosey & Hawkes.
Audio excerpts of Sparkler at the World Financial Center Winter Garden in New York city, performed by the Boston Modern Orchestra Project, conducted by Gil Rose:
Sparkler excerpt 1
Sparkler excerpt 2
Sparkler excerpt 3
Sparkler excerpt 4
Sparkler excerpt 5
ICMC 2002 paper
on the project
More details
on the performances

Resurrection (1999) An Opera based on the novel by Leo Tolstoy
World premiere recording of this "milestone and noble achievement."
Here Albany Records is privileged to present the world premiere recording of this wonderful new opera by the American composer Tod Machover who was recently called brilliantly gifted by The New York Times and "America's most wired composer" by the Los Angeles Times. He is highly regarded for music that boldly breaks traditional artistic and cultural boundaries, offering a unique and innovative synthesis of acoustic and electronic sound, of symphony orchestras and interactive computers, of operatic arias and rock songs, and that consistently delivers serious and powerful messages in an accessible and immediate way. As Pulitzer Prize-winning music critic Lloyd Schwartz has written: "What's most exciting about Machover's pieces in general is how beautiful and moving they are, what lyrical and exotic melismas keep surfacing (and how scintillatingly they contrast with the shattering electronic textures), how dramatically they build, how they haven't a dull moment, and what magnificent opportunities for performers they provide." Machover has composed five operas in quite diverse forms, from the science fiction VALIS, commissioned for the tenth anniversary of Paris' Centre Pompidou, to the walk-through Meteorite, permanently installed in Essen, Germany since 1998. His celebrated audience-interactive Brain Opera was the hit of the 1996 Lincoln Center Festival, and is now permanently installed at the House of Music in Vienna. Resurrection received a new production at Boston Lyric Opera in 2001/2002. Machover is also noted for inventing new technology for music, especially his Hyperinstruments that use smart computers to augment musical expression and creativity for virtuosi, amateurs and children. The latest application of Machover's hyperinstruments is for the creation of Music Toys that will enable children to collaborate creatively with orchestras around the world in his Toy Symphony project, which premieres in Europe in Spring 2002 before traveling to the United States and Asia. Machover is currently working on new operas for the Opera of Monte-Carlo and New York City Opera. He was formerly Director of Musical Research at Pierre Boulez's IRCAM Institute in Paris. He received his degrees in musical composition from The Juilliard School, where he studied with Elliott Carter and Roger Sessions. Currently, Machover is Professor of Music and Media at the MIT Media Laboratory, head of the Lab's Opera of the Future group, and Director of its new Centre for Future Arts. He is also a Founding Member of MediaLabEurope in Dublin.

Resurrection, Tod Machover's stab at "traditional" opera, was a commission from Houston Grand Opera, where it had its world premiere, in 1999. Resurrection, with a clear-headed libretto by Laura Harrington, adapted from Tolstoy's last novel, has -- to the surprise of those who have followed Machover's career -- a realistic plot line, ensemble scenes, set pieces, archetypal operatic characters and a dramatically charged orchestra composed primarily of conventional instruments. Machover's irrepressible high-tech bent (he is professor of music and media at the MIT Media Laboratory and was formerly director of musical research at Pierre Boulez's IRCAM institute) is evident in the use of three synthesizers in the pit to enhance the orchestration. While this is not so innovative as the program notes would have us believe (Broadway orchestrators have been doing much the same thing for nearly two decades), it seems to accomplish exactly what the composer intended; the blend is subtle, sophisticated and dramatically potent, while the overall sound remains primarily orchestral. In addition, Machover did the editing and re-mixing for this recording himself, adding further electronic enhancement in post-production. The result is impressive: sonics, instrumental clarity and theatrical impact are all at a very high level. Machover excels at using his electro-acoustic orchestral texture to depict internal and external states of disintegration, of which there are many in the story...Most importantly, the characters spring credibly to life as fully-fleshed humans whose complex evolutions we witness. By the time of the final duet, in which the two affirm the responsibility of individuals to bring change to the world, there is an unmistakable sense of long-term character development and epic sweep....The large, excellent cast, led by Scott Hendricks as Prince Nekhlyudov, Joyce DiDonato as Katerina and Raymond Very as Peter Simonson, the idealistic fellow prisoner she decides to stay with, transcend the multi-stylistic challenges of the virtuosic, melismatic vocal writing...Machover emerges as a composer with a mode of musical story-telling that is powerfully immediate, a worthy goal for any contemporary opera. --Opera News Online

"Minsky Melodies" from Brain Opera (1996/7) for voices, computer sounds, and animated text
Hyperstring Trilogy (1991-1993) for hyperstrings and various instrumental ensembles
streaming
ulomaka
By subjecting acoustic instruments to computer manipulation, Tod Machover has opened his timbral resources to limitless possibilities, yet he still retains the drama of live performance in his hybrid pieces. To demonstrate the versatility of his hyperstring techniques, Machover has created a trilogy of works that grows in complexity in proportion to its increased forces, and his fertile musical imagination expands with each piece. But Machover's soloists draw the listener into the music's emotional center and maintain a sense of humanity in the welter of electronic colors. Begin Again Again..., for hypercello, is a fantastic journey into the instrument's overtones, and cellist Matt Haimovitz pushes past all barriers in this virtuosic solo. Song of Penance, for hyperviola, computerized voice and 17 instruments, is even more elaborate, and violist Kim Kashkashian and soprano Karol Bennett are altered to sound like many performers, to haunting effect. Forever and Ever, for hyperviolin and chamber orchestra, is a concerto in form, but unlike any other in its extraordinary demands. While the orchestral accompaniment may seem rooted in tradition, violinist Ani Kafavian is often floating in the stratosphere above them, producing ethereal sonorities that defy convention and expectations. Oxingale's recording is quite "hot," so a moderate volume is recommended for comfortable listening, especially on Song of Penance. -
allmusic.com
This is one of my favorite contemporary classic CDs released in the last several years. It is a joint venture of several of the best in the new music arena. The pieces combine new technology and modern composition with surprisingly wonderful results. Not just an experiment, but, a great set of musical performances. Tod Machover is not just the composer but he was part of the design team for the new "hyper" instruments. He thus understands how to best write for these new instruments. The hyper instruments read the emotional inflections of the body while being played. These signals are then combined in a computer and re-introduced into the performance. I have seen several "hyper" concerts and this technology works live as well. It is a unique and difficult process to adjust to, hearing echoes and reconstituted notes that have just been played. The performing soloists do an exceptional job with this very difficult music and their technology "partners". Tod Machover not only creates a thematic set of pieces that are well connected and meaningful. His choice of subject is well matched to the music composition he has created, it is loosely based on the dramatic and psychological story of Dante's "Divine Comedy".
"Begin Again Again..." is over 19 minutes, but, because it is so emotional and gripping, it moves very quickly. Matt Haimovitz is fantastic on this piece, demonstrating a wonderful range of emotions and depth. He certainly has mastered the "hyper sound". "Song of Penance" is also a super piece. It combines a hyperviola and voice. It is unique, haunting and very emotionally matched to Tod Machonvers theme. At times the rock like impact of the sounds is overwhelming, yet, the many layers leave one wanting to hear the piece several more times. Kim Kashkashian and Karol Bennet are up to the challenge on these tracks and produce very memorable music. The final piece "Forever and Ever for Hyperviolin & Chamber Orchestra" is the longest piece at about 29 minutes. It is a roller coaster of emotions and sounds. A full sound, strong, with lots of texture. It is a very engaging and technologically enhanced musical experience. Kudos to Ani Kafavian, Gil Rose and BMOP on this dramatic and strenuous piece, it is a fantastic accomplishment.
The CD artwork and layout lend to the overall themes and context of the pieces and instruments. I highly recommend this CD for its uniqueness and its wonderful music.
- BobH

Bounce (1992) for hyperpiano and live electronics
Flora (1990) for soprano and electronics, plus other works
streaming
ulomaka
Four works by concert composer Tod Machover are featured on Flora. The title track represents his only composition to date intended for pre-recording, and is comprised of a computer-altered tape of soprano Karol Bennett. On the most fascinating piece, "Bug-Mudra," Machover controls the action with a "data-glove," which allows him to connect to players via his "hyper-instrument" system; as acoustic guitarist David Starobin, electronic guitarist Oren Fader and percussionist Daniel Kennedy perform, they are conducted by Machover, whose glove allows him to determine the song's overall sound.

With Dadaji in Paradise (1978, rev.1983) for solo cello
In the age of sterile, hopelessly unimaginative "crossover" projects, cellist Matt Haimovitz earned a solid reputation with his passionate, earnestly invigorating advocay of the
Bach Cello Suites
in non-traditional venues for classical music. But his exciting project here on
Anthem
goes even several steps further: rather than rely on a safe brand-name composer, Haimovitz has put together a program of mostly unfamiliar music celebrating both American composers and the unfettered capacity of his instrument. Lou Harrison's prelude from "Rhymes with Silver" is spiked with a taste of baroque linearity but commands with its uncontrived, openhearted melancholy. A sense of musical playfulness dominates in Golijov's Omaramar, a Gardel-inspired fantasia, while one of the disc's most stunning showpieces is Haimovitz's take on a pioneering early piece by Tod Machover,
With Dadaji in Paradise
, which seemingly explores every inch of the instrument's landscape (Haimovitz can also be heard playing "hypercello" on the latter's intriguing recording the
Hyperstring Triology
). Two of the pieces were inspired by the atrocity of 9/11: David Sanford's effective
Seventh Avenue Kaddish
--where the soloist functions, as Haimovitz sees it, as a kind of "professional mourner"--and Toby Twining's microtonally obsessed
9:11 Blues
. For all of the in-your-face, upfront emotional directness that is becoming Haimovitz's signature, he clearly also relishes the mind games of Steve Mackey's labyrinth of variations in
Rhondo Variations
. The title track, meanwhile, stands as a brilliant tribute not only to one of his musical heroes but succeeds in undoing what Haimovtiz has referred to as the electric guitar's "testosterone monopoly."
Anthem
is not only for fans of the cello and new music but for anyone tired of stale, preformulated patterns.
--
Thomas May
Also with tracks by Tod Machover:
Stream online:
Projects:

MIT+150 FAST: Festival of Art, Science, and Technology

Death and the Powers

Skellig
Listen! Sounds from Skellig (Scene 6)
Tod Machover's opera,
Skellig
, opened to full houses, standing ovations, and rave reviews in its premiere performances from November 24–29, 2008 at the Sage Gateshead (Newcastle, UK). The Times (London) says Machover "captures the tale's eerie essence... while remaining accessible and fun", the Telegraph (London) calls it "alluring and intriguing," while the Herald (Glasgow) calls it "nothing less than a dramatic expression of the spiritual sustenance of music." Click here for
Skellig
reviews/media
,
video
, and
images
.
Skellig named "One of Top 10 Events of the Year" by The Telegraph (London)
"Tod Machover's witty and imaginative version of David Almond's children's classic was a delightful end-of-year surprise"
more...
Journal Live (Newcastle) calls Skellig "one of the most memorable of the year"
"During 2008, I have witnessed the flowering of projects whose roots lie sometimes very deeply in international cooperation and respect…. The story [of
Skellig
] had crossed the Atlantic and fallen into the hands of American composer Tod Machover. Enchanted by it, he had set David Almond's words to music and the result was performed to ecstatic reviews in November."
more...
The Independent (London) calls Skellig "spell-binding"
"There is more than enough to engage listeners of all ages in this surprisingly successful children's opera...Like the enigmatic creature itself,
Skellig
deserves many reincarnations."
more...
Skellig Praised in The Times (London)
"Tod Machover has set Skellig to an 90-minute score that blends sophisticated 360-degree electronics and conventional instruments, resourceful choral effects and attractive neoclassical tunes. Done with a light touch, it's music that captures the tale's eerie essence...while being accessible and fun..."
more...
The Herald (Glasgow) calls Skellig "a dramatic expression of the spiritual sustenance of music."
"Any prejudiced soul convinced that opera is a moribund or historic artform best ignored would have their preconceptions shattered at The Sage this week...Here is a brand-new opera proving the medium more than suitable for the latest storytelling for young people."
more...
The Guardian says, "With Tod Machover's new operatic treatment, Skellig may well have found its ideal form."
more...
Classic FM (London) broadcasts 6 different Skellig-related interviews
Extensive interviews with Tod Machover, David Almond and various cast members were broadcast on November 27 and 29, and December 3, 5, 7, and 9 are archived online for playback or download.
more...
The Telegraph (London) calls Skellig "alluring and intriguing"
"Although he has dauntingly served as professor at Boulez's research centre IRCAM and won fame as a pioneer of electronic synthesizing, the American composer Tod Machover can also write immediately attractive and accessible music which doesn't descend to sub-Broadway kitsch...The score is sparely but vivaciously orchestrated, easily melodic, rhythmically buoyant and enriched by many strange and wonderful noises."
more...
The Journal (Newcastle) says Skellig is "a modern opera with legs as well as wings."
"
Skellig
works brilliantly as an opera. Boy, does it work! It left me with a lump in my throat and a sort of a tickle in one eye. Big boys don't cry, of course, but I was very moved. This is a very classy piece of work indeed."
more...
British Theatre Guide says, "Tears in the eyes for Skellig won't feel like operatic affectation."
"Tod Machover obviously sets the tone for this particular recension of the story. That Machover saw the musical landscape of the book as one of sounds which converse with or rebound from each other rather than arias or even tunes, immediately hits the right note. Music here can celebrate but it must not ever gloss over. The overtly 'operatic' might risk containing the story rather than, as Machover does, encouraging it to spread its wings."
more...
CultureCentral (Newcastle) says, "Almond and Machover can be assured they aroused a sense of awe and wonder in at least two first time opera goers (ages 8 and 9)."
more...
Chronicle Live (Newcastle) says Skellig is "EXTRAORDINARY."
"The music intertwines with the story and evolves—exaggerating the connection between differing life forms as they grow physically, emotionally and spiritually...I was mesmerised by the performances of all characters and was driven to tears by the emotion."
more...
Skellig the Opera Prepares to Soar, in The Herald
"Machover was immediately attracted to the the eerie and enthralling Skellig novel, especially its lyrical streak and the strong, simple dialogue, with which Almond describes and defines the characters, and which the author has retained in the opera libretto he has fashioned... It seems likely that, in its new operatic guise, Almond's story will continue to work its extraordinary magic."
more...
BBC News: Classic Tale Made into Opera
"The children's classic
Skellig
has been written into an opera with its world premiere at the Sage Gateshead."
more...
Preparing for Skellig - Tod's Bowers & Wilkins' blog
"I'm in Newcastle-on-Tyne right now, in the final stage of rehearsals for my
Skellig
opera which premieres here at the Sage Gateshead next Monday and runs from November 24-29."
more...
Three Young Stars of Skellig Talk about the New Opera
"There may be excitement on Broadway tonight with the New York premiere of
Billy Elliot: The Musical
, but on Tyneside another North East story is preparing for musical lift-off."
more...
Machover talks about what drew him to Skellig
"David Almond's award-winning novel,
Skellig
, has taken wing as an opera. American composer Tod Machover tells David Whetstone (
The Journal, UK
) what drew him to the book."
more...
David Almond discusses Skellig in The Guardian
Librettist David Almond discusses the genesis of Machover's new opera and the translation of a novel into music in
The Guardian
(UK).
more...
News of Skellig premiere from the Sage Gateshead
Skellig is an enchanting contemporary opera of David Almond's award-winning novel of the same name, commissioned by The Sage Gateshead.
more...
Skellig premiere featured at Opera Europa conference
Opera Europa members are invited to an afternoon seminar exploring the creative challenges of making opera for both young and adult audiences, followed by a performance of Skellig, on Saturday 29 November from 1pm at The Sage Gateshead, Northeast England's iconic music centre.
more...
Skellig featured in October issue of "The Crack"
All good stories should start with what you find at the bottom of the garden: especially if you discover an angel. Bitter and half-dead however, Skellig is more sinister tramp than saintly cherub, devouring dead bluebottles and brown ale.
more...
Skellig to be finale of "Juice Festival" for children
A newly commissioned, contemporary opera of David Almond's award-winning novel, Skellig, will premiere at The Sage Gateshead in November providing an enchanting festival finale. Co-commissioned by culture10 and The Sage Gateshead, Skellig will challenge all preconceptions of traditional opera.
more...

Music, Mind and Health

Hyperscore

...but not simpler...

Brain Opera

Meteorite
Toy Symphony

Music in the Garden

Society of Sound

NewMusicBox

Shaping Minds Musically

My Cello
Interview with Tod Machover
By Peter Stenshoel
Transcribed by Frank C. Bertrand
This is Peter Stenshoel. Philip K. Dick's work has been made into movies, plays and radio plays. But perhaps one of the more astonishing Dick mutations is the opera
Valis
composed by Tod Machover. It received its premier in France at the Pompidou Center the first week of December 1987.
Tod Machover is the Director of Massachusetts Institute of Technology's Media Lab and he's also an Associate Professor of Music and Media at that institution. Dick's fascination with the human potential of robotics and vice versa are echoed in Machover's invention known as the "Conductor's Glove" or "dexterous hand mastered" which, fitted onto one's hand, allows one to assume control of an entire music studio. I spoke recently with Machover about his opera
Valis
and about Philip K. Dick. Persons mentioned in this interview include Catherine Ikam, the French installation artist, and
Mabou Mines
and
ZBS
actor and producer, Bill Raymond. Both of these individuals were involved in the original production. Here then is Tod Machover.
TM:
I'm not a big science fiction reader but when I was a kid the one science fiction writer I did read a certain amount of was Philip K. Dick. And when I was a teenager the book that had impressed me the most was
Man in the High Castle
; that really stuck with me. So pretty early on in the project I decided to go to an English bookstore in Paris and look through the Philip K. Dick section just because I had always admired his stuff. I hadn't read any in a long time. And it was totally by accident – I'd never heard of
Valis
– they happened to have a paperback copy of the first edition. Again, this was probably '83. And it was one of those things, I picked it up and I saw Philip K. Dick and it was this kind of a tacky cover but it was interesting because it was a cover with I think the original one had Christ on the cross built into a rocket or something like that…
PS:
…Big gantry.
TM:
I just opened it up and started reading the beginning and after about – it's one of those funny things that happens – after about two or three pages, the combination of what it was about, the mixture of humor and real depth and pain, the fact that it was realistic but also about some very complex things, all of that together I said certainly I have to read the whole book but I knew almost immediately that it was what I wanted to work on. So that's exactly what happened.
PS:
In the whole process of right from the beginning and through the staging of did you notice any synchronistic occurrences happening at all in regard to this?
TM:
Well, let's see, there were a lot of actually kind of interesting things. And I won't say why or what. In fact I'm not even sure I can remember all of them right now. But the one I remember the strongest was actually pretty funny which was Catherine Ikam and I had been talking about the project. I had already decided on
Valis
and we're starting work on it, and I was still living in Paris. Bill Raymond came to Paris. There's a place in Paris called The American Center which is a sort of performance center. And Bill Raymond came to do a theater piece. It was actually a theater piece where he plays Ulysses S. Grant; it's a kind of monologue. I'm not a big theater fan myself but I went to this and was absolutely, I thought it was just great. So it impressed me a great deal. And I had no idea who he was, never had met him before. About a couple of weeks after that it all of a sudden occurred to me, you know, my god this guy would be fantastic to work on this project because there was something about his presence on stage that reminded me a little bit of the Philip K. Dick Horselover Fat character – just something about it resonated. And I said, look he lived in New York and I decided to call him up. So I just called him out of the blue, he didn't know who I was at all. And I said I was going to be in New York, could we sit down and talk. I was working on a kind of nutty project and wanted to tell him about it. So we met pretty soon after that in New York and it was one of these really weird things when I said, you know this is a kind of strange project. I'm working on this thing, you probably don't know Philip K. Dick, or have you heard of him? And he said, Philip K. Dick, my god, not only have I heard of him but I'm working on a Philip K. Dick project right now. In fact he was working on an adaptation of
Flow My Tears
for theater right at that time. And he said, not only that my wife was one of Philip K. Dick's best friends and I knew Philip K. Dick. And this whole thing unraveled where he was even more involved in Philip K. Dick at that point than I was and knew all about it and was involved in a theater project. And that was really odd because it was totally out of the blue that I'd picked him.
Actually another thing that struck me was when I went to try to find out how to get the rights to base an opera on
Valis
. And it took me a while, but I finally got to Russell Galen who, as you probably know, is Philip K. Dick's, was his agent and is now in charge of the literary estate. It was really hard to get an appointment and again they usually handle movie rights. I was sort of expecting him to say well, you know, for an opera I don't know. Anyway, I went in and just said to him I think this is a fantastic book and I'm interested in writing an opera on
Valis
and it's going to sort of take this form, blah, blah, blah. And I totally expected him to say, well, it's a nice idea but we're not really interested. Instead he said well, you know you probably don't know this but I wasn't only Philip K. Dick's executor and his agent but we were really close friends. And not only that when he was writing
Valis
he was quite depressed a lot of the time and he use to call me about twice a day for a year and a half when he was working on it. And well I had to keep stopping working and I sort of talked to him every day while he was working on that book. Not only that
Valis
at that point in '82, '83 wasn't really all that popular, certainly not outside of fairly small Philip K. Dick circles. And he said you know a lot of people have mixed feelings about
Valis
. But you know I agree with you, I think it's his masterpiece and I'd love to see a treatment of it. And you probably don't realize this, or you didn't notice, but
Valis
was dedicated to me. Then all of a sudden I made the connections between who this guy was. There were a lot of things like that, a lot of people especially, who I kind of got in touch with without having any idea who they were, who had somehow been touched by this particular book and the whole project meant something to them. So I could go on and on but there were actually a lot of things, more than any project I've ever worked on.
PS:
Is there a reason why maybe we might want to start paying more attention to Dick in your opinion?
TM:
I think one of the interesting things about Dick is that actually there are so many things that he felt and expressed in his books that are not so much messages as really clear pictures of where the world is going, often frighteningly so. I think he is probably one of the most visionary authors that's been around in the last fifty years or so. The part of his message I think that resonated most with me, and I think is very important, is one I think he struggles with in
Valis
and all those books at the end of his life, is how is it possible to keep some sense of hope when the world and most of our personal situations are in such an extreme state of pain. And the particular situation that I think he describes in
Valis
, I mean to me it's what the whole pink light experience and his reaction to it means, is we live in a world that is becoming in fact more and more fragmented, more and more complex. I mean you don't have to have a pink light experience to realize that there is too much information to not only be aware of but to make any kind of sense out of. What we've seen nobody really would have expected like three or four years ago – that the kinds of thing we're seeing in eastern Europe now – the world, instead of moving towards some kind of greater communication actually, is again breaking up into little pieces where nobody seems to understand each other. There's an incredible amount of hatred and really bad feeling is surfacing. There's this incredible feeling of the world being not only too complex for any one person to make sense out of but also dangerously complex, to the point where people will not only not understand each other but end up hating each other and being absolutely crushed under the burden of just trying to make sense with how much there is to know. And to me that's kind of what being bombarded with this pink light and too much information means.
I think that Dick had the courage and either the real seriousness of purpose and also the sense of humor – that's what I love so much about his work – to say that even though it seems like a hopeless situation to figure out – to say that there is in fact some deep spiritual or human reason to try to find what makes human experience more similar than dissimilar, both in different historical periods but between different kinds of people. You know this idea that what you see on the surface, which is basically the difference, is not the greatest truth. I think that's actually not a very fashionable idea right now and I think that ever more than ten years ago – I think there's a period in the 80s where it sort of seemed like through our media and communications there'd be a kind of facile way of connecting people, a sort of passivity and turning on your cable TV and seeing what's going on today in Tokyo or in Europe and you sort of feel like you can take all this stuff in. But in fact I think what we're seeing now is exactly what Dick predicted, which is that it ain't that easy, that if you look below the surface there's this incredible sense of horror and pain and panic that you sense when you get hit with this pink light. And I think the pink light is realizing how deep the fragmentation is. I think that what Dick's whole life work represents is the courage to keep looking for how things stick together. And I do believe that that is the task of our times and will be for the future, to not give up that search. I think that is his late books what he expressed so beautifully was the little glimpses of what makes it worth keeping looking and the courage to keep looking even when, kind of the way Horselover Fat ends up at the end of
Valis
, his whole, he had enough of a glimpse of Sophia and some kind of truth that he doesn't give up. On the other hand he hasn't found a way to sustain that level of realization. To me I don't think anybody's expressed it better.
PS:
Very good. Thank you so much.
TM:
Good to talk with you.
PS:
Yes, good to talk to you too.
TM:
Bye, bye.
PS:
You just heard Tod Machover speaking of his opera
Valis
based on Philip K. Dick's stunning work
Valis
. I'm Peter Stenshoel and my thanks to Mr. Machover for taking some time during his busy schedule to speak about these things.
Additional Resources:
MIT Media Lab Tod Machover page
with 14 links to other info
Valis Opera
page with Quicktime video
Valis opera CD
, at Bridge Records, with MP3 audio sample
Review of VALIS
, by James Schellenberg
Valis points to exciting possibilities for growth of opera
, by Jonathan Richmond
Interview with Tod Machover
The composer from MIT's Media Lab discusses his Brain Opera
Tod Machover
The Brain Opera is a new interactive performance designed and composed by Tod Machover of the MIT Media Lab. It makes use of custom-made electronic instruments, an extension of the electronically enhanced "hyperinstruments" that Machover has been developing over the past decade. The Brain Opera is currently being performed at Lincoln Center in New York City, but it is also a global performance that is wired into the
Internet
.
Each performance of the Brain Opera consists of two parts: an introductory period during which the audience gets to explore, experiment with and play with a variety of Machover's instruments (including large percussive devices that resemble neurons), and a more formal, 45-minute musical event orchestrated by three conductors. The music incorporates recordings just made by the incoming audience, along with material and musical contributions from participants on the World Wide Web. The Brain Opera will tour after it completes its run at Lincoln Center on August 3.
Scientific American
caught up with Tod Machover during a lull in his frantic schedule (the Brain Opera takes place every hour on the hour from 1 PM to 7 PM daily). He shared with us some of his vision of melding music, science and technology:
---
SA:
You have stated that the Brain Opera was inspired by ideas from Marvin Minsky, also at the Media Lab. How do Minsky's philosophy of the mind find their way into the Brain Opera?
TM:
Yes, Minsky is at the heart of the Brain Opera; the "libretto" is taken from interviews I've done with him over the past couple years. For a long time I've found his ideas about music very stimulating, although they are not widely known. I first contacted Minsky when I was a student at the Juliard School in New York, some 20 years ago. I was a fan of his, I wanted to meet him. Later, when I had moved to IRCAM in Paris, he agreed to come and give a colloquium. He gave a fascinating discussion about Beethoven's music as a kind of "learning machine."
There are some basic questions about music that people almost never address: Why did music arise in all cultures? How does music evolve? What happens to the mind when we are listening to music? Nobody talks about music as having intrinsic meaning, how it engages the mind. How do nonverbal reactions connect to the world? Minsky is one of the few people to look at emotions and music and seek the connections. He asks the bold questions about how it may work.
People working on artificial intelligence (AI) learned quickly that we did not know enough about the mind to make a convincing model of it. Minsky has provided a general model that changes how we think about the mind. He sees the mind not as an orchestra, with a conductor directing all of the action, but rather the opposite: it is a bunch of agents running around who collectively find a way to organize. My interest lies in understanding the balance between central organization and anarchy--in our minds and in our lives. The Brain Opera is intended to encourage audiences to reflect on this process.
SA:
In what sense is this performance an "opera"? Why did you use that very traditional-sounding term in the name?
TM:
I deliberately wanted the title to be provocative. And I wanted to put those words together, "brain" and "opera." There are a lot of things I want people to think about, a lot of dichotomies I want them to reconsider. The old right brain-left brain gobbledygook is not the way that people really think. The split between art and technology is another old division, another false one.
At last night's performance [of Machover's "Hyperstring Trilogy," which includes one piece for electronically enhanced cello], everything worked fine with the technology--what went wrong was that the cello's A string broke at the very beginning of the piece. It was the one thing I hadn't anticipated, and it made me realize that strings are technology too.
My message is to forget about dichotomies. The Brain Opera is an opera, even if it does not tell a story in the usual way. It is a psychological journey with voices--so I do consider it an opera.
SA:
How have audiences responded to the Brain Opera so far?
TM:
We are watching their reactions carefully. So far I haven't had a chance to watch the audience playing with the instruments; I'll have a chance to do that in the coming days.
The audience has been very diverse, with lots of older people as well as a lot of kids. Interestingly, the older folks have been especially active with the instruments. In general, the people who come to this with an open mind will enjoy it more.
We have misjudged one area: people want more information ahead of time about what to expect and what to do when they enter the "experience space." We went to an extreme in making the experience self-explanatory and letting people learn themselves what to do with the instruments. Now we are providing more information--but we're doing it personally, with guides not with written instructions.
SA:
What do you see as the primary rationales (whether aesthetic or philosophical) for combining music and interactive electronic technology?
TM:
There is a deep reason for interactivity. Works of art should be stimulating. They should wake people up rather than acting like a sedative. I hope that people will come out of the Brain Opera asking for more from their art.
The goal is for the audience to get involved with the performance. We don't want the audience to pay attention to the technology. In fact, we've made a great effort to keep all the wires out of sight.
We are searching for something between top-down authority and complete anarchy--the interesting balance in between. We live in a very fragmented world in which people often feel out of control. What we are doing here is more than putting together notes of music; we are trying to touch people's lives. The hope is that art can provide a model for how people can come together and interact in other aspects of their lives.
The traditional concert model has all the work done on stage, finished ahead of time and then organized by the conductor--it is like the traditional model of the mind. As a result, of all the arts, music requires the most work because the imagination has to fill in all the details. The seriousness with which people approach music is frightening; we need to do something because people are forgetting how to listen.
SA:
How do the ideas in the Brain Opera extend your previous work with electronically enhanced "hyperinstruments"?
TM:
My work on hyperinstruments started with simple instruments, like the piano. Developing a hypercello for Yo-Yo Ma proved much more difficult. We placed electrical sensors on the bow but the readings kept coming out weird. It turned out that his own body electricity was affecting the sensors.
About five years ago, that experience gave me the idea of making instruments for audiences, instruments that respond to peoples' movements and gestures. The technology could respond directly to what you intend to do; it is a way of bringing music to people who don't normally get involved with this stuff. That is what the Brain Opera grew out of.
SA:
Do you consider interactivity to be an important element for the future of music? For instance, is this classical music's equivalent of the electric guitar--a way to get people from all walks of life excited by and involved in music?
TM:
It is really hard to say at this point. This technology is so new, it is premature to answer. One crucial direction in the arts is to break down boundaries between audiences and the creator, between the finished work and the set of possibilities of what that work could be. This goal is important on a practical level because we must find a way to get audiences to wake up. Any way that it can be done is worth exploring.
One of the great things about technology is that it can break down barriers, such as the difficulty of mastering a musical instrument or the mystery of learning musical technique. Technology lets people tap skills that they already had; it lets people use their intuition to make creative decisions without having the detailed knowledge. It will change the way that we think about concerts.
SA:
Will you be exploring further the possibilities of music and performance on the
Internet
? Are there things you would have liked to do in the Brain Opera that the technology does not yet allow?
TM:
Right now, you still have to come to the performance to experience the Brain Opera. I would love to do a home opera next. It might be like elevator music, present right where you happen to be, but turned into something uplifting rather than mind-numbing.
The Internet is slightly puzzling because it is changing so fast. There are lots of problems still; it is quite primitive. The big advantage of the Internet is that it is the only medium we have that allows large numbers of people to be in a collective space together. For getting music or any kind of information out, broadcasting is better. But for getting instantaneous response, we need the Internet.
This is a transitional period. It is still a little too hard to transmit sounds, a little too hard to download instruments [which the Brain Opera allows], a little too hard to show who is online. But the time when we can do these things is not that far off. With the Brain Opera, we've put our fingers on most of the interesting issues. We will be experimenting further with them over the next two years.
We have to find a way to make public places and the home more connected. I think that will happen, and both spaces will be richer for it. Los Angeles has the right idea: the people developing the new concert hall there are finding ways to connect the hall to the local schools. We need more of that kind of thinking. -
www.scientificamerican.com/
On Future Performance
By TOD MACHOVER
Composing is what I love to do most. It is what best combines my various skills and interests — imagination, reflection, organization and the desire to communicate my thoughts and emotions to anyone who will listen. I also love solitude: I do my creative work in an 18th-century barn on our farm near Boston, where I can pursue my ideas without the need to explain or translate until all is ripe and ready. So it may seem like a paradox that another large chunk of my life is spent in one of the world's most futuristic, collaborative and intensive centers of technological invention — the
The Massachusetts Institute of Technology Media Lab
. But the attractions and complexities of merging these worlds are central to how and why I work, and grow from seeds planted when I was very young.
My mom is a Juilliard-trained pianist and a remarkable pedagogue and my dad is one of the pioneers of computer graphics, but it actually took me a while to start combining these fields. I grew up as a cellist, first playing solo Bach, then chamber music (I never particularly enjoyed playing in orchestras), and then, by high school, original composed or improvised music using a wired (or is that "weird"?) transformed rock cello that I created by placing large headphones around the cello for amplification, then sending the sound through tape recorder loops and analog transformation processes.
Is there any more music technology to invent? Or do our musical imaginations and artistic cultures simply need to catch up?
The appearance of the Beatles' "Sgt. Pepper's Lonely Hearts Club Band" had changed my life: it suggested a music that ideally balanced complexity and directness. There was a downside, though: as a product of the recording studio, most of the Beatles' music after 1967 couldn't actually be played live. That's when I started imagining a performance mode that would combine the physicality and intimacy of solo cello and the unhinged creativity of the recording studio. I was driven by the urge to bring this strange, enticing and intricate music filling my head out through my arms and fingers and into the world.
This desire compelled me not only to compose the music I was imagining, but also to invent new instruments and new modes of playing them, something that I never thought as a kid that I'd end up doing. So along with my colleagues and students at the M.I.T. Media Lab I've designed
hypercellos
for Yo-Yo Ma and Matt Haimovitz, a
Brain Opera
to allow audiences to share in the creation of each performance, a
Toy Symphony
to induce children to fall in love with music using
Music Toys
that open doors to collaboration with top-level virtuosi, and composing software —
Hyperscore
— for enhancing music education and enabling music-modulated-health.
Inventions like these have been part of a trend that has yielded amazing developments over the past 10 years. Technology has democratized music in ways that are surprising even to me, revolutionizing access to any music anytime with iPod and iTunes, opening interactive musicmaking to amateurs with Guitar Hero and Rock Band (which both grew out of a group I lead at the M.I.T. Media Lab), providing digital production and recording facilities on any laptop that surpass what the Beatles used at Abbey Road, and redefining the performance ensemble with initiatives like the Stanford iPhone Orchestra and YouTube Symphony.
In fact, at the start of 2010 one wonders whether there is any more music technology to invent, or whether our musical imaginations and artistic cultures simply need to catch up. The answer is both, and then some.
For the first time in my career, I feel as if there are enough tools on my laptop, enough brilliant and inventive playing chops amongst the younger generation of performers, enough ooomph in the iPhone, and increasing openness and entrepreneurship in musical organizations both large and small to stimulate my imagination and allow for the production and dissemination of my somewhat unusual creations.
But even though these evolving music technologies are already very powerful and increasingly ubiquitous, we can also see their current limitations and potential risks. Guitar Hero is rhythmically exciting but not yet expressive or creative enough — a "sticky" but not "open-ended" experience that does not obviously lead to better musicality, listening or ensemble awareness. The iPhone is a remarkable little chameleon but lacks the touch and sensitivity of even the simplest traditional instrument, better for selecting and switching than for subtly shaping. Amplified sound is loudly present and "surrounds" us ever more, but still emphasizes the boom box aspect rather than the "still small voice." And there isn't yet a performance measurement system that could come close to interpreting the exuberance, range and immediacy of someone like Gustavo Dudamel or truly enhancing the experience of an "unplugged" symphony orchestra.
As a composer, I find that each new piece I undertake suggests exciting but daunting technological challenges; my imagination just seems to be wired that way. My current project, the opera "
Death and the Powers
," is one example.
Guitar Hero
Tod Machover believes that, through technology, everyone can experience the transformative power of music. But creating music is not just fun, it can also aid mental and physical health.
We all love music deeply. It is capable of entertaining, stimulating, moving and transforming us as few other activities are. In fact, there is increasing research on the how and why of music's power, some of it – like the much-hyped 'Mozart Effect' – suggesting that merely listening to music on your iPod while driving, reading, sleeping or perhaps even playing music to your baby in the womb is enough to let music work its full magic.
Unfortunately, that isn't quite true. Music exerts its power when we are actively engaged, not when we listen subliminally. For this reason, I have been working with my group at the MIT Media Lab to create musical tools – often with specially designed technologies – that enable everyone to participate directly in music-making regardless of background.
This field has undergone a revolution in the past several years through the huge public success of the Guitar Hero and Rock Band videogames. Alex Rigopulos and Eran Egozy, students of mine from the MIT Media Lab, developed them based on ideas that we were working on in the early 1990s. The good news about Guitar Hero and Rock Band is that they clearly demonstrate the public's willingness to dive in and immerse themselves in music-making, given the right environment. The bad news is that neither platform is truly musical, nor do they encourage learning, expression or creativity.
What would happen if we could combine the excitement and 'stickiness' (bordering on addiction) of Guitar Hero with a more sustaining, personal and open-ended musical experience? How could we embed such a new type of activity in a more integrated musical ecology, where the current exaggerated distinctions between celebrities and amateurs would be diminished and the level of musical sophistication, excellence and, hence, enjoyment would be raised for all?
The research projects that I direct at the MIT Media Lab and many of the musical projects I undertake are attempting to nudge the field in these directions. We started by developing Hyperinstruments for some of the world's greatest performers, including Yo-Yo Ma and Prince, as well as orchestras, chamber music ensembles and rock bands. All kinds of sensors are built into the Hyperinstrument so it knows how it is being played. By changing the interpretation and feeling during performance, a cello – for instance – can be morphed into a voice or a whole orchestra or something that nobody has heard before.
As these virtuosic Hyperinstruments developed, we started imagining that we could use similar technologies and interpretation strategies to produce instruments and interfaces for music-lovers who weren't highly trained virtuosi. We have designed a series of such instruments and interfaces. One of the largest collections was the Brain Opera that launched at the first Lincoln Center Festival in New York in 1996, toured the world and is now permanently installed at the Haus der Musik in Vienna.
We created this rather large orchestra of specially designed fantasy instruments (including Rhythm Trees, Harmonic Driving, Gesture Walls and Melody Easels) so that anybody could play them using natural skill. You can play a video game, drive through a piece of music, use gestures to control huge masses of sound, touch a special surface to make melodies and use your voice to make a whole aura. We designed the Brain Opera for adult concert-goers, but found that everywhere we went it was most easily understood and most creatively manipulated by the youngest (under 8) and oldest (over 70) visitors. This was perhaps due to lack of inhibition and desire for social play and creativity among those ages. We therefore decided to concentrate on activities that might engage those groups more directly.
This led to our Toy Symphony project (2002–2005), which attempts to reconsider how to introduce children to music in the most immersive, creative and enjoyable way possible. The goal is to have kids fall in love with making music first and then demand to learn more because of that love. We designed a set of new Music Toys, including the soft, squeezable Music Shapers that manipulate intensity and tone colour; Beatbugs, which capture rhythms that can be manipulated and shared with friends; and a software-composing environment called Hyperscore that lets anyone compose original music by shaping lines and colours. Another goal of Toy Symphony was to develop a project model – learning musical skills, creating new music and then rehearsing and performing a concert – that would bring children and orchestras together.
Our results with Toy Symphony were encouraging enough that we decided to bring this model to other populations where there might be clear impediments to personal expression and creativity, where music, made accessible through new musical tools, might be an ideal medium.
In 2004, we began concentrating on providing musical experiences and tools – based on ongoing research by colleagues at the MIT Media Lab and increasingly around the world – to help improve health, diagnose illness and provide a medium of expression and communication that would otherwise be lacking. This new area of Music, Mind and Health has led to research in using music for early detection of Alzheimer's disease, for social and emotional adaptation for autistics, for aiding physical and mental rehabilitation and for a growing number of other areas. With my student Adam Boulanger, I started this work at Tewksbury Hospital near Boston, where we were invited to work with a group of long-term residents with a wide range of severe physical and mental disabilities. We organised composing workshops with Hyperscore that resulted in a series of public concerts featuring music by patients. This process has become so successful that it has been replicated at many sites, resulting in marked and unexpected improvement in a wide range of conditions, and inspiring a number of patients to themselves mentor others in the uses of new tools and environments for creative musical expression.
A new performance system designed for and with Dan Ellsey (see panel) is an example of a new category of interfaces that we call Personal Instruments. Even an instrument as sophisticated as the Hypercello we designed for Yo-Yo Ma is a generalised instrument. In other words, anyone familiar with cello technique can play it, drawing more from it according to one's mastery and understanding. But Dan's instrument was designed for him and him only: it takes account of his particular style and detail of moving and the way that translates into musical expression, and compensates for his particular physical limitations. Future instruments and interfaces can and must be adaptable and tunable to each of our skills and limitations. For us, Dan's performance system represents the first step in this direction.
If we extend this idea that music can be one of the most powerful interfaces we have for showing the outside world who we are, another current project – a 'robotic' opera called Death and the Powers – pushes it in an unusual direction. With an original libretto by former US Poet Laureate Robert Pinsky, it tells the story of Simon Powers, a rich, successful, powerful man who wants to live forever. He designs a 'System' to download himself into his environment, which includes a vast library and a set of objects and artefacts. The main singer disappears into the System at the beginning of the opera and the entire stage becomes the main character; it becomes Simon Powers' legacy. The opera is about what we can share, what we can pass on to others and what we can't. It features a large Musical Chandelier – a robotic music instrument with gigantic piano-like strings. These are remotely controlled mechanical and electroacoustic elements that tickle, vibrate, stroke and punch out unusual music. The opera also has a 'chorus' of autonomous robots that observe the action and intervene between Simon's family and Simon-as-System. And there is the System itself, which is an abstraction of how Simon chooses to represent himself. Together, the thousands of moving, pulsating books create a new visual, gestural and sonic language for translating a human life into a compressed, expressive, dynamic and interactive form.
Another unusual aspect of Death and the Powers is that, unlike our previous Hyperinstruments, the interchange between human expressive behaviour and 'system' response is invisible to the public. By definition, the performer playing Simon Powers is offstage while his voice and gestures are being measured and translated into sounds and movements of the various set pieces, from System to Chandelier. This means that, rather than being an explicit control-and-result relationship, we must measure subtler and more fundamental aspects of the performance, such as breathing, muscle tension and heartbeat, in addition to more musical measurements. We must also translate these so that a powerful sense of 'disembodied performance' is established, with Simon Powers' presence felt on stage, even though it doesn't look, feel or sound like him.
The live performance of
Death and the Powers
premieres in Monaco in September 2009, but we are also developing a version that will allow anyone to pour their own memories, images and sounds into a similar System to create a Personal Opera of/for oneself, friends or family – a kind of next generation Hyperscore.
As with all the projects described, an important element has been to integrate a professionally composed and performed musical work with numerous activities that can engage the general public in substantial ways. My most recent opera project, Skellig, explores this new interrelationship in an unusual way.
Skellig premiered in November 2008 at the Sage Gateshead in Newcastle. I based the opera on David Almond's bestselling novel, which was written for young adults but has a wide appeal. In an extension of the Toy Symphony model, we decided to make a youth chorus – recruited from motivated but not 'specialist' young people aged 12–18 – a central part of the work. This chorus is on stage for much of the two-hour-long opera and represents an extension of the mysterious central character Skellig, who is part-beast, part-human and part-angel. In doing so, the chorus must perform a wide range of music, from intricate multi-part counterpoint to singing the sound of animals, the wind and 'the world'. In addition, the youth chorus is physically integrated into the production, with constantly varying choreography by Mark Bruce. For both music and choreography, we had to invent systems that would allow young people to both learn and memorise almost two hours of performance details, and to absorb all of this so they could enact the opera with ease, freedom and expressive power. Bruce accomplished this by using a language of natural gestures and movements drawn from ordinary life and then working extensively with the young people over a period of months to teach and shape the performance. I used a combination of carefully notated music, which had to be learned, mostly by ear, and an audio score that the chorus follows for cues, imitation and extrapolation. Under the training of choral director Sharon Durant at the Sage, the amateur chorus was able to absorb this complex and ever-varying soundscape and to provide a constant auditory counterpoint to the music sung by the world-class professional soloists playing the principal roles in Skellig.
All the projects mentioned suggest a new model for the interrelationship between experts and amateurs in musical listening, performance and creation. Some of the boundaries to active engagement in music have eroded, but there is still much to be done to create a truly vibrant musical culture.
In my view, a prime example of the kind of new musical 'ecology' that we should seek is found in our culture's relationship with cuisine. We all enjoy eating at three-star restaurants and admire the achievements of the world's greatest chefs. At the same time, we do not hesitate to dive in ourselves to prepare special meals of high quality on special occasions. We also put together daily meals for ourselves, improvising content that reflects our personal styles. We enjoy eating and even studying the most 'expert' cuisine we can find, but are not scared to make and invent our own. In turn, the fact that we constantly prepare food ourselves makes us better understand and appreciate other food that we encounter.
Music – and most of the arts – has come very far from such a 'healthy' ecology, and it is this that we need to reinvent. Technology can help, as it can act as a bridge to each of us depending on our background and experience, taking advantage of our skills and compensating for our limitations. Even more importantly, we need to establish a fundamentally new partnership between all of the potential participants in our musical culture, including individual artists, all parts of the music business, technology, lifestyle, health and social organisations, music presenting and broadcasting entities, research institutions, artists-as-mentors and – last but not least – the music-loving public. Only in this way can we establish a culture that will allow music to reach its full potential in shaping and transforming our experience. Doing so will allow music to exert its most powerful possible influence on society at large. Surely we can imagine a world where music is at least as nourishing as a three-star meal? http://www.thersa.org/fellowship/journal/archive/winter-2008/features/guitar-hero
Disembodied Performance: Abstraction of Representation in Live Theater thesis by Peter Torpey (pdf)
"Music and Technology in Death and the Powers" by Elena Jessop, Peter Torpey, and Ben Bloomberg (pdf)
The Chandelier: Toward a Digitally Conceived Physical Performance Object thesis by Steve Pliam (pdf)
Chandelier: An Exploration in Robotic Musical Instrument Design thesis by Mike Fabio
(pdf)
Opera of the future
operaofthefuture.com/photos-and-videos/
This blog was created by the Opera of the Future group directed by composer
Tod Machover
at the
M.I.T. Media Laboratory
. Our mission is to bring you inside the creative process of bringing new works of music into the world. Please subscribe to this blog to receive email alerts about our latest postings, event updates and activities.
Opera of the Future's current major project is
A Toronto Symphony: Concerto for Composer and City.
In this project, Tod Machover invites the residents of Toronto to collaborate in the creation of a new orchestral work, which will be premiered by the Toronto Symphony in 2013.
Our most recent major project is a new opera,
Death and the Powers.
In addition to the posts on this blog, you will find information about the opera at
the official Death and the Powers Web site.
The story of
Death and the Powers
:
VIDEOS
Death and the Powers Preview Series
Interviews
Audience Reaction
Rehearsals
Development Phase
OTHER PROJECTS
Remote Theatrical Immersion
Extending Sleep No More
Tod Machover, Punchdrunk, Akito Van Troyer, Ben Bloomberg, Gershon Dublon,
Jason Haas, Elena Jessop, Brian Mayton, Eyal Shahar, Jie Qi, Nicholas Joliat,
and
Peter Torpey
The MIT Media Lab's
Opera of the Future Group
is collaborating with London-based theater group Punchdrunk to create an online platform connected to their
New York City production of Sleep No More
. In the live show, masked audience members explore and interact with a rich environment, discovering their own narrative pathways. We are developing an online companion world to this real-life experience, through which online participants partner with live audience members to explore the interactive, immersive show together. Pushing the current capabilities of web standards and wireless communications technologies, the system will deliver personalized multimedia content allowing each online participant to have a unique experience co-created in real time by his own actions and those of his onsite partner. This project explores original ways of fostering meaningful relationships between online and onsite audience members, enhancing the experiences of both through the affordances that exist only at the intersection of the real and the virtual worlds.
The first version of the extended Sleep No More was offered to a limited public in May 2012. Further elaborations and next steps are currently being evaluated.
Read More
This project is made possible by gracious contributions from Cisco, Intel, Time Warner, and Motorola.
Massive Musical Collaboration
More and more examples exist for crowd-sourced and interactive music, from Hans Zimmer's invitation to submit audio to be incorporated into the new Batman movie, to the iPad apps that accompany Björk's new Biophilia CD. Although the promise has been great, the results are limited so far, with the public being only a small part of a final musical result, and often more disconnected than promised from the artist leading the project. We believe that a totally new "musical ecology" is needed so that true creative collaboration between experts and amateurs can exist for the benefit of both. For this purpose, we are creating a new work for symphony orchestra in collaboration with the entire city of Toronto. Called A Toronto Symphony, the work has been commissioned by the Toronto Symphony Orchestra and will be premiered in a high visibility public concert in March 2013. Between now and then, we are designing the necessary infrastructure (including the DOG software environment created by the Media Lab's Social Computing Group), creative tools based on Hyperscore, social media supports, and real-world community building activities to bring together an unprecedented number of people from diverse age, experience and musical backgrounds, to create this new work together. The goal is to create a remarkable musical experience which will be rewarding in itself, but also to establish a model—and a concrete "playbook"—by which others can create complex creative collaborations between experts and everyone else.

Related Links
Media scores provide a means to orchestrate multiple modalities in the creation of expressive works of art and performance. New technologies afford numerous opportunities to tell stories and create expressive artworks through a variety of media. Media scores extend the concept of a musical score to other modalities in order to facilitate the process of authoring and performing multimedia compositions, providing a medium through which to realize a modern-day Gesamtkunstwerk. Through research into the representation and the encoding of expressive intent, systems for composing with media scores are being developed. Using such a tool, the composer will be able to shape an artistic work that may be performed through human and technological means in a variety of media and utilizing various modalities of expression. Media scores offer the potential for authoring content considering live performance data and the potential for audience participation and interaction. This paradigm bridges the extremes of the continuum from composition to performance, allowing for improvisatory compositional acts at performance-time. The media score also provides a common point of reference in collaborative productions as well as the infrastructure for the real-time control of any technologies used during a live performance.
Disembodied Performance
Tod Machover, Peter Torpey, Elena Jessop
Early in the opera
Death and the Powers
, the main character, Simon Powers, is subsumed into a technological environment of his own creation. The theatrical set comes alive in the form of robotic, visual, and sonic elements that allow the actor to extend his range and influence across the stage in unique and dynamic ways. This environment must compellingly assume the behavior and expression of the absent Simon. In order to distill the essence of this character, we recover performance parameters in real-time from physiological sensors, voice, and vision systems. These gesture and performance parameters are then mapped to a visual language, incorporating cognitive and semantic models, that allows the off-stage actor to express emotion and interact with others on stage.
Our approach
takes a new direction in augmented performance by employing a non-representational abstraction of a human presence that fully translates a character into an environment.
Publications


Introducing A Toronto Symphony at ideacity
2012
Watch at ideacity

TEDx New England: Mozart and Me: A Radical New Model of Interskill Collaboration
2011
Watch at YouTube

MIT FAST: Festival of Art, Science, and Technology
2011
Watch at MIT TechTV

Style Boston: Plugged In
WCVB-TV
2011
Watch at Vimeo

Inventing the Opera of the Future
The Economist
2010
Watch at The Economist
Flora
1989
Watch at YouTube

Miranda's Aria
from Death and the Powers
2010
Watch at YouTube

Music for the Masses
Smithsonian Magazine
2010
Watch at smithsonian.com

Full Interview with Tod Machover
Big Think
2010
Watch at bigthink.com

Tod Machover: Following Your Dreams
Imagine It Project
2009
Watch at imagineitproject.com

Profile of Tod Machover
CNN Innovators series
2007
Low bandwidth
|
High bandwidth

Releasing the Music in your Head
TED Talk
2008
Low bandwidth
|
High bandwidth
Music-Making For All
Technology Review
2007
High bandwidth

Big Thinkers
ZDTV
2003
Part 1
|
Part 2
|
Part 3

Toy Symphony
Discovery Channel
2003
Low bandwidth
|
High bandwidth
Can You Make It On Your Own?
Scientific American Frontiers
2003
Watch at pbs.org

...but not simpler...
A concert created for the Ying Quartet
2006
Low bandwidth
|
High bandwidth

Jeux Deux (excerpt)
Boston Pops
2005
Low bandwidth
|
High bandwidth

Sparkler (excerpts)
Deutsche-Symphonie Berlin
2002
Low bandwidth
|
High bandwidth

Brain Opera at House of Music, Vienna
2000
Low bandwidth
|
High bandwidth

Minsky Melodies
from Brain Opera for voices, computer sounds, and animated text
1996/7
Low bandwidth
|
High bandwidth
The Hypercello: Tod Machover and Yo-Yo Ma (Studio 7)
1991
Low bandwidth
|
High bandwidth