Filmovi kao streljivo za pokolj vladara svijeta.
I seks je uvijek politika.
+
Go, Go Second Time Virgin
The Embryo Hunts In Secret
Les Liaisons Erotiques (1992)
Ecstasy of the Angels
Violated Angels
Sei no horo
Dickon Neech:
KOJI WAKAMATSU, THE REBELLIOUS AUTEUR
Koji Wakamatsu (若松孝二, Wakamatsu Koji) (born 1 April 1936, in Wakuya, Miyagi, Japan - dead 17 October 2012, in Tokyo, after being hit by a taxi) is a Japanese film director who directed such pinku eiga films as Ecstasy of the Angels (天使の恍惚 - Tenshi no Kokutsu) (1972) and Go, Go Second Time Virgin (ゆけゆけ二度目の処女 - Yuke, Yuke Nidome No Shojo) (1969). He also produced Nagisa Oshima's controversial film In the Realm of the Senses (1976). He has been called "the most important director to emerge in the pink film genre," and one of "Japan's leading directors of the 1960s."
Wakamatsu worked as a construction worker before beginning his film career with Nikkatsu in 1963. Between 1963 and 1965, he directed 20 exploitation films for the studio, based on sensational topics of the day. He became interested in the Pink Film genre after the success of Tetsuji Takechi's 1964 Daydream. Nikkatsu submitted his Skeleton in the Closet (壁の中の秘事 - Kabe no naka no hibegoto) (also known as Secret Acts within Four Walls) (1965) to the Berlin International Film Festival while the film was still under review by Eirin, the Japanese film-rating board. This submission before passing Eirin's review was doubly embarrassing for the government since pink films, though already emerging as the dominant domestic cinematic genre, were not regarded as worthy of critical attention or international export. The film received an enthusiastic reception at the festival, but Nikkatsu, fearful of governmental retaliatory action, gave it a low-profile domestic release. Disappointed, Wakamatsu quit the studio to form his own company.
Wakamatsu's independent films of the late 1960s were very low-budget, but often artistically done works, usually concerned with sex and extreme violence mixed with political messages. Some critics have suggested that these films were an intentional provocation to the government, in order to generate free publicity resulting from censorship controversies. [5] His films were usually produced for less than 1,000,000 yen (about $5,000), necessitating extreme cost-cutting measures including location shooting, single-takes, and natural lighting. His early films were usually in black and white with occasional bursts of color for theatrical effect.
His first self-produced film was The Embryo Hunts In Secret (胎児が密猟する時 - Taiji ga Mitsuryo Suru Toki) (1966), a story of a man who kidnaps, tortures and sexually abuses a woman until she finally escapes and stabs him to death. Freeze-frames, flash-backs, hand-held camera and locations limited to two rooms and a hallway add to the film's disturbing, claustrophobic atmosphere. Vagabond of Sex (Sei no Horo 1967) was a parody of Imamura's A Man Vanishes (1967). In Wakamatsu's film, a man leaves his family in Tokyo to travel and engage in various sexual escapades. When he returns home he finds out that his wife is starring in Imamura's documentary about her search for her missing husband.
Violated Angels (犯された白衣 - Okasareta Hakui) (1967) was based on the murder of eight nursing students in the U.S. by Richard Speck. Dark Story of a Japanese Rapist (日本暴行暗(658;史 - Nihon Boko Ankokushi) (1969) was based on a serial-rapist case in Japan after World War II. One of his most critically esteemed films is Sacred Mother Kannon (聖母観音大菩薩 - Seibo Kannon Daibosatsu) (1977), which has been called a "'text book example' for the use of metaphor and symbolism in contemporary cinema."
While directing many successful and critically praised Pink Films, Wakamatsu also became known for giving young filmmakers their first experience in working in the industry. Among those whose early careers were helped by Wakamatsu are Banmei Takahashi, Genji Nakamura and Hiroshi Mukai.
IMDB link:
http://www.imdb.com/name/nm0906709/
Koji Wakamatsu was in a permanent state of rebellion throughout more than 50 years of making films in Japan. In the last year of his life he completed three films with radically different settings to add to over 100 films of controversial reputation.
Koji Wakamatsu
suddenly passed away on October 17, 2012. As a rebellious & prolific Japanese filmmaker, he directed more than 100 films, including many pink (softcore adult) flicks in which were added political elements that reflected the state of Japanese society – to go further,
be sure to read that
.
He was especially active during the 1960s, an inspiring troubled era. As a tribute, some essentials to discover & (re)watch;
THE EMBRYO HUNTS IN SECRET (1966)
In the mid-60s, many independent film companies were founded, allowing filmmakers to work outside the (dying) studio system. It meant more creative freedom, but low-key projects. At that moment, pink films were becoming popular, there was an audience willing to pay to watch these sexy movies – for obvious reasons? That also meant, directors had to include several sexy scenes – usually the only parts filmed in color – and were free to do whatever they wanted to fill the rest of the film – usually running no more than 70min. How convenient!
Wakamatsu took this opportunity to make politically-provoking films. As such,
The Embryo Hunts in Secret
– great title, as usual! – is about a woman kidnapped by her boss. With a limited setting – it was shot in an apartment, in few days only – the film works like a social commentary depicting the power struggle between the owners and their enslaved workers. Where pink elements reveal the nature of that perverted relationship.
Violence becomes the only way to establish one's power over the other, which will be a regular thing in Wakamatsu films – the main character is often impotent, he needs to find other ways to express his repressed anger.
The lack of budget forced the staff to be creative, with the suffocating B&W cinematography, and the visual ideas showing the psychological torture of the characters.
FYI, the film was theatrically released and rated 18 in France… that was in 2007!
GO GO SECOND TIME VIRGIN (1969)
Still no budget but lots of ideas in there!
Go Go Second Time Virgin
is a melancholic tale set almost entirely on the roof of a building, with two young people reflecting on life, sexuality and Japanese society.
The film contains several really violent scenes, and it's not just about the red or dark-ish blood – depending whether it's been shot in B&W or in color – it's on a more profound level: how some young people are wasting their energy satisfying themselves – just to be heard? – and ultimately, how society ignores these people.
Remember, Japan has experienced lots of transformations since the end of WW2, it has become a successful capitalist society – the Olympics of 1964 in Tokyo proved that to the entire world – under the influence of the United States. So, when students started to protest during the 60s, many political-cultural-economical questions were raised. And Wakamatsu was one of the filmmakers to take these questions into consideration while questioning the student movement itself, and the reaction of the Government/society.
Under that perspective, you may understand how ironic the title of the film may sound. In the end, does anything really change?
THE VIOLENT VIRGIN (1969)
One of Wakamatsu's most original, mystical work. At every level, this is a cry to liberty. The film was shot outside in the middle of nowhere, as if society had completely disappeared, leaving only this chaotic desert landscape. Promising!
The Violent Virgin
looks like a yakuza film, with gangsters kidnapping a man and his lover, but progressively grows into something quite different. As it follows the complete spiritual & physical liberation of a man, who is fed up with the humiliations – he's forced to wear female underwears – and decides to let the demon inside out.
The striking thing about the gangsters-misfits is their lack of moral values, and how violence does not seem to matter – one of them takes photos of dead people, while some others are watching from far away people getting abused, like it's just an entertaining game. One can easily make a comparison with those who have Power.
In other words, this is the story of a man who decides to act against the establishment.
SEX JACK (1970)
Sex Jack
is all about the student movement, with one shy student joining a group of activists after a police raid. Forcing the group to hide. With this film, Wakamatsu points out the many flaws of that movement, as he's still trying to understand the best way to bring changes, to be heard. Is it enough to protest or to have political beliefs?
The director takes us right inside that movement, where students are talking big but do nothing that really matters. They're suspicious when an outsider tries to help, because he can be a spy from the government. And when they're not discussing politics, they make the "pink revolution" – free love for everybody!
Again, the main character – the outsider – is impotent and really wants to figure out how this movement is working. But apart from the self-pleasuring actions, nobody acts – that's how the pink elements are used to make an interesting statement. The group is perverted, the movement is failing.
ECSTASY OF THE ANGELS (1972)
At that point, Wakamatsu and his co-workers – including director/screenwriter/activist Masao Adachi – have a better understanding of why the protests have failed and sums up their ideas in this highly politically-engaged film
Ecstasy of the Angels
.
To be clear, here, the students have become real activists involved in some really dangerous/critical actions. It's not just a bunch of kids playing around, the movement has been radicalized & organized into small active groups.
The film offers an inside look at this organization, and how some activists will let the taste of power ruin their political actions – soon enough, like most groups, there's a battle of ego with some people becoming unwanted. Because the fight is within, the organization is doomed.
With
Ecstasy of the Angels
, you can see the ideological evolution of Wakamatsu and his partners. More than ever, the armed struggle seems to be the last option to change society, to imprint (political) ideas, to use violence against the establishment.
UNITED RED ARMY (2007)
Koji Wakamatsu never stopped making films between the early 1970s and 2000s, but he really came back on the international scene in 2007 with
United Red Army
.
Times have changed, the battles of the 1960s have long been forgotten by most people, yet, Wakamatsu finally managed to create this comprehensive piece of work about the Japanese left-wing movement of that time.
The film gives another version of the
Asama-Sanso incident
, and what leads to that tragedy. This event basically marks the end of the left-wing movement in Japan. During more than 3 hours,
United Red Army
sums up with great details what Wakamatsu filmed in the 1960s, while trying to raise awareness with the younger generation about what happened.
In the landscape of contemporary Japanese film, where most productions are soulless products trying to satisfy consumers/fans, this is truly a unique independent work where Wakamatsu brings politics back on screen, trying to connect with an audience.
- www.wildgrounds.com/
Remembering Koji Wakamatsu (1 April 1936 – 17 October 2012) -
by Jasper Sharp
Last week, the tragic news came through that Koji Wakamatsu had passed away during the night of Wednesday 17 October at the age of 76, having been hit by a taxi the previous Friday, 12 October. Though the Japanese media initially reported that his wounds were not life-threatening, he never regained consciousness during the time he spent in hospital. One hesitates to resort to such stock words as 'legendary' to describe this larger than life personality, as a number obituaries have already done. However, in this case, I believe it is apt. Long before the relatively recent resurgence of interest in the director, the name Koji Wakamatsu was already one to be reckoned with, certainly among those with more than a passing interest in Japanese film. He was one of those rare directors of his generation about whom you could convincingly put up an argument that the recent work was just as challenging and powerful as that from the beginning of his career, and also just as politically engaged and relevant, if not more. By some bizarre quirk of fate, it was Wakamatsu who provided me with a very early and particularly perplexing introduction to the cinema of Japan when I witnessed a rare screening of Violated Angels (1967), his ad-hoc abstract allegory for First World imperialism inspired by the massacre of eight student nurses in America, on a double bill with Shohei Imamura's 1983 Cannes Grand Prix winner The Ballad of Narayama at London's sorely-missed Scala Cinema in the late 1980s. Who says a film can't change a person's life? Often described in such terms as enfant terrible or agent provocateur, it is perhaps no wonder that the French took his work more seriously than the Anglophone community, who are traditionally rather less comfortable with overt sexuality and left-wing politics. He's been the subject of numerous retrospectives, studies and DVD releases in France, but this side of the channel, not very much at all. And yet this director of well over a hundred films was hardly just the preserve of fans of obscure cult or underground cinema. Let us not forget he was one of the producers attached to surely one of the best-known Japanese titles of its era in the West, Nagisa Oshima's controversial In the Realm of the Senses (1976). He had in recent years been a regular guest at A-list festivals such as Cannes, Berlin and Venice, where his films won a number of awards. His late-career masterpiece, United Red Army (2007), was named as one of the 30 most important films of the past decade in the February 2010 edition of Sight and Sound – and yet shockingly never received any form of distribution in the UK beyond a single screening at London Film Festival in 2008. And to cap it all, just two weeks prior to his death, the 76-year-old director had been named Asian Filmmaker of the Year at Busan International Film Festival. The relative lack of regard for the passing of a creative figure who has been active and at the forefront of his field for five decades says more about the West's selective relationship with Eastern culture than it does about Wakamatsu's significance in Japanese film history. Wakamatsu's films certainly weren't 'pretty' in the way that more highbrow art critics expect Japanese films to be. He began his career in the low budget eroduction genre (later to become more widely referred to as the pink film), the type of film considered an anathema to contemporary cultural commentators of a certain era. They were more direct yet, at the same time, rather less obvious, dare I say it, than those made by the more eloquent and conspicuously intellectual Nagisa Oshima, the elected spokesman for Japanese youth culture and politics among contemporary international art elites during the 1960s. They were a lot more fun too. But they required a contextualization for Western viewers that few would have deigned to give them at the time. And then there was the subversive political content. While Wakamatsu made films in the eroduction genre, they were hardly typical of it, and less and less so as he began to pick up other interesting collaborators such as Chusei Sone, Atsushi Yamatoya and, in particular, Masao Adachi, in the latter half of the decade. His liaisons with those in radical leftist movements who would later become wanted for some truly horrendous crimes have also proved cause for some wariness - but how close were these connections, exactly? The question still remains, though, if the harsh portrayals of certain individuals in United Red Army are anything to go by, Wakamatsu's view of those who threw in their lot for the revolution was cynical at best. At the same time his films were very much a part of this scene, providing both a critical comment and a vivid record of it, and an almost uncanny portent to its excesses. My own overview of Wakamatsu's career has been published at Sight and Sound online, so rather than go over the facts of his life again, I would like here to offer a more subjective recollection, from the viewpoint of the closest he had to an English-language biographer. I will not claim to have known him at all well on a personal basis. I was not part of his narrative in the same way other people I know closer to him were. On at least two of the several occasions on which I was introduced to him as "Jasper", he made the connection with the French director who was a big fan of his work - Gaspar No&eacut;. I'll be honest, I also sensed a slight uneasiness in our encounters once Behind the Pink Curtain had been published, although I may have imagined it. I assumed it was because he knew I had written about him, but not being able to read English, was not entirely sure what exactly it was I had written. In truth, however, he probably never gave such things that much thought. I remember him saying on the first time we met that he didn't know what any foreigner writer, be they Donald Richie, Noel Burch, or David Desser, had ever said about him, nor did he seem to care. I had very much the strong feeling he just got on and did things, and did them his own way, regardless of critical admiration or opprobrium, either from within or outside of his own country. The other thing I did become very much aware of when writing the chapters on his career (compiled from a combination of my own interviews and those conducted by others over the years) was that he was an incredibly mercurial and complex person. Trying to gain some insight into his personality and his motivation by way of the collage of quotes about him and his work by Western critics proved very difficult. I was reminded, however, by a comment Donald Richie made when I interviewed him back in 2003, about directors not being particularly interesting people due to them being so caught up in the immediate requirements of casting and looking for money for whatever the current or next project is. I tend increasingly to agree with this sentiment, the more directors I meet or interview. But Wakamatsu certainly bucked this trend. Wakamatsu just seemed so distinct and outside of the type of personality profile I would usually associate with filmmaking. He was a filmmaker by vocation not profession, drawn by the power of the medium to communicate, not the glamour or artistic posturing associated with it. If he hadn't become a filmmaker, one struggles to wonder what he might have become. You can be sure it wouldn't have been a 'failed filmmaker' or a 'wannabe filmmaker'. I'm struggling to find a parallel, but the closest I can come to is someone like Ken Russell, who was similarly championed by a younger generations of cinephiles but who also passed away this year without receiving the due recognition by the establishment of his own country. The content of their films perhaps couldn't be more different, nor their backgrounds, but I think what they shared was a certain vision, and a sheer uncompromising bloody-mindedness to do things their own way. Of the few times I met him (an interview or two in Tokyo, several times in Nippon Connection when he was a guest there, and the last time in Thessaloniki, where I programmed a pink retrospective in 2009, and where United Red Army was also screened), the first in 2005, around about the time of his return to more a more personal style of filmmaking with Cycling Chronicles: Landscapes the Boy Saw (2004), was by far the most memorable. I wrote about it in the opening paragraph of an article that later got published in Vertigo magazine in 2007, entitled Sex, Violence and Politics – Japanese Style. It began: "In a quiet corner in one of the tiny nomiya drinking establishments in the crowded warren that is Tokyo's Golden Gai area, I sit listening attentively to the greying figure seated opposite. He avoids eye contact, staring into the middle distance as he talks yet remaining attentive enough to ensure my glass is kept generously topped up from the shochu bottle by his side. His conversation wanders through details of a life of almost seven decades, of experiences more than a lifetime removed from my own: a brief spell in Hachioji Prison during the early 60s following his involvement with a local yakuza group shortly his arrival in Tokyo from his small provincial hometown in the north; the quirk of fate that led to Secret Acts Behind Walls, the low-budget sex film he directed, being screened at the 1965 Berlin International Film Festival, causing quite the furor back at home that saw him becoming one of the most successful independent producers of the decade; his difficulties sneaking the notorious pro-Palestinian documentary PFLP: Declaration of War past the authorities and onto university campuses during the early 70s; his time spent hanging out with John Lennon and Yoko Ono at the 1972 Cannes film festival where he was accompanying Nagisa Oshima as part of the Japanese delegation, and how this in turn led to his role as one of the producers on Oshima's best-known film, the controversial French-Japanese co-production of The Realm of the Senses that saw its director on trial for obscenity in his home country." What I didn't mention in the article was that towards the end of our conversation, a man of similar age who had been sitting at the other end of the otherwise empty bar, listening studiously to my host referring to himself in the third person, got up and wandered over to join us, his opening gambit: "So, you know Koji Wakamatsu, then?" It turns out that this character had been very much part of the radical scene of the late 60s and had known Wakamatsu and his colleagues from around this time - although clearly not well enough to recognize him four decades on. They spoke about Adachi, who had only returned to Japan a few years previously, and the stranger told of his own parallel story, about how he had ended up heading to North Vietnam in the 1970s, in search of his own role in the revolution, before returning in recent years to run a nearby bar in the area. "I heard Wakamatsu has retired to Nagoya to run a cinema," he announced, "and now just spends his time playing pachinko all day." The conversation began to draw to a close, ending with the parting ritual of the meishi exchange in which this former associate finally divulged his identity, only to be battered down with the rejoinder "Koji Wakamatsu!", as the unruffled director coolly handed over his own business card, and sent him scuttling back into the corner. A fair amount of alcohol passed our lips that night, but what struck me most was his energy and passion when talking about film. He looked like he still had years of life in him. It was a fun experience, simultaneously enlightening yet bewildering. As we left the bar, Wakamatsu immediately jumped on his pushbike and cycled off into the darkness of Shinjuku. My immediate thought was "That looks a bit dangerous…." -
www.midnighteye.com/
INTERVIEW WITH KOJI WAKAMATSU
"It really is a great pity that my movies from the 60s have been the most noticed ones. I have also made plenty of interesting ones since then."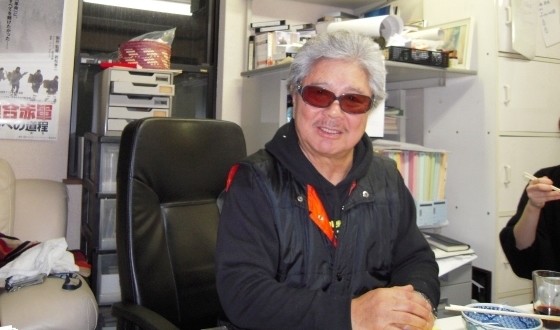 Like many of your movies, Sex Jack shows your taste for "huis-clos" and delivers a claustrophobic atmosphere. Where does your interest in this kind of concept come from and is it an artistic choice or more of a cost-saving one?
To name one example, the movie The Embryo Hunts in Secret was shot in my apartment. While working on it I was hallucinating on numerous occasions and thought I was going crazy. For my other film; Go, Go Second Time Virgin, we were shooting on the terrace of the building I was living in. I lived on the fifth floor and on the seventh there was this terrace which I often used to go up to, to watch the scenery. I thought to myself: "This would make an interesting shooting location". Pictures would pop up in my head and soon afterwards the story was born. This is how I work with my script writers. One day, wandering around the desert with one of my writers, we came to the conclusion, that the idea of the desert as a closed room, a "huis-clos", would be very interesting. While it might be true that this concept is the result of financial boundaries, it is also a product of my imagination.
The Yosuke Yamashita Trio appears in a free-jazz sequence. Could you tell us about the role that jazz plays in your œuvre?
The musicians with whom I worked were all unknown at that time. I often helped out at their concerts and while listening to their music, I started to feel a certain proximity towards certain musicians. I thought to myself, that they could able to deliver music that fit to my movies. So, I asked them to compose some pieces that I could use and they eventually did, delivering very good work.
How were your films received in the West and was the reception any different to Japan?
I don't know why, but audiences in Europe and the USA, as opposed to Japan, watched my films without any discrimination. Actually, I don't think much of critics, so naturally they don't think much of me either. I don't accept being judged by critics, who are unable (to make films) themselves.
You have been labelled as an anti-capitalist. The characters in your movies however never follow any particular ideology, but are primarily in a state of protest. Do you define yourself as an anti-capitalist and what is your view on the ideologies of that time?
I don't know too much, but in Japan, the young people that revolted were all kids of rich parents. The children of poor families generally didn't. That's why my point of view is rather cold.
In the 70s you stated a profound hate towards the Americans. Has your opinion changed since then?
To this day I like the American people, but no other country has more blood on its hands than the United States.

Claustrophobic atmosphere in Inquisition of a Girl Saint (1981)

Like Violation of Thirteen, a lot of your work during the 70s consists of films that depict rape and extreme torture and are also far less political, but very aggressive and visceral. Do you feel close to that type of cinema?
During that period I was constantly faced with house searches by the police and all the Japanese media talking bad about me. I was under pressure and not a single company dared to work with me. I had no other choice but to take the path of more commercial and mainstream cinema. Working on Serial Rapist I gave Masayuki Kakegawa, who was the lead actor and who is also a screenwriter, complete freedom. We wanted to make a movie that appealed to everybody. And indeed, people enjoyed it, but I don't really understand why.
You directed far less movies during the 80s. Was the crisis the Japanese movie industry was in the reason for that or was it because of weariness on your part?
At that time, the authorities and media absolutely hated me. Being branded as 'The Red Army's Director ' meant getting work was almost impossible. I wasn't even allowed to set foot on French territory.
There's a rumour that you worked with Takeshi Kitano at the end of the 60s...
Apparently, Kitano was an extra in Go, Go, Second Time Virgin. At least that's what he claims… I can't think of any other movie he could have been in. I casted real vagabonds for that movie and at that time Kitano was a vagabond in Shinjuku.
Do you see something like an heir in any director of modern Japanese cinema? We're thinking about people like Takahisa Zeze.
Many directors have seen my movies during their school or university days and it were my movies that made some of them want to become directors. Back then, it was impossible to become a director without an academic background. I was a Yakuza and had quit studying after the first year of high school. And still I managed to become a director anyway. I think I had an influence on 80% of today's Japanese directors, not on an artistic level, but by showing them that there is a way to make a dream come true. Everybody can become a director, it's all a matter of dedication and motivation.
Your credo "Everybody can make movies" reflects in a way that of the Nouvelle Vague. Are you aware of the connection?
I don't know if it's in relation to the Nouvelle Vague. All I see is that I was able to become a director. But of course that took me a certain amount of effort, especially since I'm not very intelligent. It is not enough to get on the train and fall asleep all the time. When I'm on the train I take a look at the people in front of me and I start thinking what that person's life could be like, how his personality is or his job. This is how I live, 24/7. This is what I call an "effort".

Sex, Blood and Death in Violated Angels (1967)

Your movies in the 60s were auteur works as well as movies belonging to the erotic genre, an openly commercial one. Is this discrepancy a result of spontaneity or was this approach apart from that?
I think that I was aware of my approach's originality. I wanted at any cost to continue making films, even if I had to cheat certain people. As long as I didn't commit any crimes, I had to continue.
What are your cinematic influences?
I hardly watch any movies, because I know in the first place, that they won't give me any inspiration. Every individual is born with his own appearance, his own history and to his own universe. I can't imitate that. And even though it's Impolite to say, I don't think other people's movies are interesting. I watch television when I have nothing better to do. People send me a lot of video cassettes and DVDs, asking me to watch them, but I never do. It is their job to watch the movies. I have no need to.
Your movies of the 60s are by far the most well-known. Does that bother you? What, according to you, are the films that are most representative of your style?
It really is a great pity that my movies from the 60s have been the most noticed ones. I have also made plenty of interesting ones since then. However, I can't say which are the most representative of my style, because I see all of them as my children: some are more gifted than the others. I don't go all-out for every single one and if one "child" makes some money, the other one has financial problems. But that's not the reason for me to make one or the other. I have more than 100 "children" and I killed the ones that I really disliked. The ones that have survived, I treat equally. In order to make a child with a woman, naturally, you have to go all-out, but sometimes that will result in a not too gifted child.
Interview by Caroline Maufroid and Fréderic Maffre
eigagogo.free.fr/en/interview-koji-wakamatsu.php
Filmography:
0.
11.25 Jiketsu no Hi: Mishima Yukio to Wakamono-Tachi (2012) aka 11.25: The Day Mishima Chose His Own Fate
+ 1.
Kyatapirâ (2010) aka Caterpillar
1.
Jitsuroku rengô sekigun: Asama sansô e no michi (2007) aka The Red Army
2.
17-sai no fûkei - shônen wa nani o mita no ka (2004) aka Cycling Chronicles: Landscapes the Boy Saw
3
Kanzen naru shiiku: akai satsui (2004) aka Perfect Education 6
4. Asu naki machikado (1997)
5.
Endless Waltz (1995)
6. Singapore Sling (1993)
7.
Erotikkuna kankei (1992) aka Erotic Liaisons
8. Netorare Sosuke (1992)
9. Kiss yori kantan 2: hyoryuhen (1991)
10. Ware ni utsu yoi ari (1990)
11. Pantsu no ana: mukesode mukenai ichiqe tachi (1990)
12. Kiss yori kantan (1989)
13. Matsui Kazuyo no shogeki (1986)
14. Sukurappu: aru ai no monogatari (1984)
15.
Mizu no nai puuru (1982) aka A Pool Without Water
16. Misshitsu renzoku boko (1981)
17. Seishôjo gômon (1980) aka Seishojo gomon
18.
Ejiki (1979)
19. Gendai sei hanzai: boko kankin ejiki (1979)
20. Gendai sei hanzai: zenin satsugai (1979)
21. Zannin renzoku gokanna (1979)
22.
Jûsan-nin renzoku bôkôma (1978) aka Serial Rapist
23.
Bôgyaku onna gômon (1978) aka Violent Torture
24.
Jokei gokinsei hyakunen (1977) aka Torture Chronicles 2: Another 100 years
25. Nippon gokinsei: nyonin baibai (1977)
26. Seibo Kannon daibosatsu (1977)
27. Zannin onna ankokushi (1976)
28. Gendai sei-gômon (1976)
29.
Gômon hyakunen-shi (1975) aka 100 Years of Torture: The History
30. Baishunfu Maria (1975)
31. Delta no okite (1975)
32. Gokan ka wakan ka? (1975)
33. Jitsuroku: jokosei syudan baisyun (1975)
34. Porn jikenbo: sei no ankoku (1975)
35. Inyokurinju (1974)
36. Nureta sai no me (1974)
37. Maruhi joshikosei: kagai circle (1973)
38.
Tenshi no kôkotsu (1972) aka Ecstacy of the Angels
39. Gendai Nippon boko ankokushi (1972)
40. Kuroi juyoku (1972) aka Black Beast of Lust
41. Maruhi joshikosei: kokotsu no arbeit (1972)
42. Sei to ai no joken (1972)
43. Sei kazoku (1971)
44. Hika (1971)
45.
Sekigun-PFLP: Sekai senso sengen (1971) aka The Red Army/PFLP: Declaration of World War
46. Watashi wa nureteiru (1971)
47. Ai no technique: kama sutra (1970)
48. Mahiru no boko-geki (1970)
49. Nippon boko ankokushi: onju (1970)
50.
Segura magura: shinitai onna (1970)
51.
Seizoku (1970) aka Sex Jack
52.
Shinjuku mad (1970)
53.
Kyôsô jôshi-kô (1969) aka Running in Madness, Dying in Love
54.
Kinpeibei (1969) aka The Concubines
55. Siyûgi (1969)
56.
Gendai kosyokuden: teroru no kisetsu (1969)
57. Gendai sei hanzai ankokuhen: aru torima no kokuhaku (1969)
58.
Gendai sei hanzai zekkyo hen: riyu naki boko (1969) aka Violence Without a Cause
59.
Gewalt! Gewalt: shojo geba-geba (1969) aka Violent Virgin
60. Kongaijoji (1969)
61. Niku no hyoteki: tobo (1969)
62.
Otoko goroshi onna goroshi: hadaka no zyudan (1969) aka Naked Bullet
63.
Yuke yuke nidome no shojo (1969) aka Go, Go Second Time Virgin
64.
Fukushûki (1968)
65.
Haragashionna (1968) aka A Womb to Let
66. Nikutai no yokkyu (1968)
67. Aru mittsû (1967) (episode "Kuchibeni") aka A Certain Adultery
68.
Okasareta hakui (1967) aka Violated Angels
69. Jôyoku no kuro suisen (1967) aka Black Narcissus of Lust
70. Ami no nakano boko (1967)
71. Nihon boko ankokushi ijosha no chi (1967)
72. Ranko (1967)
73. Seihanzai (1967)
74. Zoku nihon boko ankokushi bogyakuma (1967) aka Diary Story of a Japanese Rapist
75. Shiro no jinzô bijo (1966) aka The Love Robots
76.
Taiji ga mitsuryosuru toki (1966) aka The Embryo Hunts in Secret
77. Chi wa taiyo yori akai (1966) aka Akamoru: The Dark, Wild Yearning
78. Hikisakareta joji (1966)
79.
Kabe no naka no himegoto (1965) aka Secrets Behind the Wall
80. Ai no design (1965)
81. Botoku no wana (1965)
82.
Namari no bohyo (1965) aka Lead Tombstone
83. Rikonya kagyo (1965)
84. Taiyo no heso (1965)
85. Yokubo no chi ga shitataru (1965)
86.
Yuganda kankei (1965) aka Perverse Relations
87. Mesuinu no kake (1964)
88. Akai hanko (1964)
89. Aku no modae (1964)
90. Ami no naka no onna (1964)
91. Furin no tsugunai (1964)
92. Gyakujo (1964)
93. Hadaka no kage (1964)
94.
Joji no rirekisho (1964) aka Resume of Love Affairs
95. Kawaita hada (1964)
96. Shiroi hada no dasshutsu (1964)
97. Amai wana (1963)
98. Hageshii onnatachi (1963)
99. Oiroke sakusen (1963)