CREMASTER 1 (1995) is a musical revue performed on the blue Astroturf playing field of Bronco Stadium in Boise, Idaho - Barney's hometown. Two Goodyear Blimps float above the arena like the airships that often transmit live sporting events via television broadcast. Four air hostesses tend to each blimp. The only sound is soft ambient music, which suggests the hum of the engines. In the middle of each cabin interior sits a white-clothed table, its top decorated with an abstract centerpiece sculpted from Vaseline and surrounded by clusters of grapes. In one blimp the grapes are green, in the other they are purple. Under both of these otherwise identical tables resides Goodyear (played by Marti Domination). Inhabiting both blimps simultaneously, this doubled creature sets the narrative in motion. After prying an opening in the tablecloth(s) above her head, she plucks grapes from their stems and pulls them down into her cell. With these grapes, Goodyear produces diagrams that direct the choreographic patterns created by a troupe of dancing girls on the field below. The camera switches back and forth between Goodyear's drawings and aerial views of the chorus girls moving into formation: their designs shift from parallel lines to the figure of a barbell, from a large circle to an outline of splitting and multiplying cells, and from a horizontally divided field emblem (Barney's signature motif) to a rendering of an undifferentiated reproductive system (which marks the first six weeks of fetal development). Gliding in time to the musical score, the chorus girls delineate the contours of a still-androgynous gonadal structure, which echoes the shapes of the two blimps overhead, and symbolizes a state of pure potential.
br />
CREMASTER 2 (1999) is rendered as a gothic Western that introduces conflict into the system. On the biological level it corresponds to the phase of fetal development during which sexual division begins. In Matthew Barney's abstraction of this process, the system resists partition and tries to remain in the state of equilibrium imagined in Cremaster 1. Cremaster 2 embodies this regressive impulse through its looping narrative, moving from 1977, the year of Gary Gilmore's execution, to 1893, when Harry Houdini, who may have been Gilmore's grandfather, performed at the World's Columbian Exposition. The film is structured around three interrelated themes - the landscape as witness, the story of Gilmore (played by Barney), and the life of bees - that metaphorically describe the potential of moving backward in order to escape one's destiny. Both Gilmore's kinship to Houdini (played by Norman Mailer) and his correlation with the male bee are established in the séance/conception scene in the beginning of the film, during which Houdini's spirit is summoned and Gilmore's father expires after fertilizing his wife. Gilmore's sense of his own doomed role as drone is expressed in the ensuing sequence in a recording studio where Dave Lombardo, former drummer of Slayer, is playing a solo to the sound of swarming bees. A man shrouded by bees with the voice of Steve Tucker, lead vocalist of Morbid Angel, growls into a telephone. Collectively these figures allude to Johnny Cash, who is said to have called Gilmore on the night of his execution in response to the convict's dying wish.
Barney depicts Gilmore's murder of a Mormon gas station attendant in both sculptural and dramatic forms. Inferring that Gilmore killed out of a longing for union with his girlfriend, Nicole Baker, he represents their relationship through two conjoined cars: the blue and the white 1966 Mustangs that they coincidentally both owned. In the murder sequence, Gilmore shoots his victim in the back of the head. This act sets in motion the trial and verdict that will condemn him to death, a sentence he embraces despite all efforts to overturn it. Barney stages the judgment of Gilmore in the Mormon Tabernacle Choir. Gilmore welcomes death, refusing to appeal his sentence and opting for execution by firing squad, in a literal interpretation of the Mormon belief that blood must be shed in order for a sinner to obtain salvation. His execution is staged as a prison rodeo in a cast-salt arena in the middle of the flooded Bonneville Salt Flats. Gilmore is lowered onto a bull and he rides to his death. In Barney's interpretation of the execution, Gilmore was less interested in attaining Mormon redemption than in performing a chronological two-step that would return him to the space of his alleged grandfather, Houdini, with whom he identified the notion of freedom through self-transformation. Seeking escape from his fate, he chose death in an act of ultimate self-will. Gilmore's metaphoric transportation back to the turn of the century is rendered in a dance sequence featuring the Texas two-step. The film ends in the Columbian Exposition hall where Houdini is approached by Gilmore's grandmother Baby Fay La Foe who will seduce him, an act that sets in motion the circular narrative of Cremaster 2.
CREMASTER 3 (2002) is set in New York City and narrates the construction of the Chrysler Building, which is in itself a character - host to inner, antagonistic forces at play for access to the process of (spiritual) transcendence. These factions find form in the struggle between Hiram Abiff or the Architect (played by Richard Serra), and the Entered Apprentice (played by Barney), who are both working on the building. They are reenacting the Masonic myth of Hiram Abiff, purported architect of Solomon's Temple, who possessed knowledge of the mysteries of the universe. The murder and resurrection of Abiff are reenacted during Masonic initiation rites as the culmination of a three-part process through which a candidate progresses from the first degree of Entered Apprenticeship to the third of Master Mason.
After a prologue steeped in Celtic mythology, the narrative begins under the foundation of the partially constructed Chrysler Building. A female corpse digging her way out of a grave is the undead Gary Gilmore, protagonist of Cremaster 2. Carried out of her tomb by five boys, she is
transported to the Chrysler Building's lobby. The pallbearers deposit her in the back seat of a Chrysler Imperial New Yorker. During this scene, the camera cross-cuts to images of the Apprentice troweling cement over carved fuel-tank caps on the rear chassis of five 1967 Chrysler Crown Imperials, each bearing the insignia of a Cremaster episode. Packed with cement, these caps will serve as battering rams in a demolition derby about to begin. The Apprentice then scales one of the building's elevator shafts until reaching a car resting between floors. Using this cabin as a mold, he pours cement to cast the perfect ashlar, a symmetrically hewn stone that symbolizes moral rectitude in Masonic ritual. By circumventing the carving process to create the perfect ashlar, the Apprentice has cheated in his rites of passage and has sabotaged the construction of the building.
The ensuing scene in the Chrysler Building's Cloud Club bar is a slapstick routine between bartender and Apprentice. Almost everything goes wrong; and these humorous mishaps result in the bartender playing his environment like a bagpipe. The various accidents leading up to this are caused by a woman (played by Aimee Mullins) in an adjoining room, who is cutting potatoes with blades on her shoes and stuffing them under the foundation of the bar until it is no longer level - a condition that echoes the corrupted state of the tower. This interlude is interrupted by a scene shift to a racetrack, where the Apprentice is accosted by hitmen who break all his teeth in retribution for his deception. Back in the Cloud Club, he is escorted to a dental office, where he is stripped of his clothes, under which he is wearing the costume of the First Degree Masonic initiate. An apron of flesh obtrudes from his navel, referencing the lambskin aprons worn by Masonic candidates as a symbol for the state of innocence before the Fall.
The Architect confronts his opponent in the dental suite, fitting the compressed remains of the Imperial New Yorker into the Apprentice's mouth like a pair of dentures. At that moment, the Apprentice's intestines prolapse through his rectum. This ceremonious disembowelment symbolically separates him from his lower self. For his hubris he is simultaneously punished and redeemed by the Architect - whose own hubris, however, equally knows no bounds.
Returning to his office, and anxious about the tower's slow progress, the Architect constructs two pillars that allude to the columns, Jachin and Boaz, designed by Abiff for Solomon's Temple. Meanwhile, the Apprentice escapes from the dental lab and climbs to the top of the tower. The Architect uses his columns as a ladder and climbs through an oculus in the ceiling. The next scene describes an apotheosis, the Architect becoming one with his design, as the tower itself is transformed into a maypole.
At this point in the narrative the film pauses for a choric interlude, which rehearses the initiation rites of the Masonic fraternity through allegorical representations of the five-part Cremaster cycle, all in the guise of a game staged in the Guggenheim Museum. Called "The Order," this competition features a fantastical incarnation of the Apprentice as its sole contestant, who must overcome obstacles on each level of the museum's spiraling rotunda.
In the ensuing scene, which returns to the top of the Chrysler Building, the Architect is murdered by the Apprentice, who is then killed by the tower. Both men have been punished for their hubris and the building will remain unfinished. The film ends with a coda that links it to Cremaster 4. This is the legend of Fionn MacCumhail, which describes the formation of the Isle of Man, where the next installment of the Cremaster cycle will take place.
CREMASTER 4 (1994) adheres most closely to the project's biological model. This penultimate episode describes the system's onward rush toward descension despite its resistance to division. The logo for this chapter is the Manx triskelion - three identical armored legs revolving around a central axis. Set on the Isle of Man, the film absorbs the island's folklore as well as its more recent incarnation as host to the Tourist Trophy motorcycle race. Myth and machine combine to narrate a story of candidacy, which involves a trial of the will articulated by a series of passages and transformations. The film comprises three main character zones. The Loughton Candidate (played by Barney) is a satyr with two sets of impacted sockets in his head - four nascent horns, which will eventually grow into those of the mature, Loughton Ram, an ancient breed native to the island. Its horns - two arcing upward, two down - form a diagram that proposes a condition of undifferentiation, with ascension and descension coexisting in equilibrium. The second and third character zones comprise a pair of motorcycle sidecar teams: the Ascending and Descending Hacks. These primary characters are attended to by a trio of fairies who mirror the three narrative fields occupied by the Candidate and the two racing teams. Having no volition of their own, these creatures metamorphose in accordance with whatever field they occupy at any given time.
Cremaster 4 begins and ends in a building on the end of Queen's Pier. As the film starts, the Candidate is being prepared by the fairies for a journey. The motorcycle race begins, and each team speeds off in opposite directions. The camera cuts back and forth between the race and the Candidate, who is tap-dancing his way through a slowly eroding floor. As the bikes vie for the title, the camera pulls in for close-up shots of the riders' torsos.
Gelatinous gonadal forms - undifferentiated internal sex organs - emerge from slots in their uniforms in a migratory quest for directionality. In the case of the Ascending Hack, the organs move upward toward a second set of slots in the leather. With the Descending Hack, they ooze downward.
Back at the pier, the Candidate plunges through the floor into the sea and heads toward the island. At the moment of his fall - a transition from the utopian realm of pregenital oneness to that of bifurcation - the Ascending Hack collides with a stone embankment and the Descending Hack pulls off the course for a pit stop, where the fairies service its motorcycle. The Candidate reaches land and begins to burrow his way up into the body of the island through a curving channel that he must navigate in order to reach the finish line, where the two Hacks will converge. This conduit leads him to a bluff, where the fairies are having a picnic. They frolic in a game that mirrors the conflict enacted by the principal characters, but with none of the tension. Still in his underground tunnel, the Candidate finally reaches his destination. The Loughton Ram stands at this junction - a symbol for the integration of opposites, the urge for unity that fuels this triple race. But before the Candidate and Hacks meet, the screen goes white. The Candidate's dream of transcending his biology to dwell in the space of pure symmetry is shattered.
In the final sequence at the pier the Hacks are parked on discrete ramps sloping down from the building's exterior. In the closing image the camera peers through an open crotch at the top of the frame toward the end of the pier. A tightly retracted scrotum is pierced with clasps connected to vinyl cords, which trail off to the awaiting Ascending and Descending Hacks, who will drive toward the island to pick up the slack. Full descension is guaranteed.
When total descension is finally attained in CREMASTER 5 (1997), it is envisioned as a
tragic love story set in the romantic dreamscape of late-nineteenth-Century Budapest. The film
is cast in the shape of a lyric opera. Biological metaphors shifted form to inhabit emotional states - longing and despair - that become musical leitmotivs in the orchestral score.
The opera's primary characters - the Queen of Chain (played by Ursula Andress) and her Diva, Magician, and Giant (all played by Barney) - enact collectively the final release promised by the project as a whole.
Cremaster 5 opens with an overture that introduces the opera's characters and lays out the map of Budapest that the narrative will traverse. The Magician crosses the Lánchíd Bridge on horseback. The Queen ascends the staircase of the Hungarian State Opera House with her two ushers. She settles onto her throne in the royal booth, and the ushers arrange a fleet of Jacobin pigeons around her. Pearls float on the surface of the pools in the Gellért Thermal Baths, partially concealing the Füdór sprites, who inhabit their underwater realms. The curtain rises to an empty theater, the conductor readies his orchestra, and the opera begins.
As the Queen sings, her Diva appears on the stage, delineating the proscenium arch of the stage by laying ribbons across its floor and then scaling its contours. The Queen's mind wanders to memories of her beloved Magician preparing for a leap into the waters of the Danube from the Lánchíd Bridge. Stripped naked, he positions plastic shackles over his wrists and ankles, then fits molded gloves on his hands and places weighted balls between his toes. His actions recall the famed bridge jumps of Harry Houdini, who was born in Budapest in 1874. The Magician is seeking transcendence, but the Queen misunderstands his actions and thinks he is trying to
take his own life.
The Queen's ushers direct her attention to orifices in her throne through which she can see into the Gellért Baths below. Her birds plummet through the passages in the throne, trailing long satin ribbons into the bath. Her Giant enters the watery path between the two pools, wading through the pearls to hip level. The sprites cluster around him with a garland of ribbons they have woven together out of those attached to the birds. They reach up through the water and affix the garland to the Giant's scrotum. In the warm waters of the thermal baths, the cremaster muscle releases and the testicles descend. This climactic moment - the emergence of a fully differentiated state - is rendered visible when the pigeons soar upward with ribbons trailing.
The Queen then relives the Magician's leap into the river and swoons from the horror of her recollection. At this point the narrative mirrors the path of descension just revealed: having completed his climb, the Diva tumbles to the stage, and the Magician plunges to the bottom of the river, landing, manacled, on a flowerbed. Two water sprites caress his fallen body and insert a black pearl into his mouth. The Queen performs her mournful aria, preparing to join her lover in death. A thin stream of liquid emanates from her mouth, trickling onto her ruffle and throne, then falling into the pools below. On its descent, the stream divides into two droplets that strike the water simultaneously. Two perfect circles resonate outward, filling the surface of the bath with their waves, suggesting, in turn, eternal renewal or the echoes of a system expiring.
The Cremaster cycle defers any definitive conclusion.
www.drawingrestraint.net/
The Drawing Restraint series is a project Barney began while an undergraduate at Yale. The central theme of the series is the relationship between self-imposed resistance and creativity. Barney's theory is that encumbrance can be used to strengthen an artists output, much as resistance is used by athletes to build muscle. In Drawing Restraint 1 - 6 (1987-89) Barney climbs around his studio attempting to create drawings while hindered by obstacles and various physical restraints. These early videos were followed a few years later by Drawing Restraint 7 (1993), a three-channel video installation in which Satyrs grapple in a limousine as it drives through the tunnels of New York City. While one satyr chases its tail in the front seat, another attempts to make a drawing in the condensation-coated sunroof of the limousine using the third satyr's horn. Drawing Restraint 8 (2003) is a sculptural installation of a series of drawings based on the field emblem. A recurring image in Barney's work, the field emblem is commonly interpreted to signify either two divergent states of being (the two halves of the oval) or a complete entity (the oval) ruptured by an obstacle (the line) -- see the FAQs for more on the field emblem. In Drawing Restraint 9, the field emblem appears as the template for a massive sculpture that is cast in vaseline on board a Japanese whaling ship.
Drawing Restraint 9 is the centerpiece of the series. Barney began work on Drawing Restraint 9 when he was invited to create a work for an exhibition at the 21st Century Museum of Art in Kanazawa, Japan. The film is the result of extensive research into Japanese history and culture, which Barney fuses with his own interests in metamorphosis and indeterminate states. Barney was interested in the restrictions inherent in Japanese rituals, the interconnectedness of humans and nature in Shinto (Japan's national religion), the historical relationship between Japan and the outside world, whaling traditions, and the process in which dead organic material is converted into energy (specifically whale oil and fossil fuel).
The 143-minute film (shot on digital video and transferred to 35mm film) opens with a sequence showing two halves of a fossilized shell being carefully gift wrapped. This introduces the central themes of ritual and transformation. In Japanese culture, the presentation of a gift is as significant as the gift itself, and the amount of time given to this scene underscores the importance of process to Barney. The footage is accompanied by a track called "Gratitude" sung by alt-country star Will Oldham. The lyrics are adapted from a letter written to General MacArthur by a Japanese fisherman. In the letter, the author thanks MacArthur for lifting the US moratorium on whaling.
Next, the film shifts to the industrial harbor of Nagasaki Bay. A festive parade including oxen, horses, deer, wild boar, and hundreds of Japanese revelers leads a tanker truck carrying liquid vaseline from the factory gates to the harbor. At the port, the tanker delivers its cargo to the Nisshin Maru, an enormous (129.5 meters long by 19.5 meters high) factory whaling ship. The Nisshin Maru has been in operation since 1987 and still hunts whales, making it a frequent target of environmental groups like Greenpeace. As with the locations in Barney's Cremaster Cycle, the Nisshin Maru functions as both the setting of the film and a character. Metaphorically, the ship can be read as a body in water, a whale in the ocean, or the island of Japan. On board the ship, a giant mold in the shape of Barney's field emblem is constructed and workers begin to fill it with 25 tons of molten vaseline. In the literature accompanying Drawing Restraint 9, this sculpture is referred to as "The Field", although it is not named in the film.
Meanwhile, female pearl divers discover a massive log of ambergris while practicing their dives in the ocean. Ambergris is a waxy substance formed as a byproduct of a whale's digestive system, often containing a large number of cartilaginous squid beaks and shrimp shells. After it has aged in the ocean for at least several months, ambergris takes on an odor often described as a richer, smoother, more animalistic variant of isopropyl alcohol. Ambergris is extremely expensive and is used in the perfume industry as a fixative.
Barney and his real-life paramour Bjork appear as the Occidental Guests. They are led separately onto the ship, beginning a story line which develops in parallel with the creation and metamorphosis of the vaseline sculpture on the deck. The Guests are groomed, bathed, and dressed in elaborate skin and fur costumes reminiscent of traditional Shinto wedding attire. Bjork's teeth are blackened with squid ink and porcupine quill ornaments are placed in her hair. On deck, the molten vaseline begins to cool and sways gently with the motion of the ship.
The couple join one another below deck in a tatami room. There they engage in a highly-ritualized tea ceremony and their actions are mirrored by the crew laboring on The Field above them. In the film's only spoken dialog (presented in Japanese and English), the tea master recounts the history of the Nisshin Maru and jokes that the smell of the ambergris is permeating every part of the ship. On deck, cranes lift the giant log of ambergris and place it in the center of the vaseline sculpture.
A lightning storm outside strengthens, rocking the ship violently from side to side and disturbing the cooling vaseline. The Guests come together in an embrace as hot petroleum jelly begins to spill from above and flood the room. As the vaseline rises, the couple pick up flensing knives (used for the ritual carving of whale carcasses) and begin to cut flesh from one another's legs. The wounds they inflict resemble labia, the splatters of blood semen. Once enough flesh is removed, whale-like tails are revealed beneath the remains of their lower bodies and blowholes appear at the bases of their necks.
On deck, the crew dismantles the rubber and metal barriers which had been holding the vaseline in place and the sculpture surrenders its form, spilling out over the deck. The ship emerges from the storm and sails towards Antarctica through a sea filled with icebergs. In the final shot of the film, two wales can be seen swimming behind the ship.
The Drawing Restraint series is rounded out by five additional components created for exhibitions in 2005 and 2006. Drawing Restraint 10 and 11 were created for the Drawing Restraint exhibition in Kanazawa (2005). Drawing Restraint 10 is a video re-staging Drawing Restraint 6, which was never documented. In this video, Barney jumps on a trampoline which has been set at an angle, attempting to draw two linked field emblems on the ceiling. Drawing Restraint 11 was filmed at the 21st Century Museum and depicts Barney climbing three 40-foot walls to complete a drawing. Drawing Restraint 12 is a similar piece created for the Drawing Restraint exhibition at the Leeum Samsung Museum in South Korea (2005).
Drawing Restraint 13 was filmed at Gladstone Gallery in New York shortly before the opening Barney's Occidental Guest exhibition (2006). The film references two historically significant moments from the late stages of WWII and shows Barney's continuing interest in dramatic encounters between Westerners and Japan. Drawing upon General Douglas MacArthur's infamous landing on the beach in the Philippines (a moment that established MacArthur's legend as he reclaimed territory for the US that had been seized by Japan), Barney appears dressed as General MacArthur and wades through a sculptural wedge of vaseline (the sculpture is also called Drawing Restraint 13). He then signs a number of drawings (which were later hung in the exhibition) with an electric engraving pen and stamps them with a field emblem-shaped brand that has been heated over a bunsen burner. Barney's dealer Barbara Gladstone then affixes a label to the back of each drawing and passes it to the Japanese Delegate to be signed. In the background, actors dressed as American soldiers watch the proceedings. This scene relates to MacArthur's acceptance of the articles of surrender from Japanese officials on board the USS Missouri, the ceremony that ended the war.
Drawing Restraint 14 is similar to Drawing Restraint 11 and 12 -- a video documenting Barney creating a site-specific drawing in a museum exhibiting other works from the Drawing Restraint series. In this case, Barney (dressed as General MacArthur) creates his drawing high above the stairwell in the San Francisco Museum of Modern Art. Drawing Restraint 15 (2007) was filmed during a 5-month transatlantic voyage made by Barney. It depicts Barney drawing with fish blood and hanging overboard, allowing the motion of the ship to control his drawing. Drawing Restraint 16 is a performance/installation similar to Drawing Restraint 11, 12, and 14, that was created in 2007 for the Drawing Restraint exhibition at London's Serpentine Gallery.
Barney has not indicated the how many installments there will be in the Drawing Restraint series. For more information on the symbolism in Drawing Restraint, see Peter Streitman's excellent Drawing Restraint Glossary and the official Drawing Restraint web site. Barney has also issued five books dedicated to the Drawing Restraint series (plus an earlier volume focused on Drawing Restraint 7). See our Drawing Restraint Books page for more information. You can download the press guide for Drawing Restrint 9 (pdf file) HERE.
-
cremasterfanatic.com/SynopsisDrawingRestraint.html
Matthew Barney interview: 'It's what's outside the frame that's scary'
Hermione Hoby visits American artist Matthew Barney in his New York studio - and discovers a world of barnacle-encrusted cars and bugling binmen.
He's a mythmaker, something of a sorcerer and, by necessity, a formidable logistician too. That brownstone was a meticulous replica of Norman Mailer's old house in Brooklyn which will feature in River of Fundament, a new film by Barney inspired by Mailer's 1983 novel about Egyptian mythology, Ancient Evenings, and set to premiere at the Manchester International Festival next month.
Barney works in a vast warehouse building in Queens, facing the glittering skyline of the Chrysler building and Empire State. He's broad-shouldered, muscular and, on the day we meet, wearing an ugly black ­T-shirt and a black baseball cap decorated with little primary-coloured Egyptian figures. His face has a pared-down quality, as though it's been refined to its essence. His mouthwash-blue eyes, calm and intense, compound the impression of radical self-possession.
Fan Writing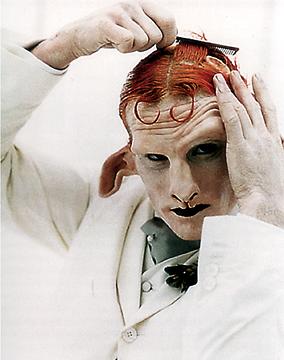 Updated: Matthew Barney, The Cremaster and the Markers of an Invisible Masculinity
BIOGRAPHY
INTERVIEW: "CREMASTER 3" at the Guggenheim Museum
INTERVIEW: "CREMASTER 3" at the Saratoga, NY Racetrack
ESSAY: "CREMASTER 1"
ESSAY: "CREMASTER 2"
River of Fundament, 2014
Matthew Barney and Gaspar Noé
On the eve of Matthew Barney's River of Fundament world premiere at BAM, Barney spoke over the phone with Paris filmmaker and long-time friend Gaspar Noé. This is an excerpt from a longer conversation, which will appear in BOMB's next print issue as well as on this site.
Gaspar Noé Have you ever tried 3D?
Matthew Barney I haven't. I remember the last time you and I hung out, you were taking some pictures on the Bowery with a 3D camera. My interest in filmmaking is probably less connected to technology than yours is.
GN Actually, I don't like technology but it allows me to work with people who are really good. Have you seen Gravity?
MB No, I haven't.
GN The first two takes are twenty minutes each, but you've never seen such a visual roller coaster inside a movie theater. Those two opening takes are incredible, also because the background is all black and you really have a sense that you're in space. The camera is spinning around the astronauts, and it's all computer-generated imagery. The result is incredibly mind-fucking. Everything is fake but it looks so real. I'm sure you'd be amazed by that movie.
MB This sounds like the type of film that I could never imagine making, because my addiction has to do with performance, with creating a very real situation and then dealing with all the physical problems surrounding it. I spend much energy trying to realize situations and occurrences physically before I give in to digital effects. In that way, digital effects for me always feel like a compromise but not unrelated to the kind of compromise that one faces as a sculptor. You know, on the classical level, a figure often needs a third leg to stand. Or the material problem you set up for yourself fails and needs an additive or an adhesive to make the material survive on its own, or to stand on its own. Compromise is so much part of the process of making film or the process of making sculpture for that matter.
GN I would say being an artist or a performer or a director is also being a magician or a wizard because you use every trick you have in your pocket.
MB Have you ever worked in theater or live performance?
GN No. Actually somebody just called me because they want film directors to direct operas. They proposed it to me but I have never done anything like that. You've done opera yourself.
MB What I've been working on recently is a combination of cinema and live performance, and these live scenes have all of the ingredients of opera. I can't say it's an opera, but it certainly relates. So it's definitely something that's been on my mind, and, in a way, this hybrid approach has resurrected my interest in filmmaking which I had lost for a while after working in Japan, where I made a film that dealt with many of the same problems I had worked with in the Cremaster cycle. I felt like I hadn't found a new problem to solve. So when I began working on River of Fundament, I started by setting up these live scenes and filming them. The final film is a combination of documentary photography and cinematic photography. That's quite different from things I have done in the past, but it has definitely clarified what interests me in live performance and what doesn't. Early on in the project, I presented a preliminary sketch onstage and learned that stage doesn't interest me. A kind of site-specific situational theater is a more natural fit for me.
GN You've never played the same play onstage twice?
MB That sketch I made was part of a festival in Manchester and was part of the writing process for this piece. I found the stage problematic. You know, as a moving-image maker, I felt the loss of the close-up and the loss of the macro-view of textural changes and material behavior. I felt like I couldn't exercise that quality or use that tool from my toolbox. I felt crippled. The fixed perspective of somebody sitting in the theater also seemed very limiting to me. Stage performance is such a different discipline. It's interesting to me that there are so many people out there who move back and forth between film and theater when they are so utterly different.
GN But River of Fundament is a film?
MB Yes it is. It's five and a half hours long. It's being presented in opera houses and proscenium theaters with a couple of intermissions—like an opera. The majority of the work I've been doing over the last seven years was for the live performances in the production. The cinematic work has been done over the last two years. And what I've ended up with is a hybrid between the two. The aspect of filmmaking that I'm most interested in has to do with creating a live condition, where something is actually happening in real time, and then filming in response to that. To a certain extent I've always done that—the Cremaster films were full of situations like that. It's not a very economical way of making a film—to set something up and to shoot it in real time and then edit it down.
GN How many cameras did you use for this project?
MB For some of the live scenes there were ten or twelve cameras rolling—from hotheads in different positions that were controlled remotely. Trying to make the camera position invisible to the live audience is a very difficult way to make a film. You often feel that the camera is not in the position you want it to be in, and you can't adjust and move the camera the way that you would do on set. A good example is the scene where the audience group was positioned on a barge pushed by a tugboat out on an industrial river in Detroit, and, while under way, they came upon a crime scene. The barge went into a hover in the current, while the investigators called in a crane barge to pull a submerged car out of the river and land it onto the larger barge in front of the audience. The investigators were ferried from the shore to the barge on a smaller boat, and the investigation continued. From a filming perspective, there were several, stacked layers of action which needed to stay in line for the cameras, and the tugboat was struggling with the current and the wind.
GN What about the music?
MB It's nearly through-composed with live music, and the singing is often carrying the text to the story. Like I said, it certainly has a lot of the elements of opera but I'm hesitant to call it an opera because its convention is not something I'm committed to.
GN Did you compose the music yourself?
MB No, I collaborated with Jonathan Bepler, who did a lot of the Cremaster music. So we worked on it together from the start and did a lot of the writing together. It's a long project in collaboration with somebody, which is both completely rewarding and challenging at the same time.
GN Have you ever thought of directing a fiction film, based on a novel or a personal story?
MB Well, River of Fundament is based on a Norman Mailer novel called Ancient Evenings. So in that way, having the novel as a text to work from, toward a script or a libretto, is completely new to me. And I've enjoyed that very much. You know, I would not say that it's a traditional narrative film by any means, but it has aspects of filmmaking that I haven't worked with in the past. There are scenes with dialogue carried by professional actors, and I worked with an editor who comes from a commercial filmmaking tradition. While it's a step in the direction of traditional narrative film, I still don't know if I could actually do one. Technically I could, but my interest in storytelling relies so much on experimentation with structure—and this is one of the reasons why I like your films so much.
GN I think there's something very square about how scripts, and movies in general, are written now. You see one or two and you've seen them all; you can close the thought inside your head, like, "Oh, I understood that, it goes from point A to point B and from point B to point C." There are not many movies that stay in your mind, like the way nightmares stay in your mind. When people ask me what my favorite movie is, I say the two I can watch the most are Kubrick's 2001: A Space Odyssey and Buñuel's An Andalusian Dog. I can watch them over and over and don't get bored by them. 2001 is narrative but at a certain point it reaches a level that toys with a part of your mind that doesn't read events but reads symbols. What are your favorite movies?
MB For sure The Shining is up there. I like films that are trapped in one location—Das Boot or Jaws or the '70s "cabin in the woods" horror genre films—where the location often becomes the main character. I also loved early Cronenberg. The Brood, in particular.
GN If you haven't seen it, you should check this film called
Wake In Fright
. It's an Australian movie from the '70s. It's very sick.
MB A lot of my favorite films are actually commercial films. I mean, I love the spirit of experimental films, but I've been influenced much more by commercial films. It has something to do with the fact that my development as a filmmaker has come from a performance background. It started by performing an action by myself and having one person hold the camera and simply document the action. That slowly evolved into story telling, and into something that resembles a filmmaking practice, but my interest was never in cinema from the start. I was a bit of a tourist with cinema, but I had an interest in horror from an early age.
GN Are you a fan of Lon Chaney?
MB Definitely.
GN I think he's the best actor ever. "The man with a thousand faces" and in each movie he plays another cripple—his face is burned, his legs and arms are missing. For his time, he was the master of transformation.
MB When I first started working with performers other than myself, I was thinking about something along the lines of Lon Chaney, like how you can, as a director, put a performer into a situation that can overcome their tendency to act. In other words, how do you restrain somebody from acting in a mannered way? It was the kind of thing I was doing to myself as a young artist—I was putting myself into situations where my body was restrained, as an attempt to change my behavior, the behavior of my art-making gestures. So once I began working with other people, I started restraining the actors. And it led to very interesting situations for sure, experimenting with prosthetics and costuming in the development of a character, and for sure Lon Chaney was always a model for that.
GN Do you always work with the same makeup artists?
MB I've done a lot of work with Gabe Bartalos in California, the makeup artist who did all of the Cremaster work. And with Keith Edmier, who is a sculptor based in New York, who worked in the makeup FX Industry when he was younger. I just did this last project with him after not working together for almost twenty years, which was really fun. For obvious reasons I'm very interested in prosthetic makeup artists because their process is so similar to mine as a sculptor—the casting and the mold-making and the experimentation with material behavior. The alchemy in that interests me very much.
-
bombsite.com/issues/1000/articles/7537
River of Fundament
Matthew Barney's singular new film.
Matthew Barney's studio, the birthing place of some of the biggest and most ambitious art of our time, sits in an industrial New York netherzone by the East River in Queens. A couple blocks down is a garage for cast-off food carts in states of obliteration and disarray. On the streets stroll workers whose sturdy coats solicit calls to 888-WASTEOIL, for the service of all waste-oil wants and needs. Alongside the studio the mercurial river flows, its current changing direction several times a day.
Inside are forklifts to move things like six-ton blocks of salt and sculpturally abetted Trans Ams. Football jerseys hang on a wall, including one for the fabled Oakland Raiders center Jim Otto (his number, 00, puts Barney in mind of extra-bodily orifices). A staff of a half dozen studio hands oversees projects of enterprising kinds, from building and bracing large architectural oddities to disrupting and destroying sculptures and letting objects rot.
It was here that Barney completed
River of Fundament
, a new epic film project premiering this week at the Brooklyn Academy of Music, with a running time of nearly six hours (including two intermissions) and passages that play as extravagantly abstracted and absurd. The film was inspired by Norman Mailer's 1983 novel,
Ancient Evenings
, set in ancient Egypt and invested in stages of reincarnation that come after death. The story would not seem to be eminently filmable.
But
River of Fundament
is not exactly a film. It draws on a series of site-specific performances and elaborate happenings—live actions related to the project date back as far as 2007—and all of them, however cinematically presented in the end, fit as sensibly within the traditions of theater and opera. Shoots lasted for days, doubling as rituals or séances, with characters performing for an audience that would come to be part of the work.
"I really was not in the mood at that point to make a film," Barney says of the earliest stages of the project. "That's not where my head was." Instead, after an eight-year period devoted to directing films for his phantasmagorical
Cremaster Cycle
, Barney conceived
River of Fundament
as a premise for more immediate experiments and events to be presented on stage. The first was a performance at his studio that later went public, in 2007, at the Manchester Opera House.
"I don't have much of a relationship with opera," Barney says, "but I'm interested in opera houses, the way organic spaces are designed acoustically to receive the human voice. It's like the resonant chamber in your body. You feel like you're inside another body when you're in an opera house. I like thinking about a character on stage performing inside another body."
After the first performance, a critic for the
Guardian
puzzled over what to make of a show that featured a live bull and, in its human cast, a "pair of incontinent contortionists, one of whom arcs her body and pees all over the stage." Another character came across as a "static, naked odalisque [who] spends almost the entire performance with her head hidden under a black rubber veil, and with a hand up her own bottom."
The strictures of the stage did not exactly suit him, Barney says now. "I couldn't work with the same level of physicality that I'm used to. I also couldn't create a close-up."
* * *
The idea to adapt
Ancient Evenings
came from Mailer himself, whom Barney had cast to play Harry Houdini in
Cremaster 2
, which also enlisted elements of Mailer's nonfiction masterpiece
The Executioner's Song
. That book, about the crime-scarred life and complicated execution of Gary Gilmore, was an established classic from its release in 1979. The novel
Ancient Evenings
, however, had not met with the reception Mailer thought it deserved.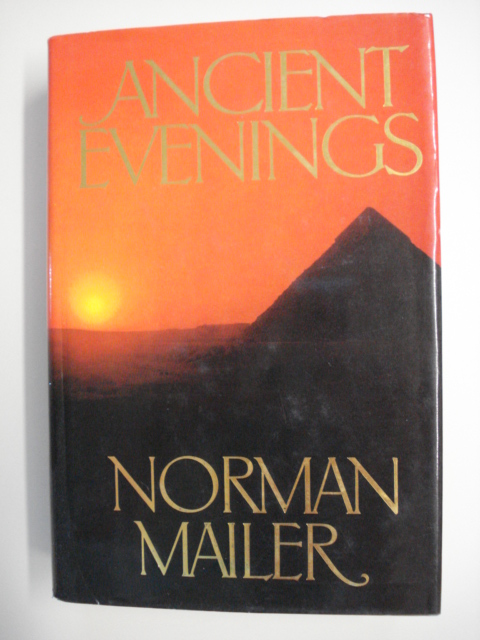 "It is, speaking bluntly, a disaster," wrote Benjamin DeMott in the
New York Times
. Though his review thrills over elements of a story that "pulls its reader inside a consciousness different from any hitherto met in fiction," DeMott found the bulk of the book a dire mess, populated by characters who came across as "ludicrous blends of Mel Brooks and the Marquis de Sade." Other less-than-charitable dismissals cast the book as "pitiably foolish," "impossible to summarize," and blighted by "pointless, painful, unintended hilarity."
Mailer himself was of a different mind. "He loved that book," says John Buffalo Mailer, the writer's son, who plays one of three incarnations of his father in
River of Fundament
. "He would no sooner pick a favorite book than he would a favorite child, but
Ancient Evenings
was a labor of love"—it took more than ten years to complete—"and it was heartbreaking the way it got, I don't want to say 'written off' … The truth of the matter is the first hundred pages of that book are incredibly tough to get through. If you make it through those hundred pages, then it starts reading like
The Naked and the Dead
. It starts to flow and move. He always wanted to see something more happen with it, which is why he talked to Matthew."
Barney dug into the book at Mailer's insistence and found elements of its surreal, body-snatching story fit for extrapolation. He tangled with Mailer's prose and read reactions to its bawdy, sprawling sensationalism. "I was influenced as much by a review of
Ancient Evenings
as by the book," he says. That review was Harold Bloom's in
The New York Review of Books
, which was vexed by parts of the novel but rather more pleased with its scope than many others at the time.
"Our most conspicuous literary energy has generated its weirdest text," Bloom wrote, before making a case for its endearing, invigorating, spiritually searching weirdness. He continued: "I don't intend to give an elaborate plot summary, since if you read
Ancient Evenings
for the story, you will hang yourself." But: "
Ancient Evenings
rivals
Gravity's Rainbow
as an exercise in what has to be called a monumental sado-anarchism." And: "
Ancient Evenings
is on the road of excess, and what Karl Kraus said of the theories of Freud may hold for the speculations of Mailer also—it may be that only the craziest parts are true."
Key to Bloom's reading of the book, for Barney, was the notion that the most meaningful characters in
Ancient Evenings
were in fact stand-ins for Ernest Hemingway and Mailer himself. The review, Barney says, posited "that the book was effectively autobiographical, that Mailer saw himself as being too late—that the great American novel wasn't needed anymore by the time he had come into his own. He wanted to be Hemingway but he couldn't. That interested me. So I started putting Mailer himself into the role of the protagonist, in reincarnations of the same character."
His revelation as to how to approach
Ancient Evenings
came after his conversations with Mailer, who died in 2007. "We talked about in what way it could function as a libretto," Barney says. "But he passed away not long after that, so unfortunately he never saw it develop into the hybrid that it is now. There are definitely things about the film that I couldn't or probably wouldn't have done were he alive. I'm not so sure what he would have thought about it."
But the prospect of a less-than-literal approach must have been on the author's mind. "I think he certainly knew, from the way I used
The
Executioner's Song
in
Cremaster 2
, what adaptation means to me," Barney says. "It's loose. I always visualize these things as host bodies and my language [as] a guest passing through the host body, touching it but not really becoming it. I think Mailer understood that."
John Buffalo Mailer, for his part, thinks his father would have been pleased. "There were not many people in the world that Norman acknowledged as a genius," he says. "Matthew was one of them."
* * *
The spirit on a Matthew Barney film set is never less than unconventional. For a stretch in the fall of 2012 the artist's studio in Queens was outfitted with a precise replica of Norman Mailer's former Brooklyn home. The author's book collection sat on dusty shelves, with actors in zombie garb roaming among real-life literary mavens and Hollywood stars. Emblems of ego and achievement strained for space on the walls. There was a memento from a debate with William F. Buckley in 1962, and a framed
Life
magazine cover trumpeting Mailer's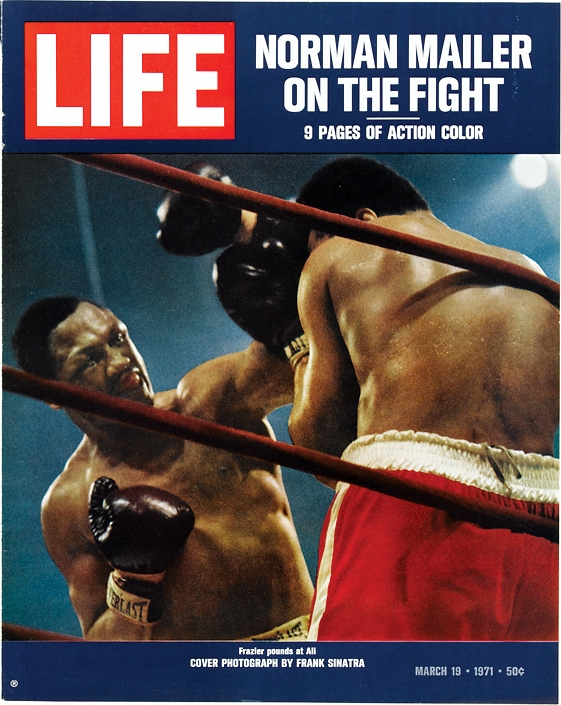 report on a fight between Joe Frazier and Muhammad Ali (with a cover photograph by Frank Sinatra).
On a day of shooting, Barney, as director, painted gold accents on grisly undead characters' faces and guided actors through dialogue drawn from Mailer as well as Hemingway, Walt Whitman, Ralph Waldo Emerson, and William S. Burroughs. "Past and future come together on thunderheads, and our dead hearts live with lightning in the wounds of the gods," bellowed one character, in a scene that required more than a few takes to get right.
With his bushy white beard, and wearing a black T-shirt ornamented by the death-metal band Cannibal Corpse, Barney looked like anything but a refined cineaste. But his charge was much the same. "Pour it a little more aggressively," he said through a mouthpiece to a production designer wetting the set with a strange, unidentified liquid. To the actress Ellen Burstyn, in the midst of a stubborn scene, he suggested, "I think we should not smile." He was right: the eerie Burstyn's version of not-smiling makes for an effect not to be forgotten.
A month later, another day of shooting began at 6:30 A.M. and called for floating an outdoor replica of Mailer's apartment around the New York waterways on a barge. As the cast ate catering in the dark outside the studio, preparations were made: structures hoisted, lifejackets secured, boats untied. Shortly after sunrise, the industrial-size barge drifted off, pushed by a tugboat and followed, at a distance, by a camera boat with Barney and a few others on deck.
The floating processional made its way down the East River to Newtown Creek, an industrial waterway separating Brooklyn and Queens. In the midst of the workday, noisy and clanging, industrial rigs filled barges with dirt. Towering silver "digester eggs" gleamed in the sun, doing the work of a nearby sewage treatment plant. All seemed still on the water as, on land, cranes separated piles of trash at a recycling receiving center. "That pile's pretty bad-ass, with the seagulls on it," Barney said to the camera operator. The gulls were eating glass.
On the barge, characters from the story, in dirty makeup and costumes like decomposing clothes from the grave, spent the day standing sentry on the apartment's balcony for shots to be mixed with scenes set inside, at Norman Mailer's wake. Actors playing guests at the wake make up an eclectic cast: Paul Giamatti, Maggie Gyllenhaal, Elaine Stritch, Salman Rushdie, Debbie Harry, Dick Cavett, Lawrence Weiner, and Larry Holmes, among others. But today the action was contained to just a few mourners and undead souls, to be filmed from out on the water.
With footage from the morning logged and the afternoon whiled away in wait, the schedule led to a sunset scene featuring the avant-garde vocalist Joan La Barbara singing Walt Whitman beneath the Brooklyn Bridge. The boats loosened up and ventured out again, past the United Nations Headquarters, the Chrysler Building, the Con Ed East River generating station. Closer to the bridge, floating out in the middle, the drummer Milford Graves stepped onto the barge's balcony and began banging on the railing, shaking bells and making a racket. Then La Barbara stepped out and sang, her mouth moving and her microphone on but her sounds falling silent across the distance and the wind. Her song drew words from
Leaves of Grass
, recast by Barney's own sense of writerly refraction. Of the style of the script, La Barbara later said, "It's almost like Virginia Woolf, the way she will turn a phrase and then bring a phrase back after having put it through some kind of prism."
As the sun went down, the sky glinted pink off the water. The barge continued drifting beneath the bridge, crossed above by traffic with no notion of what was happening below. The tugboat started its laborious turn. It was time to go home. The sky, as it blackened, looked somehow both sensuous and macabre. "It's a beautiful sky, isn't it?" Barney said.
Back at the studio, the barge and the boats nested into their docking stations. Bringing such vessels in is no easy feat. The barge was more than fifty yards long, with nearly forty feet of height between the water and the top of Mailer's floating home. The tugboat was large enough to marshal the barge. The camera boat was smaller and easier to steer but less resilient against its surroundings. "Steel on fiberglass?," the driver asked as he idled his way in. "Steel wins."
* * *
Spells of shooting happened elsewhere in New York and other locales as well. A crucial scene was filmed last summer with a mass of more than three hundred extras in a disused dry dock at the Brooklyn Navy Yard. Before that came a trip to sites where salmon spawn in Idaho, near where Hemingway died and Barney was raised. Toward the beginning of the project, the traveling road show ventured out for extended stays to film and perform in Los Angeles and Detroit.
Both cities figure prominently, as part of a triumvirate with New York, in a film that is intensely peculiar yet permeated by a sense of place. A typical scene from LA features a ragtag marching band playing discordant music at a gnomic ceremony outside a car dealership (for Chrysler, which seems significant and proves to be, but in ways that are more cryptic than clear). A curious speech transpires on the subject of putrefaction, feces, fermentation, and rot. A gold 1979 Trans Am, which turns out to be one of the movie's lead characters, drives off a lot to a parking garage where a naked woman with bugs in her hair writhes around as a group of musicians makes sounds with horns and
guitarróns
.
In Detroit, slow panning shots of an urban hellscape give way to more action involving the car, which races around mysteriously and drives off a bridge from which Houdini once jumped. A monumental set piece takes place at an abandoned steel plant where Barney and his crew spent months designing and building a custom set of furnaces to melt rock into metal. Onscreen, five towers rise, fire shooting from their tops, as hard forms are made molten by temperatures topping two thousand degrees. "It was very dangerous," Barney said. Actors wore safety suits; an audience watched. The result of the orange streams of iron, bronze, lead, and copper was an indelible film scene and a series of sculptures made from twenty-five tons of material poured.
Many of the memorable scenes in New York telescope out from Mailer's wake, with the writer himself featured in three reincarnated forms. John Buffalo Mailer, who plays the youngest form of his father, features in one scene for which he climbed inside the cut-open cadaver of a cow. "They had cleaned it out as best one can, but it's the inside of an animal," he remembers. "I will say that once I got inside I felt oddly peaceful and sheltered and taken care of." The jazz percussionist Milford Graves, in his role as the second incarnation of Mailer's soul, later plays the cow as drums, from the inside.
Musicality, in fact, plays a significant role in
River of Fundament
's sense of anarchic freedom and its sense of shape. Remnants of the project's beginnings as an opera remain on screen, in dialogue delivered with an unorthodox sing-song cadence and set pieces given over to surreal musical interludes.
"In film, it's very hard for people not to think of music as something there to inform one's sense of what the emotion is," says Jonathan Bepler, a composer who collaborated with Barney on all stages of
River of Fundament
. (He wrote music for the Cremaster Cycle too.) "For me, it's much more than that." Blurring the distinction between opera and film proved catalytic, he says. "In opera, musicians are allowed to be anywhere at any time. Having that permission helped."
For Barney, as a director whose concerns are more sculptural and imagistic than conventionally cinematic, music is a liberating agent. "I'm really interested in the abstractness or openness that music can provide," he says. "It can also do the opposite—it can be so emotionally fixed that it works against what I'm interested in. But the way that Jonathan composes music is quite similar to the approach I take in terms of less-determined ways of thinking about linearity and storytelling."
* * *
In his studio, commanding actions to continue after
River of Fundament
's premiere, Barney is quiet and intensely present. His speech is considered and slow, with long pauses when searching for the right word, if in fact a word will convey something that silence cannot. He is affable but also able to deflect vacant questions back with eyes that have grown dark and hard through looking.
"He is incredibly focused and centered as an individual," says Barbara Gladstone, the gallerist who gave Barney his first New York show in 1991 and has since represented him on his rise to prominence in the art world. "As Matthew thinks about something and works at it in his head, it becomes evermore complex."
With the film just recently finished—final edit set, sound mix complete—Barney sits in a makeshift office above the construction floor below. His beard is gone, and he wears a winter hat adorned with the logo of Budco Enterprises (the favored source of steel fabrication for Richard Serra). Pages for an elaborate
River of Fundament
catalog to be published this summer by Rizzoli hang tacked up on the wall, along with images of art works to travel to an exhibition, opening in Munich in March, of sculpture borne from the project.
The exhibition is as much a part of
River of Fundament
as the film itself. In terms of scale and sheer materiality, many of the pieces are more formidable than work from earlier in Barney's career. In place of his signature use of plastics, jellies, and all manner of oozing agents is a new focus on earthy materials like iron, bronze, sulfur, and salt.
"There are descriptions in
Ancient Evenings
where you have elemental waste coming from the earth, like sulfur, molten iron," Barney says. "Elements are interchangeable with the waste products of the body. Sulfur and excrement are used in a very similar way in the writing, as a sort of fundamental state."
They figure into infrastructure too. In New York, "it's all there along the waterways but barely visible," Barney says. "You see it in a flash on your way to the airport—you look down and see the recycling plant, wastewater management, the natural gas and sanitation department. But the view from the waterways … I was interested from the start in framing the city through these waterways," he says. "Working here on the East River and seeing it every day, watching the current change the way that it does, moving both directions, has a lot of power. The rivers are big working rivers. Once I started exploring the water, it changed my perspective on the city as a natural landscape."
The notion of cities as natural machines for living, in all their grotesquery and pageantry and gasping for air, figures as one of
River of Fundament
's prevailing themes. The camera fixes on sights of industrial might and decay the same way it ogles objects with a wizened sculptor's eye. From those objects come stories, and the current washes back.
"The story comes first, then out of the story come reductions that are distilled," Barney says. "I have to start with a story, as a sculptor. I haven't really figured out any way around that."
-
www.theparisreview.org/
Wading in Matthew Barney's River of Shi
In the opening of his review of Matthew Barney's
River of Fundament
for
GalleristNY
, Michael H. Miller writes that "it feels perverse to attempt to review, or even summarize" the six-hour-long film (including two intermissions), which premiered on Wednesday night at the Brooklyn Academy of Music. I'm not normally prone to be suspicious of an artist's intentions, but part of me suspects that this is what Matthew Barney wants. It may even be subconscious, but Barney's basic idea with this new film seems to be that if you throw enough shit (pun intended) together, and stretch it out for long enough, and make it suitably incoherent, most everyone will be too overwhelmed and swayed by hovering notions of "genius" that they won't bother to object.
In fact, if Barney had made the film shorter, or more coherent, I would feel far more forgiving. Instead, as
River of Fundament
dragged on and descended further into its pit of self-indulgent ooze, I found myself increasingly indignant at being made to sit through it. (Yes, I know, no one was
forcing
me to stay.) By the very end, when the story had finished and given way to a few minutes of gorgeous, generic shots of nature — followed by a few shots of dead nature (birds, fish), because yes, life and death are connected and it's all such a
deep
revelation — I was ready to walk out. I didn't, partly because I was with someone and partly because I figured that if I'd made it this far, I should stay until the credits rolled.
Miller is correct on one count: to attempt to summarize
River of Fundament
would be futile; there's somehow too much plot and no plot at the same time. The BAM program does a surprisingly excellent job, but short of quoting the whole thing, it's useless to try and replicate that here. Here are some basics (I think): the film concerns Norman Mailer, who is dead, but whose soul has been attempting to achieve immortality by crossing the river of feces three times. A wake is being held at his apartment, filled with famous people (actual ones, like Fran Lebowitz) and also some Egyptian gods and pharaohs, who are represented in the film as people covered in shit, since they seem to inhabit and guard the river (which flows beneath Mailer's apartment). Norman has various spiritual manifestations and helpers, including two
kas
; Hathfertiti, who acted as his medium during his lifetime; and three cars that become protagonists of a sort (one manages to impregnate a woman,
after
it's been crashed into a river and rusted to pieces!).
This scenario — give or take the cars — is based loosely on a book by Mailer himself, the 700-page
Ancient Evenings
, which he worked on for more than 10 years and published in 1983. Mailer's protagonist is actually a nobleman named Menenhetet I, but Barney chose to replace him with the author based in part on
his reading
of a review of Ancient Evenings in the
New York Review of Books
by Harold Bloom. In that piece,
Bloom writes
:
But I don't intend to give an elaborate plot summary, since if you read Ancient Evenings for the story, you will hang yourself. There is a lot less story than any summary would indicate, because this is a book in which every conceivable outrage happens, and yet nothing happens, because at the end everything remains exactly the same.
That applies to River of Fundament as well. If you see it, you will see many things: a man licking a woman's shit-smeared asshole, a woman giving birth to a bird, men fighting and tearing out each other's eyes out and each other's balls off, much vomiting, many penises, Barney himself (playing one of Norman's kas) covered in shit and anally penetrated by another shit-covered man (whose penis is wrapped in gold leaf), a woman arched in a backbend peeing prodigiously on a dinner table. Barney is apparently one of the few artists left who still believes in shock value.
All of that, mind you, is shot impeccably. The visuals are stunning. Shit has never looked so good (except for maybe in Andres Serrano's
Shit
series; there's enough shit to go around, apparently). And in a few scenes, most notably when Barney films the smelting of a car at a steel plant in Detroit (which was abandoned before he took it over), rivers of deep gold fire jumping and running into puddles and sculpted towers looming ominously in the air, you understand his talents as an artist — they are formal.
As a storyteller and writer, on the other hand, Barney comes up far, far short of his five and a half hours of screen time. The script is of mixture of his own writing and passages pulled from Walt Whitman, Ernest Hemingway, Ralph Waldo Emerson, William S. Burroughs, and Mailer (all men). Despite the strengths of those names, it never amounts to anything, with disjointed texts turned into operatic chanting at the hands of Jonathan Bepler, who composed and directed the music. The music is ever-present and actually quite terrific in places — strange instruments made of metal and played in a factory in Detroit, an atonal marching band in a parking lot in LA — but the opera decision starts off suspect and becomes comically bad. Maggie Gyllenhaal is a great actress, but nothing can save her from having to talk-sing the phrase "fuck yes!" while kneeling before her shit- and boil-covered father.
The lack of strong writing is, I think, what damns
River of Fundament
— and not so much the lack of plot so much as the lack of … anything. The movie becomes almost six hours of mixed-up images and references and scenes without any seeming purpose or point. The many ethnic groups that make appearances as musical accompaniment start to feel like weird tokens in a movie made by a white man about another white man: Mexican guitar players, a Ranchera singer, an R&B singer, a group of singers and drummers who all look Native American, an African-American girls' step team?! (Also, in case you're unfamiliar with it, Mailer's arguably most famous essay is called "
The White Negro
," which makes his second incarnation in
River of Fundament
as a black jazz musician both logical and particularly hard to swallow.) This kind of postmodern mishmash can work for an hour, maybe two, but not six.
But who are we kidding? This is Matthew Barney. He is a Male Artist. He makes Big Artwork filled with Spectacles like car crushing; in fact, Barney "conceived
River of Fundament
as a premise for more immediate experiments and events to be presented on stage," Andy Battaglia writes in
The Paris Review Daily
, which perhaps explains its inability to come together. A macho artist obsessed with sex, shit, and violence has made a six-hour film adaptation of a macho writer's (also really into sex and violence, shit maybe a little less) 700-page novel, and no one knows what either of them is about. Lucky us.
-
hyperallergic.com/