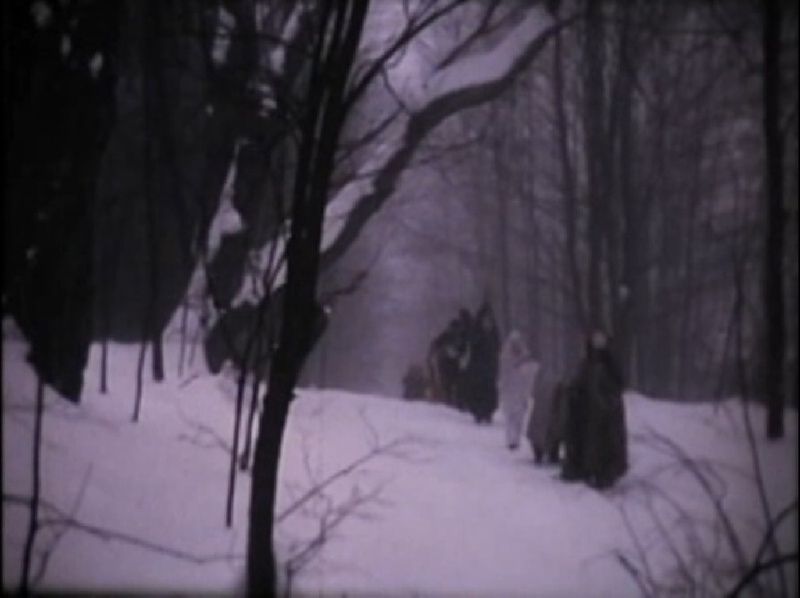 Klasični underground filmovi - od studije kretanja svjetla do kolažno-distorzirane naracije i digitalne hipnagogije.
18 MOVIES IN DISTRIBUTION
Walter Ungerer is a longtime filmmaker and artist of international reputation, beginning with the underground film scene of NYC in the early 1960s, continuing through to his own experimental short films and features in Vermont from the late '60s to the 21st Century. Several years ago Ungerer moved from Vermont to Maine, where he continues to make films and videos.
Ungerer was born in New York City in 1935 of German immigrants. He studied art and architecture at Pratt Institute, receiving a BFA degree in 1958. He then went on to Columbia University, where he received an MA and PD in 1964. Simultaneously with his educational studies, Ungerer worked as a freelance cameraperson and editor. He turned to independent personal filmmaking in 1964, after returning from Nigeria, where he was the cinematographer for a television "special". Between 1964 and 1969 he produced five films: The Tasmanian Devil (1964), Meet Me, Jesus (1966), A Lion's Tale (1968), Introduction To Oobieland (1969), and Ubi Est Terram Oobiae? (1969). In '69 he moved to Vermont and a teaching position at Goddard College. He had been teaching film production at Columbia University. In 1976 he formed Dark Horse Films, Inc. a Montpelier, Vermont non-profit company under which he produced four features: The Animal (1976), The House Without Steps (1979), The Winter There Was Very Little Snow (1982), and Leaving The Harbor (1992).
Then came a long period of exploration with the computer, using the computer to not only edit but to create the entire film without the use of a camera. This period produced Birds 2/93 (1993), Anna's Amazing Moving Animals (1994), Relatives In X, Y, & Z (1996), The Window (1997), Kingsbury Beach (1999) and Untitled 2.1 (2001); all short films no longer than ten minutes long. These works rekindled Ungerer's passion for drawing and painting. They gave him the opportunity to hone his creative eye and his acute visual sense. They also offered him, once again, the experience of putting colors and shapes on a real surface; missed since the days of being an artist student and young artist painting or drawing on newsprint paper or canvas.
In 2001 Ungerer returned to documentary filmmaking to produce and all this madness (2002), a film about the September 11, 2001 attack on the NY World Trade Center. Once before he had made a film based on political motivation, and his criticism of American government policies. Keeping Things Whole (1974) was an interview docudrama that recorded people's views of the Viet Nam War; at the same time weaving
91 Le Grand is a four months study of the movement of light through a space in Ungerer's home in Maine. The camera simply records, programmed to take still pictures between intervals of being shut down. More than anything else, it is a meditation in time, space and place. An outgrowth of 91 Le Grand is a video
installation titled Inside-Outside. Using two projectors, it incorporates the photographs of Ungerer's partner Dianna Rust and 91 Le Grand, to illuminate a series of hanging curtains in an interior space. It was installed at the Space Gallery,Portland, Maine in 2005; and is now on exhibit at the Brattleboro Museum of Art, Brattleboro, Vermont. Additional venues are now under investigation.
In July and August of 2006 retrospectives of Ungerer's computer works were at the Alamo Theater, Bucksport, Maine; and Farnsworth Art Museum, Rockland, Maine. That year additional retrospectives occurred in Kiel, Hamburg and several other northern Germany cities, culminating in a November tour to the area by Ungerer.
With fifty years of filmmaking, video, computer, and media experience; Ungerer's works have been shown at festivals and competitions throughout the world including the Florence International Film Festival, Florence, Italy; the Tours International Film Festival, Tours, France; the Athens International Film Festival (Best Feature Film for The Animal, Merit Award for The House Without Steps, and 91 Le Grand included); the Houston International Film Festival (Bronze Award for The Winter There Was Very Little Snow); Atlantic Film and Video Festival, NS, Canada (Critics' Choice Award for The Winter There Was Very Little Snow) and the Black Maria Film Festival (Jurors' Award for Leaving The Harbor and 91 Le Grand). He has also been honored with special exhibitions at the Museum of Modern Art, New York City; Everson Museum, Syracuse, New York; Filmmuseum, Amsterdam, Holland; the Athens Film Society, Athens, Greece; the Hong Kong Cultural Centre, Kowloon, Hong Kong; and the Fleming Museum, Burlington, Vermont. Among other grants and awards, he has received an American Film Institute Independent Filmmaker grant in 1977, and a National Endowment for the Arts Media grant in 1983. He has also been the recipient of several Vermont Council on the Arts fellowship awards.
---
Introduction To Oobieland [Oobieland Part 1](1969) - 10 min.
Ubi Est Terram Oobiae? [Oobieland Part 2](1969) - 5 min.
Solstice [Oobieland Part 3](1971) - 35 min.
The Terrible Mother [Oobieland Part 4](1972) - 25 min.
Epilogue To Oobieland [Oobieland Part 5](1972) - 10 min.

Oobieland is a strange and magical place. Part One introduces us to what kind of place Oobieland might be. Part Two takes us to a television studio in New York City where we meet the Princess of Oobieland. Part Three takes us to the natural landscape of Oobieland with its inhabitants. Part Four presents us with the ritual where Mother Earth (The Terrible Mother) relinquishes her power to the new Terrible Mother. Part Five ends it with the roar of a lion. In the end we are left with the thought, Has Oobieland eluded us?

Some venues and awards:


Ann Arbor Film Festival
Athens Film Society, Greece
Filmmuseum, The Netherlands
Foothill College Film Festival
Lichtmess Kino, Germany
Kommunales Kino, Germany
---
Keeping Things Whole (1971) - 66 min.

Unlike the world wars and Korea, not many films have come out of the murderous fatigue of Viet Nam. Perhaps that's because it's not easy to make a film about a difficult, complicated war. Walter Ungerer set out to make a film about the decision facing a conscientious American youth when he is drafted. Arthur, the hero (played by Columbia University student Arthur Albert) is drafted and unsure of what to do. Slowly we are introduced to three sets of characters whose decisions ultimately determine the course of Arthur's resolution to his dilemma, and thus his life. First comes a group of non-Americans. Then a second group consisting of actual friends, family and acquaintances of Arthur the actor. Finally, the third group, an intriguing cross-section of Americans: teenie boppers, suburbanites, Green Berets, an artist and a Spanish American War vet. The final solution is brought about by bringing the non-Americans together in an auditorium, showing them all the previously shot footage and asking them to vote on what they think Arthur should do.

Some venues and awards:

---
The Animal (1976) - 75 min.

A woman waits for a man at a deserted railroad station somewhere in northern New England. It is the middle of winter. Snow is falling. The two drive to a remote farmhouse. Later two strange children appear at the window, and an old woman summons them away. Isolation, then alienation overcome the couple. The woman has a dream which comes true. She disappears. Nothing is explained. Only footprints remain in the snow that covers the supernatural landscape.

Some venues and awards:


Anthology Film Archives
Athens International Film Festival, Best Feature
Florence International Film Festival
MoMA Cineprobe
Tours International Film Festival
---
The House Without Steps (1979) - 90 min.

On the surface this is a narrative film that focuses on the issue of conflicting values among people. As more and more big city folks move to the small farming communities of New England, and establish their urban ways of living, those ways sometimes conflict with the local folks with no desire for the values being imposed upon them. Underneath the surface the film is about an attractive woman, the men she attracts, and the turmoil that results.

Some venues and awards:


Athens International Film festival
MoMA Cineprobbe
Montreal International Film Festival
Tours International Film festival
---
The Winter There Was Very Little Snow (1982) - 75 min.

The Winter There Was Very Little Snow is a visual mood poem using the barest narrative form to convey the feeling and time of crisis for a man in middle age. His marriage has collapsed. He is without a job. His father afflicted with Alzheimer's Disease, has just died. There is no reality, only an indistinguishable mixture of images and moments drawn from some space in time that could be his past, his present or his future.

Some venues and awards:


Merit Award, Athens International Film Festival
Critics' Choice Award, Atlantic Film & Video Festival, Canada
Bronze Award, Houston International Film Festival
MoMA Cineprobe
---
Leaving The Harbor (1991) - 77 min.

Shot in Connecticut, New Hampshire, New York, Vermont, and Montreal; the film follows filmmaker Guido Gruczeck as he begins to piece together his newest project. A film within a film. Leaving The Harbor illustrates how art immitates life, how everyday occurrences and conversations in Ungerer's life become scenes and dialogue for Gruczeck's film.

Some venues and awards:


Athens International Film Festival
MoMA Cineprobbe
Juror's Award, Black Maria Film Festival
New England Film festival
---
The Tasmanian Devil (1965) - 21 min.
Meet Me, Jesus (1966) - 14 min.
A Lion's Tale (1968) - 14 min.
The Man With The Umbrella (1973) - 30 min.
I Anna, I Three (1989) - 10 min.
Ein Sonnige Und Ruhige Lage (1991) - 9 min.

This is a collection of early experimental shorts shot on 16mm film except I Anna, I Three, which was shot on 3/4 inch Umatic SP, and Ein Sonnige Und Ruhige Lage shot on VHS. The Tasmanian Devil is a documentary about the auto drag racing team of George Snizek and Charlie Dodge from Oceanside, Long Island, New York.

Some venues and awards:


Ann Arbor Film Festival
Gate Theater, NYC
Hawaiian International Film Festival
San Francisco International Film Festival
Simon's Rock Showcase
---
Birds 2/93 (1993) - 2 min.
Anna's Amazing Moving Animals (1994) - 2 min.
A Warm Day Comes After A Cold Winter (1995) - 6 min.
Relatives In X, Y, & Z (1996) - 5 min.
The Window (1997) - 4 min.
Once A Year For Seven Days (1998) - 17 min.
Lunch With Clara (1998) - 28 min.
Kingsbury Beach (1999) - 6 min.
Don't Mind The Man With The Camera (2001) - 27 min.

This is a collection of more recent experimental shorts all shot on VHS, miniDV, or created in the computer; where they were edited and manipulated with various computer software programs.

Some venues and awards:


911 Media Arts, Seattle
Antimatter Festival, Canada
Atlantic Film & Video Festival
Euroshorts/3, Poland
Galleria Communale' Arte, Italy
Public Television Vermont
---
Untitled 2.1.2 (2002) - 10 min.
The Awakening (2002) - 10 min.
Lesley's Song (2003) - 12 min.
91 Le Grand (2005) - 19 min.

These are four films using vastly different styles. Untitled 2.1.2 uses abstract, hardly recognizeable shapes and colors to create a person's emotions as they experience tension and chaos. The Awakening is shot in a straightforward almost documentary style to convey a person's spiritual birth. Lesley's Song mixes direct recording with fractured, contorted computer altered imagery. 91 Le Grand is a time-lapse recording from dawn to evening over several months of a winter, as seen from the interior of Ungerer's home.

Some venues and awards:


Black Maria Film & Video Festival
Brattleboro Museum
Euroshorts/3, Poland
Farnsworth Museum
Kommunales Kino, Germany
Lichtmess Kino, Germany
---
Random Bits Of Unknown Significance (2007) - 53 min.
A Week In Northern Germany (2007) - 30 min.

These are two films shot with an inexpensive digital still camera capable of shooting short video bursts. The inobtrusiveness of the camera afforded Ungerer the opportunity to record unguarded moments in people's lives. while he was on a trip through England, Germany, and Switzerland in 2006. The result was Random Bits Of Unknown Significance. Using the same camera, A Week In Northern Germany was shot in November of the following year while Ungerer was touring northern Germany doing film presentations.

Some venues and awards:


Kommunales Kino, Kiel, Germany
Lichtmess Kino, Hamburg, Germany
Warmbad, Rostock, Germany
IKUMO, Greifswald, Germany
Tabulos, Neubrandenburg, Germany
---
and all this madness (2003) - 79 min.

This is a documentary about the 9/11 World Trade Center terrorist attack in New York City. It begins with an interview with an options trader at the American Stock Exchange describing his experience at the location close to the site during the attack. The film goes on with footage shot at the New York City site ten days after the tragedy occurred. It continues with interviews with people from Vermont (Ungerer was living in Vermont at the time) expressing their views about the reason for the attack. Vermonters represented the vast majority of the nation in that they only knew what had happened from the media news reports.

Some venues and awards:


American Friends Service Committee
Center For Maine Contemporary Art
Colby-Sawyer College
College Of The Atlantic
Norwich University
Savoy Theater
T. W. Wood Art Center
University Of Vermont
---
down the road (2005) - 94 min.

It is at once an experimental film and a documentary. It illuminates three difficult years in filmmaker Walter Ungerer's life: the sudden and painful end to a seventeen year marriage. In search of answers for the cause of his circumstances, he embarks on a series of interviews with people themselves afflicted with pain and suffering. Though a film about filmmaker Walter Ungerer at a particularly difficult time in his life, down the road is a journey we all take. It is a road we all travel as we face our own mortality.

Some venues and awards:


Nominated Best Feature, Best Editing; Syracuse International Film & Video Festival
Athens International Film & Video Festival
---
Such As It Is (2007) - 14 min.
Epitaph (2008) - 10 min.
The Bird Feeders (2008) - 14 min.
Inalienable (2008) - 8 min.
The Salt Shaker And The Moon (2008) - 15 min.
Blue Parrot (2009) - 12 min.

This is a collection of works created between 2007 and 2009 using a digital still camera producing mpeg2 files. Ungerer began using such a camera in 2005 to produce Randon Bits Of Unknown Significance.

Some venues and awards:


Filmforum, Los Angeles
Echo Park Film Center
---
All The Days Of The Year (2010) - 67 min.

One place, a rock on a hill overlooking the ocean, is the spot where fourteen different shots (video clips) are recorded. The camera points in a direction and records for 10 seconds. The camera pivots a few degrees counterclockwise and records for 10 seconds. This process is repeated twelve more times, each time rotating a few more degrees counterclockwise before recording. When the cycle is completed the camera will be back at its first position and 14 ten second clips will have been recorded describing a 360 degree view from the central position of the rock. This process is repeated each day of the year from the same spot, sometimes at sunrise, sometimes during the day, sometimes at sunset, and sometimes at night. This film is a daily record of one year at Mount Battie, Maine. It is a record of the seasons, the changing light from dawn to evening, sunrise and sunset; the changing weather from bright sun to overcast skies, fog, rain and snow; and the changing visitors that come by foot, bicycle, motorcycle, car, truck and camper to make a pilgrimage to the mountain vista that overlooks a small harbor on the coast of Maine, the North Atlantic coastal islands, and the expansive Atlantic Ocean. They come to Mount Battie in peaceful revelry and recognition of a very special place.

Some venues and awards:


New Zealand Natural History Museum
Syracuse International Film Festival
---
Green Eye(2012) - 6 min.
Parva Sed Apta Mihi(2012) - 17 min.
Clouds(2012) - 6 min.
Monarda(2010) - 10 min.
Blue Parrot(2009) - 12 min.
The Bird Feeders(2008) - 14 min.
Kingsbury Beach(1999) - 6 min.

This collection of films was shown at the St. Lawrence Arts Center, Portland, Maine on January 29, 2012. Two films included in the program, are not on this DVD. They are SUCH AS IT IS and EPITAPH, and can be found on other DVDs listed here.

Some venues and awards:


Antimatter Film Festival
Atlanta Film & Video Festival
1st Experimental Film Festival (2012), Portland, OR
Factory Art, Berlin, Germany
Alchemy Film And Moving Image Festival (2012), Scotland, UK