Svijest nije u mozgu. Zvuk nije u uhu. Zvuk je dvojnik.
streaming
Origamibiro
is a collaborative project consisting of three core members: musician, soundtrack composer and producer Tom Hill, visual artist and filmmaker
The Joy Of Box
, and multi-instrumentalist Andy Tytherleigh. Originally started as a solo project for Tom, Origamibiro has since evolved into an audio-visual collective, producing studio music, art objects, interactive installations and hauntingly original live audio-visual performances. Origamibiro like to create work with an array of unorthodox processes and contraptions, found objects, video feeds and multi instrumentalism. Their aim is to create works of texture, lyricism and intensity.
Previous to Origamibiro, Tom Hill had been working with electronica and found-sound sampling through projects such as Wauvenfold and Penfold Plum. Origamibiro's first release, 'Cracked Mirrors and Stopped Clocks' saw a radical return to Tom's classical and electric guitar roots. Performed and produced entirely by Tom, 'Cracked Mirrors' also involved sampling additional atmospheric elements: the creak of his chair, the sound of his breath, the squeak of the wood in his guitar. The result is both intimate and melodic, tangible and atmospheric.
Tom was then looking to translate this music from studio to live environment and enlisted the help of The Joy Of Box (Jim Boxall). Jim had a background in fine art as well as live visuals. Both Tom and Jim were looking for ways to expand how they could approach live performances and utilise technologies but also retain a sense of fragility, texture, emotion and above all risk. Not long after, Andy Tytherleigh brought his multi-instrumentalist skills (double bass, ukulele, banjo, guitar) to what was now becoming a collective and the trio began to develop ways to bring all of these elements together with live looping techniques. Jim began to use objects and props to film and record live, Tom experimented with sampling found materials to add texture and rhythm to his guitar melodies and Andy layered multiple instruments to add depth and weight to the whole process.
The release of the second album 'Shakkei' saw an expansion in Origamibiro's sound - from an intimate personal space to an expansive terrain ('Shakkei' in fact translates to 'borrowed landscape'). The second album utilised field recordings and even a shared audio journey between Tom's Autumnal footsteps in English woodlands and Jim's muted boot crunch of snowy Eastern European forests. The third album 'Shakkei Remixed' came soon after featuring remixes by a host of artists, reinterpreting Origamibiro's material in further directions still. Origamibiro's live performances also expanded, now involving treated books, typewriters, found celluloid, paper, eerie wildlife recordings, home movies, sellotape and bespoke visual contraptions. All of these things had been added, adapted, even destroyed as a way to generate images and audio that could evoke a feeling, a response, an understanding or perhaps a question from audiences.
-
denovali.com/
"The fall of a typewriter key, the pluck of a double bass, the ripping of paper - all these tiny, transient moments become the notes with which Origamibiro compose a world around them... And it's an extraordinary world: strangely calming in its slow revealing; startlingly beautiful in its climatic chiming; strong enough to cut through pixelated ennui"
-
dummy mag
Triple CD packs either form a tidal wave of disbelief as to the possible delusion an artist may have over his worth, or a humble offering that rights wrongs experienced by the subconscious on its quest for truth. The trio making up Origamibiro express in a genteel sway, but never forget acoustic ambient music is about transferring ignorance to interest as it is leaving it be.
"Noshi" for example, fans a Flamenco-y way, strolling like an old age canine without care except "when is meal time?". Pattern recognition of expectation loses pretense instead of accumulating. It is down to Origamibiro's soporific production style. Never do things perplex: "Womb Duvet" shows description of the group's track titles to be more than post-modernist anachronism. Traces of Sone Institute's yawning manna, is part of the problem/solution for the "Collection" 3CD though.
You can get through everything once – all three albums back to back. But after that pace becomes laborious. This isn't an LP criticism – it's criticism of homogenity in music itself. Attention spans cut off potential listeners from what is great, sometimes timeless work. I just hope it's not the case for Origamibiro's "Collection", as it deserves loving ears. Let's explore more…
As "Cracked Mirrors And Stopped Clocks" progresses, composer Tom Hill, visual artist and filmmaker Jim Boxall, and multi-instrumentalist Andy Tytherleigh's beat and guitar rhythm sections further centrally interleave besides adding glitch. CD standout "Vitreous Detachment" tunnels into the electroacoustic lexicon but maintains groove to breach meandering into a chord cupcake. Sweet and refined, the guitar work combined with atmosphere becomes real pleasure objectified.
However, object is not to outline throwaway. Quite the opposite. The experience is to "collect" an object in sonic form, move about with it, formulate a fresh perspective. The C Minor of the titular piece is strummed and accompanied by achingly nourishing synthesizer that recalls sounds of Planet Mu's eDIT on "Crying Over Pros For No Reason".
Glitch and chance occupy the last sixth of this LP with insect-esque scuttling and finger-picking on "Unknown In The Walls" – a paradoxically barren, alien soundscape. Rich in sustain on the synth drone looming over the estranged guitar, it's intense. "No More Counterfeit Bliss" has chords that resound over a pumped drum, filling the aural cavity like a blast of Listerine. There are echoes of new age greats Enigma here, in essence mystique being brought from sparing deployment.
Sparing deployment is less so on the second offering of the "Collection" discs, the more orchestral "Shakkei". "Impressions Of Footfall" begins with electric piano teetering on strings that ebb into picture like a dodgeball connected to an asteroid; slowly breaking up in bellow of the cello. There is a cadence introducing drums lurching as a hefty mud treading sloth would through woodland. Woodland feels what you're listening in, very natural and nothing squeamishly done – all cranked to eleven on the idea generator. At 44 minutes this record is the best of the lot, but that statement forsakes the great enjoyment of the "Shakkei Remixed" CD!
Now a remix can be a broken ruminant of future woe, a dislocation of the constituent parts with nothing to gel. It can also generate a queasy reductionism, relying too much on one idea with less following through. Not so here, as artists including Leafcutter John (also in the Planet Mu roster) dissect and re-qualify the core ideology of a remix as more than a pale snapshot of crumbling psychogeographical ruins. The music is rebuilt in a flowing ideal, a curving of silent edges that once egged the curious listener on. This characteristic bodes well for a sequential listening experience, as you hear the tapestries of sound refractively assuage and introspect on themselves with little room for break. The complete form also increases your enjoyment of Origamibiro by making you want to revisit this beautiful music.
In all, "Collection" is a highly recommended package from Denovali, one of the high life purveyors of ambient and modern classical at the moment. As with any collection though, you'll find an ideal way to listen. For me, reviewing this record, I wanted to give the whole thing one long go. In hindsight I'd perhaps have broken up my listening into album chunks interspersed with other music. The fact that I managed 3 hours of listening to just Origamibiro is I believe enough discernable commendation that this is a worthy purchase! -
Dan www.fluid-radio.co.uk/
Shakkei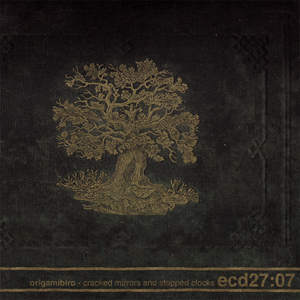 Cracked Mirrors And Stopped Clocks
Unravelled In Wreathes
from
The Joy of Box
on
Vimeo
.
Quad Time
from
The Joy of Box
on
Vimeo
.
Origamibiro: Shakkei Remixed
from
The Joy of Box
on
Vimeo
.