Instalacija u kojoj zvukovno "lice" stalno mijenja izgled. Kao da Rashad Becker, Kode 9, Ryoji Ikeda, The Bug i Laurie Anderson nastupaju istovremeno.
On P.A. / HARD LOVE, New York based composer and conceptualist Marina Rosenfeld generates a universe of radical sonic collision.
Between 2009 and 2011, in a series of monumentally scaled sites including New York's vast Park Avenue Armory and Liverpool's Renshaw Hall car park, Rosenfeld developed an idiosyncratic sound-system, a quasi-sculptural assemblage of customized horns and subs, which she called simply P.A. She used the system to reposition resident noise from the sites alongside traces of her own voice, and a heterogeneous palette of other electro-acoustic elements. Equal parts tuned atmosphere and active performance, the series of works was notable for its subtle yet potent exploration of voice and amplification in space; its highly iterated play of reflection and distortion; and its challenge to conventional phantasies of intelligibility and publicness in amplified sound.
In 2012, Rosenfeld invited vocalist Annette Henry, a.k.a. Warrior Queen, to contribute original vocals for an album version of the project. Recorded in Kingston, Jamaica, Henry's pointed responses to Rosenfeld's compositions acted as catalysts for transformation, propelling the original compositions in new and unexpected directions. Okkyung Lee's virtuosic cello, which often traces over earlier recorded iterations of itself, further elaborated the complex and contingent nature of the collaboration.
The resulting music is explicit and ambiguous, anthemic and elusive. Its spikes of uneasy beauty ask urgent questions of the listener – of language and form, of intimacy and ultimately of the complexity of address, both private and public. -
emporium.room40.org/
In 2012, artist and composer
Marina Rosenfeld
combined forces with
Warrior Queen
, inviting the legendary dancehall mc to create vocals for Rosenfeld's modular sound-system, an assemblage of tricked-out horns, subs, and loudspeakers previously staged, as P.A., in a series of monumental sites, including Liverpool's Renshaw Hall car park and the Park Avenue Armory. The result is
P.A./HARD LOVE
, a diffuse and architectural mash-up of live sound and quasi synthetic site recordings to be released this spring as an album on electronic label Room40. The work's layers of ambient sonics, pulses and beats, overlaid with Warrior Queen's iconoclastic vocals and haunting solo cello from
Okkyung Lee
, call into question the conciliatory fantasy of a return to publicness and identity as conditions of broadcast sound, instead plumbing the complex, distorting relationship of space, voice, and amplification.
www.thekitchen.org/
It's a collaboration that just shouldn't work, but the collision of sounds pieced together by New York based composer and conceptual sound artist Marina Rosenfeld, alongside virtuoso cellist Okkyung Lee and, most strikingly, The Bug collaborator Warrior Queen, has produced one of the most surreal, futuristic records you'll hear in 2013. The inter-dimensional blend of Warrior Queen's vocals and Okkyung Lee's cello infused, electro-acoustic scapes draped by the intense frequency modulations of Rosenfeld really sounds unlike anything you'll have heard before: it's sort of like Rashad Becker, Kode 9, Ryoji Ikeda, The Bug and Laurie Anderson all playing at once, somehow sounding cohesive and startling all at once. Adapted from a series of quasi-sculptural sound system installations, 'P.A. / Hard Love' unfolds around morphing location recordings with unstable acoustic parameters, or "tuned atmospheres" as the label put it, in electronic soundfields strafed with eerie sci-fi tones and complex synthesizer patterns. Warrior Queen sounds like she was dialled in as a mischievous AI presence; something like a character in the latter chapters of Neuromancer, singing and spitting amidst the laser zaps and gyroscopic diffusions of 'New York / It's All About', or digitally shredded as a flickering, holographic simulation against the abstract ragga-tech refractions of 'I Launch An Attack' and the titular 'Hard Love'. Most crucial to the record's appeal, though, is that constantly morphing patina of electro-acoustic flux; like the scramble suit in Philip K Dick's 'A Scanner Darkly', perpetually shifting and realigning your ear's focus between the peripheries and the foreground with something approaching a slow, controlled, cybernetic psychedelia. Quite simply, it's a stunning and highly idiosyncratic record, one that sucks you in deeper with every repeated listen. -
boomkat
The dub rhythms of artist and composer Marina Rosenfeld
Not so long ago, I moved from London to New York. People from both cities like to ask how they compare. One subtle yet significant difference I've noticed is how seldom I hear any Jamaican music in New York. Dancehall, dub and reggae – not to mention all their fertile spin-offs and feral mutations in uk house and garage – are London's audio wallpaper. You hear it everywhere: heavy bass shakes out of passing car stereos; tinny syncopated riddims buzz the air from phones and iPods. The older, slower sounds of dub, ska, rockers and roots reggae are wound tight into the city's folk memory and music history. Hearing just a few bars of plaintive melodica from an old dub track can prompt a reverie of London, of good times and bad. It's the soundtrack to histories of immigration and race relations, to the shared subcultural heritages of mods, punks, skins, rudeboys and rudegirls and the post-rave micro-factions of jungle, drum'n'bass, garage and dub step.
A British pop culture without Jamaica's influence is impossible to imagine. The air in New York tells a different story. Here it is owned by hiphop – the music New York invented – and the smooth, metallic surfaces of r&b. Jazz and punk may still reign in the city's historical imaginary, but New York is unimaginable without the Latin sounds of salsa, cumbia, norteña, soca and reggaetón.
I was thinking about this recently as I sat in the New York studio of artist and composer Marina Rosenfeld, surrounded by the woofers, tweeters and horns that together make
P.A./Public Address
, her custom sound-system-cum-installation. Rosenfeld's track 'HARD LOVE' was playing from the two large monitor speakers that dominate her work desk. It's the fifth cut on her forthcoming album P.A./HARD LOVE (to be released by Australian record label Room40 in June), an lp made in collaboration with Jamaican singer Warrior Queen (a.k.a. Annette Henry) and cellist Okkyung Lee. 'HARD LOVE' opens with bristling electronics that are soon overcome by a kick drum and snare playing the 'dem bow' rhythm pattern famous from dancehall and reggaetón. (Its origins lie in the Cuban
tresillo
rhythm.) An almost subliminal bass sound cushions the percussion. No sooner have they entered than the drums drop out and the atmospherics fade to silence. We hear Warrior Queen gently sing: 'I need some hard love baby tonight.' Behind her voice, the electricity returns, backed with ambient sounds that immediately seem to place the dryly recorded vocal sound in a huge, echoing room – a concert hall, perhaps, or a vast train station. The mood flips again; those 'dem bow' drums and subliminal bass return, and Warrior Queen pushes back with a tougher, single-note chant in the highly controlled and fast-paced dancehall style, before it all drops out once more, leaving just stains of reverb in the air. 'HARD LOVE' repeats and subtly varies this pattern of attack with passages of energy that stop abruptly, then return. It's as if someone were shuffling back and forth through radio frequencies, or as though the performers of the song were pausing to assess the effect they're having on their audience. Listening to it in the East Village, I suddenly felt transported to East London; Warrior Queen's tumble of words, the tangible sense of architectural space that Rosenfeld opens out with the dub-like echo and reverb, a bass which my body could feel almost more clearly than it could hear. It was like being teleported to another time and place.
P.A./HARD LOVE
is the latest iteration of Rosenfeld's evolving work
P.A./Public Address
. Begun in 2009 during a residency in the cavernous Drill Hall of New York's Park Avenue Armory,
P.A./Public Address
used the architecture and acoustics of the building to create a shroud of tones, textures and voice. Sets of heavy-duty horns – the sort that look as if they sprang from the pages of a book on early 20th-century broadcasting, or were salvaged from the ruins of a factory designed by Constructivist sound engineers – were mounted on sturdy tripods or hung from the Armory's grand barrel ceiling. Rosenfeld set them rotating rapidly so that they would throw sound across the space, bumping tones and ricocheting notes against the building's surfaces and corners. Further rumbles came from a sound cannon mounted on the floor – a hefty steel pipe fitted with sub-woofers which looked like it could easily be retro-fitted as a bazooka. Lee augmented these sounds with an amplified cello, over which Rosenfeld performed live vocals – snatched phrases, the odd sung fragment. Just as listening to the recording of 'HARD LOVE' strongly evokes a sense of place in a more spectral, emotional sense – one that transports me elsewhere –
P.A./Public Address
uses acoustics to root itself with a here-and-now intensity that is sculptural, physical.
A second version of
P.A./Public Address
was made for the Liverpool Biennial in 2010 and installed in Renshaw Hall, a car park in the centre of the city. There, the horns were fixed to steel girders inside the building. With their weathered, industrial aesthetic, the speakers blended into the architecture, looking as if they could have been there for years.
Through them, Rosenfeld broadcast recordings made in the Park Avenue Armory, along with the music she originally generated for that version, and field recordings from the car park itself. Rosenfeld collaborated with Lee for a third iteration of the piece at the SPOR 2012 festival in Aarhus, Denmark. Much of this material was then gathered together for the
P.A./HARD LOVE
album and a live performance of
P.A./Public Address
at The Kitchen, New York, at the end of April this year, with Lee and Warrior Queen.
The texture of Rosenfeld's work is woven from often seemingly disparate times, places and registers of culture.
Teenage Lontano
(2008) – also first staged at the Park Avenue Armory – involved 40 teenagers, each plugged into iPods and singing along to György Ligeti's 1967 composition
Lontano
. Rosenfeld reverse-engineered the awkwardness of adolescent isolation and the asocial world that headphones create, re-channelling them into a group experience of Modernist music, with spectacular and oddly affecting results. Her two-channel video work
Six Inversions
(2013), produced for the exhibition 'art is: new art' at the Arnold Schönberg Center in Vienna, features Rosenfeld and pianist Anthony Coleman playing Schönberg's piano at his house in the Viennese suburb of Mödling. They move through Schönberg compositions, drawing unexpected links to jazz musicians such as Jelly Roll Morton. This is contrasted with YouTube concert footage of Japanese metal band Rosenfeld, who used neo-Nazi imagery for what appeared to be shock value. The triangulation of Schönberg with Rosenfeld the composer and Rosenfeld the band is unsettling, yet off-set by the playfulness with which musical ideas are traded at the piano, shifting gears through time periods and styles.
P.A./Public Address
and
P.A./HARD LOVE
move deftly between musical reference points. In the electronic chirps, squelches, bleeps and parps that dance and pop across the listener's field of hearing, we might detect traces of Karlheinz Stockhausen's
Kontakte
(Contact, 1959–60 – a composition that pioneered the use of multi-speaker surround sound) or Morton Subotnick's classic of electronic music,
Silver Apples of the Moon
(1967).
But in the same space Rosenfeld builds with these sounds, she also makes use of a palette of reverb, echo and bass, which evoke touches of African Head Charge and Adrian Sherwood's 1980s experiments in fusing post-punk experimentation with heavy dub or, more recently, Burial's ghostly evocations of nocturnal London and half-remembered illegal raves. The connection between public address systems and the culture of Jamaican sound systems is also a clear one. It's territory that Mark Leckey touched on with his
Big Box Statue Action
(2003–11) performances, but where Leckey placed more emphasis on links between the formal properties of the speaker systems and Modernist sculpture, Rosenfeld underlines the sculptural properties of sound itself; the sonic possibilities for which a PA and specific architectural space allows.
In the P.A./HARD LOVE recordings there is a palpable sense of scale and architecture. Rosenfeld pays close attention to the spatial placement of each element in the sound mix: some appear close to the listener's ear, whilst others hide in the far corners of what sounds like a large hall.
Long, sustained bell-like tones recur throughout, as do thin, tendril-like sine-tones, the sound of glissando metal. Whispers and murmurs are heard. Underneath these, sub-bass frequencies bully the eardrums. Warrior Queen's voice is occasionally layered, switching between a delicate, searching tone, and one that is hard-edged, highly directed, commanding. It zooms up front for certain passages, then retreats, as
if being sung from a distance. Certain tracks evoke the feeling of walking empty streets and hearing human activity but not knowing where it's coming from, or navigating the stairs and rooms of a disused warehouse in search of a clandestine party. Lee coaxes extraordinary sounds from her cello; she makes it sound like a voice or a synthesizer, just occasionally playing it in such a way as to remind you that it's still a string instrument. There is a sense in all of this of the fragmentary, as if we had stumbled across a dusty analogue telephone exchange, a forgotten transmission station that nobody bothered to switch off when the world went digital. For all the precedents one might detect in her music, Rosenfeld is agile and subtle as a composer, highly attuned to places near and far, adept at playing with what is to hand in her environment. What you hear is where you're at. -
Dan Fox
What would happen if you were to take deep, dancehall vocals and place them over avant-garde classical improvisation before lacing each layer with experimental frequency patterns? The admittedly
low
-
key
consensus is that the results
should
be displeasing or unpleasant, a doubtful mashing of styles that share very little when placed side by side. With
P.A. / Hard Love
, the critical tendency has been to focus on both the differences that exist within these genres and how shocking it seems that they appear here so natural alongside one another. But although their stylistic directions diverge so spectacularly, Marina Rosenfeld, Okkyung Lee, and Warrior Queen hold more in common as conceptual artists than any genre dissection or lofty debate concerning categorization might allude to. Sure, the three musicians come from a diverse range of backgrounds, but it's the individual artistic preferences that make this album so fascinating as they unite in collaboration, regardless of the technical approaches they have separately showcased in the past. On
P.A. / Hard Love
, Rosenfeld brings collective attributes together in a way that transcends the restrictions of genre experimentation, and the resulting sound remains positively delightful.
Based predominantly in New York, Rosenfeld has been turning heads with her distinctive art installations and abstract recordings since 1993, when she first scored
Sheer Frost Orchestra
. It's a grating, hypnotic composition that explores high-frequency string arrangements that are performed by 17 women, each playing electric guitars and nail polish bottles positioned across the floor. The piece was originally written while Rosenfeld was still a student, yet it provides a splendid example of how her curiosity for the atypical has bloomed, while her means of realization have continued to stray away from the norm without once looking back. From
cover versions
of György Ligeti involving a 34-voice teenage choir to ambient acoustic
turntablism
performances, Rosenfeld possesses a spirit of inquiry that comes founded in the depths of electronic improvisation and string resonance, which are also essential to her latest work: throughout the course of six mesmerizing tracks, she pushes the envelope by presenting her exploration in the most intricate of artistic platforms.
P.A. / Hard Love
sees Rosenfeld teaming up with Warrior Queen (reputable for her vocal
contributions
alongside The Bug) and Okkyung Lee (New York-based
avant-garde cellist
and past Rosenfeld collaborator) — two artists who practice very different types of music and whose individual efforts are the central cause for surprise that this joint offering works so nicely. But in spite of that, each artist remains at the forefront of creating fresh ideas and intriguing practices within their own sphere: Jamaican singer Annette Henry, a.k.a. Warrior Queen, has been recording rap and dancehall music since her early teens and has brought those traditional approaches to UK dubstep; Lee is a classically trained Korean musician famed for exploring the outer most limits of acoustic noise recordings. Both artists are renowned for testing the confides of their associated styles, and that binds them together in a way that's far more understandable than thrashing around at the edges of the genres they expand upon.
These poignant and daring approaches are charged deep within the album's core. The styles work so well here because of the musical values each artist holds so dear — this isn't about the concept being so damn crazy that it just has to work. The album opens with an expansive glitch/drone section that's interjected by distant whispers, rattled glass, and faint string resonance. When Henry's vocals kick in, they are doused with dub-like echo and reverb that give the melody a haunting feel, as Rosenfeld's frequency-shifts creep across the dancehall chatter. It's a startling effect, partly because the backing track is minimal and delicate, pushing against the forceful nature of the vocals that Rosenfeld coincidentally flew out to Kingston in order to record. The stylistic juxtaposition is given greater purchase on the following number, "Seeking Solace / Why Why," where Lee's presence can be felt even more as her drawn-out thrusts cradle Henry's lyrics: "
Gotta focus 'cause I gotta survive
" she presses before the track's saddening climax: "
He was the love of my life/ How could this be,"
"Lost in my thoughts like a lonely sea/ With blurred images cascading my mind."
The vocals loop and ricochet to the throb of long-form drone and careful cello fibers, creating an atmosphere that is immediate and powerful in the context of Rosenfeld's field recordings.
The feeling of a close and mysteriously vibrant atmosphere is propelled by the initial premise for the album's content, which saw Rosenfeld collecting a number of field recordings from New York's Park Avenue Armory and Liverpool's Renshaw Hall car park as part of her
P.A. project
back in 2011. In their new environment, each sound complements both the forceful vocals that writhe throughout and the gritty cello that lingers beneath the surface. Although the album is brilliantly carried by these hovering soundscapes, there are moments of distinctive percussion within the music, particularly on "Hard Love," which is driven by glitch loops and tape-reel samples that also play host to some of Henry's most unreserved vocal stylings. But even though so much power comes projected in the Jamaican singer's voice, perhaps the most overwhelming track is "New York / Empire State Of," which features no vocal inclusion whatsoever. It's Lee who brings this particular section to life, with minimal strings and bass resonance that just pour over the setting like liquid iron, while you watch the flickering lights glide about some futuristic metropolis in a lively, frantic twilight.
The combination of artistic variance and sonic textures deployed here is little short of genial.
P.A. / Hard Love
not only binds the finishing touches of a field recording project that has been neatly assembled with experimental overtures, but also goes far beyond the congenial meeting of minds and the consequences of bringing together a series of unexpected genres. There is a deeper motion at work here, which carves something fascinating out of a base curiosity to create a multifaceted aesthetic plane. It works tremendously without so much as contemplating how these genre-specific attributes meld across such a strange and beautiful formula. Of course, the genres sound at odds when they are crashed upside each other as objective descriptors, but as a complete force, the music these artists have arrived at here is exemplary under Rosenfeld's direction. -
Birkut
The Dancehall Meets the Sound Installation for Some "Hard Love"
by
What happens when you immerse the vocals of a dancehall queen who thrives on pulsing beats in the droning of an art sound machine? That was the experiment set up between Jamaican dub vocalist
Warrior Queen
and New York artist
Marina Rosenfeld
in
P.A./Hard Love
, which had its premiere on April 26 at the Kitchen in Chelsea.
Rosenfeld's "P.A.," which is an evolving "modular sound-system project" was first presented at the
Park Avenue Armory
in 2009 as part of her residency there, where she attempted to fill the cavernous drill hall with noise from loudspeakers, subwoofers, and massive horns that look like they broke off from giant gramophones. She's since toured "P.A." around, always adapting it to the architecture and feel of a space, and installed in the Kitchen it was backed by the kind of blinding bright lights that might illuminate a high school football match somewhere in a shadowy midwestern evening. (Luckily, these lights were turned down once the actual performance began, although they maintained a strong glow.) However, while Rosenfeld has staged event performances, such as her "
Teenage Lontano
," also at the Park Avenue Armory as part of the 2008 Whitney Biennial, an adaptation of Ligeti's 1967 "Lontano" performed by a choir of 24 teenagers with their ears plugged into mp3 players with the score while a whirring speaker splayed electronic music from the ceiling, much of her work with "P.A." has been focused on experiential sound installations. At the Kitchen, however, this was set up as the winding background noise to a concert, where it competed with, swallowed, and sometimes melded interestingly with Warrior Queen's vocals.
The "P.A." installation was the foundation of
P.A./Hard Love
, and New York-based cellist Okkyung Lee took center stage for a few haunting songs over roads of static, but Warrior Queen (aka Annette Henry), was the heart of the evening. Rosenfeld's work sometimes has a touch of the dehumanizing in it, like in "Teenage Lontano" where the beautiful movement of the choir piece was given a cold edge by the electronics, and at the Kitchen there was some distance created by the pulsing, clicking cycles of sound.
The Kitchen is a small venue, yet all of that distortion created limits to the audience connection. And Warrior Queen is someone who wants to connect. Unfortunately the echo effect on her mic made it difficult to communicate, but she regularly tried to engage the crowd and bared some intense emotions on songs about a husband dying on a wedding night or wanting some XXX-level "hard love," which she prefaced with a caution that it was going to get explicit — "I'm just giving you a warning, yeah?" — before layering her rapid dubstep vocals over the sound installation. There were moments that were just begging for some harder beats to be thrown in and give her some grounding and when they finally did near the end of the evening, the music reached a stage that was both sonically interesting and emotionally gripping, basically the best of both Rosenfeld's and Warrior Queen's worlds, a peak I wished the whole evening had summited.
However, it over all felt like an experiment in progress, where the two artists are still figuring out how to collaborate through their two approaches to music: the hands-off sound installation artist approaching noise as a layer over a space, and the dancehall vocalist who is all about the emotional audience response. This May,
P.A./Hard Love
is being released as an album with electronic label
Room40
, and it will be intriguing to see where both of these music perspectives go when neither space nor a live audience are in play. Here's a preview:
NEW* The binaural recording created by Dave Rife of Arup Acoustics of roygbiv&b at the Museum of Modern Art is now on MoMA Multimedia. Special thanks to Ellen Grenley and Sarah Kennedy at MoMA and Dave Rife and Raj Patel at Arup.
www.moma.org/explore/multimedia/videos/211/
Headphones recommended!

*NEW* The latest issue of "Paper Monument: Draw it with your eyes closed: the art of the art assignment" includes Marina Rosenfeld's "Mix Tape for a Day of Studio Visits"
www.papermonument.com/drawit

*NEW* Marina Rosenfeld's web project for Parallelograms is now online here: www.parallelograms.info/index-54.php

*NEW* excerpt from performance of WHITE LINES, 2003-ongoing, in Perth, Australia at the Perth Institute of Contemporary Art, September 17, 2011

More info here: vimeo.com/34746392


*NEW* excerpt from performance of roygbiv&b, 2011, at the Museum of Modern Art, New York, April 21, 2011

More info here: vimeo.com/roygbiv&b

Teenage Lontano, 2008, performed at the Park Avenue Armory, New York, March 2008, for the Whitney Biennial 2008.

More info here: vimeo.com/34760502

Teenage Lontano (audio only) performed in Oslo for Ultima Festival 2010 on September 9, 2010
PLAY

P.A./Public Address no. 2, 2009-10, installation/performance for PERFORMA09 Biennial, with Okkyung Lee, cello, New York, November 21-22, 2009, and "No Longer Empty at the Liverpool Biennial", 2010

More info here: vimeo.com/26556273

Solo turntable set at Issue Project Room, Brooklyn, NY, on April 7, 2010, archived at freemusicarchive.org. Also here: modisti.com

Cannons, 2010, sound installation/performance with custom "bass cannons," at Faster Than Sound 2010, Aldeburgh Music, Aldeburgh, UK with Robert Ames, viola, Lucy Railton, cello, and Sarah Cresswell, percussion
Cannons, excerpt 1 PLAY
Cannons, exceprt 2 PLAY
Video feature produced by the Wire Magazine here

*2009 interview of Marina Rosenfeld by Anne Hilde Nesset on Adventures In Modern Music/Wire Radio, with downloadable playlist at www.thewire.co.uk/articles/2657

*Special download for Wire Magazine subscribers: "I love you man" (previously unreleased track) on Below the Radar 02 at www.thewire.co.uk/articles/3388

WHITE LINES (excerpt), 2003-ongoing, video-score for improvisers
More info here: vimeo.com/27385858


The Conversation from 'Plastic Materials' (Room 40/2009) PLAY Formal Arrangement from 'Plastic Materials' (Room 40/2009) PLAY NOTE: This one recommended for headphones or non-computer speakers.
five (starry nite) from 'joy of fear' (Softl Music/2006) PLAY
six (come home) from 'joy of fear' (Softl Music/2006) PLAY
Emotional Orchestra excerpt from 42 min. performance, Deitch Projects (off-site), with asFOUR, New York, 2003

More info here: vimeo.com/27389650

*Also coming soon: Ubuweb.com to host archive of works from 1998 to the present, including rare unreleased performances, collaborations, video and audio.
New York-based composer and turntablist Marina Rosenfeld follows releases for Charhizma, Softlmusic and Quakebasket with a showcase of her recorded work for Room40. 'The Conversation' is an electroacoustic work focusing on minimalist piano phrasings encased in processed incidental textures, fragments of crackle and half-formed vocals. You can even hear stammering horn phrases trying to penetrate the mix, but the whole thing remains very quiet and reined in until in its second half the piece ascends to a noisier state loaded with glitches and gnarled drone tones. Offering an imaginary meeting point between William Basinski and Tim Hecker's Radio Amor, 'In F' loops through another helping of drones and piano phrases, this time establishing a more emotive language. Elsewhere, on 'Formal Arrangement' and 'Rings/Black Circles (Version)', the idiom is all about raw electronic signals, the like of which you might hear on a vintage sci-fi soundtrack, but possibly the biggest talking point here is the inclusion of three excerpts from Rosenfeld's work Teenage Lontano, a 'cover' of Gyorgy Ligeti's 1967 composition Lontano arranged for a teenage choir. These tracks are filled with plumes of nebulous, harmonised singing, although they're strewn with interruptions - giggling, coughs, chatter and outbreaks of generic R&B warbling (and even a bit of Amy Winehouse), so quite what Rosenfeld's trying to tell us about teenagers you can deduce for yourselves. A highly recommended collection from this intriguing composer. - boomkat
Teenage Lontano (2008):
cijela verzija:
Vimeo
'Teenage Lontano', Marina Rosenfeld's "cover version" of Ligeti's 1967 orchestral work 'Lontano', for 34-voice teenage choir and overhead loudspeaker installation.
First performance commissioned and presented by the Whitney Museum for the Whitney Biennial Exhibition 2008, co-produced by Art Production Fund. Performed in the drill hall of the Park Avenue Armory, New York, March 8, 2008, with acoustical engineering assistance from Bob Bielecki and Arup Acoustics.
"While still a student at CalArts (Los Angeles) in 1993, Marina Rosenfeld first created the Sheer Frost Orchestra, a graphically scored musical performance realized by 17 women on floor-bound electric guitars, deploying nail-polish bottles as sensitive sound-producing implements. This performance, always created in situ with the collaboration of local performers, has been widely produced since then, most recently at the Cleveland Museum of Art in 2009. Other performed works include 2008's
Teenage Lontano
, Rosenfeld's "cover version" of Gyorgy Ligeti's 1967 orchestral work Lontano, for 34-voice teenaged choir and suspended speaker installation. Teenage Lontano was premiered in the vast Drill Hall space of the Park Avenue Armory in New York as part of the Whitney Biennial 2008. The work had its European premiere in Amsterdam in June 2009 as a co-production of the Holland Festival and Stedelijk Museum and its third and fourth productions in 2010-11 in Oslo for Ultima Festival and Perth, Australia for Tura New Music..."
Marina Rosenfeld.com
As with any exhibition that surveys the best of contemporary art practices, the
Whitney Biennial
consistently elicits its share of cheers and, more frequently, jeers: complaints about artists omitted, marginalized mediums, insider back-scratching, and so on. While the 2008 edition may also merit such criticism, it deserves some praise for introducing a performance-heavy program at the Park Avenue Armory. Spanning the first two weeks of the biennial's three-month run, the Armory series finds artists and musicians like Agathe Snow, Lucky Dragons and Gang Gang Dance crossing and re-crossing the boundaries of performance and installation in the decorous (and semi-crumbling) rooms of the 1881 New York landmark. This Saturday evening, composer and turntablist
Marina Rosenfeld
will debut
Teenage Lontano/16 Channels
(2008), a "cover version" of György Liget's
Lontano
(1967) that Rosenfeld specifically conceived for the Armory's 55,000-square foot Drill Hall. Rosenfeld's reworking stretches the Hungarian composer's twelve-minute work to an even thirty and subjects his exceedingly meticulous score to a slew of chance scenarios - most importantly, the translation of the orchestral piece into a vocal composition, relayed via portable mp3 players into the headphones of the thirty-five New York teenagers who comprise Rosenfeld's choir. Hanging several dozen feet above the teens, a massive speaker will rotate at 33 1/3 r.p.m., like a turntable, and fire electronic sounds into the recesses of the cavernous hall: a space-age accompaniment to Rosenfeld's acoustic community. Like her seminal performance,
sheer frost orchestra
, in which seventeen women administered nail-polish to floor-bound guitars,
Teenage Lontano/16 Channels
emphasizes Rosenfeld's professed interest in the "ideosocial construction of music-making," here taking a vernacular of contemporary listening, a generation for which technology is like a second-skin, and through them reappraising a moment of high-Modern composition. -
Tyler Coburn
The Sheer Frost Orchestra: Hop, Drop, Drone, Slide, Scratch and A for Anything
, featuring Ikue Mori, Barbara Ess, Kaffe Matthews, Chiara Giovando, and many others (2001,
Charhizma/Vienna
)
The Sheer Frost Orchestra operate at the interface between music making and performance art, where the process of creation is designed to be publicly viewed and explained, and is at least as important as the product - the music. The SFO has existed since 1993, and until 2001 consisted of seventeen women (non-musicians, sometimes randomly chosen) playing electric guitars laid on their backs on the floor and struck with glass nail polish bottles (yes, really). Marina Rosenfeld provided the players with a series of techniques (eg the drop, the hop&), with "musical parameters" (such as fast vs slow, dense vs sparse&) and a grid-like score. So, the SFO is deliberately against technical virtuosity in favour of serendipity, against phallocentric guitar-heroism in favour of a detached, unphysical approach to playing.
In this latest version of the SFO, twelve women played electric guitars and five sampled the sound of the guitars and transformed it on laptops. The recording dates from a performance at the Whitney Museum of American Art, NYC, in April 2001. Interestingly, a cursory glance at photographs of the event, with the women kneeling over the guitars to play them, might lead one to think they were at work in a sweatshop. Here is a telling quote from Rosenfeld: "It was fun, and then it started to sound good." For anyone who has not seen the SFO in performance, that is the crux of the matter - how good does the music sound, away from the event? Does it have a life of its own on CD? The answer is a very qualified "yes".
The twelve guitarists produce sounds that vary in frequency and texture, but there is little variation in note duration, less melodic content than is contained in the most uncompromising improv guitar performance, and only brief rhythmic passages. The laptops produce sounds only distantly related to the sound of a guitar - low frequency modulated drones reminiscent of a didgeridoo, very high frequency electronic twitterings at the threshold of (my) hearing - which contrast with each other to produce a textured electronic composition.
At present, I could only judge this CD a qualified success. After listening to it about a dozen times, it seems to be revealing less with each listen, rather than opening up fresh insights and interactions. Despite the electronics, the music is rather flat and uniform, lacking highs, lows and climaxes. I cannot imagine stumbling upon this CD in a year's time with a shriek of delight and a shiver of anticipation at hearing it again. -
John Eyles
Sour Mash (CD)
Vinyl composition, 'DJ tools' and collaborative recording by Marina Rosenfeld and George Lewis
(2010, Innova)
Sour Mash
was composed by George Lewis and Marina Rosenfeld as a recording collaboration for multiple playback recombinations. Their fruitful partnership produced vinyl records intended to be further manipulated in their "Sour Mash" live sets, and also as creative material to be further used by other musicians and DJs.
A member of the AACM (Association for the Advancement of Creative Musicians), George Lewis's work as composer, improvisor, and performer explores electronic music, multimedia installations, and text-sound works. His awards include the MacArthur Fellowship, and he has published and recorded prolifically. Lewis is currently the Edwin H. Case Professor of American Music at Columbia University.
Turntablist and multi-media artist, Marina Rosenfeld, creates large-scale performance works and installations. Her work has been commissioned by the Whitney Biennial, Tate Modern, The Kitchen, Merce Cunningham Dance Company, and her music presented at festivals such as Mutek, Donaueschingen, and Ars Electronica. -
newmusiccircle.org/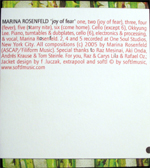 Joy of Fear

(2006, Softl/Cologne), featuring cellist Okkyung Lee

Joy of Fear captures New York turntablist and composer Marina Rosenfeld beginning a new phase of her journey through the infinite space of experimental sound. Combining the acoustic instrumentation and compositional practices of her earliest musical life with infusions from her most recent modus operandi – her own custom acetate records or "dub plates" – with Joy of Fear she has created a truly contemporary piece of classical music. Rosenfeld provides her own view of this fresh chapter: "With this record, I feel like I've come full circle, with the very concept of sonic disappearance that has driven much of my music for turntables beginning to disappear behind a new, more expansive idea or music structure." It is an idea she would do well to pursue.
The set begins with a spooky DJ spinning an scratchy 78 on the slowest speed, conjuring up damp atmospherics, manifesting the ambiance of an abandoned cellar as a cello groans, heralding the possible entrance of some otherworldly phantom. Elsewhere, sparse Feldman-esque piano chords, wrapped in warm silence, are interrupted by a host of found sounds and other alien accompaniments like those often found dwelling inside Keith Rowe's guitar cabinet. The juxtaposition of the untamed, almost clumsy, sound of the dub plates (approximating, at times, the pages of a book fluttering in the wind, at others, the song of electronically-charged particles falling on a tin roof) contrast beautifully with the elegantly refined chamber sections.
Only on the final piece, "Coming Home," does the cello break rank in an attempt to match the vibrant chaos of its setting. Wild bow strokes gently shimmer to keep discordant pace with metropolitan traffic noise and other city life. The whole tapestry swirls about in a chasm of environmental distortion before eventually finding closure with a few intimate gestures of subtle string play.- Spencer Grady




theforestthegardenthesea: music from fragment opera

featuring Alan Licht, David Galbraith and others; co-produced by Mayo Thompson (Red Krayola)(1999, Charhizma/Vienna)

Below The Radar 02
2009 online compilation from the Wire Magazine
Subscribers can download here: www.thewire.co.uk

in red sets
(2007, Endleseries/Baltimore) *Endleseries is an exclusive web catalogue of lathe-cut 10" acetates. http://endleseries.com

DJTrio, (2004, Asphodel/San Francisco)
with Christian Marclay, Eric M, DJ Olive and Toshio Kajiwara

Mono: New York Soundtracks (remixes) by Loren Mazzacane Connors, Jackie-O Motherfucker, DJ Olive, Raz Mesinai, Aki Onda, Calla and MR) (2003, Human Highway/Japan)

Musica Viva 10: Bernhard Lang DW8
(2004, Col Legno/Munich)

Mutek 03 (2003, Mutek/Montreal)

Soundworks: Whitney Biennial 2002

a water's wake (2002, Quakebasket, New York)
with Tim Barnes and Toshio Kajiwara

Bitstreams: Soundworks from the exhibition
at the Whitney Museum of American Art (2001, JDK/Amsterdam)
Marina Rosenfeld biography:
Known equally as a composer of large-scale performances and an experimental turntablist working with hand-crafted dub plates, New York-based Marina Rosenfeld has been a leading voice in the increasing hybridization between the domains of visual art and music. She has created chamber and choral works, including the performances Teenage Lontano, Cannons and roygbiv&b; a series of acclaimed "orchestras" for floor-bound electric guitars and other quasi-sculptural scenarios; works notated in video, including WHITE LINES and My red, red blood; and since 2008, a series of installation/performance works, often mounted in monumental spaces, such as the Park Avenue Armory in New York and Western Australia's Midland Railway Workshops, deploying complexes of unamplified live performers and custom loudspeaker installations.
Rosenfeld's work has been widely presented throughout Europe, North America and Australia, including recent solo projects for the Museum of Modern Art in New York; SPOR, Ultima, Wien Modern and Holland Festivals; the Whitney, Liverpool and PERFORMA Biennials; and many others. Recent collaborative projects include her duo with George Lewis (Sour Mash) and, forthcoming on the Room40 label in summer 2013, a new album featuring the collaboration of legendary Jamaican vocalist Warrior Queen, as well as long-time collaborator, cellist Okkyung Lee.
Rosenfeld received her BA in Music from Harvard and an MFA from the California Institute of the Arts, where she studied with composer Morton Subotnik and conceptual artist Michael Asher, among others. She joined the faculty of Bard College's MFA program in 2003 and has co-chaired its department of Music/Sound since 2007. Rosenfeld is a 2011 recipient of both a Foundation for Contemporary Arts Grants to Artists award and an Artist Residency from the Headlands Center for the Arts. Previous awards include grants and honors from the New York State Council on the Arts, the New York Foundation for the Arts, the Park Avenue Armory, Harvestworks Digital Media Arts, Experimental Television Center, and Austria's Ars Electronica competition in digital musics.

key works:
While still a student at CalArts (Los Angeles) in 1993, Rosenfeld first created the Sheer Frost Orchestra, a graphically scored musical performance realized by 17 women on floor-bound electric guitars, deploying nail-polish bottles as sensitive sound-producing implements. This performance, always created in situ with the collaboration of local performers, has been widely produced since then, most recently at the Cleveland Museum of Art in 2009. Other works include Emotional Orchestra (Deitch Projects, Tate Modern), and the frequently performed WHITE LINES (Wien Modern, British School at Rome, Taktlos Bern, Perth Institute of Contemporary Art, and many others), and 2008's Teenage Lontano, Rosenfeld's "cover version" of Gyorgy Ligeti's 1967 orchestral work Lontano, for 34-voice teenaged choir and suspended speaker installation. Teenage Lontano was premiered in the vast Drill Hall space of the Park Avenue Armory in New York as part of the Whitney Biennial 2008. The work had its European premiere in Amsterdam in June 2009 as a co-production of the Holland Festival and Stedelijk Museum and its third and fourth productions in 2010-11 in Oslo for Ultima Festival and Perth, Australia for Tura New Music. Other recent works include Cannons, 2010, for live musicians and a suite of four graduated steel "bass cannons"; the site-specific series P.A./Public Address, created in residence at the Park Avenue Armory during 2009; and roygbiv&b, a choral installation/performance with loudspeaker installation commissioned by the Museum of Modern Art in New York and premiered in its five-story atrium in 2011.