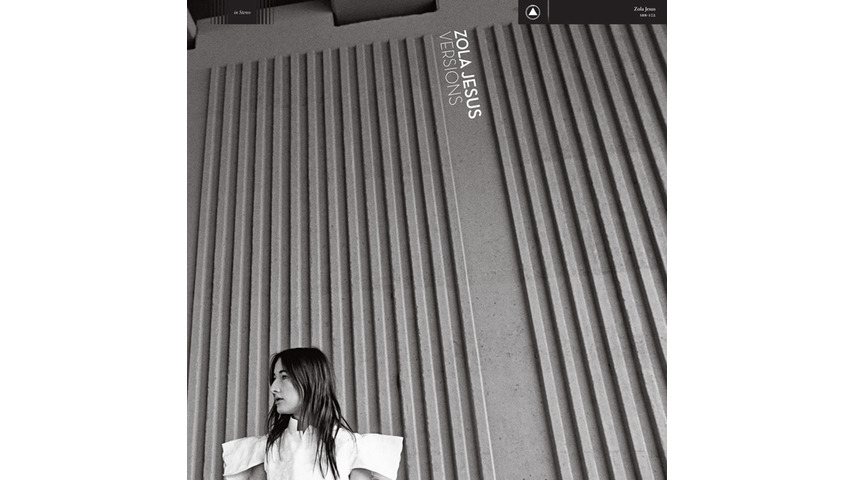 Prerade ranijih pjesama u suradnji s JG Thirlwellom (Foetus), muzejom Guggenheim i gudačkim kvartetom (Mivos Quartet).
Pretvaranje industrijsko-operetne gotike u klasičarsko-komornu tišinu osjećaja.
zolajesus.com/
On the heels of her
Conatus
world tour, Nika Roza Danilova was offered an opportunity to perform at one of the most prestigious modern art museums in the world, NY's Guggenheim. Rather than doing her standard electronic set she decided she wanted to work with a classical composer who could arrange her songs for a quartet. She recruited legendary industrial pioneer JG Thirlwell (Foetus) to do the arrangements, who, since his work as Foetus, has been scoring and composing symphonic arrangements for a variety of projects including currently scoring Adult Swim's
The Venture Bros.
series. Thirlwell's oeuvre runs the gamut from orchestrations, big band, and cathartic noise-rock to abstract electronics, sound sculpture, and chamber music, thus making him the perfect collaborator to help realize Danilova's vision. Danilova explains her intentions with this album,"
Versions
is about the bone of the music; taking approximations from past records and turning them inside out. With all framework exposed, the songs are given a new medium in which to evolve and bloom into their own tiny worlds." Removing the bulk of electronics from these songs gives them the space to breath, thusly opening them up to be received by a much wider audience who perhaps haven't previously ventured into the techno-pop/industrial arena. -
www.sacredbonesrecords.com/
U suradnji s J.G. Thirlwelom, veteranom australskog novog vala i liderom kultnog industrial-punk benda Foetus, mlada američka kantautorica snimila je odličan album.
Spajanje popularne i klasične glazbe često završava katastrofom. Od prvog susreta Deep Purplea s londonskom filharmonijom do posljednjeg koncerta 2 Cellos, u takvim crossoverima proliveno je more kiča. Pozitivni primjeri su rijetki i dugo se pamte.
Na to može računati i dvadesetčetverogodišnja Zola Jesus nakon albuma "Versions" koji je snimila u kombinaciji s klasičnim gudačkim kvartetom Mivos. Novi album s prearanžiranim verzijama pjesama iz njenog standardnog repertoara nastao je iz gostovanja u njujorškom muzeju Guggenheim.
Nakon turneje "Conatus", na kojoj smo Zolu Jesus gledali u Tvornici i nakratko ugostili na Radiju 808, svestrana Roza Nika Danilova dobila je poziv da priredi koncert u jednom od najprestižnijih muzeja moderne umjetnosti. Za tu je priliku, umjesto stalnog pratećeg benda i dodatne elektronike, odabrala klasični gudački kvartet. Kao posrednik između udaljenih glazbenih svjetova uskočio je stari J.G. Thirlwell, vrlo cijenjeni skladatelj i aranžer među američkim klasičarima, koji je presložio 9 pjesama Zole Jesus za Mivos Quartet i to je napravio s pravom mjerom.- Ilko Ćulić
The most startling aspect of Zola Jesus' collaboration with composer/musician J.G. Thirlwell might not be what you expect. The thrill of hearing these electronic compositions arranged for a string quartet is palpable, especially on those tracks that eschew all other instrumentation apart from the Mivos Quartet's two violins, viola and cello. But what truly takes the breath away is hearing Ms. Nika Roza Danilova's voice completely unadorned.
If you've seen Zola Jesus live, you've likely felt the impact of her powerful pipes on your person. But on record, she tends to cover it just so with overlays of reverb and other effects. Or she would mix it way down and let the clatter of her industrial-pop production take precedence. There's nothing for Danilova to hide behind here, and having her so present throughout this album is breathtaking.
Perhaps the best example of this is to compare the original rendition of "Sea Talk" from her 2009 EP
Tsar Bomba
with the new version found here. Everything about the former—from the programmed drumbeat to Danilova's vocals—feels like it is fighting to be heard through a watery shimmer. The earthbound adaptation that she and Thirlwell came up with for
Versions
on the other hand pulls everything right to the surface. And having the strings playing the melody as a dulcet waltz while the cleaned-up rhythms clack against it gives the song a new layer of tension that adds even more weight to heartbreaking lines like "Say, 'I'm sick honey and I don't got the money. Do you want a raincheck? 'Cause I can't give you what you need all by myself.'"
The rest of
Versions
has a similarly dramatic uptick to these newly configured songs. The chorus of "In Your Nature" feels urgent and borderline furious in its new guise; the spritzing synth melody that carries "Collapse" is turned into a mournful lament via Thirlwell's arrangement; "Hikikomori" becomes a heart-racing movie soundtrack instead of a sexy dancefloor swinger.
Through it all, Danilova is given a clear path to cut right through to the core of each song, and, as a byproduct, the heart of the listener. You can hear the effect that her training in opera has had as each spine-tingling note holds straight and true. Perhaps this is a precursor to a more direct approach to the production of future Zola Jesus recordings. If not,
Versions
will always be there to brush the haze aside for a little while.
Queens, New York, 2009: in a dark kitchen-cum-venue muraled with grimy rainbows,
a young woman sat curled on the floor
belting out her operatic soul
to the ring of a small keyboard. In what seems today like a past life, this was Nika Roza Danilova, the now 24-year-old Wisconsin-bred singer-songwriter who makes music as
Zola Jesus
-- a vision planted with the noise-flecked seeds of
Throbbing Gristle
and gloomy Diamanda Galás that has since bloomed into widescreen industrial art-pop. This D.I.Y. show four years ago epitomized the fly-by-night Brooklyn indie scene at the height of late-aughts blog-rock. In the spring of 2012, Danilova was in the same city but a different world. On the Upper East Side, donning an angelic high-fashion contraption that featured the likeness of wings, she performed within the cylindrical ramps of the revered Guggenheim Museum. A conductor was present.
From this moment comes
Versions
, a new collection from Danilova's collaboration with a string quartet led by J.G. Thirlwell, a vet of experimental industrial music since the 1980s who is also known as
Foetus
. (His collaborations range from transgressive electronic like
Nurse With Wound
and Coil to provocateur rock legends
Nick Cave
and Lydia Lunch.) The orchestral realm is new for Danilova, but not unexpected; from the start, Zola Jesus has exhibited a devoted narrative of change. Songs like
Versions
' "Night" and "Sea Talk" were
once ensconced
in surreal, grating reverb-- see
New Amsterdam
's "Lady Maslenitsa" for how far the lo-fi abrasion went-- and later turned into thundering ballads, while she evolved further on 2011's
Conatus
LP, embracing metallic percussion and the skittering beats of 1990s Intelligent Dance Music. "There's a sense of anarchy to it," she's said of IDM. Making industrial sounds with avant-garde influence but foremost pop sense, she could also find a kindred spirit in, say,
Trent Reznor
, and they've shared many collaborators, of them iconic film director
David Lynch
, the producer Flood, and Thirlwell.
Despite the shifts, there are essential qualities that bind the Zola Jesus songbook. The enormity of her morose voice is a constant, as are ominous themes, from "Six Feet (From My Baby)" (a song about her own burial) to titles such as "Lick the Palm of the Burning Handshake". Her songs remain elegant and brutal with a life-or-death seriousness, exorcising loneliness with tension you could pop with a pin. The best of Danilova's songwriting, most of which is collected here, has grown anthemic, as she gestures towards grander reaches of ambition-- "Ever since I wrote my first song I wanted to be playing Madison Square Garden," she's said. She has collaborated with the rapper El-P, covered
Rihanna
's "Diamonds", and in 2011 sang on
M83
's commercial breakthrough
Hurry Up, We're Dreaming
.
There's something curious about Versions, though. Many of the qualities that strings typically cast upon an artist's work-- austerity, grace, a cinematic sweep-- already exist in the original takes of her songs. (The songs here have all been released before, some twice, save for the exceedingly romantic new track "Fall Back".) Conatus itself used acoustic strings, but what gives its orchestral versions value is a brighter take on her expressive singing. Danilova has described her creative process as self-critical and emotionally draining; "Why does it always have to be war for me?" she's asked. Here, her voice is less menacingly deep and air-tight; it sounds open, sweet, and full of light. Often, it is conventionally beautiful, like she's freed herself. "Avalanche (Slow)", for instance, is a sublime deconstruction where Danilova's words blissfully crawl, hitting notes sharply with stronger vibrato. As the piercing high strings weep, she sounds fixed in a dream of total control, slowing her pace as a chaotic world buzzes about.
The older songs, off
Stridulum
and
Valusia
, are the best of her catalog. It's hard to imagine any take of the epic ballads "Sea Talk" or "Night" losing value; fans of previous versions, which had programmed strings, will want to hear them with real ones. But relative to the originals, the orchestral versions have a distancing effect, as if listening in on something once removed. Their emotional core is dramatic as ever, but some details, washed out here, are missed, like the ghostly buzzing that prefaces "Night" or the louder beats that crash "Sea Talk" open.
Versions
offers welcomed arrangements, but in both cases they are trumped by the visceral power of those songs' heavier incarnations.
Versions benefits from the inclusion of "Fall Back", the new song, which seems composed with the grandiose potential of an orchestra in mind-- the pizzicato parts are celebratory, and a colossal violin crescendo adds sweeping dimension, building to an overwhelming cloud of sound that conjures the feel of a gleaming, open sky. "This is my home/ You are my only one," Danilova sings in booming, crystalline lines, holding back nothing of a rapturous heart. "I would do anything to be with you forever." As heard here, it's not hard to imagine these passionate admissions mixing with the sounds of clinking champagne glasses at a wedding.
The most compelling thing about Versions has more to do with Danilova herself than Thirlwell or the Mivos Quartet. Zola Jesus is rarely discussed in a capital-p Pop context, as if having left noise behind her work could be more truly populist. Stripped of most electronics, though, these massive hooks and their collective human core are put under a microscope, and it's impressive to see the songs carry themselves without all the dark, propulsive production. Danilova has taken these compositions about as far as they can go, and still there remains something intriguing about Zola Jesus, not just for her ghostly enigma or art world appeal but now for what really comes next. - Jenn Pelly
"Is it too early for a drink?" asks Nika Danilova when we first meet. She looks inquisitively around the room (at her manager, her husband, and then me) before answering her own question. "It's close enough to 5 p.m.; why not?" We settle on a local sports bar, chosen because of it's location a block away from her label's warehouse headquarters in Greenpoint, Brooklyn where she has just finished a photo-session for a magazine spread. But Danilova, better known as experimental and industrial singer-songwriter Zola Jesus, is in New York for more pressing matters. That is, she's in the middle of recording her untitled forthcoming album in a professional studio — her first time doing so in her career as Zola Jesus — while preparing for the release of her latest project
Versions
. Out on August 20,
Versions
is a collection of her works rearranged by avant garde composer JG Thirlwell and re-recorded with the backing of Mivos Quartet that's meant to expose the vocal prowess of the tiny, classically trained belter. The end result is gorgeous and presents an even more intimate side of Danilova, one that hovered beneath the surface of her noisy production and operatic ballads.
Once we've ordered a pinot grigio (for her) and a cabernet sauvignon (for me) and drowned out the sports commentary blaring from the TVs above us, we talk about recording
Versions
, JG Thirlwell and Schopenhauer, self-criticism, and how her constant struggle with humanity is explored in her forthcoming album.
STEREOGUM
: You've said that
Versions
was inspired by your Guggenheim performance. Can you tell us about that?
DANILOVA
: First of all I was performing in such an institution. The space and what it represented and that it was designed by Frank Lloyd Wright – one of my favorite architects – was huge for me. I liked how the space reflected the music and I wanted to do it justice by doing a special show. I always wanted to perform with a string quartet and so I thought that was the perfect place to do; to use the acoustics of the room. It felt like this really huge, defining moment. It felt like I was naked; just presenting my songs in a more intimate way.
STEREOGUM
: How did you find the Mivos Quartet you used on the album?
DANILOVA
: Well first I had to find an arranger. I didn't have time to sit down and arrange the songs by myself and I obviously wanted the songs to sound really good. I asked my friend who is a producer and he hooked me up with JG Thirlwell.
STEREOGUM
: Which is kind of insane.
DANILOVA
: Which is totally insane, right?! He was showing me a couple of string arrangers and he was like, "I think JG Thirlwell would be perfect for this." I was like, what?! There's no way! I'm such a big fan, you know?
STEREOGUM
: Were you sitting with him as he arranged your songs?
DANILOVA
: No, I was on tour so he was arranging and then he would send me things he was working on and I'd send things back.
STEREOGUM
: I know you're pretty controlling about your production. How was the collaborative process there?
DANILOVA
: It was good, I definitely experienced some growing pains. I've never had a remix of my songs besides the David Lynch remix. So I'm really not used to giving up that kind of control; it makes me very vulnerable. I kind of had to push myself to do it. When you create walls like that for yourself, you're not allowing yourself to grow. I would have never gotten involved with JG Thirlwell and I would have never been able to arrange for a quartet so this wouldn't have happened otherwise. And as an artist and a musician I respect him so much. We've developed a friendship but I still am in awe of him and how he thinks.
STEREOGUM
: I mean,
Stinkfist
! Lydia Lunch!
DANILOVA
: Oh my god, I was such a big fan of him when I was a kid. It was kind of this realization of my past and future to work with someone that I was a fan of when I was young.
STEREOGUM
: For someone who has admitted to being very self-critical, is it difficult to be critical of other people's work or allow them to be critical of yours while in the studio? Even just communicating how people should work with your sound?
DANILOVA
: I think that I'm only around people who have a clear understanding of the way I work; people who know how I would react to someone else infiltrating my sound. That's what I think of it as! An infiltration! So they wouldn't do a single thing unless I asked them to. That was really great because I knew that no one was going to do anything under the table or behind my back. They just did what I asked them to. It is just such a weird thing because I also produce and so to bring in another producer, I'm still not sure what that means yet.
STEREOGUM
: Did you reuse or re-record your vocals for
Versions
?
DANILOVA
: I re-recorded them all. Because the whole spectrum of sound is so different, it's so minimal. I was able to reinterpret them in a quieter, softer way. Which was actually difficult because my personality is so aggressive usually when I sing.
STEREOGUM
: I found that change made some of the songs much more emotional on
Versions
.
DANILOVA
: Yeah, it's like the opera versus being in a movie, where you can have the camera right in your face. And you can have nuance in your emotions because you get zoom while you're recording. In opera everything needs to be exaggerated because you're singing so loud that there's very little dynamics happening. So that was exciting.
STEREOGUM
: In an interview you've said that you don't have a defining work yet. I'm wondering when you'll know that you've done your defining work.
DANILOVA
: I think I'll know. For this next record that I'm writing right now, I feel like it needs to be everything that I want it to be so I don't have that nagging feeling that it could have been something more. Which happens to me. But since there are other people in the studio with me I can't say, "I could have had someone better mix it or engineer it," because I'm not a professional at any of those levels but I wanted to do those things myself. But I had to let go in order move forward. I was recording in Seattle earlier this year and I'm in New York now. Even just location wise, things change drastically with each album and the space you work in also changes your work. The other thing is that I think I've already put out so much work. They may have been critically acclaimed in some way but they weren't to me! I've been critical of them! When I can step back and say that something deserves the acclaim or deserves the attention. There is joy too, of course. Being able to perform the songs and resell my vision every night is the best part.
STEREOGUM
: There's been three versions of "Sea Talk" put out over the last few years. Can you describe your growth through that song in particular?
DANILOVA
: In the beginning I wrote that song and it was a very melancholic time in my life. That was around 2009. It being noisy kind of reflected the static in my life then. And then when I was asked to re-record it I was feeling much better, much more hopeful, and I was in a better place in my life. And it felt that way! The second recording felt triumphant. The "Sea Talk" that appears on
Versions
: I feel that I'm so removed from how I felt when I made the song that I can reinterpret it in so many different ways. It's gone from meaning something very personal to overcoming that personal struggle to moving past it and treating it like an old journal entry of a song. One that I can go back to and say, "that sucked," but am not consumed by it.
STEREOGUM
: Does your husband have something to do with that?
DANILOVA
: [Laughs.] Yeah! I met him during the second version of the song; the triumphant one. He is my sanctuary, he's sacred to me. I met him in Wisconsin at my college radio station. I had a show and he had a show.
STEREOGUM
: A classic indie love story.
DANILOVA
: I know, right? We bonded over power electronics and noise and stuff.
STEREOGUM
: Would you say that the forthcoming album is more motivated by your physical surroundings or the romantic and emotional place you're in? So many of your songs can be interpreted as love songs.
DANILOVA
: In 2010, when I wrote
Stridulum
, was the most passionate and crazy and hysterical that I've felt in a long time. It was actually in that crazy moment is actually when I met my husband Adam. That was a few years ago and since then we've been married and so on. So now love isn't something that I think about; it's something that is just there and I don't need to search for it. I'm not afraid to lose it, so it's not a factor. So these songs that I'm working on right now is much more about humanity. Humanity and my relationship with humanity is my constant struggle.
STEREOGUM
: Would you say that's the theme for your next album?
DANILOVA
: Yeah, it's very paranoid. It's about my relationship with humanity and also nature. It's kind of hard to explain but I have this obsession with land and how humans think that they can claim land. Here in New York people don't have any land to claim, so when shit goes down, where are they gonna go? So that's something I think of a lot; the value of having earth?
STEREOGUM
: In terms of ownership or how people use it?
DANILOVA
: Both, I think. I come from Wisconsin and wide open land and that's always been a comfort to me. I've always needed to know that I had a place to go that was just earth. I think people should have a zone like that and that's my zone. It's so surreal here in New York. I love it here but people are so tense because it's so unnatural; how they built this concrete world for themselves that they think makes sense in terms of being more productive for the roads and cars. But in a sense it's far worse.
STEREOGUM
: When we talked a few years ago you mentioned having to acknowledge that there are apocalyptic things going on around us; not literally but just in terms of where the world was headed. How are you feeling now?
DANILOVA
: I don't think that any sort of real apocalypse is going to rain down on us or anything. But I am concerned, yeah. You know, there is no Wild West anymore. There's no uncharted land. The more that we spread the human seed, the less we're able to have things to discover. When we're done discovering things, what are we going to do? I feel like things are starting to collapse on themselves very slowly.
STEREOGUM
: Will you be exploring the idea of hope or faith in humanity on the new album?
DANILOVA
: Oh, definitely. There are many layers to the album. It's weird because sometimes I feel like humans are inherently evil and we need religion to give us morality. And, so, do I have faith in humans? Sometimes. Not really. But I also think that we're so confused because we're so advanced as a species. We know so much but we also know that we don't know so many other things and it drives us crazy. Our pursuit for knowing everything is going to ruin us in the end, I think.
STEREOGUM
: You've hat-tipped Schopenhauer in the past. I know he's big on the idea that humans are forever dissatisfied. And that they will keep on going in an effort to seek satisfaction but never will.
DANILOVA
: Yeah, exactly. I'm definitely a disciple of Schopenhauer. Or of that one thought of Schopenhauer.
STEREOGUM
: He also thought women were meant to serve and obey.
DANILOVA
: Oh, totally, I can't stand by a lot of what he believed. He was a total racist. And a total misogynist. And anti-Semitic. They all were.
STEREOGUM
: So I guess my question is, when do you think you will you be satisfied?
DANILOVA
: I don't think it's in the stars for me. Once I get one thing I want the next. I'm an Aries, I'm very much looking forward at all times.
STEREOGUM
: Tell us about what the tour for
Versions
will look like.
DANILOVA
: It'll just be a string quartet and me so that'll be easy. As far as a stage show, it's going to be very stripped down and very elemental. It's all about the music. It's very exciting for me but also means I'm going to be standing still which will be hard for me because I'm always all over the stage. I picked the venues as well. I wanted to play in a lot of spaces like the Guggenheim or spaces that were outdoors. I wrote a very ambitious list of places I wanted to play at and some of them worked out and some of them didn't. I think that my voice is my instrument and I definitely want it to show that this is just another facet of the way that I communicate through the songs. I'm not giving them the one thing I'm used to; my alarm call. This is my way to peel back the layers a bit and show myself more. It's going to feel different to me because I usually have this wall of sound behind me. Without that it's going to be tough but also really amazing for me and I hope them too.