Švedski crkveno-katakombični pop. Orgulje i glas za pranje mrtvaca.
Macchiato verzija Diamande Galás.
Puno ime svetice je Anna Michaela Ebba Electra von Hausswolff.
www.annavonhausswolff.com/
It begins with the sound of a church organ, an arpeggio played on the lower notes, a melody teased out in the higher register, before a snare drum beats out an ominous, stuttering tattoo. Three minutes in, guitars begin to rumble like clouds gathering on the horizon, the melody slowly swelling, threatening to tear the sky apart. This is
Anna Von Hausswolff'
s 'Epitaph Of Theodor', and as dramatic, instrumental openings to albums go, it's close to overwhelming. But it's followed by something even more intense: 'Deathbed', which growls and resonates sinisterly before shards of metallic thunder shatter the drones and a funereal beat forces the song to lurch forward. Only after some four and a half minutes of this ferocious clamour do we hear a human voice, and it's unleashed with a fierce power, rising and swooping, a vast bird pursuing its prey until the song reaches its final, unexpectedly triumphant climax.
You want to talk about compromises? No. Nor does
Anna Von Hausswolff
.
These two songs alone represent a quarter of
Ceremony
's sixty minutes, but there are eleven more on an album that confounds and dumbfounds from its start to its end. To those who used
Anna Von Hausswolff
's debut album,
Singing From The Grave
, to compare her lazily to Kate Bush, it will come as a brutal shock. The fragile atmospheres of that impressive debut, one that earned her huge acclaim in her native Sweden, have been blasted away, and what's emerged from the wasteland left behind is a dizzying masterpiece that, she proudly states, calls upon, amongst others, Elizabeth Fraser, Jefferson Airplane, PJ Harvey, Earth, Barn Owl, Nick Cave and Diamanda Galás.
Though she now lives in Copenhagen, she grew up in the once vibrant, bohemian neighbourhood of Haga in Gothenburg, Sweden, to a family who counted amongst their ancestors Bernhard Reynold von Hausswolff, an 18th Century governor of Falun, Sweden, who helped bring an end to the burning of witches. Her father, Carl Michael von Hausswolff, is a composer and visual artist who's also co-monarch of the kingdoms of Elgaland-Vagaland, so it's perhaps not surprising that she's chosen to pursue a radical direction with her music.
"
I didn´t just want
Ceremony
to be a collection of songs,
" she says. "
I wanted it to be like a film, with every single part connected to the other, with shifting moods and settings, but a thread holding all the tracks together. I listen to a lot of film scores, and in many the music is able to move freely without the typical structures that we find in commercial music."
Arguably
Ceremony
's most significant ingredient is the church organ of Gothenburg's vast Annedalkyrkan, whose pipes are featured on the album's striking cover. Employed on nine of the album's thirteen tracks, it also provided
von Hausswolff
with the excuse to record for five days in the century old building, its cavernous space adding to the record's formidable magnitude. (Work was completed at weekends over several months in producer Filip Leyman's studios.) She found in the organ's sound a link between her own writing and a developing obsession with 'drone metal', allowing her to add layers of thick textures to the songs. But – thanks to its inevitable associations with existence and mortality – the organ also suited the themes that lay at the heart of the record, which she defines as "
nature and death, or the division of humanity and nature. From the moment we exit the womb, we start our paths towards materialism and destructive behaviour, and these days I feel that the gap between nature and human is growing bigger. I wanted to grasp my inner nature and be unified with nature again.
Ceremony
is a celebration of life and everything that it contains, especially death, because in death we will be truly one with nature again.
"
That's not to say that
Ceremony
is a bleak record, something highlighted by the extraordinary 'Harmonica', which sounds like Dead Can Dance channelling a Vashti Bunyan song with arrangements by Ennio Morricone. "
It's a song I wrote just after my grandfather passed away,
" she recalls. "
It's about how culture and traditions can travel from generation down to generation, and in this case from him to me by music. Just before he died, he gave me a harmonica and he told me to practise hard and only write about things that are relevant to me. His deathbed inspired me to make
Ceremony
.
"
He'd surely be proud of the bold, single-minded consequences of his legacy. Whether it be the placid but grandiose 'Ocean', the hymnal 'Mountains Crave', the grim, experimentalist 'No Body' or the oddly exhilarating 'Funeral For My Future Children',
Ceremony
is a genuinely thrilling, timeless, inventive and even sometimes – in the purest sense of the word – gothic accomplishment. -
www.kningdisk.com/
I don't know what you expect from a new record by Anna von Hausswolff. More of those gothic, dark and fragile ballad-atmospheres marking her debut album Singing from the Grave? A series of easy-hummed melodies adapted to contemporary pop radio formats? Or something more adventureous, dangerous, unpredictable?
The lastmentioned quality has always been there, since Anna von Hausswolff started to do her solo performances in and around Gothenburg in 2007: the powerful, contradictory and ambiguous expressions that made the songs take unsuspected routes.
But on Ceremony this particular freedom has come to the forefront and very centre of the music. It's a radical change making both the songs and the sounds bigger, wider, deeper, sharper, more transient. It's like the music went up in the air, travelling in its own balloon. You can hear it in the fabulous ending of "Goodbye", where the harmonies are reaching higher and higher, step by step, in the song's own ascension.
Strange that nobody has tried it before: using the church organ as the main instrument and focus point in pop music. As soon as you hear it, for example in the compelling Beach Boys harmonies that make the foundation of the song "Mountains Crave", the organ sounds become a music room of fortune and luck. Yes, a fantastic sense of freedom is established and captured, and the church organ turns out to be the perfect synthesizer, a phantasy machine with unlimited capacities for different expressions.
To categorize this music by genre terms seems just stupid. The whole point is that the songs allow themselves to be everything at once, and the church organ is the one confirmation of this complexity and immediate sense of presence."It's all there, it's all there", Anna von Hausswolff sings, and that's how it is: All different times are present, the baroque world that gave birth to the chorals of JS Bach and the defused darkness where the extented and raw drone sounds get their power, and these different worlds meet in astounding ways.
The music says that we are all ambiguous creatures, and that's the feeling I've had, walking around in months, with these songs in my ears. The songs move without hindrance, from one state of mind to the other, and have a remarkable capacity to fuse with the landscape or the room. There's a sense of trust and a listening to the changes of light and time, that make the music strong and grand. It changes incessantly, it's completely free. -
Magnus Haglund
Remarkably dramatic and accomplished sophomore LP by the acclaimed Swedish musician (and daughter of Carl Michael von Hausswolff) mixing folk, black metal, pop and soundtrack theme** "It begins with the sound of a church organ, an arpeggio played on the lower notes, a melody teased out in the higher register, before a snare drum beats out an ominous, stuttering tattoo. Three minutes in, guitars begin to rumble like clouds gathering on the horizon, the melody slowly swelling, threatening to tear the sky apart. This is Anna Von Hausswolff's 'Epitaph Of Theodor', and as dramatic, instrumental openings to albums go, it's close to overwhelming. But it's followed by something even more intense: 'Deathbed', which growls and resonates sinisterly before shards of metallic thunder shatter the drones and a funereal beat forces the song to lurch forward. Only after some four and a half minutes of this ferocious clamour do we hear a human voice, and it's unleashed with a fierce power, rising and swooping, a vast bird pursuing its prey until the song reaches its final, unexpectedly triumphant climax. You want to talk about compromises? No. Nor does Anna Von Hausswolff. These two songs alone represent a quarter of Ceremony's sixty minutes, but there are eleven more on an album that confounds and dumbfounds from its start to its end. To those who used Anna Von Hausswolff's debut album, Singing From The Grave, to compare her lazily to Kate Bush, it will come as a brutal shock. The fragile atmospheres of that impressive debut, one that earned her huge acclaim in her native Sweden, have been blasted away, and what's emerged from the wasteland left behind is a dizzying masterpiece that, she proudly states, calls upon, amongst others, Elizabeth Fraser, Jefferson Airplane, PJ Harvey, Earth, Barn Owl, Nick Cave and Diamanda Galás." -
boomkat
Death Becomes Her: Anna Von Hausswolff Interviewed


John Freeman
The Swedish singer-songwriter tells John Freeman how her album Ceremony was inspired by a love of drone, a fascination with death and the vocal cords of Diamanda Galás
Photo by Anders Nydam
When someone close to you dies, amid the grief and shock comes a purity of thought. In the days and weeks after the death of a loved one, trivialities dissolve away and the truly important aspects of life are brought into sharp focus. It's an almost universal human reaction, and the phenomenon which catalysed Swedish singer-songwriter Anna von Hausswolff's second album - the sweeping drama of
Ceremony
.
As the follow-up to 2010's primarily piano-based
Singing From The Grave
,
Ceremony
is an astonishing sounding record, built around von Hausswolff's love of the church organ and containing grimly-titled songs such as 'Deathbed', 'Epitaph For Theodor' and 'Funeral For My Future Children'. However,
Ceremony
is neither dour nor morose, as von Hausswolff's soaring vocal fills its drone-inspired song structures with light and hope.
When I speak to her, she's just returned from the longest tour of her career ("16 gigs in a row") with Danish choral pop group Efterklang. "It was one of the best experiences I have had in my entire life," she says, peering out at me over the largest teacup I've ever seen. As we talk, it's easy to spot why
Ceremony
is such a unique listen. She name checks avant-garde chanteuse Diamanda Galás, as well as experimental guitar groups Earth and Barn Owl, while her father, Carl Michael, is a renowned composer of conceptual art. Anna von Hausswolff was always likely to sound extraordinary.
Your new album Ceremony is a hugely ambitious record. What was the inspiration behind it?
Anna von Hausswolff: I was just trying to follow my intuition and my heart. I had grown tired of
Singing From The Grave
as I wasn't standing on the same platform as I was at 23 years old, when it was released. I also started to listen to new kinds of music and I moved to Denmark – I now live in Copenhagen – so I had a change of environment and met some interesting new friends. When I moved to Copenhagen I couldn't bring my piano, so I had to start to play on a little synthesiser, and I found it quite hard to get some good sounds out of it. During the time of writing
Ceremony
I was into more instrumental stuff, and then I found a St. Peter's organ, which I fell in love with. I started to write songs with that kind of sound in mind.
I haven't ever heard of a St. Peter's organ – what type of organ is it?
AvH: A St. Peter's organ is a synthesiser based on church organ sounds. It gave birth to my interest in that type of dominating, heavy sound. I started to read about church organs and the more I read about them, the more fascinated I grew, because I had always taken the organ for granted. You just hear it in the church when you are there as a kid. I started to look for bands that played church organ, began to dig a little deeper into the sounds, and I believed I had found my instrument to make my vision for
Ceremony
come true.
I believe you love bands like Earth and Barn Owl. How did drone influence your new album?
AvH: It was my drummer who suggested I listen to a band called Earth. I looked them up and I fell in love, as I found the music extremely interesting. What I like about that type of music is that it focuses a lot on the sound and textures. You can work with sounds and also time – there is time for you to reflect on what you are hearing and build up expectations. You can hear one chord for ten or 20 minutes and then it will suddenly shift to another tone and that simple shift is so strong.
What type of music were you exposed to as a child?
AvH: My mother would always play Tchaikovsky in the springtime. She listened to Bob Dylan a lot. There was a mixture of my mother and father's records at home, so we had a lot of Sonic Youth, Brian Eno, Talking Heads, and also Patti Smith and Sex Pistols. They have really good music taste, but I wouldn't say I was listening to those bands when I was a kid. My sister and I had a band and we were extremely influenced by TLC. I would sing the Lisa 'Left Eye' Lopes rap [from 'Waterfalls'] because she was my idol. I thought she was the coolest woman on earth. Nowadays, I can only do the rap when I'm drunk.
Did you play many musical instruments during your childhood?
AvH: I played the flute but didn't find it very cool. I started playing piano when I was 13. I sang in choirs, so I have been singing since I was really, really small. I took all the high parts because I was a soprano, but I thought the low parts were more fun to sing in their melodies, so I was a little bit disappointed.
Lazy journalists have likened you to Kate Bush. Have any singers inspired you to sing in the way you do?
AvH: The one singer that changed my view on how you can express yourself through your voice is Diamanda Galás. I got a record by her,
Malediction & Prayer
, when I was 17 years old, and I felt it was relieving to hear someone express herself – especially a female – and be so physical with her voice. I had seen that physical aggression in black metal music, but males usually sing that, so when I found this extremely strong female character with an amazing voice I was overwhelmed.
Have you ever seen her sing at a concert?
AvH: Yes, I saw her play at a small theatre in Stockholm and she was out of this world. I realised it was okay to be that raw and honest and extreme. She helped me to open up my voice. I have tried to sing exactly like Diamanda but it is impossible for me. I was also fascinated by Björk when I was at high school, and she helped me to get my range and push my chest voice to the high tones.
Many of the songs on Ceremony appear to be about death - I'm thinking of 'Deathbed' and 'Funeral For My Future Children' as examples. Why is death such a strong theme in your music?
AvH: I don't think I write about death. I write about life, and death is just a part of it. I believe that death is a great way to start the story and a great way to end one. Of course, death is a fascinating place where all our political ideals and values are useless. It's a place where you have absolutely no control, and when it happens to someone you love it makes you reflect on your life a little bit more. That reflection happens to everyone when someone close to them dies. It's a phenomenon that drives you to try and live better and harder. I like to deal with death in a creative way because I am frightened and fascinated by it. Also, I'm kind of a morbid person.
I can totally relate to what you are saying about death focusing you on the important stuff, having recently lost a close friend.
AvH: I'm sorry to hear that. I had a friend who died a month ago - he was snowboarding and the mountain took him. So
Ceremony
is a tribute to him and my grandfather, who was an extraordinary person and one of my biggest idols, and when both of them passed away, time stopped. All the banalities in life are not important anymore; you become more concerned about the big issues. You are not in that state all the time, so it is easy to forget. Death is a good reminder of what you should be concerned about.
Is writing about death a kind of therapy for you?
AvH: This is something that I need to do, because I cannot keep playing these songs forever. I feel like when I play music – and this is a cliché – it is therapy, and it is a good way to soothe your fear about things. So focusing on these kinds of topics helps me a little bit. It's also why I need to continue with these themes, not in exactly the same way, but I believe this kind of darkness will linger onto future works. If I want to stay healthy, I need to stick with these kinds of topics.
Anna von Hausswolff: "Suddenly I could move from thunder to sunshine in a matter of seconds"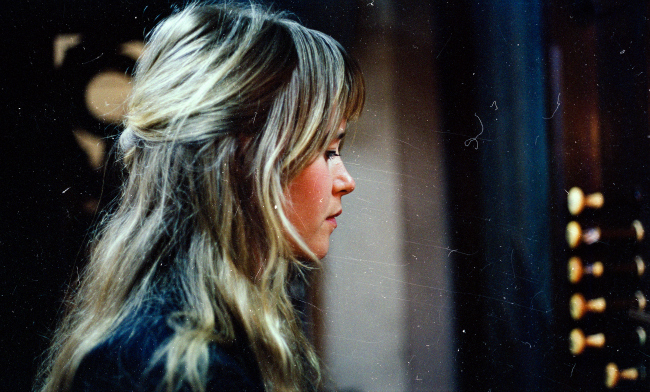 Fittingly, for a record whose sleeve is adorned with a close-up picture of organ pipes, that's the first instrument you hear on Anna von Hausswolff's second album Ceremony.
Everything else is built around the sound of the organ – drums, guitar and bass all join on 'Epitaph of Theodor' but it's the huge sound of the church organ that dominates. In fact, the only other sound that matches it for power is von Hausswolff's voice. That we hear for the first time on the second track on the album, a voice that harnesses enough physical and emotional power to truly shock the listener.
The 26-year-old Swede, now resident in Copenhagen, returned to Gothenburg to record the follow-up to her debut, the light and atmospheric
Singing to the Grave
, as the key element of her sound was to be found in the city's Annedalkyrkan. Given the opportunity to use and record the cathedral's pipe organ, von Hausswolff began to create an epic work influenced by death and dying, and dominated of course by the sound of the organ. A stately work of undoubted brilliance,
Ceremony
also draws on drone and metal music to create an album that while very cerebral, is also deeply emotional.
We caught up with Anna as she returned from, fittingly, an organ-related trip: "I just came home from a print laboratory here in Copenhagen; I'm making etchings of church organs," she says, "I'm obsessed with church organs I think." Where does the love for this particular instrument come from, though? "Maybe I've seen too many horror films or gone to too many funerals; I'm a big fan of
The Abominable Dr. Phibes
!" From the opening moments of
Ceremony
the organ, along with von Hausswolff's stunning voice, dominates the record, so I ask if there's a particular type of organ that the album was built around. "The church organ is the main instrument on
Ceremony
," Anna reveals. "The organ that I use on the record is placed in a romantic/gothic church built in Gothenburg 1918. It is not like those grand church organs that you can find in big gothic cathedrals, it's much smaller." Anna then explains how she gets the huge sounds: "But the organ sounds really big because of the massive room, with cold walls made of stone."
There's such a huge difference in sound and style between
Ceremony
and von Hausswolff's previous release
Singing to the Grave
. The latter is predominantly a straightforward singer-songwriter record based around voice and piano, so I wonder if the record begins with the pipe organ – that it was inspired by the sound of the organ first of all, rather than songs written and then bent to accommodate that sound. Is the organ the inspiration? "In a way yes," agrees Anna. "Not thematically but in the procedure of composition, the church organ inspired me." The playing on
Ceremony
seems so effortless and natural I have to ask Anna if she'd any previous experience of playing the instrument: "I was used to playing the piano, but then I met up with a church organ, fell in love, and decided to change paths."
What was it about the organ, then, that made so much sense to Anna: "The organ fulfilled every wish I had for my future vision of my sound, and I needed to adapt my style after this majestic instrument. Suddenly I could move from thunder to sunshine in a matter of seconds, and make big arrangements with just one single instrument." Anna goes on to explain that growing up she sang and played the flute in what was a very musical and artistic household: "Me and my sister sang a lot. Always together, always singing or dancing." Did her parents encourage this, and what music were they playing as she grew up? "Our parents listened to a lot of different stuff," says Anna. "My father [sound artist
Carl Michael von Hausswolff]
had a label together with some of his friends called Radium. We had lots of those records at home. I've been told that I was hopelessly in love with the drummer of
Sator
. I can't remember listening to that band though." Anna goes on to tell me what else she remembers hearing: "On the LP/CD shelves we had
Union Carbide
, Sator,
Blue for Two
,
Cortex
, mixed with foreign bands such as
Bob Dylan
,
Nine Inch Nails
,
Depeche Mode
etc." Is there a band amongst all those that really stood out for Anna? The answer is a touch unexpected: "My all-time favourite band as a young girl was
Shampoo
!"
Having briefly mentioned Anna's father Carl Michael, we find out more about the father-daughter relationship. Von Hausswolff senior is a composer, visual artist and museum curator of some renown in Sweden, indulging in some fascinating projects but unfortunately best known for a controversy connected to the 20
th
century's darkest moment. In 2012 he was
heavily-criticised for an exhibit
in which some paintings allegedly used ashes taken from a Nazi concentration camp in Poland, following a visit in 1989. That in itself may have caused some outrage and debate, but once the camp, now the Majdanek museum, said the ashes were taken without permission then accusations of theft and police involvement were added to the mix.
Eventually, the exhibition in Lund was closed down following protests and the controversy seems to have blown over, but I ask Anna if her father has been an inspiration, and if she admires his work, despite the controversy surrounding
Memory Works
: "I do admire him," she confirms, "and as a close follower I know what his works are about, and what he wants to achieve." Does this make it easier to understand what he's trying to achieve, compared with someone who's just reading an article about the works of art? "Yes, with that knowledge I can excuse the controversies, as most of it only touches the surface of the matter and are taken out of context." Moving away from such controversies, was it inevitable that Anna would follow in her father's footsteps? "I wasn't aware that I followed in my father's footsteps, until reporters started to ask questions about our artistic relationship," she reveals. "I've been in so many different places. Once I thought I was going to be a pharmacist! But I never was comfortable with doing regular daytime jobs. I have too much mental energy that needs to be channeled out from my body, and the only way to do that is through art, not through counting pills."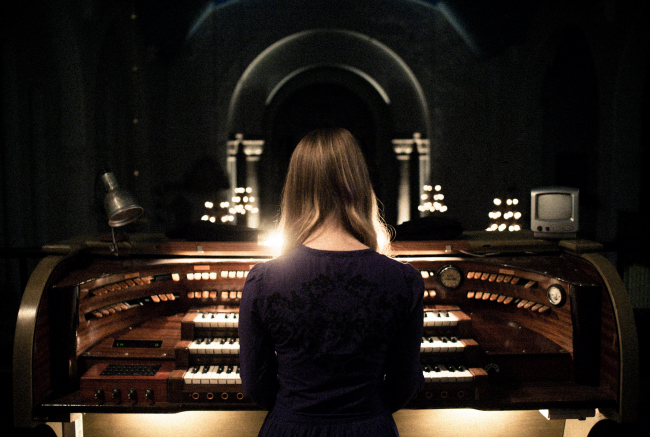 As the opening track of
Ceremony
, 'The Epitaph of Theodor', stretches out over eight wonderful minutes, it's clear that while von Hausswolff has an ear for melody, there's also the influence of drone music at play. I can hear
Earth
, maybe a touch of
Grouper
and perhaps the intensity of
Swans
– was drone music an influence on the album? "Earth was the first drone band that I got in touch with," begins Anna, "and they taught me how to include time as an element in the composition. Another band that influenced me was
Barn Owl
. I first saw them in a small venue here in Copenhagen. We were 10 people in the audience and they made the most mind-blowing concert I've ever seen." It seems this was an important turning point for her.
"After that concert I decided to dedicate myself to drone music," she continues. "I'm glad you can hear the influences a bit across ceremony, even though it's a pop record." Given the drone influence present, which wasn't on
Singing from the Grave
, was it a conscious effort to make such a "different" record? "It is a part of a natural process," says Anna. "I can't stay in one place, I need to move forward. I think
Singing from the Grave
was a brave debut album, and without that record I wouldn't be standing here.
Ceremony
is a result of intense touring, seeing new places, and meeting new people. After a while I needed to evolve, and the songs of
Singing from the Grave
became a part of the past." It's interesting that Anna mentions something of becoming part of the past as there are a lot of references to death or dying in the songs and song titles; what is it that draws Anna to write about it? "I can't think of anything more interesting," she states. "I don't know death, I only know OF death. It's so connected to the past and the present." Does addressing death and dying in her work make Anna more appreciative of being alive? "Working with the topic of death makes me aware that I'm short of time and that I need to appreciate and take care of my surroundings," agrees von Hausswolff. "I guess it reinforces my affection for life and history. The day I kick in the door of death I'll look up my grandfather and handle over a copy of
Ceremony
."
Not long after hearing my first handful of Anna von Hausswolff songs I got the chance to see her support the excellent
Efterklang
on tour. Before I get to the audience reaction to her support slot, I ask Anna about the tour: "That tour was incredible. Efterklang made me and my band feel as we were a part of their crew." Are the Danes kindred spirits of sorts? "They're very generous people, full of passion for music." says Anna. "It was a good environment to be creative in." Is the band on tour the same band that recorded
Ceremony
? "I have 4 core members in my band, and they are also on the record," she reveals. "As we're growing older and people are having kids and stuff they can't always join me live. Therefore I have added some new musicians to the group as well. It's interesting to change band members sometimes because your sound evolves."
On record, it's a good eight minutes before we hear von Hausswolff's stunning voice, suddenly piercing the sky with a cry that's as much a physical outpouring as it is emotional on second track 'Deathbed'. It's the same at the show in Glasgow; von Hausswolff is hunched over her organ, rocking back and forth and conducting her band, a mass of blonde hair. There's a slight pause in the music as she raises her head and begins to sing with her whole body – the stunned looks on the faces of the people around me was quite something, searching eyes silently asking "where the hell did that come from?" So, when did Anna discover this huge gift was lying inside her? "When I found out that I had nothing to lose," she admits. "I realized at the age of 21 that people will always judge me and have their own opinion about me, no matter what I do – that realization made me raise my chest and push my voice harder." Are there any vocal inspirations, male or female that pushed you? "The screams of
Diamanda Galás
, the harmony from
Elisabeth Fraser
, the rawness of
Attila Csihar
, and the stillness of
Leonard Cohen
."
With an already busy half of 2013 behind her, Anna reveals that there's no let-up in what she's got planned: "I'm going to do a show in New York in July. Then I have some festivals gigs in Europe during the summer. In the autumn I have a big tour planned – watch out for that one!" And it's not just touring that's occupying time for von Hausswolff: "Also, at the end of 2013 I will be releasing an album as a part of the group
Hydra's Dream
. It's an experimental music project consisting of me and Matti Bye [the Swedish silent picture pianist]. We are interpreting fairy tales and stories into sound and lyrics. This time we've been digging our noses into Hans Christian Andersen's '
The Little Match Girl
'. We ended up making an intriguing journey through snowy landscapes, hallucinations, fire, death and dreams!" In the end, though, everything comes back round to that organ: "I'm also working on a 30 minute instrumental church organ piece that I will perform at Lincoln Cathedral this October." It's completely appropriate that music this huge and passionate should find a home in a cavernous cathedral – it might be the only place big enough to hold this talent in.
-
www.thelineofbestfit.com/
Anna von Hausswolff: The Sacred, The Profane, and the Popular
Anna von Hausswolff may be the most poignantly conceptual and boldly experimental artist I've ever known to characterize her music as "pop." Anna is a Swedish singer/songwriter and pianist, who has toured with a handful of noteworthy acts and been frequently compared to Kate Bush. This July her sophomore album,
Ceremony
, dropped in the US. The album is a tribute to her grandfather, who passed three years ago, and it is as haunting as it is daunting, carried out primarily on a church organ. It rings of the soundtrack to a text exploring the sacred and profane… to put it mildly. It moves at seemingly a snail's pace through the most biting kind of self-introspective sonic pallet. It has its hopeful and uplifting moments, but they still carry the weight of a ten ton truck. The album is "classically" beautiful, in that there's nothing quite "light" or "extraneous" in it; everything would seem to have a nearly divine purpose. (I'm at least slightly reminded of my teen years spent listening to Sam Rosenthal… and that's not a bad thing.) This summer Anna played her first US show ever at Glasslands in Brooklyn and she's about to embark on her first US tour, which kicks off December 4th in Washington DC, promptly followed by a December 5th stop at our very own Johnny Brenda's. I recently got a chance to chat with Anna, who is far more "human" than her art would lead you to believe. We chatted about cinema, Drone Metal, and some other stuff…
Izzy Cihak:
What have been the highlights of your musical career thus far? It's still relatively new.
Anna von Hausswolff
I think going on tour with Efterklang was a big highlight for me in my career. I never toured that intense, but Efterklang are a bunch of amazing, creative people, who gave me a lot of new energy and inspiration.
Izzy:
What do you consider to be your most significant influences and
inspirations?
Anna:
For
Ceremony
, my latest record, I would definitely say that Drone Metal has been a very important influence and guideline in the making of.
Ceremony
is a "pop" record, but when I started to listen to drone music my perception of music, and how to make music, changed. I think that has affected my songwriting a lot. Beside Drone Metal, most of my inspiration is coming from nature.
Izzy:
I'm a massive fan of cinema and your videos have a very intriguing cinematic aesthetic, which I can't quite put my finger on. I want to reference
early
Lars von Trier or Bergman at his most avant-garde, but I'm also a bit reminded of Richard Kern and Harmony Korine and the most high-minded music videos of the '80s and '90s. What or who is it that most inspires your visuals? (I realize all of my comparisons are quite cliché and I suspect what actually inspires you digs a little deeper.)
Anna:
I don´t think your comparisons are cliché. All of those you mentioned are great filmmakers and I truly enjoy their timeless movies. But for
Ceremony
I was more interested in the scores of certain films. Like the scores of
Suspiria
by Goblin,
Lucifer Rising
by Bobby Beausoleil,
Angst
by Klaus Schulze, or
Bröderna Lejonhjärta
by Björn Isfält. I believe that the scores of these films are not only original and innovative but also in perfect synchronization with the visuals. That´s what makes a film special and memorable to me.
Izzy:
You're about to embark on your first full-scale US tour, with your second stop here in Philadelphia at Johnny Brenda's. What can be expected of the live experience?
Anna:
Raw energy
Izzy:
I put an open invitation out on Twitter for people to let me know if they have anything they'd like to ask you and people wanted me to ask you to talk about Hydra's Dream and the possibility for a release of your 30-minute instrumental organ piece.
Anna:
Hydras Dream is a collaboration between me and Matti Bye, a Swedish silent picture composer. We draw inspiration from old stories and movies and interpret it into music. Our first record is inspired by "The little match girl" by H.C. Andersen and will be out on Denovali records in Spring 2014. My 30-minute organ piece, which I performed on the legendary Henry Willis organ in Lincoln earlier this year, will hopefully be out on Touch pretty soon.
Izzy:
In addition to that, what are your most significant hopes and plans for 2014?
Anna:
To collaborate with more interesting people and finish my next album.
- by
Izzy www.philthymag.com/
Singing from the Grave
Everyone who hears Anna von Hausswolff sing, immediately stops, listens and gets touched by her magic. Her voice is that of total expression. Sometimes it caresses you, sometimes it roars up a storm; but it always finds a very special place in your heart.
The voice perfectly combines total knowledge with a wild and natural feeling, reality with romance.
Would you like to compare it with something from real life? Immediately book a visit to the most spectacular views that Mother nature has to offer, the Angel falls for example – or pay a visit to the Choir of Angels in where Joan As A Police Woman and Antony Hegarty is singing.
Beneath the voice; the arrangements. The piano playing of Anna gives a dramatic and melodic fundament to her voice, the tones that rises from the wooden coffin of the piano are bleeding; con-genially ringing. Instrument and lyrics in harmony. Everyone that gets the opportunity to experience Anna turns out to be missionaries for the good cause. Anna performed her debut gig in the autumn of 2008. Since then, the rumor has spread; being signaled off the rooftops of Göteborg. One show has been added to yet another show; the connection between them all is Anna´s total lack of inhibitions.
Whenever it is time for a concert, she is likely to give everything. And more.
On August 14th, Anna performed – as part of Way Out west – within the mighty brick walls of the church of Annedal. The large crowd was spellbound, and the rumor spread faster than a forest fire throughout Sweden. Sara Martinsson interviewed Anna in P3Pop, Björn Schagerström did the same in Groove. GP Unsigned reviewed her MySpace, Tramsessions caught her singing in a tramcar. A so forth.
But still, everything that has already been said is only the small introduction to what soon is to come!
Everyone that listens to Anna von Hausswolff wants to hear more in the very same instant. In February 2010, the first cd-ep of Anna will be released on the eclectic Kning Disk label. This up-and-coming release has yet to find a name, but it is, of course, already the talk of the town, and eagerly longed for. The lucky few that already has had the chance to listen in, is rambling about in a haze of happiness of what Anna and producer Henryk Lipp (Blue for two) has come up with.
When the record is due, I am sure there will be miles after miles of good press-media written about Anna and her record, the praising words of her art will overflow the pages of the papers. Just as it should be. There are but a handful artists of today that invites to such a total love. The simple explanation is that her music is like that; it makes you worship without second thoughts.
It makes writers like me totally forget about sense and objectivity.
But, if you already have heard the music of Anna, you know what I am talking about…- Johan Jacobsson