Cinématon je navodno najdulji film svih vremena? Treba vam 6 dana da pogledate
2,792 nijeme vinjete s raznim selebritijima koji uglavnom ne rade ništa.
Courant je klasik lirskog, kontemplativnog i konceptualnog filma.
Iznimno je dobro zastupljen na YouTubeu.
Filmographie de Gérard Courant
cinématons:
etc.
www.youtube.com/results?search_query=G%C3%A9rard+Courant+cinematon&sm=3
"Since February 1978, I have been directing filmed portraits I call Cinématon (in memory of "photomatons", photo booths).These are portraits of important people in art and culture (filmmakers, jounalists, comedians, writers, philosophers, visual artists, and so on...).

(...)These cinematographic portraits are conceived under the same rules defined by the cineast:
1) A Super-8 camera on a tripod,
2) a still camera,
3) a close up of the face,
4) no sound,
5) no frame modification during filmming,
6) no focus change,
7) a length of 3 minutes and 25 seconds,
8) one and only take,
9) no cut during and after filming,
10) the person is free to do what he / she wants."
(Fragments from a meeting with F. Rolet).

Each portrait is foregrounded by three introduction boards showing the chronological order in which the portrait was shot, the name of the filmed person, his / her nationality and professional activity, the date, and the location of the shot.
Cinématon is a 186-hour long experimental film by French director Gérard Courant. It was the longest film ever released until 2011. Composed over 35 years from 1978 until 2006, it consists of a series of over 2,792 silent vignettes (cinématons), each 3 minutes and 25 seconds long, of various celebrities, artists, journalists and friends of the director, each doing whatever they want for the allotted time. Subjects of the film include directors Barbet Schroeder, Nagisa Oshima, Volker Schlöndorff, Ken Loach, Youssef Chahine, Wim Wenders, Joseph Losey, Jean-Luc Godard, Samuel Fuller and Terry Gilliam, chess grandmaster Joël Lautier, and actors Roberto Benigni, Stéphane Audran and Julie Delpy. Gilliam is featured eating a 100-franc note, while Fuller smokes a cigar. Courant's favourite subject was a 7-month-old baby. The film was screened in its then-entirety in Avignon in November 2009 and was screened in Redondo Beach, CA on April 9, 2010. - wikipedia
Cinematon is many things. It is
best known for being the world's longest film (standing at 9060 minutes or roughly 6 days), but as I will show you, it is much more than that. What started as a simple collection of vignettes between Gerard Courant and his friends elevated into something much, much more. From a hilarious peek-a-boo piece by Terry Gilliam and cameos by some of Cinema's greatest names (Wim Wenders, Jean-Luc Godard, Barbet Schroeder, Samuel Fuller, Raul Ruiz, Sergei Parajanov and more), to a baby that captures the full scope of human emotion.
Cinematon has created a film that IS film, in all senses of the word. It is the essence of cinema, a thing that feels. In each and every vignette, a different emotion is captured. From filmmakers to models to comedians to psychologists to concierge to historians to artists to the out-of-work, all walks of life are contained within the walls of a Super 8 camera. Gerard Courant is going against the grain to create something spectacular. It is a masterwork and one of cinema's greatest inventions… even though you might not be able to stay up throughout all of it.
Some criticisms by film criticizers (translated from French)—
"Gerard's [film] resembles his current work. It displays his need to associate insolently, despite themselves, the stars in his own person. For Gérard Courant is Cinématon." —
Patrice Lelorain
"It would be a mistake to believe that Cinématon has to do with sadism or masochism. There is no link between sadistic or masochistic people filmed and who filmed them. It's much more a question of pain-pleasure. Love to be facing the camera. Suffering to stay. And for the filmmaker, fun to shoot.
One could even say that this suffering and pleasure are inseparable, that they are not two qualities that complement each other but rather one and the same quality. Of course, all that is wanted by those who agree to abide by the rules of Cinématon. Simply lend themselves to this game involves, initially, will keep on coming to your camera and while the film is a desire to free himself, leave, drop everything, say: "Stop"."—
Michel Foucault
"Gérard Courant is a great director. His Cinématon are unique documents and extraordinary. One day, Pasolini said: "It's a bit stupid that you and I will do the film because film will self-destruct. Well, when the film is gone, it will remain the Cinématon." —
Fernando Arrabal
-
mubi.com/
Pass notes No 2,683: Cinématon
The longest film ever made, all six days of it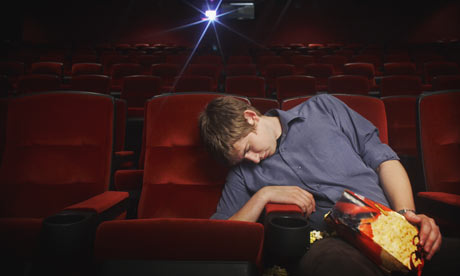 What's that? The world's longest film.
How long is it? One hundred and fifty hours. That's six days. Or, if you prefer, six economy-size bags of Revels, three furtive bottles of gin, at least 12 trips to the loo, two sore buttocks, a pair of red eyes and one overwhelming sense of the utter pointlessness of human existence.
Not a date movie then? Don't be so sure. You could date, snog, get engaged, marry, conceive your first child, have a thing with someone else in row seven, divorce, have torrid make-up sex and settle in for the long haul with your original date all before the closing credits.
I'll bet it's French. Of course it is. Cinématon will be shown in Avignon later this month. Director Gérard Courant had the idea in 1978 and has spent 31 years making it. The film consists of three-minute, 25-second vignettes of celebrities, artists, journalists and Courant's friends. They include director Ken Loach, former Python
Terry Gilliam
and chess grandmaster Joël Lautier. Courant intended to have only 100 segments but the idea proved so "popular" he kept on adding to it.
Love those inverted commas. What are the highlights? Gilliam eats a 100-Franc note. Director Sam Fuller lights a cigar and smokes it for three minutes and 25 seconds.
I'd pay good money not to see either. What was the longest film in history before Cinématon, which the Mirror calls the "dullest film ever made"? According to Wikipedia, which is wrong, Berlin Alexanderplatz (931 minutes or 15 hours) was the longest film. Other long films include Shoah (566 minutes, or nine hours) and Evolution of a Filipino Family (643 minutes, or 11 hours). None is as long as Douglas Gordon's 1993 film 24-Hour Psycho in which the artist slowed down Hitchcock's 1960 thriller to last exactly one day. Gordon once planned to slow down John Wayne film The Searchers to last five years – the length of the western's plot.
Don't say: "At least it's better than Sex Lives of the Potato Men."
Do say: Something loud and pretentious, ideally in French.
www.theguardian.com/
World's Longest Film Will Screen All 150 Hours of Running Time
So what exactly happens in a film that runs almost as long as an entire week. Well, it looks like anything really since the film itself, titled
Cinematon
, is comprised of over 2000 segments, each 3½ minutes long, of footage from celebrities, artists, philosophers and journalists, as well as children who were allowed to do exactly as they please in front of the camera. So basically it's
YouTube: The Movie
. I jest, but the film
should
offer much more than just skateboarding dogs with subjects like film director
Ken Loach
, actors
Roberto Benigni
and
Samuel Fuller
, chess grandmaster Joel Lautier and the infamous
Terry Gilliam
.
The man behind this, French filmmaker
Gerard Courant
, who simply wanted to "capture the thoughts of his artistic friends," commented (via
UK's Telegraph
) on Gilliam's portion which was shot way back in 1985:
"He started off to one (of the cameras), then came into the shot. He played with the frame, exiting and entering, and ate a 100 Franc note, making it into a little ball. He never stopped playing with the square, and never lost sight of the limit of the frame. The three minutes and 25 seconds with him is a true sketch."
While I'm sure not all of the segments are as fun or entertaining as that one, I'm sure there will be some surprises, like Courant's favorite segment of a seven month old baby which "shows the whole spectrum of human emotion in less than four minutes." Originally Courant wanted to only do 100 short portraits, but the project proved to be so popular he just kept filming, and it's still ongoing with just over 2200 segments shot. You can see a lot of, if not all of, the segments on the film's
official website
- careful though, it's in French.
The film will be screened in Avignon (France) later this month and in Paris in January but no word as to whether or not there will be intermission or if the film will just run straight through its epic running time. Either way, it sounds like a fascinating film, but I don't know anyone who'd sit through all 150 hours of it. -
www.firstshowing.net/
Vivre est une solution (1980)
Aditya (1980)
She's a very nice lady (1982)
Montagnes endormies (1982)
A traverse l univers (2005)

Coeur bleu (1980)
Ombres intérieures (2010)
Olivier Dazat ou l'amour du vélo (1996)
www.youtube.com/watch?v=rgnSrgzSRI8
Périssable paradis (2002)
Vivre est une solution (1980)
Riposte (2011)
Marselha (2005)
Dubai for ever (2012)
www.youtube.com/watch?v=OcPyIPakWAI
Master Class (2012)
www.youtube.com/watch?v=vUY_Ef_VtzI
Abel Ferrara à Lucca (2010)
Les Aventures d'Eddie Turley (1987)
www.youtube.com/watch?v=pYWys6haVH0
L'Anniversaire de Bambou (2009)
Eminent experimental filmmaker Gérard Courant, who holds the world record for the longest film ever made, the 156-hour Cinématon, will be in the spotlight at the fourth Gulf Film Festival, the home of bold, experimental and contemporary cinema from the Arabian peninsula. The Festival will be held from April 14 to 20, 2011, at Dubai Festival City.
One of the most prolific filmmakers of recent times, with more than 300 films to his credit, Courant is also a master of conceptual and lyrical cinema. His work includes contemplative feature films, films made of still images and negative images, films that revisit a single event over 24 years, in addition to his most well-known work, Cinématon, made over 33 years and featuring short, silent self-portraits of more than 2,347 artists, directors and cinephiles including Jean-Luc Godard, Sergie Bardaghnouf and Youssef Chahine shot in single takes.
The fourth edition of the Gulf Film Festival will showcase films from Courant's repertoire in its 'In Focus' segment on screens across the Dubai Festival Centre mall. The films not only provide a glimpse of Courant's stylistic ingenuity, but also the breadth of the subjects he has explored. As with all GFF films, these will be free and open to the public. Festival delegates will also have the opportunity to participate in Cinématon.
Masoud Amralla Al Ali, Festival Director, Gulf Film Festival, said the showcase of Courant's films is intended to inspire emerging filmmakers to experiment with various media, styles and interpretations and find their own way.
"Courant and his body of work embody what the Gulf Film Festival is trying to achieve," he said. "His films are avant-garde; they defy conventional methods of filmmaking to create works that are in a league of their own. He is relentlessly devoted to his craft, investing time and energy into breaking new ground. He is a fine example for filmmakers trying to find their own voice, and we are delighted to welcome him to Dubai."
Salah Sermini, Consultant, Gulf Film Festival, said: "Gerard Courant is undoubtedly considered one of the most innovative filmmakers of our time, and it is an honour for cinema lovers in the Middle East to witness his pioneering work through the Gulf Film Festival. We look forward to showcasing this brilliant filmmaker and his works to the residents and visitors of the United Arab Emirates, through a series of screenings and other activities."
In addition to Cinematon, some of Courant's best-known works include Aditya, 24 Passions, She's a Very Nice Lady, Shiva, Marilyn, Guy Lux, and Nuns, and Rasage.
- alleyesonafrica.com/1/?p=851