Dva dokumentarca o budućnosti umjetnosti.
The Future of Art
an immediated autodocumentary
What are the defining aesthetics of art in the networked era? How is mass collaboration changing notions of ownership in art? How does micropatronage change the way artists produce and distribute artwork? The Future of Art begins a conversation on these topics and invites your participation. (twitter hashtag: #futureofart)
This video was shot, edited and screened at the Transmediale festival 2011 in Berlin, Germany.
Conceived and Edited by Gabriel Shalom
Produced by KS12 / Emergence Collective
Executive Producer: Patrizia Kommerell
Assistant Editor: Clare Molloy
Production Assistant: Annika Bauer
Featuring:
Aaron Koblin
aaronkoblin.com
Michelle Thorne
thornet.wordpress.com
Caleb Larsen
caleblarsen.com
Régine Debatty
we-make-money-not-art.com
Heather Kelley
kokoromi.org
Vincent Moon
vincentmoon.com
Ken Wahl
depthart.com
Reynold Reynolds
reynold-reynolds.com
Bram Snijders
sitd.nl
Mez Breeze
unhub.com/netwurker
Zeesy Powers
zeesypowers.com
Joachim Stein
joaoflux.net
Eric Poettschacher
shapeshifters.net
Including Video Material From:
Vincent Moon
Achim Kern
achimkern.de
Born Digital
borndigital.nu
Daniel Franke
daniel-franke.com
Christopher Warnow
brian-steen.com
Memo Akten
memo.tv
Ian Mackinnon
ianmackinnon.co.uk
Taj Dhami
Liisalotte Elme
Zeesy Powers
Reynold Reynolds
Patrizia Kommerell & Gabriel Shalom
Aaron Koblin
Alessandro Ludovico
neural.it
Paolo Cirio
paolocirio.net
Iepe
iepe.net
Akiz
myspace.com/bornhak
Music, Sounds and Performances by:
The Arcade Fire, The Crowd, Daniel Franke & Christopher Warnow, Monolake, Daito Manabe, Zeesy Powers, Arlt, Ei Wada, Gabriel Shalom (8 years old), kom.post by Laurie Bellanca
Special Thanks:
Elyse Harrison, Studio Neptune, Cifarelli Art Consulting, Henrik Moltke, Beckie Darlington, Open Design City, Cara Bell Jones, Ela Kagel
From the 1st through the 6th of February 2011, we were shooting, editing and screening an immediated autodocumentary video at the
Transmediale
digital art and culture festival in the House of World Cultures in Berlin. Along with events like Ars Electronica and Future Everything, Transmediale is one of the most significant media art events in Europe. We were honored to be included in the
Open Zone
, a space which will be open to the public, described in the festival programme as "a social experiment with different social territories that are occupied by artists and media activists". We are calling this project
The Future of Art
.
Our goal was a short video which explores questions about the future of art, both in regard to its aesthetics, production, finance, curation, distribution and collection. In addition to conducting interviews at the festival, we were reaching out to several artists in advance of the festival over Skype. Our intention with the Skype interviewees is to extend the discourse beyond the geophysical limits of the festival by including artists who we wish could be here with us in Berlin in February.
http://www.emergence.cc/futureofart/
Artists Predict The Future of Art [VIDEO]
What is the future of art? It's a daunting question, to be sure, even for the most prescient of art theorists. Most people would have a hard time explaining the present state of the art world, much less making conjectures about where it will be in 10-20 years. Nevertheless, this is exactly the question the the team from creative studio
KS12
strive to answer in their "immediated documentary" on
Future of Art
, which was shot, edited and screened at
Transmediale.11
, a new media art festival that took place in Berlin last week. The film compiles interviews and footage from artists, bloggers, curators and media theorists participating in the festival and features some of our favorite media artists opining on everything from networked aesthetics to changing models of patronage.
The project is a collaborative effort that uses social media as a distributed storytelling platform, using Twitter, Flickr, Soundcloud, Quora, and Vimeo to collect images, questions, answers, and videos to incorporate into their project. The entire project—both the works submitted by contributors and the final documentary—is licensed under Creative Commons licensing to make this collaborative effort one that is available and free to share.
Gabriel Shalom
, who conceived and edited the project, explains the immediated documentary as "a video sprint. Basically, we're making a whole documentary film in a very short amount of time."
The video raises questions like: What are the defining aesthetics of art in the networked era? How is mass collaboration changing notions of ownership in art? How does micropatronage change the way artists produce and distribute artwork? And offers up some thought-provoking insight from visionary artists like
Aaron Koblin
,
Vincent Moon
,
Zeesy Powers
, and
Reynold Reynolds
.
I think I'm mostly interested in ways that people can work together through the internet to create things that would otherwise be impossible. — Aaron Koblin
The artists marvel at how the internet has changed everything. The volume and accessibility of information available today breeds an unprecedented, high-speed mashup culture of cross-pollination where the origination of an idea isn't nearly as important as what you do with it. Technology offers them the ability to experiment and iterate like never before, to try their hand at new mediums, to collaborate with a vast global network of peers. But the artists in this video are not just blind champions of technology ready and willing to feed you the "party line" and sell you on the virtues of creating art with a computer. They approach the subject with considered reservation and thoughtfulness—everyone acknowledges that technology for technology's sake doesn't make for good art, it's about using the right tool at the right time, and it's often the simplest projects that have the greatest impact.
There's something really magic and beautiful about being able to take something that was created for one purpose and then put it towards your art practice and make something really new and beautiful and meaningful with that. On the other hand, I'm not necessarily excited by a technology just because it's new or just because it's available. There has to be a reason underlying why it's being used to in some way support or enhance the meaning of what you're making. — Zeesy Powers
Aside from the aesthetics of art, the video also discusses how the value and funding of art is changing. Artists are no longer cloistered recluses holed up in a garret somewhere, they are participants in a global community, and that communitiy can be galvanized to support their artistic efforts, especially with resources like crowdfunding platform
Kickstarter
now at our disposal.
So what does the future of art look like? Well, we're not sure, but it sounds a lot like
Inception.
It's interesting to see that more than nearly a century after the birth of Surrealism, the concept of creating art that is drawn from the unconscious, the desire to explore our dream worlds and share them with others, still captivates artists' imaginations.
Check out the documentary above and
KS12's Vimeo channel
for the full interviews with the individual artists.
-
thecreatorsproject.vice.com/blog/artists-predict-the-future-of-art-video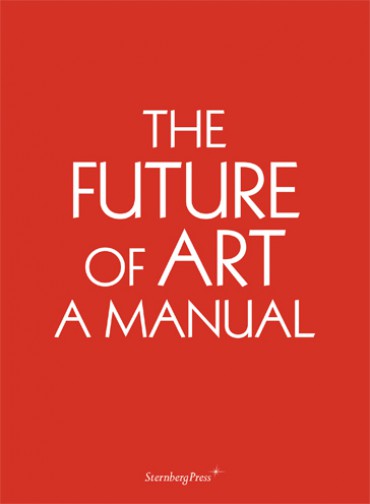 Ingo Niermann & Erik Niedling, The Future of Art: A Manual, Sternberg Press
With guidance by Thomas Bayrle, Olaf Breuning, Genesis and Lady Jaye Breyer P-Orridge, Olafur Eliasson, Harald Falckenberg, Boris Groys, Damien Hirst, Gregor Jansen, Terence Koh, Gabriel von Loebell, Marcos Lutyens, Philomene Magers, Antje Majewski, Hans Ulrich Obrist, Thomas Olbricht, Friedrich Petzel, and Tobias Rehberger; and commentary by Chus Martínez
In 1831 Honoré de Balzac wrote a short story, "The Unknown Masterpiece," in which he invented the abstract painting. Almost 200 years later, writer Ingo Niermann tries to follow in his footsteps to imagine a new epoch-making artwork. Together with the artist Erik Niedling he starts searching for the future of art and, seeking advice, meets key figures of the art world.
Including the DVD The Future of Art by Erik Niedling and Ingo Niermann (HD, 157 min.).
Ingo Niermann with Erik Niedling:
The Future of Art