Ambijentalni folk s životinjama koje grickaju rubove pjesama.
www.12k.com
In 2009 Drifting/Falling released Gareth Dickson's debut album,
Collected Recordings
, a stunningly beautiful and haunting ambient folk album which caught the attention of 12k's Taylor Deupree. Thus began a not-as-easy-as- expected search for Dickson to try to coax him into writing an album for 12k. After a couple of cross-Atlantic voyages and a brief run-in involving a failing rental car and a herd of sheep on a dusty Scotish road, Deupree and Dickson met and
Quite A Way Away
(12k1070, 2012) was recorded for 12k.
Today
Collected Recordings
remains as captivating and powerful as when it was first released. The original edition on Drifting/Falling has since gone out of print and with this 12k is very proud to be issuing a re-release, making sure it continues to get the attention it deserves.
12k's re-issue adds two additional tracks which Dickson wrote around the same time as the original material but have been previously unreleased.
To say that the last few years of Gareth Dickson's life have been tumultuous would be an understatement. In 2007 he fell in love with a girl from South America, packed up a few essentials from his life in Scotland, and moved to the Argentinian countryside. It didn't turn all fairy tale at that point, however. While there he was shot at, attacked by dogs, and was involved in a very close call when the passenger plane he took to a little town in the Andes was forced down after an engine caught fire. The bullet missed, the aircraft landed, and the dog bites healed; he survived intact, albeit a little more aware of his own mortality, and a good bit more anxious.
"The bullet in all honesty was never meant to hit" he states calmly, it was a robbery gone wrong and he happened to be in the wrong place at the wrong time. The incident in the aircraft was far more terrifying because there was the agonizing time to think and reflect during the plane's unintended descent. "It's interesting to find out how you would react in that situation." Dickson says. "I honestly thought I was going to die. Faced with the possibility that it was really time up, I felt an overwhelming sense of this having been destiny, that it was impossible that I had boarded this aircraft by chance."
These adventures are the reason that in the last 4 years Gareth has not managed to record a new album; the last two releases (Collected Recordings, Drifting Falling, 2009, and The Dance, Sleeping Man, 2010) being old material recorded before the trip. They are also the reason that a feeling of heightened alertness and anxiety pervades this new work. If Collected Recordings was in some way a study in melancholy, Quite A Way Away is a decidedly more anxious affair. "Adrenaline," the first track on the album, opens with the lines "Distant beat, advancing feet, each of us wound within." and in "Get Together" there is something of confusion, if not paranoia, in the speaker wondering "Who was here before now, were there only you and I all night?"
Given the episodes that lead up to Quite A Way Away it's only fitting that the album lands on 12k, whose road from stark, synthetic post-techno, 14 years ago, to the textured electro-acoustic ambience of today has been a gradual but well-documented voyage. The label's flirtations with song structures being fused into its experimentations have defined the label as one to skirt the edges of boundaries and genre labels. But no release has quite stepped out of 12k's bounds like Quite A Way Away. Yet despite the fact that Dickson's music is classified as "singer/songwriter" and there isn't an electronic gadget to be heard anywhere on the album, it's remarkable how well it seamlessly blends into 12k's existing catalog. The minimal, fragile, and engrossing sounds of 12k's well-established brand of experimental music is ever-present in Dickson's quiet finger-picked guitar and breathy vocals that hang on the edge of disintegration. Quite A Way Away is somehow as much "12k" as it is a step in a totally new direction.
Dickson, who hails from Glasgow, often gets comparisons to Nick Drake but it's important to mention the influence he takes from experimentalists like Brian Eno, Aphex Twin, Bert Jansch, and Glenn Gould. His music is characterized by an intimacy gleaned from his dream-like approach to singing and playing guitar as well as the immediacy of being captured shortly after being written by whatever recording device is closest at hand, be it a cassette machine, handheld recorder, or 4-track. His use of analogue delays and reverb add to this soft, spacey vibe. The lo-fi nature of his sound harbors all of the cracks, flaws and rough edges of humanity, soul, and the deeply personal circumstances that surround the creation of art.
Up until this point Gareth had been traveling as one of the mainstay's in Vashti Bunyan's touring band which took him around the world playing some of the great venues along the way, such as the Carnegie Hall in New York and The Barbican in London. Vashti invited him to join her after she heard one of his tracks on the FatCat records website. He was also asked by Max Richter to record some guitar for a film soundtrack and has recorded and toured with Juana Molina. -
www.garethdickson.co.uk/page7.htm
Another return to 12K is Gareth Dickson, who back then was a fine surprise for 12K, with his album
Quite A Way Away
(see Vital Weekly 821). That was in fact his second album, as his first was
Collected Recordings
which was released by Drifting/Falling in 2009 but which is no longer available. As 12K boss Taylor Deupree liked this album so much he decided to re-issue this on 12K and quite rightly so. In my previous review I made the reference to Nick Drake and I think that is also appropriate here. A man, a guitar, desolation and captured in a beautifully sonic environment. Some of the ambience in which this takes place is very moody and textured, like Brian Eno had something to do with it. Sometimes it seems that Dickson merely strums away, but with a minimal amount of coloring (maybe a bit of reverb, a dash of delay) he creates wonderful music. Music that doesn't deal with laptops, field recordings, electronics, but just a man with an acoustic guitar. To go into the deep end and do something else: that's the true strength of 12K. (FdW) -
Vital Weekly
Back in 2009, Drifting/Falling released Collected Recordings. It has since gone out of print – until now, at least – because the music has found a way back, re-released on the label 12k. Now, it comes complete with two additional, unreleased tracks that were written almost five years ago.
The finest music is a timeless thing of beauty. Gareth Dickson's music on Collected Recordings shimmers with its hazy, deep stretch of thunderous drone. Lighter guitar notes shine through the thicker texture, lifting the shield against the murk and hoisting the hope of a hero high above it, the rock that stands against the surging surf, not just breaking up the rise of a gloomy, brooding atmosphere but softening its heart with affection and affirmation. Daydreams are born.
'If I', the second track, is a contrast to the opening drone. Dickson gets the most out of his guitar. His music alternates between crystal clear, finger-plucked melodies and serene instrumentals that are washed out with boatloads of reverb. A thin slice of delay emanates from the note like a ripple on the water, and the fiery crackle of folk blazes itself onto the fretboard. It's beautiful to behold.
Along the borders, Dickson's voice can be heard floating in and out of the ambient-tinted world. Rich bass notes splash gold against the rock, splintering open the drone. Above the drone, notes slide up a couple of frets and the strings ring out with their bright sustain. Hovering on a chord, the strings shine, glowing like blurry lights.
The music is travelling, gazing out of the opaque, glassy windows, past the sparse hills that are home to nothing but gentle ambient guitar, wrapped up in a lovely coat of wool to keep itself warm, but desolate to the point of isolation. If it were not for the vocal, they would be alone.
Alone.
The ponderous, thoughtful strings conjure up a spiritual state where every single note lives long in its afterlife of sustain. Contemplative thoughts start to shape themselves as Dickson's melody whirls around. The folk-inflected, finger plucked melodies make way for a very rural, open sound, one that is entirely natural and authentic. The melody of 'Harmonics' is Heaven sent, the chiming bells ringing out with the sound of natural harmonics, usually so shy. Secretly, they are coaxed out of the guitar.
The ambient instrumentals drift into folk music, but it is never one or the other; it perches between both, balancing perfectly between the well-worn gate that separates the two pastures. It's an incredibly open sound, the musical breather that you've waited for – five years and longer – and it's one hundred percent natural. The thoughtful vocals seem to hang in the air, like the strong scent of burning leaves, disguised as smoke, hovering over the woods. The countryside stretches out before the listener like branches longing for an embrace, taking its shape through the guitar's harmonic peace and unity, but it also runs parallel to the road of song, the vocal narrating the journey and keeping the music firmly on its intended route. Later, though, the vocal road disappears. It does return, but the once-bright strings lose much of their initial attack.
Dickson blends his clean, distinct melodies with some reverb-heavy washes, the bass notes chiming as they echo into eternity. 'Ping Pong', the final track, is delightful, a beautiful, subtle reverb that never ages. Here, the notes are invited to come out and play. Speeding up towards the end, the track retains its calm, the delay entangled in the sustain. The music on Collected Recordings hasn't aged at all. In fact, the five year gap feels more like a second, the delay tailgating. -
www.fluid-radio.co.uk/
A while back someone blasted our neighborhood with a stencil art of Zappa and the caption 'do you like my new vehicle'. While Gareth Dickson is not the subject, the very feel of Collected Recordings, the lilt of his voice, the soft melancholy, and the brittle edged folk guitar inspires the comparison to Nick Drake. As if Dickson were the new vehicle.
Glaswegian Dickson opens the compilation with 'Fifth (The Impossibility of Death)', a form of sonic sculpture with layers of static, long extensions of tones, plays of surfaces extending and reshaping while a minimum of guitar play opens and heightens melodic possibilities. It highlights the use of reverb that in the more folk driven tracks is played not to as radical a conclusion but to create atmospheric effect for the delivery of Dickson's poetic weavings. If the comparisons to Drake are to abound it is clear in the halting melancholic intonation on 'Song Woman Wine', where words are extended as halting tones into wistful ether. Such is the romantic construction of the folk realm that cleverly creates a mystery with a simple shape change. 'Trip to Blanik' returns to instrumental guitar and effects landscape, where cleverness and densely packed and layered experimentation abound.
Dickson squeezes counterpoised rhythm forms out on 'AGOA' in a halting tilter forward insistence, that displays his guitar prowess and just as effortlessly offers a sleek folk simplicity with velvet charmed tones lulling the listener into ambient drenched calm. It is the complex simplicity offered that is deceptive and welcome, notably in the ominously strummed 'Technology' which builds a deep tone and uses the tension of building, tempo changing melodic lines and inserting a bright break, a light revealing the shadows.
It is the contrast between the two personas that Dickson presents, the guitar experimentalist ripe with ingenuity and skill brandished sharp to the ear and the charmed simplicity of the folk vocal pieces that give this album the sense of being collected. While it does not hold in a coherent statement of the album format
Collected Recordings
is indicative of a burgeoning talent delivers easy and sincere pleasure to the ear. -
Innerversitysound
Cyclic Defrost
Dickson seems to benefit from keeping one foot in the folk world, and the other in the ambient ether. "Collected Recordings" shows that his equal obsessions with Nick Drake and Brian Eno sound are a natural mix. Dickson draws out the fragile beauty of both, providing emotional cover with some deft and occasionally daring solo guitar.
Drake is in full effect on "As You Lie" and "Two Trains," which are wistful but with a heartbroken subtext that helps create a beautiful but desolate feel. Dickson's voice is brittle but wizened and, like Drake, sounds ancient.
On the ambient side, the opener, "Fifth (The Impossibility of Death)" uses guitar effects, abstract reverb that winds itself into a coherent drone. Instrumentals like "Harmonics" showcase the Scot's chops on the fretboard as well as on the console. He is seemingly a master at both, giving the guitar ample space within which to interact with the tones and loops with evocative ease.
The final track on "Collected Recordings", "Like a Clock," sums up the record perfectly. The songs of Gareth Dickson, constructed piece by piece over a number of years, maintain a steady comforting pulse, like a clock giving the illusion of stability even as they try to reign in the untamable. This is a gentle but defiant record, one that faces demons and sonic contradictions. 7/10 --
Mike Wood
Foxy Digitalis
Though Gareth Dickson cites Aphex Twin, Brian Eno, Bert Jansch, Robert Johnson, and Nick Drake as influences, it's clearly the latter that stands out from that diverse crowd in Dickson's music. In fact, there are a few songs on Collected Recordings that are so sonically similar to Drake's, they could pass for out-takes or newly-discovered songs—which isn't to necessarily suggest that Dickson's material is equivalent in quality to Drake's or that it also will hold up for decades but that Dickson—vocally especially—at times sounds uncannily like the long-dead legend. Drake devotees will immediately hear evidence of his vocal style in the halting, spoken-sung whisper Dickson brings to "Song, Woman and Wine" and the stirring "As You Lie"; the influence is perhaps never more evident than when Dickson in "Two Trains" sings "Two trains running / Click, clack…click, clack / One of them going / The other coming back." At such moments, one could be forgiven for thinking that Drake has somehow been brought back to life.
Nevertheless, Dickson's songs are extremely satisfying in their own right, and
Collected Recordings
registers as a special recording of the kind that appears all too rarely. The album's instrumentals are distinctive too, and exhibit Dickson's talent for creating tranquil and hazily-textured ambient settings. In the limpid opener "Fifth (The Impossibility of Death),
"
harp-like guitar plucks echo in a reverb-drenched mix that's closer in spirit to atmospheric sound-sculpting than conventional folk music. The unhurried strums and plucks in the peaceful instrumentals "Trip in a Blanik" and "Harmonics" produce a quietly emotive and time-suspending impact that might remind some listeners of Ry Cooder's
Paris, Texas
soundtrack. One of the recording's major pleasures is found in listening to how Dickson so languorously lingers over a song's melodies; the mood throughout is so relaxed and the tempo so unhurried, the songs could pass for demos.
Dickson's certainly building up a name for himself. For the past two-and-a-half years, he's toured with Vashti Bunyan as her guitarist, plus he's worked with figures such as Devendra Banhart, Juana Molina, and Coco Rosie. So word's obviously getting 'round, and the Glasgow, Scotland-based artist's oft-beautiful debut album (notwithstanding a previously-issued and self-produced album, Spruce Goose) will do nothing to change that. Throughout the fifty-minute recording, the finger-picking of his glistening steel-stringed acoustic guitar merges wonderfully with his fragile vocalizing, and the peaceful ambiance created by the slow-motion tracks is seductive too; if anything, the oasis of calm established by Collected Recordings is so soothing one would prefer to never leave. -
Textura
Gareth Dickson had an album out called 'Spruce Goose' a few years back and it was always a steady seller for us, mainly down to it having an atmospheric beauty that many folksters & acoustic types don't quite muster. He's quite a master at combining acoustic resonance & ambient moods. His style is definitely schooled in the shadow of Nick Drake whilst this warm echo-laden aura permeates his atmospheric plucking, strumming and thumbing, almost creating an additional instrument from his bare surroundings. His voice, employed intermittently, is hushed and melancholy, almost an afterthought to his playing which is gently exploratory, extremely calming and fascinatingly tentative with the sounds of the studio such as the creak of a chair becoming much a part of the overall tapestry. This is one of the loveliest modern acoustic works I've heard and the fact is I'm taking one home to soothe my weary post bank holiday bonce tells you I heartily recommend its magical purity. Collected Recordings is CD only on Drifting Falling.
-
Norman Records
Quite A Way Away (2012)
No doubt some long-time 12k listeners will raise an eyebrow or two upon hearing Gareth Dickson's Quite A Way Away, as the album is far removed from the abstract electronic music reputation the label initially established for itself. But the move is a natural one, given that 12k has been evolving steadily in this organic electro-acoustic direction for the past few years, and as such Dickson's album seems like a natural culmination of sorts. Regardless, those of us already enamoured of the troubador's music are happy to hear it no matter the particular label involved.
The album's material perpetuates the sound and style documented previously on his Drifting: Falling release Collected Recordings, so anyone charmed by it will find the new one equally satisfying. Quite A Way Away features eight songs, most of them haunting, vocal-based pieces with a couple of instrumentals also featured. The latter are hardly secondary to the vocal pieces, either, as the pastoral splendour of "Happy Easters" makes clear. The piece itself is so lovely, one almost misses the fact that it's purely a product of acoustic guitar playing.
Dickson's soft spoken-sung vocals are typically backed by little more than his own exquisite guitar picking, and the album as a whole exudes a time-worn, home-recorded feel, especially when the songs are captured on basic recording devices such as cassette machine, hand-held recorder, or four-track. The guitar playing offers its own share of delights, as Dickson coaxes a full range of sounds from the instrument, whether it be harp-like strumming or intricate clusters of finger-picking (such as during the title track, for example). Comparisons have been drawn between Nick Drake and Dickson before, and the second song, "Noon," illustrates why in presenting a gently flowing dreamscape of softly murmured vocals and crystalline guitar lattices that wouldn't sound terribly out of place on a Drake recording.
An undercurrent of anxiety pervades some of the material. The darker tone of "Get Together," for example, imbues the song with a strong sense of urgency—at least until a sense of peaceful resolution is reached following a mid-song breakdown. "Nunca James," on the other hand, feels buoyant, even jaunty by comparison. The sparseness of Dickson's sound and approach are keenly documented on "This Is The Kiss" where a mere six lines of lyrics and an equally restrained accompaniment provide one of the album's most powerful emotional pronouncements, one whose hypnotic impact grows in tandem with a gradually intensifying instrumental attack. The album's most haunting song, however, is the closer, "Jonah," which counters expressions of resignation ("Something is reaching an end / How careless of me to have got so old") with an entrancing delcaration ("I will love you forever") that with repetition grows more affecting.
-
Textura
"Quite A Way Away"is a singer/songwriter album, but the fact that it's on Taylor Deupree's 12k imprint should tell you it's a great deal more than that as well. Glaswegian troubadour Dickson, who has played in Vashti Bunyan's touring band and collaborated with Max Richter, writes and performs songs rooted in classic, cyclical folk-rock structures, with a finger-picking style openly indebted to Nick Drake and Bert Jansch. The similarities with the former extend further, to the deep blue timbre of his vocal phrasing and the melancholic ambience in which he sets his songs. His songs evince an incredible humanity, emphasised, not compromised, by his use of analogue delays and reverbs. The resulting album is a timeless work of chamber-folk, recommended to fans not just of Jansch and Drake but also Roy Harper, John Martyn, Michael Chapman and those other venerable knights of the British visionary tradition. -
Boomkat
The Wire Magazine
Music is Good
Wajobu
Afterpop (
Spanish
or
Google translation
)
Concretamente (
Italian
or
Google translation
)
Chain D.L.K
Chroniques Electroniques (
French
or
Google translation
)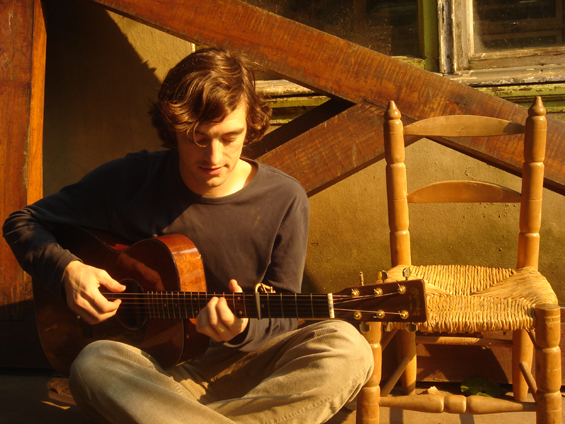 TEN QUESTIONS WITH GARETH DICKSON
Gareth Dickson's Collected Recordings caught our ear in a major way upon its release earlier this year, so much so that it's remained pretty much a listening fixture ever since. The disc deftly merges Dickson's varied musical interests—ambient electronic treatments (by way of Eno and Aphex Twin) and classic acousic folk (of the Nick Drake kind)—into an oft-beautiful set of entrancing songs and instrumentals. Having worked with Vashti Bunyan and Max Richter, Dickson's got many a story to tell, and we were lucky to be apprised of a generous number of them during a recent interview with the Glasgow-based musician. Based on his comments regarding his most recent musical output, it should be fascinating to monitor the paths his future music follows.
1. One of the most distinctive characteristics of your music is how languorous and unhurried it is and how time-suspending an effect it can have on the listener ("If I" and "Trip in a Blanik" spring to mind as two beautiful examples). This makes your music all the more refreshing when heard in the context of a musical era where such restraint is in short supply. Did that part of your music develop of its own accord as a natural outgrowth of your own sensibility? Was it to some degree a purposeful reaction against the style of the music you were hearing around you?

I'll say first of all thanks for the compliment; it's great to hear that you like what I do. I think that this is a difficult question to answer because it's probably a combination of both things to some degree. Also, "Trip in a Blanik" was written around 1997 (even though the version on Collected Recordings was recorded far more recently than that), so my memories of what exactly was going on around then are probably a little hazy. Mainly, though, I think that I veered towards this style probably because of the emotion or state of mind that I wanted to express at that time. I think both of these tracks were for me a response to stress of one kind or another, and that I tried to invent some kind of calm in my music to compensate for the fact that whatever was going on around me was causing me to be stressed. I also think, rightly or wrongly, that if you are trying to express the core of something then that something when boiled down should be very simple. Another thing which no doubt shaped my music around then was the use of whatever drugs were on hand. This can give the user a real sense of timelessness, I suppose, which then inevitably comes out in the music. Once you've arrived at this way of seeing music, though, there can also be an element of feeling like whatever you hear around you, which doesn't fit with that way of seeing things, is to be reacted against. This can maybe push you further down the line that you naturally came to in the first place.

2. Another of your music's distinctive qualities is how admirably sparse it is with respect to arrangement, an approach that also helps bolster the timeless quality of your material; the beautiful "As You Lie," for instance, sounds like it could have been recorded in your bedroom in 1979 as easily as 2009. Did you ever feel tempted to add more instruments to the recording's songs, or was it always clear to you that vocals and guitar were all that they needed?

Initially I was afraid to add anything to my recordings because I felt like it would be an afterthought and somehow not part of the initial idea for the song and therefore could only make the overall effect less pure. Also most of the music which affects me the most is solo performance of some kind. I love a lot of old Delta Blues music, which is just one man and a guitar usually, and Nick Drake, and the pianist Glenn Gould, and many others who were essentially soloists or at least at their best when solo. It's now just become what I do and I like the limitation of it. It forces me to think more about what I play and the way I play it because that is all there is; I know there will be no extra instrumentation to make things interesting so I have to try to do that with the guitar and voice.

3. Could you take us through your songwriting process by using one song as a representative example ("Two Trains" or "As You Lie," maybe)? Does a song, for example, just "appear" or do you work towards its completion incrementally?

Both songs were written completely in a night, probably within an hour or so from start to finish if not less. But the idea comes much quicker than that, almost instantaneously I think, and then has to be shaped a little and built on. Having said that, both songs are the conclusion of months of thinking about something important to me which then finds an outlet in a song written very quickly. In a sense they do just appear in a very short space of time but at the same time I can see how they are shaped lyrically by what I have read, or by other song lyrics, and musically by whatever I have heard. I will have been thinking about the concept which eventually comes out in the song but not have had the exact words until the song comes along.
The process for both, and actually most of my songs, is the same. I tend not to sit down with the intention of writing a song or know that I am about to write one. If I am playing a lot, though, the laws of averages mean it is much more likely I'll find something I like. Also it means I am in good shape musically if I do happen upon an idea, whereas if I haven't played for a couple of weeks it is very unlikely that I will pick up the guitar and write something I will use. I can't force a song into being, but I can create the conditions by playing a lot. I never have an idea for a melody or lyrics in my head beforehand; I just play around with the guitar until I hear something that I like and then try to build on it. Once I have a melody written on guitar it will often suggest a vocal melody and lyrics. Usually both the guitar part and the lyrics are the result of whatever I'm thinking about at the time so hopefully for that reason they are related. The advantage of this approach is that when something does come along it feels like it has come from somewhere other than your own boring conscious mind, but the drawback is that you can go for a long time and not be able to write something, which can be frustrating. There are odd occasions though where I will have a guitar part for a long time and then lyrics will come along much later for it. And one or two of the more recent songs have been written over a period of weeks or months.
4. Let's deal with the Nick Drake issue right away. As someone with a long-standing affection for Drake's albums, I find it next to impossible to hear your music and not hear hints of Drake's laconic delivery in your vocal style (in a song like "Song, Woman and Wine," for example). How do you feel about the connection? Is it something you're flattered or annoyed by?

I wouldn't say I'm flattered or annoyed by it; it's a fact and it's there. I absolutely love Nick Drake but I don't think that the vocal similarity is something I should be flattered by because he did it first. At the same time I didn't ever set out to consciously emulate his style of singing; it developed because I listened endlessly to his work when I first heard it, and would often sing along. To me to sing in any other way would seem unnatural and forced. This only applies to half of what I do anyway as at least half has no singing at all. I don't get annoyed by the suggestion that there are definite vocal similarities but neither do I think that this necessarily devalues what I do.
I think that this is actually a pretty common and normal occurrence in music. I don't think for example that my voice sounds more like Nick Drake's than Captain Beefheart's voice sounds like Howling Wolf's, or Robert Johnson's music sounds like Charlie Patton's or a Schubert Sonata sounds like one by Beethoven, or Beethoven in turn sounded like Mozart, especially at the beginning. I am not comparing respective talents obviously, just making the point that this happens. When a major artist comes along, like any of the ones just mentioned, they have to be dealt with in some way by anyone that follows them. Having said all that I do think that originality is essential in any art and if a piece of work doesn't have some element of originality there is a serious problem.

5. While it's not hard to hear traces of Bert Jansch and Drake in your music, the influence of Aphex Twin and Brian Eno is less immediately obvious (of all the "electronic" artists one might cite as a reference, Labradford would seem a more natural choice). Could you clarify in what way specifically your music contains echoes of those artists, if at all?

For me it's about having been influenced by the sound-world of these artists. I think it's probably more obvious with Brian Eno, especially in an album of his like Music For Airports, but also I think to a degree in Aphex Twin's more ambient works, like Selected Ambient Works II. Not so much by the more rhythm-driven stuff, although I also love that. They use different instruments (synths rather than a guitar, although Eno occasionally uses guitar too), but I process my guitar in a very similar way (using analogue delay and reverb). I think this is most obvious in tracks like "If I" and "Climbing" where the echo effect can be heard on the guitar more clearly. It's really just about striving to make a more abstract sound the way these artists do, to try to escape the conventional earthy sound of an acoustic guitar.

6. Collected Recordings features songs recorded over a five-year span at your home in Glasgow. Have you created new songs since those released on the album, and if so how does the new material differ if at all from Collected Recordings? Are you focusing more on the "ambient instrumental" style of "Fifth (The Impossibility of Death)" or on vocal songs, or is your composing direction something that you simply allow to develop of its own accord?

Most of the stuff I've written since those recordings has been far more upbeat, and again influenced by some of the electronic music I listen to. Tracks like "Get Together" and "The Dance" are examples of this, which are both on my MySpace page but haven't been released on a proper album yet. Again some are instrumentals and some have vocals. I'm moving away now from slower, more "romantic"-sounding stuff in favour of a more rhythmic, almost dance inspired sound. Dance as in dance in general, rather than the specific type of electronic music. That's what interests me and affects me more in music now. More and more I love music which isn't blinkered to the fact that there is always some pretty horrific stuff going on in the world but tries to go beyond being overtly emotional or just melancholic as a response. Certain African music, or a Beethoven symphony being two pretty different examples of this. Also the first track on Aphex Twin's Selected Ambient Works I sounds like it could be played either at a wedding or a funeral, which is a great quality.

7. How did your association as the guitarist for Vashti Bunyan come about, and what was the experience like of touring with her for two-and-a-half years and in performing at places like The Barbican in London and Carnegie Hall in New York?

I sent a demo of my music to Vashti's record label FatCat in 2005 in the hope of them releasing something, and they put a couple of tracks on the demo archive on their website for people to download and listen to. Not long after this Vashti was just starting to think about playing live again and touring after not having been involved in music for around forty years, I think. She was looking for a guitarist to tour with and asked FatCat if they knew of anyone, and they told her to have a listen to my tracks on their website. I was pretty lucky to be living relatively near to Vashti (about an hour away by car) and to have sent the demo at the right time.
The two or three years of touring and playing together that followed were absolutely amazing. She has a real, natural, in-built sense of music, and a great ear (as well as great songs, obviously) so playing together is something I absolutely love to do. She hears everything, unfortunately, so you have to be on your toes! And travelling together is always a huge amount of fun; it's been one big adventure. She's absolutely in her element to be doing this, which makes it great fun for everyone around her also, because it's something which was denied to her when she first started writing because people around her didn't get it.
As luck would have it she's linked to many of my favourite artists too which has meant I've had the chance to meet them and occasionally work together. She knows and works with the older generation, people like Joe Boyd (Nick Drake's producer as well as her own) and Mike Heron (Incredible String Band) and also some of my favourites of today like Coco Rosie, Devendra Banhart, and Joanna Newsom. The big gigs have been a lot of fun but they can be scary too. I don't think either of us slept for about a week before the first gig together which was at the Barbican in London. It really is an unknown; you don't know how you will react to sitting down in front of so many people and trying to play until you get out there and do it. Before this I'd only ever really played in small pub/club type places. Carnegie Hall was a great experience too, especially the rehearsals which were just completely chaotic.
8. Could you name a few "desert island" discs that have had a huge impact on your life and artistic persona and comment on why they made such an impact?
I'll start with the obvious one.
Pink Moon
is one of my favourites of all time. It's impossible to describe why I think it's so good; you just have to listen to it, I suppose. The more I play guitar and record the more I realize just what an achievement this album is even in terms of execution, to say nothing of the writing. To have all those songs prepared so that they all still sound fresh, and none of them sound over-practiced. To have all the tracks at such a seemingly perfect state of readiness so that he could go in to the studio over just two nights and produce that is incredible. It affected me not only musically but also in terms of setting a standard of playing and writing that everyone who follows has to try to live up to.
I also love Syd Barrett's solo work. No one particular album, nearly all of his tracks to me sound like they could have been on the one album anyway. There are aspects of his music that I value above everyone else's. His sheer inventiveness and boldness and the completely human and exposed quality he has. The impression you get when you listen is that this really is him. It doesn't appear to be a self-consciously constructed world but just what happens when he sits down to create something. I'm not sure how much what he did influenced me; it definitely inspired me but I think he's such an individual that it is really difficult to borrow from him and have it make sense, at least in my mind.
Another of my favourites that the above also applies to is Captain Beefheart. Again nearly all of it but especially
Trout Mask Replica
. On some days I would say that this was my favourite album ever. I don't think that much trace of his music ever really appears in mine style-wise (although the first line of "Two Trains" is "borrowed" from Beefheart, who in turn borrowed it from delta blues singers), but it had a huge effect on me as a listener and definitely inspired me. The reason it made such a huge impact is just the depth of it, I suppose. It's one of the most unique works of art you are likely to encounter, a very profound anti-war statement at times but much more than this, and from a far more enlightened standpoint than that of say Bob Dylan. Lyrically and musically imaginative to the nth degree, psychedelic and fantastic and at the same time completely primal like an old blues record. And for all those reasons still not really part of popular culture or as well-known and respected as it should be, outside of relatively limited circles. Everyone's heard of Miles Davis or Robert Johnson, for example, but that's not really the case with Captain Beefheart, who's to me at least in the same league.
And speaking of Robert Johnson... another musician that I could go on about. Eric Clapton said that he was the greatest of all guitarists and part of me definitely agrees. He certainly seems to me to be one of the most difficult to emulate. Nick Drake's guitar playing is incredible, but I think it can be approximated to a degree by someone with a good sound guitar technique. Robert Johnson's playing is so unique and stylized that it is very difficult to sound anything like him. But then maybe it's just a question of approach; there could well be a host of well-seasoned blues players out there who would disagree. I was hugely affected by the way blues singers can say so much with a single, simple line in ordinary, plain English, and it's something I have attempted to do often with my own lyrics.
More recently than all of the above I started listening to Glenn Gould and in particular a live recording of the
Goldberg Variations
by Bach. This is something which had a huge impact because he is a classical musician with all of the associated level of technique and learning but with a completely different ethic and approach to most of the classical musicians I had heard before him. He manages to transcend the instrument in a way that I don't think I have heard in any other musician, and this has had a big impact on the way I have attempted to play since I heard him. As well as this the way he manages to separate different melody lines within a piece is something which I have tried to learn from. There is a real perfection to the way he plays but never at the expense of the soul of the music. Another piano recording I love is Sviatoslav Richter playing the last Schubert Sonata.
The music of Aphex Twin is also up there for me. It's difficult to name an album because he has produced an amazing amount of great music. Possibly
I Care Because You Do
if I had to choose one album but the track "Windowlicker" is impossible not to mention. And as I mentioned earlier, some of my tracks aim to create something abstract sounding using effects in a broadly similar way to some of his work.
In the past few years I've been listening to more classical music, Beethoven, Wagner, and Schubert mainly but bits and pieces of a lot of stuff.
9. Which fellow artists (if any) are currently inspiring you with their work and output, and in what way?
I have a good friend called Andrew Keane who plays guitar but moved to China a few years back. He was maybe the first person I knew personally who inspired me. He has written some amazing stuff for the guitar, and we had some great nights sitting up drinking and talking about music. I have some of his recordings and am hoping to post them on a MySpace page for him soon. More recently I have been lucky enough to work with Vashti Bunyan and Juana Molina who are two of the best around for me. I don't know if I've managed to take anything from their style but have definitely been inspired.
10. Electronic music fans would also be curious to know more about the contribution you made to a recent film soundtrack by Max Richter. What's the film in question, what was your involvement, and what was that experience like? Finally, what else can we look forward to in the next year or so from you in terms of touring, recording, releases, etc.?
Erm... well, I did record some music for Max Richter for a film starring John Cusack but unfortunately the soundtrack wasn't used after Clint Eastwood came along and decided that he wanted to do it, apparently. Bastard! It was called
Grace is Gone
. Max produced Vashti's album
Lookaftering
and played piano on a couple of the first shows so I got to meet and work with him. He needed a guitarist to record some of the parts that he had written on the computer so we went in to a studio in Glasgow, and I recorded the parts he gave me. It was great fun but was over in just a couple of hours as there was another musician coming in to record after me. Great guy, though, and I really enjoyed doing it.
I have quite a few shows coming up before the end of the year. I'm playing in London in October, then Ireland in November at a festival curated by Adrian Crowley, and a couple of other solo gigs while I'm there, then Portugal in December and am trying to arrange something in Istanbul at the moment. Those dates will go up on my MySpace once they're set. As well as this there are a few Vashti shows coming up again which is great because she's been busy writing so we haven't played live together for quite a while. I have a lot more material recorded since
Collected Recordings
, some of it's a fair bit more experimental, and mainly instrumental. I'm hoping to release something early next year if I finally get round to mixing it properly and deciding which tracks to put where. -
www.textura.org/
15 Questions to Gareth Dickson
After a couple of life-changing opportunities and brushes with death in previous years, 2012 looks to be a good, if perhaps a more quiet year, for genre-bending Glaswegian Gareth Dickson. Dickson has just released a new album, mastered by Taylor Deupree on 12k. Not exactly conforming to the 12k oeuvre at first sight, Dickson's latest recording is neither electronic nor overtly experimental. Yet somehow his lo-fi brand of minimalistic, ambient folk seems at home amongst Deupree's current stable of artists and growing fascination with acoustics. Citing influences that range from Nick Drake and Robert Johnson to Glenn Gould and Aphex Twin, Dickson has managed to discover and nurture his own unique style. Not one to shy away from experimentation, Dickson's guitar playing invokes a subdued, harp-like delicacy that contrasts to anything you might find in the back catalogues of his folk and blues heroes. Dickson's latest album Quite a Way Away is slightly more orthodox than his previous work. Each track is self-assured and seems to play out more confidently. Perhaps the excitement of his years in Argentina, during which he survived a small plane disaster and a bungled robbery, has added the heightened sense of urgency and tension found in his latest recording. After having the unique opportunity to tour with Vashti Bunyan as she dipped her toes back into the music pool after many years, Dickson had the epic experience of playing The Barbican and Carnegie Hall. He has worked with Max Richter and toured with Juana Molina and is looking forward to touring Europe in May with David Wenngren (aka Library Tapes). After such dizzying professional heights, Dickson is keeping a low profile for the next few months. Helping out with his new born nephews and working hard on the promotion of his new album, Dickson hopes that his efforts will go some way to towards helping him do the thing he loves for longer.
Hi! How are you? Where are you?
Could be a lot worse, things can always be worse :) I'm at home in Glasgow, my sister and her boyfriend have come to live in the house where I live (my mother's house, much to my shame at my age) with their new born twins, so things are mental here, but good.
What's on your schedule right now?
Apart from changing nappies and feeding babies (see above), I'm busy trying to organise gigs in Europe for a planned tour with Library Tapes in May. I'm spending a fair bit of time doing the kind of "admin" side of music in general actually, sending out CDs and emailing people in an effort to promote the new album on 12k. For around the past year I've been lucky enough to have had the time to concentrate completely on playing and recording, so now it's time to do some of the less exciting things which you have to do to have any chance of making a living at this and avoid getting a real job.
How would you describe and rate the music scene of the city you are currently living in?
Overall I would say that Glasgow is a great place to be a musician. There was a time when you could go to a different open mic night every night of the week (there's one I really love, and went to for years, in a bar called "Nice and Sleazy"), as well has having venues of all types and sizes. In general it's fairly easy for young bands to find somewhere to play which makes for quite an interesting and diverse scene, plenty of nice little places. I've played in a lot of European cities and many have funding available for music, Glasgow is not like that at all, it's kind of law of the jungle. You have to get out and make things work for yourself, and not expect a meal, or to be paid. It doesn't seem to have any negative impact on the music though, as Glasgow has a lot of successful bands for its size. Mainly famous for exporting indie bands like Franz Ferdinand, but not a bad place despite that. As well as this there are a lot of great clubs if one likes banging techno :)
When did you start writing/producing music - and what or who were your early passions and influences?
To go right back I guess the first things I wrote were in metal/punk type bands when I was in my early teens, the way a lot of guitarists start out. The first pieces of music I wrote which I still play now were written when I was around twenty. At that time my big passions were guitarists like Nick Drake, Bert Jansch and Robert Johnson, followed soon after by ambient and electro like Brian Eno and Aphex Twin.
What do you personally consider to be the incisive moments in your artistic work and/or career?
The first pieces I wrote which I still play are "Harmonics" and "Trip in a Blanik". Two instrumental pieces, written on my nylon string and later recorded with steel string and some effects. That was my starting point, that's when I realised that I wanted to spend my life doing this. Maybe a couple of years after that I started trying to write songs, I spent a lot of time writing songs and discarding most of them, I think "Two Trains" was in some ways the end point of what I was aiming for at that time. That became a turning point and I began to experiment again, with a vague idea of trying to emulate the feel of electronic music, but with my guitar. The track "Technology" was probably the first useable piece from that direction, and that opened the way for the tracks on the album
The Dance
. More recently I have been aiming at combining some of the rhythms from the dance with vocals, which has lead to the new album.
"Career-wise" probably the biggest opportunity to have come my way was being asked by Vashti Bunyan to tour as her guitarist after she had been away from music for a long time. That lead to an amazing adventure, touring the world and meeting some great people, which will hopefully continue again some time in the near future.
What are currently your main compositional- and production-challenges?
Difficult question for me to answer because I don't really think in terms of compositional challenges. Most of what I do begins with an improvisation which I then build on as intuitively as possible until I feel I have a finished piece. I guess in the past I have had vague ideas about wanting to combine different elements within my music, for example trying to combine ambient feel with folk type guitar and singing. I never really saw it as a challenge, more just an avenue to go down.
Production challenges I can relate to more easily. I have spent a lot of time recently getting familiar with computer based mixing. Mainly thinking about EQ and mastering type effects such as reverb and compression, trying to figure out how best to avoid things sounding muddy without brightening them too much etcetera. Basically how to get a reasonably polished sound out of my own equipment, without having to rely on others to record my music, which would make the whole thing in to something else much less fun for me. I was fortunate this time to have Taylor Deupree (who runs the label) do the mastering which improved my recordings massively.
What do you usually start with when working on a new piece?
I think my approach here must be common to a lot of musicians. As mentioned above, I always begin with improvising on the guitar. I will play for a few hours usually, messing around with different tunings, not knowing the names of the notes or chords, until something jumps out that I like. This is rare and I am lucky if I get an idea a month, on average, which I will use. Once I have an initial idea for a melody I will play it over and over until it leads somewhere else. Sometimes it will remain an instrumental if I feel it stands on its own. Other times, if I feel it needs it, and I have something I think would make an interesting first line, I will add that and then try to add another. Not very scientific, just one step after the other really. I never have a plan for a piece before I start.

How strictly do you separate improvising and composing?
Well, all of my compositions begin with an improvisation, but I tend to hone them until they are relatively, if not completely, fixed. On
The Dance
there is a little more improvising going on. The tracks were recorded immediately after they were written in general, which meant they didn't have time to develop a fixed form. I did have the riffs in all cases, and an order to put them in, I just hadn't completely fixed the number of repetitions and where to throw in extra notes. I think I am too much of a control freak to allow any great amount of improvisation in to my work. In general I prefer to think about what exactly is the most effective way to structure a piece and then stick to it reasonably closely.

How do you see the relationship between sound, space and composition?
This is something which probably applies less to my work than it does to someone who composes electronic or ambient music or whatever, where sound and space are far more an integral part of the composition, and are elements which you have to choose. A lot of my heroes are guitarists who probably never had to consciously think about this relationship at all. For example, Robert Johnson may not have known that he would ever even be recorded, when he started out, so the only sound he would have thought about really would be the timbre of his guitar picking and his voice. Space wouldn't have come in to it until he was recorded and then it would have been an engineer thinking about that. In general I think more like a guitarist when I am writing, in that I am after melodies and ideas. I then try to fix the sound, to the best of my abilities afterwards. I do use effects while I'm playing but I have now come to think of those as part of my instrument. Having said that, there is obviously a very important relationship here, I think it's maybe one which defies explanation though. In the same way as it's impossible to say exactly what makes a melody good or bad, it's impossible to say why certain sounds work well together, or why a given melody is well suited to a certain sound.
Do you feel it important that an audience is able to deduct the processes and ideas behind a work purely on the basis of the music? If so, how do you make them transparent?
No, I probably think the opposite actually. I think all that matters is the end result, what the music manages to express. I don't think that it's important that the audience know what processes or techniques you have used to get there. Ideas are different - in a sense the ideas are the music, in that you have an idea and express it musically. In this respect, yes, I do think the ideas should be made clear by the music alone, and not have to be accompanied by a description of what you're aiming for.
There seem to be two fundamental tendencies in music today: On the one hand, a move towards complete virtualisation, where tracks and albums are merely released as digital files. And, on the other, an even closer union between music, artwork, packaging and physical presentation. Where do you stand between these poles?
I know a lot of people will want to shoot me for this but I feel that virtualisation is not a bad thing. I have plenty of mp3s on my computer with no packaging whatsoever, if I like the music then I don't feel the need to hold the object. One of the amazing things about music is that it is not of the material world. This is separate to the argument of illegal downloading incidentally. Having said that, I completely understand the need for record labels to create a nice object, now more than ever before, precisely because mp3s can be acquired illegally for free. I also think that if the music is to be packaged and sold as CDs or records then it's important to get that part right. For that reason I have paid a lot of attention to the packaging of the CDs I have released, and again was very lucky to work with 12k who have made a really beautifully designed pack for the new album.
The role of an artist is always subject to change. What's your view on the (e.g. political/social/creative) tasks of artists today and how do you try to meet these goals in your work?
I'm slightly old fashioned here in that I think the role of the artist is not really subject to change. For me the role of the artist is to create art. I absolutely applaud anyone who gets involved in trying to make this world a better place, whether through politics or by charity work or by campaigning or however they can. And I'm not against people like U2 using their celebrity to try to improve things, but I don't feel that this is the role of an artist any more than it is the role of any other human being. I think that when people start with a purpose or political aim for their art it just makes for bad art. Speaking generally of course, there are exceptions. I kind of feel that art is something which is bigger than politics and society.
Music-sharing sites and -blogs as well as a flood of releases in general are presenting both listeners and artists with challenging questions. What's your view on the value of music today?
I think that music has as much value now as it ever did. People need and value their favourite music as much as ever, and there are plenty of great contemporary musicians creating it. I'm not completely convinced that people value something less because they haven't paid for it, I think a great piece of music should knock you over however you have acquired it. That doesn't mean that I think it's right to download music illegally, people can make their own decisions on that. Another difference now is that there are countless people with access to recording equipment that would never have had the opportunity to record in previous times, and plenty of sites which allow them to share the music they make freely and easily, which means that the music world is completely saturated, as your question suggests. So the modern world is a double edged sword for musicians - yes it's easier to record and share your music than ever before, and the internet allows you to find opportunities you may never have found, but it's also very easy to get lost in the sea of music out there, and very difficult to make a living. I think the impact may be felt even more heavily by labels than by artists as their main source of revenue is selling music, artists if they have some degree of success can make money from touring and radio play. I think it's something people easily forget - that being a musician is, among other things, a job. Musicians have to be able to pay bills like everyone else, and having a regular full time job does not leave the necessary time to experiment and create music.

How, would you say, could non-mainstream forms of music reach wider audiences?
I'm probably not the best person to ask - if I knew that I'd have reached a wider audience.

Please recommend two artists to our readers which you feel deserve their attention.
There are plenty of Glasgow based musicians, many of them friends, who I feel deserve more attention. So I'll limit this to people I've been lucky enough to see while on the road ...
Ned Collette
is amazing, he toured with Joanna Newsom for a bit. Hard to describe, kind of Bowie-esque in a way, maybe something of Leonard Cohen too, but a modern spirit. And
The June Rise
is amazing too, fantastic guitarist, and I'm not normally a fan of talented guitarists : )
Many artists dream of a "magnum opus". Do you have a vision of what yours would sound like?
What a difficult question. Answer that and stay fashionable, as they say. I could try to describe grand visions of the most amazing work of art ever to exist, but the discrepancy between that work and my actual works would leave me looking not a little silly. So I'll duck that one and just say ... stay tuned for my next 40 minute epic.
Intro by
Lara Corey www.tokafi.com/15questions/15-questions-gareth-dickson/
Afterpop Interview:
1. When and how did you become interested in the worlds of music? Is there a specific moment you remember as a milestone for this?

I first started playing guitar when I was around 11 or 12 years old I think, difficult to remember now. My cousin was a big fan of metal at the time (Anthrax, Metallica etc) and I loved the sound of the fast, distorted, rhythm guitar playing. I saved up some money from my paper round and went to the shop on my own to buy a cheap guitar. From then on and through most of my teens we played in metal or punk type bands for fun. When I became a student in my early twenties I started to listen to more acoustic based stuff, starting with Led Zeppelin who obviously have a lot of great acoustic music as well as their electric stuff, and moving on to things like Bert jansch, Nick Drake and Robert Johnson. At this point I decided to try to learn the instrument properly and really started to practice a lot and attempt to improve, still just for fun and with no intentions of doing this as a "career", until a couple of years later when I realised that this was what I really wanted to do with my life. Probably the big milestone was the emotional impact I felt when I first heard people like Nick Drake and Bert Jansch.
2. You said The Dance was recorded quickly, almost as you were writing it, in order to keep the essence of the music. Was it improvised? Do you work a lot with improvisation?
It's improvised to a degree, yes. I did have "riffs" written, and a rough structure, for these tracks. I knew that I would play one riff and then lead to another etc but I didn't have every note planned the way I did with tracks like "Harmonics" or "Two Trains". I could play both of these tracks over and over again and almost every note would be the same, they are completely pre-planned. With most of the tracks on
The Dance
, however, they were recorded within a few days of being written, so they were still being formed and therefore still felt fresh to me. If I played them now they would be quite different. Having said that every track I have ever written has been a result of improvisation to begin with. I don't ever start with an idea for a song, I pick up the guitar and improvise until I hear something I like and then build on it. i think most guitarist/songwriters are the same in this sense.
3. If you were ever to recommend someone to get into your music, what would be the path to follow?
I think the best place to start would be with
Collected Recordings
, in some ways this is the most conventional material I have. Easily accessible, I think, to most people. After that would be the new album
Quite A Way Away
which to me has some of the more experimental ideas developed in
The Dance
, but is song based and therefore reasonably accessible as well. The Dance sits on its own, separate to these two records, because there is no singing and it is a little more unusual sounding than the other ones. I have plenty of recordings on youtube which I recorded with me playing live in my room, this would also be a good place to start I guess as you can see what's going on as well as hear it.
4. Are you really that obsessed with Nick Drake? What other artists have formed you?
Not at all, not any more at least. I was very much obsessed for a time, but that was over a decade ago now. I very rarely listen to him these days, if ever. I still have a huge respect for his music and what he did, obviously, it's just that I know every note of it now so there's not a great deal left for me to get out of it. Especially as I learned a lot of his songs and performed them live for a tribute act called "Nicked Drake". I know this music inside out. Other guitarists that I listened to a lot were Davy Graham and Bert Jansch. The more ambient side of my music was influenced heavily by Brian Eno and Aphex Twin (espcially Ambient Works I and II). These were all early influences, and were the main influences behind the sound world of my music. After that I listened to a lot of classical music because my sister plays classical piano so she introduced me to a whole other world which I may never have discovered. One of her big heros, and mine too, is a pianist called Glenn Gould. He is probably my favourite musician ever to record. I also listened a lot to one particular piece of piano music played by a pianist called Sviatoslav Richter. It's the last piano sonata by Schubert, written when he was dying young, and is one of my favourite pieces of music of all time. As well as this I listen to the usual big names like Beethoven, Bach, Wagner etc. Listening to classical music has changed the way I write melody from
The Dance
onwards but hasn't changed my sound, which has remained more or less the same from the beginning. I also love a lot of old blues music which is often very badly recorded, this probably made me worry less about the sound quality of recordings and concentrate more on ideas. A little bit of hiss or whatever doesn't bother me at all, I actually like it.
5. In what ways is using folk/acoustic music a new way to create ambient music??
For me the two things became merged simply because these were my two big musical interests at the time. I love the craft and practical side of playing an instrument, and the emotional impact which a song can be capable of, but I also love the abstract and otherworldly nature of electronic/ambient music, so to me it seemed natural to want to combine these elements in my own music. All art I think is really just recombining existing ideas and forms, and hopefully eventually forming your own style in doing so. Whenever I hear something in music that I love I always wonder how I can incorporate it in to my own playing. The guitar seems to be very well suited to playing different styles because it is capable of producing many different sounds. For example you can play with the flesh of your thumb to produce a softer sound, or with nails to create a brighter sound, or mute strings to shorten the notes, or retune to allow open strings to ring out etc. All these things, combined with effects such as reverb and delay, allow a guitarist to recreate the sound you hear in ambient music. Brian Eno used guitar with reverb in some of his recordings, so I guess the idea goes back to him if not before. John Martyn also used effects but in quite a different way I think.
6. Delicacy is a word that is thrown around a lot, although few artists can achieve it. Is it a premeditated approach to songwriting, or does it "just happen"?
It's definitely not something I aim for. In some ways I have actually been striving to be more rhythmic and upbeat and less fragile over the last two records, although I guess that is something different from being delicate. I feel like I can consciously choose to steer the direction of my music to a small degree, but essentially music for me is something which happens subconsciously. So I couldn't decide tomorrow to write in a particular way, or it would more than likely fail.
7. What about the work of Robbie Basho, John Fahey, Derek Bailey and all those guitarists who have transformed the way we listen to a guitar? Are they a big influence on you? Why have chosen the path of the six string instrument?
Strangely enough I am only just getting round to checking out John Fahey having been told about him by friends for years, same goes for Robbie Basho. I have heard little bits of John Fahey along the way but never spent any time with it until now. I actually watched a dvd of his 1978 concert in Hamburg just last week and I'm very intrigued by it. It will take me some time to get to know this music properly but I definitely intend to. I also watched a youtube video of Robbie Basho for the first time recently and feel the same way about his music, I would love to get to know it properly. The thing that struck me most about Basho was his amazing voice actually, more than the guitar playing, but that's just on one listen. For me the guitar isn't so important, I think you can take just as much from any great musician no matter what they play, for example John Coltrane, Glenn Gould, Robert Johnson are all fantastic musicians and it's not really important to me what they play. I play guitar now mainly because it's the instrument I know best and is therefore the easiest for me to express ideas with. Again it's an instrument which is very well suited to solo musicians because it is capable of harmony and not just melody, ie you can play chords and many notes at the same time whereas the vast majority of instruments can play only one note at a time (all woodwind, brass etc). Really the only western instruments on which you can easily play chords, and alternating melodies and bass lines etc, are the piano, the harp and the guitar, all the rest mainly play one note at a time (although I know violinist and cellists will disagree, but I only mean as a general rule).
8. Let's talk about multi-sensorial experiences. Do you think of your work as having strong visual components? What would be the ideal setting to listen to it?
I don't actually. I am completely non visual in relation to music. Whether I'm listening to music or playing it I have no visual experience at all. Music for me is entirely about emotion, or thought or something, I'm not even sure myself. It's an interesting question though and one which I'd like to ask a lot of musicians. Some people I ask are like me, others I know are very visual.
I would say the best place to listen to my music would be in bed at night, that's where I like to listen to music in general. I guess it's the most comfortable place with the least distractions.
9. Are you satisfied with the work you have released up until now? What are the fields still worth exploring?
Difficult question to answer, and in a way the reply will vary depending on what state of mind I'm in at the time of asking. I know the faults of my music better than anyone, but then over the years I have come to accept that anything anyone creates has faults and that perfection never exists in the mind of the person who has created it. Sometimes we experience another person's work of art and consider it to be perfect, or close to perfection, but I'm sure that in every case the artist will have completed the work and have been frustrated at some part of it not working out properly. The further I get from my own work the more likely I am to be happy with it. I can assess it in a more balanced way after a few years have passed and I have forgotten what my frustrations were when I completed it.
I'm not sure what I have left to explore in this field, that's something I'll need to think about and experiment with in the coming months.
10. What happens next? "Pink Moon" or "Fives Leaves Left"?
Ha ha, good question. Of those two I think
Pink Moon
is by far the better album, and is actually one of the best things about Nick Drake, that he continually improved. I don't think he would have improved so much if he had had more success. I think very often the artists who improve the most are ones who don't have much recognition and have to work harder and harder to achieve it. Also, successful touring musicians spend so much time playing the same things over and over, night after night, and sitting in the back of vans traveling etc that they don't have the necessary time to experiment and think.
As for what happens next, I've just finished an album which means that I really want to try to start over in some way. I know that I don't want to repeat myself but I don't know yet where I want to go next. I'll have to listen to a lot of new music and just go back to experimenting and messing around for a while before I try anything else. This is one of the difficulties of being a musician I suppose, that you can never imagine at all what the next song will sound like. If you could you would just go and write it.
Noon EP,
12k
(2012)
The Dance (2010)
Cyclic Defrost
Fluid Radio
Textura
Norman Records
Solina Sea (2005)
Spruce Goose (2005)