Novo djelo Davida Toopa, glazbenika i autora izvrsnih knjiga o suvremenoj (ambijentalnoj i sl.) glazbi, opera Star-shaped Biscuit. Povrh svega, opera je inspirirana Raymondom Rousselom, jednim od najdražih mi pisaca.
"A woman, Dora, retreats to a northern island to await the final deluge. Perhaps she is the last human to survive environmental apocalypse, though ghosts keep her company. Among Dora's few possessions is a star-shaped biscuit encased in a silver casket… Star-shaped Biscuit is inspired by the writings of the French dandy and author extraordinaire Raymond Roussel, whose star-shaped biscuit was acquired in a Paris flea market by Dora Maar, muse to Picasso.
With text and music by the experimental composer, musician and writer David Toop, the performers include some of the finest improvising musicians and is performed in one of Snape Maltings derelict buildings.
Cast: Lore Lixenberg, Elaine Mitchener, Jamie McDermott; musicians Simon Allen, Martin Allen, Hélène Breschand, Sylvia Hallett, Jan Hendrickse."
"The winter is the time of transformation and haunting, not necessarily hostile revenance, but the cold dusk offers access to a past that is almost overwhelming."
The Idea of North
, Peter Davidson
In the mid-1930s, photographer and painter Dora Maar (also Picasso's lover and model, seen in the portraits he called The Weeping Woman) bought a small star-shaped casket in a Parisian flea market. Inside was the fragment of a star-shaped biscuit. This fetish object was once the property of the eccentric French writer Raymond Roussel who had attached a label to the box: 'A star originating from a lunch I attended on Sunday, 29 July 1923, at the Observatory at Juvisy with [astronomer and spiritist] Camille Flammarion presiding.' The star-shaped biscuit passed into the hands of French surrealist Georges Bataille (Dora Maar's lover between 1933-34), who spoke of being troubled by the object. '[Roussel] obviously wanted to appropriate to himself this edible star in a manner more important and actual than simply by eating it,' he wrote. 'This strange object signified for me the way in which Roussel had achieved his dream of eating a heavenly star.' For Bataille, the biscuit was not unlike Proust's madeleine, an unlocking of buried dreams and memories, a mythical object that can release ideas, images and myths for past, present and future. Others might think of it as the Roman Catholic sacrament (encased and 'shown' in its solar, or star-shaped monstrance), the various shape-changing foods eaten by Alice in her Wonderland, or the plant hallucinogens used in shamanic séance to effect travel between the worlds of the living and the dead.
A ghost story, perhaps? In a draughty room, on an island in a remote place (somewhere like Iceland, or a small island off the coast of Ireland or Japan), Dora waits implacably for apocalypse, the end of everything, a great silence. She waits for water to cover her island as the great melting returns us to the sea. Her external environment shrinks, submerges, just as her inner life moves toward a central core of silence, and in this state of suspension she travels through a land of death and memory, searching for ways to write and rewrite her story, particularly that part of her story written by others. The image of her as the Weeping Woman is broken down and reassembled like a puzzle that resists completion.
The setting: a space that seems ghostly and shadowed, the ground covered with burned tree branches, dry leaves, ashes, old machines, the ruins of the past, a consequence of some catastrophe. Dora has very little: a low table which serves also as a bed; a great book – disintegrating, worm-eaten, exuding red and brown powders – of her journals and diaries; water in a bowl, and a fetish object, a memento – the star-shaped biscuit. There are outbursts of anger, re-enactments of a breakdown, the inflicting of electric shock treatment. In her loneliness, she sings and speaks aloud to activate the still air of her solitude, 'to set the darkness echoing'. Her memories are interwoven with spells recited to conjure the past. The air is alive with whispers, strange sounds, haunting echoes, as if the voice that she projects into space echoes back to her as stranger, usurper, saboteur.
The room is occupied also by two presences, or spirits. Their names are Euphrosine and Seabrook. Euphrosine seems to come from the 18
th
century, a character from a Fragonard painting or a story by the Marquis De Sade. Seabrook is an adventurer from the 1920s. They could be described simply as ghosts or revenants representing the errors of history but they can also be read as traces of Dora's memories, as elements of her unconscious, or as manifestations of spirit guides who have been raised by her spells, her involuntary actions, her dreaming and the effects of isolation on her interior self. Like the puppeteers of Japanese
bunraku
, they are 'invisible' to her. Signs of their existence are only partially and slowly evident to Dora, as ghosts, apparitions, or auditory hallucinations, or as ambiguous, fleeting moments of feeling in which differences between outer reality and the inner life of the mind are uncertain. Without quite knowing what she is doing, she casts spells. Somehow, the presences are conjured, though she is only partially aware of this consequence.
When she rests, they slip into other times and places to enact their own past confrontations with voices of bewitchment and entrancement. Dragged back into the light, Seabrook examines his delirious fascination with exoticism. Euphrosine follows his example, exploring the myth of an operatic voice so powerful it could kill. Dora is drawn by these two liminal presences, conjuring them up, yet resisting their persuasive imprecations to pass over those faint boundaries that delineate the worlds of life and death. The star-shaped biscuit, the heavenly star, also pulls her back into nostalgia, history, the repeated mistakes of the past whose consequence is the catastrophe that has left her isolated in a drowning world. Should she eat the magical biscuit and fade back into the past or confront the unknown void ahead?
The text:
Voices are everywhere: the
sotto voce
comments and responses of singers to the main voice, along with recorded whispers, low voices and murmurs are heard all through the piece as an undertow that interweaves with sung voices, a confusion of stories, invisible presences, angels and devils, interior monologues and passages quoting either directly or obliquely from Dora Maar, and from other stories of island exile and haunting such as Defoe's
Robinson Crusoe
and Shakespeare's
The Tempest
; from Mary Shelley's
Frankenstein
, Edgar Allan Poe's
The Narrative of Arthur Gordon Pym of Nantucket
; Zeami's 15
th
century Noh play
Tsunemasa
; writings by those associated with Dora Maar, including Jacques Lacan, Pablo Picasso, Jean Cocteau, Andre Breton and Georges Bataille; by anthropologists and artist-explorers such as William Seabrook, Maya Deren, Henri Michaux and Antonin Artaud, by authors such as Vernon Lee, Virginia Woolf, Joseph Conrad, Marcel Proust and James Joyce, from Hans Anderson's
The Snow Queen
and Peter Davidson's book,
The Idea of North
, and from Benjamin Britten's Parable for Church performance,
Curlew River
. These fragmented texts set up polyphonies, interruptions, implications, interrogations and choruses out of which the live voices emerge. -
David Toop
On Saturday, September 15, Faster than Sound (Aldeburgh Music experimental program that connects the dots between musical genres and digital art forms) will present David Toop's Star-Shaped Biscuit, an opera inspired by the writings of the French dandy and author extraordinaire Raymond Roussel, whose star-shaped biscuit was acquired in a Paris flea market by Dora Maar, muse to Picasso. David Toop kindly answered 5 questions for us…
What is your elevator pitch for Star-Shaped Biscuit?
I don't have one because I have never wanted to work in an industry that has no time to listen to ideas properly. I do have a staircase pitch, however: a woman retreats to a northern island as the world drowns in environmental apocalypse. She re-examines her life, conjuring up images from the past, and in so doing she raises two ghosts from different periods of history. The piece is about solitude and memory on one level but also about ideas. Where are the new ideas to save us from our current environmental, economic and cultural predicament?
Your opera is inspired by Raymond Roussel: where does your affinity with his writings come from?
Roussel was a unique individual – very eccentric, absurdly wealthy and quite self-deluded – who developed a complex writing method that has never been duplicated. When I first came across his books in my early 20s I was fascinated by the possibility (or impossibility) of imagining what it might be like not to be human – to be alien or another species or like a human but living in a world that doesn't exist in human reality. Through his tortuous, machine-like methodology, Roussel created scenes that were strikingly bizarre, as if from a parallel world. Many of them involved sound-making devices that seemed to come from the most complex and disturbed dreams. They hit the centre of my fascination: was it possible to create a truly alien music, a music not of my culture?
Your score features some improvisation: what influenced this choice? How did the performers respond to it?
The piece I 'composed' on the computer acts as a template and timeline, the psychology of a character in itself, an environment that shadows and expands the space in which the drama takes place. I workshopped the piece with the singers and instrumentalists, using my experience of directed improvisation. The other important point is that all of them were picked very carefully for the range of their abilities, particularly the ability to improvise. That was my first question: are you happy to improvise? I can't read or write notated music so I had to find a method and this was it. I believe it creates a structure within which everybody moves – knowing each cue and change of mood as it comes – and then they add their own voice, their own responsibility, to the work.
You wrote both text and music for Star-Shaped Biscuit: would you encourage young composers to do so if they can?
If they can, yes, but not everybody can write. The difficulty I found in trying to collaborate with other writers was always the sense of frustration, wanting to edit what they had done or do it myself. That's not a reflection on their abilities; it came about because I'm a writer, more prolific and better-known as a writer than as a musician or composer, in fact. But I do feel that there should be constant reciprocation and feedback – the writing should generate music and music should generate writing. That proves to be difficult when you do it all yourself because each aspect of the work seems to be waiting for the other, though I prefer that awkwardness to the prospect of existing words being set or a libretto being thrown on top of a score.
One of the big issues for me was credibility. Did each line have credibility as a sung text? I constantly asked myself why the characters were singing and whether they sounded convincing to me. The main character, based on Dora Maar, is isolated. She reflects on her life and sings to hear the fullness of her own voice. She sings to create a presence as her voice calls out for some kind of reply. It's something many of us do when we're on our own – sing to ourselves or hum away while preoccupied.
My method was not to work from scratch but to collage lines, words, passages from other writers. Sometimes I shock myself. I'm reading a book by a particular author and suddenly I think, that's a line from
Star-shaped Biscuit
! Shakespeare is in there, alongside Picasso, Joseph Conrad, Dora Maar, Mary Shelley, Edgar Allen Poe, Vernon Lee, Zeami, Jacques Lacan, Daniel Defoe, Gherasim Luca, Virginia Woolf, James Joyce, Aime Cesaire, coffin texts and spells from ancient Egypt, ethnopoetic 'translations' by Jerome Rothenberg, even a bit of me. Everybody except Raymond Roussel. But it's not just about words. What's more important is the combined effect of vocal delivery, the interaction of musical textures, the sounds and dynamics of digital electronics, the mise-en-scene. This is a piece influenced by cinema as much as anything – films like Mizoguchi's
Ugetsu Monogatari
or Kaneto Shindo's
Onibaba
– and I watched a film of Britten's
Curlew River
, researched the influence of the noh theatre on his church parables, and soaked up the atmosphere of the reed beds at Snape. All of those elements interlink.
Do you think that opera is the most suited form to bring contemporary music to new audiences?
Film is probably more effective. Look at Peter Strickland's
Berberian Sound Studio
– full of references to improvised music, sound poetry, electronic music, extended vocal techniques and electronic music, but at the same time funny, serious, thoughtful, innovative and accessible. But if we're talking about hearing music in real time, live, in a performance space, then opera has huge potential to communicate with music fans who don't find the contemporary music environment particularly easy to penetrate. Opera is impure and bloody, quite embarrassing really, particularly in relation to post-Beckett theatre, but there are great opportunities in impurity, as pop music has proved many times. Honestly, I don't know enough about the western operatic tradition to speak about it with much confidence but I do believe that opera of any tradition has roots in ritual. To some degree it's a procession of song glued together by a lurid story. Many composers seem to think they have to use a particular kind of operatic voice; they also feel their story has to make sense in some way. Why? Surely in the 21st century, any kind of voice can be used within an opera – an R&B voice, for example, or a folk voice. As for stories, we all love stories but do they have to make complete sense or be resolved, given what we have learned from modernism? For me it's far more important to throw out ideas, themes, atmospheres and resonances that are engaging, disturbing, beguiling, haunting – the kind of ideas that an audience may not follow in the moment but afterwards they recur as persistent and provocative images of action or sound. -
www.icareifyoulisten.com
One of the more bizarre displays in the
Raymond Roussel
exhibition mentioned
yesterday
(a show hardly lacking in eye-popping oddities) was a piece of biscuit, almost 90 years old, preserved in a holder. Mark Ford explains the origin of this artefact in his biography
Raymond Roussel and the Republic of Dreams
:
Camille Flammarion was an extremely popular quasi-mystical astronomer, and one of Roussel's most venerated heroes. An intriguing item of Rousseliana survives as testimony to his admiration. In the mid-1930s Dora Maar, best known as Picasso's lover and the subject of many of his paintings, purchased in a Parisian flea market a small, star-shaped glass box containing a star-shaped fragment of biscuit. A label attached declares: 'A star originating from a lunch I attended on Sunday, 29 July 1923, at the Observatory at Juvisy with Camille Flammarion presiding. Raymond Roussel.' For a time this fetishistic object was in the keeping of Georges Bataille, who wrote of it in
André Masson
(first published 1940, reprinted in
Oeuvres complètes
, Paris: Gallimard, 1970): '[The star] did not belong to me, but it remained in my drawer for several months, and I could not speak of it without feeling troubled. Roussel's obscure purpose appeared to be closely connected to the fact the star could be eaten; he obviously wanted to appropriate to himself this edible star in a manner more important and actual than simply by eating it. This strange object signified for me the way in which Roussel had achieved his dream of eating a heavenly star'.
The catalogue to the Reina Sofia exhibition largely echoes this account, though it maintains that it was in fact Georges Bataille who discovered the object and passed it on to Dora Maar. Now this illustrious morsel is the subject of a new opera by David Toop, premiering next week as part of
Faster Than Sound
, Aldeburgh Music's experimental sibling. The composer has more on the piece
here
, including the bewildering range of elements and influences which inform it:
Voices are everywhere: the sotto voce comments and responses of singers to the main voice, along with recorded whispers, low voices and murmurs are heard all through the piece as an undertow that interweaves with sung voices, a confusion of stories, invisible presences, angels and devils, interior monologues and passages quoting either directly or obliquely from Dora Maar, and from other stories of island exile and haunting such as Defoe's Robinson Crusoe and Shakespeare's The Tempest; from Mary Shelley's Frankenstein, Edgar Allan Poe's The Narrative of Arthur Gordon Pym of Nantucket; Zeami's 15th century Noh play Tsunemasa; writings by those associated with Dora Maar, including Jacques Lacan, Pablo Picasso, Jean Cocteau, Andre Breton and Georges Bataille; by anthropologists and artist-explorers such as William Seabrook, Maya Deren, Henri Michaux and Antonin Artaud, by authors such as Vernon Lee, Virginia Woolf, Joseph Conrad, Marcel Proust and James Joyce, from Hans Anderson's The Snow Queen and Peter Davidson's book, The Idea of North, and from Benjamin Britten's Parable for Church performance, Curlew River. These fragmented texts set up polyphonies, interruptions, implications, interrogations and choruses out of which the live voices emerge. -
How do you write an opera? Aldeburgh has the answer
A pioneering project is helping young – and not-so-young – composers get to grips with the challenges of writing an opera. Rule number one: collaborate, collaborate, collaborate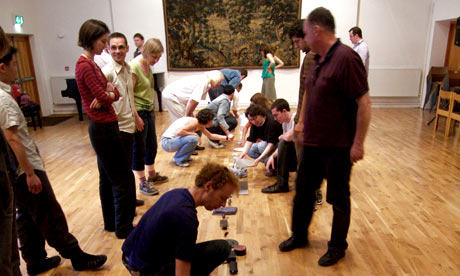 David Toop has a spring in his step. "What a day," he says, looking out over a sea of billowing reeds sweeping out to the Suffolk horizon. "I feel I've achieved more in these past three days than in the last three months. Today is perhaps the most productive day I've ever had."
It's only lunchtime, too. Toop, a pioneering figure in the field of sound art and the author of two critical surveys of hip-hop and experimental music, is working on an
opera
. "Well," he says, "a kind of opera – but if you'd asked me a few years ago whether I thought I would ever be writing an opera, I would have said no. More than no, in fact."
The kind-of-opera in question is provisionally entitled Star-shaped Biscuit, a work for three singers, a handful of instrumentalists and computer loosely based on the story of Dora Maar. Maar, a painter and photographer as well as Picasso's lover for much of the 1930s, possessed a star-shaped biscuit box that – together with a fragment of the original contents – became something of a fetish object in surrealist circles. The opera relates her efforts to reconcile her sense of identity with the manipulation of it by others, the star shape symbolising the web of relations and Maar's efforts to draw them to a coherent centre.
Toop's enthusiasm for the project is partly thanks to his participation in
the Jerwood Opera Writing programme
, which is hosted by
Aldeburgh Music
. The organisation works year-round to promote music-making, education and performance in this area of coastal Suffolk – best known for the Aldeburgh festival, which for three weeks each June attracts the great and the good of the international
classical music
world. The festival was founded by Benjamin Britten and Peter Pears in 1948; their intention was partly to foster a renaissance in English opera.
Now, their dream seems finally to be coming true. "The programme is unique," says Jonathan Reekie, Aldeburgh Music's director and the controlling mind behind
the buzzing "creative campus" at Aldeburgh
, a cluster of rehearsal spaces and performance venues that now run through the former Victorian maltings at Snape. "There are other places where you can go and workshop classical music, but with opera it's exceedingly rare. What's unique about our programme is the opportunity it affords for the fellows to workshop intensively as well as sample the experiences of others. They are really being provoked into thinking about what opera is, why it's needed."
Getting the shows on the road
Reekie developed the Jerwood Opera Writing Fellowships in response to the difficulty most young – and not-so-young – composers face in trying to write for the form, and the consequent dearth of new works in the UK. Only a handful of new operas make it to the stage each year, and even then new work is usually consigned to the smaller auditoriums, such as the Royal Opera's Linbury Studio or Glyndebourne's Jerwood Studio. It doesn't take long to figure out why. It's hard enough for playwrights to come up with a text and get it on stage, even in a homemade production, and infinitely harder if your project involves live music and trained singers.
"The economics of opera production are really not geared towards the financial risks involved in commissioning new work, training the cast, setting up the production, staging what could well be only a handful of shows," says Reekie. Even well-established composers find that commissions are extremely scarce.
Which is where the Aldeburgh scheme comes in. It offers composers the opportunity to see and hear their pieces while they are still in development. Composers, librettists and others selected for the fellowship receive year-round support in developing their projects, and are invited to Snape for a number of week-long residencies during which they receive both formal and informal guidance. They're able to try out sections of the work with a team of players, singers and technical staff assembled for the purpose.
Elspeth Brooke, a young composer, says she has been wanting to write an opera for years, but couldn't have done it without something like this. "The idea of working on something for a whole year without really knowing whether it fits together, and what it's really going to look like, is a terrifying leap of faith," she says.
In Brooke's case, the question of what the finished work is going to look like is particularly crucial: her project is a collaboration with video artist Ellie Rees and poet Jack Underwood. Underwood's libretto, based on a poem by Michael Donaghy called The Commission, is about a Florentine Renaissance artist who decides he must cut off the head of the man who murdered his brother.
"I wasn't really au fait with the world of opera when we started to discuss the project," says Underwood, "but I wanted to shock Elspeth with a big, stomping murder thriller. The first-person narrative also gives it a very film noir-ish, Robert Mitchum flavour, which is a bit of a dream for a video artist."
Video projection has increasingly become standard for many opera directors, but The Commission is different: the video is completely integral. Much of the action will take place on screen, or behind it, using shadow projections. The visual and musical styles are strongly reminiscent of film noir. And, strikingly, the entire set will be portable – meaning the show can be staged practically anywhere.
Reekie sees it as one of his many missions to free opera from the constraints of the traditional opera house. He has invited the Italian composer Giorgio Battistelli to lead the Jerwood programme. A former student of Stockhausen and Kagel, Battistelli has written nearly 20 operas on subjects ranging from Diderot and d'Alembert's Encyclopaedia to Mary Shelley's Frankenstein. His latest project, based on Al Gore's An Inconvenient Truth, is due to open at La Scala in 2013.
Besides offering practical advice, Battistelli's role is to make sure everyone involved is certain that what they really want to write is an opera – which, in his understanding means sowing doubt, teasing out problems in the work. "Opera is the enemy of certainty. It should be all about impurity," Battistelli says. "It's one thing to know how you might go about setting a drama to music, but quite another to know why the drama you want to set should be an opera."
The importance of impurity
Impurity – or at least compromise – has always been essential to opera. Its history has been marked by power struggles between composers, librettists, directors, singers and impresarios – who, in the 17th and 18th centuries, were very much in charge. Mozart's famous complaint to his father in 1781 that "music should reign supreme" in opera was born of frustration with the status quo. Only in the 19th century would composers begin to assert themselves as being in charge of the whole process.
Certainly, Brooke, Rees and Underwood all see themselves as equal partners, whose separate spheres of knowledge and experience intersect in a collaborative project. "It's absurd when composers insist on writing their own libretti," says Brooke. "I mean, I wouldn't expect Jack Underwood to write the music." Underwood, who admits he scraped a pass at Grade One trumpet, seems relieved. "I do worry that at any given moment my ignorance will expose me," he says. "But I feel I perhaps have a more objective view of the piece – of what the musical setting can do for our story as a whole."
Rees, too, has been involved right from the start, even to the extent that one of the characters will have an exclusively pre-recorded video presence. Does that mean it's still an opera? "It is an opera," says Rees, "but one that we hope will bridge some of the gaps between opera, traditional theatre and film."
Battistelli, for one, seems impressed. I ask him if he doesn't think the idea is artistically compromised. "Not at all," he says. A grin spreads as he rises slowly to his feet. "This is a very strong piece. Full … of impurities."
Blog Davida Toopa
Starije stvari Davida Toopa:
David Toop: Ocean zvuka: eterični govor, ambijentalni zvuk i imaginarni svjetovi
[ulomci knjige Ocean of Sound: Aether Talk, Ambient Sound, and Imaginary Worlds. Serpent's Tail : London, 1995.]
U svojem blistavom romanu o subkulturi Južne Kalifornije, Dražba predmeta 49 (iz 1966.), Tomas Pynchon pretkazao je da će ljudske glazbenike zamijeniti digitalna tehnologija. Slušajući muzak u pizzeriji, protagonist čuje kako jedan violinist svira loše. «Mogli bi se riješiti te žive glazbe», predlaže on. «Spojiš sve prave frekvencije sa svim pravim jačinama zvuka i stvar će zazvučati poput violine».
Pynchon je također predvidio svijet gdje se ljudi mogu napiti u klubovima s elektroničkom glazbom, a iz džuboksa sviraju ploče Stockhausena.

«Znaš, mi smo jedini bar u okolici sa striktno elektroničkom glazbenom politikom», hvali se vlasnik bara «The Scope» u predgrađu Los Angelesa. «Ako dođete subotom, oko ponoći imamo Sinewave Session, to je tulum uživo, ovdje dolaze ljudi iz cijele države... Imamo čitavo spremište puno audio-oscilatora, uređaja za specijalne efekte, kontaktnih mikrofona, svega, čovječe».
U romanu Sprudovi Vermiliona [Vermilion Sands] (iz 1971.), J. G. Ballard je veličao dokoličarsku, artificijelnu, jednolično i ambijentalno ozračje u svojem prikazu pustinjskog utočišta. Među tim idiličnim užicima Sprudova Vermiliona su i koro-cvjećari [choro-florists] koji prodaju biljke koje pjevaju i zvučne skulpture koje rastu na grebenima. Potonji su inkorporirani u komercijalno dostupne pjevajuće kipove. Pripovjedač, zvučni skulptor, vara jednog od svojih kupaca umnažajući interaktivne senzorne mehanizme kipa presnimavanjem. Zatim otkriva da je kip kod bogatog kupca poprimio osobine proroka, poput zrcala ili kristalne kugle. «Za jednog sutona otišao sam do pješčanog grebena na kojemu je izrasla ta zvučna skulptura», kaže skulptor, osjećajući se praznim kad je shvatio što se dogodilo nakon što je prodao svoju krivotvorinu. «Kad sam se približio, grebeni su škripali na vjetru kadgod bi ih presjekli toplinski valovi. Popeo sam se na te visoke obronke, slušajući ih kako mijauču i cvile, tražeći neki koji bi poslužio kao zvučni predložak za novi kip».
Zapanjujuće svjestan evolucijskih veza između mehaničkog klavira i simulakruma, roman Philipa K. Dicka Možemo vas izgraditi [We Can Build You], (iz 1972.) započinje u Oregonu, u glavnom uredu imaginarnog proizvođača glazbenih instrumenata koji zaostaje u tehnologijskoj utrci. Njegovi konkurenti, Hammerstein i Waldteufel, izrađuju instrumente s tipkama koji koriste istraživanja o funkcijama mozga i izravno stimuliraju hipotalamus. Pripovjedač u knjizi, zadubljen u raspravu sa svojim partnerom u tvrtci, skeptičan je. «Poput većine ljudi», kaže, «malo sam prtljao po tipkama Hammersmith Mood-harmonija, i uživao u tome. Ali u tome nema ničega kreativnog. Istina, možeš smisliti nove konfiguracije stimuliranja mozga, i tako proizvesti potpuno nove emocije u svojoj glavi koje se inače nikada ne bi pojavile. Čak možeš – teoretski – dobiti kombinaciju koja će te dovesti u stanje nirvane. Obje korporacije, i Hammersmith i Waldteufel, dobile su za to veliku nagradu. Ali to nije glazba. To je bijeg. Tko to želi?»
Više od dvadeset godina poslije, na kraju 20. stoljeća, grohotom se vraća zaglušujući odgovor: «Mi to želimo».
A na kraju 19. stoljeća, pariški pisac, službenik i mađioničar-amater Joris-Karl Huysmans istražuje fin de siècle-ovske ideje o zamjenskom (ili virtualnom?) životu i neurotičnom esteticizmu posredstvom lika nazvanog Des Esseintes. Roman Nasuprot [A Rebours], iz 1884.) prati Des Esseintesa u njegovu dekadentnom uranjanju u miris i boju, okrutnost i erotizam, orijentalizam, sve rafiniraniju i rafiniraniju prehranu i sve neobičnije užitke. U jednoj sceni, prerađuje on odlomak iz Iskušenja Svetog Antuna Gustavea Flauberta, postavljajući prizor s dvjema

minijaturama – sfingom i himerom – u mračnoj spavaćoj sobi. Ležeći i snatreći, sluša kako trbuhozborka pjevajućim glasom ponavlja dijalog, «poput glasova iz drugog svijeta», između tih dviju rezbarija. «Tražim nove miomirise, veći cvat, još neiskušane užitke», mrmlja, i Des Esseintes zamišlja da su Flaubertove riječi upućene izravno njemu, pojačavajući njegovu «žudnju da pobjegne iz užasne zbilje života». Prizor završava, naslućuje se, u seksu, ali trbuhozborka ne dijeli taj užitak.
Nakon čitanja Charlesa Dickensa, Des Esseintes odlučuje otputovati u Englesku. Pripremajući se za odlazak brodom, beskrajno se izmotava, rastežući se između kulinarskih i literarnih okusa u gostionicama, naposljetku odlučivši da je zbilja razočaravujuća u usporedbi s umjetnošću. Njegovo putovanje završava u Parizu. «Naposljetku», razmišlja, «zašto bismo se kretali, kad čovjek može tako veličanstveno putovati sjedeći u fotelji?» Dakle, couch potato, sofa surfer, virtualni nomad je rođen.
Premda Des Esseintes više apsorbira negoli kreira, on se igra svojom okolinom. Ali suptilnost te igre koju želi postići nadjačana je tromošću izvedbe. Utjelovljujući trijumf materijalizma nad eteričnim, kornjača je ukrašena i optočena neobičnim draguljima kako bi pojačala pokretni kontrast prema duginim bojama orijentalnog saga. Razumljivo, pretovarena životinja ukopava se u samotnome mjestu. Des Esseintes stapa glazbene analogije sa sićušnim kapima likera iz raspršivača, kako naziva svoju usnu harmoniku, izmišljajući čitave ansamble iz sinestezijskog spoja suhog curaςaoa i klarineta, likera od anisa i flauta, džina i korneta. Nakon mnogo vježbe, mogao bi iznova stvoriti kompleksne glazbene kompozicije na svojem jeziku.
Druga njegova aktivna vještina, ili opsesija, jest manipulacija mirisima. «Naposljetku, kaže, nije abnormalnije imati umjetnost koja se sastoji u izabiranju miomirisnih fluida nego imati druge umjetnosti zasnovane na izabiranju

zvučnih valova...» Tako, u sve većem uzbuđenju, u svojoj garderobi slika on epsko platno sastavljeno od zbunjujućeg niza egzotičnih čajeva, delikatnih parfemskih sprejeva, raspršenih kapljica mirisa i utrljanih kuglica

miomirisnih supstancija. Konačni učinak njegove orkestracije je drastičan. Dok provjetrava prostor, drugi mirisi nahrupljuju nazad poput stalno prisutnih srednjovjekovnih duhova. Preopterećen i potlačen vlastitom umjetnošću, Des Esseintes naposljetku onesviješćen pada sa svoje prozorske daske.
Djelo Nasuprot pomiješalo je zapažanja, često satirična, o umjetničkom i društvenom ozračju toga razdoblja s Huysmansovim vlastitim pustolovinama u imaginalnoj ezoterici. S jedne strane, postojali su performansi poput spektakla totalne umjetnosti Paula-Napoleona Roinarda Cantique des Cantiques, koji je 1891. postavio Paul Fort u Theatre Moderne, pred publiku u kojoj su bili i Debussy i okultni pjesnik Joseph Péladan. Ta je poezija bila proširena

glazbom, projekcijama boja i, prilično bezuspješno, raspršivanjem parfema s kazališnih loža i balkona. U blizini ureda za prodaju karata izbijale su tuče i ispaljeni su meci. S druge strane, Huysmans je bio pod utjecajem francuskih okultista poput Abbé Boullana. U izvjesnom smislu, našao se uhvaćen u magijskom ratu. Usprkos tome što se branio čudesnom vojskom, tvrdio je da dok spava po glavi dobija «fluidne udarce».
Neke od ovih ezoterijskih aktivnosti odražavaju želju za «još neiskušanim užicima» svojstvenu našem vremenu. «Priča se o 'sofisticiranom životu'», napisala je talijanska povjesničarka dizajna Claudia Donà 1988. u svom eseju «Nevidljivi dizajn» [«Invisible Design»], «o 'renesansi suptilnosti', o 'mekom' i 'grubom' dizajnu, o 'fluidnim' objektima, čiji novi, 'sugestivni' užici, povezani s mirisima ili zvukovima ili svjetlima, zamjenjuju stara vrednovanja estetske forme ili korisnosti. Priča se o objektu budućnosti kao o nečemu rasplinjujućem, laganom, psihičkom; o bestjelesnom objektu koji je srodan slikama ili hologramima. Uoči 21. stoljeća, vidimo eru koja je usredotočena na izoštravanje osjeta – taj je razvoj potaknut sve

destrukturiranijom upotrebom jezika koja će međutim uvesti nove harmonije.»
Funkcionalizam i neizrecivo susreću se u zraku. Podsvjesna materija izmamljena je na svjetlo istom onom prepredenošću koju je primjenjivala šamanka Ame-no-Uzume-no-Mikoto (Božanski Alarmirajuća Žena), koja je, kako nam to prenosi japanski mit iz 8. stoljeća, plesala lascivno i napadno da bi izmamila zlovoljnu boginju sunca da izađe iz špilje i još jedanput svjetlošću okupa svijet.
Brian Eno, poznatiji po svojim uspješnim glazbenim produkcijama bendova poput U2, nego po svojim umjetničkim instalacijama, u Hamburgu je stvorio djelo pod naslovom «Budućnost će biti poput parfema» [«The Future Will Be Like Perfume»]. Naslov ovog rada, izloženog u veljači 1993., bio je jasan pokazatelj eteričnosti suvremenog iskustva. Osim toga, Eno je objavio i Neroli [Thinking Music Part IV], šturi album čak i za njegove standarde. Ovo djelo, izvorno snimljeno za instalacije koje je postavio 1988. a koje traje gotovo sat vremena, nazvano je prema

mirisu cvijeta naranče i povezano je s njegovim opuštajućim, osvježavajućim svojstvima koja bistre ûm. «Prvobitno nisam imao namjeru ikad objaviti ovu stvar», objasnio je Eno, «i napravio sam je poput studije. Otkrio sam da je vrlo često slušam kad pišem ili sjedim i čitam. Nikada o njoj nisam razmišljao posebno kao o glazbi.

Mislio sam da stvara ugodan prostor za razmišljanje». Paradoksalno, sám Eno nije prepoznao glazbenu vrijednost Nerolija sve dok komad nije objavio na kompaktnom disku. Tu nastaje kontradikcija.
1994-e, Eno je održao predavanje uz instalaciju sa slajdovima u Sadler's Wells Theatreu u Londonu, pod nazivom «Parfem, obrana & vjenčanje Davida Bowieja» [«Perfume, Defence % David Bowie's Wedding»]. Guardian ga je u svojoj kritici nakon tog događaja nazvao «kraljem korijandera». Među ostalim zapažanjima i opisima danim tijekom Parfemskog dijela predavanja rečeno je i ovo:
«Maslac od irisa, složeni derivat korijena irisa, neodređeno je cvjetan u malim količinama, ali je u većoj količini gotovo besramno puten (poput mirisa ispod grudi ili između guzova), ili Cibet, koji se dobiva iz analne cibetkine žlijezde, a intenzivno je neugodan čim ga osjetimo, ali zapanjujuće seksi u neznatnim količinama».
Analni mirisi: u kakvoj su oni vezi s kulturnim pomakom?
1975-e, Eno je u svojim intervjuima počeo govoriti o mogućnosti da se glazba podmetne u odabrano okruženje poput neke vrste parfema ili nijanse. Pišući za kratkovječne novine Sreet Life u 11. mjesecu 1995., nakratko se dotaknuo promjene u ponašanju slušatelja: «Vjerujem da se krećemo prema vremenu kad ćemo glazbu i snimljeni zvuk koristiti na brojne načine na koje danas upotrebljavamo boju – moći ćemo je jednostavno upotrebljavati za nijansiranje okoline, moći ćemo

je upotrebljavati 'dijagramatički', ili za modificiranje svojih raspoloženja na gotovo subliminalane načine. Predviđam da će koncept 'muzaka', kad jednom odbaci svoje konotacije zvučnog smeća, moći uživati nov (i vrlo plodan) život». 1978-e, Eno je ove ideje oblikovao u manifest. «Ambijent je definiran kao ozračje», napisao je za omot ploče Music For Airports, «ili kao utjecaj okruženja: nijansa. Moja je namjera proizvesti uglavnom (ali ne isključivo) originalne skladbe za određene trenutke ili situacije u cilju stvaranja malene ali svestrane zbirke okolišne/ambijentalne glazbe prikladne širokom rasponu raspoloženja i ozračja». Ali ideja je bila istaknuti «akustičke i atmosferičke osebujnosti», a ne prigušiti ih Muzakom

Ò

. «Namjera ambijentalne glazbe jest stvoriti smirenost i prostor za razmišljanje», zaključuje. «Ambijentalna glazba mora biti sposobna prilagoditi se mnogim razinama slušateljske pažnje tako da ne nameće ni jednu od njih: mora biti podjednako neupadljiva i zanimljiva».
Upravo ova posljednja izjava bila je nešto što anatemiziraju oni koji vjeruju da bi se umjetnost trebala usredotočiti na naše osjećaje, na našu visoku inteligenciju, zauzimajući središte pažnje, izdižući nas iznad svjetovnog okruženja koje opterećuje naše duše. Ipak je Eno, kao što se to često događa kad netko prepozna pravi trenutak, predvidio pokret koji je već postojao. Mjerljiva, razumljiva pripovijest

o samodovoljnim, iznimno složenim, emocionalno angažirajućim zvukovnim objektima bila je razorena projektilima ispaljenim sa svih strana umjetničkog i tehnologijskog kompasa. Njegove riječi bile su važne za prenošenje ovog trenda prema otvorenim djelima u područje dizajna (čak i društvenog dizajna) i popularne glazbe. Nakon što je umjetnost postala dizajnom, ili još bolje, pop-dizajnom, dizajnerskim popom (ili bilo kojom drugom permutacijom), radikalna se ideja mogla

preokrenuti u medijski događaj.
U izvjesnome smislu Thomas Pynchon, J.G. Ballard i Philip K. Dick pretkazali su Briana Enoa: Pynchon sa svojom predodžbom elektroničkog zvuka kao ambijentalne zabave; Ballard sa svojim scenama iz Sprudova Vermiliona sa skulptorima oblaka i prodavačima zvučnih kipova; Dick sa svojom sanjarskom glazbenom tehnologijom.
A, kao u mnogih pisaca znanstvene fantastike, u središtu njihovih spekulacija nalazi se niz današnjih činjenica. Pozadinska glazba je posvuda, većinom pažljivo izabrana kako bi odražavala suptilne plemenske i klasne podjele u utrci za lagodom: u hi-tech restoranu svira jazz snimljen između 1955-1965.; u drvenom baru s posterima svira takozvana roots i world-glazba; u pubu svira pop iz 70-tih; indijski restoran pušta pjesme iz bollywoodskih filmova; u nešto skupljem indijskom restoranu slušaju se Enya, Sade, Kenny G, možda čak i The Orb; u kafiću tematskog parka za obitelji sviraju standardni hitovi prije 1987., u Muzak-stilu 1001-žice, i tako dalje. Kablovska televizija leprša na rubu vizije; beskonačne petlje New age-glazbe ponavljaju svoja umirujuća arpeggia u vodenim zabavnim parkovima kako bi pratili lebdenje i prevrtanje râža; duboki bas i bas-bubanj jako glasnog junglea iz automobila poput buldozera čiste zrak ispred sebe u promjeru od 50 metara; glazba pluta uokolo u eteru World Wide Weba, čekajući da bude skinuta, nadajući se da će popričati s nekim.
Opći nedostatak dubokog sudjelovanja u svim tim podražajima je razoružavajući, upozoravajući ili fascinantan. To ovisi o vašem raspoloženju, vašem gledištu, o tome jesu li vaši uvriježeni interesi vezani za proizvode i čvrste vrijednosti ili za nevidljivu, neopipljivu, novonastajaću, promjenjivu komunikaciju. «Ukratko, mi smo», Eno nastavlja svoje parfemsko predavanje, «sve više ne-usredišteni, ne-usidreni, živimo od dana do dana, zaokupljeni stalnim pokušajima da zajednički skrpamo vjerodostojan, ili barem upotrebljiv sustav vrijednosti, spremni da ga odbacimo i stvorimo drugi kad to bude zahtijevala situacija. Uviđam da sve više uživam u tome, promatrajući kako svi postajemo diletantski sastavljači mirisa radoznalo čeprkajući po toj velikoj knjižnici sastojaka i uviđajući koje kombinacije za nas imaju nekakva smisla – prikupljajući iskustvo – mogućnost boljeg procjenjivanja – ne zahtijevajući sigurnost».
U Oceanu zvuka nastojim istražiti taj proces zahvaljujući kojemu je zvuk (zapravo glazba) počeo izražavati tu naizmjenično dezorijentiranu i nadahnjujuću otvorenost u kojoj se sve ono što je čvrsto rastapa u eterično. Ljudi pričaju o komunikacijskim zvukovima kitova-ubojica kao o glazbi, ili o potrazi za već dugo odsutnim životinjskim odjecima u prethistorijskim oslikanim špiljama; o snimkama na kojima se čisti šum, minimalizam ili ne-narativna strujanja koriste i prodaju poput neke vrste pop-glazbe; o klubovima u kojima se na periferni status glazbe, njezin ekstremni eklekticizam, ili na njezinu cut-up raspršenost, gleda kao na osnaženje okruženja; o glazbi koja je odsječena i zalijepljena na debele slojeve naoko nespojivih zvukovnih događaja; o glazbi koja je napravljena od privatnih telefonskih razgovora ukradenih iz etera (i «privatnih» života) pomoću ručnog skenera; o glazbi koja istražuje jezik fizičkih osjeta; o glazbi u kojoj prevladavaju praznina, ambijentalna strava ili blaženstvo, spokoj ili gotovo-tišina, krajnji minimalizam, ili prostrani krajolici, tropsko ili polarno ozračje u koje se slušatelj/ica sam/a može ubaciti, zauzeti najistaknutije mjesto, satima lutati tim imaginarnim prostorom.
U eseju iz 1989. naslovljenom «Zašto minimalizam sada?» [«Why Minimalism Now?»], Claire Polin je usporedila pojavu minimalističkog glazbenog žanra, posebno glazbu La Montea Younga, Terryja Reya, Philipa Glassa i Stevea Reicha, s američkim minimalističkim slikarstvom kasnih 50-tih i ranih 60-tih godina što ga najbolje ilustriraju ogromne ploče prigušenih boja Marka Rothka i crna platna Ada Reinhardta. Citira ona Reinhardtov prikaz nove estetike: «nema teksture, nema crteža, nema svjetla, nema prostora, nema pokreta, nema objekta, nema subjekta, nema simbola, nema forme... nema užitka, nema boli». I nastavlja: «Sljedbenici, poput Olitskog, proizveli su djela bezimenih blistavih miješanih boja koja su izgledala kao da plutaju u beskrajnom prostoru, ili u besprostornom beskraju, pozivajući se na Pascalove riječi: 'Tišina beskonačnog prostora ispunjava me stravom'.
Čovjek ovdje osjeća iscrpljenost ljudskog duha, želju da pobjegne u zagrljaj mira, da pobjegne od pritisaka frenetičnog, neskladnog svijeta, svijeta koji, prema Carlu Andréu, 'sadrži previše stvari, i sada zahtijeva nekakvu prazninu, nekakvu tabulu rasa'».
Taj zanos praznine može nas napasti između polica supermarketa, dok čekamo u redovima, zaglavljene u prometu, dok jurimo autocestom, gledamo televiziju, radimo zatupljujući posao, telefoniram, jedemo u restoranima, čak i dok vodimo ljubav.

Jack Gladney, pripovjedač u romanu Dona DeLilloa Bijeli šum [White Noise], čuje «sablasno statičko» isparavanje iz ladice svojega hladnjaka. Taj ga zvuk navodi na razmišljanje o uspavanome životu, koji se kreće na granicama svijesti. On traži sigurnost, unatoč tomu što je se boji, u moru promjenjivih, irelevantnih informacija. Svaku večer s nadvožnjaka promatra kako se raspleće drama spektakularnih, toksički izazvanih zalazaka sunca. «Nek' dani budu besciljni», govori sam sebi. «Nek' godišnja doba prolaze».
Praznina – u najboljem slučaju muk iz kojega se, ispravno ili pogrešno, naslućuje politička pasivnost; u najgorem slučaju, tupost koja je potvrđuje – može biti jedan od aspekata gubljenja sidra, kruženja oko praznog središta bez obzira na to o kakvim se okolnostima radilo.
Ali otvorenost, drugi simptom takvih okolnosti, može biti još znakovitija. Glazbenici su uvijek krali, posuđivali, razmjenjivali ili nametali utjecaje, ali u posljednjih sto godina glazba je postala nezasitna u svojoj otvorenosti – u izvjesnom smislu vampirska, kolonizatorska u svojoj fanatičnoj eksploataciji, nemirna, bez središta, ali isto tako traži ona da bude uobličena i obogaćena novim inputom i prijenosom darova.
Sve veći broj glazbenika stvara djela koja pokušavaju postići prozirnost vode, nastoje slijediti putovanja telematskih nomada, uhvatiti raspoloženja i ozračja, tišinom oni uništavaju kaos i zagađenje bukom, usredotočuju se na zvučne mikrokozmose, upijaju u sebe citate i digitalne snimke zvuka, izbjegavaju formu u korist impresije, smišljaju sintetičku divljinu u laboratorijima, nadugo i naširoko istražuju ograničeni raspon zvuka ili pojedini tehnologijski proces, nastoje izazvati psihološku promjenu radije nego slijediti intelektualnu krutost, ili opisati nemoguće, imaginarne ambijente ljepote ili strave. Glazba je to koja teži ka miomirisnom stanju, glazba koja traga za novim odnosima između stvaratelja i slušatelja, stvaratelja i stroja, zvuka i konteksta. Glazba koja odvodi slušatelja u pomičnu zonu koju je Peter Lamborn Wilson opisao kao «sveto strujanje [sacred drift]», kao oblik imaginalnog putovanja «tijekom kojega će krajoliku još jednom biti pridano značenje, ili bolje rečeno, oslobodilačka estetika».
Različiti oblici takve glazbe bili su nazivani, više ili manje prikladno, ambient, okolišna glazba [evironmentalg, deep listening, ambient techno, ambient dub, elektronika, elektronička glazba za slušanje [electronic listening music], izolacijska, post-industrijska ambijentalna, svemirska glazba, lijepa glazba, umjetnost zvuka [sound art], dizajn zvuka, elektronička glazba bez ritma, glazba moždanih valova, slikovna glazba, ambient jungle, steady-state-glazba, sveti minimalizam, Četvrti Svijet, New Age, chill out, ili je bila obilježavana beskorisnim izrazom koji bi obuhvaćao sve navedeno - nova glazba. Ali ni jedna žanrovska kategorija ne donosi mnogo više od medijske kratice ili marketinškog trika. 'Otvorena glazba' mogao bi biti mnogo korisniji sveobuhvatni naziv za to o čemu govorim, ako izuzmemo činjenicu da je dio ove glazbe, koji je ponekad velik, hermetički zatvoren, zakopčan u mrmoreću Om-zonu bestjelesnog sanjarenja koje je otporno na upletanje i tiho pucketa iz pozadine hladnjaka.
Ukoliko vam je Zemlja dosadna: Putovanja kroz vanjsku

imaginaciju sa Sun Raom
…klasičan primjer znanstvene fantastike je sljedeći: nadmoćni izvanzemljani žele probuditi svijest ljudskih bića zato što nered koji stvaramo prijeti ravnoteži Svemira, pa oni odašilju tajno znanje na mjesto na kojemu su vibracije ispravne.
Amerika, posebno Amerika, puna je ekscentrika, psihodeličnih vizionara, teoretičara urote i usamljenih luđaka koji se proglašavaju duhovnim vođama crkava iz kataloga, koji izlijevaju filozofiju o energetskim strujama ludila kanaliziranim izravno iz prolazećih NLO-a, predviđajući propast svijeta, povratak Zlatnog Doba. Što Sun Raa čini drukčijim? Djelomično je to njegova duhovita samosvijest. Ra je u jednoj od svojih suhoparno privlačnih pjesama tvrdio da se kraj svijeta već dogodio i prošao, dakle znao je kako se poigrati pravilima apokalipse.

Osim toga, odgovarao je traženom profilu

- narodni prorok koji je posložio svoje samonaučeno znanje u suludi kolaž duboke mudrosti, laskanja i glosolalija. Glazba mu je sadržavala slične kontradikcije - u jednom trenutku na Saturnu, u sljedećem ponovo na Zemlji u burlesknom baru u Chicagu. To iracionalno razmimoilaženje bilo je zbunjujuće europskim intelektualnim mističnim kompozitorima poput Karlheinza Stockhausena. «Bilo je tako snažno», oduševio se u Melody Makeru Stockhausen nakon gledanja izvedbe Sun Raa, 1971. godine.

«Kažem vam, u prvih dvadeset minuta radilo se o

prvoklasnoj avangardnoj, eksperimentalnoj glazbi koju nije moguće kategorizirati.

Bila je nevjerojatno asimetrična!... Ali nakon tog dijela uslijedila je nekakva salonska razvodnjena glazba. Uopće mi se nije svidjela. Nekakva jeftina, filmska glazba».
Jednoga će dana Sun Ra možda biti uklopljen u mistično-političke podstruje afroameričke misli uz Marcusa Garveyja i osnivača Moorish Science Templea s turbanom na glavi, proroka Noble Alija Drewa. U knjizi Ozbiljno kao tvoj život [As Serious As Your Life], Valerie Wilmer je zapisala da je Ra predvodio nacionalističku organizaciju s bazom u Chicagu i raspačavao pamflete o važnosti elektroničke tehnologije, a postoje i glasine o njegovu utjecaju na ideje Elijaha Muhammada, osnivača Naroda islama. Wilmerova prenosi i priču koju je ispričao saksofonist Red Holloway, koji se sjeća kako je Sun Ra planirao ići u New York kako bi kupio neke knjige, ali je, poput Des Esseintesa, shvatio da fizičko putovanje nije potrebno. «Rekao je da je samo poslao svoje tijelo...», Holloway je ispričao Wilmerovoj, »svoju – ah, zaboravio sam riječi koje je upotrijebio - astralnu projekciju? Da, tako je. I rekao je da je dobio informacije koje je tražio». Kad bi se ostali nasmijali, Holoway bi ih izazvao pitanjem: «No, možete li dokazati da nije rekao istinu?».
Ismijavan, ponižavan, patroniziran ili otpisan iz jazz-tradicije, strpljiv u svojoj ulozi nepoželjnog proroka, Sun Ra je vjerovao u trenutak otkrivenja, gromovitog preobraćenja. «Vidio sam situacije u kojima su ljudi mogli...», zijevne, udari u stolić dovoljno snažno da zagluši sljedeću riječ, «...u sekundi, samo jedan akord. Sreo sam frajera u Chicagu koji se zvao Sharkey. Išao je na audiciju. Sjedio je u kabini s glavom na stolu. Tada nisam znao da je bio toliko nadrogiran. Kažem vam, ni jedan drugi instrument nije ga mogao probuditi. Ali čim sam zasvirao, uspravio se i rekao: 'Tko je tamo?', zatim je ustao, samo zbog toga».
Onaj dio poruke koji Stockhausen nikada ne bi razumio dolazi iz Raova iskustva Crnca u Americi. «Zbog segregacije», jednom je napisao, «imam neodređeno znanje o bjelačkom svijetu i to je znanje površno. Zato što znam više o crnom, nego o bijelom, znam svoje potrebe i prirodnost. Znam da je moja intuicija biti ono što je prirodno biti - to je svugdje zakon prirode». Zvukom, svjetlom, riječima, bojama i kostimima, Ra je stvorio dirljivu, svjetlucavu halucinaciju staroga Egipta, dubokog prostora, kraljevstava Afrike - Nubie, Ashantia, Hausa, Yoruba, Mandinka, Songhaia, Sudana, Malia, Malinke, Xhosa - povijest budućnosti kojom se borio za duše svojih ljudi protiv nasljeđa ropstva, segregacije, droge, alkohola, apatije i korupcijske moći kapitalizma.
Izvanrendan film napravljen 1974. godine daje nam najčistiji prikaz Sun Raove percepcije vlastite svrhe i odražava mnoge mitsko-poetske elemente njegova života. Film Space Is The Place, jedinstven kao kozmička blaxploitation biblijska znanstveno-fantastična maštarija, započinje u čikaškom klubu 1943. godine. Ra svira klavir u sklopu klupskog programa. Čovjek zvan Nadzornik zahtijeva njegovo otpuštanje. Ra svira čudne akorde koji zamalo uništavaju klub. Prizor se prebacuje u pustinju, gdje se Ra i Nadzornik upuštaju u magijsku borbu. Ra i njegov Arkestar slete na Zemlju u svemirskome brodu i potpišu promotivni ugovor. Ra biva otet, spašen, zatim odsvira koncert te napušta Zemlju prije nego je uništi ogromna eksplozija. Posebno je razotkrivajući prizor u kojemu Ra posjećuje Centar za mladež. «Kako da znamo da nisi samo neki stari hipi ili tako nešto?» priupita neka žena. «Kako uopće znaš da sam stvaran?» odgovara Ra. «Nisam stvaran, isti sam kao ti. Ti ne postojiš u ovom društvu. Da postojiš, tvoj narod ne bi tražio jednaka prava. Nisi stvarna. Da jesi, imala bi nekakav status među narodima svijeta. Ja vam dolazim kao mit, jer to je ono što Crnci jesu. Dolazim iz sna koji su Crnci davno sanjali».
Povremeno ponovno otkrivanje Raove glazbe poklapa se sa svakom novom fazom svijesti o okolini ili s duhovnom glađu. Njegov opis crnačke kulturne povijesti, uhvaćen kao u snu i projiciran u kozmičko doba, privlači sve one koji žude za životom čarobnijim i dostojanstvenijim od onoga koji žive. Raa nisu obeshrabrivala uzdizanja i opadanja entuzijazma javnosti. «Na ovome planetu su oduvijek odbacivali inovatore», izjavio je. Komercijalne glazbene tvrtke ponekad su sponzorirale snimanja, ali se većina albuma - pretpostavlja se da ih ima

stotine - pojavila pod njegovom etiketom. Etikete poput Thotha i El Saturna uhvatile su sve faze Sun Raovog razvitka. Ali snimke ne mogu izraziti jedinstvenu mješavinu niskobudžetnog spektakla, ozbiljnosti i lukavog humora sadržanog u Sun Raovim nastupima. Sjedeći za velikim klavirom u predvorju svojega hotela, odjeven u halje i šešir koji se najbolje mogu opisati kao inspirativna izvanzemaljska oxfamska moda, uplovljava u dugačka jet-lagged-sanjarenja i improvizira solo-dionicu koja obuhvaća impresionističke nakupine tonova, rapsodične nizove, nagovještaje harlemskog stride piana, izgrađene oko melankolične jazz-balade. Vizija je istodobno apsurdna i dirljiva. Niti jedan drugi glazbenik nije stvorio mit tako nepopustljiva savršenstva.
Terenska snimanja
Uz to što vodi londonski klub The Electronic Lounge, Robin Rimbaud snima zapise zasnovane na građi ilegalno snimljenoj iz telefonskih razgovora putem skenera. Zvukovi, ozračje i ponekad ritam su dodani, ali jezgru građe čine razgovori među ljudima koji ne znaju da ih netko sluša. Slušati ove snimke je kompulzivno iskustvo. Voajeristički nagon postaje vrlo snažan.
Uz to što razotkrivaju dinamiku interakcije, skeneri također očitavaju nesvjesne žudnje koje prodiru u tkivo običnog razgovora. Neopterećena fizičkom blizinom, nezainteresirana za okolinu, usredotočena na bestjelesni glas, mašta se opušta i dopušta svojim manje društveno uvježbanim navikama da isplivaju na površinu. Slušanje ovih čudnih razgovora istrgnutih iz etera navodi me na razmišljanje o jednoj Lovercraftovoj kratkoj priči koja se zove «Iz onoga svijeta» [«From Beyond»], u kojoj on piše o električnoj napravi koja čini vidljivima «stvorenja koja su sačinjena od onog što bi ljudi nazvali čistim zrakom i plavim nebom» i koja «dolaze sa mjesta gdje su estetski standardi potpuno drugačiji». Priča završava tako da pripovjedač puca u napravu.
«Uvijek su me zanimala terenska snimanja», kaže Robin, «Kad sam bio mlađi, kad sam imao trinaest ili četrnaest godina, vješao bih mikrofone s prozora obiteljske kuće snimajući što se događa vani na ulici. Imao sam sate i sate snimki – ne znam kako biste vi to nazvali. Dobar način da se to kaže jest da skener kartografira grad. Ne želim zvučati kao da sjedim u svojoj maloj utvrdi, prisluškujući sve te skupine ljudi, ali je to poput ucrtavanja kretanja ljudi tijekom

različitih dijelova dana. Prilično je predvidljivo. Rano ujutro je vrlo tiho, puno ljudi zove da bi rekli 'Zakasnit ću na posao' ili 'Vidimo se, ljubavi', sve te dirljive izjave; vrlo brzo se prebacite na radne dužnosti i detaljno ocrtavate sustav i način na koji ljudi komuniciraju. Za vrijeme ručka sve utihne i ljudi zovu svoje prijatelje, poslije toga natrag na posao. Oko šest ili sedam ljudi zovu kući. Ali navečer započinje frka. Tada postaje zaista uzbudljivo jer tada sve ode kvragu. Cijene poziva padnu i ljudi vode vrlo nadrealne razgovore».
«Oduvijek sam bio zainteresiran za praznine u tim razgovorima. Od malih mi se nogu nisu sviđali telefoni. Mnogo telefoniram zato što je to jedini način na koji mogu komunicirati s mnogo ljudi, ali mi se to i dalje ne sviđa. Ne možete napraviti prirodnu stanku jer dobijete samo beskrajnu statiku. Pravila ponašanja nestaju, organizacija također. Tko će pričati sljedeći? Začudilo me što se s mobitelima, koji su puno skuplji od standardnih telefona – u razgovorima događaju ogromne praznine. To su mjesta koja me zanimaju. Što se događa u tom prostoru. Često sam samplirao te male dijelove pozadine. Veliki dio posla koji sam napravio bilo je sampliranje soundtracka u pozadini, zvukova ljudi koji hodaju po sobi, uključenog radija ili bilo čega drugog, praveći od tih zvukova petlje, manipulirajući ih, upotrebljavajući ih poput teksture. Ali to je trenutak u kojemu se zaista sve otvara. Interakcija dviju osobe zaista započinje tada, ili se uopće ne događa.
«Još uvijek me šokira to što se ljudi upuštaju u seks preko telefona. Tu nema interakcije. Većinom se slušaju snimljene poruke. Slušate kako netko drugi sluša. Ako razgovarate s nekim preko telefona, obično se pozdravite. Pornografski telefoni su uznemirujući jer se veza samo prekine. I znaš da je to bilo to. Završili su, izvadili svoje papirnate maramice i gotovo».
«Ta slučajnost je za mene bitan aspekt. Nikada ne znate što ćete pokupiti. Kad sviram uživo i kad improviziram, nikada ne znam hoću li dobiti samo prazninu. Ali i to je u redu. Ako tamo nema ničega – u redu, nema».
Sve ovo podsjeća na poznatu prvu izvedbu četverominutnog komada za dvanaest radijskih postaja Johna Cagea - «Imaginarni krajobraz br.4» [«Imaginary Landscape No.4»],

na Columbia University, u New Yorku, 1951. Dva izvođača su kontrolirali zvuk, glasnoću, i podešavali frekvenciju za svaki radio. Izvedba je počela nakon ponoći kad su radio-valovi bili relativno tihi i kompozitor Henry Cowell je smatrao da je to pokvarilo skladbu. Cage se nije složio. Njegov životopisac, Davill Revill, citira jednog od operatera, pjesnika Harolda Norsea: «Utisak je bio nalik na noćnu vožnju automobilom američkom autocestom na kojoj neonski natpisi i djelići radijskih i automobilskih zvukova sijevnu i izgube se u daljini».
«Sjećam se kad sam jednom davno išao na predavanje Johna Cagea», kaže Robin. «Osjećao sam se oslobođenim kad je pričao o situaciji kad je kod kuće slušao glazbu dok su se u susjedstvu odvijali građevni radovi. Pitali su ga, je li mu to smetalo, a radilo se samo o tome da se prihvatiti činjenica da je i to pripadalo ukupnom zvuku. Jednom kad to prihvatite, sve je ok».
Orijentacija
Dvije ključne ploče koje su pomogle pokrenuti britansku mladež ka novoj fazi hedonizma, samopouzdanja i društvenog neslaganja bile su «Acid Tracks» Marshalla Jeffersona (iz 1987.) i «Washing Machine» (iz 1986.) koju je u potpunosti napravio Larry Heard. Obojica vuku korijene iz crnačkih, većinom, mada ne isključivo, čikaških klubova za homoseksualce. Izvještaji o tome kako nastala su ta dva minimalistička elektronička instrumentala dijele sličan osjećaj, ako zbog ničeg drugog onda zato što su obje ploče nastale kao posljedica kućnih eksperimenata koji su promijenili prvotnu namjenu nekolicine glazbenih uređaja. Evo kako mi je Marshall Jefferson opisao taj trenutak kad sam ga intervjuirao 1988. godine: «Oh, k vragu. 'Acid Tracks' nisu bile unaprijed programirane, čovječe, bile su slučajnost. Kad radiš na acid-mašini ne programiraš ništa unaprijed. Samo odsviraš neke tonove na mašini, čovječe. DJ Pierre je bio ovdje i samo se igrao s tim i smislio tu shemu. Ma znaš, dah-dah-dah-gwon-gwon-gyown-gagyown. I tako smo mi to slušali, opijajući se. 'Hej, ovo je stvarno ludo. Čovječe, ovo je super ugođaj. Ajmo to objaviti. Jebo te, zašto ne bi? Odsvirali smo to u Music Boxu, i svi su podivljali».
«Kad sam snimio stvar 'Izgubio sam kontrolu'['I've lost control'], čovječe, to je bila senzacija. Stvarno, pokušavao sam napraviti ozračje slično onome starih Black Sabbatha ili Led Zeppelina. I tako je nastalo ime 'Acid Tracks', jer, znaš, to te je trebalo dovesti u pravo [psihodelično] raspoloženje. Kao prvo, u toj stvari imaš jedanaest minuta jednog te istog. Postoje neznatne promjene koje nije lako primijetiti. Kao kad slušaš zaista dugačak solo iz starih dana, provlači se ista bas-linija i svi s njom rade nešto drugo. To bi trebalo stvoriti atmosferu. I nakon toga svi su mislili da se Acid house sastoji od ritam-mašine i acid-mašine, Rolanda TB-303, ali to nije istina. Acid house je trebao značiti stvaranje atmosfere. Ne mora se cijelo vrijeme koristiti ista mašina. Možeš koristiti različite instrumente. Sada strastveno mrzim tu mašinu. Svi je pogrešno upotrebljavaju. Način na koji to sada rade uopće ne stvara atmosferu. Samo remeti tok misli, čovječe. A stvarno boli kad to slušaš cijelu noć. Mrcvari ti mozak, čovječe. Čuješ samo doh-doh-doh-doh-doh-dit i stvarno me to živcira, ma znaš, kad ide dit-dit-dit-dit-wheeoghwowowweogh. Stvarno, čovječe! To je poput grebanja noktima po školskoj ploči! Čovječe, to stvarno mrzim!»
Osnovne sastavnice albuma «Acid tracks» utjelovljuju načelo da manje znači više: Roland TB-303 Bassline stvara uzorke koji jure dolje-gore frekvencijskom ljestvicom

filtrirajući se dok teku: potmulo bubnjanje, opori bas-bubanj, hi-hat-činele, clap i tom-tomovi sviraju pravi disco-ritam na Roland 909-ritam-mašini; cowbell i zviždanje s Rolanda 727 i nekog sintesajzera koji nije moguće definirati prolete u pozadini. Jednostavno, ali surovo učinkovito, posebno ako su u igri i droge. To je bila glazba bez priče, glazba kao funkcija, glazba kao tehnički proces. Jefferson je možda požalio to što su on, DJ Pierre, Spanky i Herbert J zajedno stvorili te pijane večeri u Chicagu, ali za razbijanje misaonih obrazaca 'Acid Tracks' je bio moćna psihoaktivna, crnačka znanstvena fantastika.
«Washing Machine» Larryja Hearda bila je još izravnija: ponavljajuća, valovita melodija s neuobičajenim intervalima, teksturom spužvastom poput gumene lopte, bez ijedne prepoznatljive emocije osim povremenih trenutaka glazbene napetosti i blagog nagovještaja razigranosti. Lagani prizvuci jeke donose prolazan nagovještaj fizičkog prostora oko zvukova, ima kratkih perioda tišine ili udarca hi-hat-činelama. Programiranje bubnjeva je ekscentričnije od onoga u «Acid Tracks», možda zbog toga što je Heard bio bubnjar u čikaškim bendovima koji su svirali sve od R&B-a i jazz fusiona do rocka. «Svirali smo mnogo apstraktnog rocka», rekao je kad sam ga intervjuirao 1989. «Da, Rush i Genesis, bio sam bubnjar i bio sam stvarno opčinjen Neilom Peartom. Za mene je bilo dobro vježbati na takvim stvarima».
I Jeffersonov entuzijazam za Black Sabbath i Heardova idealizacija bubnjara progresivnog rocka Pearta u to su vrijeme bili zbunjujući. Prema stereotipnoj podjeli ukusa prema boji kože i kulture, crni glazbenici su trebali slušati soul. Gomila osobnih životnih priča natjerala je na prerađivanje te predodžbe: mnogi techno i house inovatori bili su nadahnuti

mješavinom rocka, jazz fusiona, industriala i techno-popa YMO-a, Kraftwerka, Depeche Modea i Garryja Numana.
Nova MIDI [Musical Instrumental Digital Interface]-tehnologija povezana, s mogućnošću programiranja, s polifoničnim sintetesajzerima i ritam-mašinama ponudila je mogućnost bijega iz umiruće live-glazbene scene, priliku za samostalno eksperimentiranje, slobodu od pritiska okoline da se prilagodiš, te mogućnost komponiranja i snimanja bez korištenja skupih studija.
Zen
Iako je disco-glazba vrhunce dosegnula u svojoj romantizaciji bijega, njezino trajno nasljeđe je manje idealistično, ali i dalje utopijsko. Disco-miksanje, DJ-evo spajanje ploča, negiralo je glazbenika kao izvođača, negiralo je cjelokupnost svake individualne izvedbe, negiralo je problem miješanja glazbenih stilova ili kulturalnih razlika, negiralo je zaokruženost djela. Komunikacija, kao ljudski problem, mogla se početi odvijati u stroju: prvo, gramofoni i obrada vrpce, pa sampleri, pa hard-disk driveovi. Postupno, DJ je postao umjetnik. Postupno je pjesma, pa zatim kompozicija, bila raščlanjena. Nakon prvih godina nastanka tijekom kojih su globalni arhivi zvuka bili pljačkana za potrebe empatičnih skladbi, disco je počeo funkcionirati prema načelu

raščlanjivanja u modularne i razmjenjive fragmente, izrezane i ponovo spojene u redoslijed koji se bitno razlikuje od pravila Tin Pan Alleyja. Ovaj novi poredak bio je skrojen prema mjeri noćnog ritma sudjelujuće, ekstatične publike, više nego bilo kojeg modela općeprihvaćenih, sažetih, klasičnih proporcija što ih zahtijevaju slušatelji popa.
Pjesme su postale tekuće. Postale su sredstvo za improvizaciju, ili izvorna građa, gotovo poput terenskih

snimaka koje su se mogle ponovno sastavljati ili remiksirati tako da odgovaraju budućnosti. Na ponižavajući način, glazbenici su postali tehničari, u rangu snimatelja, operatera vrpci, urednika i svih ostalih tehnokratskih laboratorijskih

pomoćnika koji čiste svoje naočale u stražnjoj sobi. Na početku puta je bio DJ, vladao je discom, svirajući glazbu i ljude poput jedne tekuće supstancije. Disco je prigrlio znanost posjedovanja: pokret je kodiran u sustav biološke povratne sprege zvukovnog putovanja koje vodi u vrstu transa, sastanak što se održava u virtualnom prostoru duhovnog svijeta. Diskoteka (čije je bukvalno značenje knjižnica ploča), nakon što se dva desetljeća razvijala u klub, postala je pokazateljem raspršenih života u gradovima. Klub, kao pojam koji obuhvaća cijelu vrstu, sintetizirao je povijesne niti raznovrsne poput Cabaret Voltairea, što su ga 1915. osnovali dadaisti Hugo Ball i Emmy Hennings u Züruchu, ili, manje od 15 godina mlađeg, egzotičnog, seksualno nabijenog, jungle-plesnog showa harlemskog Cotton Cluba. Mjesto okupljanja i jedna od najvažnijih pozornica kazališta novih urbanih speed-plemena, klub je ujedno i mračno utočište gdje novi svjetovi mogu biti izazvani da se pojave. DJ (često pogrešno uzdizan na razinu šamana) postaje: knjižničar, bricoleur, vidovnjak.
(…)Planine, zvijezde, sateliti, putovanje svemirom; bestežinsko stanje i kompjutori, bijeg iz tijela. Poriv za nadilaženjem tijela prevladavajuća je tema svakog razgovora o tehnološkoj budućnosti. Fantazije virtualne stvarnosti i spektakl umreženog svijeta izražavaju otuđenu žudnju za

izlaskom iz tog biološkog zatvora i preobrazbom u kiborge. U misli kraja stoljeća, nematerijalno, spiritualno i elektroničko su istoznačni. Tijelo je postalo opasno. «Stvarnost je zanimljiva tema zato što smo svi mi svakodnevno i stalno uronjeni u stvarnost», izjavio je futuristički dizajner Douglas Trumbull drugom futurističkom dizajneru Sydu Meadu (oni su vizualni iluzionisti koji su kreirali distopijski arhaično-futuristički izgled filma Blade Runner), u bibliji kiborških transcendentalista - Mondo 2000. «Ono za čime tragamo je nad-stvarnost, hiper-stvarnost ili neka vrsta izmijenjenih stanja. Mislim da će najviše uspjeha u ovome području imati najekstremnija stanja ili izvantjelesna iskustva».
Prema njihovu mišljenju, psihodelični šamanizam postao je metaforički sveti gral, ne samo zbog potrage za novim identitetima u rascjepkanome svijetu, nego i zbog traganja za nečim krajnje komercijalnim, zabavnim parkom, strojem za drogu.
(…)«Elektronička glazba svirana uživo može podići ozračje prostora u kojemu se izvodi», objašnjava Dave Wheels, «zahvaljujući energiji glazbenika, energiji koju pokupe ljudi s kojima oni rade i energiji koja se vraća publici od koje su je oni dobili». Mislim da to razumijem. «Tako se ona

razvija», kaže Dave. «To je cilj».
Unatoč ustrajnom povezivanju s vrijednostima New Agea, većina nove ambijentalne glazbe je žestoko urbana i suvremena [now age]. Neki klubovi su ujedno i tržnice nedjelotvornih i precijenjenih "pametnih" lijekova/droga, čitača Tarota, svjetlucavog nakita, masera, digeridoosa i "plemenskih" bubnjeva, ali sve u svemu čini se da ovi elementi upućuju na duhovnu glad, na aktivizam koji je nikao iz razočaranja, na alternativnu ekonomiju ili jednostavno na društveno nezadovoljstvo, prije nego na povlačenje u elitističko bijelačko svjetlo New age-evolucionizma.
«Ono što mi zovemo ambient pogrešno je shvaćeno», kaže mi Garry – pričljiva polovica dua Future Sound of London, dok šutljiva polovica, Brian, šeta po sobi, «jer to je kao – obući svemirsko odijelo, kao – čudan sam jer dolazim iz svemira. Mene to ne zanima. Mislim da je ovo...(podiže obrve kako bi pokazao na planet Zemlju) čudno mjesto. Mislim da naša glazba predstavlja uvrnutu perspektivu na ovaj ovdje prostor. To je poput ponovnog vrednovanja čovjeka u njegovom prostoru, a ne eskapizam».
Za Higher Intelligence Agency, radilo se samo o tome da se u Birminghamu nešto pokrene. Počeli su sa svojom klupskom večeri Oscilate, u svibnju 1992. «Prve Oscilate-večeri održavale su se iznad puba», kaže Dave Weels, «to je bilo jedino dovoljno jeftino mjesto koje smo mogli naći. Znate, svi su bili nezaposleni, na socijalnoj pomoći. Prve večeri, koliko se sjećam, pojavilo se dvoje ljudi. Nitko nije bio zainteresiran. Ili bi došlo dvadeset ljudi. Nisi mogao znati kako će ispasti». Onda su taj program prebacili na petak. Svirao je Ultra-marine. Mixmaster Morris je puštao ambijentalnu glazbu (kad su ga skoro spržile zvučne skulpture Jonnyja Easterbyja), zatim Orbital, jedan od svega nekolicine slučajeva u technu kad se uspješno prešlo iz prostora studijske tehnokracije u prostor rock-festivala na otvorenom.
Klub je bio krcat. Dotada, HIA je stupila u vezu s etiketom Mikea Barnetta Beyond koja je imala središte u Birminghamu. «To je još jedna čudna priča», kaže Bobby. Odbivši da budu usamljeni pioniri vlastita hibridnog žanra, iznenada su čuli za izdavačku kuću koja je pokrenuta u njihovu gradu a koja se orijentirala posebno na ambient dub. Na njegovom licu još se vidi zapanjenost zbog apsurdnosti cijele situacije. «Nismo mogli vjerovati».
A u Londonu, tamo su bili Spacetime i Telepathic Fish. Održavani u skladištu u Cable Streetu, u londonskome East Endu, 1990-91., partyje Spacetimea su organizirali

techno/ambient-glazbenik Jonah Sharp i dizajner holografske odjeće Richard Sharpe, obojica danas žive u San Franciscu, gdje Jonah vodi izdavačku kuću Reflective Records.
(…)Album Chill out KLF-a je kretanje u imaginaciji koje

oscilira u čudnom snovitom prostoru između radijskog prijama i virtualnog putovanja. Slušajući ga s odmakom osjećam se istodobno kao da se krećem kroz nepregledne prostore, a ipak sam nepokretan na jednome mjestu u pustinji Gobi, gledajući kako svijet prolazi mimo mene, usklađen s organičkim i sintetičkim ritmovima koji su ljudskom uhu inače nečujni bez radio-prijamnika, hidrofona, paraboličkih zvučnih reflektora, satelitskih stanica. Vlakovi koji prolaze, stado ovaca u blizini, mongolski Tuvan-pjevači [koji istodobno pjevaju nekoliko tonova] lebde u zraku iznad mene, motocikli i automobili koji tutnje kroz zvučno polje, lamentacija pedal steel-gitare pada poput sumraka, promukli glas crnog propovjednika «Get ready, get ready... East Coast, come back fat as a rat», zujanje noćnih kukaca, delfini, valovi na morskoj obali, «Stranger on the Shore»... «A Melody From a Past Life Keeps Pulling Me Back», «Dream time In Lake Jackson, «The Lights of Baton Rouge Pass By», kao da Harold Norse, 1951., stoji na pozornici New York Cityja, poslije ponoći, na radiju traži stanice za skladbu Johna Cagea i proživljava
"noćnu vožnju automobilom američkom autocestom na kojoj neonski natpisi i djelići radijskih i automobilskih zvukova sijevnu i izgube se u daljini».
(...)Edgar Varése je imao nezasitan apetit za građom koja je potkrepljivala njegovo uvjerenje da bi glazba trebala biti doživljavana fizički, a ne razumijevanjem i prihvaćanjem harmonijskog sustava. Kopajući po idejama Leonarda da Vincija, hermetičkom muzeju alkemijskih tekstova, akustičkim studijama iz Indije, Kine, Egipta i drevne Grčke, usvojio je inovatorsku studiju profesora Hermanna Helmholtza o fiziologijskoj akustici, posebno dijelove o sirenama.
(…) Rođen prerano da bi proveo u djelo svoje najveće vizije, Varése je cijeli svoj život proveo zamišljajući instrumente koji bi mogli izraziti zvukovni svijet njegove mašte. Za njega, glazba je bila umjetnost – znanost, emotivna, politička i ritualna sila koja bi trebala vibrirati zrakom, biti usklađena s ljudskim tijelom, pokrenuti dušu. Za usporedbu, Futuristi su bukvalno tvrdoglavo tražili načine na koje bi reproducirali zvukove strojeva koji su već postojali i koji bi uskoro mogli zastarjeti. Varése je poricao bilo
kakvu izravnu vezu između svoje glazbe i zvukova prirode ili industrije. Ipak, postojale su podsvjesne veze.
(…)Varése je nastojao stvoriti glazbu koja bi utjelovljavala cijeli svijet, koja bi ukinula dodekafonijsku ljestvicu, pisana pravila harmonije, prevlast tonaliteta nad tembrom i ritmom. Uho je – a ne numerički sustavi ritma ili tonaliteta – konačni glazbeni sudac.
Bijelci uopće nemaju smisla za ono što je istinsko u glazbi. Varése je razmišljao: «U moju su kuću dolazili crnci

iz ekvatorijalne Afrike koji nisu ništa znali o industrijskoj civilizaciji, Indijanci, Azijci, i svi su imali više osjećaja za moju glazbu od bijelaca koji su uvijek živjeli u gradovima, išli u školu, bili uvjetovani». Varése je skladao s osnovnom građom: ritmovima, frekvencijama, intenzitetima, blokovima zvuka koji se kreću i projiciraju u prostoru. Svoje prvo značajno djelo – Amériques – opisao je kao simbol «novih svjetova na Zemlji, na nebu, ili u ljudskim umovima», i kad su kritičari intepretirali njegovu uporabu sirena kao neku vrstu barbarske programatske glazbe, običnu zvukovnu sliku

urbanog zagađenja bukom, tvrdio je da je njegov cilj bio «prikaz raspoloženja u glazbi, a ne zvukovna slika». Raspoloženje, ozračje... što znače te riječi? Debussyjevi Nokturni, to je ozračje – «nepromjenljiva značajka neba i sporo, dostojanstveno kretanje oblaka... vibrirajuće ozračje s iznenadnim plamsajima svjetla... glazba i svjetlucava prašina, koji sudjeluju u kozmičkom ritmu» - ali to vrijedi i za

«Nothing' But a 'G' Thang» Dr-a Drea u kojoj se evociraju

automobilske gume koje se kotrljaju po usijanom asfaltu, hladno pivo koja se puši u hladnjaku, lijeno obećanje seksa, teški miris kanabisa. Varése je nastojao razviti nadmoćnu

sposobnost svih vrsta glazbe da uhvate one pojave koje izranjaju u složenim pojavama; prolazne osjećaje, osjećaje koje nije moguće artikulirati; ili ono što je Gaston Bachelard nazvao poetikom prostora, bilo da se radi o ambijentu sobe, cestovnoj traci ili bezgraničnom opkoljavanju oceanskog prostora.
(…)[Varése] se okrenuo udaraljkama, nastojeći se što više približiti svojem osjećaju iz ranih dana da bi glazba trebala biti rijeka zvuka, strujanje zvuka koje se kreće kaotičnom bujicom poput rijeke Zambezi. Ali na koncu, rješenje je bilo u elektronici. Ništa, dotada, nije izvuklo glazbu iz njezine tamnice; ni Russolov mehanički intonarumori, čak ni električni tereminovox Leona Theremina, suptraktivno-sintezijski trautonij Friedericha Trautweina, miksturtrautonij Oskara Sale, Ondes Martenot Mauricea Martenota ili Varéseovi eksperimenti s okretnim pločama na gramafonu. U listopadu 1964., Robert Moog i Herb Deutsch izložili su prvi ručno izrađeni Moog modulski sintesajzer, čiji je zvukove nekoliko godina kasnije Sun Ra mogao transformirati u astro-crnilo, more zvukova, energiju dalekih vjetrova, lirsku inicijativu elektriciteta, nove svjetove na Zemlji.
U mladosti nadahnut Julesom Verneom, poslije svetim tekstovima Maya, Popol Vuhom, Varése je svojom glazbom govorio o eskstatičkom putovanju u potrazi za magijskim tijelom. Pisao je: «Za mene pustinje nisu samo fizičke pustinje pijeska, mora, planina i snijega, svemirskog prostora, praznih gradskih ulica... nego i onaj magloviti unutarnji prostor koji teleskop ne može dosegnuti, u kojemu je čovjek sâm u svijetu misterije i suštinske usamljenosti».
«Mislim da je ono što se dogodilo u pop-glazbi, zbog elektronike i snimanja i ostalih kulturalnih čimbenika, bilo to da je odjedanput postalo moguće raditi sa svim mogućim zvukovima, spajati stvari koje su prije bile nespojive. Na primjer, sam mikrofon omogućava pjevaču da pjeva vrlo tiho u pratnji cijelog orkestra. Ovo je, samo po sebi, bila nevjerojatna revolucija u erotizmu. Frank Sinatra koji pjeva vrlo ležerno, skoro introspektivno u pratnji velikog benda, to je bio fantastičan napredak koji se nikada ne bi mogao dogoditi u klasičnoj glazbi jer bi to bilo fizički nemoguće. Tamo bi se jednostavno izgubio», izjavio je Brian Eno u razgovoru koji sam vodio s njime.
(…)Jedan od prvih live-bendova koje sam vidio bili su The Ronettes, koji su bili predgrupa The Rolling Stonesima na njihovoj drugoj nacionalnoj turneji. Na ploči Ronettsa, u produkciji Philla Spectora, tinejdžerske krize poprimile su dimenzije velikog metereološkog poremećaja. Uživo, obučene u uske haljine jarkih boja, oslobođene Spectorove zapanjujuće produkcije, The Ronetts (i životne krize) svele su se na ljudske proporcije. Tehnologija nas je preobrazila u divove, bioničke nadljude, satelite koji ne pripadaju državama, sveprisutne govornike nepostojećih jezika. Postajemo veći nego što jesmo, glasniji, izmješteni ili umnoženi ili se smanjujemo, zastrašeni bujicom informacija. Koristimo tehnologiju da bi se zaštitili ili izolirali, izražavajući žudnje zatomljene tehnologijom, pokušavajući zamijeniti otuđenje techno-spiritualizmom, upotrebljavajući oprečne poruke kako bismo izrazili konfuziju za koju nas povijest nije pripremila.
Otuđenje od fizičke zajednice može biti uznemirujuće, ali idealisti koji promiču elektroničku komunikaciju kažu da je koriste kako bi ponovno izgradili razbijene zajednice, a ne kako bi dovršili njihovu destrukciju. «Neki aspekti života u malim zajednicama moraju biti odbačeni kad se preselite u online-metropolu; osnovne potrebe čovjekove prirode se, međutim, uvijek povećavaju», napisao je Howard Rheingold u knjizi The Virtual Community: finding connections in a computerised world. «Činjenica da trebamo kompjutorske mreže kako bismo ponovno stekli osjećaj kooperativnog duha koji su mnogi ljudi naizgled izgubili baš tada kad smo dobili svu tu tehnologiju, bolna je ironija», priznao je Rheingold u poglavlju pod naslovom Grassroots Groupminds.
Kad je riječ o bijegu od tijela, ili od ukorijenjenosti u tijelu, može se pokazati da postoje i pozitivne strane tog bijega. Transcedencija izazvana kemijskim drogama i psihodeličkim biljkama, dugi boravak u cyber-prostoru putem Interneta, ili body-crisis-filmovi poput Trona, Videodroma i Wes Cravenova Straha u ulici brijestova, mogu biti protumačeni, na različite načine, kao manifestacije čežnje za redefiniranjem kartezijanske ideje o podijeljenom biću. Napuštajući tijelo, gubeći centar u mreži informacija (bez obzira na to radi li se o video-igricama, elektroničkom

spektaklu, audio/vizualnom uranjanju, snovima/noćnim morama, globalnoj razmjeni informacija ili takozvanoj svijesti biljaka), bestjelesni dio ljudskosti započinje ispitivati vlastita ograničenja i propitivati konvencionalna uvjerenja da je svijest smještena negdje u glavi.
Na svojem vrhuncu, genijalnost Leeja Perryja

preobrazila je studio za snimanje. Ako je izvorna svrha snimanja bila dokumentirati glazbenu izvedbu, Perryjev je pristup, kao što to pokazuju naslovi poput «Secret Laboratory», «Station Underground News» i «Musical Transplant», podignuo studio u virtualni prostor, u imaginarnu odaju kojom predsjedava elektronički čarobnjak, evanđelist, pisac tračeva i Dr. Frankenstein u kojega se pretvorio.
«Električna struja je oko, voda je život», izjavio je Perry. «Na neki način, elektrika je dosegnula vrhunac. Studio mora biti poput živoga bića. Stroj mora biti živ i inteligentan. I tako stavljam svoj ûm u stroj tako što ga šaljem

putem kontrola i ručica, ili u razvodnu ploču. Razvodna ploča je mozak, a ti trebaš sastaviti mozak i pretvoriti ga u živog čovjeka, a mozak može prihvatiti ono što mu šalješ i živjeti. Razmišljaj o glazbi kao o životu. Kad stvaram glazbu mislim na život, stvaranje života, i želim da živi, želim da pruža dobar osjećaj i da ima dobar okus». Ovo je alkemičarska priča: stvaranje žive tvari iz neukrotivih

tvari. «Kad pušimo i lijepo se osjećamo», nastavlja on, «jedemo kukuruzni kruh i maslac. To ti daje dobar apetit i nove vibre. Zvuk može zvučati slađe. Zvuk može dolaziti iz hrane».
Dub-glazba je nalik na dugo zadržanu jeku. Obnavljajući se svakih par godina, ponekad tako tih da ga može čuti samo sljedbenik, ponekad razorno glasan, dub ne izabire glazbu iz komercijalne sfere. Šireći pjesmu ili groove preko nepreglednog krajobraza vrhunaca i dubokih rovova, produžujući dužinu tona i ritmove do trenutka kad nestaju, dub stvara nove mape vremena, neopipljive zvukovne skulpture, sveta mjesta, melem i šok za ûm, tijelo i dušu.
Kad dublirate, ili dubirate, vi kopirate, ponovno izmišljate, pravite jednu od mnogih verzija. Ne postoji izvorni miks, budući da je glazba pohranjena na višetračnoj kaseti, disketi ili hard-disku, samo kolekcija djelića. Kompozicija je već, uz pomoć tehnologije, bila rastavljena. Dubbing, u svom najboljem obliku, uzima svaki komadić i prožima ga novim životom, pretvarajući racionalan redosljed glazbenih sekvenci u ocean osjećaja. Ta glazbena revolucija izvorno potječe s Jamajke - konkretno, iz malog studija koji je vodio pokojni Osbourne Ruddock, zvani King Tubby, u Kingstonu.
Tubby, koji je snimao ploče za Dukea Reida u Treasure Isleu, prvi je otkrio uzbudljivost odvajanja vokala od pozadine i manipuliranja instrumentalnim aranžmanom uz pomoć tehnika i efekata kao što su drop-out [izbacivanje pojedinih instrumenata iz miksa], ekstremno izjednačavanje, dugo kašnjenje [long delay], kratko kašnjenje [short delay], prostorna jeka [space echo], odjek [reverb], flanžiranje [flange], faziranje [phase], filtri za buku [noise gates],

feedback jeke, mali bubnjevi/doboši [shotgun snare drums], bas-gitara s gumenim/silikonskim žicama [rubber bass], stravične visine, neizmjerne dubine. Efekti postoje zbog pojačavanja, ali za dub-mastera oni mogu premjestiti vrijeme, promijeniti ritam, pojačati raspoloženje, produljiti trenutak. Nije slučajnost to što su dubu najbliži sonarno prenošeni otkucaji, odjekivanje i odzvanjanje podvodnog dopiranja jeke i bioakustika. Nije slučajnost ni to da je dub nastao u siromašnom dijelu grada na Karipskim otocima.
"…Odnio sam DAT-rekorder u Hyde Park i u blizini Bayswater Roada jedno vrijeme snimao sve zvukove: automobile koji prolaze, pse, ljude. Nisam mislio da je to nešto posebno a onda mi je, kad sam jednom sjedio kod kuće slušajući tu snimku na svom CD-playeru, sinulo… Nešto tako proizvoljno i nepovezano poput zvukova na toj snimci, nakon dovoljno slušanja postaje vrlo povezano. Možete zaista steći dojam da je ta stvar na neki način bila iskonstruirana" (Brian Eno).
City je postavio industrijski standard za digitalno rasječene zvukove grada koji se trza u delirium tremensu: žrtvovanje kokoši, borbe pasa u podrumima, čegrtaljke na mostovima, kamere na mjestima ubojstava, TV na uličnoj rasvjeti, hramovi seksa, bubrezi u pola cijene na kućnim rasprodajama, umjetne grudi, lažni Cartier, mirisi iz tisuća kuhinja.
Kao i Terry Riley, svirajući saksofon u elektroničkoj dvorani zrcalâ na ranim snimkama kao što je «Poppy Nogood and the Phantom Band», Hassell je kreirao izvanzemaljski prepoznatljivi studijski zvuk. Ova upotreba digitalne jeke, u kombinaciji s promjenama visine tona, stvorila je svoje specifične probleme. «Kad sam počeo istraživati s Pran Nathom», rekao je, «shvatio sam da je osnova raga-glazbe, kao što je on rekao, glazba između nota. To znači usmjeriti pažnju na činjenicu da ukoliko imate mrežu a svaka linija mreže predstavlja visinu tona, umjetnost se sastoji u preciznom crtanju lijepe krivulje između jedne i druge visine. To je nalik na kaligrafiju. Truba je usamljeni instrument. Jedan glas. Kad sam shvatio da mogu imati kopiju trube koja svira sa mnom, bilo je to kao da sam umjesto da crtam krivulje s jednom olovkom, sada mogao držati pregršt olovaka i crtati krivulje. U nastojanju da stvorim ta zakrivljenja u raga-glazbi, dobio sam vrlo prozračan, vokalan zvuk. U osnovi, to je pisak, a ne truba».
Ali album koji je na kraju nastao bio je daleko od nage intimnosti soliranja akustične trube. Postojala je naga intimnost, ili bih trebao reći provokativno odjevena nagost, ali to je bilo apsorbirano u popratne mentalne slike glazbe,

više nego u instrumentaciju. Kao što i sam naslov - Dressing For Pleasure – pokazuje, bio je to sljedeći korak u udaljavanju od asketske estetike, u hip-hop, jazz, ragga i ritualni seks suvremenog primitivističkog pokreta…
U prošlosti, dolazeći iz apstraktnog, instrumentalnog aspekta stvari, glazba je bila metajezik za izvođenje. Uvijek sam osjećao da je glazba nastavljala tamo gdje su riječi prestajale. Hip-hop je to promijenio, zato što je hip-hop dopustio novi odnos između riječi i glazbe, onaj u kojem sam se ja osjećao ugodnije. Istovremeno, svaka ploča koju sam stvorio bila je neka vrsta fantazije, erotične fantazije. Uvijek su pripadale toj istoj konstelaciji senzualnosti, a zvuk Gila Evansa ekvivalent je tog osjećaja da ti je dobro na određenom mjestu u određeno vrijeme - možda se radi o post-orgazmičkoj glazbi nasuprot pred-orgazmičkoj. Stalno postavljam osnovno pitanje: što doista volim? Što je to što zaista želim slušati? I u obama slučajevima – u osobnome području, području seksualne fantazije, i glazbenome području, to se svodi na šokantno jednostavne stvari. Volim opojno senzualna ozračja. Volim lijepe akorde. Zaljubljen sam u harmoniju. Začudo, odabrao sam putove učenja koji s tim nisu imali puno toga zajedničkog – barem ne u smislu tradicionalne promjene akorda - kao što je proučavanje raga-glazbe. Iako postoje bezbrojne harmonijske implikacije. To je, ustvari, skrivena harmonija, ali ja govorim o ljepoti jedne note dok se akordi ispod izmjenjuju. Unutar svakog akorda, ta nota poprima drugačije svojstvo. To je drukčija slika svaki put, ali se uvijek koristi isti prednji plan. Brazilska je pop-glazba, čini se, to odmah pokupila - 'Jednonotna Samba', itd.
«Zašto su Brazilci izabrali to, ili zašto je Gil Evans izabrao te harmonije iz repertoara koji je postojao u tom trenutku. Tamo se nešto događa, neki duboko važan poriv za lijepim. Ljepota je ovdje definirana kao nešto što te istinski vuče bez ikakvih apstraktnih konstrukata. Što te ne želi

uvjeriti u neku ideju ljepote». U srži našeg novonastalog osjećaja za lijepo u sadašnjosti je novi tonalitet, koji Jon vidi kao razvoj uzoraka koji su modulirani i nasnimljeni, posebno u hip-hopu, da bi stvorili zgusnute, čudne harmonične disonancije. Ljudima koji ne ustrajavaju na tome da glazba melodijski mora biti eurocentrična, one su vrlo ugodne, ali onima kojima su prva i formativna iskustva slušanja bila hip-hop, ovaj novi tonalitet je nešto normalno.
Jon [Hassell] mi je poslao esej iz časopisa Skin Two (br. 14), koji je napisala Pat Califia pod naslovom «Seksualna magija: suvremeni primitivci, Latex-šamani i obredni sadomazohizam» ["Sex Magic: Modern Primitives, Latex Shamans & Ritual SM"]. «Suvremeni primitivci žive, većinom, u urbanim enklavama, u doba strojeva», napisala je. «Trebamo pronaći način da sintetiziramo ritmove prirode i naše elektroničke živote. Pomalo naivna, sentimentalna čežnja za pastoralnom utopijom neće nas spasiti od toksičnog otpada ili nuklearnog oružja. Trebamo svijet u kojemu možemo imati i kompjutore i logorske vatre». Osuđujući pogrešna prisvajanja predindustrijskog, zajedničkog rituala za ciljeve postindustrijske, privatne seks-scene, ovaj briljantan esej osvjetljava neke od mračnijih područja teorije Četvrtog Svijeta.
U Četvrtome Svijetu, ništa nije jednostavno. «Moguća glazba, moguća kultura, moguća arhitektura, mogući stilovi života, itd.», kaže Hassell. «To je ideja koja se svodi na raspon mogućih veza između individualnog, plemenskog i nacionalnog u masovnome elektroničkom dobu. Zamislite mrežu državnih granica, i na njih prenesite novu, ne-fizičku, iz komunikacija izvedenu geografiju – plemena istomišljenika. S obzirom na to da ovakva situacija nije nikad prije postojala, ona slijedi te stare, ograničene pristupe koji nisu djelotvorni, a novi pristupi moraju biti kreativni. Što znači intuitivni i improvizacijski. Želio bih da poruka Četvrtog Svijeta bude da stvari ne bi trebale biti razvodnjene. Ova ravnoteža između urođenog identiteta i globalnog identiteta putem različitih elektroničkih produžetaka ne može biti propisana ili nužno predviđena. Treba biti vrlo skroman i pun poštovanja prema našem nedostatku znanja o tome kako se ove stvari povezuju, i znati kakve su stvari bile nekad, kad je svega bilo manje – tu postaje vrlo učinkovito promatrati druge kulture, male kulture, i pokušati razviti modus operandi za novo doba [new age], ne za New Age».
1962. [La Monte Young] je zamislio Dream House, okruženje u kojemu bi cijelo vrijeme svirala njegova glazba, koja bi naposljetku mutirala u «živući organizam s vlastitim životom i tradicijom».
Royal Albert Hall, ljeto 1994. Bidura Mallika i njegova dva sina, Ramkumara i Premkumara, možemo povezati s vremenom kad su dhrupad-pjevačkom stilu, kojemu su se posvetili, bile pripisivane nadnaravne moći. Tvrde da njihova obitelj seže unatrag do 1790. godine, kad su Radhakrishna i Kartaram Mallik spriječili sušu pjevajući Megh raga, magijski raag koji donosi kišu i rashlađuje. Onima koji nikada nisu nazočili izvođenju ove ozbiljne, apstraktne glazbe to bi iskustvo moglo biti gotovo komično, iako je ljepota tona istinska.
Iako malen rastom, Bidur Mallik se spustio do vrlo niskih, neprekidnih tonova bez sigurnosne mreže vibrata, skakutajući kroz neobične intervale kao da je zadubljen u tajanstvene oblike zvukovne matematike, ispisujući fizikalnost svojih tonova u zraku gracioznim pokretima ruku. Naizgled ruke nagovaraju tonove, mame ih van, držeći ih u jednoj točki nevjerojatno dugo ili noseći ih njihovim putem. Onozemaljski u svojoj jednostavnoj ljepoti, dhrupad-stil je najviše što vokalna improvizacija može učiniti da bi se približila

kaligrafiji. Nakon slušanja ove grupe, imam osjećaj da nema više ničega na ovome svijetu što trebam iskusiti. Ali nakon toga Rajan i Sajan Misra istražuju pojedinačni raag u khyal-stilu preko sat vremena. Khyal znači fantazija. Ovaj stil je bujan, razvijen u osjenčanim povisivanjima koji se doimaju

proračunatima da slušatelje dovedu do intenzivnih razina perceptivne svijesti, otvarajući se u zanosno usporenim pokretima poput rođenja leptira, bogat harmoničnom senzualnošću. Gusto sastavljeno od dvaju bubnjeva, elektroničkog zujanja, harmonija, pratećih vokala i trzajuće citre, zujanje nagovještava cijeli svemir mogućnosti putem kojih Rajan i Sajan održavaju savršeno usklađene tonove, zadržavajući ih u zraku rukama sve dok se svaka molekula ne raspline u beskrajno more zvuka. Tabla-bubnjevi tapkaju u kapima kiše. Na obzoru se pojavljuje neki drugi svijet, estetski jednako zavodljiv poput dhrupada koji mu je prethodio.
Kraftwerk: izvorna električna centrala, dirigenti, radnici, fetišisti zvuka. Otprilike desetljeće i pol prije ovog intervjua oni su stvarali düsseldorfsku plesnu scenu dopuštajući strojevima da govore za sebe. «Sjećam se da smo '71. svirali na partyju u nekom centru za umjetnost u Düsseldorfu», priča Ralf Hütter. «U početku nismo bili stalan bend i bubnjari su se stalno izmjenjivali jer su samo udarali i nisu htjeli raditi s nikakvom elektronikom. 'Ne! Ne dirajte moje instrumente'. Jednom smo imali tu gažu u centru za umjetnost i ja sam imao tu malu staru ritam-mašinu. U jednom trenutku ostavili smo je da ponavlja jeku i feedback, a mi

samo jednostavno napustili pozornicu, te se pridružili plesačima. Nastavila je svirati oko sat vremena».
Kraftwerk: seksualan, čisti koncentrat, jestiv. Obuzdavan humorom. Camp. Dečki u uniformama. Izražavanje posredstvom proporcija. Emocija posredstvom odmaka. Nadahnuća posrdstvom

rada. «Strojevi plešu, da tako kažem », razmišlja Ralf, «a ponavljanje, ritam, gradi. Ali to je više umjetnička fikcija».
U našem društvu sve je u pokretu. Električna struja putuje kablovima a ljudi - bio-jedinice - putuju iz grada u grad. U jednome se trenutku sastaju i – phwiit. Zašto bi onda glazba bila statična. Glazba je strujeća umjetnička forma».
To je benigni futurizam koji nas vraća u poslijeratnu verziju Marinettijevih snova o energiji dalekih vjetrova, električnoj struji i Dunavu koji teče «pravocrtno 300 km na sat», anticipirajući obožavanje zvijezda sportske brzine kao što su Juan Fangio, Ayrton Sena i biciklist Bernard Hinault, predskazujući maniju putovanja i fetišizaciju komunikacije bez obzira na sadržaj: na zemlji – rušenje domova da bi se napravilo mjesta za ceste i aerodrome; u eteru – neopipljivi infobahn, takozvana super-autocesta. Tijekom scenskog nastupa, Kraftwerkova vizualizacija isporučuje bezizražajno slavlje tehnološke utopije, smrtonosno djelotvornu parodiju i potvrdu germanske djelotvornosti. Tijekom izvođenja «Autobahna», platna prikazuju zrnate monokromne filmove zlatne zore tijekom vožnje po autocesti kad su ceste bile nezakrčene a sretne obitelji piknikovale uz travnati rub za vrijeme stanke na svojim putovanjima.
«Naš instrument je studio. On je naš mali laboratorij, naš Elektrospielzimmer, naša soba za igranje. Post-kompjutor je novi primitivizam. U posljednjih pet godina možete otisnuti ili stvoriti više nisko-frekventnih skulptura, što prije nije bilo moguće. To je umjetnost studijske tehnologije. Možete

stvoriti zvuk u rasponu od 20 do 20,000 Hz. Mogli smo uklesavati u granit jedan specifičan zvuk jako dugo, ali poslije smo počeli razmišljati više u filmskim kategorijama. U vezi s određenim zvukovima smo fetišisti. Jedan poseban kling i poslije netko drugi napravi klang. Oblikujući to do krajnosti». Vokalne snimke opisuju kao fizički udar. «Stope se. To je poput bubnjeva koji pričaju. Poput udaraljki».
«Ovaj album je zaista specifičan», kaže Richard James [Aphex Twin], «zato što je 70 posto stvari nastalo lucidnim sanjanjem». Imati lucidne snove znači biti svjestan da sanjamo, čak biti sposoban usmjeravati događaje u snovima. Tu je temu intenzivno istraživala Celia Green. Pisala je i o duhovima i izvantjelesnim iskustvima. Kad je riječ o ovome drugom, osoba može s visine promatrati svoje tijelo kao da se svijest naglo smjestila izvan fizičkih granica tijela. Sve ove halucinogene manifestacije pobijaju opće prihvaćeno mišljenje o ljudskoj percepciji. Naposljetku, one nas preusmjeravaju u naše unutarnje okruženje: stoga, zasigurno imaju utjecaj na naše shvaćanje okruženja i ambijenta.
«Mogao sam to raditi od malih nogu», objašnjava James, pričajući na način koji odaje ili ozbiljnu osobu koju nitko nikada nije shvaćao ozbiljno ili šaljivdžiju kojeg svi predugo shvaćaju preozbiljno. «Naučio sam kako to raditi i to je nešto najdragocijenije što imam. Godinama sam u snovima radio sve što se može, uključujući razgovore i ševu s bilo kim tko mi se svidi. Jedino nisam nikad pokušao izvršiti samoubojstvo.

To je pomalo mutno. Ionako se vjerojatno ne bih probudio pa ne bih vidio je li uspjelo. Ili možda bih. Često se bacam s nebodera ili stijena i u posljednjem trenutku to prekidam. To je vrlo zabavno. Prilično realistično. Jesti je prilično pametno. Kao okusiti hranu. Koja ima i miris. Izmišljam različite vrste hrane i ponekad nemaju nikakav okus – kao da imaju okus neke čudne mješavine drugih stvari».
To uvelike pridonosi mitu o Aphex Twinu kao ludom izumitelju, koji ne spava često, koji je izgubljen u dječačkoj opsesiji ratom, voajerizmom i unutarnjim djelovanjem bezosjećajnih, znanstveno objašnjivih strojeva. To je također

privlačno novoj generaciji bijelih tinejdžerskih mutantnih fobičnih (game)boy frikova. Promatrajući ih u pozitivnijem svjetlu, Aphex Twin ostaje dosljedan svom intuitivnom doživljaju svijeta. Ovo je svijet u kojemu su riječi i pisanje zasjenjeni fluidnijim, neodređenijim medijima. Njegov razlog za sviranje uživo, kojemu više nije sklon, je taj da svoju glazbu može čuti glasno. Provjeravajući zvuk, locira rezonantne frekvencije u prostoriji s namjerom da zatresu podove dubokim basom i razbiju staklo visokim tonovima. Razlog zbog kojeg neke skladbe nemaju naslova povezan je s njegovom sinestezijskom sposobnošću. Svaki put kad čuje glazbu u kojoj uživa, vidi jednu od svojih najneomiljenijih boja, žutu. Radije nego da određuje glazbu riječima (čak izmišljenim imenicama ili brojevima), on traži način na koji bi skladbe poistovjetio s bojom. «Negdje oko 1993-e», kaže, «strašno sam želio isanjati svoje kompozicije. Kao, u studiju sam i pišem stvar u snu, probudim se i napišem ju u stvarnom svijetu sa stvarnim instrumentima. U početku to nisam mogao. Najveći problem je bio sjetiti se. Melodije je bilo lako zapamtiti. Otišao bih spavati u studio. Zaspao bih na deset minuta i napisao tri stvari – samo male segmente, ne 100% završene partiture. Probudio bih se nakon što sam spavao samo deset minuta. To je prilično ludo. To radim na različite načine, ili sanjajući da sam u studiju, baš onako kako jest, ili sve vrste varijacija. Najteže je dobiti isti zvuk. Nikada nije isti. Ni približno. Kad imate noćnu moru ili čudan san, probudite se i to nekom ispričate, i zvuči stvarno glupo. Isto je i sa zvukovima, otprilike. Kad zamišljam zvukove, imaju oblik sna. Kako u tome postaješ bolji, možeš se sve više približiti tim zvukovima. Ali uspijevaš samo 70%».
Izmijenjena stanja VI.: priroda
U eseju iz područja filmske kritike pod naslovom «Tehnofobija» [«Technophobia»], Michael Ryan i Douglas Kellner tvrde da tehnofobični filmovi kao što su THX 1138 i Terminator koriste strah od tehnologije kako bi afirmirali tradicionalne društvene institucije. Takve institucije deklariraju se kao dio prirode, lijek protiv tehnološke prijetnje, premda je tehnologija – od virtualne stvarnosti do genetičkog inženjeringa – u procesu rekonstruiranja prirode. «Tehnologija predstavlja mogućnost da takve diskurzivne figure kao što je 'priroda' (i ideal slobodne neposrednosti koju ona uključuje)», pišu oni, «mogu biti puki konstrukti, artificijelna sredstva, metafore...».
Hard-body roboticizam Arnolda Schwarzeneggera (stroja koji personificira prirodu ili čovjeka u strojnom obliku?) utjelovljuje taj navodno nezaustavljivi tehnologijski vojnički marš. Ali s Predatorom, o čemu ne govori Ryanov i Kellnerov esej, slika je zadobila novi oblik. U sredini filma Johna McTiernana, predatorski stvor izaziva maksimalan strah onda kad se sjedinjuje s prirodom, kad postaje treperava pojava, jasno zamjetljiva u vegetaciji džungle s kojom se stapa jedino kao ometajući obrazac na rubu percepcije. Tek na samom kraju filma, kad se razotkriva kao izvanzemaljsko čudovište/stroj kako bi se borilo mano a mano sa Schwarzeneggerom, sklizne ono u utješno područje uobičajenih užasa. A nakon tog otkrića, Schwarzenegger si dopušta da nakratko bacimo letimičan pogled na njegovu ljudsku stranu. U trenutku kad kamenom treba razmrskati glavu predatora, zaustavlja ga mješavina suosjećanja i radoznalosti. Tijekom te stanke, predator otkuca šifru i raznese se u komadiće. Primamo tu zbunjujuće poruke: možda - Nikada ne dopusti da jastreba u tebi pobijedi grlica; nekakav nagovještaj da ljude jednako zastrašuju priroda i strojevi, unatoč tomu što su dio jednog i simbiotički upleteni u drugo. Iščitavati previše iz hollywoodskih filmova je intelektualna društvena igra koja može zamračiti neograničeni broj tema.
Ova neugodna veza između prirode i tehnologije nadahnula je časnika Američkih zrakoplovnih snaga Jacka E. Steelea, kad je 1958. godine skovao riječ bionika. Steele je definirao bioniku kao znanost o sustavima čija je funkcija zasnovana na živim sustavima ili onima koji imaju osobine živih sustava.
Ovaj princip još uvijek možemo pronaći u suvremenim istraživanjima, posebno u onima o razvoju «pametnih» tehnologija i biomimetičkih proizvoda od kojih su neki zasnovani na mišićnim pokretima morskih bića kao što su morska zvijezda ili morski krastavci. No znanstvenici su uvijek učili od životinja.
…Zašto se šamanističke slike doimaju kao nešto što je preživjelo u mnogobrojnim glazbenim formama? Možda zato što je glazba tako često put do neobičnih ili ekstatičnih stanja svijesti i zato što su šamani bili (i ponekad još uvijek jesu), kao što je to rekao Mircea Eliade, tehničari ekstaze. Šamanizam je cvjetao u animističkim lovačko-skupljačkim društvima u kojima je, ako su htjela preživjeti, sveukupno poznavanje

prirodnog svijeta bilo nedjeljivo povezano s magijskim tehnikama oponašanja prirode. U svakom halucinogenom putovanju, šamani se preobražavaju u životinjske oblike. Putujući u područja duha i svjetove mrtvih, često nošeni orlom ili jašući na bubnju, govorili bi vlastitim tajnim jezikom – mješavinom arkanističkog vokabulara, čudne buke i zvukova iz životinjskog svijeta – kako bi komunicirali s duhovima i životinjskim zaštitnicima. U svojoj klasičnoj studiji na ovu temu, Šamanizam, Eliade pronalazi brojne primjere ove sposobnosti komuniciranja među vrstama, interpretirajući je kao simbolički povratak u prvobitno rajsko doba kad su životinje i ljudi govorili zajedničkim jezikom i zajedno živjeli u skladu. Poput kineskih taoista, šamani su čuli glazbu duhova u vodi koja teče.
«Prema karipskoj tradiciji», pisao je Eliade, «prvi piai (šaman) bio je čovjek koji je čuvši pjesmu koja je izvirala iz potoka, neustrašivo zaronio i nije izašao sve dok nije zapamtio pjesmu duha žene i tako dobio oruđa za bavljenje svojom profesijom». Ali kako slike iz ove priče o smrti, ponovnom rađanju, duboko podsvjesnom i inspirativnom ženskom znanju također sugeriraju, pjesme i jezik šamana pokazivali su fluidnost i neustrašivost pomoću kojih je šaman mogao pregovarati s područjima udaljene svijesti i dubokog iskustva.
Prosinac 1994. Novinska agencija izvještava o značajnom pronalasku kineskih arheologa : dva xun puhačka instrumenta, stara, prema procjeni, 6500 godina, lovci su koristili kao mamce kako bi privukli ptice i životinje.
1950. godine francuski istraživać Alain Gheerbrant pustio je snimku Mozarta venecuelanskim Maquritari indijancima tijekom ekspedicije na rijekama Orinoco, Ventuari i Amazona. Ispod jedne fotografije u Gheerbrantovoj knjizi Nemoguća pustolovina [The Impossible Adventure] piše «Slušajući Mozarta». Ovaj dojmljiv portret prikazuje čovjeka koji sluša zatvorenih očiju. Njegova usta su opuštena, blažena, ali njegove oči izgledaju čvrsto zatvorene, kao da je to iskustvo koliko bolno toliko i ugodno. «Ne znam je li glazba doista univerzalni jezik kao što to ljudi često kažu», napisao je Gheerbrant, «ali nikada neću zaboraviti da je Mozartova glazba ta kojoj dugujemo rijetke trenutke kada je ponor koji su stoljeća evolucije iskopala među nama, između civiliziranih bijelih ljudi dvadesetog stoljeća, i njih, barbara Kamenog doba bio gotovo u potpunosti premošćen».
Sumrak. Snimatelj zvuka sjedi u maloj kabini, izoliran u zamrznutoj antarktičkoj pustoši. Spušta hidrofon kroz malu rupu u ledu, zatim sjedi kraj svoga magnetofona, slušalice je zakopao ispod slojeva tople odjeće. Pritišće prekidač za snimanje i odjednom, dramatično, izbačen je u tamu, podmornicu, katedralu s ledenim svodom kuckanja, odjeka, bijelog šuma i kotrljajućih melizmatičkih zvižduka visokih frekvencija glasanja Weddell-tuljana. Poput time-lapse-fotografije [fotografije koja bilježe protok vremena] i mikroskopa, snimanje zvuka otkriva nepristupačne svjetove, ako ne prvi put, onda barem u grafičkim i pretraživim detaljima.
Mnoge vrste glazbe su uživale u buci, tobože kako bi napuhale minijaturno ljudsko tijelo do obima koji se može nositi s nepreglednim prostranstvom onoga što ga okružuje (kako fizičkog tako i duhovnog). To prostranstvo, bilo da je ono prirodno, arhitektonsko ili digitalno, neminovno govori o misteriji, tuzi i usamljenosti.
…No bez obzira na to jesu li ti odjeci sintetički ili prirodni – jamajkanski dub, sjevernoafrički poziv na jutarnju molitvu razbija ranojutarnju tišinu dok odjekuje iz zvučnika smještenih na tornju, «Heartbreak Hotel»

Elvisa Presleyja ili javanski gamelan snimljen ispod visokog krova kraljevske palače – ne može se pobjeći od njihove moći ukazivanja na stvarne, virtualne i izmaštane prostore.
…«Zapadna glazba je tradicionalno zahtijevala zatomljavanje prostora», pisao je Stuart Marshall u članku za Studio International pod naslovom «Glazba znakova u prostoru Alvina Luciera» [«Alvin Lucier's Music of Signs in Space»]. «Većina glazbe se izvodi za publiku koja dijeli istu situaciju. Donekle, glazbena se izvedba mora okrenuti prostoru izvedbe ali samo kako bi ovladala njegovim specifičnostima». Čini se da je njegov zaključak, napisan 1976. godine, relevantniji nego ikad: «Lucierovo najnovije djelo postavlja važna pitanja o odnosu subjekta prema glazbi kao praksi označavanja. Bukvalno usmjerava pažnju na poziciju subjekta. Ni u jednome smislu osoba iz publike ne može biti smatrana samo pasivnim recipijentom glazbenog značenja. U ovim radovima naglasak na artikulaciji percepcije koja čini subjekt aktivnim mjestom na kojemu nastaje glazbeno značenje. Sve unutar toga je pokret i nitko ne može percipirati djelo kao cjelinu. To je novo poimanje glazbene temporalnosti koja je suštinski povezana s glazbenim prostorom.
…[Pauline Oliveros:] «1988. smo otišli u tu veliku cisternu i snimali. Tada smo otkrili da imamo dovoljno materijala za CD. Kad sam pokušala napisati tekst za omot, pokušavala sam izvesti neki zaključak o tome što smo zapravo tamo radili. Dvije su se riječi spojile – deep listening – zato što je to vrlo izazovan prostor za stvaranje glazbe, kad imaš 45 sekundi jeke koja ti se vraća. Zvuk se tako dobro reflektirao, da tako kažem, da nisi mogao odvojiti izravan zvuk od reflektiranog. Stavlja te u deep listening-prostor. Čuješ prošlost zvuka koji si stvorio; nastavljaš ga, po mogućnosti, tako da si upravo u sadašnjosti, i predviđaš budućnost koja ti se vraća iz prošlosti». Smije se. «Stavlja te u simultanost vremena, što je prekrasno, ali to je teško održati i ostati koncentriran. To je ono što sam mislila da smo radili, te slušali jedni druge. Sam prostor postane vrlo aktivan sudionik u stvaranju, ali način slušanja određuje njegov oblik. Jednom kad sam došla do otkrića sastavljanja tih dviju riječi – deep listening – zvučalo je kao dobar logo koji je povezan s onime što sam radila sve te godine i što još uvijek radim».
Zadivljujuće rezonantne prostore opisuje ona kao nezemaljske. «Katedrale su izgrađene u tu svrhu, da imaju zvuk u kojemu je prisutno natprirodno. Imamo ih dovoljno. Grand Central Station je mjesto koje strahovito odjekuje. Željezničke stanice su bile tako građene – velike piramide».
…«Na tim sesijama pokušala sam ući u suptilnije tjelesne vibracije, što bliže staničnoj razini, čak vibracijama energije koja prolazi kroz tijelo... Mislim da su vježbe šamanskog putovanja vrlo moćne, vrlo vrijedne i bogate u smislu stjecanja pristupa unutarnjem svijetu i dobivanja dragocjenih poruka od unutarnjih učitelja koji se tamo nalaze. To me jako zanima. U našem utočištu putujemo gotovo svake noći – putujemo na različite načine, recimo putujemo za sebe, ili za partnera, ili na neku temu. Želim se povezati sa slušanjem u najširem smislu; ne samo sa slušanjem zvuka i vibracija, nego i s razumijevanjem da mi jesmo vibracije. Sačinjeni smo od njih. To dovodi do duhovnog razvoja. Zvuk je vodeća energija u tom procesu».
Mediji su svijet pretvorili u kazalište. Glazba odražava to okruženje (koje je Jon Hassell nazvao elektroničkom šumom) i, neizbježno, mnogi glazbenici stvaraju djela koja su izgubljena i bespomoćna u toj šumi, glazbu iz koje nestanu, ostavljajući vakuum u središtu prazne bezobličnosti.
Sampliranje je najekstremniji suvremeni primjer glazbe koja upija u sebe glazbu koja je okružuje.
Sampliranje ljuti one koji vjeruju u svetost autorstva i vlasništva. Ali, na suprotnome kraju, glazbenici koji pokušavaju stvoriti nostalgičan, preuveličan povratak u 19. stoljeće prije Debussyja, ogromne simfonijske izričaje kompozitora kao boga, koji je u središtu stvaranja i koji ima kontrolu nad svojim djelima, mogu se činiti samo apsurdnima u vremenu kada kompjutori misle brže, po želji kloniraju kopije i šire informacije na velike udaljenosti u zamršenim mrežama koje je često nemoguće identificirati.
Odrastajući u sineastičkom okruženju u kojemu filmsko hiperrealno kazalište zvuka animira svakodnevnu buku izvan kina, neki su glazbenici usmjereni na proročki način komponiranja koji nije toliko soundtrack za imaginarni film koliko je dizajn zvuka za imaginarni život.
Dr. Konstantin Raudive, nekoć student Carla Junga i bivši profesor psihologije na Sveučilištima u Uppsali i Rigi, vjerovao je da ako ostavimo kasetofon da snima u tihoj sobi, može on uhvatiti glasove mrtvih. Ovaj fenomen, ako postoji, pretkazao je Thomas Edison, izumitelj fonografa, ali ga je otkrio glazbenik i filmski producent Friedrich Jürgenson, krajem 1950-tih. Noseći kazetofon sa sobom u švedsku prirodu kako bi snimio pjev ptica, uhvatio je i tihe konverzacije koje su, slučajno ili ne, bile glasanja noćnih ptica. Jürgenson je objavio knjigu Glasovi iz svemira [Voices From the Universe] koja je uzbunila parapsihologe. 1971., Pye Records (ista kuća koja je 1960-tih izdala mnoge važne pop i R&B ploče) sudjelovala je u eksperimentima usmjerenim na testiranje ove teorije. Tijekom osamnaestominutnog snimanja inženjer nije ništa čuo preko slušalica, iako je VU-metar pokazivao neprekidne signale. Preslušavajući snimku, prisutni su čuli preko dvjesto «glasova». Ovi «psihofonični» glasovi zvuče poput gomile zvukovnog smeća, eteričnog govora subliminalne ribe gušavice uhvaćenog u globalnom blebetanju radijskih prijenosa mrtvoga grada koji ispunjava našu takozvanu tišinu. Možda su to duhovi koji nam pokušavaju nešto reći. Ali što?
Na našemu vodenom planetu, vraćamo se moru kako bismo utvrdili naše trenutačno stanje. Uranjanje u duboke i tajanstvene vode predstavlja intenzivnu romantičnu želju za raspršivanjem u prirodu, nesvjesno, maternicu, kaotične stvari od kojih je sačinjen život. Kao otmjen izraz s mirisom klora ove praiskonske žudnje, popularnost plivanja kao rekreacije je relativno suvremena opsesija.
Kraljevi i kraljice su oduvijek imali svoju ambijentalnu glazbu: simbol krajnje moći i blagostanja, orkestralni soundtrack da smiri prijelazne trenutke, olakša san i probavu, umiri bogove nereda, dramatizira obrede i raskoš. To je bio njihov osobni Muzak-sustav i recept za tablete za spavanje. Ali dolaskom walkmana, discmana, DATmana, auto-radija, kazetofona i CD-playera, svi smo postali monarsi, barem u smislu da se možemo odvojiti od svog okruženja, ili kao što je to zamislio Akio Morita kad je sudjelovao u dizajniranju Sony Walkmana, od naših obitelji. Slika kupanja u zvuku je tema koja se ponavlja u posljednjih sto godina.
Uranjanje je jedna od ključnih riječi kasnog 20. stoljeća. Bas je uranajući, odjeci su uranjajući, buka je uranjajuća.
Opijati, slobodno plutanje (kao što su The Birds pjevali u "Dolphins Smile"), vibracijsko blaženstvo. Tu se očito radi o nostalgiji, ili žudnji za slobodnim plutanjem u tekućem

svijetu nelinearnog vremena, o pojačanoj osjetilnoj percepciji i beskrajno suptilnoj komunikaciji, nasuprot svakodnevnom svijetu podijeljenog vremena, građevnih blokova, sekvencijskog jezika i objektivizacije s kojima se moramo nositi našim nespretnim, uspravnim, dvonožnim držanjem. Psihologija nas neizbježno vraća u stanje fetusa, koji mirno spava u maternici, ili u nepomično infantilno stanje kada se svijet sastoji od boja, zvukova, mirisa i dodira.
Ali završava li tamo? Nakon deset godina proučavanja komunikacije delfina na Djevičanskim otocima i Havajima, Gregory Bateson, antropolog, psiholog i kibernetičar, napisao je sljedeći odlomak u eseju iz 1966. objavljenom u knjizi Koraci prema ekologiji uma [Steps To An Ecology of Mind]: «Osobno ne vjerujem da delfini imaju nešto što bi lingvisti nazvali 'jezikom'. Ne mislim da bi ijedna životinja bez ruku bila dovoljno glupa da stvori tako neobičan način komuniciranja. Da upotrebljava sintaksu i kategorijski sustav prikladan za raspravljanje o stvarima s kojima se može rukovati, dok je zapravo raspravljanje o obrascima i okolnostima odnosa fantastično».
Za bilo koga tko koristi kompjutor stvari s kojima se može rukovati počinju nestajati iz svijeta, sve više postajući predstavljene dvodimenzionalnim ikonama na ekranu. Počinje panika.
«Nasuprot ljudskim bićima koja su izumila alate za izradu stvari i tako stvorila kulturu», piše Tosiharu Ito, «kitovi i delfini možda su afirmirali kulturu bez stvari, koja se sastoji isključivo od komunikacije. Osim toga, njihova kulturalna struktura vjerojatno posjeduje osobine koje su sklone novom medijskom društvu koje nas je počelo okruživati. To može ukazivati na otvaranje nove civilizacije koja je potpuno različita od konvencionalne forme. Naravno, takva forma mogla bi promijeniti značenje umjetnosti kao takve. Informacijska mreža prožima naše svakodnevno okruženje i novi izravno povezani mediji poput holofonike i fosfotrona napreduju prema sljedećoj razvojnoj fazi. U izvjesnome smislu, čovječanstvo koje je stavljeno u takvo informacijsko okruženje može se usporediti s delfinima ili kitovima u novoj vrsti mora».
Kao što sam i prije govorio, snimanje je tekst snova, vizija mogućih svijetova, sa studijem (unatoč svjetovnim polugama i uređajima za podešavanje [faders], raspelima tehnologije, bezličnim tepisima i funkcionalnim stolicama, tikovini i vinilu) kao drugim svijetom. Proslijedio sam ovu ideju Kate Bush. «Mislim da se cjelokupna umjetnost bavi svjetovima snova», odgovorila je, «zato što mislim da je to većinom stvaranje iluzije. To stvara iluziju koja utječe na nekoga na specifičan način, što dopire do ljudi. Tehnologija bi trebala postojati da bi olakšala prenošenje stvari na vrpcu, ali to nije duša glazbe. Ljudski element – to je duša. Mislim da bi nas upravo kompjutori mogli dovesti u potpuno novo doba duhovnosti. Ovaj hi-tech svijet može ohrabriti i prigrliti vrlo staru glazbu. Možda će nas kompjutori naučiti strašno puno o nama i našem planetu, zato što je to na neki način prvo objektivno stajalište koje ćemo zauzeti a koje ima vrlo visoku inteligenciju. Mislim da bi moglo biti nevjerojatno uzbudljivo kad bismo spojili dušu i kompjutore».
…Još otkad se post-acid-house techno-paganizam počeo smatrati opcijom životnog stila, često se pozivalo na šamanizam, kao da gutanje ecstasyja i cjelonoćno plesanje na techno-glazbu, a kamoli pohađanje vikend-tečaja šamanskog putovanja, može preko noći dovesti opterećeno, profano, urbano tijelo u šamansko stanje.
…Ozbiljno sumnjam u automatske pretpostavke da je ta vrsta slobodnoplutajućih ekstatičnih stanja izazvanih drogama, plesanjem i mogućom dehidracijom istovjetna šamanskim kozmologijskim putovanjima duha.
…«Instrumenti su bili upotrebljavani kako bi prizvali prirodu koja je gotovo uvijek izmicala našoj spoznaji. Mi ne živimo u takvoj prirodi. Za nas, priroda je park. Prava priroda je vrlo slična atmosferi zgusnute elektroničke glazbe» (Terence McKenna).
…Šamanističke kozmologije su međusobno jako slične. Postoji nebo, ili raj; zemlja, na kojoj žive obični smrtnici; i podzemni svijet, mjesto mrtvih. Šamani mogu putovati kroz sva ova područja, premda putovanje nije nužno ugodno ili lako. Studije o šamanizmu govore o fizičkoj bolesti, psihozi, vizijama o trganju udova, o tome da su ih pojeli i izbljuvali duhovi, vatrenim kušnjama, davljenju, sakaćenju, mističnoj smrti i ponovnom rođenju. Šamani, kao što ih je prikazao Oliver Stone, mogu spokojno zuriti u prazno kao što se rock-zvijezde druže s dionizijskim tajnama piva, ali arhivske fotografije i filmovi šamana iz Sibira, Mongolije i Amazone prikazuju sijede, proganjane likove, izbrazdane znanjem nakon putovanja u pakao i nazad. Na ambijentalnu glazbu se gleda, ponekad s komičnom ratobornošću, kao na bijeg iz neugodne stvarnosti sirovih emocija, psiholoških kriza, neurednosti tijela i političkog nezadovoljstva, ali ako ambient znači samo blaženstvo bijeloga svjetla, onda su glazbenici samo puki službenici, robovi koji hlade čela pregrijanih urbanih info-ratnika, prije nego šamani koji putuju u odvratne zemlje leševa kako bi od demona ukrali znanje.
Ovaj zahtjev prema kojemu bi se zvuk trebao pokoriti eskapističkim potrebama predstavlja odbijanje potencijala koji postoji u propusnosti glazbe koja se razvija u posljednjih sto godina. Glazba – fluidna, brza, eterična, dalekosežna, zasnovana na vremenu, erotična i matematička, uranjajuća i neopipiljiva, racionalna i nesvjesna, ambijentalna i čvrsta – predskazala je eterični govor informacijskog oceana.
S engleskoga prevele Jelena Popović i Sanja Kovačević
Cover of David Toop's Sinister Resonance
David Toop
is the author of several landmark books about music, including
Rap Attack
(1984),
Ocean of Sound
(1995), and
Haunted Weather
(2004). He is also a musician, with a discography spanning nearly four decades. His first record - a collaboration with the sound sculptor Max Eastley titled
New and Rediscovered Musical Instruments
-- was released in 1975 on Brian Eno's Obscure label.
In Toop's previous books
Ocean of Sound
and
Haunted Weather
, he explored sound in all its ephemeral, enigmatic, amorphous connotations. His new book
Sinister Resonance
, out soon on
Continuum
, takes those explorations a step further, drawing a dense web of connections between sound and visual art. Toop begins the book with the concept that "sound is a haunting, a ghost, a presence whose location in space is ambiguous and whose existence in time is transitory." To explore sound's intangibility and mystery, Toop wanders through a bewildering array of references from fiction, myth, painting, and architecture, allowing him to approach sound in oblique and unexpected ways.
---
Let's talk about Sinister Resonance. What drove you to write this book?
I was thinking about the senses a lot and I was thinking about the repositioning of the senses, and the focus on seeing and looking and touching in our culture, and I thought about John Berger's book
Ways of Seeing
. Obviously, there's no auditory equivalent to
Ways of Seeing
; there's no
Ways of Hearing
. I contemplated writing a book called
Ways of Hearing
, which this book is and it isn't.
Cover of John Berger's Ways of Seeing
In the process of doing that, I was re-reading his book. I began to think about what he said about his prioritization of seeing as the way we locate ourselves in the world. And what he said about the silence of Vermeer. It reawakened something in me. My background is partly in music and it was partly in visual arts. I dropped out of two art schools, in fact. I studied graphic design and painting. Then I dropped out and really went with music at that point. And I think that music and my concentration on sound has really taken over, in that 35-year period I'm talking about.
I started to look again at visual art. And that's my attempt at it. I had a revelation; I was in the Wallace Collection and I saw this painting by Nicolas Maes,
The Listening Housewife (The Eavesdropper)
, and it really struck me because it was a representation of a moment of listening. And that's quite unusual. I researched this painting and I discovered that he painted a whole series of these eavesdropper images when he was a very young man. And that was a starting point for me of a whole train of thought, in which I really began to think about a history of listening, and how silent media represent the history of listening. Before the advent of audio recording in the late 19th century, all we have in terms of a memory of listening experiences, auditory experiences, is what is preserved through silent media - whether it's notation and writing or painting and sculpture. And to some extent in musical instruments. And auditory technology - basically, we glean some sense of auditory history from silent media. It really began to fascinate me. On one hand, it leads into a deeper exploration of the difference between the senses, and the overlapping between the senses and what's actually going on with listening, and on the other hand it leads deeper into an exploration of incidents of listening.
--> -->
Nicolas Maes, The Listening Housewife (The Eavesdropper), 1656
(Source: Wallace Collection)
I think that the point is - and this is the main thread of the book, if you like - that sound has this characteristic of the uncanny, that sound is to some degree a ghost, and hence this expression in the mediumship of the listener. Sound is transitory, ambiguous in its location in space, and it's uncertain; it lends itself to representations of uncertainty. It lends itself to feelings of dread and fear and loss and these emotional states, these extreme psychic states. It lends itself to mysticism, all these ineffable experiences. These sensations of immateriality. And so it's a very powerful tool for musicians, but at a certain level, in social functioning or whatever, it's perceived as being unreliable.
The way we describe reality is always through seeing and touch; seeing is believing. So listening has this negative quality, which is of course tremendously interesting. It can always have this sense of the uncanny. You can never be quite sure of what somebody has said to you. You can never be quite sure of the source of a sound, particularly when the source of the sound is hidden from you, which is often the case. We make suppositions all the time about what we hear. For that reason, sound is very important in, for example, supernatural fiction. One section of the book is focused on ghost stories and horror stories particularly from the 19th century beginning with Edgar Allan Poe, going through to all these late 19th century and early 20th century writers like Arthur Machen and Algernon Blackwood and Wilkie Collins, and onto 20th century writers like Shirley Jackson. Sound is often a kind of portent; it's a sign that something bad is about to happen. Very often there's a silence, and then there's a strange sound and the bad stuff begins. It's almost like sound is the presence of a ghost, because sound has the quality of a ghost. You know, that the sensory quality of the uncanny is mentioned by Freud in his famous essay on the uncanny. He doesn't elaborate on sound; he just makes the point that we have these deep childhood fears. In that sense for me, the book is personal. I went back to my first memories of sound, and they tended to be very fearful. Things that go bump in the night. These hyper-acute experiences of listening - which I tend to think of as paranoid listening - in a way you're eavesdropping on what isn't there. It's manufactured in the imagination but it becomes very real, in an experience of terror.
You talk a lot in your book about the connections between painting and sound. You have some very interesting ideas about hearing the sounds in paintings. Even old chestnuts like Edvard Munch's The Scream seem strange and new, using this analysis. You quote Munch, who seemed haunted by his own work, and the sounds beneath it: "I felt a huge scream welling up inside me--and I really did hear a huge scream...The lines and colors quivered in movement."
It's definitely a new approach and I tried to talk to a few art historians about it, and they kind of avoided it...I think it's very risky territory for them. For one thing, they're not really interested. But it's very subjective; this is kind of my fantasy, you could argue. There's a painting, it's not making any sound, it's completely silent, so what is he talking about? But at the same time, if you follow my logic, I think that there are many paintings where you can hear sound, and many paintings in which you can't. That to me is an indication that the artist was in some way, consciously or unconsciously, interested in sound as an element of the work. I can't prove that.
The Scream
is a good example, because as you say, it's become a kind of cliché, wallpaper, in our thinking. But if you go to Munch's ideas - the things he was thinking about and interested in when he did that painting -- he was interested in new science at the time, these theories of vibration and so on. He was experiencing these hyper-acute sensations in which sound impacted him very forcefully. He was experiencing this kind of bleed between the senses, almost. The senses were very integrated for him. They overflowed. If you go back to his ideas and what he was really interested in when he was doing that painting, it brings his paintings back to life again, that's one thing. But it really does give me some evidential basis for making this preposterous claim that certain paintings make sound. To me, it's quite obvious in many paintings. And that's because this is my area; this is what I'm sensitive to. And I come back to something that I was very, very interested in, [which] to some extent I had training in when I was very young. I come back to it through these 40 years of focusing very intently on sound and listening and music. And so that informs my perspective, my reading of these paintings. It's my belief that sound is the silent part of the impact of many paintings. I also believe that sound is used to articulate ideas within certain paintings.
Tell me about your own experiences as a student in art school. I know that you were an art school student in Britain in the 1960s.
We used to do foundation here, and the teaching at that time - I'm talking 1967, 1968 - was based on a very intensive kind of looking. This all stems from one particular educator in Britain called Harry Thubron, who had this idea of looking; you would draw the spaces in between radiators and things like that. It was an exercise in looking, in seeing, in depth. So I did that for a year; then I did graphic design. I went to Hornsey College of Art, one of the main colleges that had a student sit-in because of the events of Paris '68. So there was a lot of revolutionary fervor at that time, and I got very involved in that and forgot about studies, and it had a huge impact on my life. In my first year of college, just before I left school, I was involved in a sit-in, a takeover of college, and it was incredibly exciting. I did a graphic design course, which I found quite boring. I left that after a year; I went to a painting course. I wanted to work with multimedia, I wanted to work with sound and light projections and so on; this was in 1969, 1970. And they said 'We can't really help you,' so I walked out. And I was playing music with people by that time anyway. I've been playing music since when I was a young teenager, but I was starting to play music seriously at that time -- it was just more exciting, you know? I was very impulsive in those days, very reckless. I just walked out and became a musician.
Talk a little bit about silence. That's another one of those slippery subjects that you assess in your book. There's this one interesting part of your book where you talk to a deaf woman who is very angry with John Cage, because Cage didn't take deaf people into consideration in his ideas about silence. In Sinister Resonance, you talk a lot about silence.
It's the complexity of silence, isn't it. We have this orthodoxy now that stems partly from Cage. I suppose mostly from Cage - though as I point out in my book, other people like Virginia Woolf had explored these ideas before Cage had come to them. But we have this orthodoxy that there's no such thing as silence. In one sense I think that's right; silence is just a word for many states, which are complex states, of noise in fact. Low-level noise. But then on the other hand we have the importance of silence as a metaphor - for example, silence used in talking about the Holocaust or genocide, or environmental destruction and so on. In that sense, silence is a very powerful metaphor. I don't think we should lose that in this finessing of the real experience of listening to silence, but they're different modalities in a way. Again, going back to these early modernists, the way Beckett wrote about silence, or Faulkner, or Virginia Woolf - silence could continually change in relation to beings and relation to context. So there was no such thing as absolute silence. It was this very complex property that shifted according to situation and according to the approach of the listener.
My feeling about silence is that the closer you focus down on it, to use a visual metaphor, the more you discover. There's this paradox - the deeper you get into silence, the noisier it becomes. I was fascinated by these scenes of silence, which were so important to painters. Particularly from the 16th century on, I suppose, and many examples in 17th century painting. All these paintings in Dutch painting from Rembrandt and through to Vermeer, these paintings of people sleeping or reading. The fascination of that simple situation - that ordinary situation of life - somebody sleeping. But what does it mean? How do we engage with that? And some of our engagement is of course auditory. And again it comes back to this theme. There's a narrowing, isn't there, there's the idea that the visual aspect of the scene is what's truly important, is what's central. Truthfully our engagement is a much more complex, interlinked engagement. If we're with a person who's sleeping, we're hearing and seeing simultaneously. You can't really separate them out.
Johannes Vermeer, Woman in Blue Reading a Letter, 1663-1664
In your book you also talk about Malevich's Black Square in relation to silence.
Yeah, I do. In later paintings, there's almost this line. You go through Rembrandt and Vermeer, you come to this point which Ad Reinhardt described as an endpoint. It wasn't an endpoint, but in another sense it was. It was the end of a stage of Western art, this very interesting point, where Cage composed
4'33''
and Rauschenberg painted white paintings and Ad Reinhardt was painting these so-called black paintings and Rothko was making black paintings and Nam June Paik made his blank leader film. It was like, bringing this down to nothingness. Where do you go from there?
Kazimir Malevich, Black Square, 1913
In a sense, that has been our dilemma ever since -- for the artists, or for musicians, and the audience. Where do you go from there? Do you go backwards? Do you go back to 19th century romantic music, or do you go back into figurative painting, or do you go into pure philosophy? Where do you go after that? It created this colossal dilemma, and you could characterize that as a kind of silence. What was interesting to me was you do find examples of people making a direct link between monochrome paintings and silence. But that for me raises a difficulty. Is it possible to say that all these monochrome paintings, from Malevich to Rauschenberg at the white end of the spectrum through Brice Marden and Yves Klein and so on to Ad Reinhardt and Frank Stella at the other end - are they all silent? How can that be? They're all completely different. They go through the extremes of the spectrum. For me it doesn't quite work. But it's an interesting idea, this sense of nothingness, the void. And nothingness, the void, is really where you begin as a composer, a musician, or as a listener.
With Yves Klein and his investigations of the perfect color of blue, you talk about the idea of a single, ringing note.
His symphony was a block of one note, and then a block of silence. So it's like he's saying, it was both. It could be both. That was the paradox. I think you could read monochrome painting in the same way. With Ad Reinhardt - it's wrong to talk about Ad Reinhardt's paintings as being black paintings, because they're not; there's a very defined geometric structure within those paintings - are they noise, or are they silence? Its something Reinhardt thought about. It's a reductionism and it's a maximalism, simultaneously.
Yves Klein, IKB 191, 1962
Your books have a sprawling, stream of consciousness style to them, but they're also very coherent. One of the interesting things about this book is that you return to a lot of themes again and again. Woolf, Duchamp, Beckett - they all become characters in your book, in a way. You keep going back to Beckett; you keep going back to Woolf. They keep surfacing.
All of my books since
Rap Attack
were constructed with a kind of musical form. This idea of revisiting thematic material and weaving it through, with this long duration, so that people have these gentle reminders. That's the kind of musical sensibility, I think; it's conscious and it's unconscious. I do it instinctively, but I also know what I'm doing. It's about craft as much as anything, but it's also about the experience of doing an awful lot of this kind of writing, for decades, and also playing music in this kind of way for more than 40 years. It's part of the experience. I think if you approach writing a book in a more formal way, it's a very different sense of form. What I do is much more instinctive. There's a lot of experience both in writing, and in music. It is a way of writing that you may like or dislike or may find illuminating or frustrating, but it's a way I have that expresses the way my mind works. It's constantly branching off in different directions. It's more like plant growth, really. I'm trying to be true to the way I think, but I want to communicate that. I don't want to be hermetic. I want to communicate with other people who think differently from me. I suspect a lot of people think somewhat in that way, and then it's tidied up for consumption, regularized. But the idea of the informal is very important to me. And of course it's influenced by other media; it's influenced to some extent by film, by new media, by digital media, by cut and paste, by collage, in visual art and music, of course. Conscious influences, over the years, but ultimately at heart it's the way my mind works. Or not even the way my mind works - just the way I feel in the way I engage with the world.
Geeta Dayal is the author of Another Green World (Continuum, 2009), a new book on Brian Eno. She has written over 150 articles and reviews for major publications, including Bookforum, The Village Voice, The New York Times, The International Herald-Tribune, Wired, The Wire, Print, I.D., and many more. She has taught several courses as a lecturer in new media and journalism at the University of California - Berkeley, Fordham University, and the State University of New York. She studied cognitive neuroscience and film at M.I.T. and journalism at Columbia. You can find more of her work on her blog, The Original Soundtrack.