Ulrike Ottinger: Floating Food (ethnologic art exhibition in Berlin):
Vimeo
Johanna d'Arc of Mongolia (1989)
Ulrike Ottinger's epic adventure traces a fantastic encounter between two different worlds. Seven western women travelers meet aboard the sumptuous, meticulously reconstructed Trans-Siberian Express, a rolling museum of European culture. Lady Windemere, an elegant ethnographer played by the incomparable Delphine Seyrig in her last screen role, regales a young companion with Mongol myths and lore while other passengers-a prim tourist (Irm Hermann), a brash Broadway chanteuse and an all-girl klezmer trio-revel in campy dining car cabaret. Suddenly ambushed by a band of Mongol horsewomen, the company is abducted to the plains of Inner Mongolia and embark on a fantastic camel ride across the magnificent countryside. Breathtaking vistas, the lavish costumes of Princess Ulun Iga and her retinue, and the rituals of Mongol life are stunningly rendered by Ottinger's cinematography. Dubbed a female Lawrence of Arabia and just as sweepingly romantic, JOHANNA D'ARC OF MONGOLIA is a grandly entertaining, unforgettable journey.
Madame X: An Absolute Ruler (1977)
"Ulrike Ottinger has a larger body of work than almost any other lesbian filmmaker, and her rarely seen first feature contains most of the elements that make her work so unique and ahead of its time. In this extravagantly aestheticized, postmodern pirate film she appropriates the male genre for feminist allegory. Madame X — the cruel, uncrowned ruler of the China seas — promises "gold, love, and adventure" to all women who'll leave their humdrum lives behind. Gathered aboard her ship, Orlando, are a range of types: a frumpy housewife, a glamorous diva, a psychologist, a very German outdoorswoman, a bush pilot, an artist (played by Yvonne Rainer), and a "native" beauty. Their utopia devolves into betrayal and self-destruction—leading to eventual transformation—as the power games of the outside world are ritualized among the women. Tabea Blumenschein, who designed the film's outrageous costumes, appears in a dual role as the pirate queen and the ship's lovely, leather clad figurehead. Refusing conventional storytelling and realism for a rich, non-synchronous soundtrack, the film invites its audience along for an unprecedented journey that celebrates the marginal." — Patricia White
Ticket of No Return (1979)
A portrait of two unusual but also extremely different women. One rich, eccentric, hiding her feelings behind a rigid mask, consciously drinks herself to death. The other is a known drinker in town. In the course of the story they try to get to know each other, but they cannot come together. The background is Berlin, thrown open to a grotesque kind of sightseeing (drinkers' geography) and complemented by authentic contributions from people who live here or are visiting, rock singers, writers, artist, taxi drivers. With Tabea Blumenschein, Magdalena Montezuma, Nina Hagen and Eddie Constantine.
In 1966 she wrote her first screenplay, entitled Die Mongolische Doppelschublade.
Ottinger returned to West Germany in 1969 and, in cooperation with the Film Seminar at the University of Konstanz, founded the film club "Visuell", which she directed until 1972. She also headed a gallery and the associated "galeriepress", where they edited works by contemporary artists.
During this time she met Tabea Blumenschein and Magdalena Montezuma, both of whom have been cast as lead actresses in her films since 1972. Ottinger developed her own bizarre surrealist film-style, which among other things, was marked by widespread abandonment of a linear plot and instead linger long in individual scenes, which in turn make überstarke and extravagant costumes of the imagination mostly female cast artfully to own collages were designed.
She directed and did stage design for Elfriede Jelinek's Clara S. at the Württembergisches Staatstheater in Stuttgart in 1983, and did the same for Jelinek's Begierde und Fahrerlaubnis in Graz in 1986.[2] In 1989, her film Joan of Arc of Mongolia was entered into the 39th Berlin International Film Festival.[3]
In 2003, Ottinger was selected for a solo exhibition at the Renaissance Society. Titled South East Passage, the work "is in three chapters - a travelogue of the artist's journey from southeast Poland to the Bulgarian shores of the Black Sea and a portrait of two coastal cities, Odessa and Istanbul". South East Passage was the first of a two-part series of exhibits exploring Eastern European video work.[4]
On the occasion of the 2009 New York premiere of The Korean Wedding Chest, with Ottinger to be in attendance, The New York Times characterized the director as, "[d]uring the 1980s heyday of the New German Cinema, having constituted a one-woman avant-garde opposition to the sulky male melodramas of Wenders, Fassbinder and Herzog, her films being long, discursive and wildly inventive."[5]
Ottinger's films, with their preference for the Far Eastern formal language is visible, turned in the following decades, some unconventional documentaries about life in various Asian regions. Ottinger directed the upcoming Horror-Drama film Die Blutgräfin,[6] which based on the life of Elisabeth Bathory.[7]
Filmografija:
2011 – Under Snow
2009 – The Korean Wedding Chest
2007 – Prater
2004 – Zwölf Stühle (Twelve Chairs)
2002 – Südostpassage (Southeast Passage)
1997 – Exil Shanghai (Exile Shanghai)
1992 – Taiga
1990 – Countdown
1989 – Johanna D'Arc of Mongolia (Joan of Arc of Mongolia)
1986 – Sieben Frauen – Sieben Todsünden (Seven Women, Seven Sins)
1986 – China. Die Künste – der Alltag (China. The Arts – the People)
1984 – Dorian Gray im Spiegel der Boulevardpresse (Dorian Gray in the Mirror of the Yellow Press)
1981 – Freak Orlando
1979 – Bildnis Einer Trinkerin-Aller Jamais Retour (Ticket of No Return)
1978 – Madame X – Eine absolute Herrscherin (Madame X: An Absolute Ruler)
1975 – Die Betörung der blauen Matrosen (The Enchantment of the Blue Sailors)
1975 – Laokoon & Söhne (Laokoon & Sons)
1973 – Berlinfieber – Wolf Vostell (Berlinfever – Wolf Vostell)
http://www.goethe.de/kue/flm/far/en46863.htm
http://www.ejumpcut.org/archive/onlinessays/JC29folder/UlrikeOttinger.html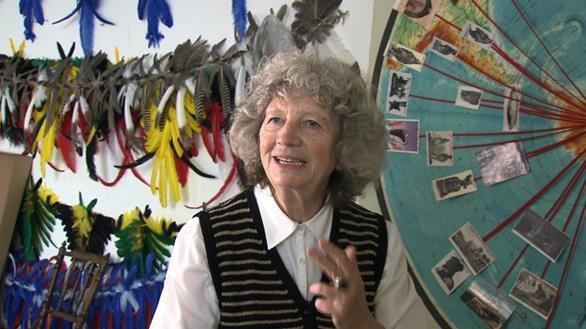 Ulrike Ottinger – Nomad From the Lake
Dir/scr: Brigitte Kramer. Germany 2012. 86mins
A film-maker, artist and icon of German lesbian counterculture is the subject of something that's less profile than fan letter verging on hagiography, in Brigitte Kramer's Ulrike Ottinger – Nomad From the Lake (Ulrike Ottinger – Die Nomadin vom See) . The documentary is very much an inside job by an admirer who's not only worked herself with Ottinger, but admits from the off that discovering the film-maker changed her life.
Liberally illustrated with clips from Ottinger's outré and elaborate work, the film will either prove a tantalising introduction or a turn-off for non-initiates, but Kramer largely fails to illuminate Ottinger's importance either historically, artistically or culturally. The film feels like a lost opportunity to contextualise a complex and flamboyantly talented artist who, it's clear, has generated her own imaginative world; outside lesbian and gay festivals, the film is unlikely to resonate as a more detached portrait might have done.
Ottinger herself, seen today lazing and sometimes sailing on her native Lake Constance, is an affable if not always very expressive figure, reminiscing about her youth, her introduction to Berlin's art underground in the early 70s, and her shift from painting to film-making. In recent years, in fact, she has been more active on the art front, and the film's latter sections show her preparing a major Berlin installation that showcases her magpie characteristics: a committed traveller, Ottinger has made films in China, Korea and Mongolia, while recent work borrows from the imagery of Japan and Mexico.
There's an intriguing clip from Ottinger's first film of the early 70s, the experimental black-and-white Laocoon and Sons, along with much from the highly-coloured, wildly imaginative work that began later in the decade. Scoring a huge hit in Germany with the controversial Madame X – An Absolute Ruler (1978), Ottinger made her name with films that occupy a parallel artistic universe to, say, Fellini, Ken Russell, Derek Jarman and early Almodóvar – mixing 'happening'-like performance, flamboyant design, camp humour and the spirit of 70s-80s German punk, along with potent streaks of lesbian chic and in-your-face queer culture.
Works such as 1981's Freak Orlando and Dorian Gray in the Mirror of the Yellow Press (1984) led up to Johanna d'Arc of Mongolia (1988), a mammoth undertaking that Ottinger actually shot in Mongolia: actress Irm Hermann offers the documentary's most enlightening talking-head material, cheerfully recalling hair-raising adventures on that shoot.
Kramer's very personal documentary, with its first-person voice-over testimony, rather comes across as one for Berlinale diehards, with interviewees including former Forum director Ulrich Gregor – offering key insights into Ottinger's theatricality – and Panorama head and all-round Berlinale face Wieland Speck reminiscing about acting naked for the director. Other contributors include some academic admirers, cogitating earnestly, and gallerist-collector Ingwild Goetz, who hits the nail on the head when she talks of Ottinger as an influence on today's leading art-world weirdmeister Matthew Barney.
But the film offers a very partial picture – more on Ottinger's role in the early 1970s Berlin art world would have been illuminating, and there's frustratingly little information about actress Tabea Blumenschein, Ottinger's one-time muse. Initiates, especially Ottinger's faithful Berlin public, will lap it all up, but otherwise Kramer's film, functional in execution, is more tease than revelation. -
Jonathan Romney
the THRESHOLD of the VISIBLE WORLD
Kaja Silverman
An Interview with Ulrike Ottinge
Janet A. Kaplan
Web stranica Ulrike Ottinger
ovdje