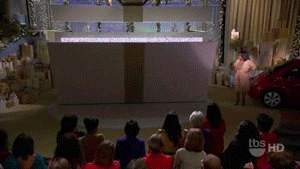 Još jedno pitanje na koje moramo odgovoriti?
A D Jameson
Animated Gifs as Cinema
I was planning to put up the next installment in my experimental fiction series today (
part 1
,
part 2
), but school has interfered. (I'm writing a paper on Dickens's use of the narrative present in
Great Expectations
, plus grading 40-something research papers written in response to Hanna Rosin's
The End of Men: And the Rise of Women
.)
In the off chance that you'd like to read something new by me, I recently published an article at the film site
Press Play
, "
Are Animated Gifs a Type of Cinema?
" Since then, Landon Palmer has responded with an article at
Film School Rejects
("
Animated Gifs are Cinematic, But They're Much More Than Cinema
"), as has Wm. Ferguson at the
6th Floor
, the
New York Times Magazine
's blog ("
On the Aesthetics of the Animated GIF
"). I'm planning a follow-up post as well as an interview with Eric Fleischauer and Jason Lazarus, the directors of the gif anthology film
twohundredfiftysixcolors
, whose premiere I managed to catch a few weeks back. And the
Press Play
article is itself a follow-up to two articles I posted at
Big Other
in early 2011: "
How Many Cinemas Are There?
" and "
Why Do You Need So Many Cinemas?
"
I'm only just beginning my studies on the gif, so I appreciate any and all feedback.
Are Animated Gifs a Type of Cinema?
BY
Well, are they? I'm inclined to argue that they are. Indeed, I've already done so, in two posts I wrote a couple years ago elsewhere: "How Many Cinemas Are There?" and "Why Do You Need So Many Cinemas?" There, inspired by comics scholar Scott McCloud's ultra-lean definition of comics ("sequential art"), I proposed that cinema be thought of simply as "moving images." Making that mental leap expands the cinema to include not just feature-length films and shorts, but also television shows, music videos, YouTube videos, video games, flash animations—and animated gifs. (I even argued that cinema should include certain "non-electronic" forms, such as flip books, magic lanterns, and shadow puppetry.) I won't rehash that whole argument here; instead, I want to look solely at animated gifs. Are they cinema?
Admittedly, I don't know anyone who is arguing that they aren't. But I also don't know anyone (with one exception) who's arguing that they are. Indeed, no one seems overly concerned with the matter. But I think it makes sense to examine the relationship between animated gifs and other forms of cinema, as well as to try describing the format's unique cinematic aesthetic. Here are a dozen reasons why.
1. They're often taken from cinema, as people extract smaller moments from longer films. Here's a famous example: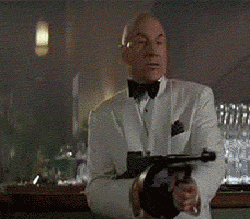 2. If that's all animated gifs were, then they would be truly derivative works—very short video clips (with a reduced color palette). But animated gifs can be used to create new works, by combining moments from different films. For instance, you might often see those two shots in the Picard gif followed by a third: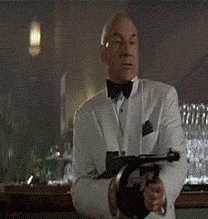 Or: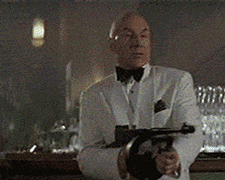 These examples edge us closer to the world of video art, or earlier experimental films that derived their effects from juxtaposing footage from different films. These Picard gifs remind me of the moment in Bruce Conner's classic 1958 film A MOVIE where the submarine captain looks through the periscope (4:17–4:19):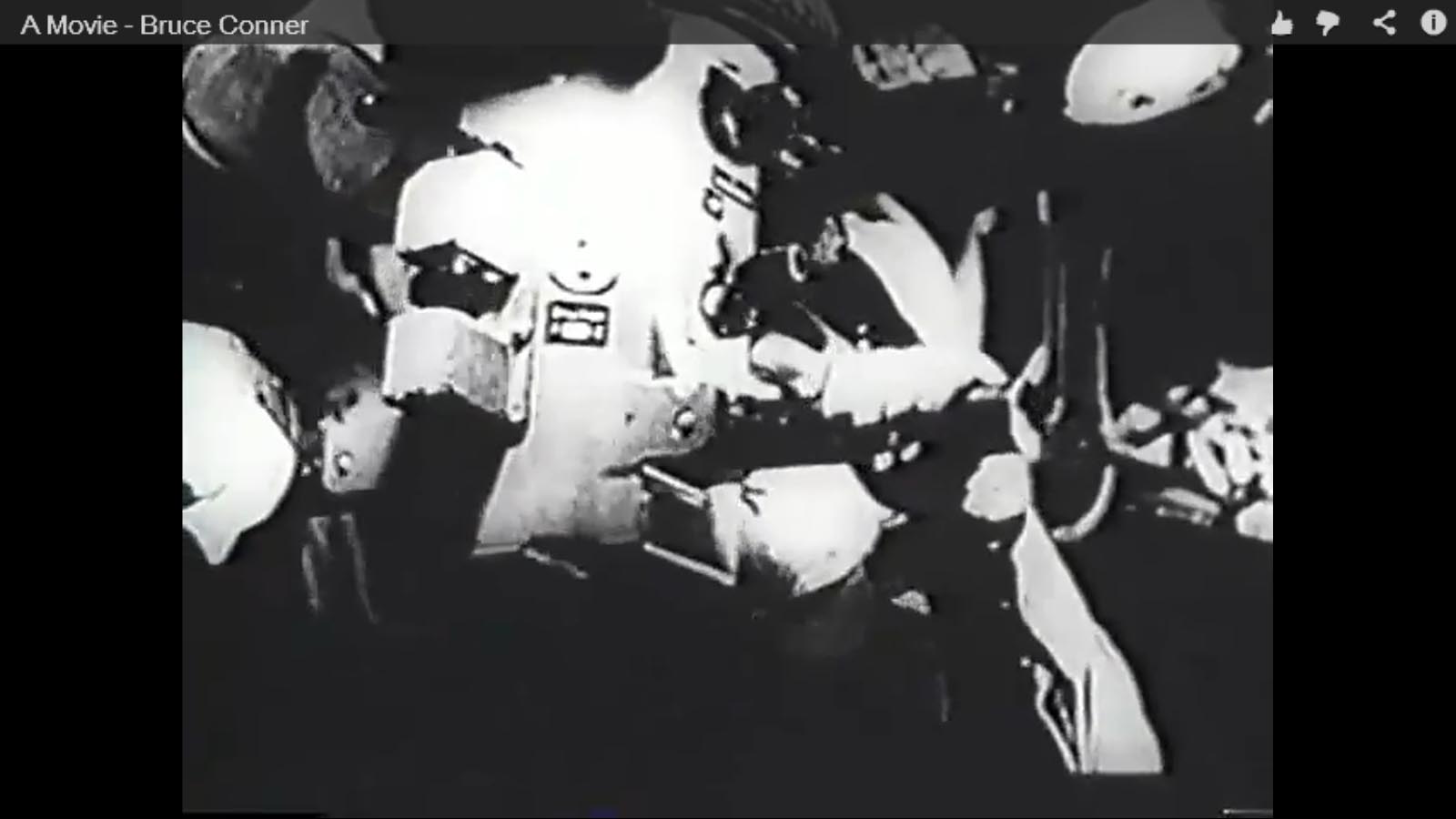 . . . to spy a pin-up model reclining on a bed (4:19–4:24):
Both A MOVIE and these animated gifs employ some common cinematic principles. The cuts create an eyeline match, which make it appear as though the characters are looking at one another, and obey the 180-degree rule(meaning that if you draw a straight line between their eyes, our perspective stays to one side of it). (Incidentally, the juxtaposition in A MOVIE works better than the above images might suggest, because right before the cut, the submarine captain is shown twisting the periscope from left to right.)
I've seen a different version of the Picard vs. Chunk gif: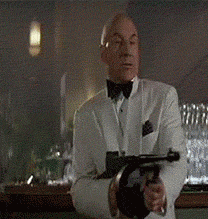 . . . and I'd argue that it doesn't work as well as the first one we considered: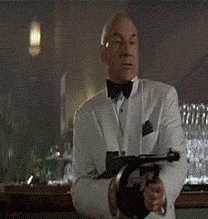 . . . which better matches the eyelines, and obeys the 180-degree rule.
This suggests that animated gifs possess an aesthetic similar to cinema's.
3. Besides combining shots taken from different films, animated gifs can also juxtapose different types of cinema, such as live-action and animation: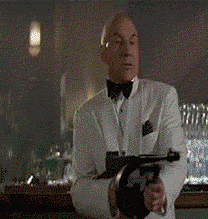 . . . or even live action and video games: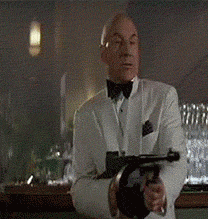 This second example suggests that we might also consider video games a type of cinema—though we need not get into that now.
4. Gifs can also composite different types of footage within the same image. Here's a particularly notorious one that I've written about at the lit blog HTMLGIANT: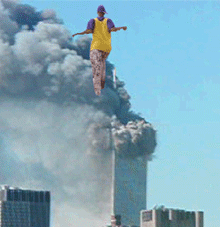 Here we have two different pieces of television footage combined in a single image. And
leaving aside the (deliberately offensive) content, we can see another potential for the form. Composite editing is by no means unique to gifs; Georges Méliès discovered double exposures soon after filmmaking was invented—see for instance Un homme de têtes, aka The Four Troublesome Heads (1898), viewable here. But gifs, being a natively digital format, might more easily encourage such recombination. (Méliès is their milieu?)
The Picard vs. Chunk gif above, in fact, contains composite editing. Here's a screenshot taken from the scene in The Goonies (1985) where Chunk originally performed the Truffle Shuffle: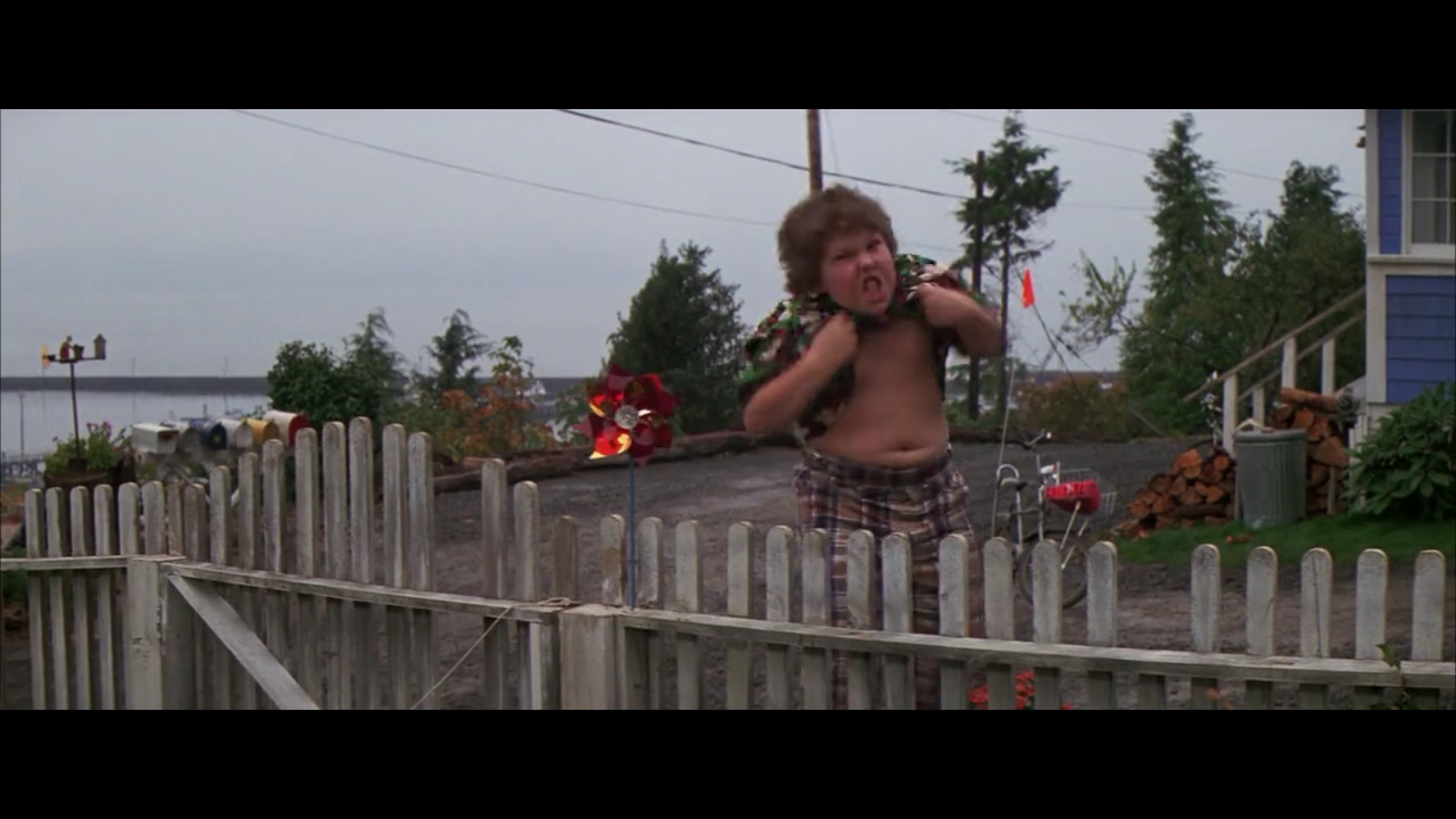 Whoever made the gif removed Chunk from that setting, and placed him front of another. I've spent more time than I care to admit scrutinizing scenes in The Goonies and First Contact, and I still can't tell where that second background hails from. Here's a capture of the shot in First Contact that follows the close-up of Picard firing: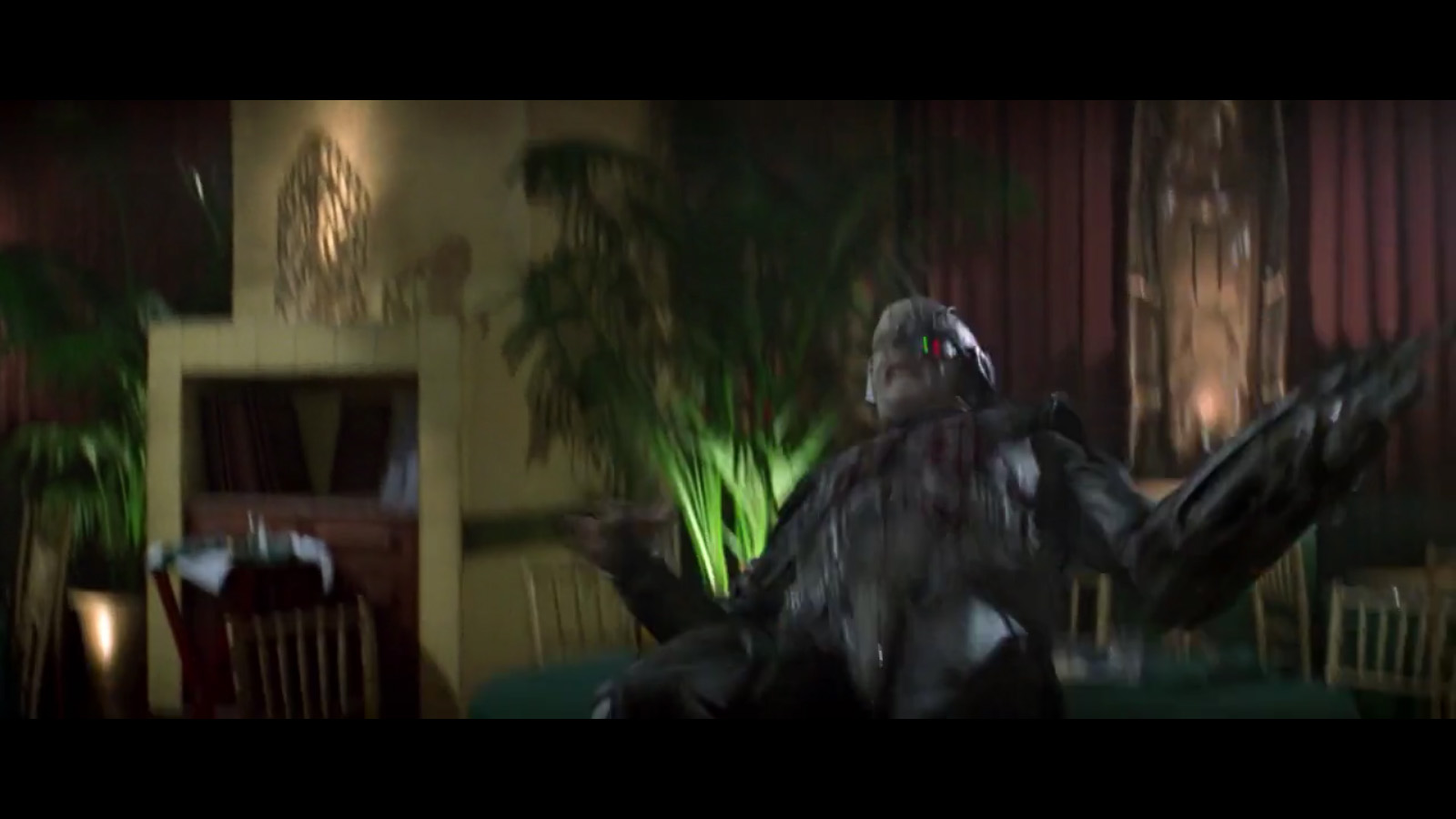 (Of course the footage behind Chunk might not even have come from First Contact, but some third film.)
Still more work has been done on this gif. The bullet tracer effects have been added. And we can now see why Chunk is facing right in that one gif—that's the way he was facing in the original shot. This suggests that the right-facing gif came first, after which someone changed it by turning Chunk to face in the opposite direction. (Since anyone who can view a gif can, in theory, also edit it, gifs are arguably a wholly populist form of cinema.)
Look again at the first Picard gif, at the very top of this article, and compare it to the others. You'll see that its first shot is different: it's been extended by rolling the footage backward, then forward. (In First Contact, Picard moves only forward in that shot.) If we wanted to, we could now take that extended footage of Picard and paste it into the left-facing Chunk gif.
5. Another way that gifs differ from their sources is that they often reframe shots—which is part of why it's difficult to determine where Chunk is standing. The shot has been whittled down to focus on just him. The shots of Picard firing have also been narrowed; compare the gif with these screenshots: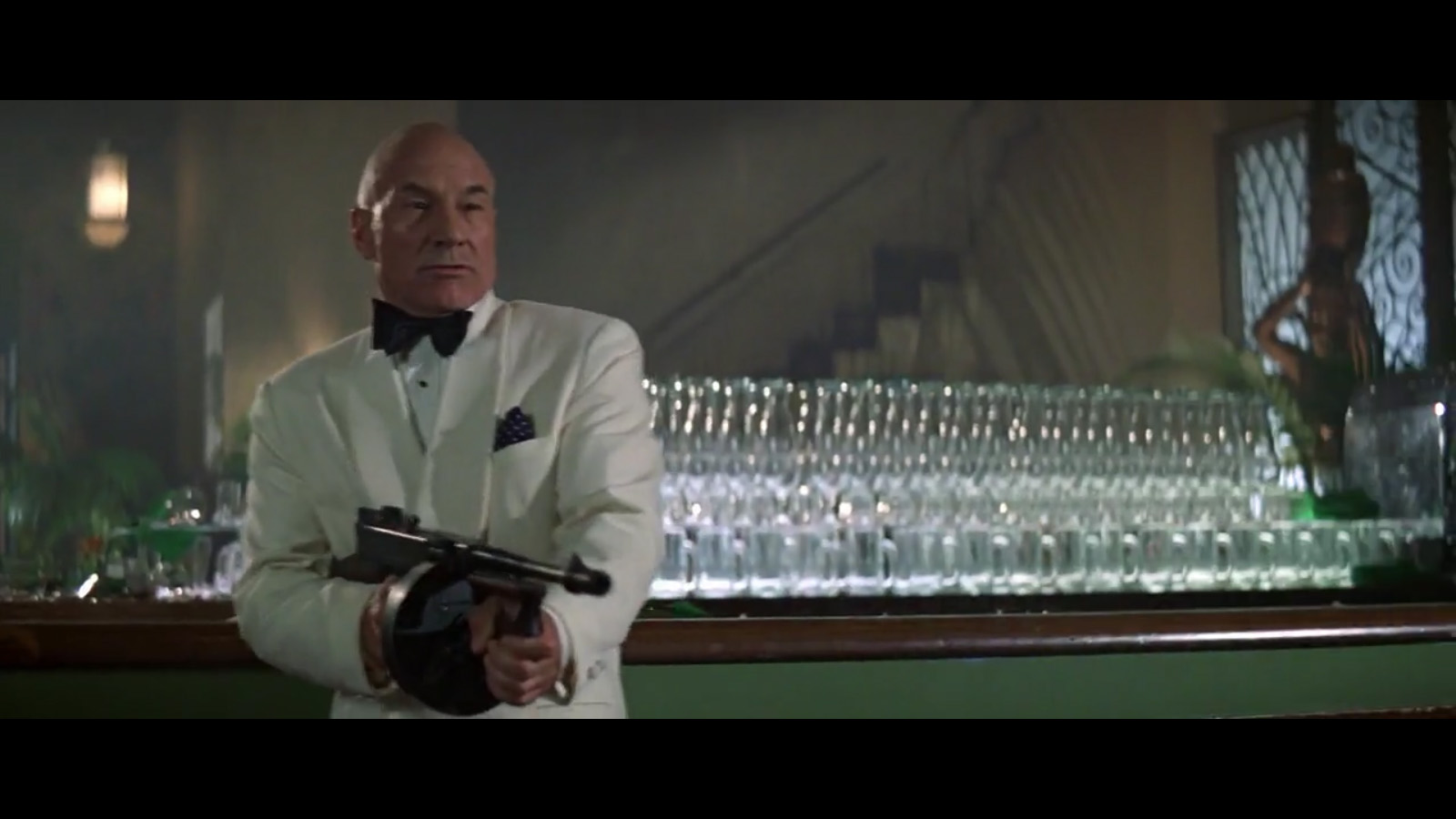 And: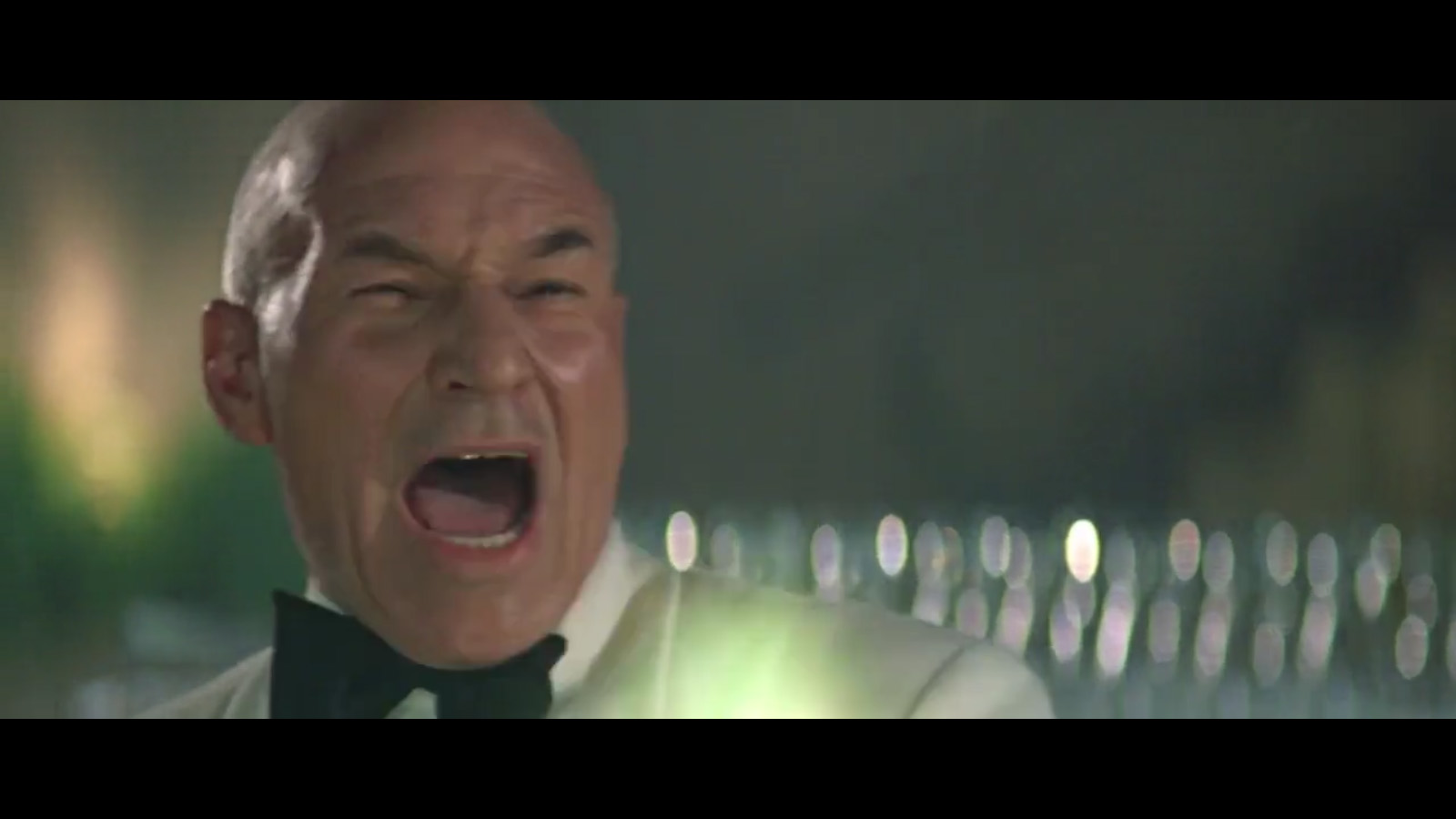 Because animated gifs are lower resolution than film—not to mention often postage-stamp sized—they benefit from focusing the viewer's attention on a single central image. Picard + Tommy gun = all that's really needed.
This might suggest that gifs have a different aesthetic than filmmaking, but I'd argue it's more a matter of desired effect. In First Contact, the focus of the shots is certainly Picard's attack on his Borg foes, but the scene occurs within a richer environment. The scene takes place roughly an hour into a film in which most of the action is set aboard the Enterprise, which is under siege from the Borg. Picard lures two of those aliens onto the ship's holodeck, trapping them in a simulation of a hard-boiled detective novel. The movie needs to portray a convincing-enough environment in order to keep its audience immersed in the somewhat outlandish fantasy. Along the same lines, when watching The Goonies, it's important that viewers understand that Chunk does the Truffle Shuffle outside a house in Astoria, Oregon.
But the animated gifs we've been looking at aren't concerned with that kind of world-building, being much more concentrated on a narrower and more immediate effect. Their makers probably wanted us to recognize the source material (they took footage from very well-known films), but the focus is relocated to the comic juxtapositions. Cutting out most of the background helps the viewer to get the joke. Viewed in this light, I'm surprised the Picard/Chunk gif's original author bothered editing Chunk into a matching background. The other gifs work fine without going to that degree of trouble. (Indeed, you might argue that the shift in setting heightens the joke.
6. Here we have a hint of a way in which gifs possess a different aesthetic than feature-length movies, or at least operate differently given similar concerns. Someone makes a gif where Picard seems to be shooting Chunk. Then someone makes one where Picard seems to be shooting Doc Brown. What's next? Well, someone could make yet another gif where Picard seems to be shooting another popular 1980s movie character—but aren't returns already starting to diminish? To keep the joke alive, we need something unexpected. So someone makes a gif where Picard seems to be shooting at a Tiny Tunes character. Or at the ducks in Duck Hunt.
I haven't seen it myself, but I imagine someone's made a gif where Picard appears to be firing at some documentary footage—video taken from a real-life shooting. Or even footage of the Twin Towers collapsing.
Makers of full-length movies definitely have to work to one-up each other. But that cycle might be accelerated in the world of gifs, where the impact is much more immediate.
7. Along these lines, we can see that animated gifs are often greatly concerned with emphasis, by:
Isolating a particular moment;
Focusing on a single element within the shot;
Creating a startling juxtaposition (through either composite or montage editing).
Gifs also tend to emphasize movement. When I told a friend that I was writing this article, she argued that "animated gif" was redundant, because the only gifs people care about are animated ones. I nonetheless decided to keep "animated" because it is possible to make static gifs, and I don't want to argue that static gifs are cinema. (Cinema ismoving images.)
But my friend was right. Who wants to see a static gif? In fact, it seems to me that the best gifs often involve a flurryof motion, or remain static until a crucial moment, which usually comes at the end of the loop: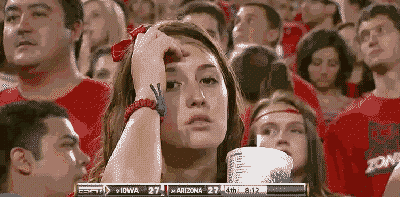 And: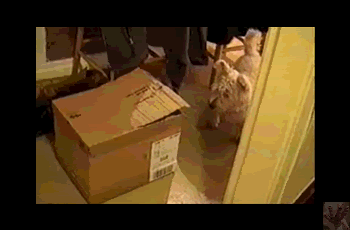 Gifs select footage and emphasize it. They focus attention.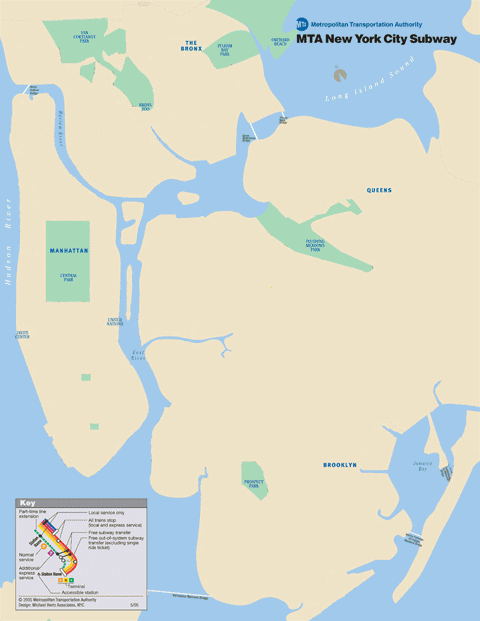 Once again, I'm reminded of an existing film: Ray and Charles Eames short movie Atlas (1976), which presents "A Sketch of the Rise and Fall of the Roman Empire." (You can watch it here.)
To be sure, these are different works. The NYC subway gif lacks sound (music, voice-over narration). But the presence of sound isn't essential for cinema. (The five-minute-long Eames film presents its animation twice, and the second time it drops the narration.)
Animated gifs arguably benefit from their silence, which becomes another way to focus attention on visuals themselves.
9. We're gradually constructing a case that the value of gifs stems from their poverty of resources—from the limitations inherent in the format. Along these lines, gifs possess unique cinematic value due to their brevity.
The earliest films, made by the Lumiere Bros. and Thomas Edison, usually ran at least thirty seconds long. Since then, the movies have mostly gotten longer. Now animated gifs are exploring another side of cinema—movies that run under thirty seconds, and often under five. If they are cinema, then they rank among the shortest movies ever made.
10. Gifs also explore the opposite end of the spectrum: infinity.
While some gifs present what amounts to a scene, others employ the form's looping quality to create an endless ongoing video. Here's a famous example, taken from a mid-90s internet meme: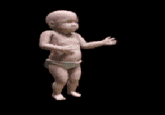 The gif version of this video forgoes the original meme's accompanying music ("Ooogachaka, ooga, ooga . . . "). But its dancing baby will dance forever
11. All of this suggests that animated gifs have their own cinematic purpose. Hence their effectiveness as erotic artworks: gif makers can distill crucial moments from larger pornographic films, enabling people to watch them on repeat.
In her recent Salon article, "Better Than Actual Porn!", Tracy Clark-Flory ponders whether pornographic animated gifs are more like short videos or longer photographs. I'd argue that they exist on a spectrum between those two forms, capable of moving more toward one side or the other. The above Picard gifs are more like short videos. But the NYC subway gif and the dancing baby gif are arguably more like enhanced photos. (The subway gif is like an enhanced diagram.)
The important point, however, is that animated gifs are novel—similar to, but not exactly the same as movies as we've known them. They are, in other words, a new form of cinema. (Clark-Flory comes to something of the same conclusion when she writes that gifs are becoming an alternative form of pornography, but aren't replacing videos or photographs.)
12. Cinematic viewing habits are changing: more and more movies are being watched online. Folks still go to the cinema, of course, and they still rent DVDs. But they also watch movies on their cell phones and laptops, which is where animated gifs thrive. In this way they might be modern-day versions of the Kinetoscope or Mutoscope: a private form of cinema limited to a particular type of device (although it probably won't be long before gifs start popping up on electronic billboards). This is yet another way in which gifs resemble the movies as we known them, and yet diverge, providing a new incarnation of the familiar.
In summary, animated gifs partake in the broader aesthetic of cinema, even as they use their formal limitations to craft effects that we experience in non-traditional film environments. I have no doubt that they will eventually come to be regarded a unique form of movie-making, just as gallery-bound video art eventually was, and that certain gifs will be singled out for their aesthetic and historical import. Already I'd claim that there's value in preserving and teaching some of them, such as Picard vs. Chunk and the Fresh Prince/9-11 one . . .
And it probably also won't be long before feature-length movies start borrowing effects from gifs, the same way that the recent spate of "found footage" films—Paranormal Activity (2007), [Rec] (2007), Cloverfield (2008), Chronicle(2012)—have drawn key aspects of their aesthetic from YouTube. And while writing this I encountered the only other argument I know of that animated gifs are a type of cinema: Twohundredfiftysixcolors, Eric Fleischauer and Jason Lazarus's feature-length compilation of 3000 gifs, scheduled to screen on 18 April at Chicago's Gene Siskel Film Center. (I'm planning to attend.)
Your thoughts on all of this?
http://blogs.indiewire.com/pressplay/are-animated-gifs-a-type-of-cinema
By
Landon Palmer
So I offer something of a refutation, or perhaps a clarification: gifs are certainly cinematic, but they are considerably more than cinema.
The YouTube of 1910
Perhaps if we say that cinema is not any series of images that are moving, but that cinema is about the movement of images itself (which can encompass anything from conventional linear storytelling to special effects spectacles to the avant-garde), then we can come to a more approximate understanding of precisely what gifs are doing that make them cinematic.
Animated gifs make the viewer/reader aware of the processional movement of images. The frame rate is visible and sound is absent, both of which foreground the fact that we're witnessing the rapid juxtaposition of still images rather than movement itself, an illusion that cinema routinely hides so effectively. The fact that the same series of images is repeated over and again in the gif reiterates this point ad infinitum.
The Popular Experimental
By contrast, gifs operate based upon the assumption that a reader/viewer is broadly keyed into popular culture, into other moving images and ideas that exist well outside the scope of the "gif itself."
A Medium By Any Other Name
Neither image assembled in this juxtaposition can be sourced in cinema. Both come from television which, yes, also operates through moving images, but also has the unique ability to broadcast events immediately, which has no equivalent in cinema. That's where/how this icon of the World Trade Center collapsing gains its media power – through the immediacy made possible through broadcasting. The repetitive cycle of this gif doesn't point to the cinematic operations of juxtaposition as much as it illustrates the cyclical function of television: through the redeployment of once-live events time and again, we experience the shock of this gif once and, like a violent event in the 24-hour news cycle, we're subjected to it on an endless loop. This tension between immediate ephemerality and the iconicity of images is unique to television, it has no equivalent in cinema, and this offensive gif is works in part as a result of that particular power.
Of course, knowing the source isn't always essential, but it's certainly a helpful key into the community of understanding that the gif is playing towards. Arguably, unlike Hollywood, few gifs can speak to a mass audience. Contextual meaning in the gif is hardly exclusive to the movement of images.
On the Aesthetics of the Animated GIF
By
WM. FERGUSON
The reason? They are without question mesmerizing, in the truest sense; the animated GIF is the digital equivalent of the hypnotist's swinging watch. But they are not only a novel form; in the brief life of the animated GIF, an attendant aesthetic seems to have emerged.
Jameson identifies the birth of the genre as the dancing-baby loop made famous by a 1998 "Ally McBeal" episode. (Which goes to show how long ago 15 years is in Internet Time. Can you imagine a television show initiating a meme today?) He argues that since then, the animated GIF has adopted some of "real" cinema's visual language. Here, he compares a GIF (a loop of Captain Jean-Luc Picard from "Star Trek" machine-gunning a child actor from the movie "Goonies") with the Bruce Conner film "A Movie":
These examples edge us closer to the world of video art, or earlier experimental films that derived their effects from juxtaposing footage from different films. . . . Both A MOVIE and these animated gifs employ some common cinematic principles. The cuts create an eyeline match, which make it appear as though the characters are looking at one another, and obey the 180-degree rule (meaning that if you draw a straight line between their eyes, our perspective stays to one side of it).
But as irresistible as I find GIF loopiness, I can't help wondering if it's contributing to some future death of narrative. I mean, surely not every human emotion can be rendered in a few dozen repeated, low-resolution images.
An Appreciation of the Animated GIF and Gif Shop
Have you ever seen a photo move? Artists develop amazing cinemagraphs that take 'stills' to the next level
Hair-raising: Cinemagraphs may look like stills, but they feature a subtle area of movement designed to grab your eye. These animated photos are the work of Jamie Beck (pictured) and her fellow artist Kevin Burg
Turning a page: The cinemagraphs work by using GIFs, a type of picture format similar to a JPEG which has been around since the invention of home computers but has come into its own with broadband internet
Not as simple as they look: The more complex animated photos take the artists an entire day to pull together
Eerie effect: Cinemagraphs are calming to watch as only one area moves - and they are silent


Read more: http://www.dailymail.co.uk/sciencetech/article-1380795/Cinemagraphs-Artists-develop-pictures-movement-stills-level.html#ixzz2SeMsYrZd
Follow us: @MailOnline on Twitter | DailyMail on Facebook
Back in the early days of the internet, animated GIFs were the bane of just about everyone. Their annoying, jarring graphics and often painfully bright colors were enough to make anyone crazy. Particularly irritating was when they were used as avatars in chat rooms or forums, and we'd have to watch their stupid dancing polar bear dancing or sneezing kitten a thousand times before finally just leaving the page in frustration. Some people still use the unfortunately annoying animated GIFs, but there's a whole new crop of artists who are using this long-maligned vehicle to express their creativity.
There's a certain amount of nostalgia in these pieces; it seems to suggest that the creators grew up in the era where the animated GIF was an ever-present Web element. And although it's largely fallen out of favor in Web design (thankfully) this new, more mature generation of the animated GIF is taking it in an entirely new, extremely creative direction.
Jamie Beck & Kevin Burg have been making quite a splash this year with their "cinemagraph" technique, combining still photography and video to "unfreeze" a photo in time. The results are stunning, and show that there was more potential in the old animated .gif format than had yet been realized.
We caught up with Jamie and Kevin, who let us in on their process.
Jamie & Kevin: We wanted to tell more of a story than a single still frame photograph, but didn't want the high maintenance aspect of a video. In preparation for Fashion Week we were trying to figure out a way to show more about what it was like being there, so cinemagraphs were born out of a need to tell a story in a fast digital age.
The basis for these is always a still photograph which is why they maintain the artistic approach and visual style of Jamie's still photography. What we strive to capture is the moments before and after a photograph is taken.
J&K: An animated .gif is usually a sequence of stills pulled from video, animated art, or other imagery that is repurposed into a .gif. What we do is different because it's a traditional still photograph with a moment living within it. For us it's less about the .gif format -- that's just the vessel by which it's best to deliver them on the web, although the limitations of the format have been very influential on the visual style of our images. The .gif format itself is ancient by internet standards but much like photography people are always finding interesting new ways to communicate within the confines of existing formats.
J&K: Kevin has a background in motion graphics and has been playing with the .gif format since getting a computer in the mid 90s, but this particular technique started taking shape about a year and a half ago. It was the coming together of Jamie's photography and this technique that made it what it is currently.
Graphics Interchange Format At Denison University's Mulberry Gallery
by
Paddy Johnson
_____________________________________________________________________________
Since the early days of the web, users have been posting animated GIFs. Once synonymous with shoveling construction workers on parked domains, these moving images now more commonly find their way to Tumblr blogs. Now GIFs are more frequently appropriated images than hand drawn, but like their predecessors, are still frequently annoying.
But, in a sense the very structure of the Spirit Surfer blog resembles art: all posts are separated into "boons" and "wakes" — or, perhaps, "objects" and "context". The former are treasures brought back from a day of surfing the net, the latter images, text, or video telling us where the boons come from. Whether or not all posts should be labeled art is, of course, up to Spirit Surfers's contributors to decide.
"Where is it?" a video produced with GIFs made by Spirit Surfer Marcin Ramocki is set to electrified music made by Paul Slocum. The video reflects Bewersdorf's philosophy by including a thumping page describing the heart and kidneys as the main transformer of chi energy, though the narrative of the piece as a whole remains intentionally oblique. It's filled with intuitively connected images: rotating blocks; Chewbacca under a series of flashing weather icons; glittering poodles.
Gysin's work is in fact quite relevant to artists whose source material is largely found online. In particular, Alexander makes work about the physical processes behind vision and perception. Dreammachine, a strobing light show by Brion Gysin on view at The New Museum in the summer of 2010, inspired the artist (and others) to create a series of GIFs that achieved the same synaptic effect.
The same could be said of all the art in Graphics Interchange Format, which not only requests but also deserves our attention. After all these gifs aren't just blinking images, they are the beginning of a new conversation.
What's more important than where GIF has been is where it's going. As noted above, Tumblr alone has seen a renaissance of the GIF format, amplified by the boundless creativity of image manipulators on communities like 4Chan and B3ta.

Jamie Beck's GIF animations on From Me To You

have been a Tumblr phenomenon, showing how truly elegant the format can be.

If we don't, remember me

and

three frames

demonstrate the power of film through the lens of GIF's delightful constraints, the former with a mesmerizing fluidity and the latter with a jerky intensity. Even beyond the capture or transcoding of other video works into GIF format, artists are starting to work with GIF on its own terms. Earlier this year, the New York Times

illustrated a story

with an animated GIF for the first time ever (not counting stories that were

about creating GIFs

), showing that this uniquely expressive format is truly coming into its own as a mainstream animation format.

GIF reaches perhaps its inevitable apotheosis with

Physical GIF

. Greg Borenstein and Scott Wayne Indiana's brilliant Kickstarter project promises to turn animated GIFs into actual zoetropes you can display on your desk or coffee table. I saw a prototype of the idea a few months ago, and it left a lasting smile on my face. Go support the project!
The Affect of Animated GIFs (Tom Moody, Petra Cortright, Lorna Mills)
[Images by the artists mentioned can be found here:
Most criticism about internet art takes place online in comment threads on individual blogs or on institutionally supported websites such as Rhizome.org that provide discussion forums. The discourse tends to revolve around debates (often heated) about the appropriate use of various technologies in relation to both formal concerns and political issues inherent to open source ideology. There has been very little critical discussion about the affective qualities of various digital media.
[V]olition, cognition, and presumably other 'higher' functions usually presumed to be in the mind, figured as a mysterious container of mental entities that is somehow separate from body and brain, are present and active in that now not-so- 'raw' domain. Resonation assumes feedback. [...] The body doesn't just absorb pulses or discrete stimulations; it infolds contexts, it infolds volitions and cognitions that are nothing if not situated. Intensity is asocial but not presocial…[4]
Affect is of the body, but the body is conjoined with mind, and the entire organism is understood to be entangled with its cultural contexts. So, while any specific affective response is particular to the moment and the person who is having the experience, affect can also be theorized at the level of the collective if it is taken into account that cultural conditions have a normative function that may exclude certain modes of response from collective models. Affect is particularly applicable to the online art environment, where relationships between body and mind are fraught, and where dynamics between individuals and collectives are both immersive and politicized.
How do the affects of software technologies inflect interactive online art experience? In this paper, I will specifically examine the affects of the animated GIF (short for Graphic Interchange Format), a ubiquitous graphic file format used by artists and non-artists alike. If any website contains an animated element that is self-contained, chances are high that it is a GIF. GIFs are small, simple files, easy to create and quick to download, making them widely accessible to a range of browsers and system speeds. I propose, however, that it is the affective qualities particular to animated GIFs that make them truly popular.
Animated GIFs have evolved into a kind of ubiquitous 'mini-cinema,' entirely native to the personal computer and the World Wide Web. Almost anyone can make one and almost every browser will read them. In other words, no YouTube compression, no wait time, no subscriptions or proprietary formats to view, and they can be made in the most elementary and cheap imaging programs. They are the purest expression of the democratic web and along with JPEGs and PNGs comprise its most authentic visual language.[8]
Both somewhat retro and somewhat activist, the animated GIF is appealing to many internet artists because it signifies an anti-corporate agenda as well as a kind of "truth to materials" commitment to technologies that are elegantly designed for democratic online use.
I have come to think of this possibility for repetition, contrast and migration of images across a shape as a poetic dimension of video installation: that is, it is a practice that deemphasizes the content of images in favour of such properties as line, colour, and vectors of motion, with content of their own to convey. The choreography of these properties is another kinaesthetic dimension of transfor-mation.
The transformation from monitor to monitor, from two to three dimensions and back again, is most visible when these ontological levels do not match and the conceptual is transformed in its passage through various material manifestations.[26]
One of the affects of Cortright's GIF is humour. When looking at 3D graphics we expect to see smooth forms spinning around seamlessly in space. Instead, here we see excess, the carefully rendered form of the hand breaking out into all kinds of disturbing and surprising shapes. The images on the screen grabs that make up the GIF look very sophisticated, but the software used to create the GIF is not. Most computers come with the capacity to take a screen shot, and GIF building can be done in a matter of minutes with a variety of easily downloadable, open source, freeware or shareware programs. The piece is using an accessible, relatively transparent technology to poke fun at the pretensions of high-tech illusion.
While animated art GIFs may induce a kind of stupor, they also address viewers as participants engaged a collective discourse. For those viewers who are also producers, the agency of making GIFs is entangled with the sensation of watching (and collecting) them. To my mind, the agency implied in this collective experience of making and re-mixing GIFs goes a significant way towards assuaging worries about the potentially disempowering aspects of their anaesthetic qualities.
Lorna Mills is an artist who revels in the irreverent excesses of GIF culture, collecting and manipulating found GIFs from the most offensive and profane to the most abject and mundane. In her original GIF work, however, she creates contemplative animations that, unlike most other art GIFs, can be emotionally affecting. While Mills is deeply involved in the collective exchange and manipulation of found imagery, she will also often use her own video footage. She breaks the video down into a series of stills, reverse-engineering high-tech smooth motion in favour of the jerky motion inherent to GIF technology. Mills heavily manipulates the images, stretching the frame, pixelating the resolution, fragmenting and isolating specific movements and gestures.
As in any artistic subculture, there are those who produce spectacles that demand attention, and those who quietly go about their work hoping for a reflective viewer who will take some time to engage. And there are some, like Mills, who apply both strategies and use them at different times. Common to all animated GIF artists is a dissolution of the status of individual authorship, and the sense of participating in a collectively generated exploration of affect.
Computer interactivity maps our own thought processes onto those already written into the software. It models certain ways of thinking, or certain ways of understanding our own cognitive practices: to click is to make a choice, to follow a link, to associate one event of piece of information with another. This process of the "externalization" of the mind closes the gap between subjective mental processes and objective, machinic processes. In this sense, like Taylorism, it hooks people and bodies up to machines, making people "thinglike." This argument would suggest that interactivity, which seemed initially to promise agency over "numbed passivity," actually does the opposite, increasing alienation.[40]
Henning's concern that computer activity standardizes and reifies human activity has implications for the collective activity of online GIF art. While the affective resonance of GIFs is dependent on the agency of viewers/producers, the meanings of GIFs are always informed by the technologized environment in which they function. A GIF is, at bottom, a piece of software, created by other software that has built-in limits. Although there are many different kinds of GIF builders available, they all conform to the same set of requirements which in turn conform to the technical requirements of browsers and servers. Online artists are always challenging those limits, both technically and conceptually, yet the facilities that we develop with technological tools cannot help but shape our own cognitive processes.
I agree with Henning that the more time we internet users spend interacting with our machines, the more we are prone to conceive of ourselves as "thinglike." But I know I am not alone as a worker who spends eight to ten hours on my computer every day. In such a pervasive technological environment, I am grateful for online artists who challenge norms and standards and remind us, through their affective interventions, that we machine-bound bodies will always be feeling creatures. Animated GIFs, with their intense affective powers, are excellent vehicles for inflecting digital media with the unique and whimsical influence of individual human minds, mitigating the potential for homogenisation brought about by the use of standardized technologies in collective cultural production. •
In other words, no YouTube compression, no wait time, no subscriptions or proprietary formats to view, and they can be made in the most elementary and cheap imaging programs (free if you search for open source). GIFs are the purest expression of the democratic web and along with JPEGs and PNGs comprise its most authentic visual language.
Psychotronic films range from sincere social commentary to degrading trash. They concern teenagers, rock and roll, juvenile delinquents, monsters, aliens, killers, spies, detectives, bikers, communists, drugs, natural catastrophes, atomic bombs, the prehistoric past, and the projected future. They star ex-models, would be Marilyns, future Presidents (and First Ladies), dead rock stars, and has-beens of all types.
For this IMG MGMT essay I present a smaller pool of mostly psychotronic GIFs. About half are ones I made (or remixed) and half are ones I found on the Internet and saved. My site tells which is which but here I have numbered them a1, a2, etc as a gesture to the "authorless" quality of their web milieu. All of them are subject to whatever copyright claims adhere to their original publication source, so I will remove them or attribute them if you so request in the comments, and I ask that you not use any of them for commercial purposes (as if!).
GIF fans know that there is a lot sicker material out there. Gruesome actual deaths, bestiality, coprophagy (yum), etc. Psychotronic films, while not exactly family fare, generally avoid the hardcore and the abyss. Exploitation, fine, but there is nothing easier than a "money shot."
13 GIFS AFTER THE BREAK!
I never used Flash or Quicktime. My first GIFs were at the end of '03. Oddly enough I made them because my digital camera, a Sony, had a feature called "Clip Motion" where you could take stills and export them from the camera as an animated sequence in GIF format. I made some stop motion animations of the molecular imagery I was working with at the time. After that I downloaded a simple GIF-creating program and started making them outside the camera, using my own drawings.
Once the GIF "dies" after its allotted repetitions, simply refreshing your browser won't reactivate it. You have to clear your cache and restart the browser, which is annoying.
My first efforts to show GIFs in a gallery were in '05 and '06 - shows in New York and elsewhere. I did a solo show in Brooklyn called "Room Sized Animated GIFs" in '06. Since GIFs are native to browsers and the internet it is always a translation exercise to show them in a public, physical space context. Every incarnation of the GIF, every set of viewing circumstances, is unique. I have done everything from convert them to DVD, arrange multiple GIFs on an HTML page, show them on monitors, show them projected... Each is a unique artwork and retains as much or little of the GIFness of the GIF (its "essential" features such as low frame rate, reduced color, etc) as you need to make a successful work. The GIF could be the art or it could just be a component of the art. This week I have been working on a piece where the GIF is converted to DVD and shown on a cathode ray tube TV. It still reads as a GIF but is clearly a bastardized hybrid of semi-obsolete media.
No one GIF, but you can see the work I have made and collected on my website(s).
Was having some email back and forth with John Michael Boling about the recent spate of "animated GIFs are back" articles (Slate, Jezebel, Dazed & Confused, Vice/Motherboard that I know of). He said
Its interesting to see animated GIFs get coverage in more mainstream places, but those places always focus on the wrong things when they cover stuff like that. They always misread the sincerity as irony.

oh well a few of us out there know the truth -- the overwhelming difference a 10ms timing shift in a single frame can have to the feel of an animation, the elegance in an appropriately used dither, the subtle power that exists in the size limitations of the gif format, the chaotic perfection that can be squeezed out of a rigid bitmap grid, the individual patina that each browser gives to the gif's motion and resolution, etc, etc, etc, etc