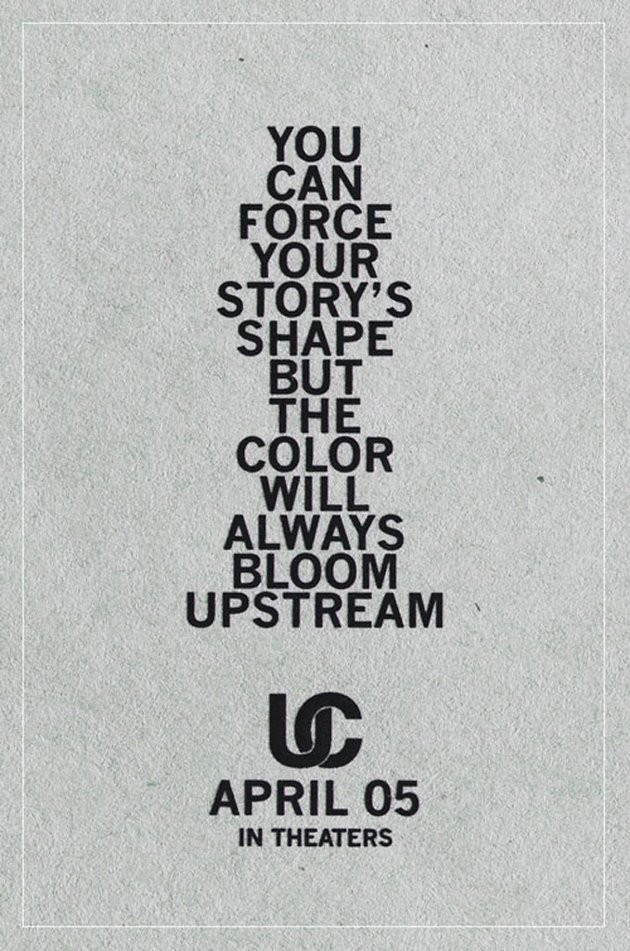 Film za obožavanje.
Here is a movie you haven't seen before. If you think you have, it's probably because you swallowed a white worm that turned you into a pod-person subject to total mind control and now you're having flashbacks. Or flash-forwards. Or peripheral flashes. Or maybe you've simply seen Shane Carruth's previous film, the time-shuffling "
Primer
."
"Upstream Color" might be described as an oblique romantic science-fiction mystery thriller. It's only Carruth's second feature, appearing nine years after his first, but one of the most striking things about it is that it's recognizably the work of the same sensibility that imagined and composed "Primer." Carruth's elliptical debut, which won the top prize at the Sundance Film Festival in 2004, is a also a one-of-a-kind movie, and like this one an almost mathematical deconstruction of storytelling.
"Upstream Color" closely examines the very
idea
of sensibility — and identity, memory, perception — as if under a microscope. If that sounds a little obscure, well, the movie is designed as an enigmatic experience, to be absorbed, felt, puzzled over, free-associated about and reconsidered while you're watching it and then for a good while afterwards. (Once you know what the title refers to, you still won't necessarily know what it means.)
The story resists synopsis, and even the bits that can be summarized probably shouldn't be, because "Upstream Color" can't be reduced to a linear narrative. It's not about what does or does not happen to whom and when. It is what it is, as it is, in any given moment.
So. The first thing we see is a plastic trash bag with some paper chains spilling out. A man in a green t-shirt grabs it and deposits it in a dumpster. A boy on a bike watches him. A man (the same one?) uproots some plants in a greenhouse and harvests the squiggling maggot-y worms in the potting soil. He puts a couple of them into medicinal capsules. Mirrors figure conspicuously.
Later (in terms of screen time, at least) something happens to Kris (Amy Seimetz). The man, identified in the credits only as Thief (
Thiago Martins
), puts her under a spell. She sees, tastes, feels and does whatever he tells her to, but she can't look at him because he says his head is made of the same substance as the sun. Her mind records entire conversations, and the complete text of Henry David Thoreau's "Walden." Another man, whom the credits call The Sampler (
Andrew Sensenig
), collects, records and plays sounds and performs synchronous surgery on Kris and a pig, apparently transferring a parasite from one to the other, establishing an indefinable psychic link between them.
Kris encounters Jeff (Carruth) on a train. They connect. Their thoughts get mixed up, which is to say that they're both convinced that some of their memories have been appropriated by the other. Their conversations transpire in several different places at once, or perhaps at different times in the same place. Or different times at once — a mind-boggling concept that the "Primer" also played with. Some orchids growing on tree roots by the edge of a stream change color. More pigs occur. Some association is evinced between them, Kris and other somnambulists. Kris is confused and afraid.
Got that now?
"Upstream Color" is one of those movies that you either give yourself over to or resolutely resist. If not understanding something annoys you, you will struggle against it or simply disengage. You could say (or I would) that it's an exploration of the textures of consciousness, the light, colors, sounds, images and ineffable resonances that, as George Harrison phrased it, flow "within you and without you." The visuals and audio design are multi-layered and tactile, the emphasis on sensations underscored in the first section of the movie which mostly focuses on hands and a few feet. Not many faces. Heads, when they appear at all, are often seen from behind, as if we're watching these people project the movie they're living in front of them.
In the final paragraphs of his last review (of Terence Malick's "
To the Wonder
"), Roger Ebert raised some questions that will stay with me: "Why must a film explain everything? Why must every motivation be spelled out? Aren't many films fundamentally the same film, with only the specifics changed? Aren't many of them telling the same story?" His point, of course, was that Malick's movie was not just the same old story, yet it has some universal human themes swimming around in it.
Same goes for "Upstream Color." If you look at it as a romance, for example, you might see it (as writer-director-cinematographer-editor-composer-star Carruth has said in interviews) as being about the new identity (not a baby, but a previously nonexistent entity) that is born when two people meld into "a couple." If you look at it as science-fiction, you may concentrate on the role of the worms and the pigs and the sound designer/pig farmer. And if you're a movie fan, you'll no doubt pick up vibrations from Malick, Bresson (starting with those hands and feet), Tarkovsky, Godard, Buñuel, "
2001: A Space Odyssey
," "
Blow Out
" …
Can it be "figured out"? Would that really explain anything if it could? I don't know. But right now if feels kind of like a worm that's been implanted under my skin and is still squirming around in my head. -
Jim Emerson
I wasn't surprised to see a divided reaction to Shane Carruth's second film at Sundance.
Upstream Color
is the type of film that demands a lot of its viewer, and at the end you could feel immensely rewarded or resentful of the experience. What surprised me was how many people didn't know what they were getting into. At a press and industry screening. I know some ticket holders just buy whatever is available but if you're in the industry, you have to know. Love it or hate it, but "surprise" is a baffling response to me.
I wasn't even a fan of
Primer
, but over the last nine years I've matured and opened my mind, so at least I was ready for a challenging film festival experience. If
Primer
simulated the fragmented time experienced by time travelers,
Upstream Color
is even less linear. It's a bit Malick-y in its impressionistic portrayal of scenes and loose plot chronology, but I hate to use a derivative comparison. It's more Shane Carruth-y, but unless you've seen
Primer
, that won't help you.
The inciting incident of
Upstream Color
is bizarre enough for several art films. There is an experiment involving maggots placed under someone's skin that changes their perceptions. Kris (Amy Seimetz) is a film editor who's nabbed for this experiment, with a lot of surreal instructions for drinking water and solving puzzles. Her kidnapper comes up with a suggestion to keep her from looking at his face, which is poetic in how little it makes rational sense.
By the time Kris is released, she's lost her job and all her money so the film becomes more about Kris putting her life back together. She works at a sign shop and reluctantly starts dating a very persistent suitor (Carruth). Their first date is striking for her bold and honest display, which is so direct it's the sort of scene that can only exist in a movie, but when it happens among all this other craziness, it's the normal and relatable part. Even the real world courtship scenes are not presented as traditional narratives, but rather senses and fragments of impressions. At least those parts were simple enough to glean a character relationship from them, but it's still an abstract riff on "boy meets girl."
The glimpses of Kris's struggle show us the toll this bizarre kidnapping took on her, both internally and physically. That's a poignant story of recovery, but it's only part of
Upstream Color
. Kris is who we latch onto throughout the abstract collection of scenes, and Seimetz gives a strong performance. Her subtle facial ticks while undergoing the experiment illustrate how altered she is, and your heart just opens up for her as she continues to endure afterwards.
Kris isn't the sole focus of
Upstream Color
though, and diversions from her character are equally rewarding. At one point we cut to Jill and Ben having a wonderfully sensitive argument. We've just met them and we don't know what problem they're having or why they're suddenly part of this story, but thematically it makes sense given what Kris is going through, and what they say is beautiful. There's also baby pigs in the movie and baby pigs are adorable.
Carruth doesn't make it easy to nail down his film in a blurb, or even in several hundred words, but he helps you make connections between different sections of the plot by visually matching scenes. There are lots of shots of legs running, doors closing and even more specific parallel actions. Maybe that's a key to the order of scenes, or maybe it just looks cool, but I'm fine with that either way.
I'll admit, I do not understand
Upstream Color
, but I don't need to. Every scene worked as a standalone and I can sense the thematic connections and linear chronology should I choose to work at it. And I will choose to work at it. For my first viewing I simply felt: I love what it's saying, I love how it's saying it and I hope that'll be enough for people to join me on this journey so we can compare the experience.
Fred Topel
Interview: Shane Carruth Reveals The Mysteries Of 'Upstream Color'
by
Upstream Color
" over the weekend at one of its few, packed screenings, we're bringing you the concluding part of our interview with director
Shane Carruth
from the
Berlin Film Festival
, in which we spoke in a more minute way about the ins and outs of the film's plot, the motivations of some of its key characters, the thematic importance of the sound design and the metaphysics that underlies its ultimate meaning. Those who haven't yet had the singular pleasure of seeing it, we can only urge to go back and read
parts one
and
two
of the interview, or our
review from Sundance
, and then bookmark this one for later, as it's probably too close a reading of the film for anyone who hasn't yet become entangled in its enigmas.
But all that said, "Upstream Color" doesn't simply invite debate, it demands it, and Carruth, justifiably proud, in his quiet way of the kind of questions his film raises, actually proved happy to plunge right in.
But there's only a small part of it that's their relationship, some of the romanticism is Kris and her whole story of being broken down and there being some resolution -- it's sort of a comedy of errors and it becomes more of a heart-of-darkness going upstream to solve the problem… but yes. It's tough but I would say romance.
Well, [the two characters are] being forced together by offscreen forces -- the pigs are coming together -- but there's a real tension because it's not happening organically. So we're two people in a city meeting on a train: this is meant to go a certain way. But it's not going that way for whatever reason and I just felt like there would be a lot of tension in that constant poking from offscreen that's pushing you toward something.
When it comes to the sound design, it feels like there's a lot of different reasons to heighten it to where it got. One is that so much of what's happening is non-verbal that we have to. And, I keep on coming back to the word tactile, there's a tactility. We have characters that are always in search of something or curious about something but they can't even speak to what that something is.
What I imagine it to be is they would have an emotional experience or a mania and they couldn't point to what was causing it and that would drive them to be curious about their surroundings, and so this film has so many shots of hands, coming across walls and sheets and across skin, and it just seems that's how you meet the material world, that's how you come to understand it.
And that's where you get into the very narrow depth of field with cinematography, and certain shot selection and that's what informs sound, and why the sound would have to be heightened, especially when you're talking about nature and the natural world. We've got characters that we're suggesting are haunted by, one: an experience in which a guy told them his head was made of the sun, and that water was involved and the practice of minutia and stupid moments of rewriting narratives and putting them in paper chains, all of this stuff that doesn't end in anything constructive or meaningful.
Amy
[
Seimetz
, who plays Kris], shooting the underwater scenes and it was just eerily quiet. You can hear the sodium lights underwater and it was this weird thing, it would get bass-y underwater, so I recorded that and it became part of the soundscape. It's this very muffled thing, and then there's different things I would do on my computer after, to shorten it or elongate it or change the pitch or whatever.
You mentioned that the score you composed changed greatly after the film was shot?
Yes, I tried to puzzle it apart a little and figure out why is that -- when I wrote this I had a piece of music and it was working fine, but now that we've executed it, it seems out of place? And that's when I finally met the idea that it's because I'm representing cinematographically a subjective experience and my music is informing something else. And that's when it needed to change and to get in line with the rest of the language.
I think that's valid. What I want to say when I say subjectivity is POV-type stuff, but I would never make that choice, to shoot from someone's point of view. What I do is, well, there's a lot of shots of the backs of people's heads and of them traversing different areas, so I think that's completely true, we are not in their heads, but we are intimate with their experience and I think that's what I'm trying to get to.
[The "farm" is] his place to be in touch with the world -- he can go and meditate and be in communion with all of the people that are tethered to these beasts. It's where he goes to get his inspiration, where he goes to get whatever emotional experience he might be shopping for at that moment.
And that became very important because we're talking about offscreen forces. But it's meant to be more universal than a religious or [other] belief system, it should encompass pharmaceuticals or someone with a belief system about fate or cosmic whatever or even political belief systems or anything that informs you of things that aren't your fault that you're being affected by. "They're out there, and I'm the way I am because of this," or "I'm doing what I'm doing because of how they're touching me, affecting me."
I don't want to be thought of as somebody who's spiritually ambiguous, but the reality is there's unknown things happening. I'm not ready to point at what they are or what the reason is, but I know they exist.