Laurent Jeanneau upotrebljava field recordings azijske tradicijske muzike i stvara polu-elektronički, polu-akustički epski haiku.
streaming
Follow up to 2011 ALBUM OF THE YEAR "Xinjiang".* His contributions to Sublime Frequencies may be more notable, but Laurent Jeanneau has steadily been raising the Kink Gong profile with a steady stream of limited LPs and self-released CD-Rs over the past several years. "Voices" focuses on the titular theme with basis of recordings made throughout Asia, but, as always, that is just the starting point for these pieces that are then edited, overlaid, and augmented by acoustic and electronic instrumentation. This gives Jeanneau the freedom to pair otherwise disjointed sounds together, including the clanging percussion and vocal incantations of "Dapcymbalwukhmu" that take on the form of a spiritual devotional before getting torn apart by a torrid electronic frequency half way through its runtime. "Voices" is both a special aural document and one of considerable compositional talents. Truly a one of a kind recording. - Ryan Potts, Experimedia
---
Laurent Jeanneau's, aka Kink Gong's, electronic project continues on Discrepant. Since the end of the '90s, Laurent Jeanneau, also an integral Sublime Frequencies contributor, has been recording the music of mostly endangered minorities of South East Asia. Alongside his relentless pursuit of remote, exotic, and unpublished musical traditions, he also started creating electronic versions by combining raw recordings with natural sounds, archive material and electronically-treated sounds. For Voices, Laurent based his alternate re-versions around the extensive voice recordings he made on location in the southern regions of Yunnan and Guizhou in China as well as in Sapa, North Vietnam, and Phongsaly, Northern Laos. The compositions contain unedited acoustic recordings, computer modified parts, sound collages and acoustic recordings of people and instruments. All tracks were recorded on location and re-arranged by Laurent Jeanneau in Dali, China. Special vinyl one-time pressing of 300 copies mastered and cut at Dubplates + Mastering by Rashad Becker. - experimedia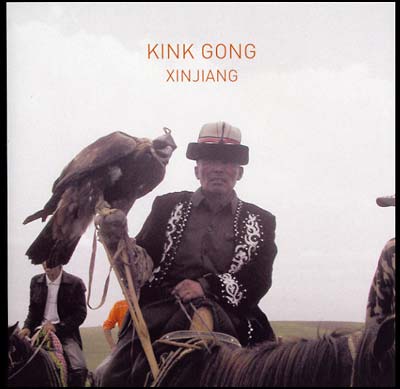 Xinjiang (2011) streaming
Kink Gong aka Laurent Jeanneau is a Field Recording artist based in Dali, China. He spends his time recording ethnic minority music, mostly in Southeast Asia and releasing the results on his own CDr label, Kink Gong Recordings as well as occasionally contributing to Sublime Frequencies compilations. He also composes electronic music that includes and transforms those recordings.
For Xinjiang, Laurent based his soundscape around the recordings he made on a 2009 trip to the frontier region of Northern China, Xinjiang. Spreading from Mongolia to Afghanistan, it is the biggest Chinese province. From various locally made recordings, including Kazakh Dongbra jams, Uyghur Dotar riffs and various regional radio interferences, Laurent constructed a melting pot of ethnic related weirdness packed with mind blowing virtuoso recordings.
Simple and beautiful, this music makes people fall into visionary reality. -
www.phonicarecords.com/