"Živim u Montrealu ali nisam Kanađanin - jer živim u snovima." Sve što Léolo
misli i zamišlja služi ne spoznavanju, nego nijekanju zbilje.
Jedan od najboljih kanadskih filmova.
I came in after a midnight screening this year at Cannes, and found Richard Corliss leaning over a yellow legal pad in the dining room of the Hotel Splendid. He was, he said, working on the list of the 100 greatest films of all time, which he and Richard Schickel would soon publish in Time magazine. "Which one are you writing about now?" I asked. " 'Leolo,' " he said. Yes. "Leolo." A film that stirs in the shadows of memory for everyone who has ever seen it, a film that cannot be classified and can hardly be explained, a film left orphaned by the early death of its director, Jean-Claude Lauzon, who died with his girlfriend while piloting his Cessna in northern Canada in 1997.
He made only two features, "Night Zoo" (1987) and "Leolo" (1992). He could have made more, but spent his time shooting commercials, or fishing. He was believed to be the most gifted young filmmaker in Canada, but when the elder statesman
Norman Jewison
offered him a job directing
Gene Hackman
in a thriller, he turned it down, rudely. Ken Turan of the Los Angeles Times believes "Leolo" might have won the Palme d'Or at Cannes in 1992 if Lauzon hadn't made an obscene suggestion to
Jamie Lee Curtis
, one of the jurors. Turan tells me he heard the story from Lauzon himself: "He found himself next to Jamie Lee at the buffet at the Hotel du Cap. He introduced himself and said, as I remember it, 'What the boy in the film does to the piece of liver, I want to do to you.' " The only caveat raised by this story is that Jamie Lee Curtis is not a shrinking violet and might as plausibly laughed as taken offense.
I met Lauzon once, at lunch after "Night Zoo" premiered at Cannes. He was long-haired, outspoken, a little wild, ready to offend or take offense. His movie was about an ex-con whose father is dying; the old man's deathbed wish is to shoot an elephant, and so they break into the Montreal Zoo with his dad in a wheelchair. You get the feeling, after seeing that film and "Leolo," that they are not a million miles removed from reality. There was mental illness all through his family, his childhood was not easy and his hero Leolo says, "They say I am French Canadian, but because I dream, I am not. They say he is my father, but I know I am not his son because he is crazy. Because I dream, I know I am not."
Because he dreams, he thinks he is Italian, and the man posing as his father is not his real father. The boy in the movie is born Leo Lauzon, but renames himself Leo Lozone. In his dreams, his real father is a Sicilian who masturbates on a box full of tomatoes destined for Quebec. His mother falls on the tomatoes in a Montreal street market, squishing them, and nine months later Leolo is born. He spends the entire movie trying to get his family to stop calling him Leo.
If this sounds like a chapter from "Everything You Wanted to Know About Sex," the film itself is not only comic but darkly angry. It centers on the adventures of Leolo (
Maxime Collin
) around the age of 12, when he is not a cute teenager but a tortured and introverted boy in a family seething with insanity. His family members cycle in and out of the nearby madhouse as if it's a spa, and homelife is dominated by the belief of his father (Roland Blouin) that all human health depends upon a daily bowel movement. "Push, Leo, push!" urges his mother (
Ginette Reno
), a fat, good-hearted matriarch who loves the boy but is helpless to understand him. The house is tyrannized by Grandfather (
Julien Guiomar
), whose toenails Leolo is made to trim with his own teeth.
The boy at this age discovers masturbation, and becomes fixated by the comely neighbor Bianca (Giuditta Del Vecchio). She is a few years too old for Leolo and many years too young for Grandfather, who nevertheless pays her to bathe and comfort him. Leolo spies on them through a window in the ceiling, and later uses this vantage point in his plan to use an elaborate system of levers and pulleys to murder the old man. Well, Grandfather has it coming; he once tried to drown Leolo in a plastic wading pool, although for Leolo the experience was not without benefits because he experienced wondrous visions.
If the movie sounds depraved and depressing to you, it is because I have failed to convey the deep amusement and even love that Lauzon conveys in his material. Leolo reminded me of the sex-crazed adolescents in Fellini's "
Amarcord
," with the difference that Fellini's memories were nostalgic and his hero's family was eccentric in a lovable way. Leolo uses dreams to deny the reality of his family, and sees himself in a struggle to survive its demented grip. There seems to be no escape. His brother Fernand (Yves Montmarquette) is humiliated by a bully, spends months turning himself into a muscle-bound bodybuilder, and then is humiliated again. "That day," says the film's narrator, speaking for Leolo, "I understood that fear lived in our deepest being."
What small portion of hope Leolo finds in his childhood comes from one book, the only book his family possesses. It comes into his life one day when an old man (Pierre Bourgault) visits their home and uses the book to prop up one leg of an off-balance kitchen table. Leolo reads it at night by the light from the refrigerator, wearing gloves and a muffler. The man, called the Word Tamer in the narration, lives in a room jammed with books and maps, and rummages in garbage cans for treasure. That is how he finds and reads Leolo's journal, which is written a page at a time and then thrown away. It is a good question whether he, Leolo or the journal is speaking in the narration: All three, I think.
The technical brilliance of the film is astonishing. Lauzon was filled with quirks and impulses, sudden inspirations and wild inventions. Some directors with such hyperactive imagination create movies that are elaborate and yet empty; Lauzon is so motivated by his resentments and desires that everything he creates is pressed into the cause and filled with passion. There are scenes that cannot possibly exist, and yet they do. Set decoration that is a fantasy and yet insists on being a reality. A soundtrack that incorporates opera,
Tom Waits
, the Rolling Stones and what sounds like Gregorian chant. Music that evokes the presence of evil so clearly that it could be a theme from "
The Exorcist
." Yet everyday Montreal street life bursting with life and joy.
Reading Neil Lee's online memoir of Lauzon, I was reminded of the childhood of
Francois Truffaut
. Lee writes: "Lauzon's childhood was a rowboat awash in a sea of madness, driven by winds of psychosis ... nearly all of his family -- with exception of his mother -- were institutionalized at one point or another. Lauzon himself escaped a life of petty street crime only through the intervention of Andre Petrowski, then the head of the NFB's French film distribution. It is to him that 'Leolo' is dedicated, and rightly so, for Petrowski was the man responsible for guiding Lauzon out of the gutter of his youth and into filmmaking."
Petrowski of the National Film Board is paralleled in Truffaut's life by Andre Bazin, the film critic who guided Truffaut out of juvenile delinquency and into film. Lauzon was "a flirt, a troublemaker," Cameron Bailey remembers in a memoir. "He made demands on producers and festival directors. He didn't behave." It is perhaps not tragic that he made only two features, but remarkable that he made any at all.
When a great movie exists all by itself, it is in danger of being misplaced. We tend to want it to belong to the lifework of a director, or in the mainstream of a genre. Yet some films are singular: Laughton's "
The Night of the Hunter
" or Jodorowsky's "
El Topo
." Either you find it or you never do. You have to approach it directly, not through other films. The experience of seeing "Leolo" is, for me, like watching a high-wire act. How can Lauzon keep his balance when he careens so wildly to one extreme and then another? How can he create these characters, so grotesque, and make them human, and have sympathy for them? How can Leolo be so weird and inward, so angry and subversive, and yet somehow so noble? How can this story hurtle itself in every direction, and yet find a destination? I don't know if Jean-Claude Lauzon finished "Leolo" and decided he had nothing else he needed to say. But if he did, I can understand that. -
Roger Ebert
The Aesthetic Genius of Jean-Claude Lauzon's Léolo
About two years ago my friend Cromwell recommended to me a film titled
Léolo
. He simply said it was about this boy who thought he was the only person with a penis. I went home, got on piratebay, and got a rough copy of this film. If one can fall in love with a film, I certainly fell in love with
Léolo
, and it remains the only film that can claim my cinephile heart in such a manner to this day. By this, I simply mean that while there are many good films, and a few great films out there,
Léolo
is in a category of its own. It is far from the perfect film, in terms of what most critics look for in such disgusting judgments. But it is real art. It is poetry.
Léolo
is like the first snow of the year, out in the country, untouched, untainted, innocent; it is peacefully devoid of any of the pseudo-intellectual, hipster jack-off sauce that tends to accompany these fringe foreign films. It is its simplicity—its idealistic minimalism contrasted to the saturated, vibrant composition and eclectic soundtrack (Renaissance church choirs, traditional Arabic music, deep, haunting Gyuto monk chant, The Rolling Stones, Tom Waits, and more)—that makes this film so captivating for me.
Its non-linear storytelling is gently subtle, and not at all in your face and overly complex like other many other films try to be with that narrative. It is a child's movie. It is the innocent film. Despite all the sexuality and partial nudity in it, it is the most child-like film I have ever seen. Its childishness
is
its aesthetic brilliance.
The film can be approached in a multitude of ways. There is definitely, as with all good films, strong psychoanalytic undertones going on here. There is the more apparent rampant Oedipal complex going on with Léolo, sure, but there is also the more subtle retentive anal development displayed by the titular character's abhorrence towards his family's daily tradition of shitting. This in turn leads to the incredibly strong Jungian preference of Perceiving in Léolo's character. While on the subject, it goes without saying that Léolo is a very clear INFP—no doubts. And as with any stereotypical INFP film character he lives in this imaginary, dream like world that defies the reality of the real environment. And yet no other film I have encountered hypnotizes the audience into this dream world as well as Jean-Claude Lauzon does with his semi-autobiographical masterpiece,
Léolo
.
Nearly every scene in this film stands alone as a work of art in itself. Each so psychoanalytically anal—relatable to the everyday struggle. The strong, deep French narration throughout the film, the implicit adult version of Léolo that he never grew up to be, is sublime. One particular scene I'd share, one that is my all-time favorite, is where near the beginning of the film we find Léolo, covered in winter clothes, inside his house, reading a book (
The Swallower Swallowed
) with the light of the refrigerator. Léolo is dirty. The floor is dirty. The book is dirty, having been the only book in the entire house, used previously to support the family's dinner table from rocking. Léolo poetically says in the narrative that the book requires enormous amounts of concentration to deliver from it its secrets. And is this not how we all should encounter film? Starved, poor, dispirited, deprived of our more basic Maslovian needs, clinging to the body that is not there, in physical suffering, but in total meditative freedom.
The ambiguity of the ending reminds us of how dreamlike the entire concept of the film is, and yet it somehow reminds us so deeply of our own lives and experiences. Upon finishing the film, you might feel like you just had a wet dream that spanned one hundred minutes.
In good books, good authors waste no ink. Every word is there to mean something very powerful, and without which the sentence—and subsequently the narrative as a whole—would crumble. Jean-Claude Lauzon, as the director, pens his
magnum opus
in such a manner, whereas each character, every detail, is not wasted. It all carries something with it.
This film is deeply spiritual, rebirthing. It feels like going to church, or, more appropriately, a monastery. It is soulful, thrilling, audacious, and, most of all, innocuously beautiful.
This film is bizarre, in the most good and noble sense of the word. There simply is not another gem like it, though it has been, to no surprise, compared to the famous French director, Francois Truffaut's, childhood, which he himself incorporated into many of his films, particularly
The 400 Blows.
In retrospect, it is probably the closest any film comes to being like
Léolo
. And yet, it is still so very far away.
thephilosophicalboy.wordpress.com/
'Leolo'
By Hal Hinson
"Because I dream," says Leo, "I'm not."
What is he not? He is not what everyone believes him to be. Because he dreams, he is not a French-Canadian boy, Leo Lauzon, forever linked by blood and misery to his lunatic family; instead, he is Leolo Lozone, a soulful, romantic lad from the golden bosom of Sicily. He insists on it, writing night and day about himself, a stranger in this dark cave of strangers, refusing even to answer to the name Leo, bellowing back defiantly, "Leolo! My name is Leolo!"
To the audience, he is and he isn't -- both and neither. In reality, he is an intensely miserable member of a grotesquely dysfunctional family of working-class Montrealers. In reality, his grandfather -- whom he detests for polluting the family bloodlines with his twisted genes -- is a pervert who pays young girls to bite off his toenails in the bath.
In reality, his father (Roland Blouin) is an immense, sweaty blimp of a man obsessed with his own (and everyone else's) toilet habits. Because Grandfather (Julien Guiomar) has convinced him that a bowel movement a day keeps the doctor away, Father patrols the family's visits to the john as if he were a policeman, his revolver at the ready for anyone who dares to cheat.
These ventures into surreal scatology are typical of Canadian writer-director Jean-Claude Lauzon. Claiming his own childhood as the source for these stunning visions, Lauzon is at his best working in the area where reality and fantasy blur, where dreams become as real as the dreamer's waking life. In "Leolo," he's used this skill to discuss the relationship between madness and creativity, between the suffering of the daylight world and the comforts of the imagination.
Nearly everyone in Leo's family is mad, except perhaps for his mother (Ginette Reno as a Felliniesque symbol of maternity), and certainly he would be too if he had not fashioned the alter-ego character of Leolo to provide an escape. Even so, insanity threatens to engulf him, and so he writes away in his notebooks and journals, chronicling his life as Leolo, his dreams of his real homeland and the horrors of this misplaced existence, augmenting the truth whenever necessary until we're never quite sure whether we're witnessing truth or fiction.
Lauzon's story takes its life from the commentary Leolo has written, which is read in a throaty basso by Gilbert Sicotte, and the director's surreptitiously subjective camera. Lauzon doesn't cue when he shifts back and forth between fiction and fact; his family portrait is wild and expressionistic and strewn with motifs and buried meaning. For example, does Leolo have his first sexual experience with a hunk of cow's liver, which, later, his body-builder brother Fernand (Yves Montmarquette) eats for dinner? Or are we watching the rococo embellishments of Leo/Leolo's secret dreams?
It's precisely this ability to interweave fact and fancy that makes "Leolo" so personal and expressive. Also, regardless of who and what, exactly, he is, Leolo is an irresistible icon of childhood's tyranny. While his brothers and sisters shuffle in and out of mental hospitals, Leolo retains his grip on reality (of sorts); out of this demented menagerie, he's the normal one. And Lauzon is crafty in the way he soft-pedals the idea that Leolo is saved through his writing.
It's Lauzon's subtlety in this matter that saves this visually sumptuous movie (it was shot by Guy Dufaux) from seeming self-conscious and overly literary. For those who worship art, Leolo's tortured scribblings may look like sufficient reward for his suffering, especially since his discarded pages are collected and archived by a peddler -- known to Leolo as the Word Tamer (Pierre Bourgault) -- who plucks them out of the trash cans beneath the boy's window.
But for Lauzon, suffering is suffering; whether it's translated into art or not, it's still real. The world that Leolo broadcasts from, he says, is "strange, harrowing, stinking, with no friends and no light" -- and so is Lauzon's film. When Leolo pines for his beautiful, distant Bianca (who in reality lives just across the courtyard), the words he uses are nearly as beautiful as those that Dante used when longing for Beatrice. "Leolo" is a disturbing, imaginative, beautifully realized film.


Childhood and coming of age are two universal issues that every culture is concerned with. They also make perennial themes for the movies, as is evidenced by the fact that every national cinema has produced great films about growing up. Take, for example, Francois Truffaut's first feature, "The 400 Blows," Hector Babenco's "Pixote," the Taviani brothers' "Padre Padrone," George Stevens' "Shane," and last year's beautiful but underestimated "The Man in the Moon."
At their best, these movies capture poetically the unique joys and terrors of childhood, the fear of maturity and adulthood, which represent for childen a world of uncertainty and boredom.
The new French-Canadian film, "Leolo," which opened the 1992 Toronto Festival of Festival, belongs to this category. Written and directed by Jean-Claude Lauzon, it is an audacious exploration of a 12 year-old boy, who actually believes that his mother was impregnated by a sperm-covered Sicilian tomato!
In a press conference, director Lauzon described his work as a semi-autobiographical portrait, but he refused to pinpoint which episodes were authentic and which were fictionalized. Some critics were frustrated, but I understood his point: Lauzon wished to create a surreal film, at once raw and stylized, at once particular and universal.
The family life of the young Leolo, marvelously played by Maxime Collin, is so harsh and strange, that one can understand the need of this sensitive boy to take refuge in a world of poems and dreams, a universe in which he is the master of his own fate.
Leolo's father and mother are obsessed about their children's bodily functions, specifically bathroom activities. His mother is a huge, strong woman who dominates the household through her cooking. Leolo's brother starts as a thin weakling, beaten by the neighborhood thug, who evolves into a bodybuilder but remains cowardly. His sisters are not exactly mentally stable and have their own traumas.
Significantly, Leolo's bizarre, unconventional family life does not provide material for a melodrama, as could be expected, but for a fearless, most original comedy. The movie also contains romantic and lyrical interludes, depicting Leolo's dreams of a serene life in Italy with Bianca, a lovely girl who is older than him.
Lauzon's directorial style emphasizes the raw, immediate elements of his story. There are some similarities between Lauzon's style and Fellini's. Like Fellini, Lauzon concentrates on the peculiar and grotesque, the larger-than-life aspects of life, which gives his film a fervent, expressionistic quality.
I could also detect the influence of other Italian directors, Paolo and Vittorio Taviani's "The Night of the Shooting Stars." Like the Tavianis, Lauzon displays a poetic folk imagination, and like the two brothers, he is not a conventional narrative filmmaker. "Leolo" consists of a series of powerful vignettes, linked by the protagonist–and the filmmaker's creative imagination.
Lauzon said that the idea for "Leolo" first occurred to him while he was attending the Taormina Film Festival in Sicily. Jealous of Italian culture, he began writing a script whose hero is a Montreal boy who is convinced–and behaves like–he is Italian!
Lauzon is an instinctive, not intellectual, director. "I feel like an antenna," he said, "I watch television. I walk down the street. I see things. I'm like a painter." Indeed, "Leolo" exhibits a painterly quality: Episodic in structure, the film is composed of some breathtaking tableaux.
Emanuel Levy
PDF]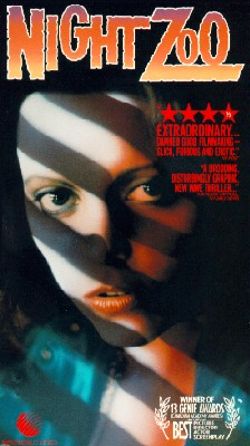 Un zoo la nuit/Night Zoo (1987)
cijeli film:
Marcel (
Gilles Maheu
) emerges from prison in hopes of a reconciliation with his dying father Albert (
Roger Le Bel
) in this thrilling crime drama. Raped in prison, Marcel encounters a homosexual cop involved with drug smuggling who presses him for information and sex. Marcel fights his way out of the cop's lecherous advances and is reunited with his father. The two catch up on old times on a fishing trip, and Albert reveals he has both money and cocaine stashed away for Marcel's return. Marcel and his homosexual cellmate later corner the crooked cops in a sleazy hotel to exact revenge. Julie (
Lynne Adams
) is Marcel's former girlfriend who works in a sex club peep show. Gay and straight scenes of rough sex permeate this film which marks the directorial debut of
Jean-Claude Lauzon
. The film took home Genie awards (Canada's answer to the Oscar) for "Best Film," "Best Actor," "Best Supporting Actor," and "Best Director" in 1988. - www.allmovie.com/
The underdevelopment of the drugs-and-money subplot is clearly deliberate; Lauzon wants to undercut the conventions of the genre by turning them to the service of a far more personal commentary on violence and male bonding, a condition that in his view pervades the mainstream as surely as the underground. Every act of violence is followed through to its emotional response, the film is gorgeous in both pastoral and industrial-wasteland modes, and Roger Lebel's performance as the doddering father is so clearly the best thing in the movie that it's no wonder Lauzon wants to keep him on screen. But despite a real visionary undertow that emerges most strongly in the final scenes, the overall effect is to reduce the underworld material not to archetype but to cliche. The prison rape, the sadistic queer cop, the bitch whore ex-girlfriend, the shootup in the skid row motel - these are all awfully familiar tools of the trade, and the compressed exposition deprives each one of the opportunity to show any added nuance or depth. And in the end the final scenes are also compromised by an affecting but peculiarly inappropriate sentimentality that makes one question the director's command of his themes. The glut of motorcycle-riding scenes doesn't help either, although when Lebel catches a ride even they are a pleasure. -
cinertia.blogspot.com/