Novi Keith Haring ili Shepard Fairey?
drjuchin.tumblr.com/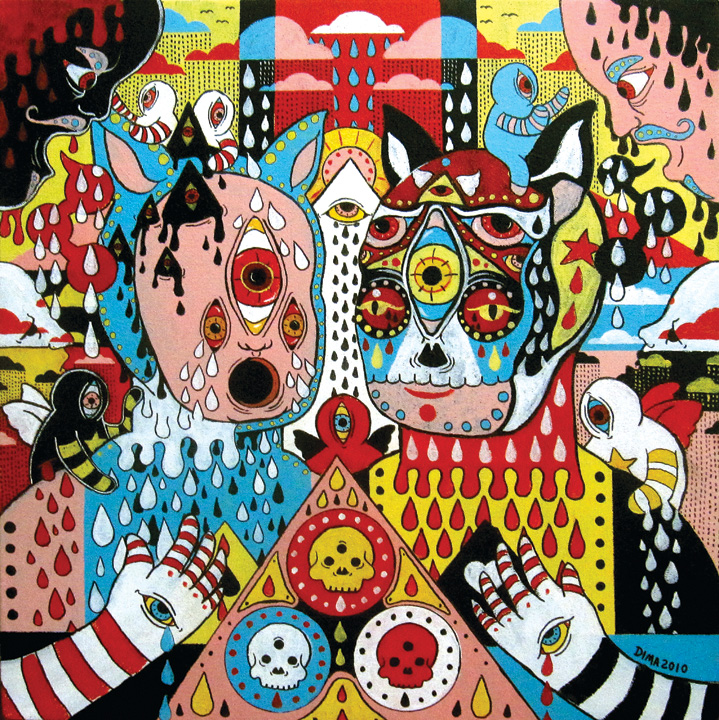 Creation is a spiritual process, healing and transformation in a multitude of ways. This is certainly true for New York-based artist and musician
Dimitri Drjuchin
, who bravely embraces Christian iconography to create new levels of perceived reality and visions of self-representation through a clever combination of cultural metaphors and visual symbology. Drjuchin's comical and surreal imagery extends beyond the general idea of downfall and craftily turns it into a cheerful and optimistic reflection on the human condition. By imbuing the real with highly colorful geometric compositions, Drjuchin's paintings, murals and art posters unveil a refreshingly authentic foray into cosmic communion and happiness. It comes as no surprise that Dimitri painting adorns the cover of "
Fear Fun
", Josh Tillman's first release since his departure from Fleet Foxes under the new moniker
Father John Misty
. The very title aptly suits Dimitri's artistic and personal exploration. He kindly took us through this sparkly journey, revealing more from the influences on his creative process to his own music projects
.
Welcome, Dimitri. Could you first tell us more about yourself, such as your artistic and cultural background? We know that you were born in Moscow but your family moved to New York when you were just a child. Would you talk more generally about how living in NYC has affected your work?

New York has been pretty influential. There's a lot of culture to absorb. I grew up running around the city with my friends so a lot of NY is woven into me. There's a lot of art all around you, even if you are not aware that you are being influenced, something does stick. It's hard to avoid. It's difficult for me to pick apart and say what exactly influenced me living here, I've never really lived anywhere else, but I'm very much a New Yorker.
You have a tendency to put a lot of symbolic undertones in your work .Your paintings and murals make strong references to mysticism, surrealism and spirituality. How do these subjects inform your work?

I love religious and mystical iconography. It's something that I've always been drawn to. I, however am not a religious person, I'm not an atheist either, I don't really believe in anything that has been defined. I think spirituality is a deeply personal experience, and holds no real definition. I like to re-imagine symbolism, and try to strip it of it's real world meaning. These symbols only mean what they mean because we, as a collective conscious, agreed on it. On their own they are meaningless. I use a lot of Christian iconography, but I tell no Christian stories in my work. There's a familiar thread in all religious, spiritual, and esoteric imagery, and I find a lot of beauty in that visual language, so I try to reflect that in my own work but create a world that doesn't reflect what those symbols mean, I like turing them into their own iconography, their own spirituality, and their own mythology. Human beings have been doing that for centuries, I like to give it a shot as well. haha. Painting is also very meditative to me, and I think the end result often reflects that.
Who are your mentors? Which artists have inspired you the most?

My favorite artist are a mish mash of fine artist, illustrators, and comic book artist. As a teenager I was pretty obsessed with the work of Fancis Bacon, whom I still love today. Gustav Klimt as well. I also love the work of Daniel Clowes and Robert Crumb. Ralph Steadman was a pretty big influence on me early on. I love Tim Buron's drawings, and I'm pretty sure that's where I got into striped patterns that I put in almost every painting. Daniel Higgs is one of my favorite artists today. I feel a special kinship with his work since he is also an artist and musician. He is almost like a Shaman to me. I look up to him greatly. Alex Grey has been very inspiration, specially with the spiritual aspects of my work. I've often say that my paintings are the cartoons that the people in Alex Grey's paintings watch when they're on a break.
You often say that your paintings actually paint themselves. Tell us a little bit about your creative process, how does your typical workflow look like?

I say that because I often go into a painting with a very vague idea or no idea at all. I'll just start painting. I found in my process that whenever I'm stuck or don't know what to do, it's important to just sit down and let my arm start moving and make something happen. As soon as I do that, ideas start sprouting. I go bit by bit and just build and try not to think too much about it. So if i paint a character, I start seeing the what's around him, who's around him, what is he reacting to. So it's pretty entertaining for me to see this scene unfold, and then towards the end see what the painting is actually about.
I also never work on multiple paintings at once. I do them one by one, it's party due to the minimal space I have to work in, I just have a little nook in my room where I work, but mostly it my own way to keep every piece unique and force myself to finish every one of them. I don't like having unfinished work laying around. Part of what I enjoy about any creative endeavor is starting something and finishing it. It may not be something that I think is my greatest piece, but it's important for me to see it to the end, and start something new after.
The Melting Kingdom

was the title of your second solo show at

Anno Domini

in San Jose, CA. In remarking upon this exhibition, you said: "Every piece in this show has something melting in it as a reflection of my perception of the state of the world we are in right now. There are no guarantees anymore. There is no more security. There's just an overwhelming feeling that things are going downhill. That we are falling apart, that we are melting away…. ". In this specific series of works you established a balance between the aesthetics of Chaos and the ultimate hope for Joy. Almost a year has passed and It seems like you're still trying to work through how to convey that same feeling of joy in your work. Tell us more about it.
It's very important to be joyful, specially in the insane world we live in today. I like to think that I'm a very jovial person. I always try to be positive and make the people around me happy. For all we know, this might be the only life you get to live, for me I like to spend it happy and full of love. And since that's how I feel, it naturally comes out in my work. The things I paint often make me laugh when I'm working on them. And I love that comes across to you. It's very rewarding knowing sometimes I created made someone happy. Art and music, if done right, should uplift you.
Father John Misty's debut album,

Fear Fun

, came out on May 1st via

Sub Pop Records

and you, Dimitri, illustrated and designed the beautiful cover artwork. First of all, how did the collaboration between you and Josh Tillman come about?
It happened through the wonderful
Richard Metzger
. He was interviewing Tillman for the album's press release, where Josh was panicking a bit because the artist that was originally supposed to do the cover backed out due to schedule conflicts. Richard, who is a fan of my work, suggested me for the cover. I think he sent him my website, and a few days later I got several frantically enthusiastic emails from Josh, and the rest is history.
How did you come up with the concept for Fear Fun. How did the project develop? What were some of the challenges inherent in this type of artwork, and how did you deal with them?

After quickly agreeing to do the cover, I had a few conversations over the phone with Josh about what he was looking for. He was very careful to not give me too much direction, which is good for me, but gave me a ball park idea of themes and tone. I spent about two months listening to the record and thinking about the cover. I originally was going to do a digital illustration, but after a while decided that a painted cover would make more sense. I always had the idea of having the Father John Misty character be the central figure, and Josh wanted me to use the lyrics as inspiration for everything else. After I painted the central figure it turned into a fun game for me to create characters around him based on his words. I did the whole thing fairly quickly. I think it only took me a week. The real challenge for me was to do something based on someone else's work and still have it look like something I would do on my own. Which I think I achieved. The source metrical was so great and beautiful, I was very lucky to work on a cover for a record I really enjoy, and for a musician I really respect.
You even did the illustration and layout for the new Reggie Watts album. Can you tell us more about this latest album artwork?

I had a lot of different ideas for that cover that were more complicated then what I ended up doing. I took a few photos of Reggie for reference and one day it just popped into my head to do something simpler, or seemingly simple. There's a Bob Dylan greatest hits album where the cover is just his head to the side with his hair illuminated by a backlight. That was kind of the inspiration for the cover. Reggie has great hair and I thought it would be fun to just make a detailed illustration of it with his face peaking out, and luckily I took a photo just like that. It took hours to draw because I did each line individually. I love it because it's a simple idea but complex in the execution. It's one of my favorite album covers that I've done so far. If I had to do again now, I would probably paint it, instead of making it in illustrator, that's the only thing I kind of regret about it. But it's not such a huge regret. I love it the way it is too.
Dimitri, we know that you play in three different bands and do music for a monthly comedy show called Heart Of Darkness. Would you like to introduce your several music-related projects to our readers?
I sing, play guitar, and write the songs for
Corrupt Autopilot
. you can download all our records
here
for free.
Me and my buddy comedian Greg Barris do a band called Wigmaker's Son which features members of Corrupt Autopilot and New Beard, this is essentially the band that does Heart Of Darkness where we are known as The Forgiveness. we just released a record which you can download
here
(Featuring Reggie Watts!).
And I've just started playing guitar with
Ancient Sky
. I haven't recorded anything with them yet, but they have a few records out. Their latest record T.R.I.P.S. is fantastic.
Which are your projects for the future?

Hopefully another solo art show. I've been working on a bunch of new paintings. I'd like to show them to someone in the near future. Making another record with Corrupt Autopilot over the summer. We have a big Heart Of Darkness at The Bell House on June 16th with lots of great guests. Working on a new LP with Ancient Sky. Hopefully we will be recording that over the summer and have it out by the winter. Probably touring somewhere around then too… I'm pretty busy, but I'm very excited about everything so none of it feels like work. Seems like time well spent to me.
In Heaven, everything is fine: Dimitri Drjuchin, this generation's Keith Haring or Shepard Fairey?
Dangerous Minds pal artist Dimitri Drjuchin, creator of the already iconic cover art for Father John Misty's
Fear Fun
album and
a portrait of Robert Anton Wilson
that counter culture types all over Twitter and Facebook have adopted as their avatar (he also made
this image of Mark Z.
that got around a bit, perhaps some of you have seen it?) has a new art show opening up in San Francisco this weekend.
I'm extremely bullish on Dimitri's work. I'd go so far to say that I reckon he's the "new" Keith Haring or Shepard Fairey.
Coming from a background in
street art murals
, poster design and stickering, Dimitri's "
Fuck You, I'm Batman
" stickers and "
Tom Selleck Saved My Baby
" posters (collaborations with comedian
Greg Barris
) seemed
omnipresent
in downtown Manhattan when I was in New York last. I haven't seen such a notable street art presence since Fairey's "Andre the Giant Has a Posse" stencil took over NYC a few decades ago or Haring's three-eyed squares and atomic babies before that.
Drjuchin's work is incredibly varied and yet, it's all quite obviously by the same hand. So very graphic, so very direct. It can emotionally draw you into its world, in an instant, like the very best street art can. The balance, composition and Russian-constructivist pop art payload of his playful images are exquisitely
his own.
And like his famous predecessors in street iconography, now that you're seeing a few of Dimitri Drjuchin's paintings here (
more at his blog
), you won't wonder "who painted this" the next time you see one, will you? - Richard Metzger
In Heaven, everything is fine: Dimitri Drjuchin, this generation's Keith Haring or Shepard Fairey? -
Richard Metzger
PAINTINGS:
Live From Heaven
20"X20" Acrylic On Canvas
Blue Beast Weeps For Candy Rain
20"X20" Acrylic On Canvas
The Worrier
20"X20" Acrylic On Canvas
Return From Redemption
30"X30" Acrylic On Canvas
God Of The Dead
30"X30" Acrylic On Canvas
Sweet Valentine
30"X30" Acrylic On Canvas
No Evil
60"X48" Acrylic On Canvas
Oh No!
30"X30" Acrylic On Canvas
The King and The Spirit King In The Void
36"X36" Acrylic On Canvas
Swimmers
36"X36" Acrylic On Canvas
The Beast King Weeps In Heaven
36"X36" Acrylic On Canvas
Heaven Is Not What It Was Made Out To Be
36"X36" Acrylic On Canvas
Father John Misty "Fear Fun"
36"X36" Acrylic On Canvas
Unholy Ice Cream Mountain
48"X48" Acrylic On Canvas
We, The Food Chain
48"X48" Acrylic On Canvas
Honeymoon
48"X48" Acrylic On Canvas
Return Of Colossus
48"X48" Acrylic On Canvas
Shower Us In Bad Decisions
48"X48" Acrylic On Canvas
I've Returned To Reclaim My Dignity
20"X20" Acrylic On Canvas
POSTERS:
This design is a collaboration with Nikolai Drjuchin


ALBUM COVER ART:
REGGIE WATTS - A LIVE IN CENTRAL PARK CD/DVD
MARC MARON - THIS HAS TO BE FUNNY
CORRUPT AUTOPILOT - OH NO
EUGENE MIRMAN - AN EVENING OF COMEDY IN A FAKE, UNDERGROUND LABORATORY
WIGMAKER'S SON - GREATEST TITS
New Beard - Moment Of Peace EP
CORRUPT AUTOPILOT - INSIDE THE CRYSTAL PALACE
BLACK TAXI - SOME KIND OF ANIMAL
CORRUPT AUTOPILOT - GREETINGS FROM GHOST COUNTRY